Ladder Nutrition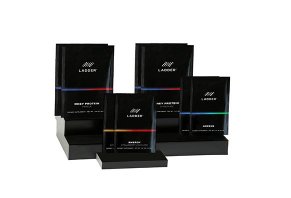 Ladder is a health and wellness company started by LeBron James, Arnold Schwarzenegger, Lindsay Vonn and Cindy Crawford. The company provides subscriptions of NSF-certified nutrition supplements as well as one-time purchases. Subscriptions started at $50 per month.
Ladder Nutrition Review – What Our Experience Tells Us
Ladder is a lifestyle and fitness company backed by LeBron James and other celebrities that provides a monthly supplement subscription as well as emails and videos focusing on health and wellness.
Perhaps the most unique aspect of the company is how novel it is. They aren't just a supplement company, nor are they just an online resource for advice on healthy living. The company's motto is "No Magic Pill," referring to the fact that good health doesn't come about through quick solutions.
The company's four founders are NBA legend LeBron James, celebrity Arnold Schwarzenegger, gold-medal skier Lindsay Vonn and model Cindy Crawford.
The idea for Ladder came about slowly, starting in 2014 when LeBron James had severe cramping during the 2014 NBA Finals, the company's website says. He and his personal trainer, Mike Macias, searched for "nutrition products" with high standards and legitimate effectiveness that could combat the cramping but couldn't find any.
Their search led them to create their own brand, one that Schwarzenegger, Vonn and Crawford joined as a way to provide consumers with reliable nutrition and wellness information and products.
"Instead of magic pills and one-size-fits-all fads, Ladder is built on three pillars: scientifically-backed information, community interaction with world-class experts, and customized nutrition products that meet the highest standards for safety and purity," the site's About Us page says.
In this review, we'll talk about how the Ladder supplement program works, as well as provide an analysis of their newsletter and video content. After that, we'll discuss their supplement subscription pricing and compare Ladder to similar companies.
Along the way, we'll include our own experience testing a couple of Ladder's nutrition products.
How Ladder Works: Nutrition Products and Ingredients, Newsletter and Videos
Ladder's company revolves around a monthly subscription service in which they send you a box that includes a series of nutrition supplements and a free Ladder tumbler with your first order.
They have four powdered nutrition packets they offer—Whey Protein, Plant Protein, Energy and Greens. The main ingredients of each are listed below along with flavor options in parenthesis:
Whey Protein (chocolate or vanilla): Milk protein isolate, whey protein isolate, probiotic blend
Plant Protein (chocolate or vanilla): Pea protein, organic pumpkin protein, enzyme blend, probiotic blend
Energy (strawberry lemonade): Creatine monohydrate, beta-alanine, betaine anhydrous, citicoline sodium salt, L-theanine, green tea leaf extract
Greens: Organic spirulina, matcha tea leaf, organic barley grass, spinach leaf, rhodiola root extract, beet root extract, broccoli seed extract, menaquinone-7
What we noticed about each of these ingredient lists is that, in addition to the items we listed, Ladder tells you the levels of vitamins and minerals included in each packet, too.
For example, their Greens packet has 375 percent of your daily allotment of Vitamin D, 433 percent of your daily Vitamin K and 125 percent of your daily Vitamin B12.
In order to find out which supplements work best for you, Ladder will make you take a short quiz to get a sense of what your fitness goals. Once you take this quiz, they'll recommend a supplement regiment that fits your goals.
When we did the quiz, we said we were looking for a solution that would help us lose weight. Ladder recommend a combination of their Plant Protein and Greens formulas.
Their reasoning behind the recommendation was that a high protein diet has been proven to help people lose weight and that the greens provide a boost of nutrients to help counter the stress your body will feel as you shed pounds: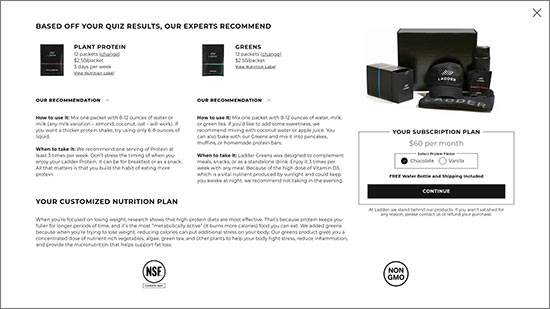 A screenshot of a personalization quiz taken on Ladder's website
You have the ability to pick the recommendations that Ladder gives you or make your own choice. Either way, once you sign up for a subscription, Ladder will send you a new box every month with the nutrition packets you requested along with a piece of Ladder merchandise. You also have the option of buying one-off orders of their packets.
Our Ladder box arrived in excellent shape. The packing was professional and sleek. We tried both the Plant Protein and Greens packets. The packets contain a powder that you can mix with water, milk, food or a smoothie. We mixed our powder with 8 oz. Of water and then shook our tumbler for a few seconds.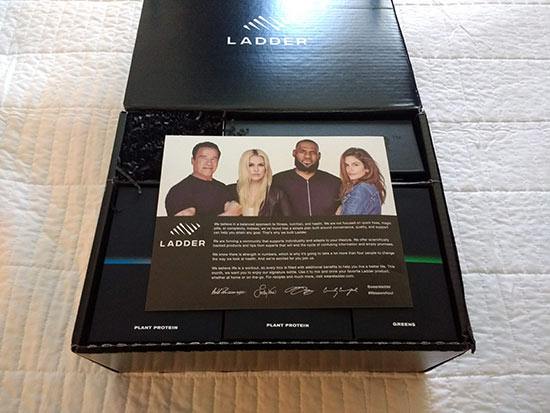 An image we took of Ladder's packaging upon arrival.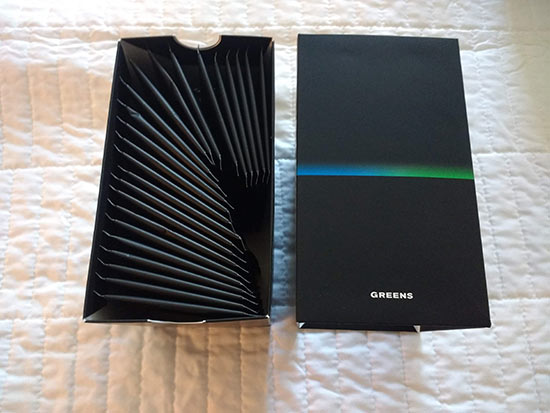 More Ladder Packaging
Our first impression of these packets was negative. There's a distinct taste of Stevia, the natural sweetener they use in their packets. However, each additional taste got better to the point that they were drinkable.
As a reminder, if you don't like the taste of a particular powder when mixed with water, try to mix it with other liquids or foods.
Ladder recommended that we take each supplement packet at least three times a week.
Pro tip: Ladder recommends using 8–12 ounces of liquid to mix your packets.
Ladder's National Sanitation Foundation Certification for Sport
Each of Ladder's four nutritional packets meets National Sanitation Foundation (NSF) standards for sports supplements. According to Ladder, less than 1 percent of all supplements on the market meet these standards.
This designation is important because the NSF applies stringent standards to the products they certify.
"The NSF mark is your assurance that the product has been tested by one of the most respected independent certification organizations in existence today," the NSF website says. "It is valued by consumers, manufacturers, retailers and regulatory agencies worldwide."
They go on to say that the NSF designation means the product's "labeling and claims have been objectively reviewed by a trusted third party" and that it is "evidence of your organization's company-wide commitment to quality, compliance and safety."
Not only that, but the sports specialization of the certification means that the packets are in complaisance with various sports-league anti-doping regulations.
We certainly see these principles at work in the supplement packets Ladder sends. Their whey protein, for example, contains very little sugar (3g per serving), more than half the protein the average person needs for a day (26g) and a combination of vitamins, minerals and probiotics.
We've done research on hundreds of supplements and can say, based on that research, that Ladder is different. They don't overhype certain ingredients nor do they make sensational claims about ingredients that have little to no scientific evidence of their effectiveness.
Ladder's Posts and Videos
Ladder calls their content campaign "No Magic Pill", which includes blog-style posts they feature on their website. These posts focus on fitness, nutrition and health. Their YouTube channel has videos that promote the product but also provide short, no-nonsense advice about trending health questions.
Take detoxing, for example. We've reviewed multiple detox methods and seen celebrities hail the benefits of a good detox. However, we've done enough research to know that the evidence for detoxing's effectiveness is pretty thin.
Ladder takes the same approach. Their video on detoxing— "Do detoxes really work?"—features the advice of James' trainer, Macias.
"At Ladder we have access to all the best doctors, scientists and nutrition experts in the world and, when we asked them what's the most buyer-beware issue in the nutrition space right now, the unanimous answer was detoxing," Macia says. "The idea that you can buy a product, juice or elixir that going fix (your body) is based on no science whatsoever."
We viewed a few other Ladder videos and read through their newsletter, too, and were impressed by their no-nonsense approach to health and wellness. Based on our experience, the company seems to live up to its claim that, "Ladder is health and fitness the way it should be: transparent, simple and accessible."
Ladder's Pricing Plans
As we mentioned earlier, you have two choices when it comes to Ladder's nutrition packets. You can choose to get a monthly subscription of the packets they choose for you or that you choose for yourself. Also, you can go to their website and buy a one-time order of their packets.
At the time of publishing, the pricing for all packets was the same and included free shipping:
$36 for 12 packets
$38.08 for 16 packets
$45 for 20 packets
$52.08 for 24 packets
$60 for 30 packets
$72 for 36 packets
You'll need to have a minimum monthly order of $50 to get a subscription. You'll be charged the first day you make your order and then on the shipping day for every future delivery.
Ladder will notify you each month in advance of your new shipment so that, if you need to change your plan or cancel your subscription, you have enough time to do it. You can make changes or cancel through your online account or contact Ladder customer service at support@weareladder or (855)558-0577.
As we mentioned earlier, you don't have to sign up for a subscription to buy Ladder products. Each of their four offerings is $25 for eight packets and shipping is free.
The site says that they have a satisfaction guarantee through which you can get a refund if you aren't happy with their products. To request this refund, you can contact them through the email address and/or phone number listed above.
Comparing Ladder to Other Health Subscription Services
One of the things we find valuable for a buying decision is comparing a product or service to its competitors. Ladder may seem like a great idea after you read through their website and this review. However, adding a comparison helps you see where the product at hand fits into the context of a wider spectrum of pricing and features.
As far as subscription boxes go, we have yet to review anything like Ladder. There are dozens of food subscription boxes available but none of them focus on nutritional powders for athletes and workout warriors.
Muscle Box and Jacked Pack comes close, as they send monthly sample sizes of a variety of supplements designed for weightlifters. However, because Ladder focuses on proteins, greens and energy, Muscle Box and Jacked Pack aren't an exact match.
Our best match for Ladder would be a combination of supplements you buy from a place like GNC. For example, GNC sells Earth Genius Spirulina, a bottle of 100 capsules that each contain the same amount of spirulina as one packet of Ladder. At $9.99, the pills may seem like a smarter choice purely based on price.
However, what you're missing is two things: NSF certification and a list of minerals and ingredients.
Like Ladder's Greens packet, this supplement contains spirulina. However, the ingredients label limits its information to the amount of spirulina in one capsule. There is no list of vitamin or mineral levels. So, you're left to take up to three capsules a day of a supplement whose label tells you nothing about the actual nutritional value of the product.
We did a little more research on GNC's site and found another spirulina supplement that did have ingredients on the back: Sunfood Super Foods Super Algae Tablets that contained spirulina and chlorella. Like the GNC spirulina product, this product was cheaper than Greens—$27 for 37 servings, whereas Greens are $72 for 36 servings.
However, the nutritional value of one serving of Sunfood spirulina was significantly lower than one serving of greens:
| | | |
| --- | --- | --- |
| | Ladder Greens | Sunfood Spirulina |
| Vitamin B12 | 125% | 110% |
| Zinc | 164% | 1% |
| Vitamin B6 | 59% | 2% |
| Vitamin B1 (Thiamin) | 63% | 7% |
| Vitamin B2 (Riboflavin) | 65% | 7% |
So, while the GNC option may be cheaper, the ingredients labels of both products make it clear that Ladder's Greens provide far more nutrition than Sunfood Spirulina. In fact, vitamins B1 and B2 are nearly 10 times as much in Ladder's Greens and Vitamin B6 is nearly 30 times as much.
Based on this information, we think that Ladder provides good value compared to GNC's spirulina supplement. You're paying about 1.5 times more for around the same number of daily servings and you're getting levels of nutrients that are, in some cases, 10 times higher.
The Final Word: Ladder Pros and Cons
Based on our research of this product, we believe there are some distinct advantages and disadvantages, some of which we've already addressed.
First, Ladder's supplement powder is packed with minerals and vitamins we think exceed what you'd find from cheaper supplements. Furthermore, they list all the nutritional data about their various packets, whereas most supplements list one or two ingredients.
In other words, Ladder seems to live up to their mission to be transparent about what they're selling. When you ingest a Ladder packet, you know exactly what's going into your body. For athletes who undergo drug testing, this is a big deal. But even for the average person who is looking for a way to incorporate added nutrients into their diet as they try to lose weight or build muscle, this is a great benefit.
The second advantage to Ladder, in our opinion, is that they take a sensible approach to health and wellness based on research and scientific expertise. When a particular diet doesn't have science to back it up, they'll tell you.
The downside to Ladder is that, in our opinion, it's an expensive option for someone who wants to use their packets daily. Combining one of their protein options with greens or energy will cost you $144 for a 30-day supply.
The second weakness with the Ladder program is that, at the time of publishing, the video content on their YouTube channel was sparse. There were 18 videos in total, at least five of which were promotional rather than informative.
The informational videos they offer—seven in total— were excellent though, covering common questions like:
Is sugar toxic?
Is creatine dangerous?
Is the ketogenic diet right for you?
Do detoxes really work?
While there is a nice core of information videos, we think that this aspect of their holistic, no-nonsense approach to fitness and nutrition is lacking.
Also, our first impressions of the taste of the packets was a bad one. The Stevia flavor hits you pretty good when you take your first few drinks.
In general, we believe that you'll enjoy their subscription service if you're looking for a supplement whose ingredients undergo rigorous certification and are packed with nutrients. If you want a program that combines supplements with advice and workouts, Ladder could be the option for you in the future but may not provide enough content right now to appease you.