Nuun Reviews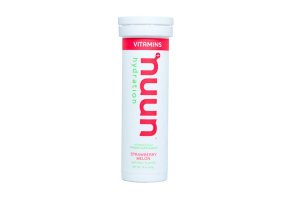 With four different formulas featuring a variety of essential electrolytes and other minerals, Nuun's tablets and powdered products promise to help maximize your hydration.
About Nuun
Nuun (pronounced 'noon') manufactures a lineup of four different self-dissolving, low sugar tabs, and energy products they promise will help keep you hydrated and deliver an optimal blend of electrolytes and vitamins, whether you're running a marathon or just errands.
Each of these effervescent products comes in convenient and environmentally friendly containers, and also utilizes non-GMO sourced dextrose "so that your body can absorb fluids and nutrients faster."
Nuun is based out of Seattle, WA has been in business since 2004, and held an A+ rating with the Better Business Bureau, based on no closed consumer complaints, as of 6/19/18. According to their website, their products are sold in over 5,000 retail locations in the U.S. and are available in more than 30 countries.
But just because they've been in business a while and seem to come with a positive online customer reputation, does this mean they're the best electrolyte replacement option? How can you make the most informed decision possible?
That's precisely what we'll help you accomplish here, starting with the basics.
The Link Between Exercise, Hydration, & Electrolytes
According to Harvard Health, healthy individuals require about 30 to 50 fl. oz. of water (6-8, 8 oz. glasses) per day, which is "is crucial to staying healthy and maintaining the function of every system in your body, including your heart, brain, and muscles. Fluids carry nutrients to your cells, flush bacteria from your bladder, and prevent constipation."
If you don't get enough water throughout the day, it can lead to dehydration-related side effects, such as fatigue, headache, confusion, dizziness, and dry mouth, to name just a few.
In a nutshell, as mentioned on the Nuun website, "proper body hydration can lead to increased energy levels, it can support healthy body function, and can help increase the absorption of nutrients."
While everyone needs to consume adequate amounts of water to maintain proper health, the American Academy of Family Physicians article goes on to emphasize that some people are more at risk of dehydration, including those who work out or sweat frequently.
But, you don't just lose water when you sweat. You also lose electrolytes, which Health.com's Anthea Levi explains are salts—"think calcium, potassium, magnesium, and plain old table salt"—that help regulate "the flow of water in and out of cells," as well as "spark nerve impulses."
Therefore, if you sweat a lot (as but one example) and lose a lot of electrolytes in the process, it can create an imbalance that leads to potential side effects such as fatigue, slow or irregular heartbeat, tingling sensations in the feet and fingers, and poor circulation, to name just a few.
Which Ingredients are Found in Nuun's Different Products?
Nuun currently offers four different products, each of which the company emphasizes contains clean, plant-based ingredients, and uses effervescent technology to help you "start absorbing the electrolytes and fluids the moment they enter your body for fast-acting hydration."
They do not contain any banned or illegal substances, are certified by Informed Choice, and have a 24-month expiration date from the time they were produced. Tubes can be recycled at any facility that processes #5 plastics.
Nuun Electrolytes
Targeted toward athletes for use before, during, or after high-intensity workouts, Nuun's Electrolyte tabs contain 10 calories each and critical electrolytes like sodium, potassium, magnesium, and calcium. Together, the company advertises the tabs can "help alleviate cramps, and help muscles function, communicate, and burn energy efficiently" when mixed with 16 oz of water.
There are 13 Nuun Electrolyte flavors in all (4 with 40mg of caffeine per serving, 9 without). Below are the nutrition facts and ingredients list for Watermelon:
Total Carbohydrates 4 g
Sugars 1 g
Vitamin C 38 mg
Magnesium 25 mg
Sodium 360 mg
Potassium 100 mg
Citric Acid, Dextrose, Natural Flavors, Calcium Carbonate, Monk Fruit Extract, Beet Juice Powder (for color), Avocado Oil, Stevia Leaf Extract, Riboflavin (for color)
Nuun Vitamins
Nuun's Vitamins formula is ideal for anyone who wants to boost their health, daily hydration, and wellness, at any time. Simply consume two to four tablets per day by mixing each tablet with 16 oz of water.
Like their Electrolyte blend, Vitamins contains 10 calories per tablet, as well as 11 vitamins and minerals, sodium, potassium, magnesium, calcium, and chlorine electrolytes. There are a total of 6 flavors (two with 40 mg of caffeine per serving), with Strawberry Melon containing the following:
Total Carb 3g
Sugars 2g
Vitamin A 225 mcg RAE
Vitamin C 10 mg
Vitamin D 5 mcg
Vitamin E 2 mg
Vitamin B6 0.25mg
Folic Acid 136 mcg DFE
Calcium 15 mg
Magnesium 15 mg
Chloride 75mg
Sodium 100 mg
Potassium 150 mg
Sugar (non-GMO sourced), Citric Acid, Natural Flavors, Beet Juice Powder (for color), Stevia Leaf Extract, Avocado Oil, Rice Concentrate, Riboflavin (for color)
Nuun Immunity
Nuun's Immunity formula can also be used anytime to "help support a vulnerable immune system" through the use of antioxidants, anti-inflammatories, vitamins, minerals, and electrolytes, whether you're sick, trying to prevent falling ill, traveling frequently, or working out a lot.
Like their other formulas, you'll mix each tab with 16 oz of water, although you can enjoy up to six servings per day.
Each tablet contains 15 calories and is available in 10 flavors. Here are the ingredients and nutrition details for Orange Citrus:
Total Carb 4g
Sugars 2g
Vitamin A 450 mcg
Vitamin C 200 mg
Vitamin D 10 mcg
Vitamin E 3 mg
Calcium 15 mg
Magnesium 15 mg
Zinc 5 mg
Selenium 20 mcg
Chloride 40 mg
Sodium 100 mg
Potassium 150 mg
Proprietary Herbal Blend 125 mg: Elderberry extract [Sambucus nigra L. (fruit)], Organic Ginger Powder [Zingiber of cinale L. (root)], Organic Turmeric [Curcuma longa (root)], Echinacea purpurea (aerial) 125 mg (t)
Ingredients: Organic Sugar, Citric Acid, Natural Flavors, Stevia Leaf Extract, Avocado Oil, Rice Concentrate
Nuun Performance
Another athlete-focused product from Nuun, this blend is intended for use before, during, or after long (those lasting 90 minutes or more) or intense workouts. However, it comes in a powdered form, which the company advertises allows you to make exactly as much as you need each time.
There are 60 calories per 16 oz serving, sodium, potassium, magnesium, calcium, and chlorine electrolytes, performance carbohydrates, and no caffeine. Here are the details for Blueberry Strawberry (there are currently two flavors available):
Total Fat 0g
Sodium 380mg
Total Carbohydrates 15g
Fiber 0g
Total Sugars 13g
Protein 0g
Calcium 17 mg
Potassium 210mg
Vitamin C 6 mg
Magnesium 20 mg
Chloride 80 mg
Dextrose, Cane Sugar (vegan), Dried Fruit Powder, Sodium Citrate, Citric Acid, Potassium Citrate, Potassium Chloride, Magnesium Citrate, Calcium Citrate
Could Nuun's Ingredients Cause Potential Side Effects?
According to sites like the Natural Medicines Database, WebMD, and Examine.com, most of these ingredients won't cause meaningful side effects in most individuals. And when they do, they likely won't be worse than mild, temporary digestive upset (no specifics or dosages provided).
However, the Nuun website emphasizes that you shouldn't take their Immunity formula "if pregnant, lactating on prescribed medication or with a known medical condition unless you have consulted a physician. Always consult your pediatrician before giving your child dietary supplements."
While Nuun's caffeinated versions only contain 40 mg per serving (an 8 oz cup of black coffee contains about 100 mg), it can cause upset stomach, nervousness, jitteriness, and insomnia in sensitive individuals.
How Much Does Nuun Cost & Where Can You Buy?
If purchased directly through Nuun, prices are as follows:
Electrolytes (10 tablets per tube): $7
Vitamins (12 tablets per tube): $7
Immunity (10 tablets per tube): $7
Performance: $20 (32-serving pouch); $24 (12 individual sachets)
We also found Nuun's products sold through a wide variety of popular third-party retailers like Target, Amazon, Vitamin Shoppe, Backcountry.com, REI, Sierra Trading Post, Bike Nashbar, and Jet.com, to name just a few. You'll also find them at thousands of independent running, biking, and grocery stores.
In some instances, these retailers sold 10-packs for as little as $42, bringing the per-tube cost down to less than $4.20 (plus shipping).
What Can We Learn From Nuun Customer Reviews?
We encountered thousands of combined customer reviews for Nuun's different formulations on many of the same sites listed in the previous section, with the vast majority overwhelmingly positive. Most compliments appeared to reference ease of use, a great way to get the minerals and electrolytes your body needs, decreased instances of cramping/stiffness, and great taste.
On the other hand, the relatively few complaints seemed to revolve around taste preferences.
Nuun vs. Other Electrolyte & Hydration Supplements
There are a lot of products out there potentially competing for many of the same customers as Nuun—including powders that provide essential hydration and replenish key minerals and electrolytes, without the high sugar/carbohydrate content typically found in sports drinks.
Many of these brands also offer a variety of flavors, different formulations for sports and everyday use, as well as energy versions that include caffeine. Here were some of the more popular options at the time of our research:
| | | |
| --- | --- | --- |
| Brand | Pricing (MSRP) | Key Notes |
| Nuun | $7 - $24 | Effervescent technology, powders and dissolvable tabs available, sports formula contains up to 13 g of sugar per serving |
| Skratch Labs | $19.50 - $49 | Powders only, also offers other products like chews and bars, sports formula contains up to 19 g of sugar per serving |
| Tailwind Endurance Fuel | $2.50 - $38.99 | Powders only, contains up to 25 g of sugar per serving, also offers recovery drinks |
| Saltstick | $2 - $30 | Capsules only, contains only sodium, potassium, calcium, magnesium, and vitamin D; no sweeteners |
| Zipfizz Tubes | $32 | Contains a total of 24 ingredients, powders only, energy shot also available |
How can you choose the 'best' option?
As mentioned earlier, any time you're thinking about trying a new dietary supplement, be sure to speak with your doctor, who can help direct you to a product that will deliver the most value based on your diagnosis, as well as to avoid potential side effects.
If they recommend a product like Nuun, it might mainly come down to preferences like budget and formulation.
For example, by popping one in your mouth instead of mixing with water, Saltstick's capsules could be more convenient for cyclists and runners. However, their small size also means they could jumble around inside your pocket or jersey. And to eliminate this, you'll have to pay extra for a dispenser.
At $2 for a three-pack, Saltstick also offers one of the lowest per-serving costs (excluding the dispenser) of any of the above options, while Liquid IV came in the highest overall at $65.
One of the biggest reasons customers cite for using these types of products is that they can gain electrolytes and avoid sugar commonly found in popular sports drinks. However, Tailwind's Endurance Fuel contains as much as 25 g of sugar per serving, whereas a 12 oz serving of Orange Gatorade actually comes in lower at 21 g per serving.
In other words, while you're shopping between brands, make sure that you pay close attention to the nutrition facts label—especially sugar content if that's one of your primary concerns.
Where does all of this leave you when it comes to Nuun?
Should You Place an Order for Nuun?
With competitive pricing (primarily through third parties), no sugar per serving in their tabs, low calories, multiple essential minerals and electrolytes, and the only popular option that offers effervescent technology, it seems that Nuun—who's been in business since 2004 and sells their products around the globe—has a lot of offer if you're looking to maximize your hydration.
Are they your 'best' option, though?
With so many variables in play (e.g., taste, budget, ingredients, sugar content, etc.), there's just no way to be sure without giving it a try. As a consumable, though, it doesn't appear that Nuun or their third-party retailers offer refunds, so you might want to start with a small quantity and order more if you find it meets your needs.
>> Read next: What's in Your Sports Drink? A Guide to Ingredients and Who Should be Drinking Them