Leanbean Reviews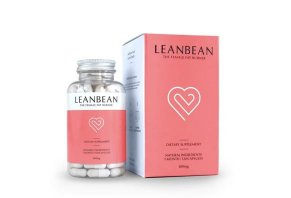 Using a trio of main ingredients it claims can help with weight loss, Leanbean is a women-focused supplement promising to help you lose weight if you pair it with exercise and a reduced-calorie diet.
What Is Leanbean?
Leanbean is a fat-burning supplement designed for women that claims to use a powerful mix of ingredients to "start burning unwanted fat and finally achieve your goals."
What makes the supplement different from the hundreds we've reviewed is that it markets to women only and they rely on the first-hand experiences of spokeswoman, model and former pro surfer Bree Kleintop to pitch their product.
Leanbean's owner is Ultimate Life LTD, a company based in England. According to the U.K.'s federal registry of companies, the company incorporated in October 2015. Federal filings indicate the director of the company at the time of incorporation was Peter Miller MacGregor.
In this review, we'll take some time to talk about how Leanbean works, its ingredients, side effects as well as how much the product costs. We'll also compare it to other supplements like it.
Along the way, we'll include the insight of medical experts.
How Leanbean Works
Every Leanben bottle includes a 30-day supply of capsules that include the company's tailored-for-women ingredients formula (more on that later).
You can take up to four of the pills every day, which is something the Leanbean site suggest you do to get "around the clock results."
As far as the specific benefits you get, Leanbean's site says that the supplement will remove fat layers, boost your energy and enhance your overall "sense of wellbeing."
The site uses the testimony of Kleintop, their spokeswoman, to provide an example of how the supplement works. In a video posted on the Leanbean home page, Kleintop walks you through the rigors she faces as a model and former surfer.
Her demanding schedule means that she's constantly in jeopardy of exhaustion but, because of the demands of modeling, she always has to look and feel her best. Leanbean helped her reach this goal, she said.
"So, the first time I tried Leanbean I had a shoot that day and normally by after lunchtime I'm pretty ready for a nap and I was ready to go. I felt great, my energy was up. I definitely didn't feel as hungry, like my appetite was more in check. I wasn't dying to eat. With Leanbean, it suppressed my appetite," she said.
Kleintop goes on to tell viewers that she recommends Leanbean "to anyone that wants a good beach body, which we're all striving for, and just looking healthy and good."
Pro tip: Leanbean says their supplement is meant to be used in conjunction with an "effective exercise and diet plan."
Leanbean's Ingredients
A preliminary read-through of the Leanbean website makes it seem like it's a perfect fit for the average woman. Kleintop's testimonial is even more convincing, as she addresses common frustrations like lack of energy.
To understand if the marketing of the product is all hype or is based on factual evidence, it's important to dig into the main ingredients of the supplement. We'll do that in this section by examining the three main ingredients Leanbean highlights on their home page: turmeric, garcinia cambogia, and Konjac fiber.
In total, Leanbean has 12 ingredients. The nine besides the ones listed in this section are acai berry, green coffee, green tea extract, cayenne pepper, piperine, raspberry ketones, chromium picolinate, Vitamin B6 and Vitamin B12.
Turmeric: 200 mg Per Pill
The site claims that turmeric can raise your body temperature and speed up metabolism, a result that can help your body lose weight by burning fat. Each pill contains 200 mg of turmeric.
Consumer Lab president and founder Dr. Tod Cooperman pointed out that there is some clinical evidence that suggests turmeric can help you lose weight.
"Curcumin has shown a modest effect in reducing body weight and BMI (body mass index); people in studies lasting 3 to 12 weeks lost, on average, 2.5 lbs. of body weight," he told us.
He added some parameters to that effectiveness, though. First, he said, research indicates that turmeric needs to be taken in extract form. Second, you need to take it with meals twice a day because it enhances absorption.
Finally, he said, the company's tests of various turmeric products "reveal that nearly 20% of turmeric/curcumin supplements don't contain their expected amounts of curcumin."
Because Leanbean recommends taking four pills a day, you'll get 800 mg of turmeric which, according to Consumer Lab, is enough to match or exceed what was used in the research we mentioned earlier.
Garcinia Cambogia: 180 mg Per Pill
The key ingredient in garcinia is something called hydroxycitric acid (HCA), Leanbean points out. HCA, they said, blocks the enzymes that produce fat and supports serotonin creation, which suppresses your appetite.
Consumer Lab told us that the evidence for HCA-supported weight loss is "mixed."
"HCA may be more effective in women than men and in people who are not markedly obese," Cooperman said. "Products should be labeled as containing 50-60% HCA."
As a supplement marketed to women, those who take Leanbean should have a better chance of seeing results over men.
Keep in mind, though, that Consumer Lab tests reveal that more than half of the supplements they've tested don't contain the HCA percentage the bottle says it does.
That being said, if Leanbean's garcinia cambogia contains the 50-percent concentration level contain, then it meets the requirements of the preferred range of concentrations, Consumer Lab said.
Konjac Fiber: 550 mg Per Pill
The last main ingredient that Leanbean emphasizes is Konjac fiber. According to their website, the fiber works like most fiber supplements: it makes you feel full, so you eat less.
Bart Wolbers, a researcher at Nature Builds Health, has master's degrees in clinical health science and the philosophy of science and technology.
Wolbers told us that while certain konjac fiber studies show that it can be effective in aiding with weight loss, systematic studies (a composite of multiple individual studies) tell a different story.
"Systematic reviews combine many previous studies (such as randomized controlled trials) and then judge on the efficacy of an intervention based on all available research," Wolbers said. "These systematic reviews show no difference between konjac fibers and placebo. With higher-quality studies - which currently do not exist - that conclusion may change in the future."
If these observations make you wary of Konjac fiber, you could supplement your Leanbean with a fiber pill or soluble fiber, both of which should cost less than $10 for a substantial number of servings.
Side Effects of Leanbean's Main Ingredients
Based on the information we received from our two medical sources, garcinia cambogia and turmeric pose the most risk.
According to Consumer Lab, reactions could take place if you take drugs that are metabolized by cytochrome P450 3A (your doctor can verify this). Also, the site recommends avoiding turmeric if you have gallbladder disease or are prone to kidney stones.
Garcinia cambogia can pose a danger to those with bipolar disorder.
"There have been case reports of mania occurring with use in such people, and it may interact with SSRI antidepressants," Cooperman said.
Leanbean Cost and Return Policy
At the time of publishing, you had multiple options for purchasing. One bottle (one month's supply) was $59, two bottles were $118 and four bottles were $185. If you buy the four-pack, you'll get a free workout eBook with your purchase.
The multi-bottle options come with free shipping to the U.S. and U.K. The single-bottle option costs $7.95 to ship to the U.S. via the United States Postal Service and $3.95 to ship to the U.K. via Royal Mail.
According to the fine print, Leanbean will send you your tracking number with 48 hours of the shipping day.
The ordering page also features a Leanbean $40 Lycra performance sports bra. Shipping comes at an additional cost for this product.
Returns, according to Leanbean's terms and conditions, are only possible if you contact them within seven business days of getting your product and if the bottles you want to return are sealed. In other words, only unopened bottles can be returned.
The supplement has a 90-day money-back guarantee, too. However, in order to make a claim under this guarantee, you have to exercise regularly and eat "a consistently healthy and calorie-controlled diet."
Furthermore, the guarantee only applies to customers who bought at least three bottles. This restriction makes sense, as they say you have to try it for at least 90 days to make a return. Also, you have to submit your claim to emailinfo@leanbeanofficial.com within four months of your purchase date.
Comparing Leanbean to Similar Supplements
We went to Amazon to search the top-rated supplements that compare to Leanbean but couldn't find any that had the same ingredients. So, we did a quick search of turmeric supplements, garcinia cambogia supplements, and konjac fiber supplements:
ACE Vitamin Shop Turmeric Curcumin: 90 pills with 1,650 mg of turmeric, 4.9 stars from 72 reviews, $17.85

WiseLife Naturals: 180 pills with 300 mg of 60% garcinia, 4.7 stars from 169 reviews, $24.95

For Women's Health Glucomannan Konjac Roots: 100 capsules with 1,995 mg of konjac root, 3.6 stars from 93 reviews, $19.89
Based on the recommended doses, the ACE pills will last one month, the WiseLife pills will last three months and the For Women's Health Pills last one month and 10 days. A three-month supply of all these supplements would cost around $100, which is $18 less than a two-month supply of Leanbean.
The advantage of buying the main Leanbean ingredients separately is that you can take them according to the recommended ingestion times. Turmeric can be taken with a meal, for example, but garcinia cambogia needs to be taken about an hour before your meal, Consumer Lab told us.
The downside to buying items separately is that you're buying from three different companies and none of them have quite the branding and message that Leanbean, which is a big deal for someone who likes to build trust with a brand before buying.
Also, the recommended dosage of the pills we saw on Amazon would require you to take at least seven pills at a time, whereas you only have to take one pill four times a day with Leanbean.
Our final observation is that buying separate supplements allows you to take a much higher dosage of each ingredient.
The Final Word: Pros and Cons of Leanbean
One of the main advantages of Leanbean is that the supplement provides adequate doses of its main ingredients in one single pill, whereas buying separate pills for each main ingredient can result in taking seven pills at a time.
If you're someone who has a hard time swallowing pills—the New York Times says 40 percent of adults have difficulty swallowing pills—then Leanbean presents an excellent way to get multiple ingredients in one pill.
Another advantage of Leanbean is that they're upfront about the fact that the supplement's efficiency requires that you exercise and watch your diet.
This may seem like a disadvantage but, in our opinion, it presents a scenario in which you have to establish a healthy lifestyle to get the pill to work well. So, even if you decide that you want to stop Leanbean, the residual habits you've built could be beneficial far beyond taking a supplement.
The disadvantages of Leanbean, we believe, are that the fat-burning ingredients included in each pill have some evidence they work but, aside from turmeric, the research isn't quite conclusive. One study showed that turmeric created an average of 2.5 pounds of weight loss over the course of three to 12 weeks.
Remember, though, that an average weight-loss figure represents those who lost less than 2.5 pounds and those who lost more. So, for you, you could find yourself on the low end of the average or the high end. Since there are no guarantees about how much weight you'll lose, it's hard to tell which side of the average you'll be on.
With all this in mind, we believe that there is a chance Leanbean will lead to weight loss but not without regular exercise and a calorie-reduced diet.
We've talked with doctors who say there are some big advantages to walking 30 minutes a day, which we think is a great way to meet Leanbean's exercise requirement.
One diet we've researched and consulted experts about is the Mediterranean diet. The diet is naturally lower in calories and, as one doctor in the article pointed out, "the Mediterranean diet is a great way to increase the intake of healthy foods like fruits, vegetables, and whole grains in the diet.