Leanbean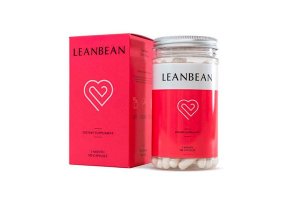 Summary
Leanbean's blend of natural ingredients isn't well supported, especially at the doses they offer. While Leanbean likely has a lower risk for serious side effects when compared to other thermogenic supplements with large caffeine doses, it is less likely to be effective.
Pros
Blend does not rely on the high amount or multiple forms of caffeine
Likely less prone to stimulant-related side effects compared to many thermogenic blends
Priced comparably to supplements with the most similar blends
Cons
On the more expensive end of thermogenic supplements in general
Many of the ingredients aren't well supported, especially at the doses offered
No evidence that ingredients cater only to the weight loss needs of women
Leanbean Review - Learn If This Supplement Works For Weight Loss
Leanbean is a dietary supplement that is intended to burn fat, boost energy, and promote your overall well being.
Designed for women, at 2 capsules 3 times daily 30-minutes before your meals, Leanbean is proposed to:
Kickstart your metabolism and burn more fat
Reduce your cravings and caloric intake
Boost your energy and focus
Help you avoid vitamin deficiencies
According to the website, Leanbean's blend is geared specifically towards women as the company believes that science has shown they have a tougher time with cravings than men do. Also, the company states that both their bend of ingredients, as well as the doses they've selected, are backed by clinical research.
Though these are lofty claims, the company does make it clear that Leanbean is designed to supplement an effective exercise and diet plan rather than replace these lifestyle modifications.
In this article, we'll help you determine if you should be as confident in these claims as Leanbean seems to be by highlighting the available research that has investigated the proposed benefit of Leanbean's key ingredients.
Leanbean Active Ingredients: Do They Work?
There is some available evidence backing Leanbean's claims in terms of the differences in the way men and women respond to cravings.
For example, one study concluded that food cravings were associated with binge eating and that this relationship was stronger in women. Also, this review found that gender differences may exist in relation to response to cravings, obesity rates, health outcomes, hormonal balance, and even craving food types.
Still, more work is needed to determine the clinical application of these differences.
Leanbean believes that their supplement can address the specific weight loss needs of women. According to the Supplement Facts label, every 6-capsule serving of Leanbean contains the following:
Vitamin B6 - 1.7mg and Vitamin B12 - 2.4mcg
B Vitamins can be obtained naturally from foods like meat, seeds, and nuts. Supplementation may support brain and nerve health, red blood cell function, energy metabolism, and weight loss, and mental function.
Vitamin B12 deficiency may be associated with fatigue. Supplementation can boost energy, though this effect is less noticeable in those who already have adequate intake.
In terms of supporting mental function, B6 and B12 did not protect against dementia. Vitamin B9 was associated with a decreased risk for the disease, however.
Chromium - 35mcg, Zinc - 11mg, and Potassium - 10mg
Like Leanbean's vitamin complex, these minerals are mainly included to prevent deficiency. They may offer additional benefits too.
Chromium can be found in foods like beef, fruits, broccoli, and whole-wheat products.
A review of 15 randomized trials concluded that even 10-1000mcg doses of chromium were of no benefit for energy metabolism. Another review of 20 randomized studies concluded that chromium supplementation may offer only mild benefits in overweight and obese people.
Zinc is another mineral that can be found in foods that also offer B vitamins. Low levels may be associated with obesity, elevated BMI, and larger waist circumference in women.
A randomized trial found 30mg of zinc daily over 4 weeks to be effective in decreasing both BMI and body weight in obese subjects. This dose is 3x larger than that of Leanbean.
Glucomannan - 3000mg
This water-soluble dietary fiber, also known as konjac, is obtained from the roots of the elephant yam. According to Leanbean, this ingredient is responsible for many of the supplement's benefits, chiefly, appetite suppression.
Like all fiber, glucomannan likely exerts its effects by absorbing water and forming a space-occupying gel in your stomach. This leads to a sensation of fullness that is proposed to curb cravings and reduce your calorie intake.
This effect did not lead to any benefits in a randomized trial, however. Treatment with 1.3g, half the amount in Leanbean, over a 2-month span did not improve weight, body composition, or hunger in overweight and obese subjects.
In overweight and obese subjects, treatment with the same dose of glucomannan as offered in 6-capsules of Leanbean similarly did not result in significant weight loss or reduction in body fat when compared to placebo over 2-months.
Despite Leanbean's claims, dosing comparable to what is included in their supplement has not been effective for weight loss.
Choline - 82.5mg
Choline is a nutrient naturally found in eggs, liver, and nuts in addition to being used as a dietary supplement. Choline plays a role in various metabolic processes.
Pregnant women are most at risk for deficiency. Low levels can be associated with muscle and liver damage; supplementation may limit the risk for these issues.
Garcinia Cambogia - 100mg
Garcinia cambogia extract is obtained from the rind of the fruit. It is alleged to offer weight loss benefits.
The combo of 2,800mg of garcinia and chromium reduced body weight and BMI in obese individuals, though 1500mg of garcinia each day over 12-weeks did not produce results.
The research regarding this ingredient is mixed, though it remains clear that you'll likely need nearly 20x the amount offered in Leanbean to see results.
Green Coffee Bean Extract (GCBE) - 50mg
GCBE offers metabolic-boosting effects through caffeine. As this ingredient is obtained from raw beans, it may even provide more caffeine than roasted coffee beans.
A review of 3 randomized trials found that those who received GCBE dosing at 180-200mg over 1-4 months lost more weight than those taking a placebo.
Obese women treated with both 500mg of GCBE and regular exercise over a 2-month duration significantly reduced their metabolic syndrome severity scores.
While the available research has highlighted the metabolic boosting effects of this ingredient, results were seen with much higher doses.
Turmeric - 50mg
Turmeric's alleged benefits are mainly related to its active compound, curcumin.
A review of 8 randomized trials concluded that curcumin doses ranging from 70-3,000mg daily over 2 to 3-months significantly reduced BMI, but not body weight.
Another review found curcumin supplementation at 250mg to 2.4g daily to be effective in reducing BMI and body weight in those with obesity and other medical conditions.
There is evidence supporting turmeric's ability to reduce BMI, particularly in those with metabolic disorders. Leanbean's dose doesn't fall into the range that has been proven to be beneficial, however.
Acai Berry - 20mg
Acai is the fruit of a palm tree that is found in tropical regions. It is often marketed as a weight-loss and anti-aging supplement, though strong support for its safety and efficacy in weight loss is currently lacking.
BioPerine - 5mg
BioPerine is a patented form of the active ingredient of black pepper. You may recognize this ingredient as a commonly used spice, though it is regularly included in supplements that claim to offer metabolic-boosting effects.
In overweight people randomized to receive 6mg of black pepper or placebo each day, those treated with black pepper experienced a greater reduction in BMI and body fat. This dose is comparable to that of Leanbean.
Safety and Side Effects
Leanbean's blend of ingredients is likely safe when used as directed. Their formulation's key difference, when compared to many other products that claim to include thermogenic ingredients, is the lower levels of caffeine - just 10mg.
Smaller caffeine dosages mean that there is a much lower risk for many of the stimulant-related side effects that can be associated with these supplements. Also, many of Leanbean's ingredients fall short, or are at least comparable, to the larger doses that have been safely tested in research studies.
While the risk for serious adverse effects from the ingredients themselves is likely to be low, Leanbean is not without the potential to be associated with harm.
For example, if Leanbean is effective in curbing your appetite and reducing your caloric intake, you may be at risk for nutrient and energy deficiencies. Also, drastically altering your diet can negatively impact your daily medications or cause unsafe drops in blood sugar.
For these reasons, it's best to discuss the ingredients with your doctor before using Leanbean or similar products.
Pricing
Leanbean is currently available only from their website.
There are a few purchasing options:
Single bottle order (180 capsules) will last you the month. For $59 + shipping, you'll get Leanbean as well as a home workout guide.
2-month supply is priced at $118. It also comes with the home workout guide, though this package ships free.
4-month supply is priced at $185. Thus you receive the 4th bottle free. This bundle comes with the home workout guide, as well as a healthy eating guide, and it ships for free.
While this supplement isn't cheap, you do have 90-days to determine if it works. If you're unsatisfied with the results, you can contact support at info@leanbeanofficial.com.
Keep in mind that to process your return, Leanbean requires that you take the supplement consistently for a full 90-days in conjunction with regular exercise and a healthy diet. They do not detail how it is possible to determine that you've actually done this, however.
What Are the Alternatives to Leanbean?
Leanbean contains a blend of vitamins, minerals, appetite suppressants, and thermogenic extracts that are proposed to jumpstart your metabolism.
The format for this formulation is not unique to their products, though those that other vendors offer may differ slightly in pricing, dosing, and the ingredient list.
For example, we previously reviewed a fairly similar product at HighYa called Instant Knockout.
Like Leanbean, their blend also offers B vitamins, chromium, zinc, green coffee bean, black pepper, as well as glucomannan. While their glucomannan dosing is slightly more than half of what Leanbean offers, Instant Knockout has the edge in most of the other ingredients they have in common.
Also, these supplements are priced identically for 1, 2, and 4-month supplies, so you won't save by opting for Instant Knockout.
Where these products differ most is the caffeine content. Leanbean contains just 10mg in a 6-capsule dose, whereas Instant Knockout relies heavily on its benefits as it contains 3 different forms of the stimulant.
Between the high caffeine content, and the inclusion of a highly concentrated, artificial form of the stimulant, using Instant Knockout can result in unwanted and potentially dangerous side effects.
In this instance, Leanbean is probably the safer bet, though you should still review the ingredients with your doctor.
The Bottom Line
Leanbean's blend of ingredients does have some scientific support to back their proposed actions, though dosing often falls short of those proven to be effective. Also, support for the appetite-suppressing benefits of their star ingredient, glucomannan, is lacking.
Interestingly, there is some evidence that the response to cravings may differ between the sexes. However, there is no indication that Leanbean's blend of ingredients would benefit only women.
When compared to other supplements that offer thermogenic ingredients, Leanbean contains just 10mg of caffeine. This means they rely heavily on the actions of the other ingredients, though the harmful side effects associated with excess caffeine are less likely.
Thus, Leanbean may be a safer, but a less effective supplement.
Leanbean is priced more expensively than many thermogenic blends, though the cost is comparable to blends that are most similar to theirs. The 90-day guarantee can help offset most of the financial risk.
When taking all of these factors into consideration, Leanbean may represent a safe option for jumpstarting your metabolism. However, the lack of support and lower dosing for their ingredients means that it may not be worth the money.
Still, be sure to discuss the ingredient with your doctor before using it.
Customer Reviews