Instant Knockout Reviews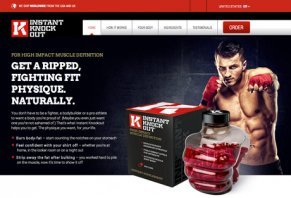 Instant Knockout is a nutritional supplement that's claimed to use all-natural ingredients to help increase your metabolism and reduce hunger cravings.
About Instant Knockout
Instant Knockout claims to be a 100% natural fat burner that uses extensively researched, clinically proven, plant-based ingredients to provide 3 primary benefits: a boosted metabolism, reduced hunger cravings, and increased energy levels. Instant Knockout is claimed to have been originally developed for pro MMA fighters to cut weight before their weigh-ins, but is now available to help anyone who wants to maximize the number of hours their body burns fat, while still retaining muscle.
Whether you're a serious athlete, are carrying around a bit of extra weight from the Holidays, or you're looking to take your fitness up a notch, Instant Knockout claims they can help you "get a ripped, fighting fit physique" and a body you're proud of, so that you can look good with your shirt off. And when it comes down to it, isn't that why you want to lean up?
Not only does Instant Knockout claim to help you accomplish this, but that you can still experience fat loss even if you don't work out regularly. Double whammy, right?
But instead of leaving you on your own to make a decision, we've researched Instant Knockout's ingredients, and here's what we learned.
Ingredients Contained in Instant Knockout
According to the Instant Knockout website, their formula contains ten completely natural, powerful, plant-based extracts, vitamins, and minerals that are 100% safe, and that can help you slim your physique.
However, WebMD claims that there is insufficient evidence showing that Vitamin B6, Vitamin B12, zinc, chromium, green tea extract, green coffee bean extract, cayenne powder, or caffeine can reliably boost metabolism or help you lose weight. This isn't to say that these ingredients can't provide you with some health benefits, but it's unlikely that they'll help you trim up and lose excess belly fat.
However, by making you feel fuller by adding a great deal of dietary fiber to your diet, glucomannan may help you eat less and therefore lose weight. However, it will not directly help you shed pounds, and it's very likely that the effect will only be minimal. WebMD recommends not taking glucomannan regularly for more than 4 months.
Other than this, WebMD also claims that Instant Knockout's ingredients are generally considered safe in the recommended doses, although everyone's body is different, so you may react differently.
A note about clinical evidence: As we can see, there is a lack of substantive clinical evidence within the scientific community showing these ingredients work, but this doesn't mean clinical studies haven't been performed on them.
For example, as we've mentioned numerous times, Green Coffee Bean extract has undergone a handful of studies related to its weight loss properties. However, when you read the conclusions of these studies, the results may have been uncertain, and in many instances the trials were performed on rats, not humans. In short, there is a substantial difference between "clinically tested" and "clinically proven."
How Should Instant Knockout Be Taken?
The manufacturer claims that you should take 1 capsule of Instant Knockout, 4 times per day: one in the morning, one before lunch, another in the afternoon, and a final capsule before your evening meal.
The company claims that Instant Knockout is manufactured in GMP certified facilities in the US and UK, and are formulated by their "team in England [who] works with nutritional experts, scientists, athletes and manufacturers from around the globe."
As such, Instant Knockout is claimed to be completely safe to take on a daily basis. However, because of the stimulants contained in the supplement, the company recommends not taking any other stimulants throughout the day. Also, in order to avoid sleeplessness, the manufacturer recommends taking your last dose of Instant Knockout no later than 5 hours before bedtime.
Is Instant Knockout the Best Way to Lean Up After Bulking?
According to this Houston Chronicle article, the best way to lean up after bulking is through a calorie-restricted diet, increased cardiovascular exercise, working out each of your muscle groups regularly, and consuming adequate amounts of protein. And while it might seem intuitive that a natural supplement can help boost these effects, as we mentioned above, the evidence supporting Instant Knockout's is very slim.
With this said, like any other athlete who has to weight in, MMA fighters are some of the most weight-conscious professionals around, so it would go a long way toward adding credibility if a well-known MMA fighter endorsed the product. However, we couldn't find any online material that linked Instant Knockout with an MMA fighter.
Customer Feedback About Instant Knockout
There weren't any online customer reviews available for Instant Knockout at the time of our research, other than affiliate websites that feature fake reviews. It's interesting to note that most of these websites posted Instant Knockout reviews at the same time, between the end of September and the beginning of October. We did learn that the supplement is manufactured by Roar Ambition Ltd based out of the UK, who also makes TestoFuel.
However, SupplementCritique claimed to have personally tested Instant Knockout, and that they experienced a "very big" reduction in fat deposits, and claimed that it's "one of the few fat burning supplements that REALLY does work."
Instant Knockout Pricing & Refund Policy
Each bottle of Instant Knockout contains 120, 500mg capsules, and is priced as follows:
1-Month Supply: $59, plus $7.95 S&H (faster options available at an additional cost)
2-Month Supply: $118, plus free S&H to the US and UK
Ultimate Shredding Stack (Includes 2 bottles of Instant Knockout, 1 free bottle, and 1 t-shirt): $185, plus free worldwide shipping
Important note: Although Instant Knockout is claimed to come with a 90-day refund policy, this is extremely misleading. Why? Because according to the company's Terms & Conditions, this only applies to customers who have purchase 3+ bottles. On top of this, you need to have met the following requirements in order to be eligible:
Taken Instant Knockout for a full 90 days as instructed by the packaging
Performed regular weight lifting exercises.
Eaten a consistently healthy and rich calorific diet.
Then, when sending in your package, you must also include:
Your name, address and order number
All used and unused items that were sent to you
A description of your workout and diet plan
Finally, you'll need to send your package as signature required. And after it's all said and done, the company will still subtract a whopping $35 admin fee, as well as S&H costs, from your total refund amount.
Unfortunately, there's no customer service phone number available for Instant Knockout, only an email address at cs@instantknockout.com.
Can Instant Knockout Help You Look Better with Your Shirt Off?
Chopping to the Point: Considering the lack on online clinical support showing the efficacy of Instant Knockout's ingredients, the highly restrictive refund policy, and the fact that you can lean up without the use of supplements, we'd recommend speaking with a physician or dietician about more effective methods of shedding excess weight.
1 out 2 people found this review helpful

Fraud, scam, never buy it

By Santosh A.

,

India

,

Oct 15, 2019
Verified Reviewer

I ordered this product from their website, it was for free delivery for buying 3 products together, and it cost me 6000 rupees more as custom charge, on delivery, and when I tried to contact their support, they stopped replying me,

Very bad experience, it even took one month for delivery.

And also this supplement doesn't found so effective, it looks fake, it doesn't give that much kick, or strength in work out just like we found strength in normal pre-workout. Even musblaze pre-workout is best than this supplement.

Never ever buy this supplement, it's a waste of money.

In case if support doesn't respond to your query contact Roar Ambition company's CEO on LinkedIn.

Bottom Line: Yes, I would recommend this to a friend

---

4 out 7 people found this review helpful

Misleading/false advertisement

By Sophia P.

,

Detroit, MI

,

Feb 28, 2019
Verified Reviewer

This product has not done anything it says it does. I have taken it for three weeks with no increase in energy and absolutely no weight loss. I am an active person who works out five days a week with a healthy diet and this supplement did not help one bit! I contacted customer support for a refund. They told me the refund was only for a three-month supply, not a one-month purchase. Their 90-day money back guarantee is false advertisement! Do NOT buy this product! It's a waste of hard-earned money!

Bottom Line: No, I would not recommend this to a friend

---

Advertisement

---

7 out 9 people found this review helpful

Misleading return policy. SCAM!

By Holly Z.

,

Holland, MA

,

Jan 7, 2019
Verified Reviewer

I purchased a four-month supply, thinking if it didn't work, no big deal I would get a refund. WRONG! The refund timeframe starts from when the product is delivered, which is great if you start it then. I contacted the company around 70 days of being on the product because it didn't seem to be working for me (I thought the return policy was "return within 90 days for a refund"). I was told you have to use the product for 90 days BEFORE they will issue a refund. Ok, so I figured I would contact them again when I was finishing up my third bottle. Well, I missed a pill here and there and that added time to my third bottle, no biggie right? Yeah, well, since I didn't start the bottles right away when I received them because I wanted to start on a specific day, that added to my time and when I contacted the company again after my "90 days," they informed me that the time frame for a return is after 90 days from delivery but before 120 days before delivery. I missed the 120 days by a little bit and was refused a refund.

You only have 30 days to contact them, hear back from them and arrange the return. SCAM. They don't stand behind there product, and they make the return process really difficult and misleading. The first time I contacted them for a refund and was told I needed to be on it for 90 days they should have mentioned the 120-day cut off period. Instead they lead me to believe I had time. Crappy company. Crappy product. Crappy customer service.

Bottom Line: No, I would not recommend this to a friend

---

4 out 6 people found this review helpful

Crap product, does nothing.

By Phil M.

,

Rochester, NY

,

Nov 4, 2018
Verified Reviewer

Don't bother, save your money. I purchased a bottle and didn't lose anything. I watched my diet, got some exercise, more than usual, and there was no weight loss. I went to get my refund, but because I ordered and didn't start the plan for a few weeks after receiving it, I had surpassed the 30-day money back guarantee. That's kind of a crappy policy, that it has to be returned within 30 days of invoice date.

Bottom Line: No, I would not recommend this to a friend

---

Advertisement

---

3 out 7 people found this review helpful

Horrible customer service

By Jake M.

,

Dundee, Scotland

,

Oct 20, 2018
Verified Reviewer

I had ordered two boxes of Instant Knockout through PayPal and without asking for the delivery address it picked up the billing address, which is my home country. The same day I informed them of the mistake and they initially said that I had to reject the parcel from my home country. Later they said that they will have to wait for the shipment to return and only then will they deliver to my residence address.

Bottom Line: No, I would not recommend this to a friend

---

6 out 8 people found this review helpful

This product doesn't work, waste of money

By Isse Y.

,

London, England

,

Sep 25, 2018
Verified Reviewer

It is a waste of money, it doesn't work. Instead, I got heartburn and sleepless stress. When you call them, they will ignore you. Once they get their money, you will never get a refund. The 90 days refund is rubbish and a scam.

Be careful, don't waste your time and money.

Bottom Line: No, I would not recommend this to a friend

---

8 out 10 people found this review helpful

Expensive product, zero results

By Javier S.

,

Raleigh, NC

,

Aug 2, 2018
Verified Reviewer

I was a one-time buyer. I think I ended up buying it deceived by the strong marketing campaign this product has. It's what you can see on the company's website. However, I realized the product does not work at all and I decided I would not buy it again.

The product is expensive in proportion with the amount, and last but not least, because you do not feel any of the benefits you are supposed to receive, like losing weight easier (it doesn't boost your energy levels either). I felt restlessness, anxiety and I could not sleep.

They didn't give me back what I paid for a product that caused me losses and bad health consequences, so that read thoroughly their policies if you want to take the risk.

I felt very disappointed about Instant Knockout, so I decided to share my experience with people interested in this product.

Bottom Line: No, I would not recommend this to a friend

---

10 out 12 people found this review helpful

90-day guarantee is scam

By Angel G.

,

Florida

,

Jun 8, 2018
Verified Reviewer

I bought this product thinking that I had nothing to lose. WRONG!

Some pieces of advice:

1) 90-day guarantee only applies to purchases of three boxes or more and they refund you everything minus $35 and whatever you have to pay in shipping.

2) It didn't do anything for me. I kept working out and eating right then added the pill and felt absolutely no change.

3) When you request a refund, they will ignore your first contact so be prepared to have to contact them again.

4) You can't call them because they are located in London and don't answer the phone.

5) The only thing they are guaranteeing is that they are making money whether you like the product or not.

Hopefully, this reaches enough people that it helps someone avoid the same pitfall I fell into.

Good luck.

Bottom Line: No, I would not recommend this to a friend

---

8 out 11 people found this review helpful

Do not buy this junk

By Cody Bryan

,

Tampa, FL

,

Apr 28, 2018
Verified Reviewer

After ordering Instant Knockout, I waited until the next day to take the "recommended dose." After taking the four daily capsules, I became nauseous and had very bad heartburn and felt uneasy jittery. The next day I contacted only through email because there is no phone number for customer service. I was told by Joanne that per the company terms and conditions that I could not get a refund. She said it was "very clear" in the terms and conditions page.

Bottom line, do not order this product. It is nothing more than a scam to deceive you out of your money. She was no more concerned about my experience than the man in the moon. Save your hard earned money.

Bottom Line: No, I would not recommend this to a friend

---

19 out 24 people found this review helpful

An honest review

Ireland

,

Feb 3, 2018
Verified Reviewer

Before buying this product, I searched and searched the internet for reviews, and of course, all I found were reviews on how amazing this product was. That was me SOLD. I was excited and could not wait until it arrived.

In fairness, I have only been taking the pills for about three weeks, but there is no difference. Nothing; "sweet Fanny Adams." I am overweight (19 stone) and need all the help I can get, and I was hoping this was something that could help me shift a few pounds as well as healthy eating and working out hard in the gym.

I promise you, don't buy this product, it's expensive nonsense. However, I will say that two weeks before buying Instant Knockout, I bought Roar Ambitions 4gauge pre-workout powder and it's amazing. It does work. But as for Instant Knockout, it's a hard lesson learned.

Bottom Line: No, I would not recommend this to a friend

---

10 out 20 people found this review helpful

No results

I purchased the 3-month supply to get the 1-month free and am throwing it out after 2 months. I've increased my workouts and have gained 8 pounds over the past 6 weeks, mostly fat. I would be fine with not changing at all, but this product appears to have me going backward. I'm too embarrassed to ask for a refund.

Bottom Line: No, I would not recommend this to a friend

---