LendUp Reviews
Claimed This company has claimed this profile, is getting alerted on any new customer reviews entering this page, and may engage in dialogue with its customers to address their matters.

Companies cannot pay money or provide goods in order to remove or alter customer reviews.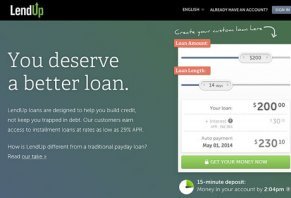 LendUp is a socially responsible payday lender that claims to help people escape the debt trap, build their credit, and gain access to more money over time.
About LendUp
Searching for a reputable payday lender may seem impossible, but LendUp claims to provide a solution. Instead of causing individuals to become trapped in debt through extremely high interest rates and fuzzy terms, LendUp is a socially responsible direct lender that can help you build your credit, and gain access to more money over time.
But does LendUp live up to these expectations? Let's take a look.
Understanding How LendUp Works
If you're one of the millions of Americans who work hard but find themselves "locked in the short-term debt trap," LendUp claims to provide a solution. Instead of keeping you trapped in debt, LendUp has a unique system in place that allows you to quickly access payday loans, and to earn points for things like repaying your loan on time, taking education courses, and even referring friends. The company calls this "climbing the ladder," and the program spans four different tiers:
Silver – Borrow up to $250 for as long as 30 days. Will need to be repaid all at once.
Gold – Borrow up to $500 for as long as 60 days. Multiple payments can be made.
Platinum – Borrow up to $700 for as long as 6 months. Multiple payments can be made.
Prime – Borrow up to $1,000 for as long as 12 months. Multiple payments can be made. On top of this, once you reach the Prime level, you can report your repayment behavior to the major credit bureaus and may be eligible for APRs as low as 29%.
When you're ready to apply for a LendUp loan, the process works in three steps:
Apply online in as little as 5 minutes.
Since LendUp is a direct lender, they use a proprietary algorithm to provide you with an immediate response.
Your money can be deposited directly into your bank account in as little as 15 minutes. LendUp claims that their loans contain no hidden fees or rollovers, and feature clear terms and conditions.
When it comes time to repay your loan, you can either pay your it in advance, or LendUp will automatically withdraw the payment directly from your bank account.
As part of their commitment to socially responsible lending, LendUp claims to understand that they only succeed when you're able to repay your loan, so they've created an environment to work with you when the unexpected happens. This includes loan extensions up to 30 days, and even beyond this as decided on a case-by-case basis.
LendUp Pricing & Refund Policy
LendUp charges a variety of APRs for their loans. As of the time of this writing, this ranged anywhere from 199.53% to 748.77%, although once you reach the Prime tier, you may have access to APRs as low as 29%.
What Do Other Consumers Have to Say About LendUp?
LendUp has been featured in TIME, the Wall Street Journal, Inc., and more, and has been in business since 2012. However, the company is not listed with the Better Business Bureau, and online customer reviews were few and far between during our research.
Despite this, some of the most common complaints we encountered cited difficulty reporting your LendUp loans to credit reporting agencies, and that there is no direct phone number to contact someone at the company. With this said, it appears LendUp responds to complaints quickly.
What's the Bottom Line About LendUp?
Similar to Rapid Loans Direct, Greenlight Loans, CashAdvance.com, and others, LendUp is a short-term payday lender, regardless of how socially responsible they claim to be. This means they charge very high interest rates for their loans, which are essentially the same as competing payday lenders. And as we've recommended in the past, it's best to stay away from these types of loans if at all possible.
With this said, LendUp does seem to take a "kinder, gentler" approach to payday lending, with 30-day extensions available, and even beyond depending on your situation. So if you absolutely must take out a short-term payday loan, LendUp appears to be a solid choice.
LendUp is FRAUD

By Breanna H.

,

Darby, PA

,

May 1, 2019
Verified Reviewer

LendUp is not legit, would rate zero stars if I could! They will offer you a loan of big or small. My offer was for $10,000. I didn't accept that large amount but did accept a portion, in which I never received. They ask for all of your info in which I had to change and reset everything. Only for them to attempt to deposit me money, have me buy Google cards to send them the money back in order to receive the full amount. Overall it was all fraud, all of their deposits were gradually and from a number of different accounts and businesses...which obviously caused my bank to become suspicious and stop all transactions. Thank god they did! Do not save yourself if you need money and risk giving out your info, make sure it's legit! As of today, April 23, 2019, LendUp LOANS ARE NOT.

Bottom Line: No, I would not recommend this to a friend

---

LendUp used to be great...

By Lyn C.

,

Rancho Cucamonga, CA

,

Mar 22, 2019
Verified Reviewer

I would give 0 stars if I could. LendUp used to be great, now they are the worst! I hate them and will close my account. With their recent changes everything has been impossible. They suck and I will make sure everyone knows it. The system they changed to is completely useless and now worse than other lending companies. Customer service also sucks.

Bottom Line: No, I would not recommend this to a friend

---

Advertisement

---

Would've been a good idea...

By William L.

,

Louisiana

,

Mar 19, 2019
Verified Reviewer

I was in between jobs and I needed some extra cash for a week or two, so I took to LendUp which printed me for information on employment and when I should be able to make a payment on the $120.00 I owed. I put it in for about three weeks, which they claimed was a swift and timely date for the payment. I get an email a week later saying that my charge went up by $15 because I was a week late. Somehow my payment was magically reset to a couple of days after I received it rather than my assigned date. Now I am stuck with $160 something I need to pay instead of the original $130.00. I'm a "valued" customer but still having to pay more due to the website and companies glitch. Last time use them. Check out all the new services hitting the App Store anyway. Won't be too long before LendUp turns "BellyUp."

Bottom Line: No, I would not recommend this to a friend

---

Damaging

By Ronna D.

,

Waunakee, WI

,

Nov 17, 2018
Verified Reviewer

I have been using LendUp for almost two years. This is the second time a "glitch" in THEIR SOFTWARE has caused my ability to apply for another loan impossible. It took them OVER TWO MONTHS to fix the problem.

I count on that money every month to help me pay rent or extras I needed. When the system doesn't allow me to apply, it throws me into the RED for a long time because I can't afford to pay the rent for that month.

No real concern from them, no alternative method in place to compensate for others it affects either.

This is what happened.

Bottom Line: No, I would not recommend this to a friend

---

Advertisement

---

Illegal?

By Lisa W.

,

Utah

,

Oct 1, 2018
Verified Reviewer

I have an L card with them. I deleted my checking account info because I changed banks. For three months now, they have still been taking money out under the old checking account as well. If I log into my card account, it shows no checking account info for the old account, nothing pending, nothing at all.

Also, I continue to get emails from them stating that my automatic payment will be made on such and such date. I don't have, and never did have, automatic payments authorized. I called, and they said "no, I don't see that banking info on your account, and nothing is set up for automatic payment." Yet, it still happens anyway. Is it even legal to take money out of someone's bank if your banking info does not even exist on the account anymore?

Bottom Line: No, I would not recommend this to a friend

---

Great payday/installment loans!

I've had a total of 16 loans through LendUp. I do prefer it over some other options out there. Very transparent and easy to use.

Payday loans do NOT report to your credit report, they state this from the very beginning. Installment loans have an option to report, and prime loans are automatically reported on the credit report. Really helps with building credit.

Ignore all the reviews claiming they were approved for a $1,000+ loan, since LendUp doesn't go that high. Those are fake reviews.

Bottom Line: Yes, I would recommend this to a friend

---

They charge you fees without consumers knowledge or amount

By Lauri C.

,

Barstow, CA

,

Sep 12, 2018
Verified Reviewer

I have been doing business with LendUp for about 6-7 months. On each payday loan application I have filled out, there has always been a section that asks "when is your next pay date," you put in your date and continue with the application process. It has always made my repayment date the date I enter.

Last month when at the grocery store, my bank card was declined. I called my bank and to my surprise, I see a negative $230 and LendUp made a withdrawal on a date I didn't choose. I have and will never make my repayment date in the same month I get a loan. I'm on a fixed income and they could see my repayment dates are basically around the same date the following month.

I was advised by a LendUp rep to notify my bank and ask that the transaction be declined or do an unauthorized charge. I asked in doing this would this cause me a problem with LendUp and the rep assured me that a new payment date would take place and that once I repaid my loan it would then put me back in good standings and I could then continue to get payday loans. I paid off my loan a day later because early deposit came due to the holiday, but when I went to make my payment a past due charge had been applied to my repayment amount, having never been told this was going to happen and never told the amount that I was going to pay.

Because of car repairs I had done, assuring me I could get another loan after they withdrew their money from my account, I was told I could no longer use that account and in order to get another payday loan I needed to open up a new bank account with a bank other than the one I use. Mind you, LendUp uses that same bank account to get their money.

Because of the advice by one of their reps, I suffered a financial hardship because of misrepresentation and misinforming me, and the fact that my repayment date was altered. I became liable and suffered the consequences of their actions.

Don't trust this company! I was told that there was no contact number for their corporate office, there were no supervisors available for me to speak with, they were unable to connect me with the rep I spoke with, and that there was nothing they could do except give it to their Resolution Dept, who did not have one word to say. I had no solution except she would submit a request for the return of the late fee but doubted it would be returned and ended our conversation with not even "I'm sorry," just stated there was nothing that could be done.

Bottom Line: No, I would not recommend this to a friend

---

Terrible! Another scamming company! Don't do it!

By D S.

,

Florida

,

Sep 5, 2018
Verified Reviewer

Don't listen to fake reviews that say this is a good company! I was given pre-approved for $300 with no annual fee for the first year. On my card, I am being charged $59 annual fee. I called, and they said, "Sorry, sir we cannot do anything because you didn't enter the right code when you applied." Who pays $59 dollars for $300 on a card. I will give you the money then cancel because you guys are desperate. I will make sure no one I know or read this ever get this card.

Bottom Line: No, I would not recommend this to a friend

---

They have helped me

By Eve S.

,

Los Angeles, CA

,

Aug 31, 2018
Verified Reviewer

I was looking for a way to improve my credit, as I had extremely poor credit rating some my fault, some out of my control. I did not want to apply for a secure credit card. They are very upfront about interest rates and everything is clearly indicated. They allow extensions which I have utilized once or twice. In the last year and a half, I have taken out short-term loans, took their education courses and progressed. At prime, taken out and paid off loans at a much lower rate. I recommend them because of their ease of use and nothing hidden, and they have helped me make progress in my personal situation.

Bottom Line: Yes, I would recommend this to a friend

---

I received a small loan

By Paula O.

,

California

,

Aug 28, 2018
Verified Reviewer

I received a Payday loan from LendUp. It was only for a $160.00. I received the money in my account fast, and they received their payment from me as they requested from me. The only thing that I have to complain about is that they didn't report it to the credit company, so my score would go up as they said they would.

Bottom Line: Yes, I would recommend this to a friend

---

Not happy

By Valerie L.

,

New Jersey

,

Jul 3, 2018
Verified Reviewer

LendUp offered me a $3,000 loan, which I accepted. First, they wanted to clear my negative bank charges, which was only a few hundred dollars. They put $1800 in my account, which I had to give $1600 back of that before depositing my loan. I tried sending money through Western Union, but they suspected fraud. So LendUp asked me to purchase Google gift cards, and I did for $1600 (three for $500 and one for $100).

Then I waited for the loan, which I never got, but they wanted to give me $5000 instead. They said that I had to pay state charges so again they would deposit $2,220 in my account. My bank TDA must have suspected fraud because at first I saw no activity, but then I looked and now my account is negative by $2,000.

They are the only ones that had my online username and password, which I called the bank and changed.

I will also inform the Better Business Bureau. I have my receipts for the Google cards as well.

Bottom Line: No, I would not recommend this to a friend

---