LiverMD Reviews
Claimed This company has claimed this profile, is getting alerted on any new customer reviews entering this page, and may engage in dialogue with its customers to address their matters.

Companies cannot pay money or provide goods in order to remove or alter customer reviews.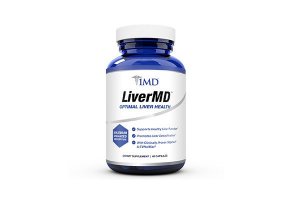 Our review of LiverMD indicates that the supplement's ingredients can promote health in your liver and protect it from disease. However, the research we did indicates there's not a lot of evidence to prove that the ingredients can promote daily liver health.
What Is LiverMD?
LiverMD from 1MD is a daily supplement that claims to promote liver health through a variety of ingredients including tocotrienol, silybin milk thistle, and N-acetyl cysteine.
The company behind the supplement is 1MD, which sells a variety of different supplements. According to the company's website, they work with doctors who specialize in gastroenterology, cardiology and allergy/immunology. However, 1MD doesn't say the extent to which they work with these doctors.
In our review of this liver supplement, we'll analyze how the supplement works, talk about its ingredients, then dive into the research behind the ingredients and their side effects. We'll also give an overview of LiverMD's pricing and return policies, and compare the supplement to other ones like it.
How LiverMD Works
Every bottle of LiverMD includes 60 capsules. You take one capsule twice a day, which means one bottle lasts 30 days. 1MD recommends that you take the capsule with a full glass of water to aid absorption.
Each capsule is free of various allergens (soy, dairy, shellfish, gluten) and is vegan.
If taken regularly, the site says you may experience the following benefits:
Protect liver and kidneys from abnormal cell division
Support production of new liver cells
Aid in liver detoxification
Restore antioxidant capacity
Boost liver health
The supplement claims to do this via its ingredients, which we'll list in the next section.
LiverMD Ingredients
According to the back label of the supplement's bottle, here are the ingredients each capsule contains:
Vitamin E
D-mixed-tocotrienol
Plant squalene
Phytosterol complex
Silybin milk thistle
N-acetyl cysteine
Alpha lipoic acid
Zinc glycinate
Selenium amino acid chelate
1MD focuses its marketing on how their supplement can help your liver. However, they also note that their ingredients can help "restore antioxidant capacity" and reduce the symptoms of certain metabolic conditions.
Because they primarily market the supplement as a liver-support tool, we're going to focus our efforts on examining the research they provide about the ingredients they say have the biggest impact on your liver.
LiverMD's Ingredients: Effectiveness and Side Effects
1MD links to two separate scientific studies addressing two ingredients they claim contribute to your liver health: D-mixed-tocotrienol and silybum milk thistle.
The first study goes back to 2009, when a group of scientists tested multiple ingredients (tocotrienol was one of them) to see how well they could prevent cancer.
We read through the study and identified the section that talks about livers and tocotrienol. Sure enough, the study made mention of the fact that tocotrienol was able to "significantly suppress" the growth of cancerous liver cells.
However, there are two important facts to point out. First, the tests were done on mice and, second, the doses of tocotrienol were given via a liquid solution.
The second study focused on silybin milk thistle as a treatment for those with cirrhosis. The study found that there was a pretty significant decrease in the number of people who died of liver-related diseases who were taking 140 milligrams of silybin milk thistle three times a day.
That last fact is really important because, according to the LiverMD label, you'll take 160 milligrams of silybin milk thistle per day compared to the 420 milligrams the test subjects were taking.
Also of note is the fact that the subjects in the study had cirrhosis. If you don't have cirrhosis, it's hard to say what effect silybin milk thistle would have on you, whether it be positive, negative or natural.
N-acetyl cysteine is an interesting ingredient because, according to ConsumerLab.com, it's something doctors give to patients to help protect the liver when taking large doses of acetaminophen. However, ConsumerLab doesn't indicate the ingredient has any positive liver benefits from taking it daily.
Based on the information we've learned from the studies LiverMD linked to as well as data from ConsumerLab, we believe that there isn't substantial, repeated research that indicates the ingredients in LiverMD can provide the benefits the site says it can.
As for side effects, there are several you should be aware of, according to ConsumerLab:
Selenium: Taking more than 0.4 milligrams a day could lead to hair and nail loss.

N-Acetyl cysteine: You could have a headache and/or gastrointestinal symptoms. It may interfere with blood tests for cholesterol. It should not be taken with nitroglycerine unless your doctor says so.
LiverMD's Pricing and Return Policies
You can buy this supplement in three different quantities and the price per bottle does down the more you buy:
One bottle: $43.00 each
Three bottles: $37.33 each ($112.00)
Six bottles: $32.83 each ($197.00)
When we added six bottles to our cart, the site gave us an additional 10% off, dropping our total price down to $177.28. Standard shipping is free and can take between seven and 10 business days. Expedited shipping costs $14.95 and takes two to three business days.
LiverMD has a 90-day, money-back guarantee. According to the fine print, that 90-day countdown starts the day you place your order. You're allowed to make your return one of two ways. You can call them at (888)393-4030, 6 a.m. to 5 p.m. PST Monday through Friday and 7 a.m. to 4 p.m. on Saturday and Sunday.
The second way to do a return is to send your supplements back to the company, noting on the outside of the box that you are making a return. The return address is 1MD, 675 N. 2800 W. #101, Lindon, UT, 84042.
If you send your product in, include all bottles, opened or not. The one exemption, the fine print says, is if you buy a six-month order, empty all six bottles and then send them all in as a return. Their reasoning is that returning that many capsules two months, for example, after buying them is not an adequate amount of time to consume the capsules as directed.
LiverMD Customer Reviews
1MD has a Better Business Bureau page which, at the time of publishing, indicated an A- score. That score reflects many different factors, including how long the company has been in business, how they address complaints, how many complaints they get and how many complaints they don't resolve.
We noticed that multiple recent complaints found resolution via a polite response from the company indicating that they granted the customer a full refund either for the product about which the customer was unhappy or the shipping charges the customer paid.
Based on this information, we believe that 1MD's customer service seems pretty responsive to complaints.
While we couldn't find any reviews on Amazon-specific to LiverMD, we did find four other 1MD supplements. Reviews for those products ranged from an average of 2.7 stars to 4.8 stars. It's hard to give you solid conclusions based on these reviews.
However, we'd like to point out that there were multiple reviews about one product's capsules leaking everywhere (Krill Oil) and another product just flat-out not being effective (Advanced Turmeric Curcumin Platinum).
The Bottom Line: Pros and Cons of LiverMD
Based on our research, we believe this supplements greatest strength is that the company behind it has relatively good reviews and ratings from past customers. These reviews, however, aren't a guarantee that the supplement will work for you.
A better judge of the LiverMD's effectiveness is the research behind the ingredients it contains and what science says about those ingredients. We believe the information we gathered indicates that LiverMD's ingredients may be its greatest weakness.
Several of the ingredients have shown in individual studies that they can help with extreme conditions like cirrhosis, heavy acetaminophen usage and liver cancer prevention.
However, there isn't any convincing evidence we found from the studies 1MD gave or the information on ConsumerLab to suggest the ingredients in LiverMD are an effective way to maintain liver health on a daily basis.
38 out 41 people found this review helpful

No refund yet.

By

Patricia E.

,

Houston, TX

,

Aug 14, 2019
Verified Reviewer

I ordered LiverMD from these people back in May 2019. I thought I would be paying $43.00, the cost of one bottle, fine. When I saw my bank account, I had been debited $176.00 for multiple bottles of the liver supplement, I had also been signed up for auto-ship, all news to me. I immediately stopped the auto-ship and contacted 1MD that I did not order what they sent and that I would be sending it back. Fine. The products were returned and received as I was notified that they had received the merchandise. I have gone round and round with these people and have yet to see my refund of $176.00. They have their merchandise and my $176.00. They don't seem too interested in returning it either. Today is August 6, 2019. Does it take this long? I don't know.

Bottom Line: No, I would not recommend this to a friend

Sep 11, 2019

Dear Patricia, we're very sorry to read about your experience. We apologize for the confusion, but your order placed with us was for a one time purchase and was not a subscription. We do not currently offer subscriptions to this product on our site.

Due to the chargeback that was filed, we were unable to immediately refund the charge. As with all chargebacks that are filed, it must be settled by your credit card company or bank before moving forward with a refund.

We understand that you may have needed assistance with this process and as a result, we offered to speak with your payment company directly. We did not receive any follow up after this interaction.

Due to the sensitive nature of this issue, we will be reaching out to you directly to resolve any outstanding matters. While we understand that you were unable to try the product due to issues with your order, we encourage you to give LiverMD another try and experience the amazing benefits of optimal liver health.

Thank you for your patience and cooperation.

---

Advertisement

---