MealEnders Reviews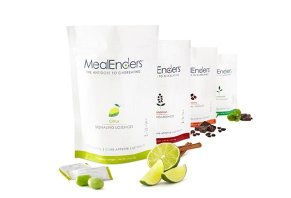 With four different flavors, MealEnders lozenges promise to help you overcome the "overeating zone" that can cause excess calorie consumption and weight gain.
About MealEnders
Promoted as the antidote to overeating, MealEnders is a patent pending, two-layer signaling lozenge that uses behavioral and sensory science to help beat overeating, master portion control, and curb cravings.
Whether used at snack time, mealtime, or in between, these lozenges consist of two components, neither of which contain drugs, herbs, artificial sweeteners, gluten, or high fructose corn syrup:
A sweet outer layer that acts as a "dessert" signal often associated with the end of a meal
A cooling, tingling center that engages the trigeminal nerve, cues the end of eating, and tells your mind it's time to stop
Together, these two layers promise to reward and reset your taste buds. And over time, the website tells us they can even help heighten mindfulness and improve eating habits (including portion control), reduce caloric intake, and manage weight.
By keeping your mind occupied between the time your body knows you're full and when your brain receives the corresponding signal, MealEnders certainly seems like it could be a "practical, easy-to-use tool to help you avoid overeating, curb snacking, and learn more mindful, healthier eating habits."
Does that mean they're right for you, though? Will they turn out to be a valuable purchase? Let's dive right in.
A Closer Look at How MealEnders' Signaling Lozenges Work
Jane Kirby of the American Dietetic Association writes that when the body is running low on glycogen, it releases the neurotransmitter ghrelin (among several other chemicals) that increases appetite.
After eating, the cells lining the lower small intestine and colon release the hormone peptide YY (PYY), which causes a sense of satiety and decreases food intake. Therefore, Science Direct lists several studies showing a link between PYY and weight.
Even though there's a strong connection between our gut and our brain, the product's site indicates that it takes 20 minutes for the brain to receive this "full" signal. This results in excess calories intake and eventually weight gain.
Instead, MealEnders' duo-sensory activating lozenges were developed to keep your mind occupied and help you bridge this 20-minute "overeating zone," without consuming excess calories.
They can also be used any time of day and to address most eating challenges, including avoiding oversized portions or dessert, reducing junk food cravings and mindless snacking, and making better decisions at the supermarket or a restaurant.
With continued use, the company claims you could even begin to recognize the difference between hunger and appetite, which is a powerful step toward healthy living. Simply follow these steps:
Learn the temptation indicators that signal you're about to overindulge, including a pause during the meal, reaching for seconds, or feeling an urge to snack after eating.

Instead of overindulging, pop a MealEnders in your mouth, but don't bite or chew it. Instead, take a mindful moment and let it completely dissolve.

These 'active taste sensations' will instantly clear cravings and continue bridging the overeating zone for about 20 minutes.
If necessary, you can enjoy a second (or even a third) MealEnders if you're feeling particularly challenged by temptation. With regular use, the process could become second nature within a few weeks.
Which Products Does MealEnders Offer & What Ingredients Do They Contain?
MealEnders are available in four different flavors, including Chocolate Mint, Cinnamon, Citrus, and Mocha, and contain 15 calories and two grams of sugar per piece.
Their Actissert Blend, listed as "Natural & Artificial Flavors," is said to be a "proprietary flavor combination formulated to clear the palate and engage the trigeminal nerve to create a pause, which leads to more mindful eating."
We reached out to the company for more details on this, and we'll be sure to update as soon as a response is received.
In the meantime, here's what we learned about the ingredients in each of MealEnders' flavors:
Mocha
French Vanilla Semisweet Chocolate (Chocolate Liquor, Sugar, Cocoa Butter, Soy Lecithin), Dark Chocolate Coating (Sugar, Non-Hydrogenated Palm Kernel and Non-Hydrogenated Palm Oils, Cocoa, Nonfat Milk, Sorbitan Monostearate and Soy Lecithin, Pure Vanilla), Corn Syrup, Sugar, Palm Oil, Dried Coffee, and Natural & Artificial Flavors.
Cinnamon
Cinnamon Cream Cheese Confectionary Coating (Sugar, Palm Kernel Oil, Nonfat Dry Milk Solids, Whole Milk Solids, Ground Cinnamon, Soy Lecithin, and Salt), Corn Syrup, Sugar, Citric Acid, and Natural and Artificial Flavors.
Chocolate Mint
French Vanilla Semisweet Chocolate (Chocolate Liquor, Sugar, Cocoa Butter, Soy Lecithin), Dark Chocolate Coating (Sugar, Non-Hydrogenated Palm Kernel and Non-Hydrogenated Palm Oils, Cocoa, Nonfat Milk, Sorbitan Monostearate and Soy Lecithin, Pure Vanilla), Corn Syrup, Sugar, Cocoa Powder, and Natural & Artificial Flavors.
Citrus
Key Lime Confectionary Coating (Sugar, Palm Kernel Oil, Nonfat Dry Milk Solids, Natural Flavor, Whole Milk Solids, Soy Lecithin, Artificial Color and Salt), Corn Syrup, Sugar, Citric Acid, and Natural & Artificial Flavors.
Could Any of These Ingredients Cause Side Effects?
The company tells us that all ingredients used in MealEnders are classified by the FDA as GRAS ("Generally Recognized as Safe"), and as such are regulated as food.
And except for individuals who are allergic or especially sensitive to the chemicals they contain, sites like the Natural Medicines Database, WebMD, and Examine.com indicate most individuals won't experience anything worse than mild digestive upset from the components in MealEnders' ingredients.
According to the product's FAQ, though, they note that "some users report feeling thirsty after the effects of a MealEnders have worn off. This is normal – just drink a glass of water! It might even help the transition along."
Outside of this, a small percentage of the population (known as 'supertasters') might find the tingling sensation too strong and unpleasant.
How Much Do MealEnders Cost?
MealEnders are available in the following quantities:
Solo Pack (25 pieces): $16.95
3 Pack Bundle (75 pieces): $34.95
9 Pack Bundle (225 pieces): $89.95
During checkout, you can choose to enroll in auto-delivery, which means you'll continue receiving the same quantity once per month and have your credit card charged accordingly. This option also provides 10 percent off the retail price, free shipping, as well as shipping reminders. Customers can skip, change, or cancel their delivery at any time.
All MealEnders orders come with a 30-day, 100 percent satisfaction guarantee, less S&H charges, which can be requested by sending an email to support@mealenders.com.
What Are MealEnders' Customers Saying in Their Reviews?
Although MealEnders was founded in 2013 and achieved fantastic sales numbers on their own, the company received a huge boost in visibility after founder and CEO Mark Bernstein appeared on season eight, episode 19 of ABC's Shark Tank program.
Despite a solid pitch and an impressive prior sales record, all Sharks ended up declining the opportunity to invest in MealEnders. Some didn't like the taste, while others were concerned about the fact that it's considered part of the dietary supplement niche—something the company firmly says they're not—or that the advertising costs were too great.
Outside of this, we encountered more than 370 customer reviews on Amazon at the time of our research, who had given the product an average rating of 2.8 stars.
There, most compliments appeared to revolve around effective behavioral modification, leading to different eating habits and controlled weight. However, more than one emphasized that these lozenges take practice, and aren't a magic weight loss bullet. Many also mentioned that they liked the taste.
On the other hand, common complaints referenced no results (e.g., didn't reduce eating or weight), as well as less-than-stellar taste and an unpleasant numbing sensation.
From a company perspective, MealEnders are manufactured by Willpower Labs, Inc. based out of San Francisco, CA, although they weren't listed with the Better Business Bureau as of this writing.
The MealEnders website tells us that Mark came up with the idea after trying to curb his overeating habits but finding nothing available. So, he enlisted the help of Silicon Valley food development firm Mattson and sensory science expert Barb Stuckey.
He also spoke with doctors, dietitians, food scientists, and other experts, to create a "solution that would work with the body rather than trying to alter it with drugs or stimulants."
Tami Lyon, MealEnders' Chief Nutrition Officer, is a registered dietician with over 25 years of experience and founded Nutritional Counseling and Consulting in 1998.
Our Conversation With MealEnders' Founder
We had an opportunity to ask CEO Mark Bernstein a handful of questions via email, and here's what we learned:
What were your thoughts immediately after Your Shark Tank appearance?

"Thank goodness this many month process is over. Back to work!"
Mark explained that this was because, although the producers reached out to the company and asked them to apply for the show, they still had to "jump through many hoops, with applications and videos submitted over many months."
Despite this, Mark emphasized that he enjoyed his time there, and noted that the Sharks were very complimentary and the encounter was respectful. However, he "was a little hurt that they didn't fight each other to invest. But in reality, we were most interested in the exposure, rather than the investment, so it worked out just fine."
Speaking of which, before appearing on Shark Tank, Mark added that the company had about $2 million in sales during their first 24 months in business. Now, just six months after the show, they've received $1.9 million in new orders and added 50,000 customers.
Has MealEnders been subjected to clinical research?
Mark recently sent us a copy of a four-week A-B-A-designed study completed in August 2017 by Stanford School of Medicine's Prevention Research Center, which involved 42 participants, 86 percent of whom were women, with a median age of 50. In the end, it found that:
"Study participants reported consuming significantly fewer calories while using the MealEnders product—a ~12% reduction relative to pre-study levels—suggesting that this can be a beneficial addition to weight management efforts.
Trends in the data suggest, that despite reporting lower calorie intake, participants did not feel hungry or deprived. Based on the reported sustained decrease in caloric intake, MealEnders may have an enduring effect on modifying eating behavior."
Specifically, Mark told us that a "the study's results found that the participants cut their daily caloric intake by an average of 230 calories." In addition, a high proportion of the participants reported enhanced mindfulness around their eating from the use of MealEnders."

Could someone become psychologically dependent and have to wean themselves off of MealEnders lozenges? Have there been any instances of this reported during testing, or by customers?

Mark emphasized that MealEnders are only a tool and do not contain drugs, stimulants or supplements of any kind. The company encourages customers to use them consistently; that is, make their use a new, healthy habit, sort of like brushing their teeth. This can help them learn more mindful eating, innate portion control, and overall healthier eating behaviors.
But, Mark noted that "MealEnders are not a conventional candy. Having just one, or perhaps two lozenges, will help you cap off a meal or address a snack craving and feel "done."
As such, they have not received any reports of people becoming psychologically dependent or "addicted" to MealEnders.

Can you tell me which ingredients are contained in the Actissert blend?

According to Mark, the Actissert blend is a proprietary food flavor combination formulated to clear the palate and engage the trigeminal nerve (which causes the brain to experience flavors as physical sensations). While he couldn't reveal the actual mix since it's a trade secret, he added that all the flavors are food ingredients that have been approved as safe.
Are There Other Products Similar to MealEnders?
Compared to a traditional dietary supplement, which is defined by the FDA as "a product intended for ingestion that contains a 'dietary ingredient' intended to add further nutritional value to (supplement) the diet," MealEnders tackles weight management from behavioral and sensory science angles.
In other words, instead of using a physical ingredient to impact your eating habits, MealEnders promise to help you overcome common mental barriers to shedding pounds.
So, while we encountered dozens of different lozenges and candies targeted at helping individuals lose weight using a variety of ingredients and formulas, this product was the only product on the market claiming to work this way at the time of our research.
What Kinds of Results Might You Expect with MealEnders?
In other words, how much weight could you reasonably expect to lose using these two-layer lozenges?
The product's website emphasizes that results may vary, although they also outline that the average person consumes more than 1,000 unnecessary calories every day. And if MealEnders can help you avoid overeating, thereby cutting 500 calories per day from your diet, you could lose about a pound per week. Or, 4-5 pounds per month.
In other words, everything you do adds up. Which is why they also recommend implementing healthy eating practices and maintaining your commitment to managing your weight.
Outside of the overeating zone MealEnders claims to help bridge, are there other issues that might cause weight gain?
Certainly. The U.S. National Library of Medicine tells us that some of the more common include:
Drugs like birth control pills and those used to treat diabetes and depression
Hormonal changes related to menstruation, pregnancy, and menopause
Medical conditions such as Cushing syndrome or an improperly functioning thyroid
Fluid-related bloating due to menstruation, heart or kidney failure, preeclampsia, or medications
As a result, it's always a good idea to speak with your doctor before beginning any weight loss regimen. They'll be able to make science-based recommendations about effective treatment plans based on your specific diagnosis, and whether or not this involves MealEnders.
Our Final Thoughts About MealEnders
Searching a variety of related terms, we didn't find any clinical studies on the National Institutes of Health's PubMed specifically outlining that it takes 20 minutes between the time your body knows it's full, and when hormones tell your brain to stop eating.
However, interviewed for a Huffington Post Australia article, Zane Andrews, an associate professor of physiology and a neuroscientist at Monash University, explained:
"… food needs to be chewed, to go down into the gut and to be processed a little bit. You need to start absorbing the glucose from the food [before your body can release the appropriate hormones] and that happens generally quickly, but somewhere between five and 20 minutes."
Either way, the overeating zone promoted on the MealEnders website seems to be a real thing, with some people simply experiencing it longer than others. And while we didn't test or encounter specific clinical evidence for the product itself, by providing two different layers to occupy your mind during this hormonal transition, it seems logical that they could help you consume fewer calories.
Furthermore, it seems clear that the company has put a lot of thought into the product, as well as into their online customer experience, with clearly defined terms, nutrition labels for each of their products, a comprehensive user guide, and a straightforward ordering process.
And in the end, if MealEnders don't deliver the results you were expecting, the company stands behind it with a 30-day refund policy (less return S&H charges, of course).
We'd like to thank CEO Mark Bernstein and the team at MealEnders for taking the time to provide in-depth answers to our questions, which we think is an indication of their commitment to customer satisfaction.