Metabolic Greens Plus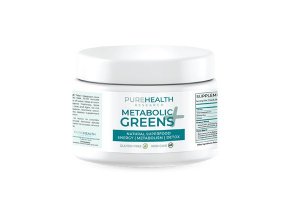 Summary
Metabolic Greens Plus is a low calorie, low carb dietary supplement from PureHealth that allegedly boosts your metabolism, promotes fat-burning, and supports weight-loss. The ingredients included do have scientific backing and are generally safe.
Metabolic Greens Plus Review: Can It Help with Weight Loss?
PureHealth claims that Metabolic Greens Plus will support overall health by naturally boosting your metabolism and promoting weight-loss.
According to the website, taking one scoop of Metabolic Greens Plus mixed with 8oz of water 30 minutes before a meal each day will:
Support your body's ability to detox
Increase your metabolism
Reduce your cravings and appetite
Burn more calories and fat
Promote healthy digestion
Boost your energy
PureHealth believes that the ingredients included in the 5 different proprietary blends offered in Metabolic greens Plus are responsible for the proposed benefits. Also, they claim that their supplement is vegan-friendly, non-GMO, and free of gluten, soy, and dairy.
While this sounds promising, can Metabolic Greens Plus live up to these claims?
In this article, we'll shed some light on this question by reviewing the available research, if any, that supports the actions of the Metabolic Greens Plus blend of ingredients.
Active Ingredients: Are They Backed by Science?
The 5 proprietary blends offered in Metabolic Greens Plus are packed with a variety of ingredients that are intended to boost your metabolism, support healthy weight loss, and more.
To help you gain a better understanding of the potential benefit of this dietary supplement, we'll select key ingredients from each blend and highlight some of the existing research.
It is important to first note, however, that Metabolic Greens Plus is not required by law to list the quantities of individual ingredients. Thus, we only have the total dosage for each proprietary blend. This practice makes it impossible to compare the ingredients to dosing used in research studies.
According to the Supplement Facts Label, a serving of Metabolic Greens Plus includes the following:
Greens Blend – 5.6g
Barley Extract, Alfalfa Extract, Wheatgrass, Broccoli, Spirulina, Green Tea Extract
The contents of this blend are packed with vitamins, minerals, and fiber and may offer a variety of health benefits. The suspected antioxidant effects of these ingredients can serve to combat free radicals - molecules that are associated with a variety of unwanted effects ranging from aging to cancer.
Wheatgrass is the young grass of the Triticum aestivum plant and may help fight diabetes and obesity. While 100 mg/kg body doses improved blood sugar cholesterol levels in rats of 30-days, more work is needed to identify the benefit in humans.
Broccoli similarly offers antioxidant actions and it is a great source of vitamin C. Its fiber content may aid in reducing cravings and appetite. The fiber found in broccoli and some of the other Metabolic Greens Plus ingredients can provide a sense of fullness by soaking up liquids in your stomach and taking up space.
Green tea is a common ingredient found in fat-burning supplements. Its suspected ability to boost energy and promote weight loss is likely related to caffeine.
Combining 200mg of caffeine and green tea doses ranging from 90-200mg daily effectively increased energy expenditure regardless of the green tea dose.
Also, combining 500mg of green tea and daily exercise led to improvements in body weight, BMI, waist to hip ratio, and body fat percentage more than exercise alone.
Reds Blend – 2.1g
Black Currant, Beetroot Extract, Acai Extract, Strawberry Extract, Blueberry Concentrate, Pomegranate Extract, Raspberry Extract
Black currants are grown in Europe and Asia and may work as antioxidants, enhance blood flow, and support weight loss. In mice, black currant reduced body weight and improved sugar metabolism in over 2-months. More research is needed to determine the effects in human subjects.
Pomegranates also contain fiber, vitamins, and minerals. Like black currants, they may promote healthy blood flow.
Metabolic Blend – 210g
Ginger Root Extract, Cinnamon Bark Extract, Bitter Melon, Turmeric Extract, White Tea Extract, Black Pepper Extract
Ginger has been commonly used in both food preparation and folk medicine over the span of centuries. Its medicinal roles may include anti-inflammatory, energy metabolism, and weight loss benefits, though research results are mixed.
This review found that ginger doses ranging from 1600-4000mg did not affect fasting blood sugar, but did help improve sugar control over a 2-3 month span. Another study did not support these findings, however. Ten overweight subjects treated with 2g of ginger daily did not improve resting energy expenditure.
Cinnamon bark is another ingredient that may offer antioxidant, anti-inflammatory, and disease-fighting benefits. This spice has also been studied for its proposed ability to regulate blood sugar.
Obese women treated with 5g of cinnamon bark improved their ability to regulate blood sugar. Also, doses ranging from 120mg/d - 6g/d over 1 to 4-months reduced fasting blood sugar levels according to a review of 10 studies.
Turmeric is yet another spice with a variety of proposed health benefits largely related to curcumin, a molecule produced by turmeric plants.
A review of 8 studies found that curcumin supplementation ranging from 70-3,000mg per day over 2 to 3-months was effective in reducing BMI, but not body weight.
Another review found that curcumin dosed at 250mg to 2.4g each day significantly reduced both BMI and body weight.
Probiotic Blend – 5 Billion CFU
L. Acidophilus, L. Salivarius, L. Plantarum, L. Rhamnosus, B. Lactis, B. Bifidum, L. Fermentum, L. Reuteri, B. Longum, Xylooligosaccharide
Probiotics are the friendly bacteria within your digestive tract that support digestion and overall health rather than cause harmful infection.
L. acidophilus is commonly included in probiotic blends as it may support healthy digestion, relieve diarrhea and stomach discomfort, and boost immunity.
A review of 34 studies found that L. acidophilus doses ranging from 2 hundred million to 2 hundred billion CFU were effective in decreasing the risk for diarrhea.
B. bifidum strains are also commonly used in dietary supplements as they may offer anti-inflammatory, immune, and allergy benefits.
A twenty billion CFU probiotic blend that contained B. bifidum was effective in improving stomach pain and discomfort during bowel movements in subjects with irritable bowel syndrome (IBS).
Enzyme Blend – 200mg
Amylase, Protease, Lipase, Lactase, Cellulase
The inclusion of digestive enzymes in Metabolic Greens Plus is intended to promote better absorption of the nutrients.
The metabolism of carbs starts in your mouth when your salivary glands produce amylase. In obese individuals, amylase levels were not associated with weight loss, however.
Lipase aids in the digestion of fats. In healthy individuals, 280mg of lipase reduced stomach fullness after a fatty meal.
Is Metabolic Greens Plus Safe?
Metabolic Greens Plus offers a blend of ingredients that are commonly included in supplements that claim to offer similar benefits. Also, many of these ingredients are obtained naturally in a well-balanced diet.
Thus, this supplement is generally safe when used as directed. Side effects are possible, however.
Probiotics are often tested at much larger doses and serious side effects are rarely reported. Digestive symptoms like stomach pain, gas, bloating, and diarrhea are most likely, though these side effects can be relieved by discontinuing use.
Like many supplements with metabolic boosting supplements, Metabolic Greens Plus does contain a couple of forms of caffeine. However, green and white tea extracts are mild forms of stimulant and unlikely to cause harm.
Nonetheless, be aware that adding caffeine-containing supplements to your regular tea, coffee, and soda intake can increase the risk for unwanted side effects.
Signs that you've consumed too much caffeine can include restlessness, nausea, agitation, rapid heart rate, and increased blood pressure.
Though Metabolic Greens Plus is likely safe to use, always consult your doctor before starting a new supplement.
The Cost
Metabolic Greens Plus is available directly from the website.
A single bottle will last you one month when used as directed and a one time purchase will cost you $39. You'll save when you buy more. A 90-day supply is priced at $34/bottle, while a 180-day supply costs $29/bottle.
Shipping is calculated at checkout, so be aware that this will be an additional cost when considering Metabolic Greens Plus.
While this product is not inexpensive, much of the financial risk is alleviated as PureHealth does offer a 1-year guarantee.
Alternatives
Metabolic Greens Plus is alleged to offer benefits related to metabolism, energy, weight loss, and digestion. With so many ingredients, it may be challenging to find one supplement that can provide all of them.
While they may differ in content, dosing, and cost, comprehensive blends that offer an ingredients list comparable to Metabolic Greens Plus are becoming more popular.
Invigor8 Superfood Shakes is one example. While not vegan, this supplement is non-GMO and free of gluten and soy. It's also similar to Metabolic Greens Plus in that it contains Green Veggie, Probiotic, and Digestive blends.
It differs in that their supplement also offers 20g of protein, prebiotics, cognitive enhancers, and essential fatty acids. Thus, its methods for weight loss are also different than those offered by Metabolic Greens Plus.
Invigor8 is about 7x more calories than Metabolic Greens Plus, though at 170, it is still considered low-calorie. This is because it is intended to be used as a meal replacement shake.
Single bottle orders have 15 servings and are available for $59.95 + $9.95 shipping. Subscription is a more cost-effective option; You'll receive 2 bottles every 30-days for $99.90 with free shipping.
You'll get more with Invigor8, though you'll also pay much more. However, it does contain milk and tree nuts, so it is probably not right for you if you follow a vegan diet or have an allergy.
The Bottom Line
Metabolic Greens Plus packs a variety of ingredients into each serving. Each blend offers ingredients that do have some scientific support both for their safety and efficacy, though PureHealth does not provide details of individual quantities.
Though many ingredients are available from a balanced diet, the convenience offered by Metabolic Greens Plus may be an easier way of consuming them. This supplement is also moderately priced, especially when you buy multiple bottles. Thus it may be a reasonable option to support weight loss, digestion, and metabolism.
Other comprehensive blends are available, though it can be challenging to find more cost-effective options.
Despite Metabolic Greens Plus's favorable safety profile, you may want to speak with your doctor before use. If you plan to lose weight, including a medical professional can help ensure safety
Customer Reviews