Invigor8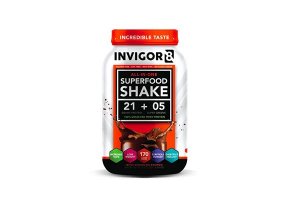 Summary
Invigor8 is a superfood-based meal-replacement shake that allegedly helps you lose weight, increase muscle tone, boost energy, and balance your nutrition.
Invigor8 Review - What You Should Know
What Is Invigor8?
Invigor8 is a line of superfood meal replacement shakes that aim to support healthy weight loss.
They claim that adding 2 scoops of powder to 1–1.5 cups of water will offer help:
Control hunger
Boost immunity
Reduce body fat
Build lean muscle
Promote healthy digestion
According to Invigor8, these benefits are due to the ingredients they offer in every Superfood serving.
Packed with a wide variety of ingredients ranging from green veggies to probiotics, Invigor8 is gluten-free, soy-free, antibiotic-free, hormone-free. It includes only non-GMO ingredients that are free of preservatives, artificial sweeteners, or refined sugar.
In this article, we'll highlight any available scientific support for the proposed benefits of each ingredient category included in this supplement to help you figure out if Invigor8 is the shake you've been missing.
Ingredients: Do They Work?
Every Invigor8 Superfood Shake packs in a wide variety of ingredients that are divided into 8 key categories, or complexes.
In this section, we'll review each complex, as well as the mechanisms behind Invigor8's purported weight loss benefits.
With every 2 scoop serving of Invigor8, you'll get:
Pure Protein Complex (100% Grass-Fed Whey Protein) – 20g
Proteins are part of virtually every reaction that takes place in your body.
They are, therefore, essential macronutrients that must be obtained in your diet. While proteins are available in a variety of animal and plant-based foods, dietary supplements often contain them as well.
A recent review of 20 studies found that protein doses ranging from 10–60g were beneficial for the performance and recovery of athletes.
Green Veggie Complex (2500 mg)
Chlorella Algae Powder,
Alfalfa Grass Powder,
Spinach Leaf Powder,
Kale Leaf Powder,
Broccoli Leaf Powder
Vegetables offer many essential nutrients like vitamins and minerals. Supplementation can be valuable as many of these nutrients can be deficient.
Supplementing your deficiencies becomes especially important if you are using meal replacement supplements.
Spinach contains calcium, phosphorus, potassium, vitamins A and C, and riboflavin.
Broccoli offers antioxidant abilities due to the action of key components like ferulic acid, vitamin C, sulforaphane, and indole-3-carbinol.
Kale contains lutein, beta-carotene, calcium, magnesium, phosphorus, potassium, vitamin C, vitamin A, iron, folate, protein, and fiber.
Probiotic Complex (L. Acidophilus & B. Bifidum) – 1.2 Billion CFU
Probiotics are friendly bacteria that live within your digestive tract. While many bacteria can be harmful, probiotics offer support for your digestion and overall health.
Lactobacillus acidophilus is often found in probiotic blends. It may support healthy digestion, relieve diarrhea and stomach discomfort, and boost immune function.
A review of 34 research studies concluded that L. acidophilus doses ranging from 2 hundred million to 2 hundred billion CFU were effective in reducing the risk for diarrhea.
B. bifidum strains may offer anti-inflammation, immune, and allergy benefits.
Twenty billion CFU doses twice daily of a probiotic blend that contained B. bifidum BGN4 improved stomach pain and discomfort with bowel movements in subjects with irritable bowel syndrome (IBS).
Digestive Complex – 653mg
Amylase
Lactase
Neutral Protease
Lipase
Bromelain
Papain
The addition of these digestive enzymes is intended to maximize the absorption of the nutrients offered in Invigor8.
Carbohydrate metabolism begins in your mouth with the production of amylase by your salivary glands.
In terms of weight loss, amylase levels were not associated with weight loss in obese individuals on weight maintenance programs.
Lipase is a fat digestion enzyme. In healthy subjects, 280mg of lipase was associated with reduced stomach fullness after a fatty meal.
Bromelain plays a role in protein digestion. While it may also offer anti-inflammation benefits, its dietary role needs more extensive studies.
Prebiotic-Fiber Complex (Inulin) – 3g
Prebiotics are non-digestible fibers that may support absorb water and expand to make you feel full. They may also benefit your overall health by acting as a source of food for probiotics.
Hunger, the desire to eat, and food consumption were reduced in obese adults treated with inulin over the course of 12-weeks.
Another randomized trial found that 12g of inulin daily for 4-weeks resulted in softer and more frequent stools in constipated adults. This dosing regimen also boosted amounts of 3 different probiotics.
Cognitive Enhancers (L-Theanine, Bacopa, Monnieri) – 200mg
Invigor8 included these cognitive enhancers to heighten focus and concentration.
These effects were demonstrated in a randomized study.
The combination of 97 mg L-theanine and 40 mg caffeine boosted alertness and reduced tiredness in healthy subjects.
Immunity Booster Complex (Bovine Colostrum) – 500mg
Colostrum is human, or in this case, cow milk, that is first produced immediately after delivering a newborn. Colostrum is rich in nutrients and immune-boosting.
In a recent randomized trial, those that received 20g of colostrum daily over 58-days had a greater immune system response when compared to the placebo group.
Essential Fatty Acid Complex – 2g
Flaxseed Powder
Chia Seeds
Coconut Powder
The ingredients within this complex contain omega-3s fatty acids. Omega 3s are thought to offer various benefits related to cardiovascular and cognitive health, as well as anti-inflammatory capabilities.
Omegas are composed of eicosapentaenoic acid (EPA) and docosahexaenoic acid (DHA).
While DHA may play a role in reducing pro-inflammatory mediators, EPA may serve as a substrate in the creation of hormones that regulate the inflammatory response.
Invigor8 Weight Loss Mechanisms
Low Glycemic Index (GI) Diet
The GI is a classification system for the ability of the carbohydrates in the foods you eat to raise your blood sugar levels. Low GI foods are generally packed with fiber, while high GI foods spike your blood sugar and lead to elevated insulin levels.
Over time, this cycle can increase the risk of type 2 diabetes, heart disease, depression, and even cancer. An expert panel confirmed a need to offer information to both the general public, as well as healthcare providers, detailing the importance of the GI.
To minimize risk and support healthy weight loss, Invigor8 offers low GI shakes.
A low GI diet improved blood sugar regulation but did not significantly reduce weight in diabetic patients.
However, another study found that a low-GI diet led to a significant reduction of fat mass in 109 obese patients.
Obese adults randomized to a low GI diet over 4-months did not experience preferential fat loss and muscle preservation.
While the association between high GI foods and chronic medical conditions is clear, support for the weight loss benefits of low GI diets is mixed.
Calorie Restriction
Calorie restriction is another extensively studied method of weight loss.
Invigor8 shakes are 170s calories when mixed with only water. When you replace a meal with a shake, they are intended to provide all of the nutrients you need while limiting your caloric intake.
Meal replacement (388cal) at dinner for 12-weeks improved body composition, blood glucose, and blood pressure in overweight and obese subjects.
In 100 obese women, those undergoing calorie restriction of 1,000–1,500cal/day in addition to a fat restriction (less than 20% of total calories), these subjects experienced significantly greater weight loss than those on calorie restriction alone over 4-weeks. These women also received nutrition and exercise guidance.
In 35 overweight individuals, fat distribution was not altered by adding exercise to their calorie-restricted diet, though they did 10% of their body weight on average over 6-months.
While calorie restriction offers viable means of weight loss, the results are dependent on a number of factors including, age, sex, health status, regular exercise, and nutritional guidance.
This highlights the need for multiple lifestyle changes to occur in order to achieve lasting weight loss.
Invigor8 Side Effects
These ingredients are easily attainable from foods and are generally safe to consume.
Probiotics are often tested at much larger doses than what is offered in Invigor8, and serious adverse effects are rarely reported. Stomach pain, gas, bloating, and diarrhea are commonly reported side effects that can be relieved by discontinuing use.
Implementing a healthy diet and engaging in daily physical activity are important lifestyle changes vital for successful weight loss. These changes can be associated with risk, however.
For example, drastically altering your diet can impact your daily medications, can result in fatigue, or even lead to unsafe electrolyte and hormone imbalances.
Also, make sure that your exercise plan begins at a level that is appropriate for your fitness level. If it is too rigorous, you can unsafely stress your heart.
Thus, it's important to include your physician in any plans for weight loss so they can monitor safety and track your progress.
Pricing
Single bottle orders have 15 servings and are available for $59.95 + $9.95 shipping.
The subscription service is a more cost-effective option. You'll receive 2 bottles every 30-days for $99.90 with free shipping. The 60 serving (4-pack) is $179.90 per bottle and ships free every 60-days.
While this supplement is fairly pricey, Invigor8 does offer a 90-day guarantee, even if you've used the entire bottle.
The Bottom Line
Invigor8 offers a low GI blend of ingredients that ensures you're meeting nutritional needs even when replacing a meal.
Both opting for a low GI diet and limiting caloric intake are well-studied methods of weight loss. However, incorporating these meal plans into a more comprehensive regimen that includes daily physical activity is your best bet for lasting weight loss.
With that mind, Invigor8 may be a good option.
On Amazon, 15 customers rate this product 4 out of 5 stars. While this review is favorable, the unsatisfied customer seemed to agree that the supplement was poor tasting.
While the flavor is subjective, the price tag is not. You can actually save yourself the cost of shipping by purchasing Invigor8 products from other vendors.
This supplement is generally safe, though you should speak to a physician before use. Drastically changing your diet or activity level can be unsafe when not properly supervised.
Customer Reviews
Posted on Aug 22, 2016
Invigor Chocolate
I love this product. The taste is very chocolaty so if I'm craving something sweet this does it for me. Also, it keeps the appetite down. It's a little pricey as is most things that have value.
Bottom Line: Yes, I would recommend this to a friend
Posted on Mar 25, 2016
Invigor8 review
I found an article on Invigor8 in a Clean Eating Mag and decided to try it. I have tried everything from Shaklee to GNC, etc., when it comes to protein and nutritional drinks. Invigor8 I honestly feel lives up to its reputation and reviews. I don't mind paying a little more because I would rather pay for tasty nutrition than spend money at the doctors office because I have a health issue. I mix it with unsweetened chocolate almond milk and it is incredibly tasty. Best product for nutrition and protein that I have encountered. My son who is a nutritionist and body builder approves as well and thinks it is great. I am a fan. Will use it for a long, long time.
Bottom Line: Yes, I would recommend this to a friend
Our Promise to You
In order to safeguard you and ensure helpfulness and relevance, our compliance team manually assess every customer review before it goes live.
We have a zero-tolerance policy for fake reviews, and companies cannot control or alter any reviews at any time.