Almased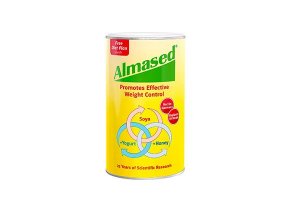 Using a blend of just three main ingredients, the Almased meal replacement shake claims to help you feel fuller, boost your metabolism, and increase your chances of weight loss success.
Almased Meal Replacement Review: Does It Work for Weight Loss?
What Is Almased?
André Trouillé, the company's owner and operator, claims that Almased can boost your metabolism, burn fat, and retain muscle while helping you achieve lasting weight loss.
Their unflavored powder supplement combines soy, yogurt, and honey to offer a nutrient-rich, high-protein, and low-glycemic meal replacement option. Also, the formula is free of gluten, stimulants, and added sugar.
Trouillé claims that the proposed benefits are attainable by following a few easy steps.
First, select the appropriate dosing based on your height:
Under 5'6" - 6 tbsp/shake
5'6" to 6' - 8 tbsp/shake (about 50g)
Over 6' - 10 tbsp/shake
Next, mix Almased with 1-2 tsp of olive, flaxseed, or walnut oil and 10-12oz of water
Can these simple steps get you on your way to sustainable weight loss? In this review, we'll help you answer this question by reviewing the safety and efficacy of Almased.
What Is the Glycemic Index and Is It Important?
The GI is a classification system for the ability of the carbohydrates present in a particular food to raise your blood sugar levels. This system allows you to define the quality of the carbohydrates you eat, rather than only the quantity.
Low GI foods are generally packed with fiber and thought to have a score of 55 or less. High GI foods differ in that they can spike your blood sugar and lead to elevated insulin levels.
Over time, this cycle can increase the risk of type 2 diabetes, heart disease, depression, and even cancer. Therefore, knowledge of the GI can be invaluable, especially in those most at risk for these conditions.
You can use this GI Calculator to gain a better understanding of the carbohydrate content in the foods you eat, and how they may be affecting your blood sugar.
Is Almased Effective?
Trouillé believes that the benefits offered by Almased are due to the ingredients that this supplement provides.
With a GI of 27, Almased may avoid elevating insulin levels for long periods of time. Offering 27g of protein may help prevent muscle loss as you lose weight. The vitamins and minerals help you avoid deficiency as you diet.
However, the ingredients are not the whole story. According to their site, Almased works by replacing a meal to create a "calorie deficit'. Therefore, this supplement is meant to provide the nutrients you need without the added calories you would consume during a typical meal.
They go on to mention that fat is the "main energy supplier" for humans and that calorie restriction allows for the fat to burn as energy.
Though we have linked the ingredients, this review will instead focus on fat energy, as well as calorie-restricted and low GI diets.
Fat as a Source of Energy
Calories are a measure of energy, and your weight is mostly a function of energy balance. Consuming more calories than you burn will result in weight gain, whereas a calorie deficit will allow for weight loss.
Proteins, fats, and carbs can all be used to generate energy. However, the amount of energy each can offers is not the same. Fats generate 9cal/g, but protein and carbs offer 4cal/g.
Despite allowing for greater energy, fat is not your body's preferred source of energy. Instead, your body will use up the available source of its primary energy source, carbohydrates, before switching to fat metabolism.
This means that if carbohydrates are present, your body will prioritize energy-generating processes to break down glucose while decreasing those that favor the breakdown of fats.
Your diet can be calorie-restricted, yet still, allow for adequate carbohydrates for energy. Fat is not the preferred source of energy, nor does calorie restriction alone promote fat metabolism for energy.
Low GI Diets: Do They Help You Lose Weight?
Obesity, diabetes, and heart disease are world-wide issues. As these conditions are linked to diets that emphasize high GI foods, an expert panel confirmed a need to offer information to both the general public, as well as healthcare providers, detailing the importance of the GI.
A low GI diet improved blood sugar regulation but did not significantly reduce weight in 210 diabetic patients when compared to a high-cereal fiber diet. In contrast, a low-fat, low-GI diet led to a significant reduction of fat mass in 109 obese patients.
In 162 diabetic patients, body weight and long-term blood sugar control did not differ between low or high GI diets, though the low GI diet did result in post-meal glucose levels.
Obese adults randomized to a low GI (< less than 60) diet over 17-weeks did not preferentially burn fat, preserve muscle, or boost metabolism.
After an 8-week low-calorie diet, 159 overweight or obese subjects were randomized to a high-calorie, low GI maintenance diet for 26-weeks. These subjects were more likely to stick to the diet and maintain weight loss when compared to other maintenance diets.
Despite a clear association between high GI foods and chronic medical conditions, support for the weight loss benefits of low GI diets is less obvious.
Is Cutting Back on Calories Effective?
Calorie restriction is another extensively studied method of weight loss.
Almased at 50–100g daily was tested in 72 obese pre- and postmenopausal women and found to be associated with significantly reduced weight, body fat, blood pressure, and glucose levels at 1-year follow up.
It is important to note that these women followed a restricted diet consisting of 1,000–1,500cal for at least 24-weeks, and also received nutritional and exercise guidance.
In 30 healthy college students, those randomized to 100g of Almased daily for 6-weeks experienced increased endurance performance without altering body compositions. These subjects did not adopt a calorie-restricted diet.
In 100 obese women, those undergoing calorie restriction of 1,000-1,500cal/day in addition to the fat restriction (less than 20% of total calories), experienced more significant weight loss than those on calorie restriction alone over 4-weeks. These women also received nutrition and exercise guidance.
In 35 overweight individuals, whole-body and abdominal fat distribution were not altered by the addition of exercise to calorie restriction. Subjects did lose about 10% of their body weight over 6-months.
While calorie restriction offers a viable means of weight loss, the results are dependent on a number of factors including age, sex, health status, dietary content, regular exercise, and nutritional guidance.
Is It Safe?
Almased offers a low-glycemic, high-protein blend that includes vitamins and minerals commonly obtained from a balanced diet. These ingredients are generally safe for use.
As Almased includes 6mg (350% of the RDA) of riboflavin per serving, this would be the ingredient most likely to be consumed in excess. Adverse events were not reported even at doses higher than 400mg/day over 3-months, however.
If you are lactose intolerant or have a soy allergy, you may want to consult a physician before use or search for a supplement free of these ingredients.
Pricing and Buying Options
A variety of vendors offer Almased, as shown here.
At Amazon, it's prime eligible and offered at $27.97 for 1 pack. Keep in mind that at 8 tbsp daily, 1 pack of Almased will last you 10-days. You're looking at nearly $90 to get you through the month.
You can find it in-person or online at Walgreens for $26.99 + shipping. They also offer auto-reorder – simply select your shipping frequency and earn 10% off + free shipping. Cancel any time.
Shopping at GNC and CVS will run you a few more bucks; $32.99 and $30.99, respectively.
Alternatives to Almased
There are many meal replacement options on the market.
Vega offers low-calorie, high-protein pea protein supplements that are packed with vitamins and minerals. It's free of soy, dairy, and nuts, but manufactured by facilities that process these items. Plan to spend about $100 on their site for 42 servings.
Another similar option is Raw Organic Meal from Raw Organic. Also plant-based, this label will look nearly identical when compared to Vega and run you $45.99 for 28 servings.
Meal replacement shakes are also offered in premade, single-serving options.
An example of this variety would be Quest Protein Shakes. A 4-pack will run you close to $11at Nutra Health Supply's site, while a 12-pack is $29.99. Sourced from milk protein, these offer 30g of protein, 3 carbs, but fewer vitamins and minerals than Almased.
What Customers Are Saying
Those that purchased Almased at GNC rated it 4.4 out of 5-stars.
Nearly 60% of the reviews were 5-star. Happy customers report satisfaction with weight loss, decreased food cravings, and their diabetic-friendly formula.
Less than 13% of users rated 3-stars or less. Unsatisfied customers cited poor taste, gritty texture, lack of results, and it not being cost-effective as reasons for a poor experience.
The Bottom Line
Almased has proven to be effective at reducing weight, particularly in overweight and diabetic individuals that adopt a calorie-restricted diet and receive exercise and nutritional guidance. That metabolic boosting and fat burning effects are less clear.
The preparation for your Almased serving size is customizable. While the "average" serving size is 8 tbsp, you may select more or less based on your height. In our literature review, we did not find any studies supporting this method. In fact, age and sex often determine your diet guidelines.
Nonetheless, the recommended dosing is comparable to what was used in research studies. These doses were also safe in these investigations, though those with soy allergies or lactose intolerance may have adverse reactions to this product.
Though potentially safe and effective in overweight and obese individuals, there are more cost-effective means of meal replacement. Speaking with a healthcare professional about your desire to lose weight may reveal other treatment options.
---
Overall Experience:

GOOD:

I followed instructions to the letter. I did this for one month, three shakes a day for two weeks. Day 1-6, three shakes day 7, two shakes and evening meal. The second 2 weeks, two shakes daily, one evening meal. After 28 days I had lost 12 lbs...great. BUT, was I so glad it was over.

BAD:

The taste, it's chalky. The flavors are awful. And really expensive.

So I tried a little warm milk rather than water, yuk. I tried almond milk, a little better but not much. I added fruit, ok but now you're adding sugar. Not a good thing. The only way I could've done this, for me. I added hot chocolate powder to the mix or vanilla essence. Then the flavor was palatable. But the chalky texture doesn't go away.

Bottom Line: No, I would not recommend this to a friend

---

Well known in Europe for 30 years, it works

Overall Experience:

It works! I can say that because, having grown up in Germany, I've known and used it for 30 years. Diet was developed by a physician and researcher, Dr. Markert (his book was translated into English and is called The Turbo Protein Diet here, check your local library) but in the U.S. is often advertised to have been developed by Trouille, who's just the owner of the Almased company. I always do the diet as described in the book - 2 full weeks on Almased only - vs. the half on/half off way as described in the pamphlet. I usually lose 13-14 lbs in those 2 weeks, about 2-3 come back by water retention and honestly never gained them back unless I went through a phase of nighttime binge eating. Thus the claim "no yoyo dieting" is correct. It does reset your mind, your taste buds and cravings too, by the way. The one time in my life I had a lot to lose (approx 70 lbs), I did 2 weeks on, 4 weeks off to stabilize, 2 weeks on, etc. It worked and I kept it off for 7 years until the next major life event happened and I went into nighttime snack binging again. I got super lazy too. But it still took 3 years to gain it all back. Now I'm at it again. It does taste a bit bland but there are tips out there now to give it some flavor. Really important: make your own veggie broth and drink at the very least 4 cups of it per day.

Bottom Line: Yes, I would recommend this to a friend

---

Advertisement

---

It really works!

By Tonette A.

,

Springlake, NC

,

Sep 20, 2018
Verified Reviewer

Overall Experience:

I have been hospitalized several times in 2016, 2017 and 2018. I weighed 350lbs in June and decided it was time to take my life and make some changes. I was on Almased once before and didn't take it seriously. This time I had to - my blood sugars were running into the 400's, I was on two different insulins and oral meds too. I started on Almased the last week of July and today is September 20th. I was 350lbs, and now I'm down to 265 lbs. I don't take insulin anymore, my blood sugars run from 69 to 120. Almased is the best in my book, and I'm going to continue on it. I have recommended Almased to 18 women so far and 6 men. I think there's going to be an Almased craze here in North Carolina. Thanks Almased!

Bottom Line: Yes, I would recommend this to a friend

---

Don't bother!

By Ann G.

,

Florida

,

Jul 16, 2018
Verified Reviewer

Overall Experience:

I tried Almased - the taste was okay once you added some kind of flavoring and it helps with the appetite for about 3 hours tops. This stuff would be okay if you could live on it the rest of your life and never eat actual food but short of doing that it's a waste of money and effort. Very very expensive because you put 8, (Got that?) eight tablespoons in a shake. So one canister might last 2 to 2 and a half days at $30 each. Ridiculous!

Plus by the third day, you can barely stand up. You feel so horrible – weak, shaky, and sweaty. It's awful you guys, just don't do it. Save your money and spend on real food that won't make you sick!

Bottom Line: No, I would not recommend this to a friend

---

Advertisement

---

Overall Experience:

I have been on this diet since January 8, 2017, and have done very good. I have lost 85 lbs on my Almased. Yes, it is expensive, but my health is worth everything I have spent. I buy three at a time every week and a half. I usually use ice cold water with mine.

Bottom Line: Yes, I would recommend this to a friend

---

This stuff works!

By Angela

,

Northern Illinois

,

May 16, 2017
Verified Reviewer

Overall Experience:

Please allow me to elaborate. Normally I workout 4-5 days a week, but this winter I definitely had a case of the lazy! The holidays were brutal, and I gained 10 pounds. I wanted something to jump-start my weight loss.

I read the reviews on Almased and it is non-GMO, has no stimulants, etc. I read through the diet plan, and had three shakes a day for the first three days, the following three days it was two shakes, one meal. I followed that with three days of two meals, one shake. I think you get the point so far. My exercise consisted of walking, and also yoga five days a week.

I lost 7 of the 10 pounds, and it came off rather quickly. I can't say this product works if you do not include an exercise routine, but it worked great for me! Good luck people!

Bottom Line: Yes, I would recommend this to a friend

---

Week one on Almased

By Sandy

,

Connecticut

,

Jan 26, 2017
Verified Reviewer

Overall Experience:

I have been using Almased for one week and find that it definitely fills me up and I am not hungry for quite awhile afterward. But, I also have combined it with almond milk, greek yogurt and blueberries to get more protein and flavor out of it. I think it enhances the product. The true test will be after a couple of more weeks to see if there is any weight loss. Until then.

Bottom Line: Yes, I would recommend this to a friend

---