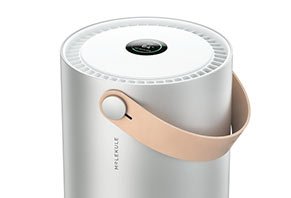 Using Photo Electrochemical Oxidation (PECO) technology, Molekule air purifier promises to trap 99.97% of airborne particles and help you breathe cleaner air.
About Molekule
If you're familiar with traditional air cleaners, you know they work by filtering particulate matter out of the air.
But according to the folks over at Molekule, they've created the world's first molecular air purifier that doesn't just capture pollutants, it eliminates them—including allergens, airborne chemicals (VOCs), mold, viruses, and bacteria. Not only this, but Molekule is also portable, much quieter, and can be monitored and controlled via its companion app.
In a nutshell, here's how it works (we'll go into more detail in a second): Molecule's intake pulls in 360° of air. As this air passes over a patent pending light-activated nano-filter, any harmful pollutants not caught by the prefilter are turned into harmless elements at the molecular level. Then, this sanitized air exits Molekule into the surrounding room.
Although Molekule claims their technology is based on 20 years of research and development, does this necessarily mean that the purifier will work better than traditional options? Even then, will it deliver a solid level of value?
To begin, let's take a look at Molekule's finer details.
How Does Molekule Purify Air?
Made from machined aluminum, each Molekule air purifier is 23" H x 8.25" in diameter and weighs 18 pounds. On its top, you'll find a natural leather handle that allows you to move the purifier wherever it's needed.
Speaking of which, the manufacturer recommends one Molekule per 600 square feet, while placing it in areas where you spend most of your time, especially close to your bedside at night. This way, it can help you wake up feeling refreshed in the mornings.
When in use, Molekule feature three operation modes:
Silent (30dBa, or about as loud as a whispered conversation) – Although it still operates efficiently, this mode is meant to maximize quietness.
Turbo Boost (55dBa, or normal conversation) – Boost focuses more on cleaning the room "extremely quickly."
Auto (42dBa, or a hushed conversation) – Here, Molekule will determine when the air needs a quick clean, based on factors like the number of pets present, size of the room, and more.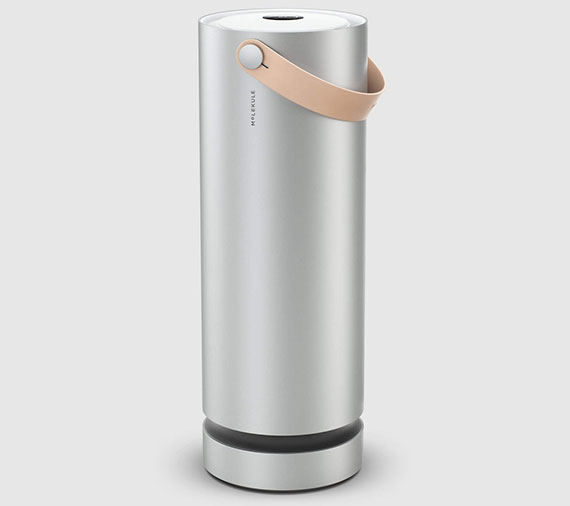 The Molekule air purifier.
Each of these settings can be adjusted directly via Molekule's touchscreen display. Or, using your home's Wi-Fi connection, your device can connect to the companion app, which can report metrics for each cleaning cycle, select the operation modes above, and report remaining filter life for both filters. Built-in sensors will also order new filters as needed, which will arrive directly on your doorstep.
We're even told Molekule's app will, over time, "increase in intelligence to report surrounding air quality metrics (both indoors and outdoors)."
Molekule's Photo Electrochemical Oxidation (PECO) Technology
Most air purifiers work using HEPA filters to trap 99.97% of airborne particles 0.3 micrometers (µm) in diameter (several hundred times smaller than the thickness of a human hair), depending on the filter's size and quality. However, this process only traps particulate matter, but doesn't eliminate it.
Comparatively, Molekule uses proprietary technology called PECO (Photo Electrochemical Oxidation) to literally disassemble pollutants at the molecular level and convert them into nontoxic elements—without creating ozone. We're told this technology was developed over the course of two decades, and that it's able to destroy pollutants 1,000 times smaller than HEPA filters (0.1 nanometers), including VOCs and viruses.
According to the company, this means that Molekule is the "only product that eradicates the full spectrum of indoor air pollutants." Here's how the company explains it:
"This is done by creating a catalytic reaction that happens when a nanoparticle-coated filter is activated by light. Pollutants are broken down into their most basic molecular components, making them safe for us to breathe."
Overall, the process works over 4 steps:
First, Molekule's air intake draws in air from all 360° at once.
Then, this air is circulated first through the pre-filter, which traps "larger allergens like dust, pollen, and dander."
Next, the PECO technology goes to work breaking down harmful pollutants to their most basic molecular components.
Last, Molekule will leave your room pollution-free in minutes.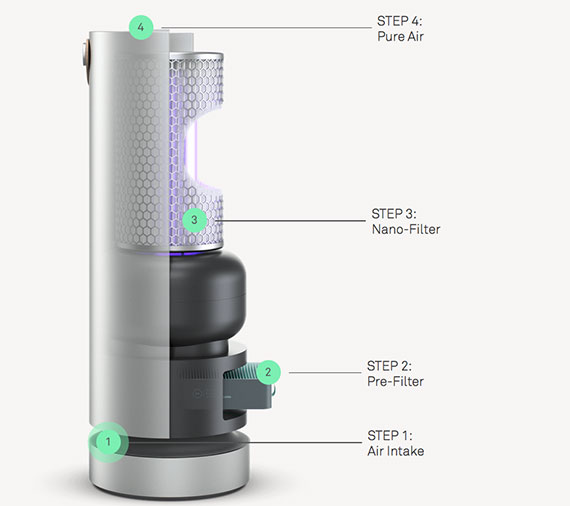 ​Molekule's 4-stage purification process is claimed to eradicate the full spectrum of indoor air pollutants.
The manufacturer claims that Molekule has been extensively tested by third party laboratories, including the University of Minnesota and the University of South Florida, some of which have been shown to complete eliminate 3.9 million E. Coli in a single pass. A few white papers supporting these claims are listed on the Molekule website, and we were also able to dig up a PECO technology review elsewhere online.
Will Molekule's PECO technology cost you an arm and a leg?
How Much Does Molekule Cost?
No prices were listed on the Molekule website at the time of our research, as the second product run sold out in 10 days. Currently, you'll have to sign up for updates when the third batch is ready to go.
However, several third-party websites (more soon) indicated the preorder price is $499, which will supposedly increase to $799 in early 2017. You'll also pay $20 for shipping.
For this price, you'll receive one pre-installed nano-filter and pre-filter, as well as a power cable and handle. You'll also get your first year of filters free. If you need to purchase filters individually, they'll cost you:
Pre-Filter: $12 (3 months average life)
Nano-Filter: $99 (1 year average life)
Alternately, you can choose to get as many filters as you need for $99 per year.
All Molekule purchases come with a 60-day refund policy, less S&H charges, as well as a 1-year limited warranty.
Given its technology and price point, are customers pleased with the performance of their Molekule air purifier?
Are There Any Online Molekule Customer Reviews Yet?
Although two batches of Molekule purifiers had been released before our research, we didn't encounter any direct customer feedback. The device's PECO technology is also proprietary, so there wasn't any feedback about this, either.
Based on this new technology, we found that several popular media outlets provided reviews on Molekule, including PC Mag, The Verge, SlashGear, Engadget, and many others. However, these were all high-level reviews, without any first-person, hands-on feedback.
Customer review aside, who's responsible for the Molekule purifier?
Who Invented the Molekule Air Purifier?
The PECO technology behind Molekule was originally invented by Dr. Yogi Goswami, a Professor of Chemical Engineering at the University of South Florida, using principles of solar technology, light, and nanotechnology—along with two decades of research, patents, and publication.
Today, Dr. Goswami's son, Dilip Goswami, has taken this technology and "enlisted some of the brightest minds in applied science, engineering, and design" to implement it into Molekule, a device the company believes has the ability to help millions of people breathe better. Because of this, the company is on a mission to "eliminate indoor air pollution, in every home, for everyone," and to ADAPT the technology behind Molekule for use in businesses, hospitals, airplanes, and more.
Does all of this mean you should buy a Molekule air purifier?
Is Molekule the Right Air Purifier for You?
Whether you're searching online or at a brick-and-mortar retailer near you, the fact of the matter is that you can typically pick up a high-quality HEPA-based air purifier for anywhere between $100 and $200—which is up to 80% less expensive than Molekule.
However, as we often say here at HighYa, price is only one factor in determining overall value. The second part of the equation is how much use you'll get out of Molekule, as well as the potential health benefits it can provide. Here are a couple admittedly simplistic examples to outline what we mean:
Are you just looking for something to remove dust and other larger particulate matter from the air inside your home or office? Something that might be able to deliver the most bang for your buck? In an instance like this, it might be difficult to go wrong with a traditional air purifier.
On the other hand, do you have allergy sufferers in your home? Are you looking to get rid of the most allergens possible—including airborne chemicals, viruses, and bacteria? Due to the fact that Molekule's PECO technology can destroy matter hundreds of times smaller than a HEPA filter, its high price might be worth the much-improved performance.
Did Molekule deliver noticeable results in the air you breathe? Did you feel the physical effects of cleaner air, or do you feel it was a waste of money? Whatever happened, tell our 2,000,000+ monthly readers all about it in your review below!
Related: Wynd Air Purification System Review
5 out 5 people found this review helpful

Avoid this product

The Molekule is nicely designed, but the software just doesn't work, and the small particle filtering is way below industry standards. The unit will not connect reliably to WiFi, and the filter tracking feature does not work. Also, the small particle filtering of this unit is way below other much cheaper units. I have contacted the company about the software fix, and there is no timetable to get a software update out. My guess is they never plan on fixing the unit's software issues. I would avoid given the high cost and the fact that the main features of the unit never work.

Bottom Line: No, I would not recommend this to a friend

View all 1 comments

Hide comments

Mar 9, 2018

Hi Michael - Thanks for taking the time to review Molekule. We recognize there are software bugs that affect some customers and a resolution for this is absolutely a priority for our team. We apologize that these issues have negatively impacted your experience with Molekule.

Our patented technology does not only filter pollutants 1000x smaller than the industry standard, it completely destroys them. Molekule completely destroys viruses, bacteria, mold, and gaseous chemical pollutants without, in the case of bacteria, giving them a chance to stay on the filter and release endotoxins as they die.

---

6 out 6 people found this review helpful

Molekule being thrown in garbage

By

Ken Jaffe

,

Boulder, CO

,

Mar 9, 2018
Verified Reviewer

I have ZERO confidence in the Molekule purifier and am simply throwing it in the garbage.

I am tired of receiving generic responses from the company saying my problems are due to known software and hardware problems. The unit cannot keep Wi-Fi connectivity, and the app gives an inaccurate reading for both the Pre-FIlter and the Nano-Filter. Settings for the filter were re-set by Molekule, as filter settings would not reset when I replaced the filters.

I now question both the integrity of the product AND the people running the company. I will no longer waste electricity on a product that appears to be doing absolutely NOTHING! Unfortunately, I cannot give a rating of less than 1.

Bottom Line: No, I would not recommend this to a friend

View all 1 comments

Hide comments

Mar 9, 2018

Hi Ken - We're sorry to hear you've had such a frustrating experience with your Molekule and our team. As you mentioned, we are aware of the connectivity and filter reset issue. These are top priorities for our team and we are actively working on a resolution. Unfortunately, as a small team, software updates don't just happen overnight and thus, we do apologize for the wait. While Molekule does have features that are enabled by connectivity, the core of our technology is a fundamental advancement in air purification and that core still functions perfectly without Wi-Fi.

Molekule's patented technology, PECO, was developed over 20 years at the University of South Florida by our chief scientist, Dr. Yogi Goswami. We are proud of our technology, our team, and how far we have come against an outdated industry. We're sorry Molekule didn't work out for you and appreciate your candid feedback.

---

Advertisement

---

2 out 2 people found this review helpful

Wonderful so far!

After spending weeks researching and deciding whether or not to buy the Molekule, I finally decided to go for it.

So far (one month) we have been very pleased with the new air quality in our house!

Having three dogs and a cat, that "doggy" smell can be present even with regular professional carpet cleaning. The air is definitely cleaner and fresher!

I wish the air cleaning capacity was larger (400sq ft is the largest room it does) or that I could buy a couple more for other parts of the house.

We really are very pleased!

It is very mobile and stylish looking to boot, so that is a plus.

I recommend downloading the app to your phone before starting the unit; it will help with setup and getting the latest updates.

Bottom Line: Yes, I would recommend this to a friend

---

2 out 2 people found this review helpful

Changed everything

I would wake up every day sneezing and blowing my nose for an hour before heading out the door and finding relief. Something in my house does not agree with me, and I had lived this way for a couple of years. When I heard about the Molekule, I figured I had nothing to lose. I backed the Kickstarter, got the machine, plugged it in, went to bed...and I woke up and didn't even notice at first. I was completely sneeze/drip free. I can honestly say that this machine has changed my life. It's also really nice looking, which is a big plus for me.

Bottom Line: Yes, I would recommend this to a friend

---

Advertisement

---

45 out 46 people found this review helpful

Updated review

Update

By

Tim W

,

Raleigh, NC

,

Jan 4, 2018
Verified Reviewer

I was finally able to receive an RMA after they had practically bricked my device (no W-Fi, Bluetooth, and it would reboot on its own all of the time). They have had the device for 11 days and still no process on a refund. PLEASE. Don't waste your time with this product.

Bottom Line: No, I would not recommend this to a friend

View all 1 comments

Hide comments

Jan 8, 2018

Tim, we have taken a detailed look at what happened in your case. Unfortunately, we did not provide the kind of customer service that you deserve and the one we strive to deliver to all of our customers. Please accept our sincere apologies. We are aware that occasionally devices can be affected by the connectivity issue that you experienced. We are working hard to resolve this issue as swiftly as possible. We understand that, although the unit functions perfectly well without being connected, some of our customers want to be able to use this feature.

We see that we emailed you the RMA return label on November 22nd and received your returned unit in our warehouse on December 25th. Unfortunately, our warehouse did not notify us of its receipt, which is why the process took longer than it should have. This mistake was due to work scheduling over the holiday period. We apologize again for the inconvenience this caused you. We're glad you received your refund last week and we have also arranged for a full refund of your shipping costs.

Thank you for your candid feedback and for trying Molekule. We hope that this explanation provides some context, and assure you that we have learned from the mistakes we made while handling your case.

Previous review
Sep 26, 2017

Doesn't live up to the hype

My experience with Molekule was positive until about 30 days in.

The device started rattling and eventually also started squealing when on high.

I have also found that the device becomes unresponsive and will either reboot on its own or requires that it be unplugged and plugged back in to get it to function again. It is extremely disruptive as I have this unit in my bedroom and when it reboots it also recalibrates which causes the fan to surge which will wake up even the most sound sleeper.

I have reached out to support on multiple occasions and am disappointed by the lack of help. They take the better part of a week to even respond. Most recently I was asked to disable WIFI on the device as they have an issue with the current firmware and no anticipated date for it to be corrected. This is what they are attributing the reboots and lockups to.

I have asked for an RMA and have not been able to get one to date so don't expect them to honor the extremely limited warranty that does exist.

(

read more

read less

...)

---

5 out 6 people found this review helpful

Amazing air!

By

Lulu Reynolds

,

Minneapolis, MN

,

Dec 14, 2017
Verified Reviewer

We have radiator heat in our home so no filtration, nothing to filter any air pollutants. I have two Germ Guardians, and they were barely touching the problem unless I opened the windows with the units running, otherwise, they smelled stale and burnt. I saw this advertised and after reading reviews and doing more research I concluded this might be the way to go. However, I was skeptical since as per usual things can sound better than they actually perform, but I was wrong.

This unit is absolutely amazing! The day after I received the unit, my grandson came over and he said: "Grandma, your house smells so good!" Don't get me wrong, I clean constantly and run essential oil diffusers, open windows, etc., but when you have nothing to filter your air, it's a battle constantly! It is winter here and cold so opening the windows all day is not an option. I am so glad I found this company! I have asthma and cannot afford to keep buying all these various units that do very little and offer no solution to my air quality. Molekule did it! Thank you!

Anyone with heating duct work in their homes would be amazed by this addition to air quality! I definitely plan to purchase a second unit for the other level in our home.

Healthy breathing!

Bottom Line: Yes, I would recommend this to a friend

---

3 out 4 people found this review helpful

Worth the money!

My husband and I both were waking up with sore throats and congestion for weeks on end. We consistently change our air filter, so we were really getting frustrated and worried. We bought this machine as a last-ditch effort.

Literally the very first morning after Molekule ran all night, we saw a difference in the way we felt. My throat no longer hurts when I wake up, and if that isn't proof, I don't know what is. For us, it has been worth the money.

Bottom Line: Yes, I would recommend this to a friend

---

3 out 4 people found this review helpful

Best air cleaner I've ever owned

At first, I was attracted to the Molekule air cleaner based on appearance. Its clean design looked like something from Apple for example. For this reason, I clicked for more information and liked what I read enough to order one. It arrived well packaged, setup was easy, and it started working immediately to improve air quality in my home. We have pets (a Labrador and cats) that share our house with us. I almost immediately noticed an improvement and there is little odor of any kind. I can smell the "clean" air coming out, which has a distinctive smell. I'd highly recommend this unit to anyone. I plan on purchasing at least one more in the near future.

Bottom Line: Yes, I would recommend this to a friend

---

1 out 2 people found this review helpful

I love it

I've been breathing toxic air for 2 years due to 8 faulty duct air condition companies who installed returns and ducks with no permit and left everything open and gaping me at it, and I slowly got very sick, and I was researching airport fires, and I saw this.

The Molekule has made me feel a lot better and I'm resting in peace knowing that it's cleaning my air. I do feel a big difference and I love it, I absolutely love it. It's unlike anything I've ever seen.

Bottom Line: Yes, I would recommend this to a friend

---

2 out 3 people found this review helpful

Love it!

By

Clea Arthur

,

Talent, OR

,

Dec 7, 2017
Verified Reviewer

We live in the forest on a dirt road. We have three cats and one dog that have access outdoors. My partner has severe allergies. He used to snore regularly due to nasal congestion. It would wake me up, and I would then wake him up to change positions. Sometimes I had to use earplugs or sleep in another room. We love the Molekule! He rarely snores now, and we are both sleeping so well!

We just had to change the pre-filter for the first time, and it couldn't be easier. Thank you for creating such a great product! It looks beautiful and is very quiet.

Bottom Line: Yes, I would recommend this to a friend

---

2 out 3 people found this review helpful

Molekule has been great

I've used the air cleaner for several months, and it has been working very well. I use the silent mode, so it pretty much goes unnoticed. It had a lot of dirt in the filter when it was due for changing, so that was a surprise for me because I do vacuum frequently. Apparently, there is a need for this extra cleaning device. It was nice to have the filters sent automatically. There was a way to connect the device to an app for the company to know exactly when the filter needed changing, but my iPhone couldn't do that. Auto shipping is fine.

Bottom Line: Yes, I would recommend this to a friend

---