Molekule
Claimed This company has claimed this profile, is getting alerted on any new customer reviews entering this page, and may engage in dialogue with its customers to address their matters.

Companies cannot pay money or provide goods in order to remove or alter customer reviews.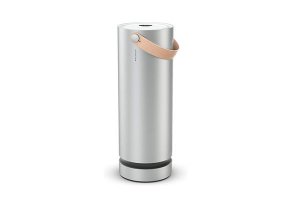 Molekule is an air purifier that is claimed to trap 99.97% of airborne particles to help you breathe cleaner air. Read what customers are saying about this product.
---
This thing doesn't not work

By John S.

,

Beaverton, OR

,

Sep 23, 2020
Verified Reviewer

Length of Use: Less than 3 months

Overall Experience:

My wife bought the small machine and the large machine to mitigate wildfire smoke. We live in Oregon and have been in hazardous air for over a week now. I was so excited to get this machine and get it working. We have a 3-year-old, a puppy, my wife has asthma, and I do not smoke or drink so experiencing the wildfires here has been a miserable experience and maintaining a healthy environment for my family is very important to me.

We plugged our small machine in our bedroom at approximately 5 pm on 9/16/2020, got the app connected and the machine running. I have masked off our bedroom window and also our attic access lid in our closet behind a closed door. I closed both vents to our central AC to limit any exposure to the room. The machine immediately detected 'Very Bad' air quality in our bedroom. That was to be expected due to the hazardous concentration of pm2.5 particles in our air right now.

I was so excited for this thing to get to work but it operates like someone going a million miles an hour in fancy clothes that is all talk and accomplishes absolutely nothing! About 30 minutes after plugging it in it detected 'Bad' particles in our room, which I saw as an improvement. It then went back to 'Very Bad' about a minute after that. We have been running the machine on its highest setting since approximately 6 pm on 9/16/20. It is now 4:36 am on 9/17/20 and the particle level detected is still very bad. Our bedroom is 143 square feet, I would expect the device to perform beautifully in this space.

I was so confused so I decided to do my own research online and discovered that several people are having the same experience that I am, that this thing is an overpriced and basically non-performing device that is pleasant to look at compared to other air purifiers that are much more affordable and that actually work. The Wirecutter has a great YouTube review. The other one-star reviews in this forum are the ones to pay attention to. I don't believe any of the excellent reviews based on my experience with this product. I am so disappointed in this product, especially knowing that my wife dropped a ton of money on two machines for our home and I come to find out that they don't work. We will be sending both machines back and praying for better weather in Oregon over trying to use this machine. What a joke this thing is! And...everyone is in the same boat, scrambling for clean air and all other models that actually have good reviews, that work, and are affordable are all backordered. As frustrated as I am to find these reviews I am even more upset with myself for not doing this research sooner and having never purchased these gimmick machines!

Pros and Cons:

No "pros" were specified in this review
Doesn't work
Expensive

Bottom Line: No, I would not recommend this to a friend

---

Updated review

UPDATE: Molekule during Forest Fires - warranty replacement unit

By Liane H.

,

Portland, OR

,

Sep 21, 2020
Verified Reviewer

Length of Use: Less than 3 months

Overall Experience:

This is an update to my prior review of the Molekule.

Today is 9/14/2020 and my family and I are in the Vancouver, WA area and Oregon, Washington, and California are on fire. The air quality outside has been in the hazardous range for the past few days and as high as 550+, which is insane. The leaves on the trees are dying and we can't leave the house. This is when you realize how important a great air cleaner is!

We had had our Molekule for about 2 years just sitting in its bag because it didn't work. Finally I decided to pull it out a few months ago and see if I could get it working again. The unit was totally dead at this point and would not turn on. With no hope at all of getting any help I phoned Molekule and it turns out that if you don't run them for a couple of years they will stop working. But it also turns out the unit was still under warranty - which I was very surprised about. With very little effort on my part, they sent me a brand new unit and a shipping label for the old one which I returned. We turned the new one on but it had a bit of a strange first time running it smell so we turned it off again. Fast forward to today. We have been using 2 IQAir Multigas units (even more pricey than the Molekule - especially with replacing the filters) to clean the air in the 2 smaller rooms we are living in because the house is too leaky and the smoke keeps getting in the house and those air cleaners are not designed to clean up a whole 2000+ square foot house. The filters on one unit are old and I wanted to clean up the air in the kitchen as well so I turned on the Molekule today in there and this new one works great! I ran it in the kitchen and then moved it to my bedroom and I'm now really impressed. I have it on boost which is quite loud but it is doing the job. When you have a house filling with toxic hazardous smoke from forest fires nearby, that is a true test of a unit.

I'm giving it 4 stars now because clearly the last unit was faulty and that should have been resolved 2 years ago. However, their customer service after it died completely was excellent and we are very pleased with the new unit. I'm very impressed with how it is tackling toxic smoke and I now do recommend buying the Molekule. I will see how it works with regular use as we use our air cleaners every day and do an update if necessary. Thank you Molekule for replacing your product when it died.

I still also recommend the IQAir as their units are great and they even have a whole house option which I will seriously think about, but if you want a smaller, cheaper, much prettier, and more portable unit that seems to do a really fantastic job, then I recommend the Molekule.

Pros and Cons:

The look
Clean air to breathe
Faulty first unit didn't work

Bottom Line: Yes, I would recommend this to a friend

Previous review
Oct 11, 2018

So sorry I bought a Molekule

I got a Molekule for a family member who is badly affected by exposure to paint fumes, perfumes, and air fresheners, as well as a range of other odors and allergens. We already own several IQAir air cleaners and had had very positive experiences with them. We needed one more air cleaner for a separate location and after hearing all the hype about this air cleaner decided to try it out, and I'm so sorry that we did.

These units are not cheap, and the Molekule may be pretty, but it did not clean the air as advertised. It was in fact very ineffective, especially when compared to the IQAir.

I recommend against buying a Molekule air cleaner as in our experience it doesn't work. It made no difference in air quality for my daughter. I do recommend IQAir products, and to be clear, we have no association with IQAir except as a customer. They are also expensive (even more expensive) and their filters are more expensive than the Molekule filters, but you replace them less frequently, so it may even out. The most important thing is their air cleaners actually work.

Oct 16, 2018

Hello Liane, we are sorry that Molekule did not work for you. The health of your daughter is the most important part, and we are glad that you found a solution for her! At Molekule, we are constantly innovating our product and filters based on feedback like yours. Our R&D is directly translated into our product which is how we can quickly iterate and improve. Thanks for taking the time to share your thoughts.

(

read more

read less

...)

---

Advertisement

---

Air Mini is where it's at!

By Avery B.

,

Dallas, TX

,

Jan 10, 2020
Verified Reviewer

Overall Experience:

Despite reading some reviews regarding Molekule's poor customer service and phone app, I decided to purchase an Air Mini. It seems that Molekule has listened to customer complaints and improved their product/service. I saw an ad online for $50 off the Air Mini, but when I tried to check out on their website the discount did not apply. I called customer service with less than a 1-minute wait. The representative was very pleasant, respectful, and helpful. Within 10 minutes she was able to fix all my issues! They refunded me for $50. Molekule Air Mini does not use their app at all, so no issues there. The blue lights are now inside the device, instead of outside like the original Air, making it much easier to sleep without the added brightness. I definitely recommend the mini!

Bottom Line: Yes, I would recommend this to a friend

---

Don't bother spending the money

By H S.

,

Daphne, AL

,

Dec 29, 2019
Verified Reviewer

Overall Experience:

Unit is advertised to work with the app for the smart features to be accessible. This is simply not true. After looking into the product and buying three, they do not work as advertised!

Bottom Line: No, I would not recommend this to a friend

---

Worth every penny!

By Abbee H.

,

Southern Illinois

,

Aug 15, 2019
Verified Reviewer

Overall Experience:

I was hesitant to buy the Molekule because of the price. However, after only three nights of use I have noticed a major change in my drainage in the morning. We spend a majority of our time in our basement, which can have that basement smell. After using the Molekule, there is no noticeable basement smell, which is worth every penny in and of itself! I will be purchasing a second one so we can have one upstairs and one down.

Bottom Line: Yes, I would recommend this to a friend

---

No way in heck

By Sara H.

,

Washington

,

Aug 14, 2019
Verified Reviewer

Overall Experience:

Horrible product and customer service. Bullies customers. The product smells and customer service is a joke. I would rather face the incarnation of evil itself than deal with another company like this. Although, I think I already have.

Bottom Line: No, I would not recommend this to a friend

---

Molekule

By Christine A.

,

San Diego, CA

,

Aug 8, 2019
Verified Reviewer

Overall Experience:

I bought a Molekule for myself around Christmas last year. I bought it because I was having a horrible time with seasonal allergies that seemed to have morphed into year-round allergies. I often woke up with a sinus headache that would sometimes develop into a migraine. I've now been using it for 8 months, and rarely wake up with a headache. I'm sleeping better and allergy symptoms are so so much better. I highly recommend!

Bottom Line: Yes, I would recommend this to a friend

---

Advertisement

---

Life changing

By Karen T.

,

Summertown, TN

,

Aug 7, 2019
Verified Reviewer

Overall Experience:

I just started using it this week and it really makes a huge difference in my breathing and allergy symptoms. I even think I am sleeping better. I usually wake up with itchy eyes and have breathing problems at times. I am very glad I took the leap to try this.

Bottom Line: Yes, I would recommend this to a friend

---

Zero stars!

By Autumn H.

,

California

,

Jul 22, 2019
Verified Reviewer

Overall Experience:

I have had this machine for a year. It does not handle the dust, cat hair, or smell. I would give it away but why? It doesn't work. I have three other brands of air filters. Each one of them (which together cost less than the Molekule) work better than this non-functioning machine.

Bottom Line: No, I would not recommend this to a friend

Jul 24, 2019

Hi Autumn, we're sorry to hear that your experience with Molekule has not been ideal. Molekule can filter dust and hair from the air, however, it is possible that dust may settle before reaching our device. The pre-filter will catch these larger particles to prevent them from reaching the PECO-filter. This will allow the PECO-filter to work as efficiently as possible to destroy smaller particles. We would like to know more about the environment you are using your Molekule in to better help you with these issues. Please contact our support team at 855-999-9069 or molekule.com/contact.

---

Excellent investment!

By Monique R.

,

San Diego, CA

,

Jul 20, 2019
Verified Reviewer

Overall Experience:

I have two cats and house guests who frequently come over but who are allergic. I purchased the Molekule hoping it would not only improve the quality of air for me, but also for people who stay over. Just this last weekend I had a houseguest for four days who is very allergic to cats. We kept the Molekule in her room the whole time and she said it made a HUGE difference for her! Normally she's miserable but not anymore! Thank you to the scientists to developed this technology! I love it!

Bottom Line: Yes, I would recommend this to a friend

---

Great product

By Anthony B.

,

Decatur, GA

,

Jul 20, 2019
Verified Reviewer

Overall Experience:

Ordered my first Molekule and was skeptical, I have bought other air purifiers in the past that did not do anything to help my allergies. Molekule, however, has done exactly what they said they would do so I ordered additional units for the rest of the house I am enjoying the fresh air they provide for me.

Bottom Line: Yes, I would recommend this to a friend

---

Great air purifier

By Robyn N.

,

Massachusetts

,

Jul 12, 2019
Verified Reviewer

Overall Experience:

I purchased Molekule because my boys have asthma. I am very pleased with the quality of the product and how clean the air feels. My boys fight over who will keep it in their room each night. I recommend for anyone with allergies or asthma.

Bottom Line: Yes, I would recommend this to a friend

---

Advertisement

---

Great product for dog allergies

By Nadine M.

,

Miami, FL

,

Jul 11, 2019
Verified Reviewer

Overall Experience:

My daughter had very bad dog allergies to our dog and now they have significantly reduced. We keep it running on BOOST mode 24/7 to always have clean air. Grateful to Molekule! I will most likely purchase a second.

Bottom Line: Yes, I would recommend this to a friend

---

UNBELIEVABLY AMAZING!

By Leigha H.

,

Los Angeles, CA

,

Jul 10, 2019
Verified Reviewer

Overall Experience:

I was quite hesitant to purchase a Molekule Air after reading about all the app problems. I even bought an IQ Air instead last year. Which was fine...it's HUGE and did a good job. But Molekule, OMG...I finally caved. The air is actually fresh coming from it and it's attractive! I woke up after the first time I used it, feeling better than ever.

I had no problems with the app. I do have an iPhone Xs, so maybe people with an older android or something have issues? I don't know...

I just want to stand on the rooftop and shout about how incredible this filter is. It's like breathing fresh air from deep in the ocean, but in my old LA apartment!

Bottom Line: Yes, I would recommend this to a friend

---

Best thing I ever bought

By Jonna F.

,

Ft. Lauderdale, FL

,

May 21, 2019
Verified Reviewer

Overall Experience:

I am so excited about this product. Dust is to a minimum and no morning snuffy noses. I cannot thank Molekule enough. What a terrific well built and highly effective air purifier. Well worth the money.

Bottom Line: Yes, I would recommend this to a friend

---

Works well in dusty environments

By Lisa A.

,

Los Angeles, CA

,

May 17, 2019
Verified Reviewer

Overall Experience:

I live in an industrial part of Los Angeles and my room was always covered in dust, until I purchased my Molekule. Now I don't have to remove dust from everything twice a week!

My only criticism is the connectivity to my phone is spotty at best, but that doesn't affect its performance.

Bottom Line: Yes, I would recommend this to a friend

---

Efficient air cleaner

By Fritz P.

,

San Diego, CA

,

May 16, 2019
Verified Reviewer

Overall Experience:

I received one unit as a gift last year, it worked great. There was a minor firmware issue that has since been resolved and now the system works perfectly 24 hours a day. I will get another unit for a different part of the house soon. The silent mode is how I choose to have this set at and it works wonderfully just a few feet away from my bed.

Bottom Line: Yes, I would recommend this to a friend

---

Advertisement

---

Molekule helped me profoundly

By James C.

,

Oklahoma

,

May 16, 2019
Verified Reviewer

Overall Experience:

I suffer from a respiratory condition called bronchiectasis, where my lungs have difficulty removing mucus. I have tried many air purifiers, and I can state, sincerely, and in good faith, that I have noticed a profound decrease in the sequela associated with my symptoms.

Bottom Line: Yes, I would recommend this to a friend

---

Buyer beware

By Bill C.

,

Brooklyn, NY

,

May 6, 2019
Verified Reviewer

Overall Experience:

To see some of the issues I've been dealing with since day two of using this unit see reviews left by Louis and Lianne. My bigger grievance has to do with this company's inept customer service. First, a firmware issue that took 2 days to resolve when the company know of the problem but chooses not to proactively email customers about the issue was not clearly understood by the people I spoke to. A Wi-Fi issue that a customer service rep told me could be resolved by disabling the app to which I replied, why would that be acceptable when the app and connectivity were a major reason for this purchase.

Insult on top of injury, when I talked with a rep about returning the unit, she tells me that after we hang up she will send me instructions and a FedEx return label will follow shortly; 2 days later and an email to her that she didn't respond to, no instructions or label. Yet another call to customer service yesterday, speaking this time to "Monti" who tells me all the same things, but does send instructions which imply that I am responsible for return shipping costs and that I need a "return authorization number", neither of which Monti mentioned. As with the young lady I spoke with before Monti, I was told I would receive a FedEx return label shortly. FYI, I emailed Monti this afternoon looking for clarification, no reply, and no return label.

After 10 days of dealing with this nonsense, all I want is the FedEx return label and to be done with this company. My advise, do not buy this product, it's pretty to look at but is bug ridden and have nothing to do with this company, they are completely unaware of the fact that the last thing to do customers is frustrate them.

Bottom Line: No, I would not recommend this to a friend

May 9, 2019

Hello Bill, we are sorry to hear about your poor experience and apologize for the delayed response. One of our technical support advocates has reached out to you and has sent the return instructions and label.

---

Recommend

By Todd H.

,

Shepherdstown, WV

,

May 1, 2019
Verified Reviewer

Overall Experience:

Pricey but good. Wife loves it, she breathes easier as the "Canary" in the coal mine in the house.

It is expensive ($900) for up to a 20x20 room and after the first year, you'll be spending over $100 per year in filter replacements thru Molekule. All that said, If you have an allergy sufferer it might make the difference.

Bottom Line: Yes, I would recommend this to a friend

---

Molekule

By Rod W.

,

Eatontown, NJ

,

Apr 29, 2019
Verified Reviewer

Overall Experience:

I truly love my Molekule unit, I breathe much better. As a saxophone player, I love having clean air when I play. This does just as they say truly is a must-have. Get yours today. I would recommend this to all my friends and colleagues.

Bottom Line: Yes, I would recommend this to a friend

---

Ineffective - poor customer support

By Aden M.

,

Foster, RI

,

Apr 26, 2019
Verified Reviewer

Overall Experience:

I wanted to love this machine. I read about it for years and years and finally decided to give it a shot to see for myself if all the hype was true. I purchased it and received it extremely fast, which was impressive.

I installed the Molekule in my 200 square foot bedroom to try and stop allergies. I wake up most mornings unable to breathe, and congested and have for years. I am in excellent health and do not smoke or drink and my doctors associate the congestion with seasonal allergies.

We ran the Molekule for a week and noticed a big improvement in the overall smell of the room. The house is hundreds of years old so it has a "wood" smell that is pleasant and the smell went away with the Molekule.

While I had read the reviews about the dreaded blue light at night, I thought it made sense to see how it would affect my sleep. It was awful. So bright that it lights the entire room up in blue. The Molekule does not work with the blue light disabled and is a glorified HEPA filter so turning it off was not an option. I can get a HEPA filter for less than $100.

The noise was great. It is very loud on its highest setting. It allowed me to turn off my white noise machine that I use because I can't sleep in silence. Some people might not be able to sleep with this at night because it is LOUD. I didn't see a point in trying to use it on the low setting at night when that is the time I spent most in my bedroom and I wanted it to work at its best while I was sleeping.

After a week I noticed absolutely zero changes in my allergies. Between that and the light at night, I decided to send it back. It boggles my mind that they haven't changed the design yet to contain the blue light inside the machine. What a huge disappointment!

Contacting Molekule through email was easy. They tried to get me to call, but I prefer to handle everything through email so that I have a record. They didn't pressure me to try and keep it once I told them about the blue light (I am sure they hear it daily). I was disappointed when they told me I would have to pay $58 but felt it was fair enough as I did use the machine for a week.

Unfortunately, it got a bit complicated once they sent me a return label. The person Khyle who was handling my return was terse and unhelpful. They accidentally sent me a label for FedEx Express shipping and when trying to schedule the pickup using their link it wouldn't work because Express shipments were not eligible for pickup using the link. I decided to schedule my own pickup and when they arrived I was told they wouldn't pick up Express packages. I emailed Khyle to tell him and he said: "we do not use FedEx Express for returns, the link should work." I sent a screenshot of the label, and the error from the website and didn't even receive an apology. In the end, it took more than a week to get it picked up, and cost me an additional $35 for the two failed pickup attempts. After dealing with the customer service, it put a bad taste in my mouth.

Unfortunately, the Molekule has too many design flaws, and simply doesn't work as well as they advertise. I have since replaced it with a $200 HEPA filter, and my nightly congestion is much better.

Bottom Line: No, I would not recommend this to a friend

May 9, 2019

Hello Aden, we apologize for the misunderstanding with the FedEx label. It looks like one of our customer support advocates has reached out and set up a pick up as requested.

---

Advertisement

---

Our home has never had cleaner air

By Harold W.

,

Chandler, AZ

,

Apr 24, 2019
Verified Reviewer

Overall Experience:

My family and I decided to give Molekule a try. We suffer from allergies and have been dependent on allergy medications. Five years ago we decided to focus on limiting allergy medication by investing in air purifiers. We started with replacing our home air filter with premium filter design to filter very fine particles.

Then we decided to purchase a Lowe's Idylis Hepa air purifier with little improvement to our air quality (we still depended on Zyrtec/Benedryl for relief).

I did a little research and decided to invest in an IQAir system. IQAir did a good job, this unit was the answer to our allergy problems, but the filter cost is expensive. We slept well and limited on the amount of allergy medication taken at night. We used this system for about three years and counting.

One morning Molekule presented itself on Facebook. During this time my family and I were dealing with the flu. As I started reading the details on the Molekule's unit, I became interested. Their claims were that their unit is able to filter particles smaller than 0.3 microns, particles small enough to bypass HEPA technology. I was interested in the technology, so decided to test the unit out for myself.

Skeptical at first and doubtful it would outperform my $1000 IQAir system with $400 filters inside this monstrosity of a unit, it most certainly did. Amazed that this small compact mobile unit actually cleaned our air much cleaner than it already was. Each breath we took was satisfying. My fiancé and I looked at each other and couldn't believe how much cleaner the air around us smelled. Almost like having a oxygen nasal cannula attach to your face (if you ever had one).

I have two younger daughters (7 and 16months) and we place the Molekule system in their room at night. We noticed that they actually sleep longer into the morning. Friends and family have also commented on how clean our air smells. Molekule does an excellent job creating a clean air environment. We will be purchasing another unit in the future (unfortunately we cannot afford another one at the moment). But for those looking into an Air Purification System, Molekule is a must have!

Bottom Line: Yes, I would recommend this to a friend

---

Helped so much

By L S.

,

Maryland

,

Apr 24, 2019
Verified Reviewer

Overall Experience:

We love our Molekule, customer service was great with addressing the initial issue, and it has helped us so much. We are breathing so much better in the room we have it in and considering moving it to other rooms as well. Very pleased.

Bottom Line: Yes, I would recommend this to a friend

---

DO RESEARCH

By Robert E.

,

New York, NY

,

Apr 22, 2019
Verified Reviewer

Overall Experience:

I just received this COOL LOOKING DEVICE. HOWEVER, within 3 days issues starting happening. Being the weekend, I chatted with someone online from MOLEKULE. They told me they have an issue that will be fixed soon. Please don't buy without doing research on reviews from customers not on their site - they apparently pay for good reviews. Go to other sites and get reviews and do independent research on the claims they make. Peace.

Bottom Line: No, I would not recommend this to a friend

---

Impressive on all levels!

By Catherine W.

,

Clemson, SC

,

Apr 17, 2019
Verified Reviewer

Overall Experience:

I bought Molekule to help issues with my very sensitive boyfriend. He has allergies, asthma, and a dislike of anything smelly. Me? I have 3 dogs and 4 cats, and an abiding love of open windows. I hoped Molekule would help him, but I had no idea how much it would help me! The air is just cleaner, better, and it is very noticeable. The app to Molekule interface cannot work sometimes, and I have to unplug the unit and re-start it, but that's minor. Expensive - definitely. But worth it.

Bottom Line: Yes, I would recommend this to a friend

---

Not worth the price

By Susan U.

,

Orange County, CA

,

Apr 3, 2019
Verified Reviewer

Overall Experience:

Very disappointed. My Molekule disconnects from the WiFi at least 1-2 times where I have to go unplug and reset it manually. It does a good job filtering the air but I have rabbit air purifiers and they cost a lot less to purchase and maintain and are just as quiet. I would not recommend this purifier based on the cost of the item and the filter costs.

Bottom Line: No, I would not recommend this to a friend

Apr 9, 2019

Hello Susan, we are sorry to hear about this experience. We are currently rolling out the new firmware update that addresses the connectivity issues over the next few weeks. Please do contact our customer support team at 855-999-9069 for information and instructions on how to update your unit.

---