Molekule
Claimed This company has claimed this profile, is getting alerted on any new customer reviews entering this page, and may engage in dialogue with its customers to address their matters.

Companies cannot pay money or provide goods in order to remove or alter customer reviews.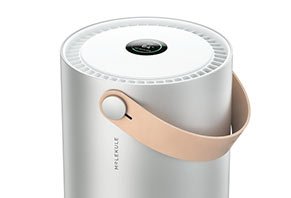 Using Photo Electrochemical Oxidation (PECO) technology, Molekule air purifier promises to trap 99.97% of airborne particles and help you breathe cleaner air.
Molekule Review: Is This Air Purifier Worth It?
If you're familiar with traditional air cleaners, you know they work by filtering particulate matter out of the air.
But according to the folks over at Molekule, they've created the world's first molecular air purifier that doesn't just capture pollutants, it eliminates them—including allergens, airborne chemicals (VOCs), mold, viruses, and bacteria.
Not only this, but Molekule is also portable, much quieter, and can be monitored and controlled via its companion app.
In a nutshell, here's how it works (we'll go into more detail in a second): Molecule's intake pulls in 360° of air. As this air passes over a patent-pending light-activated nano-filter, any harmful pollutants not caught by the prefilter are turned into harmless elements at the molecular level. Then, this sanitized air exits Molekule into the surrounding room.
Although Molekule claims their technology is based on 20 years of research and development, does this necessarily mean that the purifier will work better than traditional options? Even then, will it deliver a solid level of value?
To begin our review, let's take a look at Molekule's finer details.
How Does Molekule Air Purifier Work?
Made from machined aluminum, each Molekule air purifier is 23" H x 8.25" in diameter and weighs 18 pounds. On its top, you'll find a natural leather handle that allows you to move the purifier wherever it's needed.
Speaking of which, the manufacturer recommends using one Molekule per 600 square feet, and placing it in areas where you spend most of your time, especially close to your bedside at night. This way, it can help you wake up feeling refreshed.
When in use, Molekule features three operation modes:
Silent (30dBa, or about as loud as a whispered conversation) – Although it still operates efficiently, this mode is meant to maximize quietness.

Turbo Boost (55dBa, or normal conversation) – Boost focuses more on cleaning the room "extremely quickly."

Auto (42dBa, or a hushed conversation) – Here, Molekule will determine when the air needs a quick clean, based on factors like the number of pets present and the size of the room.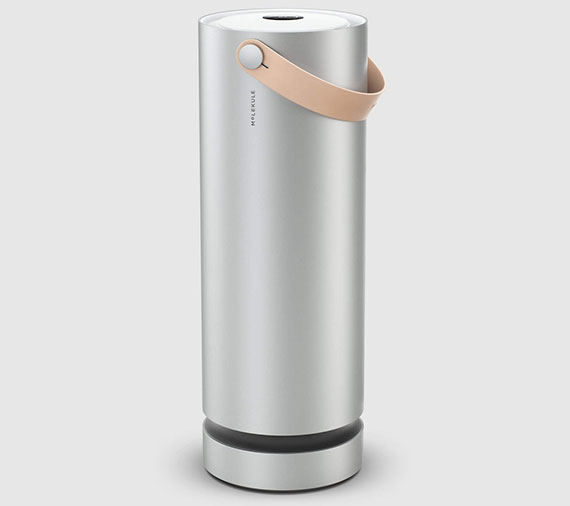 The Molekule air purifier
Each of these settings can be adjusted directly via Molekule's touchscreen display. Or, using your home's Wi-Fi connection, it can connect to the companion app, which can report metrics for each cleaning cycle, allow you to select the operation modes above, and display the remaining life for both filters. Built-in sensors will also order new filters as needed, which will arrive directly on your doorstep.
We're even told Molekule's app will, over time, "increase in intelligence to report surrounding air quality metrics (both indoors and outdoors)."
Molekule's Photo Electrochemical Oxidation (PECO) Technology
Most air purifiers work using HEPA filters to trap 99.97 percent of airborne particles 0.3 micrometers (µm) in diameter (several hundred times smaller than the thickness of a human hair), depending on the filter's size and quality. However, this process only traps particulate matter; it doesn't eliminate it.
Comparatively, Molekule uses a proprietary technology called PECO (Photo Electrochemical Oxidation) to disassemble pollutants at the molecular level and convert them into nontoxic elements—without creating ozone. We're told this technology was developed over the course of two decades, and that it's able to destroy pollutants 1,000 times smaller than HEPA filters (0.1 nanometers), including VOCs and viruses.
According to the company, this means that Molekule is the "only product that eradicates the full spectrum of indoor air pollutants." Here's how they explain it:
"This is done by creating a catalytic reaction that happens when a nanoparticle-coated filter is activated by light. Pollutants are broken down into their most basic molecular components, making them safe for us to breathe."
The process works through four steps:
First, Molekule's air intake draws in air from all 360° at once.
Then, this air is circulated first through the pre-filter, which traps "larger allergens like dust, pollen, and dander."
Next, the PECO technology goes to work breaking down harmful pollutants to their most basic molecular components.
Last, Molekule will leave your room pollution-free in minutes.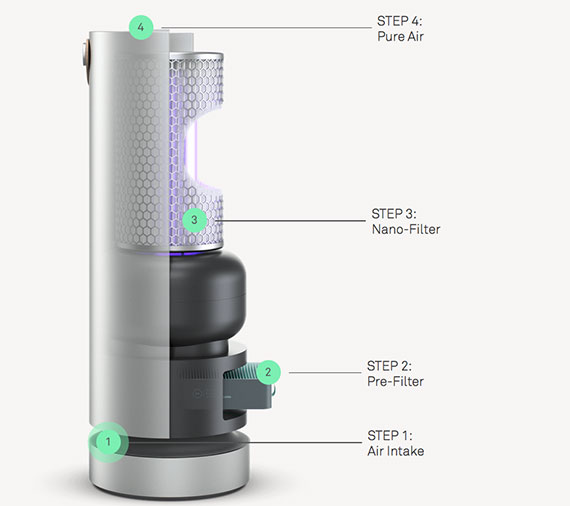 Molekule's 4-stage purification process is claimed to eradicate the full spectrum of indoor air pollutants.
Together, the company advertises this four-stage purification process will eradicate the full spectrum of indoor air pollutants.
The manufacturer also reports that Molekule has been extensively tested by third-party laboratories, including the University of Minnesota and the University of South Florida, some of which have been shown to completely eliminate 3.9 million E. Coli in a single pass. A few white papers supporting these claims are listed on the Molekule website, and we were also able to dig up a PECO technology review elsewhere online.
How Much Does Molekule Cost?
The Molekule Air Purifier is priced at $799 and comes with one pre-filter and one nano filter. All direct purchases also include a free one-year filter subscription, where you'll receive three replacement pre-filters (approximately 11 months after your purchase) and one nano filter (six months after purchase) delivered directly to your door.
If you purchased your Molekule before 3/2/18, the following year's subscription will cost you $99. If after this date, you'll pay $129 ($189 CAD).
If you prefer to buy individually, a single pre-filter is $30, which should be replaced every three months. One nano filter is $85 and should be changed out every six months.
Direct purchases delivered within the contiguous U.S. come with a flat $29 shipping fee, while deliveries to Alaska, Hawaii, Puerto Rico, and the U.S. Virgin Islands are charged $40 S&H.
For qualified customers, Affirm offers financing for as low as zero percent APR.
All Molekule purchases come with a 60-day refund policy, less S&H charges, as well as a one-year limited warranty.
A Look at Reviews and Complaints About Molekule
Nearly 40 HighYa readers have provided reviews about their experiences with Molekule, giving the air purifier an average rating of four stars. Common compliments referenced improved breathing (reduced coughing, alleviated congestion, etc.), decreased odors, and better sleep.
The relatively few complaints frequently related to functionality and service concerns, although a company representative responded to each.
As a company, Molekule, Inc. was founded in 2014 and is based out of San Francisco, CA. They held a C+ rating with the Better Business Bureau, based on one negative customer review and five closed complaints, as of 4/30/18. No additional details were available.
Who Invented the Molekule Air Purifier?
The PECO technology behind Molekule was originally invented by Dr. Yogi Goswami, a Professor of Chemical Engineering at the University of South Florida, using principles of solar technology, light, and nanotechnology—along with two decades of research, patents, and publication.
Today, Dr. Goswami's son, Dilip Goswami, has taken this technology and "enlisted some of the brightest minds in applied science, engineering, and design" to implement it into Molekule, a device the company believes can help millions of people breathe better.
Because of this, the company is on a mission to "eliminate indoor air pollution, in every home, for everyone," and to adapt the technology behind Molekule for use in businesses, hospitals, airplanes, and in many other potential applications.
Our Bottom Line: Who Is Molekule Good For?
Whether you're searching online or at a brick-and-mortar retailer near you, the fact of the matter is that you can typically pick up a high-quality HEPA-based air purifier for anywhere between $100 and $200—which is up to 80 percent less expensive than Molekule.
However, as we often say here at HighYa, the price is only one factor in determining the overall value. The second part of the equation is how much use you'll get out of Molekule, as well as the potential health benefits it can provide.
Here are a couple of admittedly simplistic examples to outline what we mean:
Are you just looking for something to remove dust and other larger particulate matter from the air inside your home or office? An option that might be able to deliver the most bang for your buck? In an instance like this, it might be difficult to go wrong with a traditional air purifier.
On the other hand, do you have allergy sufferers in your home? Are you looking to get rid of the most allergens possible—including airborne chemicals, viruses, and bacteria? Because Molekule's PECO technology can destroy matter hundreds of times smaller than a HEPA filter, its high price might be worth the much-improved performance.
---
Air Mini is where it's at!

By Avery B.

,

Dallas, TX

,

Jan 10, 2020
Verified Reviewer

Overall Experience:

Despite reading some reviews regarding Molekule's poor customer service and phone app, I decided to purchase an Air Mini. It seems that Molekule has listened to customer complaints and improved their product/service. I saw an ad online for $50 off the Air Mini, but when I tried to check out on their website the discount did not apply. I called customer service with less than a 1-minute wait. The representative was very pleasant, respectful, and helpful. Within 10 minutes she was able to fix all my issues! They refunded me for $50. Molekule Air Mini does not use their app at all, so no issues there. The blue lights are now inside the device, instead of outside like the original Air, making it much easier to sleep without the added brightness. I definitely recommend the mini!

Bottom Line: Yes, I would recommend this to a friend

---

Don't bother spending the money

By H S.

,

Daphne, AL

,

Dec 29, 2019
Verified Reviewer

Overall Experience:

Unit is advertised to work with the app for the smart features to be accessible. This is simply not true. After looking into the product and buying three, they do not work as advertised!

Bottom Line: No, I would not recommend this to a friend

---

Advertisement

---

Worth every penny!

By Abbee H.

,

Southern Illinois

,

Aug 15, 2019
Verified Reviewer

Overall Experience:

I was hesitant to buy the Molekule because of the price. However, after only three nights of use I have noticed a major change in my drainage in the morning. We spend a majority of our time in our basement, which can have that basement smell. After using the Molekule, there is no noticeable basement smell, which is worth every penny in and of itself! I will be purchasing a second one so we can have one upstairs and one down.

Bottom Line: Yes, I would recommend this to a friend

---

No way in heck

By Sara H.

,

Washington

,

Aug 14, 2019
Verified Reviewer

Overall Experience:

Horrible product and customer service. Bullies customers. The product smells and customer service is a joke. I would rather face the incarnation of evil itself than deal with another company like this. Although, I think I already have.

Bottom Line: No, I would not recommend this to a friend

---

Advertisement

---

Molekule

By Christine A.

,

San Diego, CA

,

Aug 8, 2019
Verified Reviewer

Overall Experience:

I bought a Molekule for myself around Christmas last year. I bought it because I was having a horrible time with seasonal allergies that seemed to have morphed into year-round allergies. I often woke up with a sinus headache that would sometimes develop into a migraine. I've now been using it for 8 months, and rarely wake up with a headache. I'm sleeping better and allergy symptoms are so so much better. I highly recommend!

Bottom Line: Yes, I would recommend this to a friend

---

Life changing

By Karen T.

,

Summertown, TN

,

Aug 7, 2019
Verified Reviewer

Overall Experience:

I just started using it this week and it really makes a huge difference in my breathing and allergy symptoms. I even think I am sleeping better. I usually wake up with itchy eyes and have breathing problems at times. I am very glad I took the leap to try this.

Bottom Line: Yes, I would recommend this to a friend

---

Zero stars!

By Autumn H.

,

California

,

Jul 22, 2019
Verified Reviewer

Overall Experience:

I have had this machine for a year. It does not handle the dust, cat hair, or smell. I would give it away but why? It doesn't work. I have three other brands of air filters. Each one of them (which together cost less than the Molekule) work better than this non-functioning machine.

Bottom Line: No, I would not recommend this to a friend

Jul 24, 2019

Hi Autumn, we're sorry to hear that your experience with Molekule has not been ideal. Molekule can filter dust and hair from the air, however, it is possible that dust may settle before reaching our device. The pre-filter will catch these larger particles to prevent them from reaching the PECO-filter. This will allow the PECO-filter to work as efficiently as possible to destroy smaller particles. We would like to know more about the environment you are using your Molekule in to better help you with these issues. Please contact our support team at 855-999-9069 or molekule.com/contact.

---

Excellent investment!

By Monique R.

,

San Diego, CA

,

Jul 20, 2019
Verified Reviewer

Overall Experience:

I have two cats and house guests who frequently come over but who are allergic. I purchased the Molekule hoping it would not only improve the quality of air for me, but also for people who stay over. Just this last weekend I had a houseguest for four days who is very allergic to cats. We kept the Molekule in her room the whole time and she said it made a HUGE difference for her! Normally she's miserable but not anymore! Thank you to the scientists to developed this technology! I love it!

Bottom Line: Yes, I would recommend this to a friend

---

Great product

By Anthony B.

,

Decatur, GA

,

Jul 20, 2019
Verified Reviewer

Overall Experience:

Ordered my first Molekule and was skeptical, I have bought other air purifiers in the past that did not do anything to help my allergies. Molekule, however, has done exactly what they said they would do so I ordered additional units for the rest of the house I am enjoying the fresh air they provide for me.

Bottom Line: Yes, I would recommend this to a friend

---

Great air purifier

By Robyn N.

,

Massachusetts

,

Jul 12, 2019
Verified Reviewer

Overall Experience:

I purchased Molekule because my boys have asthma. I am very pleased with the quality of the product and how clean the air feels. My boys fight over who will keep it in their room each night. I recommend for anyone with allergies or asthma.

Bottom Line: Yes, I would recommend this to a friend

---

Great product for dog allergies

By Nadine M.

,

Miami, FL

,

Jul 11, 2019
Verified Reviewer

Overall Experience:

My daughter had very bad dog allergies to our dog and now they have significantly reduced. We keep it running on BOOST mode 24/7 to always have clean air. Grateful to Molekule! I will most likely purchase a second.

Bottom Line: Yes, I would recommend this to a friend

---