NatureFresh Bag Reviews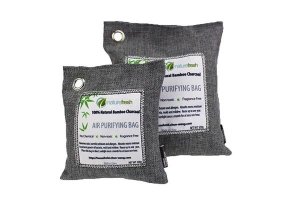 NatureFresh Bags are made from stitched linen and filled with activated bamboo charcoal, which can help deliver fresher air almost anywhere by trapping odors and other particulates.
What Is NatureFresh Bag?
Using just one ingredient—activated bamboo charcoal—NatureFresh Bag promises to naturally trap odors, allergens, mold, mildew, bacteria, and other toxins as they pass through, leaving you with fresher, purified air.
This way, you can place a bag wherever you need more breathable air, including near bathrooms, gym bags, shoes, cars, closets, luggage, and freshly painted walls. You can even place these stitched linen bags inside the refrigerator to help absorb moisture, bacteria, and mold and prevent food spoilage.
To refresh the NatureFresh bag, you simply need to leave it out in the sun for an hour, and it will be ready to use again for another month. Then, after about two years, you'll simply cut open the bag and sprinkle its contents around your garden.
Considering its low cost, ability to purify, and eco-friendliness, there seems to be a lot to like about the NatureFresh Bag. But will it deliver on all the promises made in the commercial and help you breathe fresh, clean, natural air?
This is the core question we'll help you answer in this article, starting with its basic functionality.
A Quick Reference Guide for Bamboo Charcoal Benefits
By itself, charcoal is an extremely porous material, which means that it features a great deal of surface area relative to its size. Activated charcoal, on the other hand, is exposed to very high temperatures, which reduces the size of its pores and thereby increases its overall surface area.
What's the point? With so much surface area to work with, activated charcoal is extremely absorptive. These pores also give it a naturally negative charge, which Healthline reports, "causes it to attract positively charged molecules, such as toxins and gases." These bound toxins are then carried out of your body naturally.
Together, they tell us that activated charcoal is often used as a poison/overdose treatment in emergency rooms. It's also commonly utilized to reduce heavy metal and fluoride content in water filters, as an abrasive in whitening toothpaste, and inside air purifier filters. There's even some evidence that it can improve soil quality, as advertised in the bag's commercial.
But can you expect NatureFresh—which rests immobile on a flat surface—to provide meaningfully fresher air, akin to an electronic purifying device? Let's revisit this topic in a second when we discuss the competition. For now, let's briefly talk about the bag's price.
How Much Does NatureFresh Bag Cost?
NatureFresh Bag is available in the following quantities:
3 Bags: $39.95 ($13.32 per bag)
5 Bags: $59.95 ($11.99 per bag)
10 Bags: $99.95 ($10 per bag)
20 Bags: $159.95 ($10.66 per bag)
All orders come with free shipping, along with a 90-day guarantee, less S&H. Keep in mind that according to the Refunds page on their website, returns must be in the same condition they were received, and in their original packaging.
To request one, you'll need to contact the company's customer service department at 833-394-7926 or support@naturefreshco.com.
NatureFresh vs. the Activated Charcoal Bag Competition
Searching online for variations of terms like 'bamboo charcoal air purifier,' 'bamboo charcoal bags,' and ' air purifying bags,' we encountered dozens of products competing with NatureFresh, the vast majority of which appeared on Amazon. Here's a sampling:
| Product | Price | Average Amazon Star Rating |
| --- | --- | --- |
| NatureFresh Bag | $39.95+ | N/A |
| Moso Natural Air Purifying Bag | $9.95+ | 4.1 (4,255 reviews) |
| Olivia & Aiden (5-Pack) | $19.95 | 4.2 (51 reviews) |
| Mavoro Natural Air Purifying Bag | $7.99 | 4.8 (6 reviews) |
| Naturally Activated Bamboo Charcoal Air Freshener Bags (4-Pack) | $16.95 | 4.2 (569 reviews) |
| PURGGO Natural Bamboo Charcoal Odor Eliminator [2-Pack] | $10.99 | 4.1 (377 reviews) |
| California Home Goods Activated Charcoal Deodorizer (4-Pack) | $14.95 | 4.1 (72 reviews) |
What can we surmise from these core details?
Even only among options with similar features like linen-type bags filled with activated charcoal, some sort of hook, clasp, or eyelet at one end; the ability to refresh by placing in the sun once per month, and up to two years of usable life, NatureFresh has a lot of competition.
Furthermore, many come with very similar online customer feedback, as well as specific functionality if you're looking for designs individually suited to vehicles, refrigerators, shoes, closets, and so forth. How can you decide which of these is the right option for you?
Since we've built a solid foundation up to this point, let's carry everything over to the conclusion so you can make a more informed decision.
Our Bottom Line About NatureFresh Bag
Let's look at the NatureFresh Bag objectively from an average consumer's perspective by walking through four key facts, step-by-step:
1. NatureFresh Bag by the Numbers
Of the popular options shown in the table above, we can see that NatureFresh comes with the highest upfront price at $39.95. For this, you'll receive three bags, which works out to about $13.32 each—which still puts it at the top end of the cost spectrum, compared to the competition.
2. The Competition is Fierce
Speaking of which, we learned during our research that nearly all of NatureFresh's charcoal bag competitors offered most of the same core features, including:
A hook, clasp, or eyelet
The ability to refresh in the sun monthly
Up to two years of usable life
Sturdy exterior
As a result, it doesn't seem when it comes to buying charcoal-filled bags, that paying more will necessarily deliver better performance or overall value.
3. Maintain Realistic Expectations
Based on vast online customer feedback for thousands of different devices utilizing charcoal filters, it's clear charcoal's general ability to help absorb contaminants and odors can make a real difference in air quality. However, it's important to emphasize that these work inside electronic systems that manually draw air through the filter to accomplish these benefits.
Comparatively, charcoal bags like NatureFresh are often situated low to the ground in areas where air circulation might be less-than-stellar (closets, underneath car seats, gym bags, etc.). And even if proper air circulation is present, these bags' small footprint means very little air will actually pass through them.
As a result, while they might work fine for absorbing odors, keep your expectations realistic about their ability to filter a meaningful amount of air.
4. The Company Behind NatureFresh Bag
There weren't any company details listed on the NatureFresh website at the time of our research. When we reached out to the support number listed above, our only option was to leave a voicemail including our name, phone number, and email address, with no indication of who we were entrusting these personal details with.
We also couldn't locate any details about the company on third-party sites like the Better Business Bureau, either.
Considering NatureFresh Bag's higher price and lack of online details about the company, it might make the most financial sense to explore the vast competition, most of which deliver the same features at meaningfully lower price points.
---
Don't waste your time, or money with this company!

By George C.

,

New York

,

Oct 26, 2019
Verified Reviewer

Overall Experience:

I purchased 6 of these bags in June of 2018. I started out by using 2 and put them in an area where I had an order problem. After about 3 weeks there was absolutely no improvement in the odor. I packaged up the remaining 4 and returned them (unused) requesting a refund for the returned 4. I also had a tracking number showing they were received. Several months later, I followed up with an email requesting my refund and as of the date of this review, I have not received a response, or a refund from this company. my opinion, stay away from this company. SCAM!

Bottom Line: No, I would not recommend this to a friend

---

Overpriced bags of charcoal

By Rod F.

,

Twin Falls, ID

,

Oct 24, 2019
Verified Reviewer

Overall Experience:

Took forever to get them. Absolutely worthless customer service. I imagine it is because all they do is listen to complaints from everyone who buys them until they are ready to attack someone back!

Product is equal to customer service as it is equally horrible and doesn't come close to the expectations one gets from reading their ads. You can duplicate the product by buying some cloth or burlap bags from Amazon or eBay, get a bag of charcoal, crush it up and fill the bags with it. But, don't be surprised that they don't do much to eliminate your problematic odors!

Bottom Line: No, I would not recommend this to a friend

---

10 days, no product

By Cindy J.

,

Indiana

,

Oct 11, 2019
Verified Reviewer

Overall Experience:

They have the worst delivery service, 10 days and still not here, never buying from here again. Maybe your company should consider using FedEx, much faster deliveries. This is BS!

Bottom Line: No, I would not recommend this to a friend

---

Disappointing!

By Meri C.

,

Georgia

,

Sep 7, 2019
Verified Reviewer

Overall Experience:

When I ordered the NatureFresh product, I was looking forward to having clean, unscented air in my home. I am a realtor and am very much aware of musty, or other unpleasant odors, and am always looking for practical suggestions for sellers who are marketing their homes. I ordered the buy 8, get 12 free. My home is only 1000 square feet and is built on a slab so no crawlspace odor, just the usual sometimes stuffy or whatever household odors. I placed all 4 bags each in the five rooms. No difference whatsoever in the air quality or odors. I have taken the bags out to be sunned and no difference. I then took 4 bags to my separate office building which is not regularly heated or cooled. No difference. I feel like I just wasted $180.88 for absolutely nothing.

Bottom Line: No, I would not recommend this to a friend

---

Advertisement

---

Very negative place

By Denise l.

,

Salt Lake City, UT

,

Sep 5, 2019
Verified Reviewer

Overall Experience:

Ordered 5 and received them in a timely matter. Tried them (of course), DID NOT WORK as promised. Paid $11.00 to ship them back. Good thing I chose to use priority mail. That is the way I knew that they were delivered. Have not heard from them at all. After reading several reviews on this subject I now see I am not alone!

Very inconsiderate way to run a business. Horrible way to treat your consumers.

Bottom Line: No, I would not recommend this to a friend

---

Scam

By Judy F.

,

Oakland, MD

,

Aug 29, 2019
Verified Reviewer

Overall Experience:

Placed order on July 28th, have called five times and get the same story. Have tracking number but has never been sent out. Customer service is rude and actually hung up on me. And they don't send emails or updates on your order. Will be calling for a refund, wish me luck.

Bottom Line: No, I would not recommend this to a friend

---

Non delivery of order

By Ruth M.

,

Alberta, Canada

,

Aug 20, 2019
Verified Reviewer

Overall Experience:

I ordered the basic order of NatureFresh 10 days ago and have not received it. Even though the company gives you a tracking number there is actually no way to track it that I can see. After reading some of the reviews I am now wondering if this company is just a scam. Guess my $58.92 CND is gone.

Bottom Line: No, I would not recommend this to a friend

---

Great product

By Brenda S.

,

Lindside, WV

,

Aug 7, 2019
Verified Reviewer

Overall Experience:

I purchased this product after failed attempts to rid my house of its mustiness. Within a few days, I could smell a freshness in the air. The musty smell was gone. I would definitely recommend this product to anyone having a similar problem.

Bottom Line: Yes, I would recommend this to a friend

---

Fraudulent

By Jerry N.

,

Florida

,

Jul 24, 2019
Verified Reviewer

Overall Experience:

I purchased two bags, it is the 14th and no bags. When I attempt to email the company, I'm told there is no one to receive the emails? I will be contacting the Federal Trade Commission and my bank tomorrow.

Bottom Line: No, I would not recommend this to a friend

---

Kingsford is better!

By Rick M.

,

Jul 16, 2019
Verified Reviewer

Overall Experience:

After listening to all of the reviews as well as trying one of these I liked the basic premise of the idea. So, I bought a bag of Kingsford charcoal for $8. I crushed it up and poured it into cheesecloth bags as well as open containers and even poured some into the air filter for the heat/air system.

The charcoal worked great! So charcoal works fine if you use lots of it. I tried the same thing using Baking Soda and that worked well also. I poured it into every drain then added a touch of vinegar and it cleaned all of the drains and they too smelled fresh.

Bottom Line: Yes, I would recommend this to a friend

---

Works!

By Sharon F.

,

Eldridge, AL

,

Jul 10, 2019
Verified Reviewer

Overall Experience:

I have bought several different products for the smell of mold. This absolutely works, hands down. I am so thrilled about this product. Thank you so much. I have one in my bathroom, one in the utility room and the kitchen. I am going to order some more for all my closet. My closets don't have an odor but I don't want any kind of odor. This is the best product ever.

Bottom Line: Yes, I would recommend this to a friend

---