Navage Nose Cleaner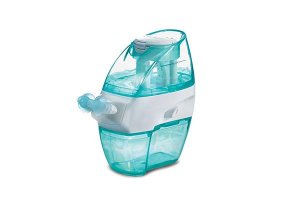 The Navage Nose Cleaner claims to cleanse your sinuses in under a minute without any medication or unpleasant side effects.
Navage Nose Cleaner Review: Is It Worth It
HighYa is supported by our readers. When you buy something through a link on this page, we may earn an affiliate commission. Learn more.
The Navage Nose Cleaner promises to deliver safe, drug-free relief from allergies and other sinus problems without unpleasant side effects like drowsiness. It works to relieve congestion symptoms like a runny nose, sneezing, stuffiness, sinus headaches, and more.
Used regularly, the company claims that the nose cleaner will help you reduce your reliance on allergy meds while helping you breathe and feel better.
In this analysis, we take a detailed look at its effectiveness to help you decide if this product is right for you.
Takes less than a minute per treatment
Cleaner SaltPods come premeasured, are simple to use
Effective, all-natural way to cleanse sinuses
Bulkier and more expensive than other nasal irrigation systems
Requires you to purchase SaltPods
Must be thoroughly cleaned between each use
How the Navage Nose Cleaner Works
The Navage Nose Cleaner system works by sending a saline solution mixed with warm water through one nostril, around the back of your nasal cavity, and through your nasal septum to follow back through the other one.
This process is known as nasal irrigation or a sinus flush, and it is considered a safe and effective treatment for sinus irritation and nasal congestion.
As the saltwater blend travels through your nasal passages, it washes away allergens and other irritants and moistens your mucous membranes for immediate relief.
Those with chronic sinus problems can benefit from regular nasal irrigation. One 2009 study found that participants who did one daily experienced a 64 percent improvement in their symptoms and a significant improvement in their overall quality of life.
Using the Navage Nose Cleaner should take between 10 seconds to a minute per session, depending on how congested you are. You'll know that the session is complete when the cleaner's upper tank is empty.
You shouldn't feel anything during the irrigation process, though you should notice immediate relief from sinus congestion afterward. For best results, change which nostril you start with at least once a week.
As the Navage system is an all-natural, drug-free treatment, it's safe to use as often as desired. However, the company suggests new users use it twice a day to get a sense of what it feels like to have fully opened sinuses. After a few weeks of use, you can adjust how often you need to use it.
Many people find that they use the cleaner a few times a month for most of the year but that they need to use it up to three times a day during the heavy pollen season.
After each use of this sinus cleansing system, you should detach and clean both tanks as well as the nose pillows and nasal dock with anti-bacterial dishwashing soap. Rinse the crushing chamber under hot water for 30 seconds, and rinse the drain and drain type by running hot water through it.
Sharing the Navage Nose Cleaner System
Though Navage states that its nose cleaner system is designed to make it difficult to transmit germs from one user to another, the best practice from a hygienic perspective is for each user to have their own device.
Those who prefer to share should each have a Dock-Nose Pillow combo (sold for $10.95 each), which can easily be interchanged on the system for each user.
Navage Nose SaltPods
The Navage Nasal Care system is designed for use with the company's SaltPods. These saline concentrate capsules are formulated with sea salt and water, and they burst open when you place them in the Nose Cleaner crushing chamber and close the lip.
This causes the liquid they contain with the warm water in the system's upper tank, which creates an optimized ratio of salt to water that is identical to what occurs naturally in your body.
All Navage SaltPods are manufactured in Cleveland and comply with international standards for medical device manufacturing. You should plan on using one SaltPod every time you use the Navage System.
Though the company recommends only using their brand of SaltPods in the Navage system, there are online hacks for making your own, most of which involve combining distilled water and pickling salts and pouring the solution where the pods go. (This video shows full instructions.)
You can irritate your nose if you don't use the right ratios of salt to water in your saline solution, so practice caution when testing out a DIY method. Likewise, using the device without SaltPods will void your warranty.
Pricing and Bundles
Starter Bundle – $89.95
Navage Nose Cleaner
18 SaltPod capsules
2 pairs of standard Nose Pillows
2 Nasal Docks (white and teal)
Essentials Bundle – $99.95
Navage Nose Cleaner
38 SaltPods
2 pairs of standard Nose Pillows
2 Nasal Docks (white and teal)
Navage Countertop Caddy
The Works Bundle – $109.95
Navage Nose Cleaner
38 SaltPods
2 pairs of standard Nose Pillows
2 Nasal Docks (white and teal)
Navage Countertop Caddy
Navage Travel Case
Other online retailers like Amazon and CVS sell the Navage system for about the same price.
You can also purchase the Countertop Caddy and Travel Case separately for $14.95 and $19.95, respectively. A replacement 30-pack of SaltPods costs $14.95, though Navage offers them at a discount of $10 each if you purchase three or more.
All purchases over $79.94 qualify for free shipping. Otherwise, you will pay $7.95 per order.
Navage Nose Cleaner comes with a one-year limited warranty and free returns (minus shipping costs) within the first 30 days of delivery.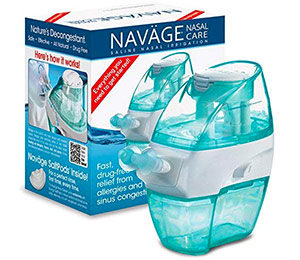 Buy Navage Nose Cleaner from Amazon:
All three Navage Nose Cleaner bundles are available on Amazon. Shipping is free. The three bundles collectively have an average rating of 4.3-star based on 6.500+ reviews.
Analysis of Customer Reviews
More than 30 customers have left reviews on the Navage Nose Cleaner on our website, averaging 3.7 stars overall. On CVS, the device averages 4.4 stars. Here's what customers were saying:
Great Sinus Cleanser
Many customers loved how well this device worked. Many shared that it cleared up their sinuses better than their allergy medication and that they immediately felt better after using it.
While some stated that it was the most expensive sinus-clearing technique they tried, they found it to be the most effective.
Reduces Snoring
Beyond alleviating allergy symptoms, Navage Nose Cleaner users shared that the system improved their breathing to the point that they stopped snoring and waking up in the middle of the night. Many credited the device with improving their sleep.
Creates a Chocking Sensation
Many customers shared that the cleaner seemed to work, but that they couldn't use it because it made them feel like they were chocking with every use.
Doesn't Work as Promised
In several cases, customers complained that they couldn't get the cleaner to work, even after troubleshooting with the company.
They wrote that the SaltPods didn't break up and that the water didn't travel through the chambers adequately, and that they got better results from a cheaper Vicks inhaler. Others shared that the suction around their nose failed after a few uses.
Salt Pods Too Expensive
For many people, the biggest drawback to the Navage Nose Cleaner was the cost of the SaltPods. Users shared that they wanted to use the device more often but that the price per use was too high to justify it.
Key Takeaways
Allergy sufferers and chronic snorers find that the Navage Nose Cleaner clears up their sinuses better than most other options.
However, this system is bulky and more expensive than other sinus cleansers, so those with mild to moderate sinus problems might prefer an alternative.
The Bottom Line
For those suffering from a chronic stuffy nose, the Navage Nose Cleaner is a drug-free, side-effect-free way to find some relief.
So long as you can commit to buying SaltPods and thoroughly cleaning it between use, the cleaner is a quick way to improve your breathing and bring you relief from allergies.
Just keep in mind that there are other, less expensive options available for sinus cleansing, such as the Neti Pot.
If you are an extreme allergy sufferer who could foreseeably benefit from sinus cleansing every day, then the Navage Nose Cleaner makes sense.
---
Useless and no guarantee

By Richard H.

,

Missouri

,

Apr 29, 2020
Verified Reviewer

Overall Experience:

My wife purchased this from CVS at the end of March for my birthday. It was useless for me, and, despite a guarantee to take it back for 30 days, CVS wouldn't take it back, due to COVID-19. Navage won't take it back either, since it wasn't purchased directly from them. Spent over $100 for a useless machine.

Bottom Line: No, I would not recommend this to a friend

---

Deceptive practices by Navage

By Elbert H.

,

Virginia

,

Feb 29, 2020
Verified Reviewer

Overall Experience:

I purchased the Navage from one of the local Pharmacies. I do not have a problem with the unit, it works very well. My problem is the coupon that came with the unit for a $10.00 discount on the 30-pack of pods. I called the company and they told me the pods were $14.95 for 30 and $7.95 for shipping, which is $23.90 with the $10.00 coupon that came to $13.90 you can buy the pods from Rite Aide for $11.95, where is the savings?

Bottom Line: Yes, I would recommend this to a friend

---

Advertisement

---

Was difficult at first

By Rex B.

,

Anderson, IN

,

Feb 19, 2020
Verified Reviewer

Overall Experience:

I have a chronic stuffy nose, especially when I lay down to sleep. At first I couldn't figure this machine out even after carefully reading the instructions. It would go in be nostril and then come out in my throat, gagging me. I gave up after the first few uses. I then later came back to it and figure out by pressing my tongue against the roof of my mouth towards the back that it stopped draining into my mouth and pushed on through and out the other nostril. Since then this product has been fundamentally in better clearer sinuses. I generally use 4-6 times a month except when congestion is bad then I use up to 3 times a day.

Bottom Line: Yes, I would recommend this to a friend

---

EXACTLY WHAT I NEEDED!

By Lori M.

,

Georgia

,

Feb 13, 2020
Verified Reviewer

Overall Experience:

I think this product is AMAZING! Definitely worth the money spent! Did it take several times to actually figure the system out? Oh yeah! I was at the point that I wanted relief and FAST! It IS awkward to use, but so glad that I tried it! Oh, and seeing the amount of "stuff" this baby flushes out is weirdly fascinating!

Bottom Line: Yes, I would recommend this to a friend

---

Advertisement

---

Navage

By LaDonna D.

,

Oklahoma

,

Dec 16, 2019
Verified Reviewer

Overall Experience:

I waited a long time for this and I finally got one. Am I ever disappointed. This thing is awful. It's difficult as heck to use and it chokes me every time. The lid is very hard to close and I waste at least 3 salt pods before it ever starts.

Bottom Line: No, I would not recommend this to a friend

---

Not happy

By Brenda B.

,

Texas

,

Nov 16, 2019
Verified Reviewer

Overall Experience:

I tried this several times. The water goes into my mouth and makes me gag. I have tried moving the Navage, rearranging the nose piece and changing postions with my head. Still the same. The water goes straight to my mouth and does nothing for my clogged sinuses.

Bottom Line: No, I would not recommend this to a friend

---

Don't buy it!

By Tony M.

,

Massachusetts

,

May 6, 2019
Verified Reviewer

Overall Experience:

This product is not working. After 35 attempts and countless repositioning, it does not work. All it does is for sale even the one nostril that pulls out as soon as you remove this so-called neti pot. I can see how this would work with somebody less congested but then so does a $2 Vicks inhaler. Do not buy this product - it is not worth the money, it does not work.

Bottom Line: No, I would not recommend this to a friend

---

Suction failed after first use.

By Thomas D.

,

Wisconsin

,

Mar 27, 2019
Verified Reviewer

Overall Experience:

Suction failed after first use. The company sent me a used replacement that had a used pod in it. The one they sent me also didn't work. I bought it at CVS. I like the idea, but I am leary about how long it will last.

Bottom Line: No, I would not recommend this to a friend

---

Well made

By Philip C.

,

Ohio

,

Feb 15, 2019
Verified Reviewer

Overall Experience:

I got mine a year ago because of constant sinus issues. Once I started to use this Navage I haven't had to take any sprays or meds to breath. I called for a service issue and it was handled and fixed over the phone. Need more out there.

Bottom Line: Yes, I would recommend this to a friend

---

Product never worked, even after following their YouTube video.

By John C.

,

New York

,

Jan 2, 2019
Verified Reviewer

Overall Experience:

I bought this product in the summer of 2018 at CVS, and I decided to open it today because the inside of my nose gets very dry inside, etc., and I put product together just the way it says in the video on YouTube because the manual didn't cut it for me.

I did what it asked for to do and the product doesn't work. I used new Energizer ultimate lithium and put it in right, went to the YouTube video, to their troubleshooting video, and followed their steps and this product still doesn't work. And the start button is not practical and not friendly on consumers fingers. All the hype, but nothing to show for it, $90+ gone out the window.

Bottom Line: No, I would not recommend this to a friend

---

Works great!

By Michael D.

,

Louisiana

,

Nov 13, 2018
Verified Reviewer

Overall Experience:

I have allergies, and my sinuses stay blocked most of the year. I've been using the leading nose sprays for many years and was dependent on using them to breathe. Since I started using the Navage sinus irrigation/nose cleaner, I actually breathe a lot better! I'm on a CPAP machine at night and I usually use the Navage right before bedtime and after I wake up in the morning. So far, I'm a lot less dependent on nose sprays, which saves me a lot of money. My opinion is, it works for me!

Bottom Line: Yes, I would recommend this to a friend

---