Smart Nora Snoring Solution Reviews
Claimed This company has claimed this profile, is getting alerted on any new customer reviews entering this page, and may engage in dialogue with its customers to address their matters.

Companies cannot pay money or provide goods in order to remove or alter customer reviews.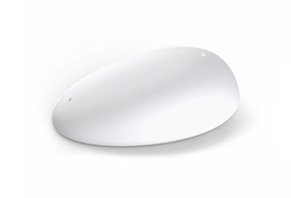 Smart Nora Snoring Solution combines a bedside monitoring device, a padded pillow insert, and a smartphone app to help reduce the volume of your snoring.
About Smart Nora Snoring Solution
For years, you've essentially had two options if you snore: wear a chinstrap or a mouthpiece, neither of which are particularly comfortable (or attractive). Sure, design enhancements have made these tried-and-true devices more effective and pleasant to use, but they all work pretty much the same way.
The Smart Nora Snoring Solution aims to turns things on its head, though—literally. Instead of using a device that attaches to your body and can actually decrease the quality of your sleep, Nora combines a bedside monitor, an under-pillow inflator, and a smartphone app.
Together, this patent pending technology promises to gently move your head when you start snoring, thereby preventing your sleeping partner from waking. Best of all, the company claims you won't feel a thing, so your sleep won't be impacted, regardless of your sleeping position or where your head rests on the pillow.
Even if you just started researching anti-snoring products, you probably understand that the Nora Smart Snoring Solution is unlike anything else on the market. But does that necessarily mean it's right for you?
We'll walk you through what we learned during our research so you can better answer this important question.
What's the Primary Cause of Snoring?
We'll cover a lot of ground in this review, so we won't load you down with a lot of unnecessary science jargon right off the bat.
In a nutshell though, snoring is caused when the soft tissue (specifically the uvula) at the back of your throat relaxes as you sleep. This narrows your airway, so as air moves past, it vibrates and causes the sound that rumbles the whole house.
While this is the physical manifestation of snoring, the root cause can generally be traced back to dozens of different factors (or combinations thereof), including being overweight, age (the older you are the more likely you'll snore), stress, alcohol and tobacco use, some medications, and much more.
Because of all these different factors, as well as the fact that snoring can indicate much more severe conditions (like sleep apnea), the first person you talk with about your snoring should be your doctor.
Given this, exactly how does the Nora system help reduce the sound of your snoring?
What Makes Nora a "Smart Snoring Solution"?
According to their website, Smart Nora can "play a significant role in enhancing your sleep continuity, and in turn your daytime performance." Exactly how does it do this? Overall, the Nora Snoring system consists of 3 parts:
A small device that looks almost like an egg sliced lengthwise, known as the bedsider. Why? Because it'll be placed close to your bed.
An inflatable pillow insert.
An iOS smartphone app (an Android version is said to be in the works).
Let's take a look at each of these individually.
Nora's Bedsider Device
The company tells us their bedsider's "organic shape is inspired by natural objects," and its "smooth matte finish looks great in any setting." We're also told the bedsider is used to detect your snoring, but we're not provided any technical specifications regarding exactly how it does this (microphones or other sensors used, for example).
Once your snoring reaches a certain level, the bedsider activates and begins inflating the pillow insert (more about this next). The company claims this design helps keep all electronics away from your head, making sure you sleep as naturally as possible.
You can keep Nora's bedsider plugged in, or it'll last up to two weeks on a single charge.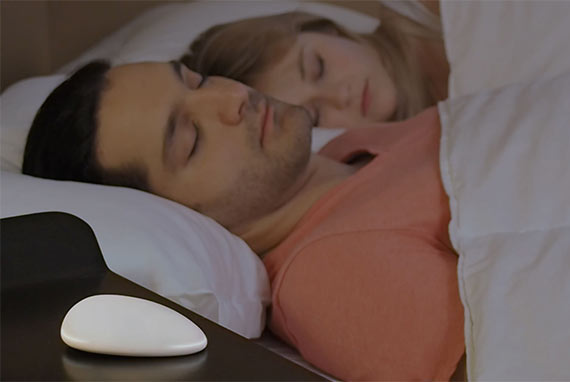 Nora's bedsider device listens and activates once your snoring exceeds a certain level. Image credit: Nora.
The company tells us that Nora's bedsider adapts to ambient noise like fans, traffic, air conditioning, or a white noise machine, and will still work equally well.
The Nora Snoring Solution Pillow Insert
According to the company, Nora's padded pillow insert easily slips underneath your pillow, between it and the pillowcase. They claim it'll work with all types of pillows, whether soft or firm.
Once the bedsider detects early sounds of snoring, it will activate a mini-pump that remains out of the way inside a portable case placed under your bed. This acts to inflate or deflate Nora's insert, which will slowly, gently reposition your head, stimulate your throat muscles, and allow you to "breathe normally again."
Because Nora's insert is padded, we're told that you'll be able to comfortably put your arm under your pillow. Also, the insert rises equally across the length of your pillow, so you can put your head anywhere. Finally, you'll be able to sleep on your back or side, while using the unit for 3 nights without charging the battery.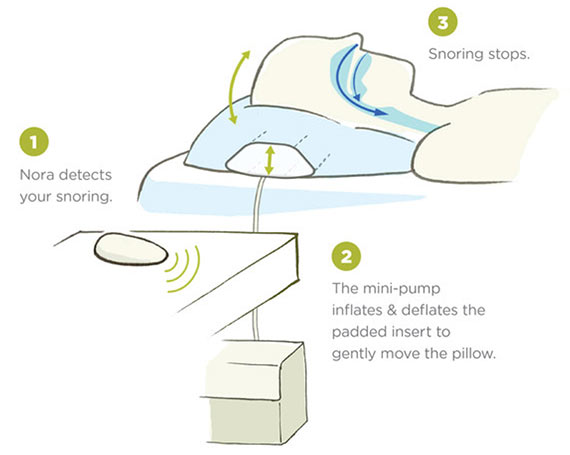 Nora's bedsider monitors your snoring and then inflates/deflates the pillow insert to activate throat muscles and decrease your snoring volume. Image credit: Nora.
Where Does Nora Snoring Solution's App Come In?
Finally, Nora claims their companion iOS app will provide "valuable insights into your snoring and sleep patterns," including overnight audio recordings, and also allow you to see how the system reduces your snoring over time.
Don't have your phone nearby? Nora claims their system is fully functional without the app, although it will only help you better understand your snoring patterns.
There weren't any app screenshots on the Nora website, although the company recently released some sneak peeks on their crowdfunding page, which appears to feature nightly and weekly statistics: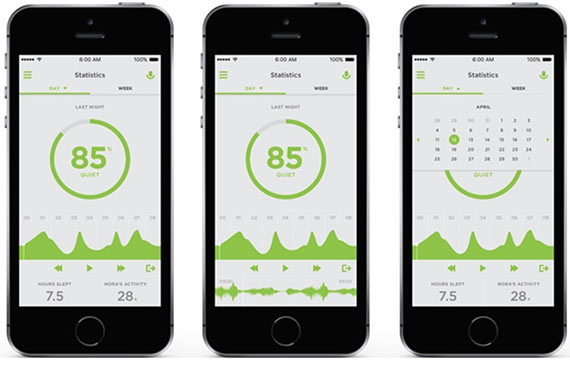 A sneak peek of Nora's "Nightly Statistics View." Image credit: Nora.
Which crowdfunding page, exactly?
Does the Nora Smart Snoring Solution Have Any Reviews?
As of writing, the Nora Snoring system is set for shipping November 2016. However, the project originally got its start on Kickstarter, where it earned more than $830,000 based on an original goal of $100K.
Because of its wholly unique approach to reducing snoring, the Smart Snoring system has received a decent amount of media attention, having been featured in Gizmag, Digital Trends, NBC News, and more. Again though, since Nora hasn't been released, none of these provide any firsthand feedback.
From a company perspective, Smart Nora, Inc. is based out of San Francisco, CA and was co-founded by Behrouz Hariri. Dr. James MacFarlane, an Assistant Professor at the University of Toronto, also used his experience developing "innovative sleep educational programs for sleep technologists, medical students and physicians" to help bring Nora to market.
The company claims the Nora Solution was designed, prototyped, and tested over the course of a year in response to the other "impractical and expensive products out there." Recently, Nora won Shopify's Build a Business competition.
If there isn't any customer feedback for Nora yet, is there any clinical evidence to support the company's claims?
Is the Smart Nora Snoring Solution Clinically Tested?
There's no indication of the scale of Nora's testing, whether or not it was conducted in a clinical setting, or the overall results. However, the company tells us that Nora has been tested by users for periods ranging anywhere from two weeks to six months, and that they "have experienced a great improvement in the quality and continuity of their sleep."
To perhaps get an idea of how Nora was tested, this 5-minute video is well worth a watch:
How Much Does Smart Nora Snoring Solution Cost?
Again, Smart Nora Snoring isn't set to ship until November. It's currently available for pre-order at $259, which will increase to $300 after shipping.
Money saving tip: There were a limited number of $239 pledges still remaining on Nora's Kickstarter campaign at the time of our research. You could also enter your email address on their website to receive 10% off.
For this price, your order will include:
Nora Bedsider
Padded Pillow Insert
Portable Softcase
Universal Power Adapter
Mobile Application
All Nora purchases come with free shipping to the US and Canada, as well as a 100% satisfaction guarantee. However, the company indicates this is only valid "within thirty (30) days of the original purchase date." Does this mean if you placed your pre-order today that your refund would be invalid by the time Nora ships in November?
For clarification, we emailed customer service at support@smartnora.com and received a quick response letting us know the refund policy begins from the date your Nora is received.
Nora also comes with a 1-year limited warranty against manufacturing defects. But should you even buy it in the first place?
Will Nora Make Your Home a Quieter Place?
If you live with a snorer, you know the drill: wake suddenly from your great dream, nudge/elbow/scream at the person next to you until they turn over, and repeat the process several times throughout the night. From this angle, the Nora system seems to do all the work for you, without waking anyone.
Sure, there are other anti-snoring products like mouthpieces, chinstraps, nostril inserts, and tapes, but these often leave the wearer uncomfortable and unable to get a good night's sleep. There are also a variety of pillows that might help—but it's all too easy to get back into your normal position and resume your snoring.
Is there anything exactly like Nora? The only thing we came across is the Snore Activated Nudging Pillow, although it looks and operates much differently than Nora—which, in our opinion appears to be much more comfortable.
Learn more: A Step-by-Step Guide to Finding an Anti-Snoring Product that Works
However, there are a couple thoughts about Nora we should point out before wrapping up:
It's unclear whether the bedsider's detection level can be customized. After all, some people wake sooner than others. Or, is it only a one-size-fits-all solution?
Based on the testing video above, the pillow insert appears to emit a low-level hum. This seems to be very quiet, but again, some sleepers wake easier than others.
While all the other sleeping positions were mentioned, stomach sleeping was not. So, if this is your preferred position, you could be out of luck.
When it comes down to it, the Nora Smart Snoring Solution may not address the root cause of your snoring, but it certainly seems like a unique method of reducing the volume of your snoring—and helping others (and you) get the sleep they deserve. It can even be used for those with sleep apnea.
Excellent product

By Robbie S.

,

Colorado Springs, CO

,

Jan 8, 2020
Verified Reviewer

What my wife says about it - a miracle product. Unbelievable how effective it has been with substantially reducing and or eliminating my snoring entirely. Most times when she is woken up due to my snoring now is because my head slid off the pillow during the night.

What I say - she loves it, so I love it. Honestly, I still almost wonder if it is even working because it doesn't bother me during the night. I sleep right through the entire process now (it woke me up maybe three or four times in the beginning). So the only way I have to know it is working is by my wife's testament and she can't say enough good about it. But it is very non-intrusive and for that, I love it!

Bottom Line: Yes, I would recommend this to a friend

---

Great product

By James Z.

,

Florida

,

Dec 31, 2019
Verified Reviewer

I purchased the Smart Nora system about a year and a half ago. I did so because it was one of the few products for snoring that did not require things that go near my mouth and nose. I have claustrophobia and could not tolerate these products. The Smart Nora system works so well my wife makes me take it on vacation, good thing it is portable. My one complaint is that I have had three motors since my purchase but the Smart Nora team has sent me a replacement each time free of charge.

Bottom Line: Yes, I would recommend this to a friend

---

Advertisement

---

Great product that works!

By James M.

,

Prince George, British Columbia, Canada

,

Dec 10, 2019
Verified Reviewer

First, I'm reusing a review I posted on another site rather than type it again. So, if you have been looking around and think this review is familiar, it probably is! LOL.

Here goes...

I purchased Smart Nora almost 2 years ago now (and love it!). Here is my take on it.

First, let me say that I tried every snoring solution out there. I tried a CPAP machine for a month (I couldn't get used to a large hose attached to my face). I had the mouth guard. I tried the chin strap. I even went for surgery to remove my uvula and some of the surrounding tissue (which worked wonderfully for about a year - then the snoring came back). Finally I decided to try the Smart Nora.

1. It took me just over 2 weeks to get used to it. Originally I had it so it inflated the full amount. This really bothered me and woke me up lots so I set it to minimally inflate. Also, I am a very light sleeper so initially, I woke up every time it inflated. I will say that the inflation is super quiet. Yes, there is a noise, but it is extremely quiet.

2. When my wife has a cold she snores also. This did trigger my Smart Nora and it would inflate. However, since I am used to it, it doesn't wake me up. Also, Smart Nora support was fantastic. They suggested instead of above my bed on the wall, I place it beside me on the nightstand and turn down the sensitivity so it wouldn't be able to hear her if she snores. Took a couple of nights to get the setting right but now it is perfect. Unless she snores super loud (think airplane engine...LOL), she doesn't trigger it (and even if she does, it no longer wakes me up).

3. Before I reduced the sensitivity it would trigger from a car honking (as we keep the window open). Now it very rarely is triggered except by my snoring (at least, I think so since I'm sleeping through it).

Also, I love the bedtime mode. You turn it on, then press and hold the puck/sensor thing for a few seconds. This gives it a delay. It will kick in and start working automatically in 30 minutes. This allows me to toss and turn a bit while I fall asleep.

For my wife and I, we are both thankful for Smart Nora. I'm sleeping better and so is she.

Bottom Line: Yes, I would recommend this to a friend

---

Company is not honest / does not keep promises

By Roger

,

CH

,

Sep 18, 2017
Verified Reviewer

They promised a companion app during their Kickstarter campaign but since then (over one year now), they keep saying that their app "is in the final stages of beta testing," which seems to be an empty lie. Backers inquiring about the app on Kickstarter get ignored, comments or remarks about the app in their FAQ section get deleted (the worst thing a company can do), and the same goes for negative product reviews in response to their aftersales emails which never get published on their website.

So basically, as a customer you are allowed to voice your opinion as long as it is positive, otherwise, you get ignored or deleted. Not a very modern or democratic way to manage a company.

And please don't tell me about their refund policy. I kept the device after my purchase as they continued to lie about the app coming out soon, and now it is just another worthless piece of useless technology in my basement.

My advice: DO NOT BUY.

Bottom Line: Yes, I would recommend this to a friend

---

Advertisement

---

Updated review

Refund was provided.

My wife was given a full refund for this device and was treated fairly by the Nora folks. I moved my rating from one star to two (not what I was hoping for) to reflect their fair business practices despite that I don't like the product.

Bottom Line: No, I would not recommend this to a friend

Previous review
Jan 26, 2017

Hi-tech torture device

If your wife or girlfriend is already upset with you for keeping her up at night when you snore, this product may exacerbate that sentiment. Now she's just as upset and will be out $60 (20% restocking fee) for giving this product a try.

To be fair, the Nora Smart Snoring Solution did keep me from snoring because it kept me from falling asleep. I sleep on my side and wedge the pillow between my head and arm. The edges of the airbag are rigid and poke into my arm in this position. When I sleep on my stomach, I put my arm(s) under the pillow, which is not comfortable with the airbag. The airbag inflation is audible, and every time I started falling asleep, the bag started inflating, and in turn, waking me up.

If you change positions while you sleep or sleep in any other position than on your back, I would not recommend trying this product.

Feb 11, 2017

Hello Patrick,

We looked through our support tickets and didn't find any return or refund requests from you. Did you know that you are entitled to a refund in case you are not satisfied with your purchase?

Please get in touch via support@smartnora.com and we'd be happy to help.

Best,

Support Team / Smart Nora

(

read more

read less

...)

---

Product does not work. Support does not respond to emails!

By Daniel Tour

,

Los Angeles, CA

,

Jun 30, 2017
Verified Reviewer

I purchased the Smart Nora as a Father's Day gift for my dad. When he tried it, it was uncomfortable and did not work for him, sometimes waking him up in the middle of the night.

I tried contacting support@smartnora.com within two weeks of receiving the product to request the return information. It has been over a month, and they have never responded. The website claims a 100% Satisfaction Guarantee and a 30-day return policy, but this is a false claim!

Bottom Line: No, I would not recommend this to a friend

---

Not a cure...

By Matt Wilkinson

,

Warwickshire, United Kingdom

,

May 3, 2017
Verified Reviewer

I have always occasionally snored after alcohol or a large meal. As I have got older this has got louder and more common to the point it disturbs my girlfriend's sleep most nights. She has started to use earplugs. I have tried various remedies, sprays, nasal inserts, mouthpieces and most have made minor differences.

I have looked at Nora for some time and almost ordered a few times. The lead time and import tax have been putting me off. I found an online snoring shop with one for sale in the UK I decided to go for it.

The device looks nicely made, the holding bag is soft and protects the device well. The small sensor is nice to look at and easy to use too. It can run for a night from the battery which means I could take it camping, for example, a nice feature.

Although the advertising shows an app, I couldn't find access to this and so I have used my own snoring app to monitor if the Nora is making a difference.

Sadly I have come to the conclusion that the app has been withdrawn because it shows this doesn't really work as advertised. In fact, the distinct lack of genuine reviews makes me suspicious to a degree.

However it does at least have a small impact on the volume of my snoring (sometimes).

As you will know if you have watched the promos, when the snoring reaches a certain volume the airbag under the pillow inflates and raises your head a little and in theory stopping the snoring.

The first few nights I was literally woken up every time it inflated. I didn't snore much that night probably because I was awake a lot. The waking has slowly decreased each day to the point where I am probably only woken a couple of times a night.

The reality is that I snore all night just like before, I am just more often in the mild zone and not the loud zone. My partner has watched me sleep a few times and has confirmed the snoring is still there.

I will be honest, I have felt better in the mornings this week, less foggy, more awake which may be down to the Nora helping me breath better. Of course, it could be that its just the longer days and more sun earlier waking me up.

This then is my issue with the Smart Nora, I don't really have huge confidence it is working or if it is a placebo effect (on both of us). Getting the machine has encouraged us to monitor my snoring far more than we did before, my partner has paid more attention to it.

Overall I feel it makes a difference but isn't the "cure" it's sold as, at least not for me. Hence my rating of 3 stars.

Pros

Seems to have reduced my peak snoring volume (but still have occasional nights where I get really loud for no discernible reason).
My partner is convinced it has helped
Easy to use, quiet.

Cons

I still snore for between 10 and 25% of the night.
It doesn't stop the snoring but can reduce the volume.
It triggers for birds singing early in the morning.
I find I have a stiff neck some mornings, I guess because it is triggered a lot and is moving my neck in the night. What could be the long-term effects of this?
The airbag is "creaky" when inflating and feels hard when fully inflated.
The pump is loud if your ear is against the pillow when it activates. This encourages you to sleep on your back which in itself increases the chance of snoring. I don't see what else could be done about this however as it is genuinely a very quiet pump.

Bottom Line: No, I would not recommend this to a friend

Jun 7, 2017

Hello Matt,

We always recommend purchasing Smart Nora from us to make sure it is brand new and works perfectly. The fact that you purchased your Nora from a third party and not knowing the condition of your Nora plays a big role in its performance and ability to reduce your snoring. In addition, because you did not purchase from us and we did not know you are a Nora user you were never included in our update/newsletter flow. Which is why you are unaware of Nora's functions and the status of our app.

Nora works for the majority of our customers and we pride ourselves on our happy customers and great reviews that we receive. The fact that you purchased Nora from a third party, never had the chance to be in our email flow to get educated about Nora doesn't discredit the reviews our customers have posted.

No one product works for a 100% of its users. With that in mind, we offer a 30-day 100% money back guarantee to our customers. Which make Nora truly risk free. Our customers get to try it for 30 days and if they are not happy we even pay for their return shipping label.

Feel free to contact us at support@smartnora.com and we would be more than happy to give you tips on how to best use your Nora.

Regards,

Team Nora

---

It works simply and it simply works!

By Geoff

,

Ontario, Canada

,

Feb 21, 2017
Verified Reviewer

I have been using Nora Smart Snoring Solution now for almost a month and immediately from the very first night it has done what it was designed to do. It just works.

My wife is very happy with Nora and we are both sleeping much better ever since. I might have to switch to a flatter pillow since I was already using a very thick pillow to begin with, and the functionality of Nora has made me wake up with a sore neck some days, but most days are fine.

That would be my only issue with the functionality of Nora. Overall, it is simply amazing how effective and SILENT it is. The weight of my head and the weight of the foam pillow are no problem for Nora. I recommend this product to all my friends.

On an aside: the shipping was delayed through problems beyond their (the people behind Nora) control, so rather than let me wait for the shipping company to get their mess sorted out, a representative from Nora came to personally deliver a unit sitting in their office to my home. That is fantastic service and I was really impressed.

Bottom Line: Yes, I would recommend this to a friend

---

Sleep with bed partner again!

By KX

,

Japan

,

Feb 20, 2017
Verified Reviewer

My wife and I have slept separately for more than seven years because of my snoring. I was trying to convince myself that it was a happy thing because I can sleep peacefully, and my wife can too. But, I understand it was not good thinking when I started to use Nora Smart.

When I started to use Nora Smart, I couldn't see any effect for a few days. But a few days later the effect dramatically appears.

I'm measuring my sleeping condition by an iPhone app. I could see I'm snoring every night continuously with the iPhone app, but a few days later, when I started to use Nora Smart, the snoring level is dramatically reduced. Honestly, I couldn't believe the effect.

Then I requested to my wife, "I'd like to know the effect of Nora Smart, so let's sleep together one night." So we go to sleep together one night.

After the trial, my wife said "I have tried a lot of different things to somehow stop your snoring, but until now I was not successful. But Nora Smart is working, and I also could sleep without any disturbance!" After that, we are sleeping together every night.

Now I can say what is happy; I can see my wife's sleeping face, and we can say "good morning" to each other in bed.

Not sleeping peacefully is not happy; sleeping peacefully with bed partner is happy!

I can hear the noise of infuriation and pump working several times, but it is not at such a serious level. Currently, the delay timer is only 30 minutes, but I'd like to have a 10 minutes delay too.

Their customer support is also very good! They helped me understand how Nora Smart can work perfectly with my environment.

I recommend this product if someone is having snoring problems like me!

Bottom Line: Yes, I would recommend this to a friend

---

Best anti-snoring device ever (stomach sleeper)

By Howard N

,

New Zealand

,

Feb 20, 2017
Verified Reviewer

I have been using my Nora for a month now, and it is simply fantastic.

I now sleep the whole night without being nudged, poked, or kicked due to my snoring. My constant tiredness is gone, and I wake up feeling ready to start the day. Even better, my wife is sleeping too.

I have tried various other devices, including straps, mouthguards, tennis ball taped to t-shirts (!), and nothing worked. Yeah, ok, I probably should lose a few kilos (that would probably help).

Initially, I was skeptical of the Nora working as stated, but the proof was in the first night's sleep. It took a bit of fiddling around to get the settings right, but once plugged in and with a test run to see how the bladder worked, we were away.

I sleep on my stomach, with my arm under the pillow. Nora took a couple of nights to get used to, especially with the bladder resting on my arm. But that is not a major problem and, unlike the other reviewer, I certainly don't see it as a reason not to try it.

Simply put, this works.

Bottom Line: Yes, I would recommend this to a friend

---

A life-changer

By PattyS

,

Marlborough, MA

,

Feb 18, 2017
Verified Reviewer

This is amazing! I have been waking up in my own bed for three nights now, which is a record.

Bottom Line: Yes, I would recommend this to a friend

---