Opendoor
This company has claimed this profile, is getting alerted on any new customer reviews entering this page, and may engage in dialogue with its customers to address their matters.

Companies cannot pay money or provide goods in order to remove or alter customer reviews.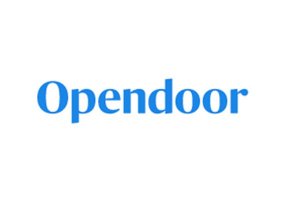 Summary
Opendoor's tech-driven homebuying platform presents an attractive option to sell your home fast. Our review will help you decide if it is the right service for you.
About Opendoor
Opendoor is a tech-based real estate company that can buy your home in as few as 14 days.
The company has streamlined their buying process to cut down on the wait times that you encounter with a traditional sale while charging purportedly low fees and cutting down on the unknowns you'd typically face.
For anyone who has sold a home, a service like Opendoor is an inviting one. A home sale often requires a lot of work and stress on the seller's part.
If your home needs work, you have to call contractors and handymen, negotiate the prices and oversee the repairs. An inspection may reveal serious issues that could hold up your sale. Buyers could back out of a sale because their financing falls through.
You can avoid all of this, Opendoor says, by using their tech-driven process to sell your home in two weeks. Furthermore, Opendoor allows you to back out of the sale up to three days before closing without paying a fee or losing earnest money.
In our review of Opendoor, we'll examine how the company's buying and selling services work, talk about the fees it charges, give you an overview of what customers are saying about their selling experience with Opendoor and compare Opendoor to its main competitor, Offerpad.
Selling with Opendoor
Opendoor's selling services are available in 20 cities, including Atlanta, Austin, Charlotte, Dallas, Denver, Houston, Las Vegas, Los Angeles, and Portland. They typically buy homes that meet the following criteria:
Between $100,000 and $500,000
Built after 1960
Maximum lot size of 0.5 acres (may be bigger in certain markets)
Not in a flood zone
Has solar panels you paid for or, in the case of a lease, will pay off before closing
Not bank- or government-owned
No in double escrow
The Opendoor sale process takes place in several steps that we will detail below:
Application
We filled out an Opendoor application to understand what the process is like. Most of the questions the site asks you relate to the features and condition of your home and the things inside it.
For example, the application will ask you about your appliances and what condition they're. If your appliances have extensive cosmetic flaws, this may reduce the price Opendoor offers you.
The application will ask you about the condition of the walls, carpet and flooring your home, as well as to inquire about any room additions in your home.
Once Opendoor obtains all the necessary information from your application, they will compare your home to other similar homes that sold recently in your neighborhood. This is a universal step all real estate agents and companies take when determining home value.
Opendoor will check other metrics including neighborhood trends to finalize how much they're willing to pay for your home. They will send you a buying price within 24 hours and the offer is good for five days.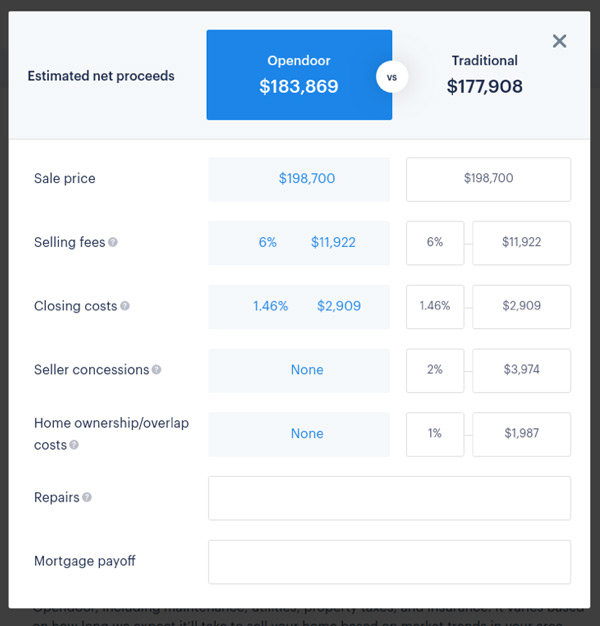 Screenshot of the quote I received for my home.
You'll see that Opendoor gives you their price after fees versus a traditional sale's price. They break down the price difference further by showing you an itemized list of fees. As you can see, they predicted their fees to cost me 7.46% versus 10.46% I'd pay by using a real estate agent.
Finally, Opendoor does not negotiate their pricing unless you can provide compelling evidence that your home is worth more than what they quoted you. This evidence would include information you may have forgotten to include in your application that would boost the home's value.
Assessment
If you accept Opendoor's offer, the company will send an inspector to your home to assess the house's overall safety, cleanliness, and functionality. The difference between this inspection and the on during a traditional sale is what happens afterward.
Traditional inspection results in the buyer coming up with "contingencies," which is a list of things they want to be fixed before they buy the home. As a seller, you can negotiate the contingencies or accept them.
However, when you sell your home to Opendoor, you forfeit the right to bargain over contingencies. Furthermore, all the repairs Opendoor does will happen after you move out. Therefore, it's very difficult to confirm that Opendoor actually made the repairs you paid for.
Also, you give Opendoor the license to charge you for whatever repairs they deem necessary, which may end up costing you more than what you'd have paid if you negotiated contingencies with a buyer in a traditional sale.
Closing Day
"Closing day" refers to the final step of your sale after all repairs are made, financing is secured and Opendoor agrees to buy the home. In many cases, closing day for a traditional sale can take a couple of hours. Opendoor says their closings can take as few as 20 minutes.
This expedited closing process fits with the company's overall emphasis on providing a quick home sale that eliminates the hassle of traditional sales.
Takeaways
Opendoor's process is radically different from the traditional way of selling a home. Normally, you'd have to find a real estate agent, make cosmetic changes to your home, remove all your furniture if you decide to bring in a stager, stress out over the appraisal and inspection and then hope your buyer's financing doesn't fall through.
Furthermore, the most recent data indicates that the entire sale process takes an average of 47 days.
Opendoor offers the distinct advantage of getting a math-based offer, a list of fees and a sale process that focuses on efficiency. While it's a drawback that you give Opendoor the right to make all necessary repairs and thus cut into your sale profit, they do all the work with their own contractors.
The company is removing the headaches of a stressful situation, especially if you have to sell your home quickly.
Buying with Opendoor
While buying a home through this service isn't as big of a part of their business as selling, they offer a distinct advantage if you're prepared to sell to them and buy a home in any of the 20 areas where they operate.
Opendoor has a trade-in option through which you can sell your home to them and then put your sale proceeds toward a home that you buy from them, too. By doing this, you'll save up to 1.25% in fees and you get to deal with one company instead of multiple agents and real estate firms.
Opendoor's Fees
Opendoor makes it clear that their typical home sale charges around 6.4% in fees, whereas going the traditional route will cost you 7% to 10%. These are averages, though, and Opendoor's fine print says their fees can range from 6% to 14%.
Here is a quick list of fees Opendoor would charge me for the offer they provided:
Buyer Commission: 3%
This is a commission that Opendoor will pay to the agent of the person buying your home when Opendoor sells it. This is a drawback, as the point of using Opendoor is to skip a fee like this that you'd pay in a traditional sale.
LIsting Costs: 2%
This is a fee Opendoor charges to get your home ready for sale (prepping, staging, listing). Interestingly, Opendoor estimates you'd spend around 1% getting the home prepped on your own, which means you're paying an additional 1% to have Opendoor do it for you.
Closing Costs: 1.5%
These costs are what you pay to have the home's title researched and transferred to the new buyer or their bank, holding the home in escrow and finalizing all the paperwork needed to sell the home.
Opendoor notes this fee is an estimate and will be finalized 3 to 7 days before closing. They point out you may pay around a 0.3% additional fee if you live in an HOA neighborhood.
Convenience Charge: 1%
This is a fee you pay for using Opendoor. Their website says its what they charge "to deliver a hassle and stress-free experience." Keep in mind that, in my case, I'd already been paying an additional 1% in listing costs so they can take off my hands the hassle of staging a home.
Repair Charge: 1.7% to 3.9% (On Average)
The final charge in Opendoor's list of fees is the repair charges they estimate once they do an assessment of your home.
These charges reflect repairs they think the future buyer will ask for when Opendoor tries to sell the home. In other words, they are making you pay for repairs they should be paying for when they sell the home.
Opendoor didn't give me a quote for repair costs because they did not do an assessment. However, its site says the typical repair request is between $3,400 and $7,800, which would be an additional fee of 1.7% to 3.9%. This would boost my fees from 7.5% after closing costs to 9.2%–11.4%.
Takeaways
Opendoor's fees could be lower than a traditional sale in specific situations:
You're paying the mortgage on your unsold home while living in your new home.
Your home needs just a few, inexpensive repairs.
However, this isn't always going to be the case with a traditional sale. For example, if you live in a hot real estate market, there's a really good chance your home could sell within days of listing it. The buyers will most likely pay at or above market value.
In this scenario, you wouldn't pay overlapping mortgages. Second, hot markets tend to result in backup offers on homes, which means a buyer is less likely to press for a long list of repairs if they know someone else has made a backup offer and will buy the house.
Appraisal
And, the other factor here is their appraisal of your home value. Even if Opendoor's fees are lower than a traditional sale, you may not bring in as much money because they may undervalue your home, said James McGrath, founder of NYC-based listing site Yoreevo.
"You're not going to get as good a price by selling to Opendoor," McGrath told us. "Presumably they are working on improving their algorithms to lower risk and raise their offers but for now, if focusing purely on price, you're going to be better off putting the home on the market and offering it to all buyers."
We heard a similar opinion from Ben Mizes, a Realtor and founder of Clever, a company that pairs home buyers and sellers with real estate agents that offer lower commission rates.
"While Opendoor is known to offer mostly fair prices, they do not negotiate so it's very likely that you will get a better offer on your home by using a traditional real estate agent."
I wanted to know how Opendoor's appraisal compared to other sites, so I found algorithm-based appraisals from Redfin, Zillow and dug up an estimate my realtor did a few months ago (home valuations in my area have gone up since then):
Opendoor: $198,700
Redfin: $217,259
Zillow: $200,707
My realtor: $228,000
These comparisons show that Opendoor offered the lowest price even though comps in the same neighborhood sold for $5,000 to $16,000 more, were older and had smaller living areas.
My analysis of Opendoor's appraisal indicates that even though their fees might be lower than a traditional sale, I'd make considerably more money from my home sale if I chose to sell the home through my Realtor.
What this tells me is that Opendoor probably isn't the right fit for you if you have time to sell your home and want to maximize your profit, either because you have a lot of equity or you recently bought your home and don't have much equity.
When you couple the possibility of a lowball appraisal with selling fees of up to 14%, you could lose out on a lot of equity if you choose to use Opendoor instead of a real estate agent.
Analysis of Customer Reviews
Opendoor has hundreds of reviews on HighYa.com, with readers giving the service an average of 3.8 stars. Around seven out of 10 readers would recommend Opendoor to a friend. We've included a summary of reviewers compliments and complaints below:
Compliments
Fair pricing: Multiple reviewers said that Opendoor's offer price was near, at or above what the fair market value was for their home.

Good customer service: We read several times that Opendoor's customer service reps were helpful and willing to answer questions. Also, we read that Opendoor reps were flexible with the closing process when the seller ran into problems with the home they were hoping to buy after their sale or had to reschedule a walk-through.

Smooth transaction: Several reviewers expressed initial skepticism about Opendoor's service but found that skepticism unwarranted after going through a clean, quick sale with Opendoor.
Complaints
High repair bills: Several customers complained that Opendoor charged them for a litany of repairs big and small, resulting in thousands of dollars in required charges. Others said they felt the repair requests were excessive.

Poor communication: Multiple customers said that communication with Opendoor was difficult, whether it was coordinating repairs of their home or finding out what was happening with a delay in their closing.

Lowball offers: Several negative reviews focused on how Opendoor gave them an offer that was significantly below a Realtor's estimate or the fair market value.
Opendoor vs. Offerpad
If your goal is to either sell your home fast or skip all the hassle of a traditional sale, then Opendoor and Offerpad are the two leading options you have.
Both services take you through the same process: application, assessment, and closing. They both use their in-house algorithms to calculate your home's value, then assess the home and quote you for repairs.
The main differences between the two services are:
Offerpad price offers are good for four days instead of five

Their fees are an average of 7% compared to Opendoor's 6.5%

Offerpad limits cancellations to happening up to the point of the quote for repairs on your home, whereas Opendoor allows you to cancel up to three days before closing

Opendoor will allow you to stay in your home for up to two weeks after closing (for a fee) while Offerpad limits your extended stay to three days after closing (for free)
In our opinion, these key differences make Opendoor the ideal choice if you want flexibility. The company allows you to cancel far later in the process than Offerpad.
Also, Opendoor lets you stay in your home for two weeks after closing, which could be crucial if you're buying a new home and closing is delayed.
The Bottom Line: Is Open Door a Good Fit for You?
Based on our analysis, Opendoor is right for you if you find yourself in the following situations or situations similar to them:
You accepted a job offer in another city or state and start in a couple of weeks
You found the home of your dreams and need to sell your current home
You have to downsize your home suddenly
You want the convenience and speed of Opendoor's process and don't care about the price
In each of these situations, you will benefit greatly from Opendoor's efficient closing process. If you're relocating for a new job, found your dream home or need to downsize, Opendoor can buy your home in as little as two weeks.
This means you'll have a big burden lifted when you move into your new city for work or you await the closing of your home purchase. If you're in this situation or a similar one, Opendoor is a smart choice, says Colby Hager, owner of San Antonio-based Capstone Homebuyers.
"Opendoor's greatest strength, in the mind of the home seller, is their ability to close on a set date for a set price. Especially when new homeowners are moving to another house, this is a major benefit." Hager told us. "It can also be a great tool for homeowners who need to sell on a tight timeline a house that needs minimal repairs."
In general, Opendoor is an excellent option if you're in a jam and need to sell your home quickly. However, if you have time to go the traditional route, there's a very good chance you could earn more money from your sale via a higher appraisal and similar fees (if not lower) than what Opendoor would charge you.
Customer Reviews
Posted on Nov 4, 2020
Unbelievable!
We dreaded the thought of going through the process of selling our home mainly because of all the prepping we would have to do. Keep in mind, we have two children, four pets, and a reasonably sized home that needed repairs and a deep cleaning. We no longer had to worry about that with Opendoor, though. The process was seamless and we got a great offer on our home. Opendoor never came off as scammy and was very upfront about the numbers. Our representative, Logan Wolf, was extremely helpful and very friendly. On our closing day, our HOA tried to sabotage our deal. I was heated when I called Logan but he quickly assured me not to worry. A couple of hours later, everything was handled.
Length of Use: Less than 3 months
Bottom Line: Yes, I would recommend this to a friend
Pros and Cons
Convenience
Communication was great
Ease of the process
Fees were a little high
Company Response from Opendoor
Nov 5, 2020
That's amazing to hear! We strive to provide a great customer experience with Opendoor and your feedback is incredibly valuable to us. Thanks for taking the time to share this, Brittany.
Posted on Sep 17, 2020
Exceptional service
Opendoor is the best! The service was very professional. All of the team members were helpful and courteous. They kept me informed of my status with the process. Chelsea would constantly check on me to see if I had any questions. I loved that she would text me, making it quick and easy to disseminate information. The process was very quick for me. I contacted Opendoor late July and I was going to close late August, and I set that date. I ended up closing on September 8th, and that was the most painless closing I ever had. Everything worked out exactly the way Chelsea told me it would. So I say thank you Opendoor for making selling my home the most hassle-free experience I could ever experience.
Length of Use: Less than 3 months
Bottom Line: Yes, I would recommend this to a friend
Pros and Cons
Exceptional service
They made it very easy to sell my home
The quick service
No "cons" were specified in this review
Company Response from Opendoor
Sep 23, 2020
Hi Sheila, great to hear you've had a good experience with us! We appreciate you choosing Opendoor for such an important transaction.
Posted on Jun 5, 2020
Canadian seller
Opendoor was very professional and straightforward. Communication was clear and quick. Being in Canada while this deal was closing was easy. Super nice sales rep.
Length of Use: 3–6 months
Bottom Line: Yes, I would recommend this to a friend
Pros and Cons
Straightforward
Personable dispute the virtual dealings
Friendly
The clause where Opendoor can change or cancel deal
Company Response from Opendoor
Jun 17, 2020
That's amazing to hear! We strive to provide a great customer experience with Opendoor and your feedback is incredibly valuable to us. Thanks for taking the time to share this, Linda Lou.
Posted on May 25, 2020
Non work crew
DO NOT let their work crew do any work - gutters installed wrong, flat paint over gloss paint, paint drops on floor and carpet, among other things. Sale of the house went fine, they replaced the hot water heater (under supervision), rehung shower door correctly.
Bottom Line: No, I would not recommend this to a friend
Company Response from Opendoor
May 27, 2020
Jim, thank you for sharing your feedback with us. We are sorry we didn't meet your expectations and want to look into this. Please reach out at community@opendoor.com with your property address so we can further evaluate this situation.
Posted on May 6, 2020
An amazing experience
We had an exceptional experience with Opendoor. We had never sold a home previously and when the time came to sell our home of 30 years, we were very anxious about the process. From the moment we engaged with Opendoor, the team was extremely helpful, knowledgeable, and available. We felt respected throughout the whole process, no matter how many questions we had or how silly they may have been. The process was efficient, stress-free, and so easy. We are grateful for the help of the entire team and would highly recommend the use of Opendoor!
Bottom Line: Yes, I would recommend this to a friend
Company Response from Opendoor
May 8, 2020
So glad to hear this Todd. Thanks for letting us know! We're so glad you were able to benefit from the ease and certainty the Opendoor experience provides!
Posted on Mar 13, 2020
Sale of home
Our experience with Opendoor was awesome. We got a decent amount of money for our home. We didn't have to use any of our savings or 401k. Closing took less than 2 hours. Our money was wired to our closing attorney in our new home. Customer Service was also very good. The only negative thing I would say is that Opendoor flips houses to make more of a profit than what you are given. Just keep in mind they do have fees subtracted from the quote they give you. It's a gamble you take.
Bottom Line: Yes, I would recommend this to a friend
Company Response from Opendoor
Mar 15, 2020
That's wonderful feedback to hear, Jewel! We always strive to provide a great customer experience with Opendoor and your feedback is incredibly valuable to us. Thanks for taking the time to share!
Posted on Feb 13, 2020
The best solution
My wife and I raised 5 children in our 4000 square foot home of 21 years. Needless to say, it was showing considerable wear and tear and was very dated. We desperately needed to downsize and we did not want to pour tons of money into remodeling a home that was now too large for us. I mentioned my dilemma to a good friend of mine who owned several investment properties and he had recently used Opendoor to sell one of them. He had a great experience and recommended that I contact Opendoor. I did exactly that and the rest is now history. We sold our home to Opendoor for a very fair and reasonable offer and we used them to purchase our new, now much smaller home. In fact we did everything, sell, purchase, financing, and closing both properties, on the same day. The entire experience was great, some small glitches, but all of the Opendoor team were very cooperative and kept us informed throughout the whole process. We never had a sign in our yard, no open houses, and best of all, we did not need to spend thousands of dollars just to sell our home. Maybe our circumstances were unique, but using Opendoor was a total blessing. We are now in our new home and enjoying life.
Bottom Line: Yes, I would recommend this to a friend
Company Response from Opendoor
Feb 16, 2020
That's wonderful feedback to hear, Douglas! We always strive to provide a great customer experience with Opendoor and your feedback is incredibly valuable to us. Thanks for taking the time to share!
Posted on Feb 8, 2020
Pleasant, profitable, and a piece of cake
My son was going to move back home and I had relocated to a condo 2 years ago. I had been in the process of refinancing when I decided to contact Opendoor and ask what they thought they could offer for my condo.
Within 48 hours they made me a generous offer. The fees are slightly higher, but if I discount the incredible convenience of not having to show my home (because it is already sold!) and then once I took advantage of the opportunity to work with Opendoor to also buy a home (and get a financial credit), the process was simply pleasant, profitable, and a piece of cake.
I accepted the Opendoor offer, then worked with them to find my next fabulous home. All of that took 8 days (including the physical assessment of my condo) and I closed on both properties 3 weeks later. Piece of cake!
Bottom Line: Yes, I would recommend this to a friend
Company Response from Opendoor
Feb 9, 2020
So glad to hear this Robert. Thanks for letting us know! We're so glad you were able to benefit from the ease and certainty the Opendoor experience provides!
Posted on Feb 6, 2020
No regrets!
I have absolutely no regrets selling my home to Opendoor. We have 6 small children and pet pugs, a traditional listing for us would have been near impossible. We decided to give Opendoor a shot but we're skeptical because it sounded too good to be true.
We were immediately helped by Kelly C (our home advisor) and we worked with her throughout the entire process. It was nice not getting switched off from person to person especially with something as important as selling your home. Kelly was very friendly and helpful. At no point did we ever feel pressured to make a decision one way or the other.
We had recently had a professional appraisal done on our house and when we got Opendoor's final offer it was within $1000 of the appraised value.
Their fees were similar to what we would have paid in closing cost on traditional sale and assessed repairs were lower than we expected.
To end up getting the value we would have expected in a traditional closing without spending thousands on repairs and dealing with multiple showings was incredible!
The best feature of Opendoor, in my opinion, was the late checkout and picking your closing date. This allowed us to close on our home the same day we bought the new home but still have the time to move things out and not feel rushed.
Overall an amazing experience for our entire family and I have already recommended Opendoor to a coworker looking to sell her home.
Bottom Line: Yes, I would recommend this to a friend
Company Response from Opendoor
Feb 9, 2020
Mathew, great to hear you've had a positive experience with Opendoor! Thank you for choosing Opendoor for such an important transaction.
Posted on Jan 31, 2020
Great option in a hurry
My husband was offered a job that required us to relocate to North Carolina fairly quickly during the holidays and a slow season for the real estate market. We contacted Opendoor since we were in a pinch. They valued our home slightly higher than the realtor we contacted and we were able to close within 3 weeks. The fees are a little higher but we didn't have to stress about showings and months of waiting for a buyer. The repairs were minimal and they just deducted from our proceeds. The day of close, the money was in the bank shortly after lunch. We are very happy and would definitely recommend.
Bottom Line: Yes, I would recommend this to a friend
Company Response from Opendoor
Feb 5, 2020
Hi Odalis, great to hear you've had a good experience with us! We appreciate you choosing Opendoor for such an important transaction.
Posted on Jan 30, 2020
Opendoor is definitely a best way of selling and buying your home
During the process of selling and buying a home to and from Opendoor, I always have super great support from Dan Burkhart (the team leader) and his fellows. He is so calm and well experienced and very effective in what he is doing. He and his team are always willing to resolve any issue to get the closing timely.
Opendoor provides a fair and square trade in program and super quick transactions.
Bottom Line: Yes, I would recommend this to a friend
Company Response from Opendoor
Feb 5, 2020
Yenson, this is great to hear! Thank you for supporting what we do and happy to hear you've had a great experience with us.
Our Promise to You
In order to safeguard you and ensure helpfulness and relevance, our compliance team manually assess every customer review before it goes live.
We have a zero-tolerance policy for fake reviews, and companies cannot control or alter any reviews at any time.