Peptiva Probiotics + Sleep Support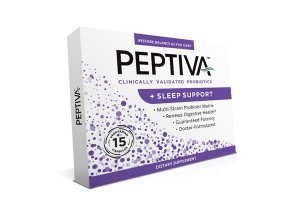 Created with the help of medical expert Dr. David Katz, Peptiva Probiotics promise to help address digestion, as well as improve relaxation and sleep quality.
About Peptiva Probiotics + Sleep Support
Peptiva Probiotics + Sleep Support is a digestive support supplement that claims to promote relaxation, restful sleep, and healthy gut bacteria balance.
The website advertises you'll just need to take one capsule per day, and the formula with a "clinically validated multi-strain probiotic matrix" will get to work. And because they're taken before bedtime, we're told the ideal environment exists in your digestive system for the bacteria to thrive and maximize benefits.
These Probiotics do not require refrigeration, and the potency of their vegetarian formula is guaranteed through the expiration date.
Does all of this necessarily mean that the company's formulas are ideal for relieving your discomfort, restoring balance, and improving your digestive health, as advertised on the website? Stick with us for a couple of minutes as we'll provide you with our Peptiva Probiotics review.
Peptiva Probiotics Ingredients
Probiotic supplements (measured in colony-forming units, or CFU) contain one or more strains of bacteria that are often clinically proven to provide a wide variety of digestion-related benefits, as well as decreased gassiness, bloating, diarrhea and IBS symptoms.
And since much of the immune system is located in the gut, the right balance of beneficial bacteria can help improve its function as well. Because of these benefits, probiotic supplements have been successfully used for decades to address a variety of conditions.
Peptiva Probiotics + Sleep Support claims to help deliver relaxation, restful sleep, and restored balance while you slumber.
The website indicates you just need to take a dose 30 to 60 minutes before bedtime, with or without food. Within 30 minutes, you should begin feeling calmer and de-stressed as you're lulled into "deeper, more satisfying sleep."
And if you continue using Sleep Support regularly for eight to 12 weeks, Peptiva indicates the formula will continuously balance good bacteria within your intestinal tract. This can lead to improved comfort, function, and regularity.
The probiotic contains a Lab4 Clinical Cultures blend (26 billion CFU) of Lactobacillus acidophilus (ATCC SD6866), Bifidobacterium bifidum (ATCC SD6869), and Bifidobacterium animalis subsp. lactis (ATCC SD6870). There's also an Active Microbiome Blend of Lactobacillus rhamnosus IMC501 and Lactobacillus paracasei IMC502.
The final set of ingredients includes:
Gamma-Aminobutyric Acid (from PharmaGABA®) 100 mg
Valerian Root Extract 50 mg
Melatonin (immediate release) 0.75 mg
Melatonin (delayed release) 0.75 mg
Searching sites like WebMD, the Natural Medicines Database, and the National Institutes of Health's PubMed, we didn't encounter clinical evidence that probiotics deliver meaningfully better results when taken at one time of the day versus another.
According to many of the same sites referenced above, taking 400-900 mg of valerian up to two hours before bedtime could "reduce the amount of time it takes to fall asleep by about 15 to 20 minutes."
However, they emphasize that it can take continuous use over the course of days to weeks in order to experience these benefits. Based on what we learned from its supplement facts label, at 50 mg per dose, Peptiva's Sleep Support probiotic contains much less than what's reflected in supporting clinical studies.
Similarly, 0.3 mg to 12 mg of melatonin may help reduce the time it takes to fall asleep for those experiencing primary insomnia that's not caused by another condition—but only by about 12 minutes. It also potentially works for those with delayed sleep phase syndrome, although it doesn't appear to improve sleep quality.
Peptiva Probiotics Side Effects
The website points out that their product contains no animal-derived ingredients and is considered vegetarian, and that it also contains no known allergens and causes no known side effects.
To help avoid side effects and potential medication interactions, talk with your doctor about any dietary supplements you're considering before placing an order.
The Cost
If ordered directly from the company website, customers will pay $59.99. Shipping starts at $4.99 per delivery and may increase based on final quantity.
We also found Peptiva's products sold on GNC for about the same prices, although Amazon offered Sleep Support for $54.99.
All direct orders come with a 30-day refund policy, while third-party details can vary. To request one, customer support department can be reached at 800-355-6050.
Customer Reviews of Peptiva Probiotics
Between Amazon and GNC.com, we encountered more than 150 combined customer reviews for Peptiva Probiotics + Sleep Support, with an overall average rating of about four stars.
Common compliments frequently referenced effectiveness (boosted digestion, improved sleep) and ease of use.
Complaints often revolved around no results, as well as higher prices than many competitors.
The Bottom Line
During our research, we found many companies including Peptiva advertising that probiotics, in general, can help improve sleep quality as a result of better digestion.
However, we didn't encounter any other sleep-specific probiotic supplements that also combined ingredients like melatonin, valerian, and lemon balm. So, if this is your top must-have, it appears that Peptiva is currently your only option.
When shopping for a probiotic supplement, you'll want to look for formulas containing only beneficial bacteria strains, without a bunch of extra ingredients stuffed into each capsule.
You'll also want to make sure there's a list of the probiotic strains (and their CFU count) on the label, and that you're not paying too much since Highya readers and other consumers typically don't report improved results from higher prices.
To this extent, based on what we learned from sites like the Natural Medicines Database and WebMD, it appears that the extra ingredients found in Peptiva's Sleep Support supplement might help customers fall asleep a bit faster when used regularly. But if you're counting on a massive change in your sleep habits, it might be wise to maintain realistic expectations.
And for many of these ingredients, we should reemphasize that they're found in meaningfully lower concentrations in Peptiva Probiotics than in supporting clinical studies.
Finally, even though the website indicates that "renowned medical expert Dr. David Katz" helped formulate the supplement, it's important to point out that, at between $60 and $65, Peptiva's Probiotics are priced meaningfully higher than many of the third-party formulations we've written about in the past.
If you feel like giving the supplement a try, though, Peptiva stands behind their probiotic supplements with a 30-day refund policy, although based on their recommendations, this might not be long enough to experience maximum benefits. You'll also lose your initial S&H and have to pay to ship your product back to the company, so it's not a completely risk-free transaction.
---
Great sleep support

By Basimah R.

,

Alexander City, AL

,

Dec 12, 2019
Verified Reviewer

This is a great product, I would recommend this to my family and friends that are having trouble sleeping. When you wake up you never feel tired but rest so good, had no side effect. I will be ordering more for my husband, he likes them too.

Bottom Line: Yes, I would recommend this to a friend

---

I'm afraid to get too excited but this product could turn out to be great for me.

By Mary Lou W.

,

Philadelphia, PA

,

Nov 24, 2019
Verified Reviewer

I am a long term sufferer with IBS-D which has significantly interfered with my life...so much pain. I have tried various food regimens, probiotics, anti-depressants, meditation, etc. with great MDs at great hospitals. I know how to just look at one variable at a time when judging the impact of a product.

Six weeks ago I saw your ad and...with zero expectations...ordered Peptiva. I have not had an attack in 5 weeks. This is the first time I could say this in 7 years! Prior to Peptiva I commonly had 3 to 4 bad attacks per week taking up my mornings forcing me to alter my work schedule...I'm a psychologist. Why this particular formulation works I don't know but will continue to keep careful records and see what I learn.

Thank you!

Bottom Line: Yes, I would recommend this to a friend

---

Advertisement

---

Does it help?

By Kathleen V.

,

New York

,

Apr 22, 2019
Verified Reviewer

Peptiva did virtually nothing for me. I didn't sleep any better. My digestive system? Well, on me the capsule made me extremely constipated. I never have that problem. I am glad I did not spend the full price. I ordered the sample only. I will stick to yogurt. Natural is better!

Bottom Line: No, I would not recommend this to a friend

---