PrettyLitter Reviews
Claimed This company has claimed this profile, is getting alerted on any new customer reviews entering this page, and may engage in dialogue with its customers to address their matters.

Companies cannot pay money or provide goods in order to remove or alter customer reviews.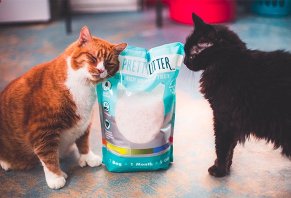 PrettyLitter changes color to reflect your cat's health, helping owners detect feline issues such as urinary tract infections and kidney issues early.
What Is PrettyLitter?
PrettyLitter cat litter takes the guesswork out of making the best life for your cat by alerting owners to any possible health concerns with litter that changes color after use—helping you to detect feline issues before your vet does.
Why would cat owners need color-coded kitty litter to alert them of potential illness?
Felines are great at hiding signs of not feeling well because animals who get sick in the wild get eaten. This means that cats rarely show any indication of illness until it's progressed to a point that they can no longer hide what's wrong.
Plus, not only will cats often disguise any symptoms, but a kitty who's feeling under the weather will likely curl up in an out of sight area for several days, making signs of sickness more difficult owners to spot.
PrettyLitter CEO and co-founder Daniel Rotman invented the illness-detecting litter after the loss of his own beloved cat, Gingi from an illness that might have been treatable with earlier detection.
The complete PrettyLitter team also includes Product Advisor Carly Martinetti, who had previously created the popular animal blog Featured Creature, and Veterinarian in Chief Dr. Geoff DeWire, a graduate of U.C. Davis School of Veterinary Medicine (which is the top-rated veterinary school in the country).
In short, the folks behind PrettyLitter appear to really know—and care—about animal health.
PrettyLitter 101: The Basics
PrettyLitter looks similar to the white, crystal-based litters that many cat owners are already familiar with. It's made of silica gel, which means that it's quite light when compared to clay litters. (A month's supply only weighs four pounds!)
Silica gel, which you're most familiar with seeing in those little packets that are tucked into shoe boxes to keep moisture out, is used because if offers superior odor protection. The water in your cat's urine evaporates, while all that's left is absorbed into the silica crystals—odor and all.
Note that silica gel litter is feline safe—meaning that if your cat were to ingest a crystal when grooming after using their box, it would simply pass through their system naturally.
Another perk to silica gel? Unlike clay litters, the substance is totally dust-free, which is great for those with allergies—plus, it's healthier for cats, too. (It's also eco-friendly.)
PrettyLitter is manufactured in China. Some consumers consider this to be an automatic strike due to economic or quality concerns. However, there are no US-based crystal cat litter manufacturers—and PrettyLitter states that, because they have the utmost concern for your pet's safety and health, they perform extensive quality checks to ensure that their standards are met.
How Does PrettyLitter Work?
PrettyLitter is poured into your cat's litter box like normal—ensure that the litter is at least two inches deep throughout the entire box.
Litter should be cleaned daily, with solid waste being removed with a scooper. As you're cleaning the litter box, you'll notice colored patches indicating where your cat has urinated. Here's how to decode the colors of PrettyLitter:
Dark yellow/ olive green: Normal urine

Blue: High alkalinity which may indicate either FLUTD, Struvite Crystal formations or kidney issues.

Green: Abnormal acidity which may indicate either FLUTD, calcium oxalate crystals, urinary blockage in males or kidney issues.

Orange: Presence of bilirubin.

Red: Presence of blood, which may indicate Feline Lower Urinary Tract Disorder (FLUTD), Crystals (Crystalluria) or Interstitial Cystitis. In rare cases, it can also mean bladder cancer, an internal injury, poison ingestion, and/or if it's a female cat over four months old who hasn't been spayed, she may be in heat.
Note that sometimes temporary color changes can occur as a result of a new diet, changes in environment or temporary stresses that may cause a cat's pH levels to elevate or drop.
So, if you notice a color other than dark yellow or olive green, PrettyLitter instructs that you should closely monitor your cat's behavior and urine for the next 24-48 hours. If the color change continues, you should consult your veterinarian.
If you have a multi-cat household and notice a change in color, PrettyLitter suggests isolating your cats into different rooms with their own litter box for a time until each urinates and you can determine which animal is possibly ill.
As explained in the Nat Geo Wild video above, PrettyLitter isn't intended to be a diagnostic in and of itself. Instead, changes in color can offer early detection for health issues such as urinary tract infections, pancreatitis, liver failure, and diabetes. And, early detection can help you save on your vet bill—or possibly save your kitty's life.
PrettyLitter does not clump to contain liquid waste like clay litters. Instead, you'll need to thoroughly mix the litter every day to avoid your cat saturating the same area several days in a row—this keeps PrettyLitter's health indicators and odor absorption operating at full capacity.
After using PrettyLitter for one month, it's time to dump the whole bin into the trash and pour in a new bag. (Be sure to clean any residue that might be stuck to the bottom.)
How Much Does PrettyLitter Cost?
One four-pound bag of PrettyLitter is needed per cat, per month. To order PrettyLitter, first you select how many cats you have:
One cat: $22
Two cats: $42
Three cats: $69 (For four bags—includes a fourth bag for free.)
PrettyLitter is ordered online and ships for free. Your order of PrettyLitter is delivered straight to your door.
All PrettyLitter purchases are backed by a 30-day satisfaction guarantee. If you're not happy with your order for any reason, let PrettyLitter know and they'll refund your order immediately.
Note that purchasing PrettyLitter automatically signs you up for their litter club. This includes monthly auto-shipments of your litter—and monthly auto charges. We're normally very cautious of auto-ship programs, as they can be difficult to cancel and are occasionally indicative of questionable business.
However, PrettyLitter is very upfront about their auto-ship program and states that the litter club is intended for convenience. After all, who wants to think about litter each month?
PrettyLitter also states throughout their website that, if you'd like to opt-out of auto-renewals, you can do so anytime through the website or by calling (800) 838-3381. To test out how easy it is to cancel, we gave PrettyLitter a call and were connected to a service representative within one minute of the selection on the call menu.
What Customers Are Saying About PrettyLitter
Scrolling though PrettyLitter's Facebook comments can give you a major case of the feels, as you read customer comments like the following:
"Pretty Litter is has helped my Oliver yet again. Without this litter I would never have known his UTI is back. Anyone who cares for a cat should have this litter." Carrie Zrelak on December 17, 2016.
"I want to thank you for this fabulous product! Not only is it truly dustless and odorless, but it helped me detect one of my cats had a UTI long before he would have shown any symptoms. I've told everyone I know about this litter. It's a great invention for cat lovers!" Dee Dee Emry on December 17, 2016.
We went back several weeks and were unable to locate a single customer complaint regarding PrettyLitter's performance or customer service.
Additionally, several customers wrote to say that they had been previously skeptical but were very pleased with the product's lack of dust or odor, as well as its ability to help them track their pet's health.
Multiple other customer comments remark that PrettyLitter allowed them to identify illness early, particularly UT infections.
Finally, the company's dedication to customer service is immediately visible in its responses to each and every comment and question.
The Bottom Line on PrettyLitter: Is It Worth It?
It's rare that we get to write a product review that's so overwhelmingly positive, but there simply aren't any criticisms we can find regarding PrettyLitter's product. Their customer service is responsive, the product itself is helpful, easy to use, and delivers on all of its claims.
PrettyLitter is slightly more expensive than other cat litter brands—although, how much more depends on which alternate product you choose to compare it to.
For example, a month's supply of Arm & Hammer clumping litter is $12.59, which is half the price of PrettyLitter. Pro-Sense Crystal Silica Litter (which uses the same material, but doesn't feature color changing illness detection), can be purchased for $9.
However, World's Best Litter is $23.99 for a month supply—and only boasts of superior odor control. So, again, it's not the cheapest product on the market, but PrettyLitter does provide value in line with its cost.
Though, any pet owner who has had to pay to treat a UT infection that's been allowed to develop to later states, possibly resulting in the need for a transfusion and more drastic treatment, understands the potential for PrettyLitter to help save on vet costs.
With the difference in price in mind, we think PrettyLitter is a worthy investment for cat owners, particularly for those who have an adult cat that's nearing senior years or is prone to illness, such as UT infections or kidney problems.
---
This company is actively collecting reviews from its customers. All reviews submitted are subject to moderation and approval to ensure they meet our

Review Guidelines

.

Happy with product!

By Kelly C.

,

Marion, IA

,

Oct 21, 2020
Verified Reviewer

Length of Use: Less than 3 months

Overall Experience:

I had only purchased 1 bag of PrettyLitter in the beginning to try as I wasn't sure if my cats would like it or use it. They actually did like the litter and nearly stopped using the other brand. I have had urinary issues multiple times with one of my cats so this would be a good monitoring system for that. I then had to increase my order to 2 bags for the next month. It is definitely worth it, thank you!

Pros and Cons:

The quality of the product, works great
Free shipping to my door
The marketing concept
Odorless and health benefits
My cats prefer it over other brands of litter
Awesome customer service reps
They need to broaden their target audience
Do not want product to fail because of lack of sales

Bottom Line: Yes, I would recommend this to a friend

---

Change

By Cathy P.

,

Summerfield, FL

,

Jul 16, 2020
Verified Reviewer

Length of Use: 6–12 months

Overall Experience:

I want to receive monthly instead of every 6 weeks. Silica Gel, 2 bags. I have had excellent service but couldn't find out how to talk with you to change my order.

Pros and Cons:

Litter is flushable
Couldn't find how to speak with them

Bottom Line: Yes, I would recommend this to a friend

---

Advertisement

---

Thank goodness for PrettyLitter!

By Lisa H.

,

Tulsa, OK

,

May 14, 2020
Verified Reviewer

Overall Experience:

I've used PrettyLitter for over a year and love how easy it is to clean! I also love that you only have to change it once per month.

Last week I noticed some blue shades in our litter, which I'd never seen before. I called the vet and got a urinalysis for Jazzy right away. Sure enough, she had a urinary tract infection and bladder crystals! I wouldn't have had any idea something was wrong but thank goodness PrettyLitter alerted me!

The vet was impressed with PrettyLitter too, because he said we were able to catch the UTI early. He was pretty skeptical when I first called, but was a believer by the time I left.

This experience has made me love this litter even more than before! I highly recommend PrettyLitter to every single cat owner I meet!

Bottom Line: Yes, I would recommend this to a friend

---

Fascinating concept, not as great in practice.

By Carissa S.

,

Norfolk, VA

,

Mar 23, 2020
Verified Reviewer

Overall Experience:

Perhaps I am coddled by the ease of use my previous litter (Arm & Hammer Slide), it is with the easy lift litter pans I have that have a sifter layer built in. I appreciate the clumping of my old litter which cleared out the used litter. Pretty Litter has been very interesting and I think I will continue using it, but not as my base, instead, as a sprinkle in.

Sorry if this isn't a 100% positive review. Pretty Litter isn't good at preventing urine odor. If anything, it carries the cat ammonia urine smell strongly because it doesn't clump. I really love the idea I can tell my cat's general health! I do! But yikes, folks...don't say it is good at preventing odor. It's just okay because the poop doesn't smell.

Also, I have a kitty with kidney issues and he is compelled to try to eat it when it is unused. He's on a vet-prescribed diet.

Bottom Line: Yes, I would recommend this to a friend

Mar 24, 2020

Thanks for sharing your experience Carissa. It sounds like there may have been an issue with getting the right amount of depth in your litter box. We understand that some people just prefer clumping litter, which is why we wanted to create an option that had the convenience of clumping while still having PrettyLitter's exclusive health monitoring technology, so we did! If you want to try our new clumping formula please reach out to our support team at meow@prettylitter.com or live chat with us on our website. Looking forward to hearing from you!

---

Advertisement

---

Fabulous

By Linda P.

,

Luling, TX

,

Jan 2, 2020
Verified Reviewer

Overall Experience:

Hi! I have 3 cats, all girls. I decided to try out Pretty Litter for my girls, they took to this litter right away! I love it...this litter dehydrates the contents very quickly. That's a plus! I do, however, would love it if the urine can be clumped, then the litter will stay fresh, longer. The box is scooped at least 3-4 times daily when I am home. Twice daily when I am not home.

I read a review from a customer about dust. Yes, it does have dust spewing, which I believe is from the urine still in the mids of the litter.

I don't change the litter as stated, because of cost. I feel dusting happens because of the breakdown of their urine. I may be wrong...but...I LOVE PRETTY LITTER!

Bottom Line: Yes, I would recommend this to a friend

---

Every cat is different, but this is worth trying!

By Courtney G.

,

California

,

Nov 19, 2019
Verified Reviewer

Overall Experience:

Short: I would definitely recommend PrettyLitter! Controls the odor very well and it's not nearly as gross to clean out the litter box as it is with clay litters.

Long: I started out using PrettyLitter in May of 2019 for a couple of months and thought it worked really well, but the price is a little high so I switched to a couple new kinds of litter with similar promises at a lower price point. They did not live up to the odor control claim, and one was so displeasing that my cat was trying to go elsewhere in the house. After two months of exploring, I'm back to PrettyLitter, because again, odor control works really for my cat, it's lightweight, makes the litter box less gross to clean out, and my cat has no problem using it. The health monitoring is more of a benefit than the main reason I use it. It lets me know when my cat is feeling too stressed*, which happens a lot with her (she's a high anxiety tortie).

Additional Thought: The claim that their litter is less expensive than leading competitors isn't accurate. It's a pricey litter, but it is well worth the price.

*I used to think my cat had a problem with UTI's, but after finding my new vet I learned that the high alkaline urine, which usually points to a UTI, could be (and in my cat's case it is) stress related. The litter is often blue, which was alarming at first. Now I'll just look for any other color changes going forward.

Bottom Line: Yes, I would recommend this to a friend

---

Change of heart

By Angel D.

,

Ohio

,

Nov 9, 2019
Verified Reviewer

Overall Experience:

At first I was really excited about PrettyLitter. I loved the fact I could monitor the health of my cat closely. I am a nurse and this is right up my alley.

The one problem that made me cancel my subscription was the fact the litter did not clump and I could not scoop out the urine. This ruined my whole experience. Otherwise, I would have continued to order.

Side note, my cat did enjoy the cat food I ordered through this company.

Bottom Line: No, I would not recommend this to a friend

Nov 12, 2019

Thanks for sharing your experience Angel. We always try to make it as clear as possible that PrettyLitter is a highly absorbent non-clumping litter. A member of our team has reached out to you directly to learn more and see if there is another option that would work perfectly for your household.

---

Disappointed

By Jason C.

,

New York

,

Oct 23, 2019
Verified Reviewer

Overall Experience:

PrettyLitter claims to be dust-free but it's not! Every time I scoop I can literally see the dust as if it was smoke. I have videos as well so can prove it anytime. Also, since it doesn't clump up, you can't really get the urine out. Every time I walk by the litter box, it smells bad. I clean the litter box sometimes twice a day and it's still the same thing. I've been using PrettyLitter now for almost a year and the cons outway the pros.

Yes, it's very lightweight and one bag may be good for a whole month with one cat, but the dust cancels all of that out. I have to wear something over my nose and mouth just to scoop the litter...that's pretty bad. I will be changing litter very soon.

Bottom Line: No, I would not recommend this to a friend

Oct 24, 2019

Thanks for sharing your experience Jason. We're sorry to hear your experience was less than perfect. We're currently in the process of pilot testing a clumping litter and we'd love to send you a complimentary bag to see if that helps with the issues you've been experiencing around saturation and dust. A member of our team has reached out to you directly to learn more and see if our clumping option might be a good fit.

---

So easy!

By Helga K.

,

New Braunfels, TX

,

Oct 19, 2019
Verified Reviewer

Overall Experience:

Have been using PrettyLitter for 8 months. That's when I adopted my furry friend Cara. She took to it immediately.

I couldn't believe how fast and easy it is to maintain on a daily basis. Cara thanks you for her gift with the latest batch.

Bottom Line: Yes, I would recommend this to a friend

---

I LOVE PrettyLitter! For more than 2 years!

By Scarlett F.

,

Colorado Springs, CO

,

Sep 27, 2019
Verified Reviewer

Overall Experience:

My kitties love this litter as do I. Two large boxes (one large cat, one medium cat), two boxes. 1.5 bags each box per month. Perfect.

Change the liter once per month. Yes. Once. Not every week. Well worth it.

Have to keep the 2 large boxes for my 25 lbs sweet, 2-year-old, tuxedo kitty, and my medium-sized, also 2-year-old, kitty who is maybe 12 lbs as they are "brothers" and share both boxes.

Scoop daily or every other day. But no stink in my 1800 SQFT townhome. When my kittens hide with company, or not, no one knows I have cats if they don't make themselves known. And they are both neutered males but still boys and can be stinky.

I got these babies at 4 months old. I searched for at least 2 months for the right litter that didn't make my house smell like a litter box.

PrettyLitter is the ticket. I buy it in bulk and share it with friends when their home smells like a litter box.

I've been a HUGE fan for more than 2 years. There are others on the market but, this IS the best!

Bottom Line: Yes, I would recommend this to a friend

---

Excellent product

By Sheryl F.

,

Virginia

,

Sep 20, 2019
Verified Reviewer

Overall Experience:

I have been using PrettyLitter for two months now and I LOVE IT!

No more huge heavy bags for me to carry and no more ugly smelling litter box. I noticed that my male cat wasn't acting like himself, and didn't know why. I looked at the litter box and saw his urine had a lot of blood in it and immediately took him to the vet. I disagree that the cats do not track it out of their litter box, because they do, but it is not as much, and it isn't the big pieces it is more like sand. I have been able to scoop the dry poop and put it in my toilet as it gets dried out by the litter, and I flush it. I had my qualms when I first ordered it, but I highly recommend it.

Bottom Line: Yes, I would recommend this to a friend

---