Sani Sticks Reviews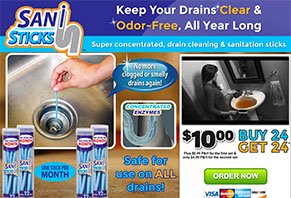 By placing their sanitation sticks into your drain once per month, Sani Sticks are claimed to help clear and prevent drains, while stopping unwanted odors.
About Sani Sticks
If you're looking to keep your drain clear and odor-free all year long, Sani Sticks "super concentrated" drain cleaning and sanitation sticks are claimed to stop greasy buildup that can clog drains, and even dissolves food, hair, organic deposits, and other common clogging agents.
According to the manufacturer, all you have to do is drop one Sani Stick into your drain each month, whether in your kitchen, bathroom, utility room, or anywhere else.
After it lodges in your drain's trap, it releases a concentrated blend of enzymes that stop backups, clogs, and odors, along with a pleasing scent.
Despite its power though, Sani Sticks are all natural and biodegradable and are 100% safe for all drains, plumbing, and septic tanks.
You might have heard that what you can't see won't hurt you, but the hidden nastiness in your drains certainly can smell up your entire house if it's not properly controlled. But will Sani Sticks provide an easy solution or just frustration?
First, let's talk about enzymes.
What Are Enzymes?
At their most basic, enzymes are "biological molecules (typically proteins) that significantly speed up the rate of virtually all of the chemical reactions that take place within cells."
As such, enzymes play a key role in digestion, metabolism, and many other bodily processes.
Because some types of enzymes are very good at breaking down substances at the molecular level, they're often used in drain cleaning formulas (known as enzymatic drain cleaners) to slowly "chew through" clogs and other odor-causing material.
Unfortunately, the makers of Sani Stick doesn't disclose which enzymes are included in Sani Sticks, although this generally involves a proprietary formula.
With this in mind, what are the pros and cons of enzymatic drain cleaners like Sani Sticks?
Pros and Cons of Enzymatic Drain Cleaners Like Sani Sticks
One of the biggest advantages of enzymatic drain cleaners like Sani Sticks is they're derived from natural sources (making them safe for all types of plumbing and septic tanks, in addition to their environmental-friendliness), ease of use, and low cost.
On the other hand, if you've ever used an all-natural cleaning agent before, you know that they often don't work as well as their chemical-laden counterparts.
As such, enzymatic drain cleaners like Sani Sticks might take longer to provide any benefits. On top of this, products like Sani Sticks are often better at preventing clogs from occurring than they are at clearing an already-clogged drain.
Also, due to Sani Sticks's design and where it lodges in your plumbing, we'd have some concerns that it might actually cause more clogs than it prevents since material going down your drain might wrap around it and cause a blockage.
Ask yourself this though: Are enzymatic drain cleaners the right choice for you?
When It Comes to Drain Cleaners, You Have Options
As we mentioned above, enzymatic drain cleaners might be cheap and environmentally friendly, but they might not always be the most effective option.
So, if you have an especially tough drain clog on your hands, you might need to resort to more traditional—but much harsher—methods that you'll find lining the aisles at your local big box retailer.
This includes common household names such as Draino, Liquid Plumr, and others.
If you're looking to avoid chemicals altogether, you might search online for "mechanical drain cleaners," and you'll even find dozens of DIY methods you can use to save money, as well as the environment.
Granted, all of these options only address clogs and odors once they occur. But are there any options for preventing clogs and odors in the first place?
Are There Other Ways of Preventing Clogs and Odors?
In short, there are a lot.
To prevent drain clogs, you can use baking soda, vinegar ice cubes, or even just run hot water down the drain every time you use your sink.
You can also cover the drain opening with a screen or grate, which can catch debris before it has a chance to cause any problems. Finally, make sure you discard of old grease and coffee grounds properly, which means never putting them down the drain.
Similarly, to prevent odors from occurring, you can also pour a mixture of baking soda, vinegar, and citrus rinds down your drain.
You can also just make sure that the p-trap for your drain is always full of water.
Otherwise, you might have stinky sewer gasses making their way back up your drain and causing a foul odor.
Before we move on to Sani Sticks's pricing, let's first talk about the company that manufactures it.
Who Makes Sani Sticks?
Sani Sticks is manufactured by Product Trend, LLC (a division of Hampton Direct), an increasingly popular ASOTV company that has made dozens of products and brought them to market over the years.
Hampton Direct had a B+ rating with the Better Business Bureau with 1 closed complaint in the past three years (as of 2/18/2020)
Most of these appeared to reference order totals that were higher than expected (additional products added to orders, cards charged without processing an order, etc.), and difficulty obtaining refunds.
Now, let's find out how much Sani Sticks will set you back.
Sani Sticks Pricing and Refund Policy
Four packages of Sani Sticks (48 individual sticks) are priced at $10 plus $11.98 S&H (yes, you read that right!).
Sani Sticks come with a 30-day refund policy, less S&H charges. This means you'll likely lose 50% more in non-refundable S&H charges than you'll ultimately receive as a refund.
Despite this, if you'd still like to return your Sani Sticks, you'll need to contact customer service at 844-229-0762.
Now, let's wrap everything up.
The Bottom Line: Is Sani Sticks Your Best Option?
As you can see, there's no one way to prevent clogs and unwanted drain odors, so you might have to go through some trial and error before finding a solution that meets your needs.
Even if you understand that you want to stick with an enzymatic drain cleaner though, keep in mind that the are hundreds available from dozens of different manufacturers—many of which are less expensive than Sani Sticks, especially considering its high, non-refundable S&H charges.
In fact, you'll almost certainly be able to find a couple of options at local retailers.
Considering this, we might recommend exploring local options before placing your Sani Sticks order.
---
So disappointed

By Steven M.

,

South Central, PA

,

Jul 3, 2020
Verified Reviewer

Length of Use: 3–6 months

Overall Experience:

We put Sani Sticks in our drains every 4-6 weeks thinking we were doing the right thing. But I started noticing the bathroom sink was draining slower and slower. So I decided to get this plastic thing with barbs on the sides designed to hook the clog so you can pull it out. When I used it I got a big wad of hair tangled up with 5 big yellow worms that used to be Sani Sticks. Save your money.

Pros and Cons:

Their flashy advertising
The sticks don't dissolve
They don't even go down the drain
Wasted my time and money

Bottom Line: No, I would not recommend this to a friend

---

Melted on my hand

By Nancy M.

,

Atoka, OK

,

Feb 14, 2020
Verified Reviewer

Overall Experience:

I used the Stick in my bathtub and it seemed to work. Three days later I saw a blue residue around the drain and I put my hand down to remove it. I had forgotten the Stick was blue. Gummy and very soapy, when I remembered the Stick, very scary. On the package only info about eyes and mouth. Washed my hand for 10 minutes and let water run for 5 more minutes. I hope my hand is okay. Why no warning about potential back-up with chemical residue?

Bottom Line: No, I would not recommend this to a friend

---

Advertisement

---

Wouldn't buy them again!

By Velma H.

,

Oklahoma

,

Nov 13, 2019
Verified Reviewer

Overall Experience:

Well, I saw it on TV, so thought I would give them a try! Bought some at Walmart. Well, my husband put them down our kitchen sink. Within few days our sink was stopped up! Had to pay someone to come out and unstop it! I put one in a cup of water and it just got a really gummy feeling! I wouldn't tell anyone to buy them!

Bottom Line: No, I would not recommend this to a friend

---

Sani not-so-hot Sticks

By James S.

,

West Milton, OH

,

Jul 15, 2019
Verified Reviewer

Overall Experience:

We attempted to use Sani Sticks. However, we usually use cold water. When the Sani Sticks seemed to fail, we put in another...and another. Soon our drain was clogged up with Sani Sticks. Apparently, they may work as a prevention if you use boiling hot water...maybe.

The device I used pulled out several of the Sticks but the others are still clogging.

Bottom Line: No, I would not recommend this to a friend

---

Advertisement

---

Sani Sticks

By Sarah C.

,

Montgomery, AL

,

Jun 19, 2019
Verified Reviewer

Overall Experience:

In my experience, they do not work. During a stay in an upscale hotel in NC recently, our room began to smell like a sewer. Later, a downstairs hallway smelled even worse. Hotel maintenance staff put Sani Sticks in our sink and in the shower. They did nothing! It only got worse as our stay wore on. We had no option. We were at a convention in the hotel and the hotel was booked solid. Others complained about the smell, too. Don't waste your money! Baking soda and vinegar work better.

Bottom Line: No, I would not recommend this to a friend

---

Not worth the headache

By Rachael H.

,

Birmingham, AL

,

Jun 8, 2019
Verified Reviewer

Overall Experience:

Roommate bought these unknowing to me and put them down my bathroom and kitchen sinks. I've noticed the kitchen sink slowly backing up and the bathroom is completely blocked. Thought they were doing a good thing to keep smelling it. But I use eight bleach and Pine-Sole cleaning the house, it wasn't needed. Now I have to hire a plumber to come to clean them out. Liquid fire and plunger not working.

Bottom Line: No, I would not recommend this to a friend

---

Worse than junk

By Sharon Y.

,

Marietta, GA

,

Mar 22, 2019
Verified Reviewer

Overall Experience:

Just cost me $224 to pay a plumber to unclog my sink and what he got out was undissolved Sani Sticks turned to a chewing gum like substance that clogged my sink. I do not recommend this product and wish I had never used them. Will not make this mistake again!

Bottom Line: No, I would not recommend this to a friend

---

Sani Stick scam

By Celine N.

,

Mokena, IL

,

Feb 27, 2019
Verified Reviewer

Overall Experience:

I tried the Sani Sticks per the commercial review. It has cost me $550 to fix my plumbing because the sticks are a no-do. They do not help unclog your sink; they clog them. Per my plumber, the worst idea yet. I WANT MY MONEY BACK. For $9.99 per pack, rip off big time.

Bottom Line: No, I would not recommend this to a friend

---

DON'T BELIEVE IT!

By Kathy H.

,

Atlanta, GA

,

Feb 18, 2019
Verified Reviewer

Overall Experience:

I only gave it a "1" because "0" is not available. The Sani Sticks are misrepresented. They do NOT dissolve and actually clog your pipes. It took me a few years using them to find out it is the Sani Sticks that is the problem. I regret spending all that money on a scam.

Bottom Line: No, I would not recommend this to a friend

---

They don't work!

By Leila F.

,

Wisconsin

,

Jan 23, 2019
Verified Reviewer

Overall Experience:

I bought a pack of 60 orange Sani Sticks in July of 2017 from seeing a commercial on HSN for $19.95, which I thought was a deal, no tax, and no shipping and handling. After I got them I put one down in the drain every month in my bathroom sink drain until the odor went away and the drain would stop being sluggish, it took about three months.

Every time the pipes would start stinking I'd put one down for about three months to stop the smell and unclog my sluggish drain. Little did I know that they were just collecting in our pipes and not dissolving at all. My husband just today took the pipe out and found all the Sani sticks that I'd put in the drain, almost 12 months' worth. They had swollen into a sponge-like mess that backed up in the pipe until no water would drain out. Several of them had broken into small pieces that hadn't dissolved.

Don't waste your money - they don't work, they don't dissolve even though the description says that they are all natural and are biodegradable, they're supposed to be "drain cleaning and sanitation sticks specially created to stop greasy buildup, and even dissolves hair, food, organic deposits, and other things. These sticks are so concentrated that can effectively prevent your drains from clogging" but THEY AREN'T, THEY DON'T! Since I bought them almost two years ago, I have to eat the $19.95 I spent to get five packs of 12 sticks each of orange scented Sani Sticks. WHAT A RIP OFF!

Bottom Line: No, I would not recommend this to a friend

---

I love them

By Jennifer C.

,

Marysville, CA

,

Jan 21, 2019
Verified Reviewer

Overall Experience:

I have found that they do help with keeping drains cleaner and as a result smell, which can occur when things are just hanging out in your drain. I have not found any increased plumbing problems with their use. Like I said, I really like them. A four-star review only because they can be hard to find locally.

Bottom Line: Yes, I would recommend this to a friend

---