Saxenda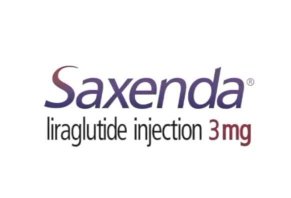 Summary
Saxenda is a prescription medicine medication that aims to support weight loss in overweight and obese individuals.
Saxenda Review: Effectiveness, Safety, Cost, and More
Saxenda is an injectable medication alleged to offer weight loss benefits in those that are overweight or obese.
Obesity remains a growing problem in the US as nearly 40% of adults have a Body Mass Index (BMI) greater than 30.
Obesity is associated with a number of chronic medical conditions like diabetes and cardiovascular disease. Thus, much of the population needs a means of lasting weight loss.
Diet and exercise should be part of any plan of care, though Saxenda may offer another option. They claim that daily use will help you lose weight and keep it off.
While this is one of the few FDA approved prescription weight loss medications, does that mean Saxenda is both safe and effective?
In this article, we will review the available scientific support for Saxenda's active ingredient to help you determine if you should discuss this medication with your doctor.
The Saxenda Active Ingredient: Does It Work?
Saxenda is thought to achieve its proposed benefits with just a single active ingredient: liraglutide.
Liraglutide is a medication that enhances the effects of glucagon-like peptide-1 (GLP-1) receptors and has been traditionally used as a treatment for type 2 diabetes.
It differs from other medications with similar activity in that it seems to be associated with weight loss rather than weight gain. While this mechanism is unclear, Saxenda's actions on GLP-1 may offer weight loss by increasing energy expenditure and reducing appetite.
In this section, we'll share any supporting research to help you determine if there is any merit to Saxenda's claims.
Liraglutide (3mg)
The weight loss effect of Saxenda has been specifically studied in a series of 4 trials – the Satiety and Clinical Adiposity Liraglutide Evidence (SCALE) series.
The first trial examined this effect in diabetic patients. In these patients, both the 1.8 and 3mg doses were superior to placebo in terms of weight loss, though the 3mg dose offered the most benefit. Half of the patients receiving 3mg lost at least 5% of their body weight over 56 weeks.
Next, weight loss was examined in obese and pre-diabetic subjects. This time around, the 3mg dose was compared to placebo, and ⅓ of the individuals treated with Saxenda lost 10% of their body weight over 56-weeks.
During a maintenance trial, obese and overweight subjects that adopted a diet and exercise program in addition to 3mg of Saxenda daily lost more weight than the placebo group.
Lastly, body weight and sleep apnea were improved in those that received 3mg of Saxenda when compared to placebo.
The weight-loss benefits of Saxenda have been repeatedly demonstrated in thousands of subjects. The study populations have included obese and overweight individuals with and without diabetes.
Therefore, the available evidence supports use in these individuals, but not in healthy populations. See if Saxenda is right for you here.
Is Saxenda Safe?
Saxenda has been extensively studied in thousands of subjects. Serious adverse events were not reported at 3mg doses.
The most common side effects include nausea and diarrhea that were generally mild and easily relieved.
Despite evidence that this medication is safe and effective, there may be other weight loss steps that you should exhaust first.
For this reason, it is important to speak with your physician to determine the best plan of care.
How to Use Saxenda
Using your Saxenda injectable pen is relatively straightforward; for best use follow these six steps:
Check your medication – read the label and ensure the liquid is clear.
Attach a new needle for each injection.
Check flow with each new pen by making sure a drop appears at the needle tip.
Turn the dose selector until the counter is centered on the appropriate dose.
To inject, press the dose button and hold it down for a six-count while keeping the needle in your skin.
Remove the needle after injection and dispose of it in the appropriate receptacle.
Inject Saxenda only in your upper arm, abdomen, or thigh.
More detailed instructions can be found here.
Pricing
Saxenda is a prescription-only medication, so seeing your doctor is a must. You can quickly check your coverage and estimated cost here.
Saxenda also provides the option to register for SaxendaCare, a savings card.
According to their site, you may pay as little as $25 per 30-day supply, and each 30-day supply is eligible for up to $200 in savings. Additional inquiries can be made by calling a Saxenda representative at 1-877-304-6894.
Without insurance, you may be looking at more than $1,300 of your 1-month supply.
Are There Any Alternatives?
If you haven't tried lifestyle changes like adopting a healthy meal plan or engaging in regular physical activity, these may offer a more reasonable starting point.
Both are components vital to any successful weight loss plan, and even Saxenda recommends them in conjunction with their injectable medication.
There are three other prescription medications approved for weight loss in addition to Saxenda:
These medications will similarly require a conversation with your doctor.
The Bottom Line
Saxenda backs up their claims with rigorous research. The weight loss benefits have been demonstrated in overweight and obese individuals with or without diabetes.
There is no evidence supporting the use of this medication in healthy individuals, however.
Lifestyle changes like diet and exercise are good places to begin your weight loss journey. If these have been unsuccessful with these, or you need further guidance, speak with your doctor.
Customer Reviews
Posted on Dec 3, 2019
Using Saxenda for 6 weeks
I have been injecting Saxenda for 6 weeks now. I have been on the maximum dose for the past week and I feel great. I have lost 18 lbs and walk 2-4 miles 3 times a week. The only side effect I have experienced is the nausea that comes and goes but it has gotten much less. If I do feel nauseous, I drink 32 oz of Powerade Zero and I feel much better. I am eating a low-calorie diet supervised by my doctor and get weigh-ins every 2 weeks. I don't feel like I'm starving and when I do eat I feel full with very little food. For the first time in my life, I feel like there is hope. I have been on the dieting roller coaster a lifetime! I finally feel like with the help of Saxenda - I can do this!
Bottom Line: Yes, I would recommend this to a friend
Posted on Jul 15, 2019
My experience
I'm at the end of my trial pen and for the first time in years I am feeling full quicker and not eating a bunch of junk! First couple days felt like indigestion and a little nausea, after that I feel great! Losing about 2 lbs a week, the biggest problem is the cost, my insurance only pays $70.00 with a discount card that leaves me paying $1050.00 and that is RIDICULOUS. This medicine has been out for 5 years and is the same ingredients as Victoza so why in the world is it still so expensive? My husband borrowed from retirement to get my 1st month and I don't know how long I can afford to stay on it, so while I 100% support it and believe in it, I am truly upset about the cost.
Bottom Line: Yes, I would recommend this to a friend
Posted on Mar 16, 2019
My Saxenda experience
Been on Saxenda a little over a year. Started out great, losing weight for the first time EVER without even trying! Lost a total of 39.6 lbs. Then the weight loss stopped. So I am thinking of stopping completely for a week or two and beginning again. It was an incredible feeling of being able to walk past food and not stop. I had no appetite, no hunger pangs, no cravings. I have gone back to being a sugar junkie and am hoping and praying taking a break gets me back on course...
Bottom Line: Yes, I would recommend this to a friend
Our Promise to You
In order to safeguard you and ensure helpfulness and relevance, our compliance team manually assess every customer review before it goes live.
We have a zero-tolerance policy for fake reviews, and companies cannot control or alter any reviews at any time.