Saxenda Reviews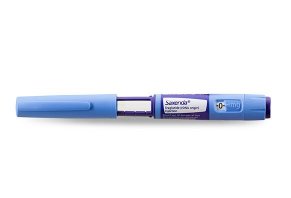 Manufactured by Novo Nordisk, the injectable pen Saxenda (liraglutide 3 mg) could help increase your chances of losing weight and maintaining your results for the long-term.
About Saxenda
If you're an adult with a body-mass index of 27 or higher, Saxenda (liraglutide 3 mg) is an FDA-approved, prescription self-injectable medicine that may help you lose excess weight and keep it off, when combined with a low-calorie meal plan and increased physical activity.
In fact, in a 56-week clinical study involving more than 3,000 patients, the once-daily medication (injected into the upper arm, abdomen, or thigh) was shown to help 62 percent lose five percent or more of their body weight, and 34 percent lose 10 percent or more of their weight. Together, those taking Saxenda lost nearly 2.5 times more weight compared to placebo.
And losing these pounds also helped many patients address related medical conditions such as high blood pressure and cholesterol, type 2 diabetes, or obesity.
If you've ridden the weight loss roller coaster more than enough and are ready to keep the pounds off for good, the clinical evidence seems to indicate that Saxenda might be a viable option. Is it your best option, though?
That's the central question we'll help you answer here, starting with its functionality.
How Does Saxenda Work?
Let's take this step-by-step:
Using the Saxenda Pen
The Saxenda pre-filled pen can be taken any time of the day, whether prescribed by your doctor or that's convenient for you, with or without food.
Simply remove the cap, attach a new needle (turn until tight and remove the outer and inner needle cap), and check the flow. Then, you'll turn the dose selector, insert the needle into the skin of your stomach area (abdomen), upper leg (thigh), or upper arm, for six full seconds. This will make sure the entire dose is injected.
Finally, remove the needle and dispose of it in a sharps container or at a Safe Needle Disposal location.
The liraglutide dosage dispensed during each injection will slowly increase over the course of four weeks:
Week 1: 0.6 mg
Week 2: 1.2 mg
Week 3: 1.8 mg
Week 4: 2.4 mg
Week 5 (full dose): 3 mg
At five weeks, you'll reach the maximum dosage of 3mg per injection, where you'll remain throughout your treatment regimen (as prescribed by your doctor).
Once introduced into your system, what will it do?
The Role of GLP-1
According to the Saxenda website, liraglutide works like a naturally occurring hormone called glucagon-like-peptide (GLP-1), which the Society for Endocrinology explains "encourages the release of insulin from the pancreas, increases the volume of cells in the pancreas that produce insulin (beta cells), and holds back glucagon release."
This acts on appetite centers in the brain and slows stomach emptying, resulting in an increased feeling of fullness between meals—which is the same result advertised for Saxenda.
When combined with a low-calorie meal plan and increased physical activity, their website further explains "this can lead to lower calorie intake and weight loss," and help you "keep it off as well." In the end, the process looks like this:
Appetite regulation à Decreased calorie intake à Weight loss and ongoing weight management
As it turns out, the company can help with these nutrition and exercise aspects as well.
The Role of SaxendaCare
Described as "a support program focused on small steps that help you work toward your weight management goals," SaxendaCare's scientifically proven weight-loss and maintenance strategies are designed to operate alongside the prescription injection.
Specifically, it helps patients start off on the right foot by providing access to personalized support and answers to their questions, including calls from a coach.
These weight-management certified registered dietitians will also guide you in creating reduced-calorie and increased activity goals, while maintaining accountability and motivation, at a pace that's comfortable for you.
SaxendaCare can also sync with many popular fitness trackers, allowing you to see your daily progress and how the healthy habits and skills you're building are paying off. During your yearlong membership, you'll also receive weekly email tips, along with dosing and refill reminders to help keep you on track.
Could the Liraglutide in Saxenda Cause Side Effects?
According to the Saxenda website, when used as directed by your healthcare provider, the most commonly reported side effect is nausea, which typically decreases over time as the body adjusts.
Additional common side effects include "diarrhea, constipation, headache, vomiting, low blood sugar (hypoglycemia), decreased appetite, upset stomach, tiredness, dizziness, stomach pain, and changes in enzyme (lipase) levels in your blood."
The company indicates Saxenda might also increase your heart rate while you're at rest. No specific circumstances are noted.
In clinical studies, possible serious side effects (again, no specifics provided) included:
Thyroid tumors, including cancer
Pancreas inflammation
Gallbladder problems
Low blood sugar in those with type 2 diabetes
Kidney problems (including kidney failure), even for those who have never experienced kidney problems previously
Serious allergic reactions
Depression or thoughts of suicide
We'll talk more about this shortly, but you shouldn't use Saxenda in conjunction with the prescription medication Victoza, which contains the same active ingredient, or with insulin. The drug is not intended to treat type 2 diabetes, should not be used by those under the age of 18, and can cause hyperglycemia and hypoglycemia when used in conjunction with alcohol.
Finally, the manufacturer emphasizes that Saxenda "has not been evaluated in combination with other prescription weight-loss medicines, diet programs, or weight-loss supplements"—including alcohol, and that it "has the potential to change how other medicines are absorbed."
To help reduce the chances of experiencing side effects or medication interaction with Saxenda or any other prescription drug, be sure to have an in-depth conversation with your doctor.
How Much Does Saxenda Cost & Where Can You Buy?
GoodRx listed one carton (five 3ml pens—enough for a five-week cycle) of Saxenda at an out-of-pocket cost between $1,200 and $1,285 at the time of our research, with an average retail price of more than $1,449. This included popular retailers like Costco, Albertsons, Safeway, Walmart, CVS, Rite Aid, and Walgreens.
If you're covered by private insurance, you can check whether or not you're covered and how much your co-pay is on the Saxenda website. Keep in mind, however, that "By clicking "Next" I understand that I am releasing my personal health information (PHI) to Novo Nordisk, Inc., and agents working on its behalf, in order to obtain my prescription insurance co-pay information."
The website indicates that Medicare doesn't cover medications for obesity, and the VA doesn't cover medications for weight management.
Money saving tip: To potentially help offset some of the costs related to Saxenda, the company offers a Savings Card that you can apply for, allowing you to pay as little as $25 or save up to $200 per prescription (maximum benefit of $200 per prescription and 12 benefits annually).
If you have questions, a SaxendaCare specialist can be reached Monday through Friday, from 8:30 AM to 6:00 PM ET, at 844-363-4448.
What Are Patients Saying About Saxenda?
On Drugs.com, we encountered more than 450 patient reviews for Saxenda, who had given the medication an average rating of about eight out of 10 stars. Common compliments related to effective weight loss and continued management, while complaints often referenced less weight loss than expected, as well as side effects like nausea and headache.
22 users gave Saxenda a similar overall rating of about 4.1 stars on WebMD, citing many of the same compliments and concerns.
From a company perspective, Saxenda is manufactured by Plainsboro, NJ-based Novo Nordisk Inc., who's been in business since 1923. Their pharmaceuticals primarily focus on treating diabetes and obesity, as well as providing hormone therapy.
They held a B- rating with the Better Business Bureau, based on three closed complaints, as of 3/30/18, only one of which the company had responded to.
Saxenda vs. Victoza: Are There Other GLP-1 Weight Loss Injections?
It's important to start off by pointing out that the liraglutide in Saxenda is same liraglutide found Victoza, another prescription medication also manufactured by Novo Nordisk. The only differences are:
Victoza – Approved by the FDA in 2010 for lowering blood sugar in those with type 2 diabetes, and updated in 2017 for reducing "the risk of major adverse cardiovascular (CV) events, heart attack, stroke and CV death, in adults with type 2 diabetes and established CV disease." It's also only available in 1.2 mg and 1.8 mg dosages.
Saxenda – Approved in 2014 for the treatment of obesity only. Available in doses of between 0.6 mg and 3 mg.
There are also several other popular prescription GLP-1 agonists available via injectable pens, including Byetta (Exenatide), Bydureon pen (Exenatide extended-release), and Trulicity (dulaglutide), although they're only approved and prescribed for the treatment of type 2 diabetes.
Bottom line: Saxenda is currently the only liraglutide-based injectable FDA approved to treat obesity.
However, there are many other clinically validated prescription weight loss medications that don't work as GLP-1 agonists, but that might provide similar weight loss results when combined with a diet and exercise program. To provide a quick visual overview, popular options currently include:
| | | |
| --- | --- | --- |
| Drug | Out-of-Pocket Price (per GoodRx) | Clinical Details |
| Saxenda (liraglutide) | $1,200+ per 4 weeks | One 56-week study among 3,000+ patients; 62% lost 5%+ body weight, while 34% lost 10%+. Patients lost 2.5x more weight than placebo. |
| Contrave (naltrexone HCI/bupropion HCl) | $234+ per month | Three 56-week studies; 46% lost 5%+ body weight, while losing 2-4x more weight on average than placebo |
| Adipex-P, Ionamin, Pro-Fast, Suprenza (Phentermine) | $14+ per 30 capsules | The most widely prescribed anti-obesity drug in the US, in its current form, since 2012. PubMed referenced 560+ studies looking at the relationship between phentermine and weight. |
| Qsymia (Phentermine extended release) | $193+ per 30 capsules | Two 56-week clinical studies among nearly 3,000 patients; patients in study 1 lost 14%+, while the number was closer to 10% in study 2. |
| Belviq (Lorcaserin) | $271+ per 60 tablets | Two clinical trials (one lasting 1 year and another lasting 2 years) among 7,000+ patients. Combined, 47% lost 5%+ body weight, while 22% lost 10%+ |
Given all of these options, many of which we can see align similarly from clinical support and pricing perspectives, let's bring everything together and discuss how you can make a more informed decision about whether or not Saxenda's formulation—and meaningfully higher price—might deliver better results.
The Next Step Regarding Saxenda
It might seem obvious, but in order to figure out which prescription weight loss medication is right for you, you'll need to start by talking with your doctor. After all, they're the only ones who can provide access.
More than that, they'll ask the appropriate questions and discuss your concerns, run related tests to diagnose your condition, and then recommend options that might provide the most value, as well as those that result in the fewest side effects and potential drug interactions.
From there, outside of budgetary factors, whether or not Saxenda or another option is 'best' might largely come down to if you're averse to injecting yourself daily, or if you prefer taking capsules or tablets by mouth.
Just keep in mind that these medications are only half the story, which is why it's positive that SaxendaCare—along with many other third-party options—exist to help address mental, nutrition, and fitness aspects to maximize your short and long-term weight loss success.
5 out 5 people found this review helpful

My experience

By Wanda F.

,

Virginia

,

Jul 15, 2019
Verified Reviewer

I'm at the end of my trial pen and for the first time in years I am feeling full quicker and not eating a bunch of junk! First couple days felt like indigestion and a little nausea, after that I feel great! Losing about 2 lbs a week, the biggest problem is the cost, my insurance only pays $70.00 with a discount card that leaves me paying $1050.00 and that is RIDICULOUS. This medicine has been out for 5 years and is the same ingredients as Victoza so why in the world is it still so expensive? My husband borrowed from retirement to get my 1st month and I don't know how long I can afford to stay on it, so while I 100% support it and believe in it, I am truly upset about the cost.

Bottom Line: Yes, I would recommend this to a friend

---

16 out 17 people found this review helpful

My Saxenda experience

By Kate K.

,

Clearwater, KS

,

Mar 16, 2019
Verified Reviewer

Been on Saxenda a little over a year. Started out great, losing weight for the first time EVER without even trying! Lost a total of 39.6 lbs. Then the weight loss stopped. So I am thinking of stopping completely for a week or two and beginning again. It was an incredible feeling of being able to walk past food and not stop. I had no appetite, no hunger pangs, no cravings. I have gone back to being a sugar junkie and am hoping and praying taking a break gets me back on course...

Bottom Line: Yes, I would recommend this to a friend

---

Advertisement

---

Using Saxenda for 6 weeks

By Cynthia W.

,

South Carolina

,

Dec 3, 2019
Verified Reviewer

I have been injecting Saxenda for 6 weeks now. I have been on the maximum dose for the past week and I feel great. I have lost 18 lbs and walk 2-4 miles 3 times a week. The only side effect I have experienced is the nausea that comes and goes but it has gotten much less. If I do feel nauseous, I drink 32 oz of Powerade Zero and I feel much better. I am eating a low-calorie diet supervised by my doctor and get weigh-ins every 2 weeks. I don't feel like I'm starving and when I do eat I feel full with very little food. For the first time in my life, I feel like there is hope. I have been on the dieting roller coaster a lifetime! I finally feel like with the help of Saxenda - I can do this!

Bottom Line: Yes, I would recommend this to a friend

---