Tan Physics Reviews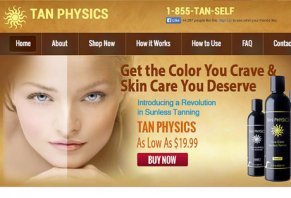 Tan Physics Sunless Tanner claims to produce believable color, minus streaks and stickiness, with a True Color formula that matches any skin type or tone.
About Tan Physics
Tired of self tanners that leave you stinky, streaky and orange? Even if you can't get away to an island vacation, Tan Physics Sunless Tanner promises to nourish, hydrate, and feed your skin for and envy-inducing bronze — minus all those nasty UV-related risks.
Unlike many beauty products that need to do double or triple duty to stand out from the pack, a good sunless tanner need only meet a few requirements. It should give good, natural-looking color to a variety of skin tones. It should offer an easy-to-blend and streak-free formula and the option to build up color depth with reapplication. Finally, it shouldn't leave you smelling like the back room of a dry cleaners.
So, is Tan Physics Sunless Tanner a great way to get your glow? We'll take a closer look.
The Tan Physics Promise
Tan Physics claims to deliver a natural-looking, streak-free tan using only "the most exclusive skin care ingredients." The website also claims that Tan Physics is easy to apply and blend and is "very forgiving" — presumedly meaning it won't streak or blotch. The lotion is supposed to be formulated for use on both body and face.
What About for Shoppers With Extra-fair or Olive Skin?
Tan Physics Sunless Tanner claims to use a True Color formula that adjusts to your specific complexion, giving a tan that's perfect for all skin types and tones.
On top of their promise of superior sunless tanning, Tan Physics claims to deliver "serious and nourishing skin care" that keeps skin soft while enhancing the depth of your tan.
Tan Physics also states that their products are made in the USA and never tested on animals.
What's Inside the Bottle?
Tan Physics states that their tanning formula consists of a naturally derived sugar base and includes the following ingredients for enhanced skin care:
Argan Oil: Tan Physics claims that argan oil is included to protect the skin against wrinkles, diminish the appearance of crows feet, fade stretch marks, and reduce skin irritation. This trendy ingredient is indeed very high in vitamin E and is known to ease dry skin.
Matrixyl: Reported to activate collagen production and diminish the appearance of fine lines and wrinkles, Matrixyl is a small protein that has made big news in the anti-aging community. While relatively new, there is evidence that Matrixyl stimulates skin for increased cell turnover.
Coconut Oil: Tan Physics claims that coconut oil forms a protective barrier, locking in moisture and your tan. While the natural ingredient does provide serious moisture without irritating sensitive skin or clogging pores, any effectiveness at locking in a tan are washed away after your next shower.
Caramel & Sugar-Derived Tanners: Tan Physics claims that theirs are the highest quality tanners on the planet, blended and kept in a climate controlled lab. However, they give no additional information as to how their caramel or sugar-based formulas are chemically different from others that temporarily darken your skin.
Hydrolyzed Collagen: Tan Physics claims that their sunless tanners include hydrolyzed collagen to refresh and restore the strength and elasticity of your skin. Sounds fancy, right? But hydrolyzed collagen is actually just a common ingredient in gelatin food products. Additionally, there are no scientific studies substantiating the claimed benefits of hydrolyzed collagen in skin care products.
The fact of the matter is that all tanners use dihydroxyacetone (DHA) as their active ingredient (usually with a concentration of anywhere between 1% and 15%), since it turns the top layer of skin brown by reacting with the natural amino acids it contains.
Some self-tanners are gradual, since they contain low DHA percentages, while those labeled as "full-strength" often contain more and work faster, with more pronounced darkening.
It's important to note that Tan Physics doesn't state what concentration of DHA their Sunless Tanner includes. So, it's impossible to gauge how strong your initial tan will be without just giving it a go.
Tips for Applying Self Tanner
Before you reach for a bottle of Tan Physics Sunless Tanner, follow these extra steps to make sure you look more like a bronzed goddess than a striped Oompa Loompa:
Before applying self tanner, shave and use a mild exfoliant to get rid of as many dead skin cells as possible.

When applying, standing between two mirrors can help you see what you're doing (as well as the results you're getting).

Mistakes are often found in areas like the knees, hands, elbows, feet, ankles, and face. This can potentially be avoided by applying a minimal amount of product in these areas.

Orange palms can be avoiding by wearing latex gloves or a tanning mitt. Even then, wash your hands thoroughly afterward.

Don't sweat or shower for at least six hours post-application.

After the whole process, apply lotion daily to help keep your skin hydrated and help your results last longer.
Tan Physics suggests that you allow 15-20 minutes for the "sun" to soak in and for your skin to absorb all the oils, vitamins, tanners, and skin-enriching products. Your tan should begin to develop in 3-6 hours, and will be fully developed in one day.
As your skin naturally exfoliates over the next few days, your tan will gradually become lighter and lighter, until your natural tone once again appears.
Tan Physics Pricing & Return Policy
Once on the product page, shoppers are given the option to order a one month supply (one bottle), of Tan Physics Sunless Tanner for $29.95, plus $9.95 shipping and handling. Or you can choose from these additional pricing options:
Two bottles for $49.95
Three bottles for $69.95
Five bottles for $99.95
Don't feel like paying the extra $9.95 for shipping? No worries! Just try to close the page and you'll be given an offer for free shipping and handling upon checkout.
Tan Physics offers shoppers a 100-day money-back guarantee and claims to refund your entire payment, though the website does not specifically mention keeping or refunding shipping and handling fees.
Tan Physics Reviews: What Are Customers Saying About It
Out of 26 reviews of Tan Physics Sunless Tanner currently on Highya, only 38% state they would recommend this product to a friend.
The most common complaints are:
The product resulted in an orange or unnatural color
The product left noticeable stains on user's hands
The product made some users skin dry and gave off an unpleasant smell
Results were disappointing or barely noticeable
High cost compared to other formulas
It's worth noting that several Highya reviewers appear to have really enjoyed the results of Tan Physics Sunless Tanner, and several say it's the best they've used yet.
However, Tan Physics appears to leave limited recourse for unhappy customers: The company is not yet registered with the BBB. Additionally, a quick glance at the Tan Physics Facebook page shows many more potential customers who have posted questions for Tan Physics and are still awaiting a response.
Does Tan Physics Sunless Tanner Really Work? Our Test:
We decided to test Tan Physics True Color Sunless Tanner to see if it delivers on its promises:
For more product tests: Click here to subscribe to HighYa's YouTube channel.
Bottom Line on Getting Bronzed with Tan Physics
Tan Physics might include some extra moisturizing ingredients, but their claims of skin rejuvenation on top of body bronzing fall short without any clinical trials or labels listing actual ingredients and concentrations.
And at $29.95 (plus $9.95 shipping and handling), it's difficult to suggest shoppers splurge on this product when so many more options are available at reasonable prices from your local drugstore or cosmetics counter:
Whether you're new to self tanning or a mitt-wielding pro, we suggest shopping around for a sunless tanner that doesn't require you to break out a gold card to get your bronze on.
Read Next: How to Find the Best Self-Tanner for Your Skin Tone
Rip off

By Kelly B.

,

Troutdale, OR

,

Mar 16, 2020
Verified Reviewer

This product is misleading. I have very fair skin, I have put it on 10 times today and it can't even be noticed, not one person has said anything. It is way too light, there needs to be different levels or colors.

Bottom Line: No, I would not recommend this to a friend

---

Love it

By Lisa P.

,

Vienna, VA

,

Sep 13, 2019
Verified Reviewer

I have been using this product for several years. It works very well. It only has a slight smell. When applied correctly it does not streak. Take your time and apply in a circular motion. The only downside is when I purchased it there was no moisturizer in it. They may have improved that by now. I would just moisturize afterwards. Also, I would avoid wearing white as it will come off onto the inside of your clothing. Same thing with white sheets. I'm of the age where I do not lay in the sun so this is a lifesaver for me. The color is realistic and it works much faster than other self-tanners. I don't know what I'd do without it.

Bottom Line: Yes, I would recommend this to a friend

---

Advertisement

---

Incredible

By Marianne S.

,

Pennsylvania

,

Aug 1, 2019
Verified Reviewer

This product is amazing. For a woman that works 50-hour weeks and can't get in the sun like I wish. Tan Physics has made me a very happy woman, inside and out. I will be using this product until the end of my time here on Earth. Thank you.

Bottom Line: Yes, I would recommend this to a friend

---

Smells

By Jennifer B.

,

Tacoma, WA

,

Jun 22, 2019
Verified Reviewer

HighYa reviewed the Tan Physics and said she used her bare hands and it did not color her hands after application. I applied it the same way and washed hands soon after and it did stain my hands.

Also, HighYa said it does not smell, after application. For me, the smell got more intense as the hours went by. Not a pleasant smell like what was in the bottle before application.

Lastly, HighYa said it wouldn't rub on clothes, but three hours later, I rubbed a white towel over my arm and it rubbed off, I did put lotion on before application.

Plus the tan it gave for me was more intense than the subtle tan that HighYa gave in her review after one application.

It is highly priced and not sure, if there is a cheaper, less chemical, self-tanner out there but worth your time to research and see.

Bottom Line: Yes, I would recommend this to a friend

---

Advertisement

---

Tan Physics lotion

By Marian H.

,

West Virginia

,

May 6, 2019
Verified Reviewer

The lotion does everything it states it won't...smells of copper after about 40 minutes after applying, leaves orange streaks. Would never pay this again as what I've bought at local drug stores for under $15.00 does as well if not better as you can pick your light, medium, or dark tan. Not happy with this product for what it cost at all!

Bottom Line: No, I would not recommend this to a friend

---

Tan Physics

By Beth W.

,

Mount Airy, NC

,

Apr 7, 2019
Verified Reviewer

I've been using Tan Physics for three years now. It's perfect for putting on and you look like you've been sitting on the beach for a week. Your skin is soft, smooth and it's perfect for those of us who don't like direct sunlight. It goes on smoothly, no streaks and no stains on hands, or clothes. I love this product.

Bottom Line: Yes, I would recommend this to a friend

---

Love it!

By Rhonda Sy

,

California

,

Apr 13, 2018
Verified Reviewer

I really like this product. I've been a Fake Bake locked-in user for years. I tried Tan Physics for the first time last night. Little smell, definitely not offensive like some have. I showered this morning and the color left after was very natural. No streaking and even color where applied. Next time I will be sure to apply lotion to the top of my feet, ankles, tops of hands and elbows before applying Tan Physics. It didn't stain my sheets nor leave any odor.

I've read so many negative reviews, I'm shocked I even ordered. But I am glad I did. It is on the pricey side compared to my favorite Fake Bake, but you don't need to apply much. I do like the fact you can reapply for a darker desired tan. My skin felt hydrated and looked as if I applied a moisturizer to my skin. I will be buying this product again. I do not understand all the negative reviews; it is very puzzling to me. I've been fake tanning for years and Tan Physics is at the top next to my favorite Fake Bake.

Bottom Line: Yes, I would recommend this to a friend

---

Purchased, not delivered

By Gaynor Giro

,

Walkerville, Australia

,

Nov 22, 2017
Verified Reviewer

I was so excited to receive my products today and can't wait to try it. BUT I am missing one bottle of Tan Physics true color. I have received the Exfoliant and the Tan Extender so I guess I will write a review once I can try the product.

Bottom Line: No, I would not recommend this to a friend

---

Never arrived

By Jo

,

New Zealand

,

Oct 16, 2017
Verified Reviewer

My order never arrived and I have been unable to track it. The last available tracking showed it had arrived into New Zealand, then nothing more. I have no idea how to get my money back or who to complain to! Definitely a scam!

Bottom Line: No, I would not recommend this to a friend

---

Love it!

Illinois

,

Aug 18, 2017
Verified Reviewer

I have used two bottles as of now and reordered. I am 74 years old and have tanned all my life. My mom put me in clothes baskets and when she hung out the clothes, she always used olive oil on my skin. I have used all kinds of tanning and have a tanning bed. Also, I go out in the sun.

This is the best product I have used from a bottle. Virtually no smell and keeps a great tan going. I have been using it instead of my tanning bed. It dries fast and doesn't rub off. I have worked an easy way to put it on where you use coconut oil on hands before putting it on, then washing only my palms after.

I just love it.

Bottom Line: Yes, I would recommend this to a friend

---

Best tanning product that I have ever used

By Wayne Ellis

,

Gilmanton, NH

,

Jul 6, 2017
Verified Reviewer

I have tried many self-tanning products, but Tan Physics is by far the best product I have ever used. It is easy to apply, and within a day I noticed a darker color.

I would recommend this product to anyone looking to get a tan with or without the sun.

Bottom Line: Yes, I would recommend this to a friend

---