Tan Physics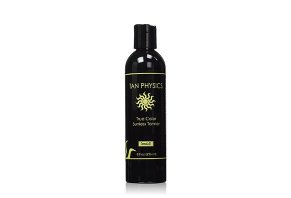 Tan Physics' range of self-tanning products claims to give you a vacation-worthy glow without the risk of skin damage. These products seem to contain safe, effective ingredients, but the resulting tan might be more subtle and short-lived than you want.
Tan Physics Review: What You Should Know
If you're looking to get a sun-kissed look without dealing with the skin damage of traditional tanning, then self-tanners offer an appealing alternative. These "bronzers in a bottle" claim to make it possible to achieve a darker complexion without requiring you to spend any time outdoors or in a tanning bed.
Tan Physics is a brand of sunless tanner that claims to act as a skincare hybrid to nourish your skin as you use it. The company sells three products, each of which claims to help you achieve a natural-looking, streak-free tan that reduces signs of aging on your skin like fine lines and wrinkles.
Can a Tan Physics tan replicate the real thing, or are there better ways to boost your coloring? Learn here whether this brand of self-tanner is one to commit to.
The scent dissipates quickly after application
Doesn't stain clothing when applied correctly
Dries quickly
Leaves a natural-looking color tone
Gentle enough for use on the face
Color might be too subtle, even after multiple applications
Starts to fade within days
Minimal color options
More expensive with subtler results than competition
Tan Physics Product Line
Tan Physics currently sells three products, each of which serves a different purpose:
True Color Sunless Tanner: $29.95 (8-oz)
This tanning product helps you build up a sunless tan while nourishing your skin in the process.
Perfect Balance Pre-Tan Exfoliant: $49.99 (8-oz)
Designed to prep your skin before you apply the Sunless Tanner, this Pre-tan Exfoliant turns your skin into the perfect canvas for absorbing the color.
It's sold as a shower scrub that is gentle enough to use on your face.
Tan Extender: $49.99
Increase the length of your sunless tan with this specially formulated Tan Extender. It works to moisturize your skin while adding subtle amounts of extra color to keep the tan going without the inconvenience of reapplying any self-tanner.
All orders from the company website include $9.95 in shipping fees.
Tan Physics offers a 100-day full money-back guarantee on every purchase. This means that you can request a full refund if you are unhappy with your order for any reason within that timeframe. You'll even receive a pre-paid shipping label for sending the product back to the company.
You can find out more information by messaging customer service at support@tanphysics.com or at (855) 826-7353.
Analysis of Ingredients
The Tan Physics self-tanner claims to use a proprietary blend of moisturizers, sugar-derived tanners (DHA), and other nourishing skincare ingredients. The goal is to give you a "just walked off the beach" tan without any of the damage associated with sunbathing.
This formula is designed for all skin types and tones and is considered gentle enough for use over your whole body—even your face.
We've highlighted some of the most noteworthy ingredients in Tan Physics products below:
Dihydroxyacetone (DHA): A key ingredient in sunless tanners, DHA works by reacting to the dead cells on your skin's surface and temporarily darkens them to stimulate a tan. The effect usually wears off after a few days.
While DHA is approved by the FDA for topical use, you need to be careful to keep it away from your eyes, nose, and mouth because the risks of taking in small amounts aren't fully understood yet.
Argan Oil: This plant-based oil is used for both culinary and cosmetic purposes and is prized for its antioxidant and anti-inflammatory properties. It's also a rich source of vitamin E, a fat-soluble vitamin that can work to reduce signs of skin damage.
Matrixyl: This proprietary ingredient is a trade name for palmitoyl pentapeptide-4. It's often found in anti-wrinkle products.
Coconut Oil: This natural moisturizer is a common skincare ingredient, and it can help prevent dry, flakey skin before applying self-tanner. There's also some evidence that coconut oil can speed up vitamin D absorption, meaning it can counter the blocking effects of sunscreen.
Hydrolyzed Collagen: Also known as collagen peptides, hydrolyzed collagen is typically broken down to the point that the amino acids are more dissolvable. When taken as a supplement, this form of collagen will promote joint health, help maintain bone density, and even restore skin elasticity to reduce wrinkles.
Though it's a common ingredient in many self-tanners, there's little evidence that applying collagen topically will do much for your skin.
Aloe Barbadensis Gel: Derived from the aloe plant, this gel is a common source of relief from sunburns, but it also works to soothe dry skin and acne so that self-tanners are more effective.
Is Tan Physics Safe?
Tan Physics claims that its self-tanning products are gentle enough for use anywhere on the body, including your face. Likewise, we couldn't find any signs of negative side effects from looking at the ingredients list or from customer reviews.
Note that tan Physics products don't act like sunscreen and can't protect your skin from sunburn. You will need to apply sunscreen as usual when you go outside.
How to Use Tan Physics
Your skin should be as clean and smooth as possible before using Tan Physics to ensure that the maximum amount of product soaks into your skin. It's best to refrain from shaving, waxing, plucking, or tweezing for at least 24 hours before you plan to apply the tanner. Any sooner, and you risk having your follicles and pores end up darker than the rest of your skin.
The company suggests you avoid using overly harsh loofah sponges and instead use its Perfect Balance Pre-Tan Exfoliant to prep your skin. This skincare product is designed for shower use, and you can use it to gently exfoliate your skin in circular motions. Take extra care over the areas where your skin tends to be dry, like the knees, elbows, heels, and tops of your hands.
Once your skin is prepped, ensure that it is completely dry, remove all jewelry, and put your hair up. Next, squeeze a quarter-size portion of Tan Physics onto your palm and rub it into your legs, slowly working up your body as it absorbs in.
Massage it in place using small circles with firm pressure, and apply only a light coating to your feet, knees, elbows, and the tops of your hands, as these areas tend to have rougher skin and can turn much darker.
Each purchase of self-tanner includes a caramel color guide that helps you see where you better need to rub it in. When you are finished, make sure you wash your hands well, especially between your fingers and at your nail beds.
Allow the tanner to dry on your skin for at least twenty minutes before putting on loose, dark-colored clothing. Your tan should start developing within 3-6 hours and will be fully developed after 24. Abstain from showering or heavy sweating for the first six hours so you don't mess with this process. Any streaks or dark spots that show up can be buffed away with a washcloth.
The resulting tan should last between 4-7 days, though it will lighten significantly once you shower. You can apply more tanner the following day to develop a darker tone, and use the Tan Physics Tan Extender to keep the color longer.
Our Test: Does Tan Physics Sunless Tanner Really Work?
For more product tests: Click here to subscribe to HighYa's YouTube channel.
This product line worked for us as described to deepen coloring in a natural, unobtrusive way. We appreciated the minimal smell, easy application process, and the fact that the tanner dried quickly and didn't stain our clothing.
However, the final results were subtle and faded significantly after our tester showered, even after applying the tanner twice and waiting the full 24 hours necessary for it to develop.
Overall, we thought that Tan Physics made sense for anyone looking for subtle coloring or who is naturally pale and would see a lot of improvement from even a minor tan. Those who are looking for a more dramatic change are likely to be underwhelmed by the results.
Analysis of Customer Reviews
Tan Physics currently has more than 40 reviews here at HighYa, and they average 2.9 stars. On Amazon, each of the three products averages about 4 to 4.5 stars after hundreds of reviews.
Below is a summary of what users are really saying about this brand:
Common Compliments:
Works well when applied correctly
Great substitute for tanning in the sun
Long-lasting, natural-looking tan
Common Complaints:
Too subtle to be noticed
More expensive than equivalent products
Can flake off onto clothing or sheets
Stains hands during the application process
The smell was too intense
Delivery issues for some users (product never arrived)
Tan Physics vs. Other Self-Tanning Products
The following chart looks at how some of the key details of Tan Physics compare to other self-tanning products from two popular brands—Selfie Tan'n Go Sunless and Jergens.
| | Tan Physics | Selfie Tan'n Go Sunless | Jergens Natural Glow |
| --- | --- | --- | --- |
| Available Products | Three: tanner, exfoliator, tan extender | 12+: self-tanners, instant tanners, gradual tanners, wash off tans, sun protection, lip balm, etc | 12+: self-tanning lotions, mousses, daily lotions, face creams, etc |
| Average Cost Per Product | $29–$49 (8-oz) | $2–$30 (6-oz) | $8.29–$10 (7.5-oz) |
| Key Ingredients | Dihydroxyacetone, coconut oil, hydrolyzed collagen, aloe vera gel | Dihydroxyacetone, propylene glycol, mannitol, sodium lauryl sulfate | Dihydroxyacetone, corn starch, octyldodecyl, polysorbate 60 |
| Average Reviews (Amazon) | 4–4.5 stars | 3–4 stars | 4–4.5 stars |
One thing that's clear is that all three of these products rely on dihydroxyacetone. As stated earlier, this compound is what's primarily responsible for your darker coloring when you use self-tanners.
However, since none of these tanners specify how much of the compound they contain, it's difficult to compare their effectiveness based on ingredients alone. Concentrations can range from 1% to 20%, with higher concentrations leading to darker, longer-lasting results.
Selfie Tan'n Go Sunless products tend to be on the more expensive end of the spectrum, though the brand offers a much bigger product selection. These products vary in what they promise, as some are designed to make you darker while others work almost instantly but fade just as fast.
One advantage to Jergen's Natural Glow (besides the lower pricepoint and extensive product range) is that this drugstore brand can be found in retail locations across the country. This means you should be able to replace your supply quickly without waiting on shipping times, so you don't have to worry about your tan fading before you can reapply it.
The Bottom Line: Is Tan Physics Worth It?
Tan Physics self-tanner products promise to give you a sun-kissed look without the skin damage. While they likely will succeed in shading your skin, you might be left underwhelmed with the results.
Based on our test, this self-tanner was easy to use and created a lovely pop of color without any overwhelming scents. However, the results are subtle and fade quickly, meaning that this tanner likely isn't worth the process or the price for many people.
We suggest that you commit to the full Tan Physics product line if you choose to commit to this brand. That way, you can ensure your skin is appropriately prepped before application and hopefully extend the life of the resulting color beyond what Olga experienced with just the sunless tanner.
If you aren't sure whether a self-tanner is right for you, there are cheaper options to consider than Tan Physics. Jergen's product line contains the same active ingredient and earns great reviews, so it's a sensible place to start.
---
Everyone will have different results

By Rachel S.

,

North Carolina

,

Nov 3, 2020
Verified Reviewer

Overall Experience:

First, I watched pretty much every video available on the internet about tanners and how to apply. It appears this stuff and "Loving Tan" are really great. And I want to point out, everyone's sense of smell and body's reaction will be different - so the point is, try different stuff till you find what works for you.

Okay, now to application. You get TWO VERY DIFFERENT results based upon application. I exfoliated as instructed for all tanners, and applied. If you use a typical tanner mitt/glove, the results are more subdued and a slight "sun-kissed" look. If you use the "velvet" type finger glove or a full "velvet" glove, be prepared, you are getting dark. I think the difference is the amount of tanner applied to the skin directly. The normal mitt will absorb a lot more of the tanner. When I used the "velvet" glove, man I was dark and dark for like 4 good days. I showered every day and the tan was great. Didn't do any crazy routine to maintain. I'm pale and tan for beach trips. I would recommend this product.

Pros and Cons:

Easy to apply
Smell is decent
Dried quickly
Difficult to easily see where I did or did not apply
Normal mitt requires multiple applications to get moderate level of dark

Bottom Line: Yes, I would recommend this to a friend

---

I hate it and want know how to get my money back.

By Betty C.

,

Combs, KY

,

May 28, 2020
Verified Reviewer

Overall Experience:

It is the most awful stuff I have ever used and I have used them all. I followed it step by step and I woke up orange. My feet are the worse. Now I want that money-back guarantee and I will send your product back so you can put the money back on my card.

Bottom Line: No, I would not recommend this to a friend

---

Just received

By Vikki D.

,

Baltimore, MD

,

May 26, 2020
Verified Reviewer

Overall Experience:

This is great, a little pricey, but I just used it today and have color already. I'm a huge tanning salon person and this is so much better. For the people that have negative comments ALL I can say is y'all didn't use it right or something. I'm sold on it and I just hope it stays after I shower. Totally recommend this product. It truly does work; no stains, no orange streaks, and actually no smell to me. Need to drop the price for people like me on disability and I so love to tan. WAS a BIGGGGGG salon tanner and this is great.

Bottom Line: Yes, I would recommend this to a friend

---

Rip off

By Kelly B.

,

Troutdale, OR

,

Mar 16, 2020
Verified Reviewer

Overall Experience:

This product is misleading. I have very fair skin, I have put it on 10 times today and it can't even be noticed, not one person has said anything. It is way too light, there needs to be different levels or colors.

Bottom Line: No, I would not recommend this to a friend

---

Advertisement

---

Love it

By Lisa P.

,

Vienna, VA

,

Sep 13, 2019
Verified Reviewer

Overall Experience:

I have been using this product for several years. It works very well. It only has a slight smell. When applied correctly it does not streak. Take your time and apply in a circular motion. The only downside is when I purchased it there was no moisturizer in it. They may have improved that by now. I would just moisturize afterwards. Also, I would avoid wearing white as it will come off onto the inside of your clothing. Same thing with white sheets. I'm of the age where I do not lay in the sun so this is a lifesaver for me. The color is realistic and it works much faster than other self-tanners. I don't know what I'd do without it.

Bottom Line: Yes, I would recommend this to a friend

---

Incredible

By Marianne S.

,

Pennsylvania

,

Aug 1, 2019
Verified Reviewer

Overall Experience:

This product is amazing. For a woman that works 50-hour weeks and can't get in the sun like I wish. Tan Physics has made me a very happy woman, inside and out. I will be using this product until the end of my time here on Earth. Thank you.

Bottom Line: Yes, I would recommend this to a friend

---

Smells

By Jennifer B.

,

Tacoma, WA

,

Jun 22, 2019
Verified Reviewer

Overall Experience:

HighYa reviewed the Tan Physics and said she used her bare hands and it did not color her hands after application. I applied it the same way and washed hands soon after and it did stain my hands.

Also, HighYa said it does not smell, after application. For me, the smell got more intense as the hours went by. Not a pleasant smell like what was in the bottle before application.

Lastly, HighYa said it wouldn't rub on clothes, but three hours later, I rubbed a white towel over my arm and it rubbed off, I did put lotion on before application.

Plus the tan it gave for me was more intense than the subtle tan that HighYa gave in her review after one application.

It is highly priced and not sure, if there is a cheaper, less chemical, self-tanner out there but worth your time to research and see.

Bottom Line: Yes, I would recommend this to a friend

---

Tan Physics lotion

By Marian H.

,

West Virginia

,

May 6, 2019
Verified Reviewer

Overall Experience:

The lotion does everything it states it won't...smells of copper after about 40 minutes after applying, leaves orange streaks. Would never pay this again as what I've bought at local drug stores for under $15.00 does as well if not better as you can pick your light, medium, or dark tan. Not happy with this product for what it cost at all!

Bottom Line: No, I would not recommend this to a friend

---

Tan Physics

By Beth W.

,

Mount Airy, NC

,

Apr 7, 2019
Verified Reviewer

Overall Experience:

I've been using Tan Physics for three years now. It's perfect for putting on and you look like you've been sitting on the beach for a week. Your skin is soft, smooth and it's perfect for those of us who don't like direct sunlight. It goes on smoothly, no streaks and no stains on hands, or clothes. I love this product.

Bottom Line: Yes, I would recommend this to a friend

---

Love it!

By Rhonda Sy

,

California

,

Apr 13, 2018
Verified Reviewer

Overall Experience:

I really like this product. I've been a Fake Bake locked-in user for years. I tried Tan Physics for the first time last night. Little smell, definitely not offensive like some have. I showered this morning and the color left after was very natural. No streaking and even color where applied. Next time I will be sure to apply lotion to the top of my feet, ankles, tops of hands and elbows before applying Tan Physics. It didn't stain my sheets nor leave any odor.

I've read so many negative reviews, I'm shocked I even ordered. But I am glad I did. It is on the pricey side compared to my favorite Fake Bake, but you don't need to apply much. I do like the fact you can reapply for a darker desired tan. My skin felt hydrated and looked as if I applied a moisturizer to my skin. I will be buying this product again. I do not understand all the negative reviews; it is very puzzling to me. I've been fake tanning for years and Tan Physics is at the top next to my favorite Fake Bake.

Bottom Line: Yes, I would recommend this to a friend

---

Purchased, not delivered

By Gaynor Giro

,

Walkerville, Australia

,

Nov 22, 2017
Verified Reviewer

Overall Experience:

I was so excited to receive my products today and can't wait to try it. BUT I am missing one bottle of Tan Physics true color. I have received the Exfoliant and the Tan Extender so I guess I will write a review once I can try the product.

Bottom Line: No, I would not recommend this to a friend

---