The TouchPoint Solution Reviews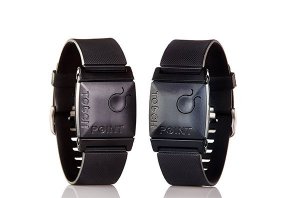 TouchPoint is a neuroscientific lifestyle wearable that promises to relieve your stress in just 30 seconds through patent-pending BLAST technology.
What Is TouchPoint?
According to the company website, TouchPoint (formerly known as Buzzies) is a "non-invasive lifestyle wearable" that can relieve stress by over 70 percent after just half a minute of use.
The devices are designed to be worn on both sides of the body to regulate its stress response. You merely need to turn them on when you feel anxious, the company claims, and the stress will start to disappear.
TheTouchpointSolution.com states that anyone can benefit from using these devices and that they are a practical, affordable solution for combating stress and enhancing performance. In fact, the site says that using TouchPoint for as little as five minutes a day will result in improved focus and increased productivity for users.
But will they work as promised? Let's dive into the details to gain some insight.
How Does TouchPoint Work?
TouchPoint's technology was invented by the neuropsychologist Dr. Amy Serin. Psychology Today told us that Dr. Serin graduated from Fielding Graduate University in 2006 and specializes in anxiety, ADHD, PTSD, depression, parenting, giftedness, phobias, and women's issues at her Arizona clinic.
The company website states that the devices work by use neuroscientific technology through gentle haptic micro-vibrations to calm you down.
The devices are sold in pairs, and they are designed to be worn on your wrists, clipped to clothing, or held directly. When activated, they use Bi- Lateral Alternating Stimulation Tactile (BLAST) technology to alter the body's natural fight, flight, or freeze (F3) responses. This purportedly relieves stress by restoring your neural functioning back to base level.
In other words, TouchPoint works by affecting your neural system in three main ways:
Reduce Body Sensations: TouchPoint reduces the physical symptoms of stress like a racing heartbeat and butterflies in the stomach within thirty seconds of using the devices.
Shifts "Fight, Flight, or Freeze' Response: TouchPoint shifts your brain from the sympathetic nervous system to the parasympathetic nervous system to increase logic and rationality while reducing stress.
Creates Neural Pathways: TouchPoint makes it possible to think about stressors without triggering a physical response, which can create new, positive neural pathways in the brain. Because these effects last over time, the device can work to treat PTSD.
The company website states that TouchPoint is useful for treating a variety of physical and mental conditions, from general stress to sleep problems, PTSD, and autism. The technology is also purported to increase feelings of calm and focus, improve sleep quality and performance, and reduce anger and cravings.
Wearing and Using TouchPoints
To get the most out of a TouchPoint, one device needs to be worn on both sides of the body, though they don't need to be touching skin. Once secured, you can turn on the desired setting (or connect the device to the app for TouchPoints original) and follow instructions.
To use a TouchPoint, turn the device on and chose your setting (the options differ depending on the model you choose). Once on, the two devices will gently vibrate to let you know they are on.
When you feel panicked or stressed, the device will be triggered and start to calm you down within 30 seconds. For best results, the company recommends wearing the devices for between a minute to up to two hours during stressful situations. It's typically recommended that you use them before, during, and after a stressful event to calm you down. Once you feel calm again, you can turn the devices off to save battery life.
In this way, the device can be used to spot treat stress for short durations or be left in place for extended periods to prevent it from happening in the first place.
TouchPoint has positioned itself as a solution to the stress epidemic today. Just how troubling are current anxiety levels? Looking at the research might, well, stress you out.
How Big of a Problem is Stress Today?
According to Robert Wood Johnson Foundation, stress is an unfortunate fact of life for millions of Americans. An NPR study funded by the Harvard School of Public Health found that close to fifty percent of Americans underwent a significant stress event in the past year, leading to many adverse health effects.
While Medical News Today tells us that some stress is essential for survival because it triggers the "fight or flight" mentality that kept our ancestors alive, too much pressure won't do you any favors.
Huffington Post tells us that chronic stress causes adverse physical and emotional effects, and between 75-90 percent of doctor's visits today are related to stress.
Some common signs of stress, according to Medical News Today, are a racing heartbeat, poorly functioning digestive system, rapid breathing, muscle tension, a lowered immune system, and insomnia.
There's little question that living with stress is terrible for your body, and TouchPoint is designed to combat its effects by calming you down before your anxiety is overwhelming. Will using TouchPoint help you relax? Let's look closer at the kinds of conditions this device was designed to help.
Who Can Benefit from TouchPoint?
While TouchPoint was initially developed for Autism and ADHD treatment, the copy on the company website states that TouchPoint is effective for treating a variety of conditions, including insomnia, autism, ADHD, Parkinson's, EMDR, PTSD, and general anxiety. They consider the technology to be especially beneficial for improving performance before or during stressful experiences like giving a presentation or taking an exam.
Notably, the company also makes it clear that TouchPoint isn't intended to treat medical conditions or to be a substitute for professional advice. Instead, they are meant to be used as a general wellness device, preferably in conjunction with therapy or medication.
What Does TouchPoint Research Look Like?
The product website tells us that TouchPoint works with patent-pending BLAST technology (Bi-lateral Alternating Stimulation-Tactile Technology). In other words, the devices work by sending vibrations that disengage your standard stress response to prevent it from becoming debilitating.
Understanding BLAST Technology
While the company claims that the premise behind BLAST technology has been used in treatments and scientific research before, they state that they are the first company to put it to use in a wearable device.
The product website includes links to over a dozen published research articles, including peer-reviewed research, in-house research, case studies, and academic research.
Brand founder Amy Serin published TouchPoint's in-house research. One paper states that BLAST technology can be used as a fast-acting, passive, and non-invasive way to inhibit the human stress response and improve memory recognition. Her research also states that BLAST has value outside of PTSD, ADHD, and autism treatment, and can work as a 'stand-alone methodology to improve individual's lives.'
Others mention that BLAST technology has been found to reduce hyperactivity in participants and that user data confirms that TouchPoint can reduce stress by 74% within 30 seconds of use.
At the time of writing, the website also listed about a dozen outside research sources about the role of tactile stimulation on memory formation, improving moods, and relieving the symptoms of stress. From our research, these studies didn't reference the term "BLAST Technology" explicitly but instead referenced some of the properties of the technology separately.
Because the term "BLAST technology" is still patent-pending at the time of writing, it doesn't appear that the technology has been evaluated in any peer-reviewed journals.
What Comes with a TouchPoint Purchase?
At the time of writing, TouchPoint comes in value bundles that include two devices, a linen carrying bag, dual-pronged charging cable, couplers for watchbands, and one set of watchbands of your choice.
TouchPoint Original and Basic Differences
At the time of writing, TouchPoint offers both an original and basic option. Both rely on BLAST technology, but they differ in the features that they provide.
TouchPoint original comes with six pre-settings (calm, sleep, cravings, performance, focus, anger) and lets you customize and save your own settings as well. The device is controlled by a downloadable app that works on both Apple and Android devices and costs $250.
In contrast, TouchPoint basic is operated manually without an app and comes with three pre-set settings: sleep, calm, and anger. At the time of writing, it sold for $165.
Every purchase comes with a one-year manufacturer's warranty. A one-year extended warranty is also available for $30. All purchases are also backed by a 30-day money back guarantee. You can contact the company to initiate a return at 877-77-TOUCH or send an email to hello@thetouchpointsolution.com.
About TouchPoint Battery Life
According to the company website, the battery life for both TouchPoint models is about three to four hours of consistent use. The included batteries are made of rechargeable lithium and last an average of three years.
It takes between two and three hours to restore the charge, and TouchPoint needs to be charged weekly regardless of whether they are used.
Understanding Customer Reviews of TouchPoint
We found reviews for TouchPoint in a variety of places online.
The product website published over 100 positive reviews at the time of writing, many of which noted that the using the devices helped ease fibromyalgia pain, reduced insomnia, soothed anxiety and Parkinson's-related tremors, and lowered cravings for some users. One user even noted that TouchPoint dropped her blood pressure by 20 points within seconds of use.
TouchPoint has mixed reviews on the Google Play Store, and most complaints we noticed were about difficulties that customers had connecting their device to the app.
Many noted that the app had to "update" for several minutes every time they tried to use it, and some stated that it never successfully connected with the device- a significant problem for people who were using the device to relieve anxiety in the first place.
Others found it frustrating that TouchPoint only worked with an internet connection.
The overall consensus we saw was that people found the device useful, but that it was too glitchy to be reliable because of problems with the app. Of note, reviews on Google Play were only for TouchPoint original, not basic.
Facebook reviews for TouchPoint seem to be similar to the product website. Notably, the comments section is filled with testimonials from parents who proclaim that the devices were life-changing for their autistic or anxiety-prone children.
Many noted that their children had better focus throughout the school day when they wore them and that they were less likely to get overwhelmed or act out.
From studying these reviews, we found that most people are impressed with TouchPoint when they work. If you think a glitchy app will only add to your stress, you might be better off with the basic model instead.
What Devices are Similar to TouchPoint?
Wearable tech for stress relief is a booming industry right now, and there are several competitors to TouchPoint on the market today. We chose to see what the Spire Mindfulness and Activity Tracker and Vitali to see how they differed from TouchPoint.
The Spire Mindfulness is an Apple Device that connects to your iPhone through an app to monitor your physical symptoms throughout the day and encourage relaxation. A companion device can be worn clipped on your pants or bra, and the device sends notifications to your phone throughout the day with updates on your physical state and suggestions for better relaxation.
Unlike TouchPoint, Spire doesn't automatically adjust your physical symptoms through BLAST technology. Instead, it reminds you to breathe deeply when stressed so that you can take control over your physical state. In this way, the device is designed to educate you about your changing physical states throughout the day, not alter them itself.
Unlike TouchPoint, Spire will last for an entire week on a single charge, and it also works as a step counter and calorie tracker. It retails for about $130.
Vitali is similar to Spire in that it is a wearable accessory that reminds you to relax throughout the day. It is designed to attach to a sports bra where it tracks breathing, posture, and heart rate variability throughout the day. Your stats are then reported on the IOS or Android app so that you can see firsthand what situations lead to the most stress and adjust your life accordingly.
Vitali comes with a specially designed sports bra and costs about $150. At the time of writing, the device will launch on Kickstarter in late April 2018.
What kind of wearable tech is best for your needs? That depends on whether you want to track your stress triggers or automatically reduce them. While all three devices promise to get you more in touch with your anxiety, only TouchPoint works to soothe stress automatically when it's sensed.
However, you give up a long battery life for that benefit, so it's important to weigh that tradeoff before making a decision.
Our View: Who Can Benefit from TouchPoint?
A careful analysis of the company's claims, the science behind their theory of stress relief, and customer reviews from the device's users paint a positive picture of what it is capable of.
We found evidence that wearing TouchPoint might calm down your anxiety or treat a host of other health concerns by controlling your sympathetic nervous system. Many users in customer reviews noted that they felt better within thirty seconds of using the device.
However, there are some factors with TouchPoint that could be potential drawbacks. Both devices need to be worn at a time, which some people might find cumbersome. Likewise, battery life for the devices is only 3-4 hours, and it takes about two hours to charge them. This means that it's not possible to wear the TouchPoint all day unless you buy multiple sets.
Likewise, we noticed a large number of complaints about the product's app, and many people found it frustrating only to be able to use the device with an internet connection (for the original model only).
If you think this will be a factor in your use of TouchPoint, you might be better off with the basic model instead.
In short, if you're looking for a non-invasive way to control anxiety, treat autism, curb cravings, or deal with other physical or emotional issues, TouchPoint might be worth a try. Our research didn't uncover any adverse health effects to using them, and many customers raved about their effectiveness. They might just work for you, too.
Wish I would have read these reviews first.

By Rob R.

,

Cincinnati, OH

,

Jan 2, 2020
Verified Reviewer

These things are absolute piles of garbage. Their videos and website make it seem like these are rugged and do something magical. They are basically very weak vibrators - like the kind that makes your cell phone vibrate - only about 1/4 as strong. They have a very loud vibrating sound that is super distracting. There is no stress relief at all. You'd be better off buying a small vibrating massager for $10 at a drug store and wearing that. It would be stronger, less noisy, much much less expensive - and equally ineffective. TOTAL GARBAGE.

Bottom Line: No, I would not recommend this to a friend

---

Do not buy.

By Sheila B.

,

Georgia

,

Jul 11, 2019
Verified Reviewer

If I could put a review it would be:

DO NOT BUY. It's a fraud! Do not buy this fake product! YOU DREW unsuspecting parents who are trying to get their children help. I've called to get a refund, left messages with this company seven times and nobody has responded. I've emailed as they've asked and nobody has responded. How dare you prey on parents that are trying to get their children help, shame on you.

Bottom Line: No, I would not recommend this to a friend

---

Advertisement

---

TouchPoint

By Jack S.

,

Bay Area, CA

,

Jun 19, 2019
Verified Reviewer

Can not say it did anything for me. Put if for sale on eBay and got $65 for the $160 I paid. I am sure there is science behind it, it just did not work for me, my wife, or our older kid.

Bottom Line: No, I would not recommend this to a friend

---

Helpful tool

By Beth A.

,

Seattle, WA

,

May 9, 2019
Verified Reviewer

My husband is a gadget guy and is always looking for new products to use (primarily to treat pain symptoms I have from illness). We purchased these for our teen daughter to help with anxiety around dance performances and have found them to be very helpful.

Bottom Line: Yes, I would recommend this to a friend

---

Advertisement

---

Total scam

By Karen T.

,

New Jersey

,

Mar 1, 2019
Verified Reviewer

Buyer beware. Do not purchase anything from this company. They guaranteed a 30-day return of your money but try any way possible not to do this, including trying to scam additional payments after the product has been returned.

I was forced to give them one star of which they do not deserve.

Bottom Line: No, I would not recommend this to a friend

---

Company is less than transparent

By Randall F.

,

Novato, CA

,

Jan 19, 2019
Verified Reviewer

I bought two sets of the basics for my wife and daughter. When my wife tried them out, she found that the buzzing sounded like a phone alarm. Watch the introduction video. Is anything said about the audible buzz? They are described as using "gentle, haptic micro-vibrations" to calm you, but nothing about the sound is mentioned. Given that my daughter is very sensitive to sound, this was not the relaxing and calming result we had hoped for.

Since we were still within the warranty period, I tried to return them but was notified that there was a "no return" policy during the Black Friday sales period. I was told this was clearly stated on the site, however I did not see this warning at any point during my purchase. I would have expected something before the "complete payment" screen. So now I'm stuck with over $200 in useless gadgetry. For a company that promotes itself as working to relieve stress, they sure have caused a lot of it around my house.

Bottom Line: No, I would not recommend this to a friend

---

Major disappointment

By Jessica V.

,

Grand Rapids, MI

,

Nov 16, 2018
Verified Reviewer

The devices are noisy and irritating enough to draw attention to you in public. The last thing I expected was these to be anything but quiet and subtle. Not the case! The noise prohibits me from wearing them. Unfortunately, I only wore them a handful of times before they became just a very expensive addition to my junk drawer. I should have known these seemed a too good to be true remedy.

Bottom Line: No, I would not recommend this to a friend

---

Updated review

Customer service got back to me

By Mara A.

,

Nova Scotia, Canada

,

Oct 22, 2018
Verified Reviewer

You have to purchase the "insurance" for an extra 30 USD to have the shipping for repairs/returns covered, and I am not even sure that applies to Canada, but it is still very impractical to have to deal with returns on a regular basis as many people say they have.

It is at best impractical to have to register through a glitchy app, which throws questionnaires at you before allowing you onto the registration screen, if you are lucky enough to get there.

Also, my battery life was never more than 2 hours from the beginning. The units were used for approximately 10 hours total before one of them stopped working.

Customer service got back to me and agreed to a return. Once received, they agreed to pay shipping of the defective units, and refund me for the purchase price. Because of original shipping costs, duties, and customs, I will still have lost 95 CAD for the privilege of trying out this product for 10 hours, that is, IF I receive my refund.

Bottom Line: No, I would not recommend this to a friend

Previous review
Oct 20, 2018

Watch out that you don't end up losing your cash.

These are much more expensive in the end than advertised. This product works, but not for long. Between import charges and shipping, I ended up spending $300.00 CAD for only a few days of functionality. They stopped working after just a few days of careful use. The app does not work on any of my devices, and although the company says you don't need an app to use the basic model, you are required to download the app to register them and also to be eligible for the 15-day return.

The app is a nightmare, it glitches differently on all devices, but glitch it does, making it impossible for me to register a product that is known to break. If you have lots of money, this may be a good solution for you, but the touchpoints break very quickly, so you would need at least two pairs, and be prepared to pay for shipping when you have to return them for repair/replacement.

After all the money I spent, I am waiting for an email back (they also don't answer the phone). This product is way more expensive than it seems at first, very flimsy, and the app is incredibly frustrating and the only way to get your units registered is to have a very basic warranty. If you don't have lots of money to spend on something that will almost certainly stop working after a few days or weeks, don't buy them, you will be horribly disappointed and short $300 CAD (if in Canada), at least when all is said and done.

The therapeutic value of the TouchPoints is irrelevant if you cannot use them! Now I'm anxious and short 300 bucks. I'm pretty sure they put in all these obstacles so people end up with a void warranty. There should be an easy way to register right on the website. If your TouchPoints are working after 2 months, you are one of the lucky ones. I will report back with news and when I figure out if I have been swindled or not.

(

read more

read less

...)

---

Unfortunately a zero-star review

By Marcelo F.

,

Massachusetts

,

Oct 8, 2018
Verified Reviewer

My experience started when The TouchPoint Solution was not even delivering the devices. I waited almost two months, the devices were bad, cheap material, and the first week of use the band got broken. Then I returned, has been two months almost now and I have no answer, even after they already have confirmed the devices were received. Amateurs or scammers?

Bottom Line: No, I would not recommend this to a friend

---

Do not waste your time and money on this product

By Jessica B.

,

Northampton, MA

,

Aug 13, 2018
Verified Reviewer

I ordered a set which malfunctioned in the first 30 days. After waiting a month and a half for the second set, while they kept promising me it was on its way, the second set malfunctioned. The third set malfunctioned and I returned it for a refund. The technology needs to be worked out before being sold for $160. The buzzers are not soothing and extremely loud.

I found a company called NeuroTek which sold better technology for $30 cheaper and the speed and intensity as both adjustable. I recommend NeuroTek highly but avoid the headache of Touchpoint Solutions. They also charged me shipping to send my first pair and return my third pair and refunded me the rest. Bad business practices.

Bottom Line: No, I would not recommend this to a friend

---