Voloom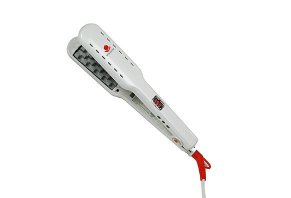 Summary
Voloom is a hair volumizer that creates "volume pockets" in the underlayers of your hair to give your style a lasting body without any damage.
Pros
Multiple sizes for different hair types
Quick to use, you only treat a small portion of your hair
Doesn't expose most of your hair to heat damage
Cons
More expensive than most hair tools
Some users complained it left their hair frizzy
You might see the texture through your hair's top strands
Voloom Review: Details, Pricing, and Features
HighYa is supported by our readers. When you buy something through a link on this page, we may earn an affiliate commission. Learn more.
Do you lament your hair's lack of volume? Are you finding it difficult to achieve any lasting body even with bottles of hairspray? A novel take on a crimper claims to help you achieve the appearance of a fuller head of hair in just moments.
Voloom is a hair styling tool that promises to give you "volume that lasts for days" through a quick heat treatment that won't leave your hair damaged. It's designed to add volume to the under-layers of your hair close to your scalp for natural-looking volume.
Unlike hairsprays and gels, Voloom claims its volume gets heat-locked into your hair and will last for days, or until you rewet your hair. In this way, you can achieve a "salon-style blowout" at home without the time commitment or the price tag.
But does Voloom really deliver the results it claims? This analysis should help you decide whether the product is one to commit to.
How Does Voloom Work?
Voloom works by creating a deeply crimped structure in the under-layers of your hair to produce volume for the smooth layers above. This device looks a little like a cross between a hair straightener and a waffle iron, and it creates an imprint of "volume pockets" that support the top layers.
Through the device's patented ceramic-coated plates, Voloom claims to create hidden volumizing structures that lift your top layers of hair up and away from the scalp to separate individual hair to give your hair more volume.
When you use Voloom regularly, the company claims that you will need to shampoo, color, and heat-treat your hair less often because you will retain your volume and cause less damage to your strands overall.
How to Use Voloom
Before you use Voloom, make sure that your hair is dry and styled as you want it. Part your hair as usual, and section off the top layer by clipping it out of the way with the included hair clips. This section will stay smooth and cover the Voloom's volume pockets.
The device works best when you use it on the underlayers of hair closest to your scalp. After plugging it in and letting it get to temperature, choose a small section, and close the device. Leave it in place for as long as it takes to say "Voloom" and move onto another section of hair, targeting the areas from eye level to cheekbone level.
Repeat this process across your whole head until you achieve the desired volume. You can adjust the device's temperature as needed if you need more substantial holding power.
Once your hair cools and you gently brush through it, these imprints will soften while still adding lots of volume to your hair. Ensuring that your top hair layer is smooth will further hide this imprint.
If you can still see it through, you can flat iron the top layer and leave a thicker section on top the next time you use Voloom.
Will Voloom Damage Your Hair?
Voloom claims to help you achieve maximum volume without harming your hair. Is this accurate?
One thing that lessens your risk of hair harm is the fact that the Voloom is designed only for the uppermost underlayers of your hair, which minimizes how much is actually exposed to potential heat damage. Unlike when you use a curler or straightener, you're not treating the top layer or ends of your hair, which are the sections most prone to damage.
Likewise, Voloom claims to prevent you from overwashing your hair in an attempt to create volume. The idea is that your hair won't fall flat for days at a time, so you won't need to re-shampoo it to restore your style. Over the long term, the company suggests that your hair will get healthier because you won't be stripping its natural oils as often.
Customer reviews of Voloom indicate that some people found that the device left their hair frizzy and unmanageable, but few, if any, reported any long-term adverse effects from using it.
Pricing and Models
The Voloom Classic (1.5"), Petite (1") and Rootie (3/4") all sell for $139.99 off the company website. Each purchase comes with your choice of volumizing iron, a heat-resistant carrying case, three hair clips, and a Voloom teasing brush for adding volume.
Shipping is free for every purchase.
You can also purchase the irons as part of kits with other accessories that retail for $156–$164. These include a mix of detangling sprays and brushes, dry shampoo, a heat protection mist, and more.
The best model for you will depend on your hair type and what your styling preferences are. Women who have long, thick hair and want glam-level volume should go with the Classic, while those with shoulder-length hair are better with Petite. Anyone with chin-length hair or who simply wants a small boost should try the Rootie.
Regardless of your purchase, all Voloom orders are covered by a one-year manufacturer warranty and a 30-day satisfaction guarantee.
If you aren't happy with your order within that timeframe, you can contact customer service at (800) 906-9203 for return assistance and to receive a refund. Note that you will need to return the iron with all accessories and original packaging.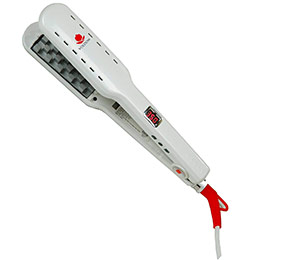 Buy Voloom from Amazon:
The Voloom Classic (1.5"), Petite (1") and Rootie (3/4") are available on Amazon for $139.99. Shipping is free.
Analysis of Customer Reviews
HighYa readers have left four reviews of Voloom on our site, averaging 2.2 stars. There are also more than a thousand reviews on Amazon, averaging 4.4 stars. Here's a summary of some of the most typical viewpoints.
Common Compliments:
Great volume producer for fine, limp hair
More subtle than traditional crimpers
Super fast and easy to use
Long-lasting results
An excellent way to boost the appearance of ponytails
Common Complaints:
Leaves hair frizzy
Voloom customer service was difficult to interact with
The device only worked for a few months
Can You Use a Crimper Instead of Voloom?
Voloom's waffle iron style crimping isn't unique, and there are lots of similar devices available, from standard crimpers to other generic hair volumizers that use the same design.
Voloom claims to differ from traditional crimpers because it leaves a less noticeable imprint in the hair and instead creates natural-looking volume pockets that hide under its other layers. This creates a more pronounced volume than you can achieve with a crimper while maintaining more of your hair's natural appearance.
Blogger Angela shares the difference in results she achieved from using a crimper and Voloom. Her crimper created subtle texture but did little to boost the volume of the underlayers of her hair. She also found that crimpers took a lot longer to use for less impressive results.
In short, a crimper works well for creating visible texture in your hair, but you likely won't find it as useful as Voloom for building volume.
Likewise, it's possible to find offer Voloom-style devices for sale online for a fraction of its price. Most don't have any specific branding, verified online reviews, or even a recognizable name. There's a chance that these devices will work as well as Voloom, but the odds seem reasonable that they will come up short in regards to quality or effectiveness.
The Bottom Line: Is It Worth It?
Voloom claims to give your hair lasting volume without any permanent impacts on its health. Customer reviews seem to indicate that the device works exactly as described.
Many raved that it was their best option for adding body to their hairstyles and that they loved how quick and straightforward it was to use. Despite costing close to $150, many users shared that they were saving money by no longer needing to stockpile expensive hair products or book as many salon appointments.
We think you're most likely to love Voloom too if you have naturally thin, short hair without a lot of texture. This is the hair type that struggles most with volume, and it's the easiest type to use Voloom on because you will have less hair to treat at a time.
Just keep in mind that you need to style your hair before you start using it and that you're likely going to have to perform some touchups to ensure your "volume pockets" stay covered.
Voloom works for a lot of users, and there's a good chance you'll like it too. Just be aware that it might cause more problems than it solves if your hair is naturally on the frizzy side.
Customer Reviews
Posted on Jul 20, 2020
It really does work!
I have used every styling product and trick to help create volume in my fine hair. I have fine hair but alot of it so it tends to be flat on top. I was hesitant to try this but thought it was worth a try. I can honestly say it works great and I love it. It is fast, simple, and is way less damaging than blowdrying. It was easy to get the hang of where to use it. And it really does last until you wash your hair. You just have to use it under the top layer of hair and you can't see anything but volume. I use it on the sides and back of my hair.
Length of Use: Less than 3 months
Bottom Line: Yes, I would recommend this to a friend
Pros and Cons
Fast to use
Easy to use
Results last until you wash your hair
Price is a bit high
Posted on Aug 15, 2019
Fantastic!
I have very thin AND very fine hair due to a thyroid disease when I was 18 years old. I am in my thirties and was almost embarrassed by the fact that my hair is so thin. I read reviews about Voloom and just decided to take a chance. Just to be clear, it will cause frizzy looking hair, I mean come on, it is just like a crimper (which ALWAYS cause frizzy looking hair). But the volume is fantastic for someone like me who has limp, fine, thin hair. I don't always wear my hair down after using the Voloom so the added body even for a ponytail is unreal! Maybe it's just because I have dreamed of volume in my hair since I lost it to a disease, or maybe it's just because I don't expect "miracles" from Voloom, but I love what it does for my hair. I just can't say enough about the fact that it will make it frizzy, but there are products to help with that.
Bottom Line: Yes, I would recommend this to a friend
Posted on Apr 6, 2019
Limited for most hair
For me, it was a complete waste of money. My hair is not 100% flat and thin and limp, it actually gets a little wave as soon as I get in damp air.
The Voloom just made my hair look frizzy, so a spray bottle of water would give me the same results.
PLUS - I made the mistake of ordering directly from the website, and it was so stressful to try to get any communications with the company. I certainly did not feel valued, felt like they were mad at me because I didn't like their product.
Oh well.
My experience was not worth the effort. I bought it through the "view your deal" from TV, of course at a discounted price, but still did not work for me. Next purchase I will make from people who deal with the public more regularly and have efficient return protocol in place.
Bottom Line: No, I would not recommend this to a friend
Posted on Apr 22, 2018
Frizzy hair and three months later it doesn't turn on
When I used it my hair was very frizzy, not what I had expected. There was volume, but I felt it looked like I had a bowl on my head. I contacted the company and asked for a return label and refund, but never heard back from them. I've tried practicing with it, and now just after three months, it does not work. Maybe it's just my hair, but I'm frustrated and disappointed that the company is not respecting its return policy, especially on such an expensive item.
Bottom Line: No, I would not recommend this to a friend
Posted on Feb 13, 2018
Terrible customer service
I ordered a Voloom on February 1st, and now it is the 12th and it still isn't here. I have called twice, once I was told it would definitely be here on the 10th and again today. The girl only apologized when I said I was writing a bad review because she refused to contact her courier to find out where the Voloom was. She implied it was delayed due to snow, but we haven't had ANY snow! I am not impressed at all.
Bottom Line: No, I would not recommend this to a friend
Our Promise to You
In order to safeguard you and ensure helpfulness and relevance, our compliance team manually assess every customer review before it goes live.
We have a zero-tolerance policy for fake reviews, and companies cannot control or alter any reviews at any time.