Dyson Supersonic Hair Dryer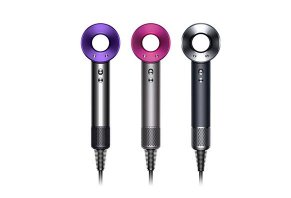 Summary
The Dyson supersonic is a third of the weight and half the size of a normal hair-dyer and has been engineered to protect the hair from heat. Learn from our experience below.
Dyson Supersonic Hair Dryer Review: Our Personal Test
The Dyson Supersonic was designed and engineered for fast drying and controlled hair styling that doesn't damage the hair.
It's meant to protect the hair from heat damage and leave it looking and feeling healthy, shiny and silky smooth.
You may be familiar with the Dyson brand as the king of the vacuum cleaner, and you may even have one currently hanging up in your cupboard.
With such innovative high-tech technology, it would make sense for Dyson to use their expertise to create another standard household appliance – the hair dryer.
Price-wise, the Dyson Supersonic is definitely on the upper end of the spectrum. With an average hair dryer costing you about $30, the Dyson will cost you around $400.
Features
High Speed
It has an impressive High Speed, brushless, digital V9 motor that allows the Supersonic to be six times faster, a third of the weight, and half the size of a regular hairdryer.
Inaudible Frequency
Nothing is more annoying than a loud hair dryer blowing in your ear, which is why Dyson designed a motor-impeller using 13 blades instead of the usual 11, creating a one-tone sound frequency, inaudible to humans.
We tested the Dyson hair dryer and share out experience in this review and video.
Balanced Feel
Many hair dryers are top-heavy and can be awkward to hold while trying to style your hair. The Dyson D9 motor is powerful and small, and because of this, it fits into the handle of the dryer itself.
Being able to hold the most substantial part of the hair dryer gives you more control when drying your hair.
Air Multiplier Technology
In 2009, James Dyson introduced the air multiplier fan. The blades are hidden inside the pedestal of the fan which means there are no visible moving blades.
This type of fan amplifies air three times, producing 41 liters of air per second.
Intelligent Heat Control
An important feature that sets the Dyson Supersonic apart from regular hairdryers is the Intelligent Heat control feature, through the use of a glass bead thermistor.
By adding this feature, it prevents temperatures from exceeding 302 degrees Fahrenheit as the airflow exit is measured 20 times per second.
Magnetic Attachments
It comes with three rotating magnetic attachments that you can quickly pop on while drying your hair.
It has a smooth nozzle for a sleek finish, a styling concentrator that allows you to style small sections of hair without disturbing the rest, and a diffuser that circulates air around the hair to improve definition. Dyson claims the attachments will stay cool to touch when in use.
What Happened When We Put it to the Test
One of our staff personally tested the Dyson Supersonic, comparing it with a regular Conair hairdryer that we already had, to see if it lived up to its claims.
Aesthetically speaking, we found the Dyson Supersonic to be beautiful with an unconventional shape, unlike any other blow dryer. It felt comfortable to hold and extremely well-made.
We thought the gunmetal and fuschia combination complemented each other nicely, and as far as the sound goes, it was different than expected, almost like a gentle hum.
The Dyson Supersonic is controlled by four buttons. The top button on the handle is the on and off switch, and directly below it is your constant cold button which puts out a cold burst of air.
On the head of the blow dryer, you'll find the speed setting which allows you to select three different speeds (fast, regular, gentle).
And on the other side, you have your heat setting button which has three heating settings, 212 degrees for fast drying, 176 degrees for regular drying, and 140 degrees for gentle drying.
The first test we did was to measure its fast-drying claim. When put to the test using a medium setting that seemed comparable to both dryers, the Dyson took 8 minutes to dry hair and the Conair around 7 minutes.
However, when testing the Dyson further on the full speed setting, it took around 7 minutes as well, indicating that when used on full power, the Dyson is capable of drying your hair dry extremely fast.
As For The Three Attachments:
The smoothing nozzle allows you to dry and style your hair at the same time. It reduces the velocity of the airflow giving you straightener-like results. It also gives you less flyaway hairs and a smoother look.
We found it handy to use, especially without having to use a brush. It also streamlined the air avoiding our hair from being violently blown around in all different directions.
The styling concentrator attachment has a stronger and more focused burst of hot hair, which lets you style individual sections of your hair without disturbing the rest.
You want to use this attachment with a round brush, or when you want to give your hair shape and volume.
When comparing the Revlon diffuser attachment to the Dyson Supersonic diffuser attachment, the final result was much better on the Dyson than on the Revlon as it gave us a nice natural looking wave, with no flyaway hairs.
After putting each of the attachments to the test and comparing it to the Conair and Revlon brand, it was clear on all accounts that the Dyson left our hair looking smooth and slick, while the Conair and Revlon had a lot more frizz and flyaway hairs.
Bottom Line – Should You Buy The Dyson Hair Dryer?
In conclusion, after personally testing this product, we believe the Dyson is a high-quality blow dryer that lives up to its claims.
It looks, feels and performs like a luxury product, and is attractive for both men and women to use daily. Based on styling and drying, it did in fact, give better results than the Conair and Revlon dryer, and left a healthier, shiny look.
The presentation, packaging, and accessories Dyson included in their product go above and beyond, and give it a nice finishing touch. Being able to hang it up when not in use, or having a heat mat to leave it on while cooling or when in use is extremely practical.
Together, we can understand why it was voted by Allure as 2016 Best of Beauty hair dryers.
There was one thing our staff member noticed when testing it out that didn't live up to its claims, and that was that the attachments didn't stay cool to the touch when in use.
We thought they got quite hot, hot enough to where it would hurt, and could possibly burn your fingers.
Is it Worth the Price? When purchasing any household appliance, you have to consider several things: your budget, how much you plan to use the product, and what kind of quality you're for.
While it may seem invisible at first, over time, the combination of chemicals, hair coloring, and everyday styling, along with brushing and extreme heat, is ultimately responsible for damaged hair follicles and dry scalp.
In this case, the Dyson supersonic is worth the high-price if better-looking, healthy hair is your number one concern. But, if you're looking to save time by using a fast-speed blow dryer, even at full power the Dyson Supersonic dried at the same speed as a considerably less expensive model.
Based on our conclusion, and taking into consideration the price of the Dyson Supersonic, if you're someone that prefers to let your hair air dry or rarely use a hair dryer, then you're probably better off with a less costly one.
However, if you style your hair several times a week either at the hair salon or by yourself at home, the Dyson is worth every penny for its fast-speed and heat protection.
Customer Reviews
Posted on Jul 12, 2023
It looks pretty
I just got this the other day. It looks pretty and is in a lovely box, but I do think it's expensive. I guess you would consider how much you use it on a daily basis.
Length of Use: Less than 3 months
Bottom Line: No, I would not recommend this to a friend
Pros and Cons
Pretty packaging
It's sleek
Quite a large box
Very expensive
Our Promise to You
In order to safeguard you and ensure helpfulness and relevance, our compliance team manually assess every customer review before it goes live.
We have a zero-tolerance policy for fake reviews, and companies cannot control or alter any reviews at any time.