Madison Reed Reviews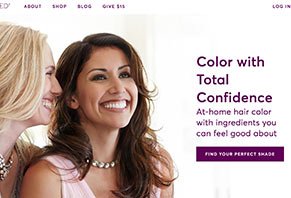 Madison Reed is an at-home hair dye that promises gorgeous, natural-looking color and 100% gray coverage while being formulated without any harsh chemicals.
About Madison Reed
Are you torn between covering your gray hairs and avoiding chemical-based hair dyes? A new type of permanent at-home hair color by Madison Reed promises only to use ingredients that you feel good about—and leave out any that you don't.
Called their Smart 6-Free formula, Madison Reed claims that their hair dyes, glosses, and supplemental products such as root touch up, shampoo, and conditioner are all free of ammonia, resorcinol, parabens, phthalates, gluten, and PPD (p-phenylenediamine).
According to Madison Reed, hair that's colored with their Smart 6-Free formulas feels softer and doesn't incur the damage associated with other at-home box dyes, but without sacrificing the glamorous and rich tones you've come to expect from your hair color.
Additionally, the brand claims that since their formula doesn't include harsh chemicals, it actually smells pleasant. (At least, as opposed to the harsh, stinging smell of your average store-brand box dye.)
What their formula lacks in chemicals, they claim to make up in nutrients—Madison Reed hair color is blended with keratin, argan oil, and ginseng root to keep your strands healthy. The result, they claim, is long-lasting and luxurious color that offers 100% gray coverage.
Who's Behind Madison Reed?
The brand was founded by Amy Errett. This seasoned 57-year-old entrepreneur has previously worn hats as CEO of investment advisory firm Spectrem Group and E-Trade's chief asset gathering officer before spending time a several venture capital firms.
What turned Amy Errett's attentions to hair dye were two questions: The curiosity of whether or not gentler hair coloring formulas were possible. Additionally, she wondered if the stagnant at-home box hair color industry couldn't be shaken up with some added tech.
Amy Errett learned the answer to her first question when she discovered that European Union (EU) standards for safety meant that at-home hair dyes available over the pond were formulated without the harsh chemicals found in American versions. She then found a manufacturer in Italy, which is where Madison Reed dyes are made.
Madison Reed now offers a range of products centered around their permanent home hair color—all of which are advertised as formulated with integrity.
How to Select Your Perfect Shade of Madison Reed Permanent Hair Color
When switching brands of hair dye, selecting which shade of color to buy can be confusing. To simplify the process when shopping online, Madison Reed's website asks a series of questions that are intended to help you find the right formula, including:
Do you have any gray hair? Select between none, some, most, and all.
Are your grays hard to cover? Select between yes, no, or not sure.
Is your hair currently color treated? Select between yes and no.
What is your current treated hair color? Select between black, brown, red, and blond.
How light or dark is your current color treated hair? Select between five levels.
How often do you color your hair? Select between week-long increments.
What is your natural hair color including gray? Select between black, brown, red, and blond.
How light or dark is your natural hair color? Select between five levels.
Do you want to go lighter, darker, or stay the same as your current hair color? Select between lighter, darker, or stay the same.
What tones would you like to see in your color? Select between hints of gold, mahogany, copper, red, or violet/ ash.
Once those questions are answered, Madison Reed's website offers you a range of colors to choose from—with one particular shade highlighted as your perfect match.
If you're still not confident and would like to confirm your pick with a professional colorist, Madison Reed also offers free consultations via call, email, or online chat to help you determine which color will help you achieve your desired shade.
In addition to creating Madison Reed's friendly formula, Amy Errett took her hair dye brand to new high-tech heights with a mobile app, called the Color Advisor, that claims to make finding your perfect color even simpler. The app asks additional questions, such as your hair's texture, to make an even more personalized recommendation. However, Android users don't get your hopes up, Madison Reed's Color Advisor app is only available for iPhones.
How to Use Madison Reed Hair Color?
Like the boxes of at-home hair dye you buy at the store, a box of Madison Reed hair color contains everything needed to color your hair. Along with the standard dye and color activator, each Color Kit includes:
Customized instructions: Depending on your answers to the previously listed questions, your hair color might need to stay on for less or more time. The Color Kit includes personalized instructions which promise to be 10-steps or less.
Barrier cream: Apply to the skin around your hairline to keep it free of dye.
Cleansing wipes: Can be used to touch up your forehead, neck, and ears to erase any accidentally transferred color.
Color enhancing shampoo and conditioner: Madison Reed's shampoo and conditioner claims to in your color and creates long-lasting shine.
Each Color Kit also contains a cap and gloves to help reduce the risk of transferring color onto your clothing, skin, or surroundings.
To use Madison Reed permanent hair color, simply mix, apply, and rinse—just as you would with comparable box dyes found at your local store.
Madison Reed Permanent Hair Color Cost and Refund Policy
Madison Reed offers two ways to buy their hair color. Purchase a single box for $24.95. Standard shipping (3-10 business days) costs an additional $5.00, bringing your total to $29.95 for a single box of dye.
If you're having a root emergency and require color sooner, you can expedite your shipping for an additional fee; two business days costs $14 and one business day is $18 extra.
If you have long hair and suspect that it might take more than a single tube to color from root to tip, Madison Reed gives you the option to add an extra tube of color to your order for only $10 more.
If you color your hair regularly, Madison Reed offers the chance to save if you select to sign up for automatic shipments. Because so many companies we review use automatic shipments in a shady attempt to weasel you into paying extra charges, it's worth noting that Madison Reed's recurring shipment program appears to be an earnest convenience—after all, hair color is something that's applied with regularity.
Should you select recurring shipments, the cost of a single box of Madison Reed hair color is lowered to $19.95. You can customize the frequency by choosing for shipments between every two, three, four, five… all the way up to every eight weeks. However, shipping fees still apply.
Note that, if you've signed up to receive ongoing shipments, you can change the color, frequency, delivery date, address, and payment method for your auto-delivery at any time without incurring fees. You can also cancel at any time by managing your account online or calling the customer service number listed below.
If you're not happy with your Madison Reed hair color, you can get a refund through the company's 100% Satisfaction Guarantee. To do so, call their customer service at 1(855)742-5916.
Additional Madison Reed Hair Products
Madison Reed offers several other hair products in addition to their permanent hair color, including:
Color Reviving Gloss ($29.95): Adds shine and hints of color to already-treated hair.
Root Touch Up ($29.95): A compact including colored powder and a stiff brush to conceal root growth in between dye applications.
Shampoo and Conditioner Set ($39.95): Sulfate-free formulas that claim to help your color last longer.
These three Madison Reed products are also available with the purchase of a hair dye as add-ons, giving you a $5 discount at checkout.
Madison Reed Hair Color Smart 6-Free Formula: What Is (and Isn't) Included
Ask yourself this: If hair color could be made to stick without using some of the harsher chemicals, why would other brands continue to make formulas that include them?
In this respect, if Madison Reed's hair color is free of one chemical, what did they use in its place? And is it any better than the original?
Here's a comparison between several ingredients Madison Reed left out, and what they put in instead:
1. Ammonia vs. Ethanolamine
Instead of ammonia, Madison Reed hair dye contains ethanolamine to help color molecules penetrate hair. But is it any better?
CosmeticsInfo.org tells us that ethanolamine is "produced by reacting 1 mole of ethylene oxide … with 1 mole of ammonia." They indicate that ethylene oxide is a carcinogen—and since it's created using ammonia, it might not be any less harsh.
In Why Our Fear of Chemicals In Cosmetics Is Unfounded, we share the idea that "the poison is in the dose." This implies that consumer cosmetics may, indeed, use some harsh chemicals in small doses safely—and that even safe ingredients in large doses can be dangerous.
However, it might be a bit of disingenuous marketing for Madison Reed to say that their hair color is made without ammonia, only to substitute it with something of equal toxicity. Ethanolamine, at the very least, is said to smell much better.
2. PPD vs. PTDS
Instead of PPD (aka p-phenylenediamine), which the Skin Deep Database indicates is associated with allergic reactions, Madison Reed uses PTDS (toluene-2, 5-diamine sulfate).
However, the Database tells us that PTDS constitutes a slightly higher overall hazard, especially related to allergies and immunotoxicity.
3. Resorcinol vs. 2-Methylresorcinol
While the Mayo Clinic indicates that the most common side effect associated with resorcinol is skin irritation, such as redness and peeling, some animal studies have indicated that it may disrupt thyroid hormone production.
With this said, the Endocrine Disruption Exchange database also lists resorcinol as a possible hormone disrupting substance.
In this case, we're unable to discern whether or not the swap creates that much safer of a formula.
What Are Customers Saying About Madison Reed?
Being a hip, tech-savvy company, Madison Reed has done a great job of creating hype around their products. Search for reviews online, and you'll find dozens of beauty bloggers who've been sent complimentary boxes of hair color to try out.
Beauty bloggers who covered Madison Reed color were unanimously pleased with the product and their results. Frequent comments included positive reviews of easy-to-follow instructions, above-and-beyond customer service, and gray coverage.
These reviews are generally upfront and attempt to be objective. However, it's nice to hear from paying customers. For that, we headed to the comments section of Madison Reed's Facebook page.
After scrolling through six weeks of customer comments, we were unable to find a single negative review of Madison Reed hair color.
Two potential customers had posted with concerns regarding skin allergies, and their questions were promptly answered. One current customer had posted about a late shipment, and their concern was addressed immediately by Madison Reed's social media team as well.
Overall, Madison Reed appears to stop at nothing to provide impeccable customer service, and, in so far as we can tell from customer reviews, that dedication is reflected in their responses and the quality of the product, itself.
Bottom Line: Could Madison Reed Be Right for You?
What to take away from the above information? After researching the ingredients Madison Reed swapped out for those removed from the Smart 6-Free formula, it's my opinion that their formula is less likely to irritate sensitive skin or emit harsh odors when compared with your standard box dyes that are available at the store.
If you're pregnant or nursing, I'd still recommend speaking with your doctor about the ingredients in Madison Reed's formula, instead of simply taking the company at their word.
What if you haven't shown a previous sensitivity to at-home dyes, but just don't want to risk touching supposedly toxic chemicals?
According to The National Cancer Institute, the jury is still out on whether or not each of the 5000 chemicals included in both US and EU hair dyes might cause an increase in your risk for cancer, but that risk is incredibly minute.
It's important for prospective consumers to have realistic expectations: Madison Reed is still providing a permanent hair color product, which requires a volume 20 developer and 6% peroxide to be defined as such.
Given all of the above, whether or not Madison Reed is worth trying depends greatly on your reason for switching hair color brands.
If you're dead-set against avoiding formulas with potentially damaging ingredients, you might want to consider sticking with glosses alone. These can be purchased at any beauty supply store and are temporary, but don't open up the hair cuticle.
If you want a gentle formula that offers gray coverage, Madison Reed appears to provide just that. Additionally, ongoing reports of their excellent customer service are so complimentary that there seems to be little to lose by giving this brand a shot.
» See Also: How to Go Gray Naturally or with Dyes: Comprehensive Expert Guide to Silver Hair
Hair loss

By Teneal A.

,

California

,

Jan 7, 2020
Verified Reviewer

I first used MR over 2 years ago. Over time I noticed my hair thinning and strands falling out more often than usual. I just thought since I was getting older it was normal. Then, a couple of weeks ago, I was going to a Christmas party so I thought I would dye my hair to cover my grays and look nice. My hair is falling out so much. My hair used to be so thick. I can see my scalp. When I run my fingers through my hair, it feels like there is barely anything there. It just keeps coming out. I've been saving the hair that has fallen out in the past week in a bag and the amount of hair is heartbreaking. I am devastated. My scalp is tingling and it's all I can think about. If I'm going to keep losing it until I am bald? I am 43 years old. I am going to the doctors to see if there is anything I can do. I do not recommend trying this hair color and taking that risk to ANYONE.

Bottom Line: No, I would not recommend this to a friend

---

HAIR LOSS!

By Elisa T.

,

St. Louis, MO

,

Dec 27, 2019
Verified Reviewer

This company is absurd! I used MR for an entire year before I realized that in the back of my head, my scalp was totally showing through! I can't believe it took me so long to notice that I was balding on top and in the back! I guess it was gradual and happened a little with every time I dyed it. Now I am unmistakably balding, which is so traumatizing. Because I've been growing my hair out, I quit going to the salon. So when I finally returned, in tears, my hairstylist said, "Oh wow. Oh man, I've never seen your scalp show through before." I've been taking biotin supplements for six weeks and see NO change at all. I'm devastated.

Bottom Line: No, I would not recommend this to a friend

---

Advertisement

---

3 out 3 people found this review helpful

Beware of using MR

By Kathy S.

,

Chicago, IL

,

Dec 17, 2019
Verified Reviewer

I used this brand for a few years. I really liked the color and the process. Some time after switching to MR I started losing clumps of hair.

I saw doctors, got medical tests, took supplements, saw more doctors, did hair treatments, etc. You name it, I did it. I continued to use MR hair dye and my hair continued to fall out. I had thick beautiful hair when I started MR, Now my hair is much less dense, and thin. It never occurred to me that this "safe" "nourishing" MR color was causing the damage. Until while doing some research, I found out what they substitute for the ammonia, which is ethanolamine, is very damaging and has been found to cause hair loss. I was shocked. I stopped using this dye as soon as I found out several months ago. I am so upset that a company that touts itself as being a safer, better alternative uses a chemical known to cause hair loss.

I would not wish hair loss on anyone. I have yet to see if it will be reversible. I strongly do not recommend this product.

Bottom Line: No, I would not recommend this to a friend

---

2 out 2 people found this review helpful

Disappointing, overpriced and no different than store-bought!

By Marcie A.

,

San Diego, CA

,

Nov 20, 2019
Verified Reviewer

Disappointing, overpriced and no different than store-bought!

I really dislike the time I spend on coloring my hair and wanted to find a product that would eliminate how often I needed to color. After hearing about Madison Reed's hair product and the claim that the color would last about six weeks, I was all in and I decided to give it a try. What a disappointment! The color lasted one week!

I decided to call customer service to share my experience and was told they would send another kit but to up the processing time to 55 minutes…which I did. No change, same results.

Bottom Line: Would I recommend this product to a friend…NO! Is it worth the money you spend for the product…NO! My only recommendation is, if you decide to try the product, keep your receipt!

Bottom Line: No, I would not recommend this to a friend

---

Advertisement

---

Great experience and great color

By Jody P.

,

West Brookfield, MA

,

Nov 15, 2019
Verified Reviewer

I am surprised about all of the negative comments. I've used Madison Reed hair color twice since the beginning of October and have had great results both times. The first time I did the all-over color and left it on for the 45 minutes as instructed due to hard to color grays, I couldn't believe how soft my hair was afterward and that softness along with the color lasted until my next coloring 5 weeks later. This time I just did my roots, let it stay on 40 minutes then pulled more color thru to the ends for the lady 5 minutes. Again, great results. I've been going to a salon every month for my hair color for well over 20 years, and this color meets and even exceeds my expectations. My hair has never been this soft and the gray coverage is spectacular. I would highly recommend this product.

Bottom Line: Yes, I would recommend this to a friend

---

3 out 3 people found this review helpful

Mislead

By Regina T.

,

Georgia

,

Oct 25, 2019
Verified Reviewer

I used Madison Reed after a friend swore it was all-natural and made her hair soft. I had some highlights I wanted to cover up. I used it, and almost immediately, my scalp started to burn worse than it ever has with traditional hair color. Also, it started washing off after one wash and the areas where my highlights were are almost a greenish tint. The worst part is that it ruined the ends of my hair. I have a haircut in a week, and I seriously don't even want to wait that long. I'll have to wear it up until then. I'm actually furious.

Bottom Line: No, I would not recommend this to a friend

---

2 out 2 people found this review helpful

Incredibly bad customer service

By Gloria H.

,

Texas

,

Oct 24, 2019
Verified Reviewer

I can't speak to the quality of their product because it arrived way too long after I ordered it, and I returned it because I had already had my hair colored by the time it arrived. But when I tried to find out what happened to my shipment, I had an incredibly difficult time with their non existent customer service. First I tried to call. Got to listen to "on hold" music for more than 20 minutes so I gave up. I called during normal business hours. I tried 3 more times and gave up. I tried their live chat option and got nothing. I sent an email and did not receive a reply for 2 days. That email was just a standard system generated reply. On the fifth phone call I finally reached a real person who told me there was nothing to be done until I returned the item. How can I return something I never received? Their hair color product might be the best in the world, but I will not buy from or support a company with such deplorable customer service.

Bottom Line: No, I would not recommend this to a friend

---

5 out 5 people found this review helpful

Split hair and no gray coverage

By Chloe B.

,

San Francisco, CA

,

Oct 3, 2019
Verified Reviewer

Don't use it. After one use the end of my hair turned white and split.

I had to cut off 2-3 inches of my hair to make the mess look decent again. Who wants bangs that are 2 inches long? What a mess. It burned my skin during the application and after one week the grey hair is back.

Bottom Line: No, I would not recommend this to a friend

---

5 out 5 people found this review helpful

Disappointing

By Jewel D.

,

Chicago, IL

,

Sep 17, 2019
Verified Reviewer

I'm very disappointed. I had high hopes for this process but it started out poorly and ended up not what I wanted. I have dark blonde hair, with 6-month-old balayage highlights that were medium to light blonde and had grown out halfway down my long hair. All of this was noted when ordering my product and in the follow up email from Madison Reed. I wanted a medium strawberry blonde, just a bit lighter and redder than my natural dishwater dark blonde color. Instead, Madison Reed advised me they were not going to send what I requested, and were sending a dark strawberry blonde they thought was a better fit for me. Well, all I have to look at is hair color on the internet so I thought I would give them the benefit of the doubt that the color would be lighter in my hair than my natural color and look good. Instead, what I got was the same dark blonde as my natural color, with some copper tones. It's not any lighter than natural and not what I was looking for. It's not shinier or improved in any way. In addition it did not fully cover the gray at my temples even though I colored those first and fully, which was the real impetus for moving from highlights to a full color. I wasted my money and can't see trying again after they botched this order.

Bottom Line: No, I would not recommend this to a friend

---

9 out 9 people found this review helpful

I also lost some hair

By Samantha R.

,

Bensalem, PA

,

Aug 23, 2019
Verified Reviewer

Garnier discontinued the hair color I have been using for over a decade and I have been on the hunt for a replacement. I thought I'd try Madison Reed because they said they were healthier for hair. I will say, that I enjoyed the packaging and the fact that my hair didn't smell too chemically the next day. But I found the color to be much farther from the example on the website. And afterward, I noticed an increase in how much hair was on my hands in the shower and my sink after styling. About a week later I noticed I could see much more of my scalp than I used to and started investigated what could have caused it. It seems, instead of ammonia, Madison Reed uses ethanolamine to help the dye attach to the hair. One of the side effects from this chemical is hair loss! I'm hoping it'll grow back, but I just used Madison Reed last month, so it'll be a few months before I know for sure.

It looks like I will continue to search for a replacement color elsewhere.

Bottom Line: No, I would not recommend this to a friend

---

6 out 6 people found this review helpful

Modena brown

By Chris R.

,

Florida

,

Aug 16, 2019
Verified Reviewer

I've been dying my hair for years and this is the worst box dye ever. I did the color consult and sent a photo. I discussed with them that I was worried this wouldn't be dark enough to cover my roots to match my already dark hair. I left it on 55 minutes to be safe. Well, not only was I right but it mostly never covered any grey. Total waste of money. When I contacted them neither phone or chat was available but they did respond by email asking for a photo and a few questions which I responded but they have done nothing since. So I'm stuck with light reddish mixed with my grey roots and my normal dark brown hair. Much worse than pre dye. Don't waste your money.

I bought at Ulta but still have my receipt to prove purchase.

Bottom Line: No, I would not recommend this to a friend

---