Madison Reed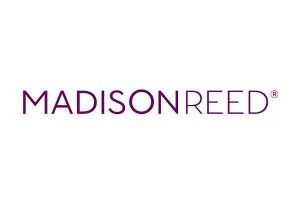 Summary
Madison Reed is a home hair dye brand that claims to give you a perfect shade without exposing you to damaging or dangerous chemicals. In this review, we analyze this brand and its key claims to help you make the right decision.
Pros
More than 50 shade options
It's possible to "test" shades online before buying
Transparent ingredients lists for each product
Subscription program available for convenient delivery
Cons
More expensive than similar ammonia-free brands
May still cause adverse sides effects
Some customers state the dye isn't true to color
Madison Reed Review: A Detailed Look
Madison Reed is an at-home, permanent hair dye brand that claims to give you beautiful, natural hair color without harsh chemical additives like ammonia, parabens, resorcinol, PPD, phthalates, and gluten.
Amy Errett founded this hair-dye company after she discovered that the European Union mandated stricter safety policies for home-hair dye than US companies and sought to bring a similar option to the United States.
Today, the company claims to put you and your hair health first by creating healthy, cruelty-free hair care products that leave your hair in better shape than possible with other dyes.
Does this home-hair dye company offer something different than other brands, and is it safe for your hair in the long run? Learn from our analysis whether you're really getting everything that the brand claims to offer.
Shopping Process
With their product line, Madison Reed home hair dye promises to deliver multi-dimensional color with complete gray coverage.
The company offers more than 50 shades, each of which is purportedly blended with multiple tones to create natural-looking hair coloring.
When you first get on Madison Reed's website, you'll answer a series of hair-related questions, including ones about your hair's thickness and natural texture.
You can also select up to two hair goals like "restore hydration," "reduce brassiness," "tame frizz," and more. Finally, you'll specify your skin tone, eye color, and whether your hair is currently dyed.
The next step is to select the closest match to your current hair color and specify how much hard-to-cover gray you have. You'll then share whether you are looking to lighten or darken your current hair color.
At the end of this quiz, Madison Reed will recommend a hair color for you. You can compare online pictures of the color and even upload your own to see how it would look on you. If it's not your favorite, you can virtually try similar shades to find a better fit.
How to Use Madison Reed Hair Dye
Using Madison Reed hair dye is similar to the dyeing process for any home coloring kit. If you recently chemically treated your hair, it's best to wait two weeks before coloring. Make sure also that it's been at least a full day since you shampooed it.
It's best to do a strand test first to figure out the right timing for your preferred shade. Take a quarter-inch section of underlying hair and tie it off with an elastic band.
Mix one part of the Radiant Cream Color with 1.5 parts Conditioning Color Activator and coat the whole strand. Check the coloring after 35 minutes, and wait longer, up to 45, for a deeper color that better covers any grays.
After you figure out your best timing, you can divide your hair into four sections, using clips to secure them. Color each part individually, using up to half a bottle of the Radiant Cream Color and Color Activator on your roots and combing it down to the ends.
Leave the dye in for as long as desired before washing out the product with the Color Protecting Shampoo and Conditioner.
Note that the Radiant Cream Color is a permanent formula that can stain surfaces and towels. Wipe away any spills immediately and make sure your shower water rinses clear before toweling off your hair. It's also best to avoid light-colored towels for the first few shampoos afterward.
Analysis of Ingredients
Each purchase of permanent hair dye from Madison Reed includes seven products. Below are the top five ingredients within each (excluding water).
Radiant Cream Color: stearyl alcohol, propylene glycol, ethanolamine, cetyl alcohol, ceteareth-25, cocamide mea.

Color Activator: Hydrogen Peroxide, Cetearyl Alcohol, Sodium Laureth Sulfate, Propylene Glycol, Dimethicone

Barrier Cream: Mineral Oil, Glycerin, Pvp, Peg-40 Hydrogenated Castor Oil, Stearic Acid

Cleansing Wipes: Isopropyl Alcohol, Glycerin, Polysorbate 20, Sodium Cocyl Glutamate, Sodium Lauryl Glutamate

Color-Protecting Shampoo: Sodium Lauroyl Methyl Isethionate, Cocamidopropyl Betaine, Sodium Cocoyl Isethionate, Disodium Cocoamphodiacetate, Aloe Barbadensis Leaf Juice

Color-Protecting Conditioner: Aloe Barbadensis Leaf Juice, Cetearyl Alcohol, Stearyl Alcohol, Polyquaternium-7, Behentrimonium Chloride

Pro Boost Seal: Distearoylethyl Dimonium Chloride, Parfum, Isopentyldiol, Cetearyl Alcohol, Sorbitol
What can we learn from these ingredients? To start, most act as moisturizers, emollients, agents to help hair accept hair dye, and as nourishing and restoration agents for post-treatment care.
Hydrogen Peroxide is Madison Reed's main ingredient for lightening hair. It works as a permanent dye to change the hair's cortex, which is the part responsible for its pigment.
This colorless chemical is considered safe for skin and hair, though it can lead to irritation if you get it near your eyes or breath any in. Likewise, using peroxide will damage your hair's cuticle, which can lead to breakage and split ends if you don't deep condition soon after.
What's also noteworthy are the ingredients that Madison Reed products don't contain. These include ammonia, PPD, resorcinol, parabens, phthalates, gluten, SLS, and titanium dioxide, which are common in other hair dye kits. This may benefit you in many ways.
First, ammonia is a common hair dye ingredient because it prepares each strand to accept new color pigment. However, it can cause irritation when making direct contact with your skin, especially on the scalp, and the dyeing process often produces ammonia vapors that can irritate your eyes, throat, and even cause breathing problems. It also damages each strand and leads to dryness and frizz.
Likewise, resorcinol is a common ingredient in hair dyes and acne medication because it can break up tough patches of skin and prep hair to accept hair dye. There's a serious concern that overexposure can negatively affect the nervous system and endocrine system. You're more likely to be at risk as a hairstylist than someone who dyes their hair every few weeks.
Possible Side Effects
Despite the company's claims of an all-natural formulation, there are several ingredients in Madison Reed products that are associated with adverse side effects. These include the following:
Propylene Glycol: This synthetic liquid absorbs water and is used in many industrial products, from deicing solutions to pharmaceutical products. According to the Agency for Toxic Substances & Disease Registry, some people experience skin irritation from using it.
Cocamide Mea: Derived from coconut oil, this chain of fatty acids is often added to cosmetic ingredients to boost foam and increase viscosity. Though there's little risk associated with using it on the skin at low concentrations, research from the International Journal of Toxicity found is can create a highly toxic vapor.
Cocamidopropyl Betaine: Common in cosmetics and personal hygiene products, this synthetic detergent was named the American Contact Dermatitis Society's Allergen of the Year in 2004 because of its ability to cause mild skin irritation.
Behentrimonium Chloride: used as a conditioning agent in hair care products, behentrimonium chloride is considered safe at concentrations between 1–5% but can cause skin irritation when used at higher concentrations or when left on the skin for a long time.
One notable ingredient that didn't make the top five is ethanolamine. Madison Reed uses it as a substitute for ammonia and states that it gives users "pleasant, predictable results".
However, research indicates that this ingredient (along with hydrogen peroxide) can damage hair more than ammonia and even lead to hair loss. This is a symptom many Madison Reed customers complained about.
Overall, with the exception of ethanolamine, none of these ingredients are very concerning for the average user. Unless you are using Madison Reed products in ways other than how they are designed, or you have extra sensitive skin, you should be able to use these products without risking any negative side effects.
Pricing
All Madison Reed permanent hair dye kits cost $26.50 for a one-time order, plus $6 shipping.
Along with your choice of hair dye, you can also purchase an optional professional color tool kit for $33, which includes the necessary supplies for a home dye job, including hair clips, a comb, mixing bowl, and a 4-oz color reviving gloss.
You can save money per batch by signing up for the company's auto-enrollment program. This brings the cost down to $22 per order, and you will receive a shampoo and conditioner welcome gift with the first delivery, valued at $39.
The default delivery period is every four weeks, but you can adjust to anything from every two to every eight. Note that you will still pay the $6 shipping costs per order.
You can cancel your subscription at any point without penalty through your online account.
The company also offers a 100% money-back guarantee. If you don't love your hair color, Madison Reed will connect you with a professional hairstylist for a consultation so you can figure out what to do next. If you still aren't happy, they will refund the cost of your first box.
You can return unopened products for a refund within 30-days of purchase by writing "return to sender" on the unopened package and sending it back through the mail.
For more guidance, contact customer service at (800) 463-3339.
Madison Reed vs. Popular Alternatives
For those seeking an ammonia-free at-home hair dye system, other options to consider besides Madison Reed include Naturtint and Garnier Olia. Here's how they compare to each other:
| | Madison Reed | Naturtint | Garnier Olia |
| --- | --- | --- | --- |
| Number of Shades | 50+ | 32 | 34 |
| Cost | $22–$26, plus $6 shipping | $12 | $9.99 |
| Active Ingredients | Ethanolamine, hydrogen peroxide | Oleic acid, hydrogen peroxide, ethanolamine | 60% oil blend, hydrogen peroxide, ethanolamine |
| Selling Points | Possible to sign up for subscription purchases so you never run low on dye | All shades can be mixed together for extra color personalization. | The hair dye uses a 60% oil blend to better nourish the hair before and after treatment |
| Aftercare Shampoo and Conditioner Included? | Yes | Yes | No |
This chart highlights a few facts. First, Madison Reed costs twice as much as many competing brands, though it contains similar active ingredients.
You get more shades to choose from with Madison Reed, but Naturtint permits you to blend shades together to get your perfect hue. Note: buying more than one dye kit will bring the cost closer to Madison Reed.
None of these brands shared specifics about how long you can expect the color to last in your hair. That depends more on your personal hair type and lifestyle factors – like how often you shampoo your hair – than the dye itself.
Choosing which brand is best for you might come down to how you like to shop. If you don't mind going to the drug store whenever you need more dye, Naturtint and Garnier Olia should be easy to find, and you won't have to pay for shipping. This also allows you to compare the colors in person rather than over a screen.
Madison Reed's subscription program, in contrast, will appeal to those who know exactly how often they need to treat their hair and want to automate the process.
Analysis of Customer Reviews
More than 30 HighYa readers have left reviews for Madison Reed, and these average 1.9 stars, with just 17% saying they would recommend the brand to a friend. You can also read over 20,000 reviews on Ulta, where this hair dye line averages four stars.
What are these reviewers really saying? Here's a summary of their comments:
Common Compliments:
Great, long-lasting hair color
Salon-quality results but at a lower price
Excellent grey hair coverage
Common Complaints:
Some users were left with an itchy scalp
Company has reduced product size
Some users experienced hair loss
Color didn't last long
Poor customer service experiences due to late shipments and long hold times
Hair dye wasn't true to color
The Bottom Line: Is Madison Reed Worth It?
Madison Reed promises its customers an all-natural at-home hair dye solution that will leave them with their dream color. Some seem to think it delivers on this goal, but many others were left unsatisfied with their hair's final result.
Overall, permanently dying your hair is an invasive process that's bound to have some unwanted consequences, regardless of your product formulation.
Madison Reed customers have complained about itchy skin, damaged hair, and even hair loss after a home treatment, which is also the most common hair dye critiques for formulas with ammonia.
So, while Madison Reed may be one way to get great hair color at home, we think it's misguided to think the company's formula will do much to protect your hair compared to traditional home kits.
As with all hair dyes, aftercare can be even more critical than the brand you pick. Make sure to treat your hair with a high-quality conditioner regularly to treat any damage and keep your hair looking healthy.
Customer Reviews
Posted on Nov 18, 2022
WARNING
Warning! Do not use their products or services! This is not only a dissatisfied customer, but someone who is losing her hair by the minute because of their product, lack of technique, and lack of accountability.
My hair used to be long and healthy until I went to their store to do my roots and someone there suggested a light application of balayage to cover some parts of my hair that have grown darker. They absolutely damaged my hair to the point of being irreparable.
Not only they ruined my hair, but their customer service is dismissive and sarcastic. They work out of their homes and are not allowed to supply their supervisor's contact or upper management. "Don't call us, we call you" type of thing. After 2 days of begging for someone to call me back, management calls me, listens to my complaint, and tells me they will call me back with a solution after a few minutes. Well, I am still waiting for their accountability, refund, and solution.
My hair is bleached and now it has a brassy/greenish color with a texture of straw. Every time I brush my hair I see my hair falling and I DO NOT (never did) suffer from hair loss. They will probably replay to this review with an automatic written apology saying "if you suffer from hair loss, please consult your doctor and please call us at some 800 number."
The CEO should be embarrassed about having a company that ruins people's hair instead of fixing them when the company's mission states helping women feel prettier and more confident. What a paradox this is, hum? I tried to avoid this review by expecting a solution when I tried to reach out to them, but honestly, my hair is beyond repair and I hope this review reaches as many people as possible so they don't have to go through what I am experiencing right now.
PLEASE, stay away from this company and their products!
Length of Use: Less than 3 months
Bottom Line: No, I would not recommend this to a friend
Pros and Cons
No "pros" were specified in this review
Horrible product
Horrible technique
No accountability
Posted on Aug 24, 2022
Hair loss like I have never seen before
After discovering this product during the lockdown, I decided to give it a try. Went to the color bar twice, then applied it myself at home twice. The first couple of applications went beautifully. The color was rich and had depth to it, easy to apply on my own. I was thrilled with the results.
Over the next couple of applications, though, my hair began to fall out noticeably, and shortly after, in actual clumps. Now there are bald patches (!) that I'm hoping will grow back.
My stylist who cuts my hair was very concerned, too, so I had some tests run to see if it was a medical condition. Nothing, very healthy. The only thing that had changed was my hair color product.
After researching and finding so many other women with the same awful results, I'm doing everything I can to get the word out NOT to use this product! No other hair color has ever caused this to happen. Madison Reed should list on their product packaging "WARNING: May cause noticeable hair loss." Absolutely mortified.
Length of Use: 6–12 months
Bottom Line: No, I would not recommend this to a friend
Pros and Cons
Before my hair starting falling out, I loved the beautiful rich color and ease of application
That it has caused my hair to fall out in clumps and left bald spots
Posted on May 3, 2022
Hair is destroyed
I've used Madison Reed for years. I was drawn to the advertising of no harsh chemicals. How hard could it be, my hair is darkest brown/ black. Pretty soon after using it though my hair began to fall out..a lot!
I went through all the tests from my doctor, changed my diet, eliminated gluten, began taking multivitamins, and added collagen to my morning coffee. But still, my hair kept falling out! How could it be this hair color that is supposed to be so safe and natural? I only used it in my roots, never on the ends, yet still...hair kept falling out!
Finally, with Covid subsiding, I went to the hairdresser. Lo and behold, just a few months after stopping using Madison reed, no more hair loss! Unfortunately, my locks are completely destroyed. I did the crime to my hair, now I'll have to do the time to grow it all back.
Such a shame, don't let this happen to you!
Length of Use: 6–12 months
Bottom Line: No, I would not recommend this to a friend
Pros and Cons
Color
Cost
Easy to use
Hair loss
Irritating
Color doesn't last
Posted on Feb 25, 2022
Hair loss and breakage
I had a great deal of hair loss and thinning after my first, and only, use of Madison Reed hair color. I followed the instructions to the letter since I have not colored my hair for years. During the rinse after the suggested wait time, my hair shed a great deal and continued for several days.
Length of Use: 3–6 months
Bottom Line: No, I would not recommend this to a friend
Pros and Cons
Perceived quality
Convenience, not worth the damage
Educational experience
Hair loss
Hair breakage
Stressful outcome
Posted on Jan 8, 2022
Madison Reed made me go bald, avoid!
I started using this during the pandemic to avoid salons. It was the worst decision I have made in my life. I have lost 80% of my hair, my only option is to wear a wig. I am a 37-year-old female who had thick hair down to her back. Please review trusted reviews on other websites. Google "Madison Reed causes hair loss", they've tried to cover it all up. They have replaced ammonia with another corrosive chemical. Do not believe the marketing jargon. Please avoid! It has ruined my life.
Length of Use: 6–12 months
Bottom Line: No, I would not recommend this to a friend
Pros and Cons
No "pros" were specified in this review
Include corrosive ammonia substitute
Hair fall
False advertisement
Posted on Dec 4, 2021
Hair loss
This is the second time I re-tried Madison Reed and have immediately experienced hair loss. Super sad. I tried it a year ago, had hair loss after two uses. I thought it was Covid stress. Just tried it again, super itchy, and again, started losing my hair.
Length of Use: 1–2 years
Bottom Line: No, I would not recommend this to a friend
Pros and Cons
Convenience
Hair loss
Posted on Sep 14, 2021
No one home
I scheduled a video color consultation with them. They offered Labor Day, and as I was anxious to get going, I set the date. I showed but they did not. There was no one to contact, no explanation, nothing. I complained in the chat on the website but was told it will be 3 days to expect a response. Meanwhile, I received "rate your experience" emails. I finally got an email acknowledging the missed appointment on the third day. No apology - just an opportunity to make another appointment. After many complaints on my part, I finally received an apology and a 10% off offer. But by then I was just too bloody mad.
Length of Use: Less than 3 months
Bottom Line: No, I would not recommend this to a friend
Pros and Cons
The color
The customer service was non responsive
Made an appointment but didn't keep it with no notice
No apology until I complained about not getting one
Posted on Aug 24, 2021
Do not use Madison Reed hair color, causes hair loss
Madison Reed hair color has Ethanolamine in it and causes significant hair loss. Look it up. Myself and a multitude of other women complained that it caused significant hair loss.
Length of Use: 1–2 years
Bottom Line: No, I would not recommend this to a friend
Pros and Cons
No "pros" were specified in this review
Major hair loss, has Ethanolamine instead of ammonia and damages your hair and causes hair loss loss
Posted on Jan 15, 2021
Horrible color and cannot reach their colorists.
Dark mahogany color even though I bought and used a 7.5NNA light brown. Have left messages and attempted to talk to a colorist for 3 days. At this point, I just want my money back and to save people from this inferior product. Their promise of support and satisfaction is a lie!
Length of Use: Less than 3 months
Bottom Line: No, I would not recommend this to a friend
Pros and Cons
At home product
Horrible color
No colorist support
No money back
Posted on Dec 21, 2020
Perfect at first and then...
I LOVED everything about Madison Reed the first time I used it - perfect color and coverage over my grays, no smell, no burn, and shiny soft hair. So what happened? Four weeks later, I used this product again to cover my gray roots and pulled the color through and everything 4 inches past my roots were almost black! I called the colorist who advised that I should not pull the color through each time as your ends will become porous. What?! I've colored my hair every 4 weeks for 15 years. And nothing could get rid of how dark my hair was - prime for perfection, clarifying shampoo, my stylist, even highlighting. I thought this product was my answer but I'm afraid to ever use it again.
Length of Use: Less than 3 months
Bottom Line: No, I would not recommend this to a friend
Pros and Cons
How healthy my hair felt
No smell
No burn
Ends were too dark
Posted on Nov 26, 2020
Loved it first 2 times, significant hair loss on 3rd time
I loved it the first two times - easy to use, great directions, and nice color and grey coverage. I would have given 4-5 stars based on that experience.
However, on the 3rd use, I had a burning sensation and significant hair loss on my right temple. I wish I could continue using this, but I can't take the risk.
Length of Use: 3–6 months
Bottom Line: No, I would not recommend this to a friend
Pros and Cons
Easy to use
Good coverage
Significant hair loss
Our Promise to You
In order to safeguard you and ensure helpfulness and relevance, our compliance team manually assess every customer review before it goes live.
We have a zero-tolerance policy for fake reviews, and companies cannot control or alter any reviews at any time.