eSalon Reviews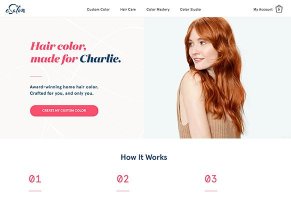 In business since 2010, eSalon is an award-winning service that delivers custom-formulated hair dye kits, crafted by professionals, directly to your door.
About eSalon
eSalon is a made-for-you hair dye kit that combines the experience and expertise of a trip to the salon into a bespoke color blend. Professional colorists craft your hair kit and then send it to your door, at your convenience, and in the comfort of your home.
If we take a look at the story behind the brand, eSalon says that achieving vibrant, long-lasting color with professional results at home can be made possible through individualized customization, along with step-by-step instructions. They claim that they have created over 150,000 unique formulations and have shipped over 6 million orders.
Voted "Best Home Hair Color" by Allure, and reviewed by reputable magazines such as Allure, Refinery 29, The Oprah Magazine, and InStyle. According to The Good Housekeeping Magazine, they state:
"eSalon is a great option if you want the customization you get from working with a hairdresser and the convenience and savings of doing it yourself at home."
Could this hair-dye kit be the ultimate foolproof, at-home, DIY that many individuals are looking to find? How does it compare to a conventional store-bought hair-dye kit, and does it provide salon-quality results? Let's get a better idea by looking into the process of how eSalon works.
Getting Started With eSalon – The Consultation
The first step is to set up your profile, which you can do directly on the eSalon website. You begin by filling out a questionnaire, giving them the necessary information, such as your hair length/texture, your skin tone, your percentage of gray hair, and any previous hair coloring you may have had. You also need to give them an up-to-date photo of yourself.
With the information provided, one of their extensive licensed colorists will review your profile, and then create the perfect color blend to match your unique need – the same way a colorist would do it for you in a salon. After your personalized color is prepared, it gets sent straight to your door.
So, what can you expect to receive inside the kit? We'll tell you about it in the next part of our review.
Inside the eSalon Color Kit
Since the company began back in 2010, they've evolved and expanded their brand. Believing in bringing the salon experience together with the convenience of coloring hair at home, they've taken personalization a step further. Customizing every order down to the bottle itself, by labeling it with your formula ID, your name, and the date it was made.
In each Custom Color Set you'll receive:
Your custom hair color
Developer and two pairs of non-latex gloves
A stain remover and stain guard
Tint Brush for professional application
Shampoo and conditioner Packettes
Your personalized set of instructions
Access to a personal colorist
Coming Soon to eSalon
Soon to come is their Light Set collection, a line inspired by a French technique called "balayage," mimicking the way hair lightens with the sun, giving you that "sun swept" look. A single application can lighten hair up to three shades and ranges from black to blonde depending on how light you would like to go.
The Light Lab collection is ideal to use on color-treated hair, virgin or highlighted. However, they make specific mention that it is not suitable for use on hair that has been highlighted, all-over bleached, permed, relaxed, chemically straightened, or colored with henna.
Inside the Light Set you'll receive:
Lightener and custom-selected Activator
Highlight Shampoo and toning mask
Two pairs of Non-Latex Gloves and Tint Brush
Sectioning Comb and Mixing Tray
Personalized Instructions
Access to a personal colorist
Does eSalon Only Make Hair-Dye Kits?
eSalon isn't just about hair color kits. A collection of hair care products, professional hair-dye accessories, hair styling products, and even brow care is also available for single purchase, or to add to a monthly auto-ship plan.
Through their website, you'll also be able to browse online through videos, tutorials, and articles giving you expert tips on how to color like a pro, hair care maintenance, and advice on how to choose the right color.
An important aspect for many people is the ingredients in a product. Will it ruin my hair? Are there any ingredients that can improve hair health? We'll outline some of the key ones below.
The Key Ingredients in eSalon's Hair-Dye
eSalon claims their product delivers vibrant color, with long-lasting results, along with 100% gray coverage, and that expert colorists have developed and formulated the hair dyes using professional-grade pigments.
Some of the key ingredients include:
Keratin: A natural protein that gives hair strength and flexibility, and is also what makes up most of your hair.
Silk Amino Acids: Silk amino acids bond with the keratin in your hair forming a protective barrier on the strands. Improves hair elasticity, conditions and provides resilience and shine.
Wheat Protein: Replenishes and strengthens the hair while increasing hair volume.
Aloe Vera: Adds shine and improves manageability.
Provitamin B5 : A provitamin used in hair care to help stimulate hair growth, and rebuild hair that has been damaged by exposure to the sun, blow-drying, and ironing.
So, by now you know the process of getting started with eSalon. You know what comes in your personalized kits, and are aware of some of the key ingredients. The question you may be asking is how much does it cost?
How the eSalon Pricing Plan Works and Why They Recommend a Plan
If you're new to eSalon, you can try your first Custom Color Set order for just $10 and the soon to come Light Set Highlights for $14. After your first order a single shipment of custom hair color will cost $25, and a single set of highlights $35.
They recommend setting up a plan so customers can receive a 20% discount on every order. With a plan, you can add your custom hair color set along with any other hair care items and accessories you may need. All orders over $30 come with free shipping.
You create the frequency of your auto-ship, how few or how many items you'd like to receive, and you're free to add, skip, or cancel any item in your plan.
In addition to eSalon's bespoke hair care, if you live within the vicinity of their studio and are a first-time client, you can learn from the masters themselves by booking a color session and lesson with a professional colorist.
For $50, you'll get to sit down with your colorist to discuss your hair history and create a custom blend. Then, the colorist will wash and style your hair and teach you how to apply it at home like a pro.
Classes are held at this address, on the following days:
1910 E Maple Ave
El Segundo, CA
Hours of Operation
Tuesday and Wednesday 7 am - 2:30 pm
Thursday 9 am - 5 pm
Friday and Saturday 7 am - 2:30 pm
What Sets eSalon Apart from a Store-Bought Hair-Kit
If you're a fan of DIY hair coloring, you may be familiar with box kits that you can purchase at most convenience stores, and are curious to know what eSalon can provide for you that a store-bought kit can't.
One of the main attractions we can see from our research is that unlike a store-bought kit where you have the choice of a "buffet" style of hair colors, eSalon takes you" A La Carte," so to speak. Each part of the process is pretty unique and provides you with personalized hair coloring at home, which is put together just for you by a professional hair colorist.
To take it a step further, if your initial batch of dye wasn't precisely what you were looking for, they could tweak it, even more, to provide you with the exact results you want.
In addition to that, your unique recipe is recorded in your profile, the same way a salon would keep a record of your previous hair colorings. You'll also have the option to change the color whenever you feel like mixing things up a bit.
Is eSalon Right for You, and Does It Offer Professional Results?
With currently over 38,841 ratings and 23,456 reviews on the company's website, eSalon has an overall rating of 4.3 out of 5. They were also ranked #7 on Internet Retailer's Hot 100 list, and won Allure Best of Beauty Award for the fourth year in a row for Best Home Color. Choosing whether or not to try them comes down to personal choice and your capability of DIY.
Even with all of this professional and consumer praise, it's important to keep in mind that applying color to your hair is a messy business and takes patience and sometimes trial and error to get it just right. Going to a salon is a safer option to doing it yourself, as they take responsibility in providing you with the color that you chose on a color stub advertised on their color chart. However, it is not uncommon to experience a less than professional coloring, even at the salon.
In our opinion, if you currently dye your hair yourself and are used to closely following instructions, then trying out eSalon could allow you to continue with at-home coloring. It will still eliminate the cost of a trip to the salon, however, with the bonus of having access to a hair colorist.
If we compare the average cost to see a hair colorist in a salon, ranging between $80 - $100, and a box of hair dye at a local grocery store costing anywhere between $8 - $20, your custom set of hair color from eSalon will only cost you $25 – plus a 20% discount, which is a considerable saving.
From our research, eSalon is currently the only company that offers a unique product - the cost savings of a box kit do-it-yourself hair dye, together with the support of your own, personal, hair colorist. So, if you're looking for something exactly like them, they're your only option.
But if you're new to coloring your hair and are near their El Segundo, CA storefront, we'd recommend paying a bit extra for the one-on-one session with a professional, which could help ensure the best results possible.
Horrible!

By Julia H.

,

100 Mile House, British Columbia, Canada

,

Feb 29, 2020
Verified Reviewer

The color wasn't the right one the first time. You couldn't even notice I had colored it! They sent me a new one. Again. No red. Nothing. Left my hair extremely oily and gunky. Washed it 3 times and still. Horrible product. How do you guys sleep at night knowing you are scamming people?

Bottom Line: No, I would not recommend this to a friend

---

Scammers

By Katherine R.

,

Kalamazoo, MI

,

Sep 9, 2019
Verified Reviewer

I was not happy with the gray coverage - color washed out quickly.

I canceled my subscription. Today, I see that they have charged my bank account and are shipping another order. Can't do anything today because it is Labor Day. Will be contacting the fraud department of my bank first thing in the morning.

Buyer beware!

Bottom Line: No, I would not recommend this to a friend

---

Advertisement

---

Left disappointed

By Eva H.

,

Texas

,

Sep 4, 2019
Verified Reviewer

I ordered this with high hopes. Chose my color, uploaded pictures, contacted the colorist and specified that I desperately wanted this to not end up looking like a typical box dye. I very much wanted a natural color that would liven my brown hair to an Auburn coppery brown color. I expedited my order, very excited, and still waited a week and a half before I received notification that my package was about to ship. My colorist assured me that my color would not be too red and would turn out natural. After getting the tracking info, my package shipped pretty quickly, but that is thanks to USPS. When I got my color, the printed chart of color amounts seemed as though it hadn't been tweaked from the base color I picked to begin with. I almost wanted to send it back. "Customizable" seemed like all they had done was slap one of their pre-prepared dyes with a custom-printed sticker. Even so, I did a strand test and waited a couple of days to see if it looked okay. Against my natural color, I figured it looked alright and went through with the rest. Now my hair is a deep plum red and incredibly dry and fried. When I brush it, bits break off left and right. I have deep conditioned twice and it still feels very dry and tangled. Although they offer the option to redo the color if you aren't happy, I still have not heard anything from my "colorist" after reaching out. I guess they have their money now and I don't matter. I should have bitten the bullet and gone to a real salon. I feel scammed.

Bottom Line: No, I would not recommend this to a friend

---

Limited color options and bad customer service

By Victoria W.

,

Illinois

,

Aug 8, 2019
Verified Reviewer

After placing my order, I got an email saying that my desired hair color couldn't be achieved with their lighteners. No big deal. They refunded my order and cancelled my subscription. I went to a salon and got my hair colored there.

Except, this month, I was charged for another kit. I went to the website and cancelled the subscription (an overly-complicated process that tries to get you to click on the wrong thing throughout). I also tried to send an email asking for the second order to be cancelled and refunded. That email was forwarded back to me with no response. It seems like their customer service program isn't set up right or something.

Hopefully, they'll actually refund the autoship order that had supposedly been cancelled. The situation seems misleading at best and scam-y at worst.

Bottom Line: No, I would not recommend this to a friend

---

Advertisement

---

Absolutely horrible!

By Meaghan C.

,

Franklin, TN

,

Aug 8, 2019
Verified Reviewer

This stuff is a nightmare disaster! It has stained my wall, my wood floors, my sink, my counter, and my face, ears, and neck! The smell is horrific. Hard to even be in a room with it! And worst of all I needed a medium/dark brown, I got jet black! I colored my hair before a very important meeting and now having to reschedule! The color remover stuff does not work! This is horrible, I mean horrible! So many things in my house ruined and my hair! Would be cheaper to go to the most expensive salon!

Bottom Line: No, I would not recommend this to a friend

---

Wish I had read reviews before I tried.

By Jennifer P.

,

Illinois

,

May 28, 2019
Verified Reviewer

Omgosh...This oily, thick gunk in my hair. I washed it three times today. Will rinse again before bed. It's absolutely disgusting. I am so mad, sad, disappointed, disgusted and embarrassed that I was taken in by this company.

Bottom Line: No, I would not recommend this to a friend

---

No thanks.

By Miriam D.

,

Iowa

,

May 18, 2019
Verified Reviewer

I was very hopeful with this company. It sounded like everything I could ever want for an at home color. Ohh boyyy. The packaging and everything was cute! Directions were clear and direct. I LOVE how the color turned out...but oh my gosh. There is this heavy residue that I CANNOT wash out!? While I was rinsing out the color from my hair, my hair felt almost rubber like. When I tried to blow dry it, it felt like there was just a giant glob of Vaseline in my hair. It's been two days and still I haven't been able to get rid of it all. I don't think I'll be ordering again, which is a bummer. I really did like the color.

Bottom Line: No, I would not recommend this to a friend

---

Great color but must tweak

By Courtney J.

,

Atlanta, GA

,

Mar 27, 2019
Verified Reviewer

Don't expect it to be perfect the first time, but I love this color. I have had no oil slick experience and I now have a beautiful copper dark blonde. Looks exactly like my colorist does my hair. Gorgeous color, a little drying, but I may need to go to a volume 15.

Bottom Line: Yes, I would recommend this to a friend

---

Do not buy this

By Julie L.

,

Colorado

,

Mar 21, 2019
Verified Reviewer

The hair color I purchased was supposed to be brown. I had highlights previously and told my "stylist" (the person who made my personalized color) what I wanted and sent pictures of my hair. My roots are gray, which is why I dye my hair. The color looked like a greenish-brown baby poop and mine was so fried I had to cut it off. My hairstylist laughed at me for thinking this would be ok. Do not buy this product. It also did not cover my gray.

Bottom Line: No, I would not recommend this to a friend

---

Totally dissatisfied

By Laura S.

,

Florida

,

Mar 16, 2019
Verified Reviewer

On my third purchase of a custom color set, I wanted to change from dark amber to more of the popular mulled wine color. What I have now is a washed out ugly brunette color. The shampoo after thorough rinsing did not lather at all and after the conditioner, my hair was left a mushy oily mess. The morning after coloring my hair I had to wash my hair twice to try to get it back to somewhat normal texture. I have photos, before and after. I wish I could post them here. I have turned off my orders, I won't risk the health of my hair any longer.

Bottom Line: No, I would not recommend this to a friend

---

Terrible product

I made it pretty clear that I wanted a light ash brown. What I ended up with is light brown with A LOT of red in it. Ash brown should not have any red in it at all.

Also, others have said that it left their hair feeling waxy or oily, but I found that it left it feeling way too dry. Even drier than the boxed color you'd get at a store.

Unfortunately, I'm going to go to a salon to get the correct color. I was hoping to avoid that, which is why I tried eSalon, but I kinda feel like it's a scam. They even sent the wrong instructions and I had to ask for the correct version of them.

Use at your own risk.

Bottom Line: No, I would not recommend this to a friend

---