Prose Hair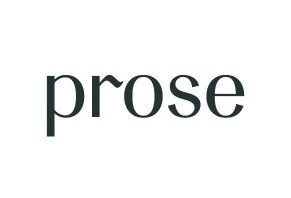 Summary
Prose is a hair care company that sells customized cleaning and styling products based on your current hair health and long-term goals. Many users love their personalized formulas, but others find them overpriced for minimal benefits.
Pros
It's possible to tweak your formula over time
Can purchase as many or few recommended products as desired
The in-depth quiz takes hair goals and even geography into account
Cons
More expensive than other hair products
Hard to learn precisely what ingredients are in your formula
Formulas don't seem to work for everyone
Prose Hair Review: A Detailed Look
Prose is a customized hair care brand that lets you order shampoo, conditioner, and other products that are tailored to your specific hair care needs.
The company claims to take into consideration factors like your natural hair type, lifestyle, styling habits, and even geography to create formulas that will give you the best results possible. If you don't love your first formula, you can tweak the next batch to better match your preferences.
Are Prose's promises just a gimmick, or is it worth the price for the brand's custom hair products? Our analysis will help you make a decision.
How Does Prose Custom Hair Care Work?
The first step towards ordering prose is taking the company's hair care questionnaire. Once you verify your email, you'll answer about 25 questions related to your age, hair habits, natural texture, whether your hair is naturally fine or thick, whether you deal with an oily or flaky scalp, and whether you have recently undergone chemical styling.
There are also questions related to other factors that could affect your hair, including your diet stress levels, environmental exposure, and how much you exercise. Finally, you can specify whether you want your formula to be vegan, gluten-free, or silicone-free and what your overall hair goals are.
The last step is choosing your preferred fragrance from seven options. Alternatively, you can choose to go fragrance-free.
At the end of the quiz, you'll get a consultation result analysis that ranks your hair characteristics based on five factors. Here were my results:
Sensitivity: 85/100 Your scalp could use some soothing
Sebum: 70/100 Oil levels need to be rebalanced
Flakes: 85/100 The scalp needs some soothing and rebalancing
Dryness: 65/100 Your strands could use a hydration boost
Damage: 54/100 Each strand could benefit from some nutritive ingredients
Next, you'll get an overview of some of the ingredients in your custom formula.
My recommended ingredients included vegetable oil (conditioning agent), professional polymer (curl defining), jujube bark extract (scalp cleansing), plant collagen (fiber repair), bamboo charcoal (scalp detox), kombucha tea and yacon root (scalp root), argan, sacha yushi and jojoba oils (nourishing), and locust and soybeans, and corn starch (volumizing).
Note that this overview won't include every ingredient within each treatment.
Finally, you'll reach the point of purchasing decisions. The company will offer you a range of products, which may include any combination of the following:
Pre-Shampoo Hair Mask: 8.5-oz, $38 (subscribe and save for $32.50)
Pre-shampoo Scalp Mask: 8.5-oz, $38 (subscribe and save for $32.50)
Dry Shampoo: 1.4-oz, $25 (subscribe and save for $21.25)
Shampoo: 8.5-oz, $25 (subscribe and save for $21.25)
Conditioner: 8.5-oz, $25 (subscribe and save for $21.25)
Hair Oil: 1.7-oz, $48 (subscribe and save for $40.8)
Curl Cream: 5.1-oz, $25 (subscribe and save for $21.25)
Leave-in Conditioner: 5.1-oz, $25 (subscribe and save for $21.25)
The company also sells four styles of hair brushes designed for different hair types. Each costs $72.
To qualify for the subscribe and save benefits of 15% off your order, you'll need to commit to receiving a new prose order every one to three months. You can cancel this subscription plan at any time through your online account.
Prose products will arrive in an apothecary-style plastic bottle with your name on the label.
All orders will come with a leaflet of your full ingredients list and application instructions. You can request an update to these ingredients at any point through the "Your Consultation" tab on the company website.
Each order will also include a pump to connect to your bottle. It's possible to reuse the same pumps for multiple bottles and opt-out of receiving new ones when you order.
A Closer Look at Prose Hair Ingredients
What's contained within your Prose hair products clearly depends on your survey answers, but a complete list of potential Prose hair ingredients can be found here.
The company has rated each ingredient by safety level, and only a small percentage seem to qualify as "moderate safety." We didn't notice any ingredients that qualified as "low safety," the highest risk warning.
Some of the ingredients that qualified as moderate risk include the following:
Benzyl Alcohol: Functions as a fragrance agent in cosmetics, may cause itching and irritation in some people.

Behentrimonium Chloride: Acts as a disinfectant, is often added to condition hair and fight static. It can cause skin irritation at high concentrations.

Cetrimonium Chloride: This topical antiseptic agent is common in hair care products. Again, some people find that it irritates their skin.

PEG-55 Propylene Glycol Oleate: Derived from fatty acids found in coconuts, this ingredient is often used in hair care formulas. Some people find that it irritates their eyes.

PEG-7 Dimethicone: This water-disposable silicone is a common hair conditioning agent. It might be slightly toxic if you ingest it.

PEG-8: Commonly used in cosmetic products as an emulsifying agent, PEG 8 raises concern for potentially containing impurities like ethylene oxide that could increase incidences of uterine or breast cancer.

Potassium Sorbate: Often found in both food and personal care products, potassium sorbate acts as a preservative. Those with sensitive skin often find it irritating.
Overall, these ingredients don't seem to have much cause for concern. Most are known only as mild skin irritants, and the compound associated with the worst side effects, PEG-8, is only a problem if it accidentally contains impurities.
Regardless of your chosen formula, the company claims to it will be free of parabens, mineral oils, dyes, sulfates, GMOs, phthalates, and methylisothiazolinone (MIT).
All customers have the option to request that their formula be vegan, gluten-free, or silicone-free, though omitting these ingredients may affect the success of your overall hair results.
Satisfaction Guarantee and Refund Policy
All Prose formulas are mixed to order, which means that the company doesn't offer samples. However, all purchases are backed by a 60-day satisfaction guarantee.
If you are unhappy with a pre-shampoo mask, shampoo, or conditioner, you can either request a reformulation or a full refund. Neither the hair oil nor the dry shampoo has a formula that can be adjusted, so they can only be returned and refunded.
Note that Prose recommends you try your products at least 5-7 times before deciding whether they work so that you give your hair and scalp time to adjust to the new formulas.
You can start the formula adjustment process or request a refund by contacting the company at hello@prose.com. You'll receive a prepaid shipping label for returning your purchase.
Analysis of Customer Reviews
More than 90 Prose customers have left reviews of the brand on Influenster, and they average 4.4 stars. Here's a closer look at some of the most common comments.
Common Compliments:
Shampoo lets people wash their hair less often without it looking greasy
Improved users hair after several months of use
Detailed hair quiz
Easy ordering process
Light, pleasant scents
Common Complaints:
Short-lived positive effects for hair before it reverted to how it was before
Difficult to learn what's inside each formulation online
Too expensive for regular use
Prose Hair vs. Function of Beauty
When it comes to customized hair care, a direct competitor to Prose is Function of Beauty.
Like Prose, the company relies on a personalized hair profile to formulate products meant to help you achieve your hair goals. You'll share your natural hair texture and select up to five hair goals from a list including options like "deep condition," "strengthen," "color protection," and more.
This quiz isn't as in-depth as Prose's, as it doesn't ask for information about your geographic location or whether you are chemically treating your hair in any way.
One difference in the final product is that Function of Beauty lets you choose both the color and the size of your custom shampoo and conditioner. Likewise, Function of Beauty offers a more limited product range that includes only shampoo, conditioner, a leave-in treatment, hair mask, and hair serum.
Pricewise, expect to pay $40 for an 8-oz set of shampoo and conditioner or $30 for each individually. A similar set would be $50 from Prose, though only $25 per individual product. One thing that's nice about Function of Beauty is that you can customize the size of each product in your order, if, for instance, you wanted a bottle of conditioner that was twice as big as your shampoo.
Overall, both of these brands claim to prioritize natural ingredients and long-lasting results. Some reviewers aren't huge fans of Function of Beauty, as they awarded the company only two stars out of five due to expensive products and poor overall results.
The Bottom Line: Is Prose Hair Worth It?
Prose offers a unique way to purchase personalized hair care products. The company impressed us with its in-depth questionnaire and willingness to work with customers until they are happy with the final result.
However, you'll still be spending about $25 per 8-ounce bottle of product, which is far more than many haircare brands, and the company only offers discounts if you sign up for a subscription.
Customer reviews indicate that lots of Prose shoppers love adding this product line to their hair routine, but others thought it under-delivered and was more hype than substance.
This brand is a safe choice to experiment with if you're looking for something new from a hair perspective. It's especially nice that the company offers the option for fragrance-free formulas for those who don't love strong scents. Maybe just don't commit to a subscription until you know whether you like your formula.
Customer Reviews
Posted on Aug 18, 2021
Pricey AND not what I expected.
I really wanted to like this stuff. But I'm actually kind of disappointed. I color my hair, and it's a bit on the dry side due to the climate. I also tend to get a bit of frizz. Prose made it sound like their product could fix it.
With all the hype, I expected this to be better than my Paul Mitchell. Ummm...no. First off, it literally made my hair a shade darker. Not good. Also, I have wavy hair. This stuff made it unruly and curly. I normally let my hair air dry - no blower. I'm going to have to style it now. I also noticed that after it dried, it felt different. Not bad, but not quite good, either. The only way that I can describe it is it feels a bit dry on the outside, but kind of soft underneath it. Yeah, I know, that makes no sense. It's a bit odd.
Finally, I *still* have frizz.
Back to Paul Mitchell?
Length of Use: Less than 3 months
Bottom Line: No, I would not recommend this to a friend
Pros and Cons
Nice smell
Easy to rinse out
Doesn't take much to wash and condition hair
Hair feels odd
Darkened my color
Expensive
Our Promise to You
In order to safeguard you and ensure helpfulness and relevance, our compliance team manually assess every customer review before it goes live.
We have a zero-tolerance policy for fake reviews, and companies cannot control or alter any reviews at any time.