Function of Beauty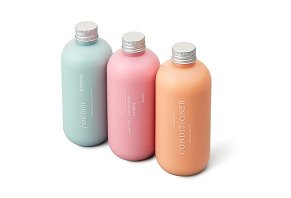 Function of Beauty formulates custom haircare products made from healthy ingredients to help you address your personal hair care needs.
Function of Beauty Review: Is It Worth It?
Shopping the haircare aisle of any drugstore, the number of choices quickly grows overwhelming. How can you decide which products will address your unique haircare needs, and what should you do when nothing seems to offer everything you're seeking?
Function of Beauty claims to solve this problem. This hair care company sends you customized hair products based on your personal goals.
You can select for specialized ingredients designed to address your biggest concerns, and then choose your preferred product type, sizing, fragrance, and even color.
The company claims that they offer more than 54 trillion possible formulations so that you can get the perfect hair care routine for you. Each product is guaranteed to be cruelty-free, 100% vegan, sulfate-free, and paraben-free.
Does this mean Function of Beauty makes sense for your hair care needs? Learn from our analysis whether the company is worth considering.
In-depth questionnaire lets you fully customize your products
All-natural ingredients in most cases
You can control exactly what products you purchase
Available both as a subscription and one-time purchase
Many of the ingredients show more effectiveness for hair health when taken as supplements rather than applied topically
Some users experienced a painful scalp, hair loss, and other negative symptoms
No returns due to the custom nature of the products
How Function of Beauty Works: Details and Pricing
The first part of signing up for Function of Beauty products is to fill out a hair profile. You'll share where your hair falls from straight to kinky-curly, whether it is fine or coarse, and whether you tend to have a dry or oily scalp. You can then select up to five hair goals.
The company will indicate which ingredients are being added to your formula based on your goals. Here's an example of my hair goals and the corresponding ingredients added to my formula:
Strengthen: horsetail extract and evening primrose oil
Lengthen: pea sprout extract and blue-green algae extract
Curl Definition: chia seed extract and linseed extract
Soothe Scalp: menthol and aloe vera
Oil Control: vitamin E and rosemary leaf extract
You can also select whether you want your formulas to be silicone-free.
Next, you'll customize your formula by choosing your preferred fragrance and how strong it is, choosing a name to be displayed on the side of your bottle, and selecting colors for both the shampoo and the conditioner.
You'll then choose what size combos of shampoo and conditioner you want. Options include:
16oz shampoo, 16 oz conditioner: $49
8oz shampoo, 8oz conditioner: $39
8oz shampoo, 16oz conditioner or 16oz shampoo, 8oz conditioner: $43
16oz shampoo/conditioner: $36
8oz shampoo/conditioner: $29
You can also add custom hair treatments to your order that will be offered to you based on your hair priorities. These include an 8oz leave-in treatment, 7.5oz hair mask, and a 3oz hair serum (each available for $19). If you purchase a subscription, this add-on will be included with each order unless you change that in settings.
Finally, you'll choose your delivery frequency. A one-time order will include $5 for shipping. Free shipping is available for deliveries that are monthly, every three months, and every six months.
It's possible to change up your formula's key ingredients, coloring, or fragrance between orders. Subscription members also gain access to perks like limited-edition color and fragrance options.
Every order will come with a pump disassembled in the box for easy product dispersal. You can also choose to reuse your pump from one delivery to another and decline to receive a new one through your order confirmation page.
Once your order is submitted, expect to receive your custom formula within 7–9 business days from the time you place it. International orders may take longer.
Function of Beauty Return and Refund Policy
As all Function of Beauty formulas are customized for every order, the company doesn't accept returns or approve refunds after your order has been processed. Any further formula changes or cancelations you make after processing will affect the next delivery.
If you need to get in touch with Function of Beauty customer service, do so through the company contact page.
Analysis of Ingredients
Function of Beauty claims to use nourishing, all-natural ingredients within every formulation. The specific ingredients will vary based on your chosen formula, but to give you a sense of what to expect, here's an analysis of the ingredients within my personalized formula:
Horsetail extract: Often taken as a supplement, horsetail extract is high in silica, a compound responsible for strengthening hair strands, promoting growth, and preventing hair loss. You can also apply it directly to your hair. Though a common ingredient in hair growth products, there is insufficient evidence that it provides any significant benefit.

Evening primrose oil: Also called the night willow herb, evening primrose oil is a common health supplement and is used to balance hormones and slow down hair loss. While the research on its effectiveness is limited, one study from the Annals of Dermatology found that arachidonic acid, a compound it contains, plays a role in promoting hair growth.

Pea sprout extract: Considered a great source of protein and essential vitamins and minerals, pea sprout extract is added to hair care products to strengthen hair follicles and keep them in the growth stage of development.

Blue-green algae extract: This water-based plant source contains lots of proteins and vitamins known to benefit the hair and skin. It's often added to hair care products for its antioxidant content and moisturizing effects, but there's minimal scientific evidence to prove any effectiveness.

Chia seed extract: Chia seeds have more omega-3 fatty acids than fish, which makes them a healthy dietary addition. When the seeds are mixed with water, they develop a sticky, mucous-like coating that's often added to hair gel for extra curl definition.

Linseed extract: As another name for flaxseeds, linseed extract is often added to hair care products for its high protein and omega-3 fatty acid content. There are a few animal studies that show the effectiveness of taking flaxseed supplements for hair growth, but these results haven't yet been replicated with humans or with a topical treatment.

Menthol: As a member of the mint family, menthol is often added to hair care products for its cooling, scalp-stimulating effects. A 2014 study with mice found that peppermint (menthol) essential oil could help hair grow thicker and faster without adverse side effects.

Aloe vera: Though often used in skincare products, aloe vera is often added to hair products to promote hair growth and relieve an itchy scalp.

Vitamin E: Known for its antioxidant properties, vitamin e helps your body avoid damage from free radicals. Preliminary research shows that supplements of the vitamin might improve hair growth for people suffering from hair loss.

Rosemary leaf extract: This common herbal extract works like menthol extract to improve circulation, stimulate hair growth, and potentially prevent an itchy scalp. One 2015 study found that the extract was just as effective as minoxidil (the main ingredient in Rogaine) for slowing hair loss.
Key Takeaways:
Many of the ingredients included in this version of Function of Beauty products show scientific evidence for delivering the benefits that the company claims they will.
However, a large number of available studies on these ingredients involved taking them in supplement form, rather than topically.
Likewise, your personalized product formulation is likely to be different, and those ingredients may be more or less effective for your specific needs.
Analysis of Customer Reviews
There are more than 40 reviews for Function of Beauty here at HighYa, averaging two stars overall. Trustpilot reviewers are more positive, as the average rating for Function of Beauty is 4.2 stars after close to 1,500 reviews. Here's what we can learn from these reviewers:
Common Compliments:
Great customer service experiences
Solved many user's hair problems like frizzy, greasy hair and scalp issues
Concentrated formulas are a good value
Common Complaints:
Slow delivery times
Color and fragrances not as ordered
Products caused an itchy scalp and dry, brittle hair for some
Led to hair loss
Difficult to cancel subscriptions
Function of Beauty vs. Prose Custom Hair Care
For those looking for a personalized hair care product brand, a comparable brand to Function of Beauty is Prose.
Like Function of Beauty, Prose lets you take a short quiz about your hair health, which includes questions about your age, hair texture, length, thickness, and oil level, as well as the condition of your scalp and whether you have recently chemically treated your hair.
You'll also be able to choose your preferred fragrance blend or go fragrance-free.
Unlike Function of Beauty, Prose assesses your location's impact on your hair in regards to your exposure to UV rays, pollution, hard water, humidity, and wind. For example, I learned that my West MI location is exposing me to high humidity and hard water.
The quiz also puts less emphasis on your hair goals and focuses instead on how your hair is now.
At the end of this quiz, Prose will display eight ingredients it suggests for your personalized blend and then gives you the option to purchase products that contain them. Each 8.5-oz shampoo and conditioner is $25 ($22.50 if you sign up for a recurring subscription) and other products, like a 5.1-oz curl cream, 1.7oz hair oil, and 8.5-oz pre-shampoo mask are also available at varying price points.
As with Function of Beauty, you have complete choice over what products you receive and how frequently the subscription deliveries are, but you can't change the size of the products in each order. This could be an irritation for anyone who wants to receive more shampoo or conditioner.
The final product for both brands will also look different. Your Function of Beauty order will be brightly colored (if desired) and come with a custom name. Prose, in contrast, doesn't let you customize the name or color of the final product. However, both brands prioritize natural ingredients and reward longterm customers by offering discounts on the subscription level.
The Bottom Line
Function of Beauty offers a unique solution to the confusion of choosing the right hair products with customizable formulas tailored to your preferences.
Customer reviews are mixed on how well the company delivers on these claims, as many were left disappointed in their personalized formulation and didn't think it was worth what they paid for it.
Function of Beauty ingredients can vary considerably based on your formula specifications. However, our research shows that many show clinical evidence of improving hair health, though many might be more effective in the supplement form than when taken topically.
We think Function of Beauty makes sense if you're struggling with hair problems that traditional products haven't been able to solve. Consider signing up for a smaller size as a one-time purchase for your first delivery so that you aren't left with lots of products you don't plan to use if you end up not loving your blend.
---
Excellent product

By Jess C.

,

Papillion, NE

,

Oct 12, 2020
Verified Reviewer

Length of Use: Less than 3 months

Overall Experience:

I am reading reviews on how people have been having their hair fall out and all this nonsense. I've always had clumps of hair falling out and noticed that when I was using store-bought shampoo and conditioner (Dove) that it was getting worse. I used to have value, extremely wavy, really thick hair that was bright. When using Dove it had become thin, dull, and practically straight. Two months ago I purchased Function of Beauty Shampoo and Conditioner which arrived over a month ago. In that small amount of time have noticed that my hair doesn't fall out as much, it doesn't cause my scalp to be too greasy or dry (which is very really hard to do, hydrating shampoos will make my hair a greasy mess, while others dry it out to the point that I would have extreme dandruff). That is not the case with Function of Beauty Shampoo and Conditioner. My hair has started to regain its color and thickness as well since my hair isn't falling out in fistfuls anymore. It honestly made me cry to have my hair back to the vibrant, wavy mess that it used to be before it started falling out.

Pros and Cons:

Gave me a product that really worked wonders on my hair
The amount you pay for the product to the time you have to wait for it is a little much

Bottom Line: Yes, I would recommend this to a friend

---

Amazing product

By Teresa B.

,

Houston, TX

,

May 27, 2020
Verified Reviewer

Overall Experience:

This shampoo and conditioner helped my hair to be so healthy and grow so much in 90 days. I couldn't be happier with a product. It was well worth the money. So much so, I bought a set for my mom.

Bottom Line: Yes, I would recommend this to a friend

---

Face allergy

By Francisca D.

,

Lisbon, Portugal

,

May 27, 2020
Verified Reviewer

Overall Experience:

I ordered a shampoo and conditioner pack and it actually arrived on time, that was the only positive thing...After two weeks of using these products, I started getting face allergies on my skin and they wouldn't go away! I started using a face wash that I bought in the pharmacy and it was doing absolutely nothing. I stopped using it for 2 days and the redness on my face just started disappearing. Then I started using it again and all the allergies came back right after using it. I used it for almost a month and my hair was just the same as it was when I used other products, it didn't get any worse, but it didn't get any better either.

Bottom Line: No, I would not recommend this to a friend

---

NOT starting out good

By Jennifer B.

,

Baton Rouge, LA

,

Mar 5, 2020
Verified Reviewer

Overall Experience:

Decided to order the custom products due to spending the same or more at Sally's Beauty Supply...well, estimated delivery was 3 days ago and tracking gives no help by saying in route to next facility. AND somehow the color and fragrance were different from what I originally selected! If I could cancel now and get a refund today I WOULD! Sad that I can get "custom" groceries delivered within 2 hours but can't get the custom hair products within an acceptable amount of time...yet to be scared to use the products when they get here due to everyone's reviews here of hair loss! Anyone know the RETURN policy? Website won't let one cancel anything until products have been delivered...whenever that is! Lol, what a joke.

Bottom Line: No, I would not recommend this to a friend

---

Advertisement

---

Shampoo/Conditioner does not work

By Sherry W.

,

Ickesburg, PA

,

Feb 29, 2020
Verified Reviewer

Overall Experience:

I thought I would try something new for my hair. I received the product, tried it several times, and my scalp broke out and became very itchy, plus my hair became dry and brittle. I cannot use this product because of an allergic reaction. I've called and emailed Function of Beauty and have not received any return call and/or email from them. I did not receive any packing slip within the box I received. I'm beginning to think this is a total scam. I will be contacting my credit card company to file a complaint or file a complaint with the BBB.

Bottom Line: No, I would not recommend this to a friend

---

Worst product ever, can't even deliver the basic function of a shampoo/conditioner, much less a "personalized" one.

By Sharlynn O.

,

Singapore

,

Dec 28, 2019
Verified Reviewer

Overall Experience:

I made an order on the 12th of October 2019 and only received the product on the 8th of November 2019 - but didn't use it until last week because I still had my current shampoo and conditioner to finish up.

I was looking forward so much to using FOB's products after reading about how highly-raved they were, but it was such a huge disappointment that my shampoo and conditioner worked the exact opposite of what was expected. I've only done two washes using the shampoo and conditioner and on top of making my hair drier and frizzier than before, my hair has been falling out a lot more than usual - not just after washing but as I go about my day as well.

When it falls out, it's just clumps of hair that's everywhere and it's heartbreaking. I've been taking extra care of my hair over the past few years and to have just these products that cost almost $100++ and have my hair condition depleted so badly in just 2 washes is just beyond me. I was looking forward to this so much because of the branding and strong reviews, but I've soon realized that a lot of other people have been reviewing that like me, their hair has been falling out a lot more than usual on top of having the products completely deplete their hair condition too. This is such a huge disappointment because I'm no longer eligible for the refund policy anymore, but I obviously can no longer continue using these products because of the incomprehensible damage done to my hair.

I would really appreciate it if your company can look into your products more carefully and give me a refund of what I ordered because it just does not even serve the basic purpose of being a "personalized haircare shampoo/conditioner" to suit our individualized needs. This is such a huge disappointment and I'm so upset at what it has done to my hair. I would give this a thousand zero stars if I could - please don't give your hard-earned money to this company ever.

Bottom Line: No, I would not recommend this to a friend

---

They don't deserve ANY stars

By Deborah S.

,

Illinois

,

Dec 24, 2019
Verified Reviewer

Overall Experience:

If I could give one star, I would, they do not deserve more. This place is a SCAM! Do not use it if you value your hard-earned money or expect to get a product you have paid for. They will happily send your first order right away and give the impression that they are a good and honest company. But they aren't. My second order was supposed to be here over a week ago and it has, obviously, not arrived. In trying to get answers as to why it isn't I have been told in no uncertain terms that they are not responsible for getting you anything you pay for and that was after days of no response. Customer service with this company is a joke at best, and an insidious means to defraud customers at worst. You can't contact them through their website, well, you CAN but you won't get a response from any means, email or their web form, and their phone number is a damn fax machine! The ONLY way you can contact them if via their Facebook page, and if you dare even mention anything to the effect that you never got your order where is it or you want your money back, you get blocked and they laugh all the way to the bank. They have not been helpful, they have been condescending, insulting, and they have outright lied! I still have no shampoo or conditioner and my money is also gone! And there is no reason to believe I will get either any time soon. Complaints have had to be filed with PayPal to hopefully get my money back from a company who has no intention of honoring the customer/vendor agreement and getting my order to me, and with USPS for mail fraud! You have all been warned about this shady, dishonest company that defrauds its customers.

Bottom Line: No, I would not recommend this to a friend

---

Lost 2/3 of my hair in 2 washes!

By Natalie S.

,

London, Ontario, Canada

,

Dec 4, 2019
Verified Reviewer

Overall Experience:

It used to take me 2 hours to dry and straighten my hair. Now, it takes 10 minutes to dry and 20 to straighten (if I'm being very detailed). I don't even want to straighten my hair anymore because it's so thin that it doesn't look like I have any! I have literally used the shampoo twice (the first time I was disappointed but I gave it another shot) and the conditioner once. The second time I used it, I was running my fingers through my hair and it started to fall out in CHUNKS! I clogged the drain in about 1 minute of trying to rinse my hair.

DO NOT BUY THIS PRODUCT! I have no idea how long it is going to take to have my hair grow back. I literally went from a big fist full of hair (as if you were gathering it to put it in a ponytail) to it being only the thickness of my thumb! Ridiculous!

Bottom Line: No, I would not recommend this to a friend

---

Disappointing

By Jojo W.

,

Singapore

,

Oct 10, 2019
Verified Reviewer

Overall Experience:

I ordered my Function of Beauty via Instagram. First wash was great because I love the smell! But then I also noticed there's more hair fall than usual. But I persevered because this isn't cheap and I can't be giving up so soon! After 5 days, I noticed my hair getting drier and drier and I stopped using it. I stupidly decided to order the leave-in conditioner. When it arrived, I used it 3 times and realized it does nothing for my hair. My hair wasn't more hydrated or softer. It was disappointing. I have since canceled my subscription and will not order from them again.

Bottom Line: No, I would not recommend this to a friend

---

Cancellation of subscription a joke

By Rebekah W.

,

Victoria, Australia

,

Sep 17, 2019
Verified Reviewer

Overall Experience:

Any website that requires at least a 4-page style cancellation of subscription procedure, whereby resorting to pop-ups, offers, breaks, delays, etc. has totally lost my respect.

Canceled out of principle. Product be damned.

Bottom Line: No, I would not recommend this to a friend

---

Overall Experience:

I used this for a few months when my hair started falling out in huge handfuls every single time I showered...it was extreme and I'm praying it stops soon. Many report this happening.

Bottom Line: No, I would not recommend this to a friend

---