Function of Beauty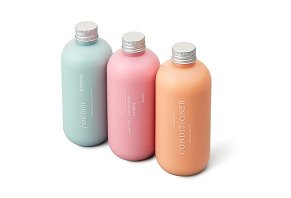 With proprietary algorithms and two by MIT engineers, Function of Beauty promises completely custom shampoo and conditioner to meet your hair's every need.
Function of Beauty Review: Is It Worth It?
Function of Beauty offers hair-conscious customers the opportunity to order fully customized shampoo and conditioner sets based on your hair's texture and up to five needs. Plus, you can even customize the color and scent.
The idea of personalizing shampoo and conditioner that addresses multiple concerns was started by two MIT grads, Zahir Dossa and Joshua Maciejewski, as well as Cosmetic Chemist Hien Nguyen.
Zahir Dossa, co-founder and CEO, states that the idea for Function of Beauty was inspired by a lack of variety in the shampoo aisle. "Most products will cater to either a hair type or a specific goal," says Dossa. "Very few cater to multiple goals."
The company claims that, by using their hair profile, there are 12 billion possible combinations of formula components. Yours are decided using the information you provide, which is then processed within Function of Beauty's proprietary algorithms to create a product set that's as unique as your hair.
While Function of Beauty formulas promise to differ greatly depending on the personal information that you enter, everyone shares several things in common. Each shampoo and conditioner they create are:
Sulfate-free
Cruelty-free
Paraben-free
Toxin-free
Made in the USA
Interested in creating a custom shampoo and conditioner? Here's how:
How to Customize Your Function of Beauty Shampoo and Conditioner
The idea of shampoo and conditioner that's tailored to suit your hair's needs is certainly interesting. But, how does it work?
Not to worry—Function of Beauty doesn't have you researching chemical compounds. Instead, the customization process starts by filling out a hair profile.
Step #1: The first steps include selecting between the following:
Your hair type, from straight, wavy, curly, coily.
Your hair structure, from fine, medium, coarse.
Your scalp moisture, from dry, normal, oily.
Step #2: Function of Beauty asks that you pick five hair goals out of the following: deep condition, replenish hair, fix split ends, strengthen, hydrate, lengthen, volumize, color protection, thermal protection, anti-aging, anti-frizz, curl definition, shine, straighten, nourish roots, soothe scalp, and oil control.
Step #3: Here, you can customize the look and smell of your formulas. Select separate shades for your shampoo and conditioner, choosing between blue, pink, orange, teal, and purple.
Then, choose a fragrance (both shampoo and conditioner will have the same scent), between cucumber mint, grapefruit hibiscus, sandalwood violet, and a minty blend of essential oils.
You can also select your fragrance strength, then choose which name is displayed on the bottles.
How Much Do Function of Beauty Custom Shampoo and Conditioner Cost?
In the final step, you select which size bottles you'd like to order. It's here that Function of Beauty offers a rarely seen convenience: You can choose mismatched size shampoo and conditioner bottles, which is wonderful for anyone who always goes through the two products at a different pace.
Here's the rundown on sizes and costs:
8 oz Shampoo & 8 oz Conditioner: $32
16 oz Shampoo & 16 oz Conditioner: $42
8 oz Shampoo & 16 oz Conditioner: $38
16 oz Shampoo & 8 oz Conditioner: $38
16 oz Shampoo: $26
16 oz Conditioner: $26
Every Function of Beauty order offers free shipping and free returns. The only other variable is state tax, which applies to NY and PA residents only.
However, note that there's a difference between "free returns" and "money back"—the free returns alludes to Function of Beauty's happy hair guarantee, which states:
"We believe in your happiness and satisfaction above anything else. If you're not completely satisfied with your set, we'll reformulate it so that it's as perfect as you."
It's important to understand the parameters of Function of Beauty's satisfaction guarantee: You can return your shampoo and conditioner for any reason and receive a reformulation. However, you're not able to return the product for a refund.
What Customers Are Saying About Function of Beauty
To find out whether Function of Beauty products were perceived as perfectly tailored by customers, we headed to Google and the company's Facebook page in search of reviews.
A review at The Most Happy states that she was thrilled with the oil control offered by her custom shampoo and conditioner, and that it allowed her to go up to 3 three days in between washes.
Hello Giggles reported an overwhelmingly positive review along with a nice touch: That Function of Beauty's packaging "includes a print-out of your hair profile and a recommended personalized hair care regimen to ensure the products are as effective as possible (for example, some people may benefit most from daily shampooing, while others might benefit from way less)."
Awareness of Function of Beauty has recently exploded, which has meant a mass of orders—and a few customers say that their shipments have been later than expected.
However, reviews also mention that the company notified each customer with a personal email from the CEO, as well as issued credits for late delivery.
Even despite the late deliveries, reviewers on Function of Beauty's Facebook page state that they couldn't be happier with their products—or the company's customer service.
Some Final Thoughts Regarding Function of Beauty
Overall, reviews of the actual products are positive, with multiple reviews commenting that the formulations addressed not just one, but their own specific combination of hair woes.
For example, one reviewer with oily-but-damaged hair said that her dry ends looked and felt incredibly soft, but the top, more the oil-prone section didn't appear greasy or weighed-down.
While overall reviews of Function of Beauty are positive, my experience writing about cosmetics and beauty products for HighYa left me with a few concerns:
For example, while filling out the hair profile I noticed that some questions, such as hair type, are pretty straightforward. However, others, such as your scalp moisture, are less so, since my research shows that your scalp can become more oily if your shampoo is too drying, or if you've recently started using hot tools.
The risk of user error isn't huge—consumers buy their own shampoos and conditioners all the time. However, with the mindset of hoping to get the most value out of ordering custom shampoo and conditioner, I was left wanting for more detailed descriptions to help make my selections.
So, I was relieved to come across one review that stated it the customer had a positive experience reaching out to Function of Beauty with questions about how to select options that were best for them.
Bottom Line: Function of Beauty Appears to Aim for High Customer Satisfaction
Considering the overwhelmingly positive reviews and reports of attentive customer service, we think it's safe to say that consumers who are interested in customizing their hair products might be very pleased with this brand.
However, we think it's important not to shoot from the hip when it comes to selecting your hair type and goals—to really get a good value (and experience), don't hesitate to reach out and ask.
Speaking of cost, while the price definitely isn't cheap when compared to your typical drugstore brand shampoo (these shampoo and conditioner sets go for about $40), it's absolutely comparable to other luxury and salon-level brands—plus, shipping is free.
Another perk of Function of Beauty customized products is that you can tweak your formula based on the season, if strands have been subjected to a new chemical process, or received a dramatic cut.
Bottom line: If you decide to shop this brand, reviews lead us to believe that you'll be pleased with the results.
Just don't rest on your laurels and stick to the same formula! Instead, commit to getting every last drop of value out of each order by asking questions and tweaking your formula to fit your hair's changing needs.
10 out 10 people found this review helpful

Worst product ever, can't even deliver the basic function of a shampoo/conditioner, much less a "personalized" one.

By Sharlynn O.

,

Singapore

,

Dec 28, 2019
Verified Reviewer

I made an order on the 12th of October 2019 and only received the product on the 8th of November 2019 - but didn't use it until last week because I still had my current shampoo and conditioner to finish up.

I was looking forward so much to using FOB's products after reading about how highly-raved they were, but it was such a huge disappointment that my shampoo and conditioner worked the exact opposite of what was expected. I've only done two washes using the shampoo and conditioner and on top of making my hair drier and frizzier than before, my hair has been falling out a lot more than usual - not just after washing but as I go about my day as well.

When it falls out, it's just clumps of hair that's everywhere and it's heartbreaking. I've been taking extra care of my hair over the past few years and to have just these products that cost almost $100++ and have my hair condition depleted so badly in just 2 washes is just beyond me. I was looking forward to this so much because of the branding and strong reviews, but I've soon realized that a lot of other people have been reviewing that like me, their hair has been falling out a lot more than usual on top of having the products completely deplete their hair condition too. This is such a huge disappointment because I'm no longer eligible for the refund policy anymore, but I obviously can no longer continue using these products because of the incomprehensible damage done to my hair.

I would really appreciate it if your company can look into your products more carefully and give me a refund of what I ordered because it just does not even serve the basic purpose of being a "personalized haircare shampoo/conditioner" to suit our individualized needs. This is such a huge disappointment and I'm so upset at what it has done to my hair. I would give this a thousand zero stars if I could - please don't give your hard-earned money to this company ever.

Bottom Line: No, I would not recommend this to a friend

---

7 out 7 people found this review helpful

They don't deserve ANY stars

By Deborah S.

,

Illinois

,

Dec 24, 2019
Verified Reviewer

If I could give one star, I would, they do not deserve more. This place is a SCAM! Do not use it if you value your hard-earned money or expect to get a product you have paid for. They will happily send your first order right away and give the impression that they are a good and honest company. But they aren't. My second order was supposed to be here over a week ago and it has, obviously, not arrived. In trying to get answers as to why it isn't I have been told in no uncertain terms that they are not responsible for getting you anything you pay for and that was after days of no response. Customer service with this company is a joke at best, and an insidious means to defraud customers at worst. You can't contact them through their website, well, you CAN but you won't get a response from any means, email or their web form, and their phone number is a damn fax machine! The ONLY way you can contact them if via their Facebook page, and if you dare even mention anything to the effect that you never got your order where is it or you want your money back, you get blocked and they laugh all the way to the bank. They have not been helpful, they have been condescending, insulting, and they have outright lied! I still have no shampoo or conditioner and my money is also gone! And there is no reason to believe I will get either any time soon. Complaints have had to be filed with PayPal to hopefully get my money back from a company who has no intention of honoring the customer/vendor agreement and getting my order to me, and with USPS for mail fraud! You have all been warned about this shady, dishonest company that defrauds its customers.

Bottom Line: No, I would not recommend this to a friend

---

7 out 7 people found this review helpful

Lost 2/3 of my hair in 2 washes!

By Natalie S.

,

London, Ontario, Canada

,

Dec 4, 2019
Verified Reviewer

It used to take me 2 hours to dry and straighten my hair. Now, it takes 10 minutes to dry and 20 to straighten (if I'm being very detailed). I don't even want to straighten my hair anymore because it's so thin that it doesn't look like I have any! I have literally used the shampoo twice (the first time I was disappointed but I gave it another shot) and the conditioner once. The second time I used it, I was running my fingers through my hair and it started to fall out in CHUNKS! I clogged the drain in about 1 minute of trying to rinse my hair.

DO NOT BUY THIS PRODUCT! I have no idea how long it is going to take to have my hair grow back. I literally went from a big fist full of hair (as if you were gathering it to put it in a ponytail) to it being only the thickness of my thumb! Ridiculous!

Bottom Line: No, I would not recommend this to a friend

---

12 out 12 people found this review helpful

Disappointing

By Jojo W.

,

Singapore

,

Oct 10, 2019
Verified Reviewer

I ordered my Function of Beauty via Instagram. First wash was great because I love the smell! But then I also noticed there's more hair fall than usual. But I persevered because this isn't cheap and I can't be giving up so soon! After 5 days, I noticed my hair getting drier and drier and I stopped using it. I stupidly decided to order the leave-in conditioner. When it arrived, I used it 3 times and realized it does nothing for my hair. My hair wasn't more hydrated or softer. It was disappointing. I have since canceled my subscription and will not order from them again.

Bottom Line: No, I would not recommend this to a friend

---

Advertisement

---

11 out 13 people found this review helpful

Cancellation of subscription a joke

By Rebekah W.

,

Victoria, Australia

,

Sep 17, 2019
Verified Reviewer

Any website that requires at least a 4-page style cancellation of subscription procedure, whereby resorting to pop-ups, offers, breaks, delays, etc. has totally lost my respect.

Canceled out of principle. Product be damned.

Bottom Line: No, I would not recommend this to a friend

---

15 out 16 people found this review helpful

My hair all fell out!

I used this for a few months when my hair started falling out in huge handfuls every single time I showered...it was extreme and I'm praying it stops soon. Many report this happening.

Bottom Line: No, I would not recommend this to a friend

---

11 out 11 people found this review helpful

Nope

By Christina K.

,

Kelowna, British Columbia, Canada

,

Aug 6, 2019
Verified Reviewer

I have lots of hair but it's thin, knots lots, and I can't use anything that's heavy on my hair because it greases within a day and gets heavy, that's exactly what Function of Beauty has done for me.

I have had my product within 2-3 months. They have a 30-day return, which in my opinion is not long enough to truly see how a product works.

So my review of the product is it's not worth the money!

Bottom Line: No, I would not recommend this to a friend

---

11 out 11 people found this review helpful

Worst product I've ever bought

By Karen F.

,

Middlesbrough, England

,

Aug 5, 2019
Verified Reviewer

I ordered this product last week and have used it twice and my hair is awful, gone, very dry. The profile I submitted was for it to deep condition/hydrate/reduce brassiness/shine/color protection. I was expecting a high-end product for the price and read reviews but if you look further into the reviews there are a lot of unsatisfied customers out there. I don't rate this product at all, very disappointed and a waste of money, and nowhere have I found a refund policy (probably because they say it's personalized), but if this company stands 100% behind their product they should give refunds if customers are not happy with their product. I was so disappointed with this product, would not recommend at all, had to give one star because wouldn't be able to post review.

Bottom Line: No, I would not recommend this to a friend

---

10 out 13 people found this review helpful

I'm devastated - my hair is 1/4-1/3 of my hair gone

By Heather B.

,

Toronto, Ontario, Canada

,

Jul 29, 2019
Verified Reviewer

I fell prey to the endless Instagram ads for this product. I have long, thick hair, and though I also have other stuff going on in my life (iron, and other vitamin deficiencies, as well as a high-stress job), I believe it is this shampoo that has caused my drastic and marked (noticeable) hair loss. My hair has been coming out not just in strands, but CHUNKS in the shower, and I am constantly pulling my hair strands off of my clothing and arms and picking them out of my sheets. Now, my long, thick hair is thin, scraggly, and awful. I'm embarrassed and devastated. For the record, I would include the order number for this review, but it was never included in any of my email correspondence with them.

Bottom Line: No, I would not recommend this to a friend

---

14 out 16 people found this review helpful

I feel conned

By Loleini F.

,

Brisbane, Queensland, Australia

,

Jul 11, 2019
Verified Reviewer

An ad for this company popped up on my Instagram feed and I contemplated whether or not to get this for two whole months, I watched YouTube reviews and they all raved about how great it is, but when I finally ordered mine it was nothing as amazing as everyone raves.

For one of my hair goals, I chose anti-frizz because it's always a problem I have with my curly waves, yet the only thing this product seems to be doing is making my hair frizzier as well as drier. Adding other products like leave-in condition only makes the frizz worse.

Sure, the custom colors and scents are great and it's aesthetically pleasing but it's like any other cheap formula shampoo and conditioner only more expensive.

Bottom Line: No, I would not recommend this to a friend

---

12 out 14 people found this review helpful

Function of Beauty, my results from this product

By Dee F.

,

Dallas, TX

,

Jun 26, 2019
Verified Reviewer

I started using this product back in February 2019. I love the colors, the scent, the consistency and how you can take the quiz and it's tailored to your results BUT...I noticed a few weeks ago my hair has been falling out. I have super long hair and very thick hair and my stylist even noticed. She said, "What are you doing differently?" This is what's changed. I changed hair products. I read some other reviews and I'm not the only one this is happening to. I should have requested the ingredients but I didn't so I quit using it. My scalp was even getting itchy every time I used it. It's taken me a good month to get my hair back to normal but I'm sad that this has happened and wish they would change their ingredients but for now I'm going back to my old products.

Bottom Line: No, I would not recommend this to a friend

---