Voloom Reviews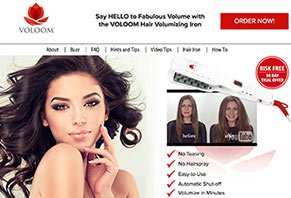 Described as a "waffle crimper," Voloom is a heated styling device that uses a unique ceramic plate design to create pockets that provide natural volume.
About Voloom
Using its patented plates with beveled platforms, Voloom is a new hair volumizing iron that creates "pockets" to lift and support the hair above. In turn, the manufacturer claims this will create lush, full, natural-looking volume in minutes, without hairspray, heavy gels, or potentially damaging teasing.
Unlike a lot of other heated hair tools though, Voloom is only applied to the section of hair near the scalp, where most of your natural oils are located. According to the company, this, combined with the fact that Voloom's ceramic coated plates only touch your hair for a second, means that you're much less likely to cause heat damage.
Whether you have thin hair that needs an extra boost, or are just looking for some creative new ways to explore your individual style, is Voloom worth the price? Is there anything that compares? Keep reading so you can make a more informed decision.
What Features Will You Find with Voloom? How Does It Work?
Although there's no mention what Voloom's body is constructed from, the manufacturer claims it features a sleek pearlized finish, a digital LED display for precise heat control, a built-in PTC heater for fast heat up, and an automatic safety shutoff after 30 minutes. Like most other styling tools in this genre, Voloom also claims to feature ionic technology to protect hair.
How to Use Voloom
Voloom might look like a standard flat iron at first glance, but upon closer inspection, you'll notice that both of its plates have a checkered appearance; one square is raised, while the other is indented. Sort of like a space age waffle iron.
When these heated plates are applied to the under layers of your hair, the company claims they create "volumizing structure – or "volume pockets" – that lift the top layers up and away from the scalp." All you have to do is clamp and release the device two or three times down the hair shaft (e.g. eye or cheekbone level).
Basically, Voloom works a lot like a traditional crimping iron, just in a different pattern. Also, any volumizing you do with Voloom will be hidden under your smooth top layer of hair, so no patterns will be visible like they would with crimping.
As we alluded to in the previous section, Voloom's manufacturer claims it's healthier for your hair than your normal routine. Why? Because:
It's applied close to the scalp where oils can naturally protect against heat damage
It's never pulled through the hair
It provides volume without using hairspray or heavy gel
Its ionic technology can help "seal the hair cuticle and protect it from damage"
The company even claims that Voloom is an anti-aging miracle, because it "takes years off your appearance by lifting hair up and away from your scalp and face"!
Is any of this true? Let's break it all down in the next section.
A Closer Look at Voloom's Claims
Based on our experience reviewing dozens of similar hair products, we have a few thoughts we think are worth mentioning.
Are Voloom's Features Unique?
As far as Voloom's exterior features (pearlized finish, LED display, PTC heater, automatic safety shutoff, etc.): These are considered must-haves for any heated hair device, so you'll find nearly all of these from the competition.
Pro tip: While ionic technology is also found it just about every heated styling tool, it only works when your hair is wet. On the other hand, Voloom should only be used when your hair is dry, which means these ions probably won't do much good.
Is Voloom Damage-Free?
Speaking of which, it's true that the natural oils from your scalp tend to cover nearby hair, which can help prevent heat damage. However, if you're using too high of a heat setting or applying heat for too long, you'll damage your hair just as easily with Voloom as any other heated styling tool.
To avoid this, the company recommends:
Fine, damaged, or chemically treated hair: 320-350°F
Normal hair, medium, healthy hair: 350-370°F
Thick, coarse or curly hair: 370-390°F
Can You Throw Out All That Product?
It might be tempting to believe that a hairstyling tool like Voloom could work so well that you'd be able to toss out all those hairsprays and gels. Sure, this might be the case while you're styling your hair, but if you want to maintain your newfound volume for long (especially if you live in a humid climate), you're almost certainly going to need some product.
Will Voloom Help You Look Younger?
Will "lifting hair up and away from your scalp and face" really make you look younger? If styled appropriately, it certainly makes sense. Just keep in mind that a 5¢ ponytail holder might work just as well as Voloom to help you look "younger"—in fact, since it can lift your skin as it pulls, it might work even better.
How Much Does Voloom Cost?
Voloom comes with 2 different payment options:
Three payments of $43.33, plus $9.99 S&H, or
One single payment of $129.99, plus free shipping
Regardless of which option you choose, each order includes 3 free gifts:
Travel pouch
Sectioning brush
3 Grip Clips
All Volooms come with a 30-day refund policy, less S&H charges. In order to be eligible, you'll need the "original package and include all the products in the kit, including the printed materials." You'll also receive a 1-year warranty.
Need to request a refund or process a warranty claim? Customer service can be reached at (800) 906-9203.
Is Voloom Getting Good Customer Reviews?
Voloom is clearly a popular product, as it's received a lot of online feedback from customers—most of it positive.
On Amazon, Voloom had an average rating of 4.4 stars at the time of our research, based on 962 customer reviews. Most customers complimented its ease of use, high quality, and the fullness it provides. One reviewer even called it a "game changer" for women with thin hair.
On the other hand, the few complaints seemed to reference that it stopped working quickly, created a bit of a mess under the top layer in order to add volume, and burned/damaged hair, even when used on the lowest setting.
The company behind Voloom, Oomph Innovations, is rated A+ with the Better Business Bureau.
Is Voloom the Right Hair Iron for You?
Based on the fact that it's been available since 2014 and has garnered hundreds of online reviews (much of it positive), it's clear to see that Voloom is a legitimate product that many customers seem pleased with. Does this mean it's right for you?
Just like any other hair styling product, what works perfectly for you might be a total flop for someone else. Even if you have the same hair type and style, personal preferences can play a major factor in your overall satisfaction.
In the end, the only way to know how well Voloom will fit into your styling regime is by giving it a try. If you're not happy, then you can take advantage of the company's 30-day refund policy (most third-party retailers have similar policies); just keep in mind you'll be out some money in S&H charges.
More on Hair Products:
Fantastic!

By Melissa H.

,

Kansas

,

Aug 15, 2019
Verified Reviewer

I have very thin AND very fine hair due to a thyroid disease when I was 18 years old. I am in my thirties and was almost embarrassed by the fact that my hair is so thin. I read reviews about Voloom and just decided to take a chance. Just to be clear, it will cause frizzy looking hair, I mean come on, it is just like a crimper (which ALWAYS cause frizzy looking hair). But the volume is fantastic for someone like me who has limp, fine, thin hair. I don't always wear my hair down after using the Voloom so the added body even for a ponytail is unreal! Maybe it's just because I have dreamed of volume in my hair since I lost it to a disease, or maybe it's just because I don't expect "miracles" from Voloom, but I love what it does for my hair. I just can't say enough about the fact that it will make it frizzy, but there are products to help with that.

Bottom Line: Yes, I would recommend this to a friend

---

Frizzy hair and three months later it doesn't turn on

When I used it my hair was very frizzy, not what I had expected. There was volume, but I felt it looked like I had a bowl on my head. I contacted the company and asked for a return label and refund, but never heard back from them. I've tried practicing with it, and now just after three months, it does not work. Maybe it's just my hair, but I'm frustrated and disappointed that the company is not respecting its return policy, especially on such an expensive item.

Bottom Line: No, I would not recommend this to a friend

---

Advertisement

---

Terrible customer service

By Lornie Blake

,

Oak Harbor, WA

,

Feb 13, 2018
Verified Reviewer

I ordered a Voloom on February 1st, and now it is the 12th and it still isn't here. I have called twice, once I was told it would definitely be here on the 10th and again today. The girl only apologized when I said I was writing a bad review because she refused to contact her courier to find out where the Voloom was. She implied it was delayed due to snow, but we haven't had ANY snow! I am not impressed at all.

Bottom Line: No, I would not recommend this to a friend

---

Limited for most hair

For me, it was a complete waste of money. My hair is not 100% flat and thin and limp, it actually gets a little wave as soon as I get in damp air.

The Voloom just made my hair look frizzy, so a spray bottle of water would give me the same results.

PLUS - I made the mistake of ordering directly from the website, and it was so stressful to try to get any communications with the company. I certainly did not feel valued, felt like they were mad at me because I didn't like their product.

Oh well.

My experience was not worth the effort. I bought it through the "view your deal" from TV, of course at a discounted price, but still did not work for me. Next purchase I will make from people who deal with the public more regularly and have efficient return protocol in place.

Bottom Line: No, I would not recommend this to a friend

---

Advertisement

---