a2 Milk Reviews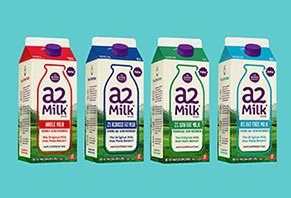 a2 Milk is sourced only from cows that produce the A2 (versus A1) beta-casein protein, which the company claims can help you avoid digestion problems.
About a2 Milk
Do you love milk, but can't stand the way it makes you feel afterward? If so, according to the a2 Milk Company, you might have difficulty digesting the A1 protein found in the majority of commercially produced milk.
To help you enjoy milk again, a2 Milk promises to use only cows that produce the A2 protein, delivering "milk that's naturally easy to digest" and that "feels better."
Maybe you stopped drinking milk years ago. Perhaps you even thought you were lactose intolerant at one point. But is there any clinical evidence supporting this whole A1/A2 protein thing? If so, can you expect a2 Milk to deliver on its promises?
We'll break down everything we learned during our research in order to help you make a more informed purchase.
How a2 Milk Works
According to a video on the a2 Milk Company website, 30% of the protein in cow's milk is comprised of beta-casein, which can be categorized as either A1 or A2. What's the difference?
It all comes down to one amino acid at position 67 on the protein chain (see below for a visual representation of this). Here, you can see that A2's structure is closer to human milk than to A1, which the manufacturer claims is often responsible for the digestion problems related to most commercial cow's milk.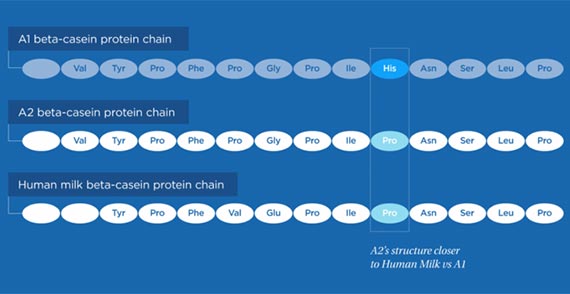 Here, we can see that an A! beta-casein protein chain is more similar to a human's than A1. As a result, a2 Milk claims to help prevent digestion-related issues. Image credit: a2 Milk Company
How, exactly, does this different amino acid affect digestion? Once A1 beta-casein protein reaches the small intestine, BCM-7 (beta-casomorphin7) is produced, which is a peptide that acts as a histamine releaser. Because of, after BCM-7 has been absorbed into the system, is can irritate, inflame, and cause digestion issues.
There has even been some research (more about this in a second) showing a possible correlation between the A1 protein and much more serious conditions, such as autism, schizophrenia, slow muscle tone and psychomotor skill development in children, and more.
On the other hand, we're told that A2 beta-casein doesn't produce BCM-7, helping to prevent many of these related problems. Which is why the a2 Milk Company only sources milk from dairies with A2-only cows, which are highest among breeds like Jersey, Guernsey, and the Normande.
In addition, a2 promises their milk is also free of growth hormones, rBST, antibiotics, artificial ingredients, and additives.
What does the scientific community have to say about these claims?
Is There Clinical Support for the A1 vs. A2 Hypothesis?
This A1 vs. A2 hypothesis has been hotly debated in New Zealand, Australia, and Europe for years, although it's more recent news on US shores.
In a nutshell, there hasn't been a whole lot of clinical research, although the European Journal of Clinical Nutrition published a summary in 2004 claiming that "there is no convincing or even probable evidence that the A1-casein of cow milk has any adverse effect in humans."
A Food Safety News article takes a more measured approach when stating: "Through the years, some studies extolling A2 milk have been refuted, and the general agreement is that some have been inconclusive and more research needs to be done. Interest in the topic continues to drive research."
Interestingly, according to a 2014 Mother Jones article, the A2 corporation holds a patent for the only genetic test that can distinguish A1 and A1 cows. Also, "in 2004, the same year that A2 Corp. went public on the New Zealand Stock Exchange, Australia's Queensland Health Department fined its marketers $15,000 for making false and misleading claims about the health benefits of its milk."
Bottom line? Until peer reviewed clinical evidence emerges that clearly settles this A1 vs. A2 issue for good, it's sure to continue being a topic for heated debate.
In the mean time, is it worth spending you hard-earned money on a2 Milk, or are there better options? Before getting there, let's quickly discuss lactose intolerance.
What's the Difference Between Lactose Intolerance & Protein Sensitivity?
According to a disclaimer on their website, "a2 Milk is not suitable for anyone medically diagnosed with lactose intolerance, galactosaemia or cows' milk allergy." But why?
Lactose intolerance is caused by an insufficient amount of lactase in your small intestine. As you might have guessed, lactase is the primary enzyme responsible for digesting lactose, the primary sugar in most dairy products, leading to poor digestion.
On the other hand, the digestive irritation a2 Milk promises to address is caused by a protein. In fact, the company claims that these two conditions can exhibit similar symptoms, leading about 25% of the population into believing that they're lactose intolerant, while only about 5% of the population is medically diagnosed as such.
Alright! That's enough science-y talk for one day. Next, let's find out how much you'll pay for a carton of a2 Milk.
How Much Does A2 Milk Cost?
We'll talk more about the company next, but a2 Milk was previously sold in the US from 2003-2007, although the company claims it didn't catch on, so its market presence was pulled.
Today, however, you'll find a2 Milk primarily sold at Safeway and Sprouts locations. No prices are listed anywhere online, but our local Safeway was selling cartons for $3.99, while Sprouts priced their a2 Milk at $3.69 at the time of our research.
Now, let's talk more about the person behind the company.
Who Founded the A2 Milk Company?
Although their US base is in Boulder, CO, the a2 Milk company was founded in 2000 by New Zealander Dr. Corran McLachlan.
Prior to founding the company, Dr. McLachlan earned his degree in Chemical Engineering from Canterbury University, and then went on to earn his PhD from Cambridge University in England. It wasn't until 1994 though, that Dr. McLachlan began researching milk consumption, which eventually led him to potentially discover a link between the A1 protein and certain health concerns.
Over the course of his career, Dr. McLachlan authored 29 scientific papers and developed 11 different patents.
Should You Buy a Carton of a2 Milk?
Ultimately, whether or not you'll find value in what the a2 Milk Company has to offer depends on many personal variables we simply can't know about. But even in a worst-case scenario, you won't be out more than a few dollars if you're not satisfied.
But before you head to your local grocery store, keep in mind that having problems digesting milk can stem from many different causes. This includes not just the lactose intolerance and A1 protein we've already discussed, but also legitimate milk allergies—even a completely separate (but similar sounding) diagnosis called cow's milk protein intolerance.
What's the point? Just because you're having problems digesting milk, until you figure out what's causing the underlying issue (with the help of your doctor, of course), you might have to try several different products to find one—if any—that works.
In the mean time, a2 Milk certainly seems like a legitimate company who believes that their product can comfortably help you enjoy milk again.
Did a2 Milk help you find relief from digestion problems? Would you recommend it to others? Tell us your story by writing a review below!
1 out 1 people found this review helpful

a2 is awesome milk!

By Shiela H.

,

Missouri

,

Dec 27, 2019
Verified Reviewer

I had given up drinking milk years ago because it caused bloating.

Then my son encouraged me to try a2 milk. I did, and it solved my problem. I've never been diagnosed with lactose intolerance, but a2 made me a milk drinker again. Love a2 milk.

Bottom Line: Yes, I would recommend this to a friend

---

3 out 4 people found this review helpful

Finally no stomach aches.

By Rosjane S.

,

Boston, MA

,

Aug 20, 2019
Verified Reviewer

I finally found out what my problem is. It's A1 in the milk. I am lactose intolerant too and couldn't understand why I was not able to drink lactose-free milk or the lactose-free yogurt. My doctor said it could be the protein in the milk. Try a2 Milk. This is unbelievable. All these years I have been putting up with severe digestive upset and it was the A1 protein in the milk all along. Thank you so much for a2 Milk! Please don't stop making it!

Bottom Line: Yes, I would recommend this to a friend

---

Advertisement

---

3 out 6 people found this review helpful

a2 Milk review

By Nicole B.

,

Charlotte, NC

,

Jan 11, 2019
Verified Reviewer

I decided to try this milk after watching the commercials on TV. Lactaid milk still gives me gas, I had one glass of this a2 Milk and guess what? Still gas. I have wasted my $4 again.

Bottom Line: No, I would not recommend this to a friend

---

4 out 5 people found this review helpful

Less bloating with a2

By Pauli M.

,

Queens, NY

,

Sep 19, 2018
Verified Reviewer

I'm 58 and lately, after having milk and cookies, I've become bloated. My stomach must be going through changes. I saw a2 milk in a supermarket. Curious, l tried it. I had my milk and cookies and BINGO! No bloating! I am on my third carton. Thank you for a good product.

Bottom Line: Yes, I would recommend this to a friend

---

Advertisement

---

10 out 10 people found this review helpful

Thanks a2

By Christine K.

,

Victoria, Australia

,

Sep 8, 2018
Verified Reviewer

For many, many years I have not been able to drink "normal" milk. I began using a2 a few years back and was thrilled with the result. I was getting to the point I was having to hover near a loo if I just had full milk in a cup of tea. Thanks to a2 I am now able to have a nice, icy cold glass of milk for the first time in my life.

Bottom Line: Yes, I would recommend this to a friend

---

6 out 6 people found this review helpful

Great natural product

By Mary H.

,

Michigan

,

Aug 21, 2018
Verified Reviewer

We had dairy goats for over 20 years. I could not drink milk from the store for about five years now. I was never tested for the A1 allergy, but I must be allergic. I have been drinking the a2 Milk for over a year now, and for the two of us, we go through a gallon a week. I even make kefir from it. It's natural, delicious, and milk is the way it was meant to be. If you look into the genetic mutation history of the A1 protein, it makes perfect sense. I'm very grateful for this product, and maybe someday all milk will be a2. We have had no issues at all.

Bottom Line: Yes, I would recommend this to a friend

---

6 out 6 people found this review helpful

21-month-old with problems digesting regular milk

By Bridget M.

,

Fife

,

Jul 27, 2018
Verified Reviewer

I am so happy to have found this milk for my 21-month-old son has had problems with wind, painful gas, and reflux since changing to regular milk from Nutramigen Pure Amino (prescribed by a doctor) and frequent night wakings having to rub his tummy for hours, 3-5 in the morning. It's only been two days on A2 milk, and he's slept all night both nights and no painfully gas and wind at all. I always suspected my son was sensitive to milk and struggled to digest it rather than a milk allergy or lactose intolerance, as he could eat small amounts of yogurt and cheese with no side effects.

If your child has a genuine milk allergy, then consult a doctor first before trying this milk. But if you're a parent to a sensitive tummy toddler I highly recommend giving this a try. It's a bit on the expensive side, but I plan on buying the long life whole milk version to store in my cupboards on the occasion's when I can't get to the shops. It's cheaper, and I can buy in bulk online which lasts up to six months. It also has no preservatives, so nothing added, just different packaging and has that ultra heat treatment. I get monthly milk tokens so I can use them to get a long life or fresh A2 milk in stores. I have not checked if I can buy a long life version in store yet. If it's not widely available it might be a suggestion to the A2 company to spread out the long life version to all stores to give parents a cheaper option.

Bottom Line: Yes, I would recommend this to a friend

---

13 out 14 people found this review helpful

Allergies?

By Chris G.

,

Texas

,

May 27, 2018
Verified Reviewer

I was allergy tested which showed a slight allergy to milk (I'm not lactose-intolerant). But, in addition, I was also allergic to, quite literally, everything else they tested for, to some degree. I have a long, complicated history with allergies and intestinal problems, to say the least.

Anyways, I continued to drink regular milk because it was hard to replace the nutritional aspects of it. But I was having, at the same time, many neurological problems (which still persist), such as memory loss and an extreme difficulty concentrating or focusing. Finally, a health care worker suggested that I stop drinking milk and so I did and my problems with concentration, while still there, were improved. However, over the course of the year after giving up milk, I began to lose lots of weight and developed a "mild fatty liver," likely a result of my poor diet of foods I substituted in place of milk.

Later, I also discovered that because of my major allergies to dogs (Type 5) it likely skewed all the results on my allergy test, such that I do not actually have an allergy to milk or shrimp.

But drinking plain milk makes me feel bad in a way that might be best described as a cross between PTSD and ADHD.

So, what gives?

Well, I began to read about the associations between the stomach and brain, especially for those with compromised intestinal barriers ("leaky gut").

A2 milk does not give me that edgy, unfocused feeling like regular milk does. I can also drink goat's milk without ill effect. I don't mind the taste of goat's milk, but it is expensive.

On another note, I have never been able to drink most any chocolate milk because it has either corn or carrageenan in it. So, their chocolate milk I would recommend to anyone, compromised stomach or not, as it's not only of good quality, but possibly the best I've ever had.

Bottom Line: Yes, I would recommend this to a friend

---

5 out 5 people found this review helpful

a2 Milk

By Ozzy

,

Florida

,

May 12, 2018
Verified Reviewer

I love this milk. The other milks make me sick, and now with a2 I can have some at midnight and it doesn't make me sick. A2 is the best milk around and my husband like it to. So get out and get some a2 Milk for people that can't enjoy real milk.

Bottom Line: Yes, I would recommend this to a friend

---

6 out 7 people found this review helpful

Love this milk

By Gebe

,

Miami, FL

,

Apr 21, 2018
Verified Reviewer

I'm so glad this milk is produced because I'm dairy intolerant and even though I cannot drink it on regular basis, I can at least drink it on and off without any problems. It is also great tasting. Now I would like to see cheese, yogurt, and ice cream made from a2 Milk.

Bottom Line: Yes, I would recommend this to a friend

---

18 out 20 people found this review helpful

I can drink milk again!

By Pam

,

Georgia

,

Jul 3, 2017
Verified Reviewer

We found out about a2 Milk by accident while my sixth grader was researching a science fair project on milk and found the book, "Devil in the Milk." I read it four or five times and was amazed. I wanted to try this and see if I could drink milk again. However, it was not being sold in the United States.

The next year, my husband brought home a carton one day and said, "Hey, look what I found at Sprout's?" And I tried an ounce and waited. Another couple of ounces and waited. Nothing. No reaction.

Since I was a teenager, milk has caused a severe upper respiratory reaction where my sinuses just poured gunk down into my lungs that led to bronchitis or pneumonia within two days. I couldn't even eat homemade ice cream. I could only eat cereal with orange juice on it (yeah, I know, yuck).

What a difference. I can eat cereal with milk again! Hallelujah! The soy milk just didn't taste that good. This is the greatest thing. I love the rich yummy taste, and I was driving an hour to get it. Now Publix, which is 25 minutes away, carries it, so I don't have to go as far. It has been the greatest feeling knowing I can drink milk again.

Thank you a2 Milk Company for carrying on Dr. McLaughlan's dream and for giving people like me, who have problems, with a milk as an alternative. Milk, the way it's supposed to be.

Bottom Line: Yes, I would recommend this to a friend

---