a2 Milk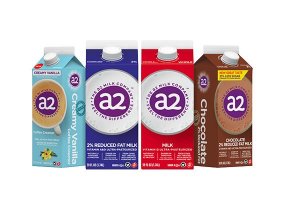 Summary
A2 Milk comes from special cows that don't create milk with proteins that some people struggle to digest, providing an easier drinking experience for many.
Pros
Scientific data shows it can decrease gastrointestinal issues for those with A1 protein sensitivities
Great for fussy babies
Might be cheaper than locally available options like goats milk
Cons
Science on benefits for the general population isn't robust
Won't help those who are lactose intolerant
Some considered it too expensive
a2 Milk Review: A Detailed Look
Millions of Americans avoid drinking milk because of how it affects their digestive system. In most cases, they claim the problem is lactose intolerance. However, there's growing evidence that the problem for many people may be due more to protein sensitivity.
A2 Milk is a New Zealand-based dairy company that produces and sells milk that they claim is easier on the digestive system. All of the company's milk comes from cows that only produce the A2 protein, rather than a mix of A1 and A2 proteins like most dairy cows.
According to the a2 Milk Company, all of its farms in the United States are Validus certified for better animal welfare. The company tests the DNA of their cows to ensure that they only produce milk with A2 proteins, and they also test their milk after production. For dairies with multiple breeds, all a2 Milk cows are milked separately from the rest of the herd to prevent contamination.
Today, a2 Milk is sold across the United States and marketed towards people who struggle to drink regular milk, often because they think they are lactose intolerant. Is a2 Milk all marketing hype, or are there convincing reasons to consider switching over? We'll analyze the evidence here.
Understanding A1 and A2 Protein
Approximately a third of milk's protein content comes from beta-casein, and A1 and A2 proteins are the two most common variants. While different breeds of cows have different ratios of these two proteins, almost all milk before modern times contained only A2 proteins.
The science suggests that certain domesticated cow breeds like Holsteins experienced a genetic mutation somewhere down the line that caused them to start producing A1 and A2 proteins in equal amounts. These breeds are the most common in the US dairy industry, which means that most commercially available milk contains close to 50% A1 protein.
Though these proteins are near identical, they differ in the ways we digest them. The structure of A2 protein is similar to human breast milk as well as goat, sheep, and buffalo milk. A1 milk, in contrast, creates a peptide called beta-casomorphin-7 (BCM-7) when it is digested in the small intestine. Some scientists have linked this peptide to stomach pain and symptoms similar to lactose intolerance.
For this reason, a2 Milk claims that many people who struggle to drink milk aren't lactose intolerant, but instead are reacting poorly to the A1 protein content. If they switched to A2 protein milk instead, the reasoning goes, they could drink it without a problem.
What Does the Science Say About a2 Milk?
There is promising research about the benefits of drinking A2 milk.
For instance, a study of Chinese adults who believed they were milk intolerant found that those who drank 8oz of A2 milk twice daily didn't experience any adverse symptoms afterward. A control group, drinking A1 milk, reported stomach pain, inflammation, and gastrointestinal issues.
Another study on 600 Chinese adults came to the same conclusions; the stomach discomfort commonly associated with lactose intolerance seemed to be more caused by the presence of A1 protein than the milk itself. Note: The a2 Milk Company funded this study.
This research as it stands today is relatively limited, and a 2017 research review concluded that most of the existing evidence for A2 protein comes primarily from rodent studies rather than human studies. This makes it difficult to draw conclusions about the milk's benefits for most people.
Key Takeaways
There is some evidence that A2 milk is easier to digest than milk with both A1 and A2 proteins, but most of it is anecdotal or reliant on small studies. You might notice a difference gastrointestinally, but it may only be the placebo effect.
Likewise, most available studies only looked at the impact of this milk on people with self-professed lactose intolerance. There's no evidence that it offers any benefits beyond regular milk for those who don't struggle to digest it.
The a2 Milk Company Product Line
A2 Milk currently sells six types of milk products across the United States. What you'll pay for a2 Milk depends partly on where you live, but most of the company's products start around $4.50–$5.00 per half a gallon. This chart looks specifically at the prices listed on InstaCart for San Francisco.
| | Whole Milk | 2% Reduced Fat | Fat-Free | Chocolate 2% Reduced Fat | Sweet Cream Coffee Creamer | Creamy Vanilla Coffee Creamer |
| --- | --- | --- | --- | --- | --- | --- |
| Cost (California) | $4.99/ half gallon | $4.99/ half gallon | $4.99/ half gallon | $4.99/half gallon | $5.99/ 32oz | $5.99/ 32oz |
| Ingredients | Milk, vitamin D3 | Reduced-fat milk, vitamin A palmitate, vitamin D3 | Nonfat milk, vitamin A palmitate, vitamin D3 | Reduced-fat milk, cream, sugar, Dutch-process cocoa, salt, gellan gum, carob gum, stevia, natural flavor, vitamin A palmitate, vitamin D3 | Whole milk, sugar, heavy cream, natural flavors, sea salt | Whole milk, sugar, heavy cream, natural flavors, sea salt |
| Calories Per Serving | 160 calories/ cup | 120 calories/ cup | 80 calories/ cup | 150 calories/ cup | 35 calories/ tbsp | 35 calories/ tbsp |
| Nutrient Content Per Serving | 9g fat, 12g sugar, 8g protein/ cup | 5g fat, 12g sugar, 8g protein/ cup | 0g fat, 12g sugar, 8g protein/ cup | 5g fat, 17g sugar, 8g protein/ cup | 1g fat, 5g sugar, 0g protein/ tbsp | 1g fat, 5g sugar, 0g protein/ tbsp |
You can find a2 Milk products near you through the company's store locator. Your purchase will qualify for the standard return policy at the location you purchased it.
If you have any questions to direct to the A2 Milk company, you can do so through the website's contact page or at (844) 422-6455.
A2 Milk vs. Other Dairy Brands
To get a sense of how a2 Milk's pricing and nutritional data compares to other brands, we made this chart to look at the same statistics for several popular brands of 2% milk.
| | a2 2% Reduced Fat Milk | Horizon Organic 2% Reduced Fat Milk | Clover Sonoma 2% Reduced Fat Milk | Organic Valley 2% Reduced Fat Grassmilk | Maple Hill Organic 2% Reduced Fat Milk |
| --- | --- | --- | --- | --- | --- |
| Cost (San Francisco) | $4.99/ half gallon | $4.49/ half gallon | $3.49/ half gallon | $5.99/ half gallon | $6.49/ half gallon |
| Ingredients | Reduced-fat milk, vitamin A palmitate, vitamin D3 | Reduced-fat organic milk, grade A nonfat organic milk, vitamin A palmitate, vitamin D3 | Milk, nonfat milk, vitamin A palmitate, vitamin D3 | Organic homogenized reduced-fat grade A milk, vitamin A palmitate, vitamin D3 | Organic reduced fat milk, vitamin A palmitate, vitamin D3 |
| Calories Per Serving | 120 calories/ cup | 140 calories/ cup | 140 calories/ cup | 130 calories/ cup | 130 calories/ cup |
| Nutrient Content Per Serving | 5g fat, 12g sugar, 8g protein/ cup | 5g fat, 14g sugar, 10g protein/ cup | 5g fat, 13g sugar, 10g protein/ cup | 5g fat, 11g sugar, 8g protein/ cup | 5g fat, 12g sugar, 8g protein/ cup |
As this chart shows, a2 Milk falls in the middle from a pricing standpoint, though the milk isn't grass-fed or certified organic like many of these other brands.
Each brand also provides a similar calorie content per serving and includes the same amount of fat and approximately the same amount of sugar and protein.
The one big difference between them is that only a2 Milk specifies the kind of protein it contains. To our knowledge, the a2 Milk Company is the only commercial supplier of cow's milk without A1 protein.
That will likely be a deciding factor for you if you react badly to regular milk and want to see if the issue is related to protein rather than lactose intolerance. If, however, you can drink regular milk without a problem, you may prefer to invest in a brand with other selling points, like organic certification.
Analysis of Customer Reviews
There are 382 a2 Milk reviews on Moms Meet, averaging five stars, and 15 reviews on HighYa averaging 4.5 stars. Here are some of the key comments that they make.
Common Compliments:
Reduced bloating and stomachaches associated with drinking regular milk
Made it possible for people to drink milk again after years of avoiding it
Soothed infants with problems digesting regular milk
Less expensive than goat's milk for similar benefits
Great for those with known protein sensitivities
Common Complaints:
Doesn't reduce symptoms of lactose intolerance
Too expensive
Triggered digestive problems for some users
Many users didn't notice a difference from regular milk
The Bottom Line: Is It Worth It?
Despite less-than-robust scientific evidence for its increased health benefits, the majority of a2 Milk customers love this dairy brand, and many credited it with making it possible for them to drink milk again.
For those who can't drink regular milk without dealing with stomach problems, there's reason to believe that a2 Milk will solve that problem. However, this beverage won't be any easier to digest for those who are indeed lactose intolerant.
There are other dairy alternatives if your issues are related to the A2 protein content. Consider seeking out sheep, goat, or even breastmilk, if you're feeding a baby, and know that many cow breeds naturally don't produce A1 proteins.
You may also be able to find a niche dairy near you that specializes in Jersey, Guernsey, Brown Swiss, or another cow breed that produces A2 protein milk.
In any case, we think it makes sense for anyone with a milk sensitivity to try a2 Milk to see if they react differently to it than regular milk. You may find that doing so changes your whole perspective on your dairy options.
Customer Reviews
Posted on Mar 6, 2020
Didn't work for me
I tried the 2% a2 Milk; drank it plain, with cereal and with coffee. I had the same discomfort as I would with regular milk. I am lactose intolerant and I had all the same symptoms with a2 Milk. Was not worth the money or had any benefits for me. I would not recommend it to my friends and family. This may be OK for an extremely small population of lactose-intolerant people but not for me. Only positive, it tastes great.
Bottom Line: No, I would not recommend this to a friend
Posted on Dec 27, 2019
a2 is awesome milk!
I had given up drinking milk years ago because it caused bloating.
Then my son encouraged me to try a2 milk. I did, and it solved my problem. I've never been diagnosed with lactose intolerance, but a2 made me a milk drinker again. Love a2 milk.
Bottom Line: Yes, I would recommend this to a friend
Posted on Aug 20, 2019
Finally no stomach aches.
I finally found out what my problem is. It's A1 in the milk. I am lactose intolerant too and couldn't understand why I was not able to drink lactose-free milk or the lactose-free yogurt. My doctor said it could be the protein in the milk. Try a2 Milk. This is unbelievable. All these years I have been putting up with severe digestive upset and it was the A1 protein in the milk all along. Thank you so much for a2 Milk! Please don't stop making it!
Bottom Line: Yes, I would recommend this to a friend
Posted on Jan 11, 2019
a2 Milk review
I decided to try this milk after watching the commercials on TV. Lactaid milk still gives me gas, I had one glass of this a2 Milk and guess what? Still gas. I have wasted my $4 again.
Bottom Line: No, I would not recommend this to a friend
Posted on Sep 19, 2018
Less bloating with a2
I'm 58 and lately, after having milk and cookies, I've become bloated. My stomach must be going through changes. I saw a2 milk in a supermarket. Curious, l tried it. I had my milk and cookies and BINGO! No bloating! I am on my third carton. Thank you for a good product.
Bottom Line: Yes, I would recommend this to a friend
Posted on Sep 8, 2018
Thanks a2
For many, many years I have not been able to drink "normal" milk. I began using a2 a few years back and was thrilled with the result. I was getting to the point I was having to hover near a loo if I just had full milk in a cup of tea. Thanks to a2 I am now able to have a nice, icy cold glass of milk for the first time in my life.
Bottom Line: Yes, I would recommend this to a friend
Posted on Aug 21, 2018
Great natural product
We had dairy goats for over 20 years. I could not drink milk from the store for about five years now. I was never tested for the A1 allergy, but I must be allergic. I have been drinking the a2 Milk for over a year now, and for the two of us, we go through a gallon a week. I even make kefir from it. It's natural, delicious, and milk is the way it was meant to be. If you look into the genetic mutation history of the A1 protein, it makes perfect sense. I'm very grateful for this product, and maybe someday all milk will be a2. We have had no issues at all.
Bottom Line: Yes, I would recommend this to a friend
Posted on Jul 27, 2018
21-month-old with problems digesting regular milk
I am so happy to have found this milk for my 21-month-old son has had problems with wind, painful gas, and reflux since changing to regular milk from Nutramigen Pure Amino (prescribed by a doctor) and frequent night wakings having to rub his tummy for hours, 3-5 in the morning. It's only been two days on A2 milk, and he's slept all night both nights and no painfully gas and wind at all. I always suspected my son was sensitive to milk and struggled to digest it rather than a milk allergy or lactose intolerance, as he could eat small amounts of yogurt and cheese with no side effects.
If your child has a genuine milk allergy, then consult a doctor first before trying this milk. But if you're a parent to a sensitive tummy toddler I highly recommend giving this a try. It's a bit on the expensive side, but I plan on buying the long life whole milk version to store in my cupboards on the occasion's when I can't get to the shops. It's cheaper, and I can buy in bulk online which lasts up to six months. It also has no preservatives, so nothing added, just different packaging and has that ultra heat treatment. I get monthly milk tokens so I can use them to get a long life or fresh A2 milk in stores. I have not checked if I can buy a long life version in store yet. If it's not widely available it might be a suggestion to the A2 company to spread out the long life version to all stores to give parents a cheaper option.
Bottom Line: Yes, I would recommend this to a friend
Posted on May 27, 2018
Allergies?
I was allergy tested which showed a slight allergy to milk (I'm not lactose-intolerant). But, in addition, I was also allergic to, quite literally, everything else they tested for, to some degree. I have a long, complicated history with allergies and intestinal problems, to say the least.
Anyways, I continued to drink regular milk because it was hard to replace the nutritional aspects of it. But I was having, at the same time, many neurological problems (which still persist), such as memory loss and an extreme difficulty concentrating or focusing. Finally, a health care worker suggested that I stop drinking milk and so I did and my problems with concentration, while still there, were improved. However, over the course of the year after giving up milk, I began to lose lots of weight and developed a "mild fatty liver," likely a result of my poor diet of foods I substituted in place of milk.
Later, I also discovered that because of my major allergies to dogs (Type 5) it likely skewed all the results on my allergy test, such that I do not actually have an allergy to milk or shrimp.
But drinking plain milk makes me feel bad in a way that might be best described as a cross between PTSD and ADHD.
So, what gives?
Well, I began to read about the associations between the stomach and brain, especially for those with compromised intestinal barriers ("leaky gut").
A2 milk does not give me that edgy, unfocused feeling like regular milk does. I can also drink goat's milk without ill effect. I don't mind the taste of goat's milk, but it is expensive.
On another note, I have never been able to drink most any chocolate milk because it has either corn or carrageenan in it. So, their chocolate milk I would recommend to anyone, compromised stomach or not, as it's not only of good quality, but possibly the best I've ever had.
Bottom Line: Yes, I would recommend this to a friend
Posted on May 12, 2018
a2 Milk
I love this milk. The other milks make me sick, and now with a2 I can have some at midnight and it doesn't make me sick. A2 is the best milk around and my husband like it to. So get out and get some a2 Milk for people that can't enjoy real milk.
Bottom Line: Yes, I would recommend this to a friend
Posted on Apr 21, 2018
Love this milk
I'm so glad this milk is produced because I'm dairy intolerant and even though I cannot drink it on regular basis, I can at least drink it on and off without any problems. It is also great tasting. Now I would like to see cheese, yogurt, and ice cream made from a2 Milk.
Bottom Line: Yes, I would recommend this to a friend
Our Promise to You
In order to safeguard you and ensure helpfulness and relevance, our compliance team manually assess every customer review before it goes live.
We have a zero-tolerance policy for fake reviews, and companies cannot control or alter any reviews at any time.