Almond Cow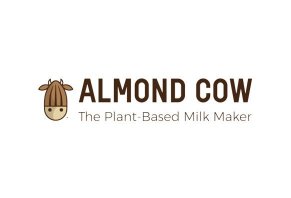 Almond Cow is an innovative machine designed to help you make any type of plant-based milk you desire at the push of a button.
Almond Cow Review: Is It Worth It?
What Is Almond Cow?
The Almond Cow is an all-in-one plant-based milk maker that promises to provide you with 40 ounces of your favorite nut milk in less than a minute.
This innovative device got its start on Kickstarter in 2017 as an alternative to both store-bought milk and the messy process of straining homemade nut milk made in the blender.
"Why is [almond] milk something that you buy at the grocery store? Because of legacy," Hannah Smith, Almond Cow's Director of Strategic Growth told us. "That reason didn't make sense, so Almond Cow began as a small team that thought they had a better answer."
Their solution? A standalone machine that takes up as much space as an electric kettle. In this review, we will discuss how the device works, how much it costs and highlight customer opinions of Almond Cow.
How Almond Cow Works
Almond Cow promises to pulverize any blend of nuts, seeds, grains, and sweeteners into fresh milk.
To use the machine, the company suggests soaking half to one full cup of raw nuts for several hours before adding them to the inner basket of the device. While the soaking isn't required, it will make for a smoother milk.
It's possible to use just almonds, or you can experiment with other flavor options like dates, vanilla extract, oatmeal, cashews, and more. Almond Cow has dozens of milk recipes on their website for inspiring your creativity.
Once you insert all ingredients into the basket, you'll then add your choice of liquid up to the max fill line within the Almond Cow's main compartment. This comes to about 40 ounces.
Tap water works fine, or you can try coconut water or another preferred water instead.
You'll then shut the lid and press the single button on top of the Almond Cow to pulse the machine, similar to how you use a blender. Within a minute, your milk will be done, and you can pour it out and drink it immediately.
Those who prefer stronger milk can add more nuts at this point or re-pulse them to extract more liquid. All pulp produced from processing the nuts stays within the inner basket, so you don't need to strain it out before drinking.
The company also offers suggestions for using the pulp. These range from baking breakfast muffins, topping your yogurt, and even making corn chowder. More recipes are on the site. Alternatively, you can compost it.
Almond Cow's Price
At the time of writing, Almond Cow sells their nut milk maker for $195 with free shipping. You can also purchase it through three interest-free payments of $65.
Regarding the company's return policy, Almond Cow lets you try out your milk maker for 30 days risk-free. If you aren't happy after this point, you can return it for a full refund, minus return shipping costs.
Editor's Note: The Almond Cow is on backorder and you shouldn't expect to receive it for at least seven to eight weeks after ordering. The company is offering a 10% discount to make up for the inconvenience.
Customer Reviews of Almond Cow
While the Almond Cow was a relatively new tool at the time of writing, it has reviews on Amazon. This device averaged 3.8 stars after over 50 reviews. The majority of users seem pleased with it.
Some Almond Cow enthusiasts wrote that the device cut down on the time it took them to make almond milk and eliminated most of the mess associated with using a blender.
Others wrote that they loved finding creative uses for the pulp and felt like this device made a big difference in improving their diet.
Still others commented on the cost savings, stating that they paid less than $2 for the ingredients to make 40 ounces of milk.
A few people also mentioned that they had stellar customer service experiences when they had issues with the machine and needed to exchange it for a different model.
Jamie Hickey, a certified personal trainer and founder of Truism Fitness, shared his experience with Almond Cow to us.
"When compared to store-bought," he told us, "I found [the milk] to be creamier, and tasted a lot more like actual almonds. Go figure."
That's not to say Almond Cow only received positive comments.
Many reviewers complained that the milk they made was thinner than preferred and that the machine failed to thoroughly pulverize all the nuts they added.
Some noted that they saw full almonds within the device after running it. Others thought their milk was slightly gritty so they needed to run it through a nut milk strainer before drinking it.
Finally, a few reviewers thought the machine was too expensive for its relatively limited use.
Comparing Almond Cow to Other Nut Milk Machines
When it comes to homemade nut milk, there are a few similar machines worth considering. Two that caught our interest are the SoyaJoy G4 and the Tribest Soyabella.
The SoyaJoy is a nondairy milk and soup maker with a 1.7-liter capacity that currently costs $139.99. Like the Almond Cow, it contains an internal grinding chamber that keeps your plant material out of the milk so you can drink it without straining.
This machine differs in that it can be used to heat water and includes a temperature sensor and boil-over sensor. It also contains five buttons (soaked beans, dry beans, raw juice, grains, and porridge) for customizing the functionality.
Amazon reviewers have awarded the SoyaJoy 4.3 stars out of five after more than 500 reviews. Many users raved about how easy the machine was to use, though a few thought it got too hot when running and was challenging to clean.
The Tribest Soyabella, in contrast, is priced at $109.95 and has an average of four stars on Amazon after over 200 reviews. This machine boasts the capabilities of making soy milk, nut milks, porridge, pureed soup and more.
Online reviews share that the Soyabella was easy to use and clean, and most seem to be using the machine exclusively for soy milk. Most negative comments seem to be related to glitchy machines rather than general complaints about its functionality.
Almond Cow vs. Vitamix
Another popular option is to make nut milk in a high-powered blender like a Vitamix. You'll add all ingredients to the blender the same way you do with the Almond Cow and then pulse it until smooth.
You can then pour the milk into a nut milk bag that's designed to strain out the liquid and leave behind the pulp.
One appeal of this method is that you don't need to make room in your kitchen for another single-use device, as your blender can serve several other purposes.
This might make it a better option for those who don't plan to make plant-based milk regularly.
If, however, you plan to make homemade nut milk several times a week, then you will likely value the convenience of a machine that makes your milk in one streamlined step.
Almond Cow vs. Store-Bought Nut Milk
It's also possible to purchase pre-made nut milk. Silk-brand almond milk retails for about $3 to $4.50 for 32 ounces.
While the ingredients will vary based on the flavor you order, most will contain some preservatives like sunflower lecithin, locust bean gum, and gellan gum to prolong its shelf life that you might object to.
Sweetened flavors may also contain more than 12 grams of sugar per serving, which comes to almost a third of the American Heart Association's maximum daily recommended intake of 36 grams. Making your own milk gives you more control over the sugar content.
Most pre-made almond milk will last up to 10 days in your fridge once you open the carton. That's a significant advantage over the lifespan of homemade milk, which Almond Cow suggests you drink within three days of blending it.
The Bottom Line
Almond Cow has a lot of potential, but the company has some kinks to work out.
There's a lot of positives for those who love nut milk and want to make their own at home easily.
However, this machine loses some points from us from a functionality standpoint, as we can't ignore the reviews from users who thought their milk turned out thin and that the machine didn't thoroughly chop up their ingredients as claimed.
As this is a single-use machine, it needs to be exceptional at what it does.
Another potential downside is the price. You'll pay close to $200 for this machine, which is equivalent to buying over 50 cartons of Silk almond milk.
Add in the cost of raw nuts, and it will take a long time before you see any savings from making your own milk.
We found that two Almond Cow alternatives earn great reviews and cost between $110 and $140. Alternatively, a Vitamix blender will cost you between $300 and $600, depending on the model, and it's a lot more versatile than the Almond Cow.
To summarize, the Almond Cow is a machine that seems to be decent at what it does. Most people probably won't drink enough nut milk to make its purchase worth it over a standard blender, but for those who do, there are cheaper nut milk machines that have both better online reviews and more functionality.
---
Too much waste

By Tammy H.

,

Maryland

,

Nov 4, 2020
Verified Reviewer

Length of Use: Less than 3 months

Overall Experience:

Overall works fine and makes milk. I don't see it really worth it in the long hall. They say the milk lasts 3-4 days - nope! One to two days. We can't keep up with drinking it in those days. Is it really worth all the money you spend on almonds, oats, or coconut? Just has so much waste that can't be used right away because it goes bad fast. Nothing bad about the company. I'm actually happy they are trying to change the world.

Pros and Cons:

I think it's a good company
Easy to use website
No "cons" were specified in this review

Bottom Line: No, I would not recommend this to a friend

---

Great customer service

By Majcom B.

,

Alabama

,

Jul 20, 2020
Verified Reviewer

Length of Use: 3–6 months

Overall Experience:

The AC is easy to use and makes a consistent milk every time. Customer service goes above and beyond to help. Shipping is always fast. There were a few exceptions but it was not the fault of AC. Shipping is slow with many companies during the pandemic so I can't blame AC.

Pros and Cons:

Ease of use
Quality
Customer service
No "cons" were specified in this review

Bottom Line: Yes, I would recommend this to a friend

---

If you get a defective product the company won't help you

By Lucy J.

,

Omaha, NE

,

Jun 10, 2020
Verified Reviewer

Length of Use: Less than 3 months

Overall Experience:

I was so excited about my Almond Cow! And it worked well the first time. But then I had the basket fall off (wasn't overfilled) and once it got partially off so the blade dented the heck out of it. I was not overfilling the basket and was following instructions. I contacted the company in April to tell them what happened. They told me the replacement basket can only be mailed in June. On June 8th I emailed them asking about it and was told it will "hopefully" be another two weeks. Meanwhile, I'm not able to use this $200 machine. Because of all this waiting, I asked them for a partial refund or any sort of "inconvenience" freebie and was told no - that's not fair to other customers. But it's fair that I gave them over $200 in April and still can't use the machine and it's now June. Don't bother. It's a good machine if it works.

Pros and Cons:

Innovative idea
Customer service
Wait time
Manufacturing quality

Bottom Line: No, I would not recommend this to a friend

---

Thrilled with this machine

By Sheri C.

,

Alberta, Canada

,

May 4, 2020
Verified Reviewer

Overall Experience:

Just purchased and used my Almond Cow plant milk maker and wow, it is fabulous! This simple machine comes out of the box ready to use. my Oatmilk turned out great, I love this machine and how easy it is to use and to clean, not only do I get my plant beverage but I get oat leftovers to have for breakfast, win-win!

Bottom Line: Yes, I would recommend this to a friend

---

1

Advertisement

---