ActivatedYou Advanced Restorative Probiotic Reviews
Claimed This company has claimed this profile, is getting alerted on any new customer reviews entering this page, and may engage in dialogue with its customers to address their matters.

Companies cannot pay money or provide goods in order to remove or alter customer reviews.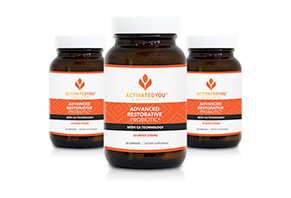 ActivatedYou Advanced Restorative contains 30 different strains and 30 billion CFU of beneficial bacteria to help improve digestion and overall health.
What is ActivatedYou Advanced Restorative Probiotic?
Called one of the most potent formulas on the market, ActivatedYou Advanced Restorative Probiotic colonizes your system with billions of healthy bacteria and promises to improve digestion and comfort, increase energy levels, and boost mood.
And once your body is balanced, ActivatedYou tells us you'll also experience enhanced immune function, more radiant skin, and reduced health problems.
All you have to do is take one capsule of ActivatedYou Probiotic per day with a full glass of water (preferably with food), and its 30 billion CFUs of 30 different bacteria strains will deliver a science-based approach to whole person wellness.
Even though ActivatedYou was developed by a team of board-certified medical doctors and licensed alternative medicine practitioners, does this mean it really is a life-changing formula? Or, does it amount to little more than great marketing for an otherwise mundane probiotic supplement?
Our goal in this article is to help you make a more informed decision about ActivatedYou. So, let's get to it, shall we?
The Basics Behind Probiotics
ActivatedYou Advanced Restorative Probiotic promises to provide wellness from the inside out. How, exactly, will it accomplish this? Before diving into the supplement itself, let's talk about probiotics as a whole.
The Latin word probiotic means 'for life.' Why?
While you might think of your body as wholly 'yours,' the reality is that about half of the cells in your body belong to bacteria; microscopic single-celled organisms that serve a host of different functions.
Most bacteria in humans are found in the digestive tract (commonly referred to as the gut), where they help digest food, make vitamins, support immune system function, and help our brain work. In a very real way, we're only alive because of these bacteria and at our healthiest when their levels are balanced.
And that's just it: Whether due to less-than-stellar nutrition, too much stress, a recent illness, or a round of antibiotics, it's not uncommon for our gut to contain too much "bad" bacteria, leading to side effects like decreased energy, bloating and other digestive issues, or getting sick.
Enter supplements like ActivatedYou. These products contain anywhere between a few hundred million and several billion CFU (colony-forming units, or the number of individual bacteria cells per dose), along with one or more different bacteria species.
By taking these supplements on a regular basis, they're supposed to help reintroduce beneficial bacteria and balance your gut. The result? Often, probiotic users can expect improved digestion, reduced constipation, boosted immune response, and reduced irritable bowel syndrome (IBS) symptoms.
Which Bacteria Strains Are Found In ActivatedYou? Are They Effective?
Each capsule of the ActivatedYou Probiotic contains 30 billion CFU of the following bacteria strains:
Lactobacillus acidophilus LA410, Propionibacterium freudenrichii subsp shermanii, Lactobacillus acidophilus La-14, Lactobacillus acidophilus, Lactobacillus brevis LBR-35, Lactobacillus bulgaricus LB-87, Lactobacillus bulgaricus, Lactobacillus casei Lc-11, Lactobacillus paracasei Lpc-37, Lactobacillus paracasei LAFTI-26, Lactobacillus plantarum Lp-115, Lactobacillus rhamnosus LR-32, Lactobacillus rhamnosus GG, Lactobacillus salivarius LS-33, Lactobacillus reuteri, Lactobacillus gasseri Lg-36, Lactobacillus fermentum, Lactobacillus lactis LL-23,

Bifidobacterium adolescentis, Bifidobacterium Bifidum BB710, Bifidobacterium breve, Bifidobacterium breve Bb-30, Bifidobacterium infantis, Bifidobacterium infantis Bi-26, Bifidobacterium infantis, Bifidobacterium lactis (animalis) BL-04, Bifidobacterium lactis Bi-07, Bifidobacterium longum BL-05, Lactobacillus helveticus,

Streptococcus thermophilus St-21
While all of the bacteria above come with complicated Latin names, keep in mind that the first word (e.g. Lactobacillus) simply references the genus, or family. The second word references the specific bacteria strain.
Taking a Closer Look at the Lactobacillus Family & Its Role In ActivatedYou
With this said, Lactobacillus is undoubtedly the most popular family found in probiotic supplements today (including in ActivatedYou), which is a lactic acid-producing bacteria commonly found in dairy products like cheese, yogurt, and milk.
Further, acidophilus is the most popular strain of Lactobacillus bacteria and has been shown to address several different causes of diarrhea, IBS, and urinary tract infections, as well as provide some antifungal properties.
L. brevis can help reduce the buildup of dental plaque, bulgaricus is resistant to antibiotics, and rhamnosus might help women lose weight, reduce atopic dermatitis in children, and help prevent allergy development.
L. casei may help eliminate pathogenic bacteria in the intestines and prevent antibiotic-associated diarrhea; L. paracasei could also inhibit pathogens and treat ulcerative colitis, and L. plantarum can help maintain intestinal permeability and produce antimicrobial substances.
L. reuteri helps prevent the growth of some bacteria, as might gasseri, while L. fermentum may reduce cholesterol.
What About the Bifidobacterium in ActivatedYou?
Second in popularity only to Lactobacillus, Bifidobacteria is another probiotic family whose strains have been clinically shown to deliver a wide range of benefits. The family was originally discovered way back in 1899 by pediatrician Henry Tissier.
B. adolescentis and infantis seem to be especially useful for treating IBS; bifidum can reduce cholesterol, and breve and lactis help treat ulcerative colitis, while longum is helpful for preventing the growth of pathogenic organisms.
Finally, There's Streptococcus
While you probably associate the Streptococcus genus with nasty illnesses like strep throat and scarlet fever, one strain, called thermophilus, can help reduce IBS and necrotizing enterocolitis in preterm infants.
Certainly sounds like a lot of benefits associated with these strains! But will they cause any side effects?
Will You Experience Side Effects With ActivatedYou Probiotic?
Despite all the potential benefits provided by probiotics, you'll generally have to worry little about any meaningful, ongoing side effects. If you experience anything while the good bacteria balance out the bad, it likely won't be worse than mild gas and/or bloating.
However, if you have an immune disorder, are pregnant, or are the parent of an infant with short bowel syndrome, it might be a good idea to avoid probiotics.
Also, it's always a smart idea to talk with your doctor before you begin taking any new nutritional supplement!
How much will you pay for all these potential benefits?
How Much Does ActivatedYou Probiotic Cost?
ActivatedYou is priced as follows:
1 Bottle (30 capsules): $69.99 (free S&H)
3 Bottles: $188.97 (free S&H)
6 Bottles: $356.95 (free S&H)
All orders come with a 90-day money-back guarantee, less S&H charges. You can request a refund by calling customer support at 800-720-8403.
How to Choose the Right Probiotic for You—Does ActivatedYou Make Your List?
Here's your three-step mini guide for finding a probiotic supplement that delivers on its promises, whether you're thinking about ActivatedYou or a product from another manufacturer:
Step 1: Talk With Your Doctor
Yes, we mentioned it earlier, but it's important enough to reiterate here: If you're experiencing poor digestion or any of the symptoms that come along with it, you need to make an appointment with your doctor.
While your issues could certainly be caused by an imbalance in your gut bacteria, they might also indicate other medical issues that your physician can help diagnose and adequately address—before they get any worse.
While there, you can also discuss whether or not a probiotic supplement could help. And if so, any strains you might want to focus on—and whether or not ActivatedYou contains them.
Step 2: Are Factors Like CFU Count & Number of Strains Important?
When searching online for probiotic supplements, you'll find some formulations that contain dozens of bacteria strains and 30+ billion colony-forming units.
On the other hand, you'll come across other formulations, that contain significantly fewer bacteria strains and a much lower CFU counts.
What's the point? There are two:
First, there's a lot of overlap in the benefits provided by each bacteria strain found in probiotic supplements. So, whether you're taking a formula with five strains or 50—unless your doctor recommends a specific strain based on your diagnosis, you'll likely experience similar benefits.
Second, there doesn't seem to be a lot of clinical evidence showing that ingesting more bacteria (10 billion vs. 30 billion CFU, for example) necessarily translates into greater real-world health benefits.
In the end, make sure that you don't pay more for one probiotic brand than another, just because of its higher CFU count.
Step 3: What About Price? Customer Feedback?
While shopping around, you'll notice that there can be vast price differences between probiotic brands.
For example, ProbioSlim will cost you nearly $70, while you can pick up a bottle TruBiotics at your local pharmacy for as little as $14.50. ActivatedYou falls somewhere in the middle at $40.
Which begs the question: Will paying more for a probiotic supplement provide better health benefits? There are far too many factors here to allow us to adequately answer this question, which means it's largely up to you to decide.
Based on what we learned in step two, though, it might be rare for a supplement priced 3-4X higher than the competition to deliver 3-4X greater benefits.
Perhaps the most surefire method of discerning how much value a probiotic might provide is by checking out customer feedback on consumer review sites like HighYa. After all, displeased customers rarely keep quiet, so if a supplement isn't delivering value, their feedback should soon start appearing online.
The Bottom Line
If you're suffering from indigestion and other gut-related issues, authoritative websites indicate there are reams of clinical evidence indicating a probiotic supplement might help.
This is part of the reason why you'll find probiotics available all over the Internet, as well as at pharmacies and other retailers near you.
This also means that you have a dizzying number of choices when deciding which probiotic is right for you. Fortunately, if you follow our three-step outline above, it can make the process a whole lot easier.
From this perspective, it's not clear that ActivatedYou Probiotic really is "one of the most potent formulas on the market." But if it's not—or if it doesn't live up to your expectations—the good news is that ActivatedYou seems to stand behind it with a 90-day return policy.
---
This company is actively collecting reviews from its customers. All reviews submitted are subject to moderation and approval to ensure they meet our

Review Guidelines

.

Works for me

By Tad T

,

Illinois

,

Aug 28, 2017
Verified Reviewer

Overall Experience:

I suffered from very smelly gas and loose stool. I tried this because Maggie Q endorsed it. If you did not like it, you could get a refund. So, I thought why not?

It does work for me. I no longer have gas and my stool is normal. I am sure it will work differently for every one but, for me it is the only probiotic that has really helped. I am torn because it is expensive but it does work.

Bottom Line: Yes, I would recommend this to a friend

---

Excellent supplement, works as advertised!

By Chris L.

,

Westminster, CA

,

Aug 28, 2017
Verified Reviewer

Overall Experience:

I followed the directions and have been taking their probiotic every morning on an empty stomach with a glass of water, and then I eat something small. Within a few days, BM quality improved, but I still had some bloating. After about 25 days, the bloating starting to go away. After 45 days, I feel great and am starting to notice improvements in skin healing and energy. I'm on day 60 now, and would highly recommend giving this a try for at least that long to find out for yourself!

Bottom Line: Yes, I would recommend this to a friend

---

So far so good

By Amy Hoang

,

Brooklyn, NY

,

Sep 5, 2017
Verified Reviewer

Overall Experience:

I've been taking this amazing probiotic for about a month. So far so good. I've been more regular, and I see less of my tummy bulge. I can't believe it helped with that. I will continue to take this and see if it does what it states it does.

Bottom Line: Yes, I would recommend this to a friend

---

Overall Experience:

The product is working great! I have been using it for one month now, and results are great. Regulation issues are all but gone now. Thanks to the probiotics; I feel my overall health has improved! I was having bloating issues and irregular movements, and now I'm back to normal. Thank you for all your much-needed help!

Bottom Line: Yes, I would recommend this to a friend

---

Advertisement

---

Overall Experience:

I have been suffering from IBS, bloated belly, and acid reflux for many years. I have tried many probiotics but I've never seen a difference.

I recently started a regimen of ActivatedYou along with apple-cider vinegar as recommended in a newsletter from Maggie Q. In just a few short weeks, I have seen a positive change; my bowel movements are more regular and normal. And my acid reflux is settling down as well.

As I strive to eat cleaner, I'm sure I will be feeling even better. Thank you so much for offering a quality product!

Bottom Line: Yes, I would recommend this to a friend

---

Truly activated

By Karen Ahrens

,

San Diego, CA

,

Sep 9, 2017
Verified Reviewer

Overall Experience:

This is by far the greatest probiotic I have ever taken. My gut feels activated and no longer bloats, not even after drinking coffee. And my energy level is up so I already feel much healthier than before and I've only been taking ActivatedYou for less than a month.

Bottom Line: Yes, I would recommend this to a friend

---

Lives up to the hype

By Jaime

,

Lubbock, TX

,

Sep 12, 2017
Verified Reviewer

Overall Experience:

The information Maggie and Dr. de Mello shared in their informative video concurred with everything else I've ever read or heard about digestive health and probiotics. As a Practitioner of Chinese Medicine, I'm always on the look out for great products and my husband and I have been very pleased with ActivateYou probiotics. Our overall digestive health has improved with more regularity and less discomfort.

This product is definitely the foundation you're looking for as you launch into becoming a healthier YOU! Start here and then work forward with other positive changes to your diet, lifestyle, sleep, and stress management. Before you know it, you'll be feeling GREAT!

Bottom Line: Yes, I would recommend this to a friend

---

Overall Experience:

I have been taking the product for a month and it has totally helped me. I would highly recommend this probiotic. I have diabetes, and the prescribed medication gives me diarrhea. This product helps me tremendously.

Bottom Line: Yes, I would recommend this to a friend

---

This is the product had been looking for!

By Debbie Barr

,

Winston-Salem, NC

,

Sep 24, 2017
Verified Reviewer

Overall Experience:

I have tried other probiotics with disappointing results, they made me feel worse, more gassy and more bloated than I was before I took the product. That was confusing because I really did believe that a probiotic was what I needed. Yet, what I was taking was clearly not working so I gave up and wasn't sure what to try next.

When I was online one day I stumbled upon the video online that featured Maggie Q. I was sincerely looking for an answer to my problem, so I was quite willing to watch the whole thing. I learned a lot! For example, I hadn't realized that foods laden with sugar make bad bacteria thrive in the gut. Understanding what's going on in the gut laid the groundwork for understanding why this product WORKS.

ActivatedYou can survive the journey through the stomach's acid and to travel to the gut where it is needed. Plus, it has all the right bacteria strains in the right quantities to create slowly create a healthy gut environment. And all that is great, but what matters most to me is that the uncomfortable problem I have had since childhood is now already greatly improved and I am still on my first bottle!

To anyone who is interested in trying a probiotic I would say, "Don't waste your money on the products you see at the drugstore. Try this one first, and you won't have to look any further."

Bottom Line: Yes, I would recommend this to a friend

---

Great product

By Joy Robinson

,

North Carolina

,

Sep 28, 2017
Verified Reviewer

Overall Experience:

If I had taken it every single morning without forgetting, I think my experience would have been excellent. My goal was to go to the bathroom every single day. I wanted to do this without any problems like straining or sitting for long periods. When I first started, I went five days straight, not easy, but not too bad, then missed a day. I would say once I got a routine, I would go 6 out of 7 days (happy with that).

Other things I noticed was that people started saying how nice I looked all the time. I think I felt better, so it came out in my face and posture. My hair was softer and curled without frizzing as much, and my skin was even better. Putting on makeup was easier. I would recommend this product to anyone who wants to feel better overall!

Bottom Line: Yes, I would recommend this to a friend

---

Great product!

By Kim White

,

Fort Worth, TX

,

Sep 29, 2017
Verified Reviewer

Overall Experience:

I was impressed with the amount of research that went into making this product the most optimal option for those that are truly in need of the benefits this product provides. After taking the first 30-day supply, my husband said he can definitely tell it's helping! I will hopefully be able to order more soon!

Bottom Line: Yes, I would recommend this to a friend

---