Best Eczema-Friendly Makeup: Recommendations from Experts
Women with eczema can safely wear makeup by selecting the right products. Experts offer their recommendations and other tips for this skin disease which can cause red, itchy and painful symptoms.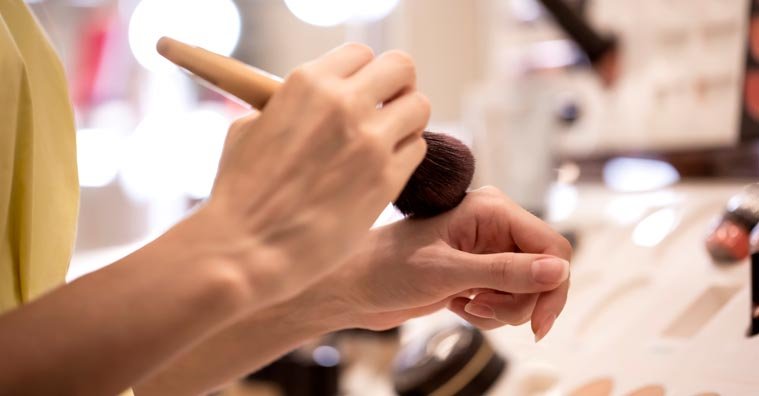 Many women with eczema believe they should not wear any makeup based on the fear of irritating their skin and causing more problems or flares. But in reality, women with eczema can, in fact, wear makeup – especially if they use products that are hydrating in nature.
This article takes a look at the best eczema-friendly makeup for women. We've obtained input from three top experts for this topic who address important factors women should consider when it comes to choosing makeup brands.
These experts, who are all Board Certified dermatologists, also offer several specific product recommendations so you can explore which one is best for you.
Common Misconceptions
The most important factor concerning makeup and eczema is the skin barrier, and keeping it intact by using make-ups that moisturize and hydrate the skin while repairing the skin barrier, said Dr. Matthew J. Elias, a Board Certified Dermatologist at Elias Dermatology.
"It is important to look for makeup with hydrating ingredients like shay butter, hyaluronic acid, lanolin, and niacinamide, which will help repair the skin barrier," Dr. Elias recommended.
In other advice, Dr. Elias said it's also extremely important to search for products that are approved by the National Eczema Association, "though makeup may be harder to find with this seal," he said.
According to Dr. Rhonda Q. Klein, a Board Certified Dermatologist at Modern Dermatology in Connecticut, patients think that oils are always good.
"This is often a misconception as oils are frequently fragranced and comedogenic (tending to cause blackheads by blocking the pores of the skin)," Dr. Klein noted, adding that "natural products are not always good for eczema-prone patients."
Makeup Factors to Consider for Women with Eczema-Prone Skin
Eczema-prone skin is very sensitive, and makeup with harsh ingredients may irritate the skin resulting in redness, itching, burning, and pain – all signs of worsening eczema, said Dr. Lauren L. Levy, a Board Certified Dermatologist at Loucas Dermatology in New York City.
Many patients with eczema may have a co-existing contact dermatitis – a skin allergy to certain products – so an application of these ingredients can lead to worsening rash, Dr. Levy warned.
"Makeup with added retinol or other anti-aging products may also cause irritation," said Dr. Levy, adding that one should choose a makeup that is gentle and hypoallergenic.
It is best to avoid products with alcohol which can dry out the skin, Dr. Levy further advised.
"Make-ups with salicylic acid or glycolic acid may also be irritating," she said. "Fragrances added to makeup may also flare eczema, so fragrance-free products should be considered as a more gentle choice. Lastly, keeping the facial skin hydrated will not only make eczema better but will make makeup application less irritating by providing a barrier."
Best Types of Ingredients in Eczema-Friendly Makeup
According to Dr. Levy, makeup with hyaluronic acid can be hydrating for patients with eczema.
Additionally, "makeup with ceramides may also provide barrier repair which makes the application less irritating and helps keep eczema under control," Dr. Levy noted. "Makeup that contains niacinamide may act as an anti-inflammatory and help calm down active dermatitis/eczema."
Dr. Klein said the following ingredients in makeup might be good for women with eczema-prone skin because they are hydrating and anti-inflammatory:
Glycerin
Hyaluronic acid
Niacinamide
Best Makeup for Eczema-Prone Skin: Expert Recommendations
The following makeup recommendations for women with eczema were suggested by Dr. Levy, Dr. Klein, and Dr. Elias:
Neutrogena® Hydro Boost
This hydrating makeup line, which includes a hydrating tint and concealer and lip plump, was recommended by Dr. Levy. According to the Neutrogena® website, this lightweight hydrating foundation contains hyaluronic acid and achieves flawless coverage that lasts all day. Out of 491 reviews on the company's site, it received 4.4 out of 5 stars.
This product can be purchased for $16.99 on the Neutrogena® website. Comparatively, it can also be purchased for $11.89 at Rite Aid and $10.79 at Target.
Smashbox Photo Finish Reduce Redness Primer
According to Dr. Levy, the Smashbox Photo Finish Reduce Redness Primer makeup with sunscreen contain physical blockers – zinc oxide and titanium dioxide – which are less irritating than chemical blockers.
The company website states that this green-toned face primer color-corrects redness, blurs pores and fine lines while evening out the skin tone. It also contains an antioxidant blend of vitamins A and E to help protect the skin from environmental pollutants, damage, and stress.
It costs $39 on the Smashbox website and costs the same at Sephora and Ulta. Comparatively, it costs $33 on Amazon, where it received 4 out of 5 stars based on 247 customer reviews.
Avene MINERAL High Protection Tinted Compact SPF 50
Dr. Levy said the Avéne MINERAL High Protection Tinted Compact SPF 50 is "a personal favorite" for those that suffer from both eczema and melasma or hyperpigmentation.
According to the company's website, this 100% mineral sunscreen with Titanium Dioxide and Zinc Oxide is non-irritating and safe for intolerant and sensitive skin types, including hypersensitive and allergenic skin. Out of 64 reviews, it received 4.9 out of 5 stars.
This product costs $36 on the Avéne website; it also costs $36 on Amazon and at Walgreens.
NARS® Radiant Creamy Concealer
This product, recommended by Dr. Elias, is NARS' #1 award-winning concealer that also received a 2018 Readers' Choice Award in the allure beauty report.
According to the company's website, this is a multi-active botanical blend that includes Magnolia Bark Extract, Grape Seed Extract, and Vitamin E, which hydrates, firms, reduces redness and strengthens the skin by helping its barrier retain vital moisture. It also delivers essential antioxidant protection to help protect skin against damaging free radicals.
The product costs $30 on the NARS® website, where it received 4.6 out of 5 stars based on 395 customer reviews. It also costs $30 at Ulta Beauty, Neiman Marcus, and Nordstrom.
Perricone MD Face Finishing and Firming Moisturizer
This product, recommended by Dr. Elias, is one of Perricone's best-selling moisturizers. According to the company's website, it's loaded with powerful antioxidants and nourishing nutrients to help minimize the appearance of fine lines and wrinkles. It is also rich in texture and deeply hydrates the skin. This formulation contains vitamin E, DMAE, and kukui nut seed oil to combat everyday dryness.
This product costs $69 on the company's website, where it received 4.6 out of 5 stars based on 503 customer reviews. It also costs $69 at Dermstore, Ulta Beauty, and Sephora. It can also be purchased at Walmart for $29.99.
Hourglass VEIL™ Mineral Primer
Recommended by Dr. Elias, this multipurpose primer conceals redness – even rosacea – to even skin tone, while minimizing the look of visible pores, fine lines, and imperfections. This oil-free formula also delivers broad-spectrum SPF 15 sun protection with mineral-derived sunscreens, Titanium and Zinc Oxide.
On the company's website, this product costs between $19 to $75 depending on the size, which includes an 8.95ML travel size for $19; a 30ML bottle for $54; and a 60ML jumbo size for $75. Comparatively, the prices are the same at Sephora, where it received 4.3 out of 5 stars based on 5,644 customer reviews.
VMV Hypoallergenics®
Dr. Klein said that VMV Hypoallergenics® is her favorite line for patients with eczema and contact dermatitis.
"It is completely hypoallergenic and all their lines are great, though their mascara and foundation are among my favorites of their products – they also have great lipsticks," Dr. Klein noted.
Hypoallergenic means are less likely to cause allergies. According to the company's website, these products provide "the safest, most proven effective care on the planet." The company emphasizes that they're "highly selective about our ingredients – each one has to achieve maximum results and no irritation."
There are several makeup products in this line, including bronzer, blush powder, concealer, and foundation, as well as mascara, eyeshadow and brow liner, lipstick, lip gloss, and lip balm. Prices on the company's website range from $38 for the bronzing powder, $42 for the two-way powder foundation, and $25 for the "skin the buff" concealer. VMV Hypoallergenics® can also be purchased at Dermstore and Amazon.
Vanicream™ Moisturizing Skin Cream
Dr. Klein recommends the Vanicream™ line, which she says provides "great for moisturization" for those with dermatitis. Vanicream™ is created by Pharmaceutical Specialties, Inc., which claims to develop and manufacture skincare products for those "who need, or want, to avoid many of the common chemical irritants found in ordinary skincare products."
While Vanicream™ does not manufacture makeup products like foundation, the Vanicream™ Moisturizing Skin Cream is free of common chemical irritants found in ordinary creams such as dyes, fragrance, and parabens. According to the company, it's considered "ideal" for dry skin associated with eczema and helps soothe red, irritated, cracking or itchy skin.
The Vanicream™ Moisturizing Skin Cream is available at Walgreens and Target for $14.99 and at CVS Pharmacy for $17.29.
What Women with Eczema Should Avoid When Shopping for Makeup
According to Dr. Klein, who treats patients with eczema on a daily basis and also does patch testing, women with eczema who want to wear makeup should consider the following factors when it comes to selecting products:
Fragrance-free
Non-comedogenic
Paraben-free
Lanolin-free
Dye-free
Dr. Elias noted that you should try to avoid acids, fragrances, and parabens, "although recent literature from the Contact Derm Society may actually argue against this, with new ingredients used instead of parabens leading to increases in allergic reactions."
Dr. Klein said glycolic acid, salicylic acid, retinol, preservatives (parabens), and fragrances all can be irritating and cause reactions in patients prone to eczema.
Additionally, "I've seen many patients react to MAC cosmetics; also Beauty Counter is known for being natural but this doesn't mean that eczema-prone patients won't react," Dr. Klein warned.
Dr. Klein added that it's safe for women with eczema to wear makeup, "but please pay attention to ingredients and stick with sensitive skin lines."
In other advice, Dr. Levy advised avoiding heavy stage makeup or any makeup with fragrance, which can be irritating.
Dr. Levy also recommended avoiding alcohol-drying retinol, "especially if using another anti-aging medication or prescription acne treatment."
Dr. Levy agreed that it's safe with the right products, adding that "avoiding alcohol-based products and liberal use of an emollient/moisturizer prior to putting on makeup is helpful."
Skincare in Between Makeup for Women with Eczema
Women with eczema should also be mindful about taking care of their skin in between wearing makeup.
According to Dr. Levy, makeup should always be removed nightly or before heavy physical activity to prevent makeup and dirt seeping into open pores.
"Micellar water is an excellent choice for makeup removal and facial cleansing for those with eczema," said Dr. Levy, adding that Micellar water contains glycerin and other surfactants that help remove dirt and oil while also providing hydration.
"It is also very convenient because rinsing is not necessary after use," Dr. Levy said. "Simple Micellar water has no artificial additives, is soothing for sensitive skin, and a good choice for those with eczema."
In other advice, Dr. Levy said to be careful with harsh makeup removing wipes as fragrance and additives may irritate the skin.
"Moisturizing and hydration is key for those with facial eczema and will allow for makeup to be applied more evenly and with less irritation," Dr. Levy explained. "Facial moisturizers with ceramides, lipids, and hyaluronic acid all help to improve the compromised skin barrier that occurs in eczema patients."
Dr. Klein said CLn daily wash and moisturizers are specifically made for patients with eczema, as is the Vanicream line of products.
"VMV Hypoallergenics also has wonderful makeup removal," Dr. Klein added. "Stick with zinc oxide non-nanoparticle sunscreens if sensitive, such as Blue Lizard or ISDIN's Eryfotona Actinica Ultralight Emulsion SPF 50+."
Final Thoughts
Do not become frustrated if one product causes irritation or eczema flare, as there is a product that is right for everyone, Dr. Levy said.
"It is also important to get areas of active eczema under control with either topical steroidal or non-steroidal medications so consultation with a board-certified dermatologist is important," Dr. Levy advised. "Once the eczema is healed, makeup and other products are a lot less irritating on the skin."
In other tips, Dr. Klein said to always moisturize first, hydrate with a good B5 product, and try a small area of new products before applying to the entire face.
"If prone to eczema, do not exfoliate or use retinol frequently," Dr. Klein added. "Alpha hydroxy acids will also be irritating. If eczema is not responding to standard therapies, discuss patch testing or allergy testing with your dermatologist to make sure there is not an allergen exacerbating the disease."