Beverly Hills MD Lift + Firm Sculpting Cream Reviews
This company has claimed this profile, is getting alerted on any new customer reviews entering this page, and may engage in dialogue with its customers to address their matters.

Companies cannot pay money or provide goods in order to remove or alter customer reviews.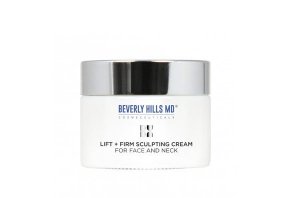 Summary
Beverly Hills MD Lift + Firm Sculpting Cream is a doctor-formulated anti-aging product that's claimed to contain a  blend of active ingredients that support your skin's cellular matrix.
Customer Reviews
This company is actively collecting reviews from its customers. All reviews submitted are subject to moderation and approval to ensure they meet our
Review Guidelines
.
Posted on Jan 8, 2020
My must-have tightening cream
I've been using the Beverly Hills MD Lift + Firm Sculpting Cream for the past couple of years. Not only can I see a difference in the smoothness and tightness of my skin, but I've also gotten many compliments from my friends on how my neck and jawline look so much younger than my age. The only improvement I'd like to see more of is with the jowl/jawline area. However, I will keep using it since it does take years off of my appearance and keeps my skin from looking crepey, and I will also hope that the formula will be upgraded at some point to do even more tightening.
Bottom Line: Yes, I would recommend this to a friend
Posted on Dec 17, 2019
Yay! Looking half my age!
I am so pleased when I look at myself in the mirror. I truly feel like I look better now than I did in my 30's. And, yes, I'm a lot older now. Lift + Firm Sculpting Cream is a big reason for this. It is confidence-building when someone looks at you and tells you how young you look. Thank you Beverly Hills MD for such a fantastic product.
Bottom Line: Yes, I would recommend this to a friend
Posted on Nov 21, 2019
Awesome product!
I have definitely been able to tell a difference since I have been using the Lift & Firm Sculpting Cream. My face has been smoother and firmer. I apply it daily to my neck area too. I am very pleased with the firm tone of my neck area and minimal wrinkles. I am definitely pleased with this product and will continue indefinite use of it. I have shared with my girlfriend and she likes it too!
Bottom Line: Yes, I would recommend this to a friend
Posted on Jul 25, 2019
Lift + Sculpting Cream - it's great!
I highly recommend the Lift + Sculpting Cream. I have always taken care of my skin and thought my face was pretty good for being 67 years old. This cream made it better! No greasy residue. Great under makeup and powder. Don't need to use a lot - about a dime works. Twice a day a must. I haven't even used half a jar and notice a difference. So a little goes a long way. I've tried quite a lot of creams, and I believe I have found the best.
Bottom Line: Yes, I would recommend this to a friend
Posted on Jul 2, 2019
Best for sagging and tightening
Despite consistent use of quality skin care and daily broad-spectrum mineral sunblock, due to childhood sun exposure, chronic illness, and hereditary factors, my skin began prematurely sagging in my mid-lower jaw and neck areas in my early 40s. I began many dermatology treatments and eventually invested in a face/neck lift at age 47. When I did not get the tightness and firmness back that I expected after all the expensive procedures, I gave up for in despair, yet with a small amount of hope that I would eventually find an affordable and effective solution. As the skin in my problem areas gradually continued becoming "mushy," I found an ad on Facebook offering a special deal for Beverly Hills MD Lift + Firm creme. Immediately upon the first use, I did notice a subtle improvement in overall firmness, even in my problem areas. I thought it may only be temporary but committed myself to using it twice a day. While I fid not take any selfies, within 2 weeks, I became so excited one morning when I looked in the mirror and noticed a big difference in the lower part of my face! To my amazement, the creme had lived up to its promises - as I gently stroked my face, I realized that my skin had not been this firm and soft since my late 30s! I never want to be without this creme and look forward to trying all of BHMD's products as my budget allows.
I will recommend the products to anyone who expresses interest in my skin care or asks me what is my secret to looking younger than my age. It is BHMD's Lift + Firm that created the skin firmness improvements, along with my faithful use of broad-spectrum mineral sunscreen to prevent further sun damage. After more than two decades of medical procedures, product experimentation, and much frustration, I can attest that there is nothing better available in the market (to my knowledge) at any price!
Bottom Line: Yes, I would recommend this to a friend
Posted on Jul 1, 2019
Don't stop
I love BHMD Lift + Firm face cream. It really does firm the skin on my sagging neck and jawline. I've tried so many other products both online and local store purchases. I've purchased from Walmart and Walgreens as well as Merle Norman and Department Store brands such as Clinique and Estee Lauder. None of the creams gave me near the results of BHMD product. I've had to stop using it though because of the cost and within a week my saggy, waggy jowls and flappy neck were back. As soon as I can afford it I will be ordering it again.
Bottom Line: Yes, I would recommend this to a friend
Posted on Jun 25, 2019
Beverly Hills MD Lift + Firm Sculpting Cream
I am still on my first jar of the Lift + Sculpting Cream and I can see and feel beautiful results. Love that the cream has no smell and it's so smooth to apply. I am 57 years old and people always say I look younger. Not using any secret regimen of beauty products. This cream is simple to use and feels great, just as if you didn't have anything on. Very absorbent. I love it and would definitely recommend it to my friends and family.
Bottom Line: Yes, I would recommend this to a friend
Posted on Jun 11, 2019
Beverly Hills MD products
I highly recommend Beverly Hills MD Lift + Firm Sculpting Cream. This product works by effectively lifting, tightening, and giving you a firm look to your face, neck and decolletage area. I've been very pleased with the look and feel this product delivers. My friends are always commenting and complimenting me. They always tell me how they hope they can achieve to look as good as I do at my age. I find this very humbling as they are much younger than I am. Buy this product and see for yourselves how it truly works and you'll be amazed at how it's power can transform you into a much younger looking person.
Bottom Line: Yes, I would recommend this to a friend
Company Response from Beverly Hills MD
Jun 12, 2019
Hi Juanita. My name is Sam and I am with Beverly Hills MD. I am so happy to read you have received such great results while using our Lift + Firm Sculpting Cream. Doctors John Layke and Peyman Danielpour work hard to create cutting-edge formulas using the highest quality ingredients. Thank you for including Beverly Hills MD in your skincare regimen. We appreciate your feedback and the chance to hear your story. If you ever have any questions or comments, feel free to email me at sam@beverlyhillsmd.com. I wish you a wonderful day.
Posted on Jun 4, 2019
Feels like silk
Soft and feels luxurious going on. Pretty sure it's making a difference but I forgot to take the "before" shot. The only thing I don't love is that if I rub or touch my neck too much it sort of peels off? Overall I'm pretty sure it's making a difference though and I don't need to be rubbing my neck anyway.
Bottom Line: Yes, I would recommend this to a friend
Posted on May 23, 2019
Lift + Firm cream
My initial thought was that the cream was like any other in that after a few days, I did not see any miraculous improvement. But, I kept using it and to my surprise, slowly I began to see improvement overall. Then, I began to feel improvement. I am very happy with the cream and will continue to use it in my skin care regimen.
Bottom Line: Yes, I would recommend this to a friend
Posted on Oct 22, 2018
I didn't notice anything after 6 months
I'm 44 and had a saggy neck and jowls. When I heard about this cream, I was very hopeful, so I religiously used the product on my neck and jawline morning and night for 6 months, but saw no tightening what-so-ever. I ended up getting a lower face-lift instead.
Bottom Line: No, I would not recommend this to a friend
Company Response from Beverly Hills MD
Oct 23, 2018
Hi Julie! I'm Sam from Beverly Hills MD. Thank you so much for giving our product, Lift + Firm Sculpting Cream a try. As you can see from all of the positive reviews on this page, many people have seen the benefits of this product! But as with all products, we do understand that they may work well for some and not for others. I would be more than happy to issue you a full refund! Just email me at Sam@Beverlyhillsmd.com. I look forward to hearing from you and assisting you with the refund process!
Our Promise to You
In order to safeguard you and ensure helpfulness and relevance, our compliance team manually assess every customer review before it goes live.
We have a zero-tolerance policy for fake reviews, and companies cannot control or alter any reviews at any time.