Multi-Action Sculpting Cream by City Beauty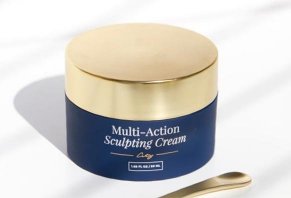 The City Beauty Multi-Action Sculpting Cream is branded as a skin toning solution that counteracts the effects of aging naturally.
Multi-Action Sculpting Cream by City Beauty Review
The Multi-Action Sculpting Cream from City Beauty is an intensive moisturizing product meant to visibly restore your skin's elasticity to reduce the effects of aging.
The company claims that this cream's formula will nourish your skin so that it develops a "taut, springy" feel that visibly reduces wrinkles and fine lines.
City Beauty is a luxury skincare brand based in Los Angeles that is dedicated to helping women look their best as they age with "functional beauty" products that they claim offer more than surface-level skin benefits.
The company is most known for City Lips, a lip-plumping gloss that we've highlighted before. Their Multi-Action Sculpting Cream expands the collection by purportedly targeting the underlying causes of thinning, sagging skin to increase toning and tautness.
Will this cream work as described? You'll have your answer after reading this article.
How Does the City Beauty Multi-Action Sculpting Cream Work?
The company claims that the sculpting cream can offer benefits to all skin types. To use, scoop a small amount into your hands to warm it up before massaging it where your skin needs the treatment.
According to the company's marketing material, the Sculpting Cream works due to three proprietary compounds that it contains: EASYLIANCE™, PROGELINE™, and IDEALIFT™.
Below are the benefits City Beauty claims these compounds add to the cream:
EASYLIANCE™: This ingredient is derived from acacia and sunflower, and purportedly gives the skin a tighter appearance within five minutes of use by forming a contouring network on the skin's surface that reduces the visibility of fine lines and wrinkles.

PROGELINE™: Promising to decrease your skin's levels of progerin (a skin-aging protein) by 22%, this peptide ingredient restores your body's natural repair process. The compound is also claimed to help promote healthy levels of collagen and elastin in your skin.

IDEALIFT™: This compound is claimed to stimulate elastin synthesis to improve the structure of your skin so that it holds its shape without sagging.
About the City Beauty Multi-Action Body Sculpt Ingredients
These benefits sound impressive, but it's hard to unpack any details without knowing the specifics behind these proprietary ingredients. Can we learn more from the ingredients list?
Let's take a closer look by listing some of the ingredients included in this cream:
Water
Butylene glycol
Caprylic/capric triglyceride
Isononyl isononanoate
Glyceryl stearate
Acacia Senegal gum
Aloe barbadensis leaf extract
Camellia sinensis (green tea)
Avena sativa (oat) kernel extract
Phenoxyethanol
Zinc gluconate
Copper gluconate
Our research into third-party websites like WebMD and the EWG cosmetics database showed us that most of these ingredients are frequent additions to skin creams and act as moisturizers, skin conditioning and thickening agents, emollients, solvents, fragrances, and preservatives.
Nothing stood out to us as potentially dangerous about this product, though Acacia Senegal gum does have a slight risk of organ system toxicity (but only when ingested).
Likewise, some people have skin sensitivities to phenoxyethanol, so it might be smart to try a small amount of this cream before committing to treatment if you think you are one of them.
What Does City Beauty Multi-Action Sculpting Cream Cost?
At the time of writing, this sculpting cream was sold exclusively on City Beauty's website. The price per jar depends on how many you purchase, with one costing $49, two $88 ($44 each), and three $117 ($39 each).
The company offers a 60-day trial for each purchase, meaning that you can request a full refund if you don't like the changes you see within two months of use.
You can get in touch with any further questions by contacting the company through phone (1-800-347-1558) or their email page at support@citybeauty.com.
A Look at the Multi-Action Sculpting Cream Reviews
The product's reviews on the City Beauty website and Facebook page still provide plenty of information about what users think of it.
Overall, the reviews we saw were impressively positive about this product. Many people reported that they noticed differences in the texture and toning of their skin after a few weeks of use. Some even said that friends and family complimented them on their appearance.
A few people weren't as enamored with the cream because they felt that it dried out their skin and left it feeling tight. However, the vast majority of reviews we read awarded the product five stars.
Even so, it's important to note this potentially isn't a balanced perspective because all of the reviews are moderated and published by City Beauty.
Similar Products to City Beauty's Multi-Action Sculpting Cream
For those looking to tone their skin, there are other sculpting cream brands to consider besides City Beauty.
Two popular options are the StriVectin Tightening and Sculpting Face Cream, and Olay Regenerist Micro-Sculpting Face Cream. Are either better contenders for your face? Let's look closer.
The StriVectin Cream promises to nourish your skin to visibly plump up your face and improve definition. The product relies on a 'proprietary NIA-114 technology', which claims to target problem areas in the skin to deliver results that pack a punch.
The company website states that 97% of users report firmer skin after eight weeks of use, and Amazon reviews show this cream averages 3.5 stars out of five after 40 reviews.
Pricewise, you'll pay $95, or approximately twice as much as you'd pay for a jar of sculpting cream from City Beauty.
Another product worth considering is the Olay Regenerist Micro-Sculpting Face Cream. Like the other two creams, it promises to penetrate your skin to provide deep hydration that improves elasticity while reducing wrinkles.
This cream contains hyaluronic acid, a common compound in skincare products that's used to help skin cells maintain their moisture content.
You'll pay less for this product than the others, as it costs $21.74 per 1.7-ounce jar on Amazon, which is approximately half the price of City Beauty's cream.
Even so, customer reviews show us that many people are convinced it works, as the cream averages four stars on Amazon after more than 3,000 reviews.
Our View: Should You Try City Beauty's Multi-Action Sculpting Cream?
From this report, we've learned that City Beauty's Multi-Action Sculpting Cream is a product offered by a reputable beauty company that claims to erase your wrinkles and add moisture to your skin.
The company bases these claims around the proprietary ingredients within the cream, but we couldn't determine anything specific in the ingredients list that stands out from other skincare products that might be responsible for these effects.
While customer reviews of the cream are hard to find off the product website, the reviews we read were glowingly positive about its skin rejuvenating effects.
However, the two other sculpting products we looked at had similarly positive reviews, and one (Olay Regenerist Micro-Sculpting Face Cream) comes in at half the price.
If you're on the fence about trying this cream, we think there's enough reason to give it a try. So long as you keep the 60-day guarantee in mind, you should be able to get your money back if it's not right for you.
» Recommended Reading:
This company is actively collecting reviews from its customers. All reviews submitted are subject to moderation and approval to ensure they meet our

Review Guidelines

.

I'm in love!

By Kathryn D.

,

Blythewood, SC

,

Jan 2, 2020
Verified Reviewer

I'm very pleased with this product. First time I applied it to my face it felt like silk. I've been using the Sculpting cream for about 2 weeks now and can tell my tiny lines next to my eyes and lips are decreasing.

My neck had started sagging terribly. I can tell the Sculpting Cream is working like a charm there too.

I recommend this cream highly.

Bottom Line: Yes, I would recommend this to a friend

---

Works better than I anticipated

By David D.

,

Pennsylvania

,

Jan 2, 2020
Verified Reviewer

I am 61 and just started to see fine lines around my eyes. This cream makes them all but invisible...love it...love it...love it!

Bottom Line: Yes, I would recommend this to a friend

---

Multi-Action Sculpting Cream

By Linda B.

,

California

,

Dec 30, 2019
Verified Reviewer

Delicious. Refreshing, smoothes and "soaks" into the dermis in no time. I was surprised this cream was so pleasing to use, morning and night, and I see the marionette lines are reduced with use - texture of my skin is luscious, too. At age 66 that is a surprise, but I have received compliments from a couple of strangers so it's not only me that sees the benefit of this cream. Happy to leave a review - not usually but in this case yes, it deserves a shout out. Thanks!

Bottom Line: Yes, I would recommend this to a friend

---

So far so good!

By Cathy T.

,

Springfield, IL

,

Dec 29, 2019
Verified Reviewer

I have only been using City Beauty Multi-Action Sculpting Cream for about 3 weeks. I took a picture before I started using it and am waiting to see the results. My face does feel smoother and softer.

Bottom Line: Yes, I would recommend this to a friend

---

Advertisement

---

Good product but still early

By Denise M.

,

Indiana

,

Dec 28, 2019
Verified Reviewer

So far so good, I haven't used it long enough to see any firming results...but I have faith I will! I do like the way my skin feels when I use it. Seems a little goes a long way, use just a little too much and I have to brush off the little bits that roll up and don't absorb. Wrinkles seem to be less noticeable, I am 60 years old and don't expect miracles! So, all in all, I like the product but need more time to decide if I love it.

Bottom Line: Yes, I would recommend this to a friend

---

Excellent

By Eleanor S.

,

Morden, Manitoba, Canada

,

Dec 28, 2019
Verified Reviewer

Although I have only been using this cream for 2 days I can already see a difference because I have milia on my face and I haven't found anything that removes and smooths it out until I got your cream. Now I hope to see some of the wrinkles disappear, especially around the mouth.

Bottom Line: Yes, I would recommend this to a friend

---

Sculpting Cream

By Gillian C.

,

New South Wales, Australia

,

Dec 28, 2019
Verified Reviewer

So far (approximately 2 weeks) the product appears to meet the advertised expectations and I am more than pleased. At the time of purchase I chose to order only 1 jar as in the past I have bought because of cost savings and discovered in the first jar, the promised result was not achieved on my face. I fully expect, based on results to now, to see further improvements in crepeyness and when I do I will become a regular user. I also appreciate your ongoing support and advice, very rare in this day and age.

Bottom Line: Yes, I would recommend this to a friend

---

Soft and smooth

By Judith K.

,

Hackensack, NJ

,

Dec 27, 2019
Verified Reviewer

I started using this product two weeks ago. I have to say that I love the way my skins feels, soft and smooth. However, I have not yet seen the tightening of the skin the way I thought I would.

I plan to continue to use the product until the jar is finished. At that time I hope I will see an improvement as indicated in some of the photos I have seen. I am not sure how old the women were in those pictures, but I am in my 60's and I may have higher expectations than I should.

Bottom Line: Yes, I would recommend this to a friend

---

My experience with Multi-Action Sculpting Cream

By Teresa D.

,

Florida

,

Dec 27, 2019
Verified Reviewer

The moisturizer is easy to apply but not on dry skin. So I usually mist first before applying. I feel it is a good product but after I apply it my skin feels dry-ish. I held out hope that it would help my neck somewhat better than it did. I will keep using it and will review again later.

Bottom Line: No, I would not recommend this to a friend

---

Pleased thus far

By Janice K.

,

Wisconsin

,

Dec 27, 2019
Verified Reviewer

I am a 70-year-old woman with the usual wrinkles and saggy jowls of an old woman, I started using the sculpting cream about 2 weeks ago and I do notice a difference. My skin is softer and the wrinkles less noticeable, but the thing that makes me happiest is the fact that my turkey neck is better and I actually have a jawline again. I also bought a jar for my 97-year-old mother and she has noticed an improvement in her skin too. She had lots of scabby areas and they have improved...her wrinkles are still very noticeable but she has lost weight, and that is part of the problem at 97, things do not snap back like they used to.

Bottom Line: Yes, I would recommend this to a friend

---

It blends in with the skin quickly

By Debra T.

,

Oceanside, CA

,

Dec 26, 2019
Verified Reviewer

Other creams I have used do not seem to be absorbed as quickly as City Multi-Action Sculpting Cream beauty cream. It also has made my skin softer. I am on my second month almost so it can only get better. I have not bought the eye treatment but this will be next. I would like to compare it to my other cream used now.

Bottom Line: Yes, I would recommend this to a friend

---