Beverly Hills MD Deep Wrinkle Filler
This company has claimed this profile, is getting alerted on any new customer reviews entering this page, and may engage in dialogue with its customers to address their matters.

Companies cannot pay money or provide goods in order to remove or alter customer reviews.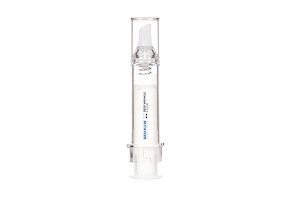 Summary
The Deep Wrinkle Filler claims to use its proprietary ingredients to smooth out your skin and erase wrinkles to give you a more youthful appearance. Customer reviews indicate it works, but the ingredients list leaves us unconvinced.
Pros
Positive customer reviews
No noted cases of adverse side effects from reviewers
Discounts for bulk orders
Cons
Minimal clinical evidence associated with key ingredients
More expensive than the competition
Will provide only short-term benefits, at best
Deep Wrinkle Filler Review: Is It Worth It?
HighYa is supported by our readers. When you buy something through a link on this page, we may earn an affiliate commission. Learn more.
The Deep Wrinkle Filler is a specialty skincare product that is designed to reduce the appearance of fine lines and wrinkles. The formula contains proprietary ingredients that purportedly improve your skin health and texture over the long term so that you can get the effects of injections without the pain or expense.
Beverly Hills MD is a skincare company focused on anti-aging products designed to appeal to mature women.
Co-founders Dr. John Layke and Dr. Payman Danielpour have more than a decade of experience in cosmetic surgery and chose to transition to a company that offers non-surgical options for achieving the same outcome.
Our analysis will help you decide if this product is right for you.
How to Use It
Beverly Hills MD claims that this wrinkle filler works due to a formula that contains a medical-grade, diamond-infused polymer blend that's meant to fill in your wrinkles and blend seamlessly with your natural skin.
This short-term effect should last until you wash your face, but the filler contains other ingredients designed to nourish your skin for a smoother, more elastic look over the long term.
Though this Deep Wrinkle Filler is considered suitable for all skin types, those with mature skin will likely experience the most significant benefit.
To use, make sure your skin is clean and dry. Apply a small amount of filler directly to the wrinkles you wish to treat, and pat it in lightly until blended. Let it dry into your skin for at least a minute before finishing your makeup routine.
According to the company's self-reported questionnaire of user group participants, 100% agreed that the product is easy to use and subtle enough to forget about within a minute of application.
While the company claims that this wrinkle filler contains only gentle, non-irritating ingredients (more on those next), you might want to perform a spot test before using it if you tend to have sensitive skin. If you don't react to it within a few hours, feel free to apply it as desired.
Deep Wrinkle Filler Ingredients: Do They Work?
Beverly Hills MD lists three primary ingredients in its formula:
Wrinkle-Smoothing Polymer Blend
The company claims to utilize a proprietary blend of skin-like polymers that work on contact to fill in your wrinkles for a smooth surface that should last all day.
Polymers are defined as any molecular structure that contains a large number of molecules joined together. They can be natural or synthetic, and make up the majority of materials in living organisms, like proteins.
Kristina Kitsos, a registered nurse and aesthetic nurse injector with more than fifteen years of experience with cosmetic ingredients shared some insight on this blend's potential.
"It is, in essence, a silicon-based barrier ingredient – the same kind that is in many skincare products and almost all primers," she told us.
"It acts like an elegant sparkle and fills the crevices, pores, and fine lines so that the skin looks much more smooth and flawless… Although this is a temporary fix, and the results will wash off when the product is washed off, it is a quick and easy solution for pores and fine lines."
Diamond Powder
Increasingly common in cosmetic products, diamond powder is often used as a natural exfoliant and as a brightener to reflect light off your skin and consequently disguise any fine lines and wrinkles.
There's not much clinical evidence available related to its effectiveness.
Tightenyl
This ingredient is considered a "bio-lifter" that will purportedly penetrate deep into the skin's dermal layer and improve its firmness and elasticity to give it a younger, more youthful appearance.
There's not much information about it publicly available.
"Tightenyl is a word that the brand made up," shares Kitsos. "It is likely a name they created to refer to peptides that they use… When applied topically to the skin, peptides act as little messengers, triggering skin cells to perform specific functions like building collagen and elastin, and they stimulate the skin to regenerate and look and act younger."
She went on to explain that we start losing up to 1% of our natural collagen levels every year after age 30. "Since peptides are so integral in keeping our skin young and healthy, when they deplete, the result is aging skin. So by supplementing more peptides, you are, in essence, replenishing that which is depleting every year."
Safety
This formula contains dozens of other ingredients, most of which are common in skincare products and act as moisturizers, preservatives, natural plant extracts, emollients, emulsifiers, and fragrance agents.
A few are notable for potential health concerns, including the following.
Cetyl PEG/PPG-10/1 Dimethicone: This silicone is a common conditioning agent that's added to hair and skin products because it can lubricate and protect your skin and strands. Though it's considered safe on its own, the CIR Expert Panel classifies this compound as toxic because it's often contaminated with 1,4-dioxane, which is considered a carcinogen. It's also known to worsen skin sensitivity issues for many people and lead to itching and irritation.

Cyclopentasiloxane: This compound is a silicone found frequently in skincare products. One problem is that it tends to accumulate on the skin, which can lead to irritation issues, especially for those with sensitive skin.

PEG-10 Phytosterol: Derived from soybean oil, PEG-10 Phytosterol is a surfactant and emulsifying agent. Safety reports show there's little risk of using it in low concentrations on your skin, but it can accumulate in the body if swallowed (especially the ovaries). Even so, there's little evidence it can impact reproductive health.

Phenoxyethanol: This compound is a common cosmetics preservative. Lots of people have adverse reactions to it, which can include eczema and even severe allergic reactions.
Pricing and Return Policy
One Tube (0.6-oz): $125
Two Tubes: $103 each ($206)
Three Tubes: $98 each ($294)
Shipping is free.
Purchases made directly from the company qualify for 60-day money-back guarantee. You can request a full refund if you're unhappy for any reason.
The product is also available on Amazon.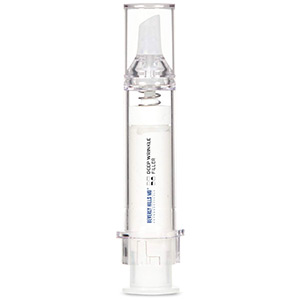 Buy Beverly Hills Deep Wrinkle Filler from Amazon:
Deep Wrinkle Filler costs $79.99 for one bottle. Shipping is free.
Analysis of Customer Reviews
On our website, the Deep Wrinkle Filler was reviewed by more than 80 customers, who gave it a total of 3.9-stars out of five. Over 75% of customers said they would recommend this product to a friend.
Common Compliments:
Led to quick wrinkle improvement
Fills in wrinkles for immediate results
Users had other people comment on how nice their skin looked
Many thought it worked better than similar products
Common Complaints:
Some people developed worse skin
Many users had difficulties with the return policy
Not everyone noticed results
Works, but product too expensive for the benefits
Popular Alternatives
| | Beverly Hills MD Deep Wrinkle Filler | Olay Wrinkle Cream | Serious Skincare Insta-Tox Instant Wrinkle Smoothing Serum |
| --- | --- | --- | --- |
| Price | $98–$125/ 0.6-oz | $23/ 1-oz | $24.50/ 0.75-oz |
| Active Ingredients | Polymer blend, diamond powder, tightenyl | Cyclopentasiloxane, Polyethylene, Dimethicone Crosspolymer, amino peptides, vitamin E | Sodium silicate, magnesium aluminum, magnesium aspertate |
| Average Reviews | 3.9, 6 reviews (HighYa) | 4.1, 690 reviews (Amazon) | 4.4, 240 reviews (Amazon) |
All three of these products are designed to work the same way. Apply a small amount of filler, cream, or serum to your wrinkles and let it absorb in to minimize your wrinkles before applying the rest of your cosmetic products.
There's a big price discrepancy between them. You'll pay 4–5 times as much for a tube of the Beverly Hills Deep Wrinkle Filler.
Better ingredients could potentially explain this difference, but we didn't notice anything in the Deep Wrinkle Filler's formula that indicates it should work better for reducing wrinkles.
Regardless of which of these wrinkle fillers you choose, it's important to keep in mind that they can only offer a temporary fix (at best) for your wrinkles.
They may contain some ingredients that nourish your skin and keep it healthy, but there's nothing in any of their formulas that will plump your skin the way that injections will.
This means you will need to keep your expectations realistic about what your results will look like after its use.
The Bottom Line
The Beverly Hills MD Deep Wrinkle Filler has a loyal following, which indicates that it works to some degree to reduce your wrinkles, at least temporarily.
The product's key ingredients are vague and don't show much clinical evidence for producing these benefits, and a few of the other ingredients may cause skin irritation and other problems for some people.
Another strike against this filler is the price, which is far higher than most competitors. Clearly many people find it worth it, but we think there's a good chance you'll achieve similar benefits by trying out a less costly alternative instead.
We suggest you start out purchasing just one tube of this product so that you can decide whether it's worth it before spending more.
Our Promise to You
In order to safeguard you and ensure helpfulness and relevance, our compliance team manually assess every customer review before it goes live.
We have a zero-tolerance policy for fake reviews, and companies cannot control or alter any reviews at any time.