Derma RPX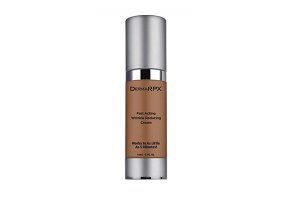 Summary
DermaRPX is a topical serum that allegedly reduces the signs of aging on your face within five minutes of application. However, the evidence is lacking that it can deliver long-term results.
Derma RPX Review: Does It Work?
Derma RPX claims to be an anti-aging serum that will improve the appearance of your face, neck, and decolletage.
To use, you'll apply the serum to clean, dry skin with the included contour tip. After it dries, you can apply your makeup as usual for a smoother, more youthful appearance.
According to the product's websites, this serum produces visible results within five minutes to reduce the signs of unwanted bags, fine lines, and dark circles.
In this review, we take a detailed look at Derma RPX's effectiveness to help you decide if it is worth it.
Ingredients and Their Efficacy
We couldn't track down a full ingredients list for Derma RPX. All we found was that this product's Amazon page lists hyaluronic acid as an ingredient.
Hyaluronic acid is a naturally-occurring substance in the human body that is found around the joints. While the compound has long been used to counter the effects of osteoarthritis, there is a growing interest in using it cosmetically.
Initial research seems promising for the benefits of injecting hyaluronic acid into the face to remove wrinkles.
Tests in 2017 with Juvéderm Ultra Plus Injectable Gel showed it was effective for reducing lines between the mouth and nose for up to a year after the treatment.
There is also evidence that this compound can produce similar effects when applied topically through a serum. The Journal of Clinical and Aesthetic Dermatology released a study in 2014 that showcased significant benefits of using hyaluronic acid topically within three skincare products (a lotion, serum, and cream) for wrinkle reduction, skin hydration, and skin firmness after eight weeks.
However, as with all skincare ingredients, this compound's effectiveness is directly related to its concentration. Derma RPX doesn't disclose how much hyaluronic acid its serum contains.
Safety
Hyaluronic acid does have some side effects associated with it, though only when the compound is injected.
These include redness, irritation, and swelling at the injection site. The nature of these symptoms means they are likely caused by the injection process, rather than the acid itself.
Pricing
Derma RPX is sold online through two websites: GetDermaRPX.com and DermaRPX.com. Both sites offer different purchase arrangements.
The product costs $19.99 for two 15 milliliter bottles on GetDermaRPX.com, with free shipping.
All orders qualify for a 90-day money-back guarantee, minus shipping and handling.
DeramRPX.com differs because each purchase will automatically enroll you in a subscription program.
Your first order is $19.99 for two bottles, and you will be charged $19.99 every four weeks and receive two new bottles every eight weeks. This means each subsequent order costs $19.99 per bottle.
Shipping is free, and you can cancel your subscription at any time without penalty.
You can also buy Derma RPX from a few online retailers as well, including Walmart ($19.95 per bottle) and Amazon ($19.95 per bottle).
Analysis of Customer Reviews
The product is ranked three stars on Amazon based on 150 reviews, and 3.4 stars on Walmart after 118 reviews.
Most reviewers wrote that the serum didn't do much (if anything) to improve their skin. A few thought it felt like glue on their skin and left a stiff residue. Still, others complained about the lack of usage directions on the packaging, as they didn't know how often or how thick to apply it.
However, many people reported positive experiences. They shared that the serum lightened their dark circles and reduced the wrinkles between their eyes to create a seamless foundation for applying makeup.
Others wrote that the benefits became more pronounced the longer they applied the serum and that people began commenting on the improvements to their skin tone after three weeks of daily use.
Derma RPX vs. Plexaderm
If you're looking for a skincare product to reduce your wrinkles, then you might have considered the Plexaderm Rapid Reduction Serum. It is a popular competitor to Derma RPX.
To start, Plexaderm also promises to reduce the appearance of under-eye bags, wrinkles, and dark circles within a few minutes of use. This serum doesn't contain hyaluronic acid but instead relies on soluble collagen to visibly plump the skin.
Though your body produces its own collagen and a diminishing supply leads to wrinkles, applying the compound topically won't do much good for your skin. That's because the molecules are too large to penetrate the skin's top layer, a fact we've learned amid research of dozens of anti-aging products.
In other words, collagen may temporarily moisturize your skin, but it won't reduce the appearance of wrinkles.
Plexaderm averages three stars on Amazon, similar to Derma RPX. Reviews are just as polarizing, with some people stating the serum delivered no discernable results while others are reporting significant improvements to their appearance within minutes.
One difference from Derma RPX is that Plexaderm customers seem to find it harder to wear with makeup.
The Bottom Line
There's not much evidence that Derma RPX will work as described. Customer reviews for this product aren't glowing.
Also, its effectiveness is only as good as its hyaluronic acid concentration, a point of data that the company did not make available at the time of publishing. We advise you to look for wrinkle removers that provide a clear list of ingredients.
For those looking to improve their skin, we suggest seeking out products that are more transparent about their ingredients, with hyaluronic acid preferably listed near the top of the list.
Customer Reviews
Posted on Nov 12, 2020
Horrible allergic reaction
Horrible red and inflamed rash under eyes, upper cheeks. I should have bought scratch-offs. They should offer everyone a refund who can return the bottle with/without a receipt!
Length of Use: Less than 3 months
Bottom Line: No, I would not recommend this to a friend
Pros and Cons
No "pros" were specified in this review
Dried out skin
Did not temporarily reduce or hide wrinkles
Inflamed red rash/allergic reaction
Posted on Sep 22, 2020
Works great, love this product. Look years younger.
I used Derma RPX once and it has taken years off my appearance. This is a great product to help any man look younger. If you're a man with bags under your eyes try Derma RPX and you'll look years younger also. Thanks.
Length of Use: Less than 3 months
Bottom Line: Yes, I would recommend this to a friend
Pros and Cons
It works in minutes
Lasts awhile
No "cons" were specified in this review
Posted on Aug 10, 2020
It's great to find a product that has "truth in advertising." I love this stuff!
As I get older I get puffier eyes than I used to in the morning. This product actually does take away that puffiness and it usually lasts most of the day. It's so nice to finally find a product that isn't a rip-off and is true to its advertising.
Length of Use: 3–6 months
Bottom Line: Yes, I would recommend this to a friend
Pros and Cons
Honesty is what to expect for results
Price is not bad for normal products of this type
Bottles last quite a while even with daily use
The color shows up under my makeup
It dries with a shine
Posted on Feb 13, 2020
Unhappy
I was so excited to get this product. Only to be completely let down. I saw absolutely no visible difference. I have used the whole bottle, trying over and again, hoping it would work. Regrettably, it has not. In fact, I believe it gave me more wrinkles under my eye.
Bottom Line: No, I would not recommend this to a friend
Posted on Feb 10, 2020
Softer skin
My skin feels really soft, I already had found a great product for that. It does zero on wrinkles, creases, or even fine lines. My skin doesn't even feel tight. It was worth $20 at Walmart for a try though. And yes, I've used it several times, bottle almost gone and still nothing. I'm an easy to please person so know I'm being honest. Softest skin ever though, thank you.
Bottom Line: No, I would not recommend this to a friend
Posted on Jan 16, 2020
VERY UNSATISFACTORY!
I 100% completely and totally DO NOT, repeat, DO NOT recommend this product, unless of course you just have $20 laying around that you were planning on wiping your buttocks with after taking a poop! It did not do anything to the appearance of wrinkles, did nothing for the dark circles underneath my eyes, and the puffy bags...HAHAHA! It made them appear to be even PUFFIER than they were to begin with. Which BTW anyone who knows me wouldn't have thought possible. In closing, just save your money or donate to the St. Judes Cancer Center for Children, it would make you feel better mentally because this product did nothing but get my hopes up and then hurt my feelings when I got no results. I wasn't expecting a miracle by any means but if there were a change it be for the not bags large enough that I can now see them in my lower peripheral vision when looking straight ahead! I am now a depressed young woman who feels like this company played on and took full advantage of my largest existing insecurity and can only hope now that they stand by their money-back guarantee.
Bottom Line: No, I would not recommend this to a friend
Posted on Jan 7, 2020
Derma RPX full blown hype
I purchased Derma RPX and said yeah right, it's probably a hoax. And it is. This garbage wouldn't tighten anything except your wallet. I gave it a month. The only thing I got was NOTHING to show for it. They should go to jail. How many people have they swindled? Many -1000 star review.
Bottom Line: No, I would not recommend this to a friend
Posted on Dec 30, 2019
Worse stuff I ever used
So disappointed. Bought this because my daughter was getting married and I wanted to get rid of dark circles and bags. This stuff did absolutely nothing and I will never purchase again nor recommend to anyone.
Bottom Line: No, I would not recommend this to a friend
Posted on Dec 27, 2019
DON'T BE TAKEN...
Not only does this sham product not work, but you have to pay postage yourself to return it. The other option is to receive a measly $5 to keep the worthless junk and be done with it.
DO NOT waste your money, there is NOTHING that makes this work, no matter what you try.
Darn snake-oil salesmen.
Bottom Line: No, I would not recommend this to a friend
Posted on Dec 19, 2019
Zero stars
Bought and it does not work. Can't even come close to Plexaderm. Wasted $20.00. Will not recommend and never purchase again. I have friends on Facebook that have been wondering about it and I will have to give it a very bad review.
Bottom Line: No, I would not recommend this to a friend
Posted on Dec 13, 2019
Disappointed
Was so excited and looking forward to trying this product, but sad to say it did not work! I even tried it on other people and it didn't work! Another product to feel tightening of the skin and this did not happen at all.
Save your money!
Bottom Line: No, I would not recommend this to a friend
Our Promise to You
In order to safeguard you and ensure helpfulness and relevance, our compliance team manually assess every customer review before it goes live.
We have a zero-tolerance policy for fake reviews, and companies cannot control or alter any reviews at any time.