City Lips Reviews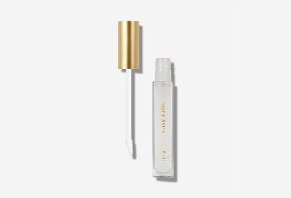 Using hyaluronic acid and collagen-boosting technology, City Lips lip plumper claims to deliver fuller-looking lips in minutes and bring out the best in your lipstick.
About City Lips
Using a unique collagen peptide technology to hydrate and moisturize at the cellular level, City Lips promises to help you experience plumper, younger-looking lips, with fewer lines and wrinkles, in just 10 minutes.
Per City Lips' website, apply one even coat on your lips anytime you want using the built-in soft brush. If you'd like to add color, wait two minutes. Then, you can add a second layer of City Lips for an added boost of shine and volume—it will even act as a sealant to help your lipstick look better and last longer.
For semi-permanent results within 30 days, you can apply nightly before bedtime as well, and you won't have to worry about burning, irritation, numbness or harsh side effects.
These all seem like great benefits, for sure. But when it comes down to it, does City Lips really feature cutting edge beauty technology? How does it compare to the competition? Which options might deliver the most value?
In this article, we'll dig in and discuss what we learned during our research.
What Causes Less-Than-Stellar Lips?
Like the rest of the skin on your body, your lips contain three layers consisting primarily of the proteins keratin, collagen, and elastin.
When we're young, these proteins are abundant and give our skin its taut, smooth texture.
Due to the normal aging process, as well as premature aging caused by environmental factors like UV exposure, smoking, and pollution, these proteins become less abundant, leading to skin that wrinkles and sags.
Unlike most of the other skin on your body, though, the protective layer (stratum corneum) covering the outer layer of our lips is very thin.
Our lips also don't contain oil glands, which means they're especially prone to environmental stresses from the sun, weather, dehydration, and just everyday use.
Combined, lips tend to droop, become thinner, and form cracks and wrinkles as we get older, sometimes faster than the surrounding skin.
What Ingredients Does City Lips Use to Plump Your Pout?
According to the ingredients listed on their website, the product contains the following:
Hydrogenated Polyisobutene, VP/Hexadecene Copolymer, Phenyl Trimethicone, Ethylhexyl Palmitate, Hydrogenated Polyisobutene, PPG-51/SMDI Copolymer, Silica, Petrolatum, C12-15 Alkyl Benzoate, Dipalmitoyl Hydroxyproline, Microcrystalline Wax, Tribehenin, Glycerin, Octyldodecyl PCA, Tetrahexyldecyl Ascorbate, Caprylic/Capric Triglyceride, Water, Caprylyl Glycol, Benzyl Nicotinate, Flavor, Cetyl Tallowate, O-Cymen-5-OL, Silica Dimethyl Silylate, Simmondsia Chinensis (Jojoba) Seed Oil, Sorbitan Isostearate, Sucrose Distearate, Hydrogenated Vegetable Oil, Ceramide 2, PEG-10 Phytosterol, Sodium Cocoyl Amino Acids, Butylene Glycol, Sodium Saccharin, Sarcosine, Crithmum Maritimum Extract, Magnesium Aspartate, Potassium Aspartate, Sodium Hyaluronate, Palmitoyl Hexapeptide-12, Citrus Grandis (Grapefruit) Peel Oil, Cananga Odorata Flower Oil, Citrus Aurantium Bergamia (Bergamot) Fruit Oil, Palmitoyl Oligopeptide, Glycine Soja (Soybean) Oil, Stearyl Glycyrrhetinate
According to third-party websites like Truth In Aging, WebMD, and EWG.org, most of City Lips' ingredients act as common emollients, moisturizers, skin conditioning, and thickening agents, preservatives, penetration enhancers, dispersing agents, solvents, and fragrances.
Many of these are what you might expect to find in other sunscreens (especially hydrogenated polyisobutene and VP/hexadecene copolymer) and skincare products since they help provide water retention and wear resistance.
What about the collagen peptide technology referenced on City Lips' website? While they didn't confirm anything specific, according to LotionCrafter, dipalmitoyl hydroxyproline is also known as the proprietary ingredient Sepilift, which "firms the tissues by stimulating the contraction of collagen fibers, by protecting the skin fibers from enzymatic lysis or breakdown and scavenges free radicals."
Whether in the synovial fluid in joints, skin, or the receptor surfaces of cells, the sodium hyaluronate (hyaluronic acid; proprietary formulation, Celadrin) in City Lips provides several functions in the human body, especially related to cushioning and lubrication.
Although they also point out that, "there is no evidence to support the claim that taking it by mouth or applying it to the skin can prevent changes associated with aging."
However, HA has been shown to hold 1,000 times its weight in water, so it may deliver a temporary plumping effect to areas where it's applied. But we didn't encounter any cumulative clinical evidence indicating this can provide a 'semi-permanent' effect with regular use.
According to Paula's Choice, palmitoyl hexapeptide-12 is a synthetic peptide that blends "several amino acids, including glycine, histidine, and lysine … Theoretically, many peptides have skin-restoring abilities, and this is one of the newer synthetic options that is believed to help skin look and act younger."
Finally, these sites summarized that palmitoyl oligopeptide, also known as Matrixyl 3000, has limited clinical research indicating that it may help skin produce more collagen. This is the same "new class of oligopeptides" referenced in the ABC News video clip featured on one of City Lips' websites.
Are There Any Potential Side Effects With City Lips?
Per City Lip's commercial, you won't have to worry about any side effects commonly associated with lip plumpers, including burning, irritation, or numbness. And based on what we learned from many of the sites referenced in the previous section, this seems to be the case in most instances.
However, while EWG ranked butylene glycol as a low overall hazard, they also noted that its most common side effect is mild skin irritation, which might be something to keep in mind if you're especially sensitive to beauty products.
City Lips Cost
Available in Clear Advanced, Nude York, Orchid, Sangria, Tokyo Kiss, Sun Diego, Tinsel Town, Holly, Los AngeLips, and Plum Springs colors, City Lips was priced as follows:
1 Tube: $35
2 Tubes: $66
3 Tubes: $87
After ordering, the company tells us your package will leave their facilities within 24 hours and will usually arrive at your doorstep within 2-7 business days (for U.S. orders). Applied 2-3 times per day, as well as at night, they claim each tube will last 4-6 weeks.
Regardless of the quantity, all orders come with a 60-day money-back guarantee, less S&H. In order to request one, customer support can be reached at 800 347-1558 or support@citybeauty.com.
Are There Any City Lips Customer Reviews?
Since writing our original review, 160 HighYa readers have chimed in about their City Lips experiences, giving the lip plumper an average rating of 4.2 stars. Common compliments related to more voluminous and hydrated lips, without side effects. The relatively few complaints frequently referenced less noticeable results than expected.
On Amazon and Makeup Alley, City Lips had three and 3.5-star ratings respectively, with many of the same compliments referenced on HighYa. Frequent customer complaints appeared to revolve around no results and side effects (typically irritation).
Important: According to a company representative we spoke with, "Amazon is an unauthorized reseller, so we cannot guarantee that these are our products."
From a company perspective, City Beauty is based out of Salt Lake City, UT and held an A rating with the Better Business Bureau, based on 11 closed complaints, as of 8/10/18. Most related to support issues, although a company representative responded in each instance with a solution.
Obviously, this is only intended to act as an overview of the situation, and not to insinuate you'll experience any of the same with City Lips, or any of the company's other products.
Speaking of other products …
Does City Lips' Advanced Formula Have Any Competition?
Type, "lip plumper" or "lip enhancer" into any search engine and you'll be met with hundreds of relevant options. You could almost certainly find at least a couple options browsing the aisles of local retailers with beauty sections, as well.
Price-wise, you could find some as low as $20, with others well in excess of $100.
Given this, how can you choose between all these competing lip plumpers?
The Beauty Insiders recommends that you start by taking a look at the product's manufacturer and their online customer feedback. Based on what we learned during our research, the general customer consensus seemed to be positive when it came to City Beauty's products. And at $35 (if ordering just one tube), it was priced at the lower end of the spectrum, too.
Whole formulation-wise, at $50, Idol Lips provided many of the same ingredients as City Lips, although not necessarily the same Sepilift blend.
However, you'll find that most manufacturers promise to provide some unique formulation or technology that delivers better (or at least different) results than the competition.
According to their website, City Lips' formulation was tested by Good Housekeeping in 2004, which found it increased lip volume by an average of three millimeters. In a 2007 follow-up, comparing City Lips to five other competing formulations, they found that the "original winner is still champion."
With this said, other popular brands priced in line with (or lower than) City Lips, that promised many of the same results, and featured similarly high customer reviews, included Physician's Formula Plump Potion ($10), Soap & Glory Extreme Plump Lip Gloss $12, Too Faced Injection Power Lip Gloss ($22), and Estee Lauder New Dimension Plump + Fill ($42).
Our Bottom Line About City Lips
Was City Lips the least expensive lip plumper or enhancer on the market at the time of our research? No.
But keep in mind that price is only one component of overall value. In other words, as we learned from The Beauty Insiders earlier, be sure to factor in City Lips' (and City Beauty's) generally positive customer consensus, the comparatively low reports of irritation, and their top spot among Good Housekeeping's picks.
And if you find that it doesn't deliver the value you were expecting, the company seems to stand behind their product with a 60-day refund policy, less shipping.
This company is actively collecting reviews from its customers. All reviews submitted are subject to moderation and approval to ensure they meet our

Review Guidelines

.

When you think it's too good to be true; IT IS.

By Maria S.

,

Pittsford, NY

,

Mar 23, 2020
Verified Reviewer

This product was a waste of money and I can't believe I actually thought it would work. It doesn't. My lips don't look any different than they did prior to using this product.

My advice would be - don't waste your money.

Bottom Line: No, I would not recommend this to a friend

---

City Lips

This is the most expensive lip gloss I have ever purchased. I've used it for about five days and there is absolutely no difference. I think I could probably apply some hot pepper juice to my lips and get a better result.

Bottom Line: No, I would not recommend this to a friend

---

Need to return

By Roxanne S.

,

Arizona

,

Mar 19, 2020
Verified Reviewer

Just received the lipstick in the mail. When I first tried it, I loved the color, but my lips started listing immediately. After a while, it just got worse so I needed to remove it. I tried petroleum jelly, ha ha, but oil and even soap. It's still stinging and I have blisters forming on my lips!

Bottom Line: No, I would not recommend this to a friend

---

Love it!

By Teresa W.

,

Princeton, TX

,

Mar 14, 2020
Verified Reviewer

This product works well. I am very picky about my skincare. If I purchase a product more than once, it is because it is really good, not just okay. I have been using City Lips for over a year, 1-3 times daily, and am very pleased with my lips. I am 58 years old, and it has become a staple for me. Very few products make it to that status with me.

Bottom Line: Yes, I would recommend this to a friend

---

Advertisement

---

City Lips plumping

By Judys S.

,

Ohio

,

Mar 14, 2020
Verified Reviewer

I have used this product for 4 days and I haven't seen any difference at all. I have been putting it on 2 times a day.

So disappointed. I was hoping for good results. What is your return policy?

Bottom Line: No, I would not recommend this to a friend

---

Love City Lips

By Brenda S.

,

Colquitt, GA

,

Feb 20, 2020
Verified Reviewer

Very skeptical, but I purchased. So glad I did. I can actually smile without lips cracking from dryness. My lips are visibly fuller. I love this stuff! Works for me beautifully! I would definitely recommend.

Bottom Line: Yes, I would recommend this to a friend

---

I thought I was scammed before...

By Amber H.

,

Willoughby, OH

,

Feb 18, 2020
Verified Reviewer

I don't typically leave negative reviews, even when I've spent hard-earned money...but darn.

I'm so embarrassed to have fallen for this scam. This is a sticky gooey lip gloss that the only reason you have a pout is because you don't want your lips to touch because it feels so gross. There is nothing about this product that enhances your lips...not day, night, or overnight.

Shame on me for wasting my money. And shame on you for scamming.

Bottom Line: No, I would not recommend this to a friend

---

Jury still out

By Donna N.

,

Columbia, SC

,

Feb 14, 2020
Verified Reviewer

First use today because I just received so the jury is out as to whether it works (hoping it does). My issue and reason for this review is when you purchase beware of a gimmick as you're checking out. I wound up with 3 tubes to the tune of $90.00 when it stated buy 2 for just $50.00 after it had already sucked my $35.00. I assumed I was getting just what it said - 2/$50.00...very misleading but in fairness to the company, they refunded me the $35.00 "as a courtesy." I understand I can return them in 60 days if I'm unhappy, for a full refund. I'll write another review after I've given this a chance.

Bottom Line: No, I would not recommend this to a friend

---

DON'T BOTHER

By Sandra S.

,

Australia

,

Jan 28, 2020
Verified Reviewer

I waited a year to purchase City Lips as I was skeptical, and rightly so. It's a lot of money to pay (and it's much more when converted to $AUS) for a thick, sticky lip gloss. And that's all it is - a lip gloss - no plumping, no difference to fine lines! I've given it a good try for over 5 weeks, and nothing, no improvement. Consequently, I will never try any other products from City Beauty - it's all clever hype.

Bottom Line: No, I would not recommend this to a friend

---

Mailed me an empty box

By Gabrielle B.

,

Germantown, WI

,

Jan 23, 2020
Verified Reviewer

Ordered directly from Facebook. It took 2 weeks to receive.

Then I opened an empty box. I did get the instructions.

Bottom Line: No, I would not recommend this to a friend

---

Worthless and overpriced - zero results

By Kimj W.

,

California

,

Jan 21, 2020
Verified Reviewer

Boy do I wish I had checked more reviews than just those on the City Lips website. How stupid of me! What a complete waste of money! This is nothing more than overpriced lip gloss. I have used plumpers that actually work. They were, however, clear, and I really wanted to try a tinted plumper. Well, this is just the tint without the plumper. What a complete waste of 45 bucks (my price with shipping). I could have bought four lip glosses for this!

Bottom Line: No, I would not recommend this to a friend

---