City Lips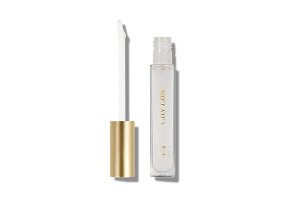 Summary
The City Lips plumping lip gloss by City Beauty promises to counter the signs of aging around your smile to give you a fuller pout. Customer reviews indicate this gloss is a success, but keep your expectations realistic for any plumping.
Pros
Ingredients should work to improve lip health and hydration
Generous return policy
Minimal risk of adverse side effects
Largely positive customer reviews
Cons
Any lip plumping effect is likely to be subtle
No clinical evidence to support plumping benefits
Results (if any) will be temporary unless you reapply repeatedly
City Lips Review: A Detailed Look
City Lips is a plumping lip gloss from City Beauty that claims to add some life to your dry, thinning lips—no painful injections required. The company claims to use a blend of innovative ingredients to deliver deep hydration for an instant plumping effect that smooths out lip lines and wrinkles that tend to show up as we age.
City Beauty is an LA-based luxury beauty brand with a range of cosmetic products (including a Multi-Action Sculpting Cream) that are designed to counter the effects of aging with "functional beauty products." It's their goal to offer more than surface-level skincare benefits so that you can maintain your results for the long term.
Do these products deliver, or is City Lips just another disappointing lip gloss? HighYa's analysis should help you decide.
How Does City Lips Work?
City Lips is a lip gloss that will purportedly provide both immediate and long-term plumping effects. The company claims it contains the necessary ingredients for deep hydration that gives you a fuller pout.
Though anyone can use City Lips, this product is primarily marketed towards people with dry, thinning lips or who are starting to show evidence of aging.
It's considered suitable for all skin types and is free of potentially harmful ingredients like parabens, sulfates, phthalates, mineral oil, and common allergens like gluten and nuts.
Aging skin gets dry and wrinkled over time, and your lips are no exception. This is primarily due to decreasing collagen levels. This natural compound breaks down over time due to many factors, including sun and pollution exposure.
Unlike traditional lipgloss, which will only produce a temporary illusion of bigger lips, City Lips uses nourishing ingredients that improve how your lips look in the moment while supporting your body's natural collagen production, so they improve over time.
The company claims this leads to results similar to lip injections but without the cost or potential side effects.
To use, apply a generous amount of your preferred shade to your lips. If you plan to apply another lip product overtop, make sure you wait at least 2-3 minutes before doing so that it can set. Though the gloss should deliver results within ten minutes, you can expect the effect to increase over time if you use it regularly.
Analysis of Ingredients
City Lips' full ingredients list can be found on the company website. The majority of ingredients act as emollients, moisturizers, skin conditioning, and thickening agents, preservatives, penetration enhancers, dispersing agents, solvents, and fragrances.
Let's take a closer look at some of the active ingredients.
Dipalmitoyl Hydroxyproline: Commonly used as an anti-aging ingredient, dipalmitoyl hydroxyproline is a plant-based component of collagen that works to improve its stability. When used in cosmetic products, it can enhance your body's ability to synthesize collagen, which consequently results in a firmer, plumper appearance.
Sodium Hyaluronate: Also known as hyaluronic acid, sodium hyaluronate is a common ingredient in lip fillers because it smooths out the skin on contact and creates plumper, firmer appearance. However, there's less evidence that this compound creates any lasting improvements when used topically besides adding some moisture to your skin.
Though City Beauty claims its hyaluronic acid is "precision-engineered to be absorbed through the skin," the company doesn't go into detail about what this means.
Oligopeptides: As a broad range of natural amino acids, oligopeptides support your body's collagen production. City Beauty cites a study on oligopeptides that found that the compound decreased lip wrinkles by 29% and increased lip volume by 40% after four weeks of treatment. Again, we weren't able to track down this specific study.
Overall, most City Lips ingredients are commonly used to plump up the skin, boost your natural collagen production, and ensure everything stays hydrated. Our biggest concern is that most of their purported benefits are related to their use in injections.
When applied topically through a lip gloss, these ingredients might provide some moisturizing benefits, but these will likely be temporary. There's little chance that a product like this will have much, if any, impact on your collagen levels.
Safety
City Beauty claims that City Lips is safe for all skin types, even those with sensitive skin. Our research into its ingredients and customer reviews didn't indicate any reason for concern, as we couldn't find any examples of users who reacted badly to the gloss.
Even so, it's a good idea to apply a small amount on your skin the first time you use it to test for a reaction- especially if you tend to have sensitive skin.
Pricing and Fine Print
At present, each 0.16-oz tube of City Lips costs $35, plus $4.95 for shipping. You can save at least 11% per order and qualify for free shipping if you sign up for the monthly auto-ship program and agree to receive a new delivery every 30 days.
The auto-ship price will go down the more you purchase at once:
One: $31 each
Two: $29.50 each ($59 total)
Three: $26 each ($78 total)
You can choose to stop future shipments at any point by contacting customer service at (800) 347-1558 or at support@citybeauty.com.
Regardless of the way you purchase, all City Beauty products bought from the official website qualify for a 60-day money-back guarantee. This means that you can experiment with your purchase within that timeframe and return it for any reason to receive a full refund, minus any shipping expenses.
Analysis of Customer Reviews
We have more than 700 customers reviews of City Lips on our website, and they average 4.3 stars together. 86% of users say they would recommend the product to their friends; should you take this recommendation seriously? Here's a summary of their comments.
Common Compliments:
Leaves lips fuller, better hydrated
Succeeds in producing a temporary plumping effect
Positive customer service experiences
Common Complaints:
Didn't do anything for many users
Too expensive for its subtle benefits
Difficult to remove the color from lips
Many purchases were more expensive than users expected
No better than regular lip glosses
Popular Alternatives to City Lips
There is no shortage of products available that promise to expand your pout. Here are two popular alternatives to City Lips:
| | City Lips | Dior Addict Lip Maximizer | Buxom Full-On Plumping Lip Polish |
| --- | --- | --- | --- |
| Price | $35 (0.16oz) | $39 (0.2oz) | $21 (0.15oz) |
| Color Range | 16 | 7 | 100+ |
| Key Ingredients | Dipalmitoyl Hydroxyproline, Sodium Hyaluronate, Palmitoyls, Oligopeptides | Dipalmitoyl Hydroxyproline, Sodium Hyaluronate, Atelocollagen | Hydrogenated Polyisobutene, Tridecyl Trimellitate, Polyglyceryl-2 Diisostearate, Octyldodecyl Stearoyl Stearate, Menthone Glycerin Acetal |
| Average Reviews (Amazon) | N/A (4.3 stars on HighYa) | 4.3 | 4.6 |
To start, City Lips and the Dior Addict Lip Maximizer contain near-identical active ingredients. Both products promise to plump up your lips permanently using a similar formula to injections, and they claim to work better the longer you use the gloss.
Both of these brands cost approximately the same per tube, though you'll save money with City Lips by purchasing more at once or signing up for the auto-ship program. Likewise, City Beauty seems to offer more color options.
One thing that makes the Buxom polish stand out is that it claims to create a tingling sensation that purportedly lets you know it's working. However, this brand doesn't contain the plumping agents in the other two, including collagen or sodium hyaluronate.
Even so, this brand has the most extensive range of color options, costs the least per tube, and also earns the highest reviews of the three. You might find you like how your lips look best with Buxom Full-On Lip Plumping Polish, even if the product offers less plumping benefits.
The Bottom Line: Should You Try City Lips?
City Beauty's lip plumping product earns rave reviews that seem well deserved. This gloss contains a good selection of nourishing ingredients that also show some promise from an anti-aging perspective. Though you're likely to get far better results from committing to lip injections, City Lips promises a more cost-effective (though temporary) alternative.
There's nothing in the City Lips formula that makes us hesitate to recommend it. You're unlikely to experience any adverse side effects, and if you do, there's a good chance that most brands of lip gloss would do the same.
So long as you keep your expectations realistic about the plumping benefits it can actually provide, City Lips seems like a quality lip gloss to add to your routine.
Just remember that the best way to counter the effects of aging is to prevent them in the first place. Stay out of the sun, wear sunscreen when you don't, and keep your face properly hydrated.
Customer Reviews
This company is actively collecting reviews from its customers. All reviews submitted are subject to moderation and approval to ensure they meet our
Review Guidelines
.
Our Promise to You
In order to safeguard you and ensure helpfulness and relevance, our compliance team manually assess every customer review before it goes live.
We have a zero-tolerance policy for fake reviews, and companies cannot control or alter any reviews at any time.