Luminess Air Reviews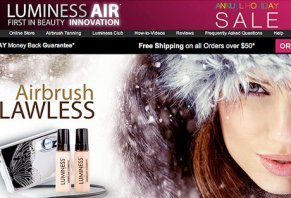 The Luminess Air is a makeup airbrushing system that's claimed to provide easy application and superior, blendable results that put your best face forward.
About Luminess Air
HighYa is supported by our readers. When you buy something through a link on this page, we may earn an affiliate commission. Learn more.
If you've ever dreamed of having magazine-ready, pearlescent skin at the touch of a button, Luminess Air's at-home makeup application airbrushing kit might pique your interest.
The system promises simple setup, easy maintenance and smooth, stunning results for a one-time cost that's on par with a spa-day package, but with a better-lasting glow.
What's Airbrushing?
The airbrushing method of applying foundation has been popular for professional artists working in film, theater, and even special events for several decades, and is most-loved for delivering superior, blendable coverage, despite using a minimal amount of product.
It works on the same principle as spray-paint (which is actually how the method was invented! You know, long ago before they cared about stuff like dying from toxins.)
If you haven't ever seen airbrushing in action, the best way to imagine how it works is to compare painting a wall with a brush or sponge roller, which yields thick coats of paint and uneven application, to the fine mist and even coverage you get from spray-on methods.
Each airbrushing system uses a small, pen-sized tool that holds the foundation in a small reservoir and gently sprays it on the skin in a spray-dot pattern, which eliminates any visible brush strokes and results in a totally natural look (providing your foundation color is a good match.)
Luminess Air Everyday System – What to Expect
This is the Luminess Air "basic kit" (not their pro version). It promises a quick and simple learning curve, and to provide buyers with everything they need to get started applying airbrushed makeup, including:
Compressor, stylus & nozzle
Two .55 oz foundations
Blush
Bronzer
Glow
Primer / Moisturizer
To order a kit, you first have to select your skin shade from five groups. The kit will then come with two different foundation shades that you can mix to achieve a natural look. Luminess offers a color match service to those who have a difficult time choosing; simply upload a recent picture and submit it through their site in order to receive suggestions for your best fit.
The Luminess site also offers a bounty of "How To" videos that walk users through everything from their first time using the device, to basic application tips and advice from professionals, as well as suggestions for mature skin.
The foundation used with Luminess Air is promoted as oil-free and great for sensitive skin. Luminess claims applying makeup with their device has the following benefits as well:
A delicate and flawless finish that feels like you're not wearing makeup, with minimized wrinkles and fine lines

Hygienic, since your hands or brushes never touch your face

Light to maximum coverage that delivers the appearance of younger skin, with a reduced look of blemishes, age spots, redness, large pores, and acne

Great for use on the face and body
Setting up the device is as simple as plugging it in, depositing foundation in the stylus's reservoir, and pulling back a lever to begin an application.
Cleaning is required after every use to avoid gunking up the system and is accomplished by placing a few drops of water into the reservoir, and then spraying the device onto a cloth until all remaining product has been pushed through the nozzle and the spray runs clear.
Luminess Air Cost
The Luminess Air Everyday system costs $199 and is available in the website's Online Shop section. Additionally, foundation refills cost between $18 and $40, depending on the line you choose.
However, Luminess Air offers multiple models and packaged kits, and many buyers report feeling tricked or confused by the pricing scheme offered on the Luminess home page.
It's worth noting that the site appears to offer users an upgraded kit for a 30-day trial for $19.95, however in very fine print this also appears:
"Then after 30 days when you love Luminess, it's yours for only 5 easy monthly payments of fifty-nine dollars and ninety-nine cents when you order today!"
That is a whopping $299! And it's unclear whether or not the initial $19.95 fee to "try" their system is deducted from your total cost.
The Luminess Air return policy promises that dissatisfied buyers can return it for a full refund within 30 days of delivery, minus shipping and handling, as well as an "initial trial cost" that isn't fully explained in their terms.
To return a Luminess Air, the device must be thoroughly cleaned and not show any wear and tear. Returns must also be authorized by customer service before they may be sent in.
A one-year manufacturer's warranty does cover buyers if their Luminess Air breaks, but is considered void if any non-Luminess brand makeup is used.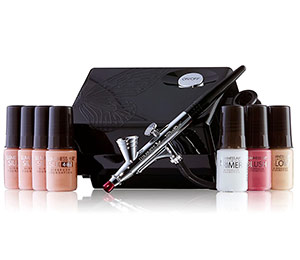 Buy Luminess Air from Amazon:
Luminess Air Basic Airbrush System Starter Kit costs $148.86 on Amazon. Shipping is free. Foundation and other accessories are available from Amazon as well.
What Are Reviewers Saying About the Luminess Air?
Luminess Air has over 300 registered complaints on the site PissedConsumer.com alone, many of which reference:
Difficulty returning the product and being charged the full amount
Negative customer service experiences
Not allowed to return a device that had been used
Unclear pricing
Unreasonably long shipping times (up to 4 weeks)
Unhappy buyers have also turned to Yelp (editor's note: the Yelp page has since bee removed), giving Luminess Air an overall rating of 1.2 out of 5 stars. Complaints include more mentions of poor customer service and potentially shady pricing:
"It's been more than 4 weeks since I've placed my order with the promise of receiving it before the holidays. Now 2 days before Christmas, several hours on hold, several threatening emails, and a dispute with my bank later, my order has finally shipped. It is expected to come January 2nd. More than 6 weeks after my original order."
"The advertisement makes it seem like you can get the machine and makeup kit for $20.00. That may be unrealistically cheap, but they seem to promise that. Once you are on the phone they try to tell you it's $300.00. But they just don't tell you that, they try to go through this hokey spiel about easy payments and how they can make lower payments for you."
That's Not to Say There Aren't Positive Luminess Air Reviews
If you're searching for folks who have nice things to say about the Luminess Air, you don't have to look too far – YouTube is full of tutorials where bloggers and home-beauty-buffs show their prowess with the device, although some of these are paid endorsements.
Pros and Cons of the Luminess Airbrush Makeup System
The brand lives up to its promise of providing easy-to-use, professional-quality makeup and tools in its airbrush makeup system. You can choose from a wide range of makeup colors available, so it's stress-free to find the right color range for you.
Perhaps the only concern that buyers have expressed about this product is the customer support and confusing pricing plans – both of which need some improvement.
But if you're patient enough to wait for shipping and understand what the final cost is, you might be very happy with this product.
The Verdict
Overall, the Luminess Air airbrush makeup system is priced similarly to others on the market. With their complete range of makeup, you can create a natural look that appears flawless with minimal practice.
But airbrushing kits aren't cheap! Since there are quite a few options on the market, potential buyers interested in learning more might do best comparing a few models and brands before purchasing one.
When doing this, be sure to compare all the parts included in your kit. Also, consider the products you'll have to use, and whether or not they meet your skin's needs.
Not happy

By Shellie A.

,

Canada

,

Mar 23, 2020
Verified Reviewer

You sent me your product and I plugged it in and it doesn't work, so I contacted your company to get a replacement and was sent another stylus gun. The machine doesn't work, it is not the gun, and onto of all that I tried to call and cancel my subscription and plan to send back. To add insult to injury, I find out I have to pay to send it back to you. I feel scammed and will not recommend to anyone!

Bottom Line: No, I would not recommend this to a friend

---

Scammed!

By Curt M.

,

Ohio

,

Feb 15, 2020
Verified Reviewer

Luminous Silk uses dubious business practices to sell their product. A commercial shows all the actual products at an advertised price of $19.95. Then without your permission, they will slowly extract $200 from your checking account. Then to top it off, you only have 1 month's ability to return, of course, it takes a month to get the product in the mail. So my complaints fell on deaf ears. Thank you for the high tech scam, I enjoyed being taken to the cleaners...

Bottom Line: No, I would not recommend this to a friend

---

Buyer beware

By Toastie H.

,

Jacksonville, FL

,

Feb 5, 2020
Verified Reviewer

This product is a SCAM, do not give them your credit card number! Do not buy this product. It is grossly overpriced and they will continue to send you worthless product every 30 days...and charge your card. NOT AN ETHICAL BUSINESS!

Bottom Line: No, I would not recommend this to a friend

---

Same

By Judy B.

,

Myrtle Point, OR

,

Feb 1, 2020
Verified Reviewer

This is the worst product there. It does not work as stated. The advertisement they show I am sure are models being paid for this.

Do not order this as it's a scam.

Try to return it and you get the runaround.

Bottom Line: No, I would not recommend this to a friend

---

Advertisement

---

It's a nightmare to buy the Luminess Air.

By Yi S.

,

Lawrence, KS

,

Jan 29, 2020
Verified Reviewer

My husband bought me this as a gift. I got it but I didn't like it. The Luminess Air is like painting a wall. It sucks. So I just put it aside. I didn't know that I need to return it within 7 days, if not the company will charge us monthly. This happened almost a year ago. I wrote emails to the company trying to stop them from charging me and told them clearly that I don't need any of their products in the future. But the company kept trying to charge me. I closed my bank account to escape this. But I still got the company letter that says "we have made several attempts to process payments with the credit card information provided and have been unable to collect payment...therefore your account is in danger of being sent to our collection agency". My husband only bought once and paid about $39 something, we received one product. But the nightmare began from the moment we supplied our bank account information - we don't want to do business with them but we don't know how to stop them from doing business with us.

Bottom Line: No, I would not recommend this to a friend

---

So far so good

By Wendy H.

,

Chicago, IL

,

Jan 27, 2020
Verified Reviewer

So far I like this product, my friend complimented me the other day and asked what I was using because my face looked really nice. At age 60 I find that it doesn't accentuate the wrinkles as much as a regular liquid foundation applied with the fingers or sponge.

Bottom Line: Yes, I would recommend this to a friend

---

SCAM

By Lucy D.

,

Austin, TX

,

Jan 11, 2020
Verified Reviewer

This is a rental unit! You will be signed up for monthly payments and if you are late with a payment, you will be subject to a $20 late payment, plus ALL collection fee, including without limitation, attorney fees that may result. You will also be charged a 25% re-stocking fee for the returned product, and NO REFUNDS, even if the product makes you break out. Makeup has a foul smell, and feels like plastic.

Bottom Line: No, I would not recommend this to a friend

---

SMOKE AND MIRRORS

By Cathy Q.

,

Roswell, GA

,

Jan 10, 2020
Verified Reviewer

Why aren't consumers being better protected?! I was really hoping for a great deal on a product I have always wanted to try. However, all it turns out to be is an illusion. It's too difficult to create the same results at home. This isn't for older ladies with wrinkles. This type of makeup goes right into the crevices leaving highlighted ridges around every wrinkle on your face!

It is another scam to stick you with a costly membership which you must tangle in the courts to get out of. Don't do it! This is it for me! I will never watch an infomercial ever again! In addition, I am no longer watching QVC and its' types again.

I conclude all of it is reminiscent of the "snake-oil" salesmen of yesteryear!

Bottom Line: No, I would not recommend this to a friend

---

I like it

By Chris G.

,

Springfield, MO

,

Jan 6, 2020
Verified Reviewer

Well, my first week didn't go so well but when I called Luminess, the lady asked what I didn't like. After explaining, she told me what I needed and it has worked out fine. During the first week of trials and big errors, I had to explain to my clients that I was trying out new makeup. They were very understanding. I once had a face that looked like my head lived in Florida. I went back to my old makeup for a few days and then went back to Luminess. This time I put my glasses on when I picked up the small bottle of bronzer and realized I had put eye shadow over my entire face!! (I thought it was like a bronzer we might use in the summertime for a little extra color. How embarrassing! It was 2 weeks before I could admit what I had done to my best friend!)

Anyway, I just called them again a few minutes ago to tell them I have way too much makeup and I needed to change the frequency and the man set it for every 4 months. Not sure what the final charges up to this point are but I will check it out.

The best thing I like is that I don't have makeup all over my fingers like the old bottle kind.

Bottom Line: Yes, I would recommend this to a friend

---

It's junk...the free items are even junk.

By Steven A.

,

Michigan

,

Dec 30, 2019
Verified Reviewer

This product is not even worth the restocking fee...I am even returning the free items that came with it. The mascara was broken and went all over and to those of you that know, mascara is hard to wash off/out. Very disappointed.

Bottom Line: No, I would not recommend this to a friend

---

Scam! Fraudulent company!

By Joy P.

,

Cottage Grove, OR

,

Dec 13, 2019
Verified Reviewer

Saw the product on an infomercial one night and decided to give the product a try thinking that I would only pay $30 to try it just like other makeup I have tried in the past, only to discover they were pinging my bank card two times in a four day period of almost $50 each time so now we are at $130. So then I called the company to cancel the subscription I knew nothing about when ordering, because they didn't tell me anything about it and I also did not give them permission to auto-charge my card. I had no clue they would hold onto my banking information! When I called the lady on the phone started reading a script and each time I said I would like to cancel she would go on and read a second script and a third script and a fourth script with each one getting more and more intense. So when she said that I would continue to be charged because I signed up for this and I couldn't cancel the next shipment coming to me January 4 which is a month away. I said I don't want it and she said I would be charged as stated in something I never saw or heard or read when ordering!

I finally decided to hang up as I was getting nowhere with their customer service and I called my bank to report this as fraud as nobody should be forced to buy anything they don't want. Obviously it's overseas and they are scamming as many people as they can. My bank stopped them from being able to charge my card. Thank you Wells Fargo for your insurance! Bank manager says this happens all the time but it was my first and I was in shock! I did try the product and was not thrilled. Now I don't even want to use it as they made me so angry! I prefer Mac makeup and the like at Ulta...where I am in control of when I want more and buy on my own terms!

No, I would not recommend to ANYONE! They should be put out of biz in my opinion! Don't buy! You have been warned!

Bottom Line: No, I would not recommend this to a friend

---