Luminess Air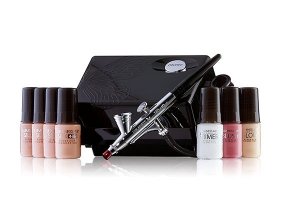 Summary
The Luminess Air airbrushing system lets you create a flawless makeup look at home. However, high prices and an unclear "rent to try" program might be a reason to stay away.
Pros
Customer reviews indicate the product works as described for applying makeup
Lots of makeup types and shades to choose from
Long-lasting coverage when used correctly
Can be more subtle than traditional makeup
Cons
Makeup containers are small, expensive compared to competitors
It takes time to perfect the application technique
"Rent To Try" pricing system tricks many people
Difficult to get refunds
Luminess Air Review: What You Should Know
HighYa is supported by our readers. When you buy something through a link on this page, we may earn an affiliate commission. Learn more.
Special occasion makeup can now be achieved at home, thanks to the Luminess Air airbrushing system. At least, that's what this online cosmetics company wants you to believe.
Luminess Air sells airbrushing systems with a rainbow of makeup shades and styles to help you achieve your most flawless look yet.
Can the brand deliver on its claims to give you your best face at home? Learn here what we think of this home airbrushing kit, and whether better options are available.
Understanding Airbrushing
No longer just for special occasions, Airbrushing is a burgeoning style of makeup application that makes it possible to give yourself a model's complexion at home.
The idea is that you spray a fine coating of makeup onto your skin with a designated application gun that lets you create subtle shading and even toning without any clumps or buildup.
However, Airbrushing isn't ideal for everyone and has some downsides compared to traditional makeup application. Here's what you need to know about the pros and cons of this technique:
Pros:
Lasts All Day: As it's applied to the face in a fine sheen that doesn't build up, airbrushed makeup tends to last longer and is more water-resistant than traditional makeup. This means it likely won't leave your face until you wash it off with soap.

Creates a Flawless Finish: Airbrush guns make it possible to apply makeup in an even layer that creates a smoother finish than you can get with brushes or sponges. This creates a polished look for taking photos.

A Little Goes a Long Way: Thanks to their precision, airbrush guns use less makeup, and you don't need to worry about wasting any that gets absorbed in your brush or sponge instead of your face.

Easy to Layer: Airbrushing lets you apply small amounts of makeup at a time, which makes it possible to layer lots of colors together seamlessly. Each application will also dry quickly so you can build up your look in less time.
Cons:
Can Be Hard to Re-Blend: Though airbrushed makeup tends to last, if you need a touch-up, it can be more challenging to re-blend the layers to replicate the original flawless look. In most cases, you'll be better off redoing your full face.

May Look Flaky on Dry Skin: When applied on well-hydrated skin, airbrushed makeup has a smooth finish. However, if you deal with dryness, it might emphasize a flaky texture more so than traditional makeup, which tends to be creamier.

Shade Options Can Be Limited: If you commit to airbrushing, you are limited to the foundation shades offered by the company in question. This limits your options compared to standard makeup.
Overall, airbrushed makeup can create a magazine-cover-worthy look using less product (and often less time) than traditional application methods. Many people choose to airbrush for special events makeup, especially if they plan to be photographed.
However, the look doesn't work for everyone and may emphasize your skin's imperfections if you tend to deal with dryness.
Luminess Air Product Line and Options
It's possible to purchase a complete Airbrush kit from Luminess or to purchase cosmetic products individually:
Airbrush System
To buy an all-in-one airbrushing kit from Luminess Air, you'll start by choosing your shade group from colors ranging from "fair" to "rich." Then you'll be offered a 4-in-1 trial offer that includes the following:
Luminess Airbrush system
Two Airbrush Foundations in your skin tone
Airbrush Blush in your skin tone
Skin Brightening Airbrush Love highlighter
You'll also receive free gifts in the order (Infinity Wear Mascara, 4-Piece Lip Palette, and 4-Piece Eyeshadow Palette), which you can keep even if you end up returning your trial order.
You'll pay $39.95 to try the set for thirty days, if you don't return it during that time, you'll then be charged five monthly payments of $59.99, plus $4.95 processing fees per payment.
At publication, Luminess Air ran a promotion for a $19.95 trial and three payments of $39.99, plus processing, for a savings of 60%. Alternatively, the system is also available from Amazon.
The Luminess Air Auto-Delivery Program
All Luminess Airbrush system purchases will automatically enroll you in an auto-delivery program where you will receive cosmetic refills consistently. This comes to $39.95 per delivery and includes a complete refill of all makeup included in your initial purchase.
You can change your delivery frequency or cancel it altogether by contacting customer care at (822) 749-5777.
Airbrush Cosmetics
You can also purchase Luminess Makeup separate from the airbrush kit. The company sells a variety of blushes, bronzers, concealers, color correctors, eyeshadows, highlighters, brow and root treatments, tanning products, and ColorFX skin and hair dye.
Most available products range from $10–$70. Some are designed for use with an Airbrush system, while others act as standalone products.
In most cases, you can sign up for a VIP auto-ship program to save 15% off the purchase price and receive automatic deliveries every 30, 60, or 90 days, depending on your preference.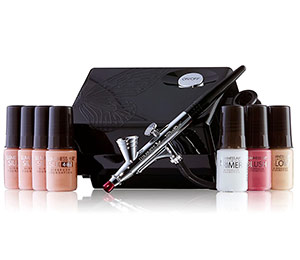 Buy Luminess Air from Amazon:
Luminess Air Basic Airbrush System Starter Kit costs $148.86 on Amazon. Shipping is free. Foundation and other accessories are available from Amazon as well.
Refund Policy
Luminess Air will accept returns within the 30-day trial period, so long as the product is in new or like-new condition with all original packaging.
If you return your order for the complete airbrushing kit, you won't be billed for the subsequent payments, but you will not be reimbursed for your initial trial cost. The company considers this a "rent to try" fee, and it doesn't factor it towards the overall purchase price.
To initiate a return, you must contact the Customer Care department at (888) 793-7474 for a return authorization number. Your order will also need to ensure that the product makes it to the company's processing facility within the 30-day trial period or ten business days, whichever is later.
Merchandise that arrives up to seven days later will be subject to a 25% restocking fee, and anything after 14 days will be refused and returned to you at your expense.
Analysis of Customer Reviews
More than 250 customers have left reviews for Luminess Air here on HighYa. They average 1.6 stars, and just 15% of users state that they would share the system with a friend. Here's a summary of some of their most insightful comments:
Common Compliments:
Easy way to enhance your makeup game, regardless of current skill level
Some considered it worth the price
Customer service is helpful with makeup questions
Common Complaints:
System pricing is deceptive with the trial offer and makeup auto-ship program
Difficult to qualify for refunds, must pay to ship products back to the company
Short return period
Company may be deleting negative reviews from its social media platforms
Available color tones don't work with all skin types
Popular Alternatives to Luminess Air
For those who love experimenting with makeup, home airbrushing systems make a lot of sense for taking things to the next level. Two brands worth considering besides the Luminess Air system include Sephora Perfection Mist Airbrush foundations and the Temptu Perfect Canvas airbrush line.
Unlike Luminess, each Sephora Perfection Mist Foundation is a standalone product – no airbrush gun required. Each aerosol canister costs about $28 for 2.5-oz, and you can choose from a half-dozen shades (tailored towards those with lighter skin tones). This makeup is designed for spraying directly on the face, and you can further blend it in with the brand's brushes.
What's nice about these foundations is that you can try our airbrushing without committing to an expensive application system. Likewise, you'll pay less for each shade than for the Luminess foundation, which is approximately $44 per half an ounce.
The Temptu system is a closer comparison to Luminess. The company offers more than two dozen shades ($36 per ounce) that go with the company's airbrush kits. These start at $195 for a basic system and go up to $395 for the Deluxe Airbrush Kit, which includes eyeshadows and dozens of foundation shades. Customer reviews for this system average four stars on Amazon, and we like that you can buy it off the company website without signing up for a trial program or auto-ship subscription.
Key Takeaway:
Both Sephora and Temptu offer airbrush foundation systems for less money per ounce than Luminess and with a more transparent pricing system. Unless you already know that you love airbrushing and don't mind signing up for reoccurring payments, we suggest considering one of these brands instead of Luminess Air.
The Bottom Line: Is It Worth It?
Luminess Air promises to transform your makeup application process by making it easy to achieve airbrushed perfection at home. However, this brand comes up short due to its high cost and confusing pricing plan.
Negative customer reviews for this product indicate that many people don't realize they are signing up for a "rent to try" program with their first payment and that they will need to pay far more in the coming months to keep the system. If you aren't happy with your purchase, this initial cost is nonrefundable.
Luminess Air might still be worth considering if other, cheaper options weren't available. But there are better ways to start airbrushing your makeup at home, and we suggest you try one of these brands instead unless you already know that you love Luminess cosmetic products and aren't afraid to commit to them financially.
Our Promise to You
In order to safeguard you and ensure helpfulness and relevance, our compliance team manually assess every customer review before it goes live.
We have a zero-tolerance policy for fake reviews, and companies cannot control or alter any reviews at any time.