BioTrust
Claimed This company has claimed this profile, is getting alerted on any new customer reviews entering this page, and may engage in dialogue with its customers to address their matters.

Companies cannot pay money or provide goods in order to remove or alter customer reviews.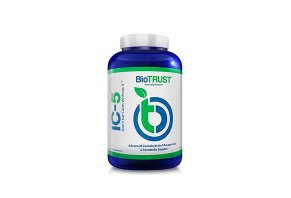 By offering a lineup of 17 high-quality dietary supplement formulations, each tested for potency and purity, BioTrust represents one of the fastest-growing online nutrition companies around.
BioTrust Reviews - Do These Supplements Really Work?
Headquartered in Austin, TX, BioTrust sells a variety of protein, healthy living, digestive health, and anti-aging dietary supplements intended to help you achieve your health goals.
Compared to competitors, the company submits all of their products to an industry-leading 7-stage research and testing process they say ensures optimal potency and purity. They also provide free health and wellness coaching to all of their customers to help maximize their success.
Between their fully transparent formulations and unmatched quality, the BioTrust website tells us they've shipped more than 15 million of their products to families worldwide.
But, are they the right supplement company for you? In this article, we'll take a high-level look at the company and a couple of their top products, compare them to competitors and help you find actionable answers.
How Does BioTrust's Research and Testing Process Work?
BioTrust Nutrition was co-founded in 2011 by self-described big-hearted "science nerds" Josh Bezoni and Joel Marion, who say they were focused on launching a "mission-based nutrition company that was authentic, honest, charitable, and always put quality and customers first."
Since that time, they've grown into a team of more than 100 employees, which they advertise makes them one of the fastest-growing online nutrition brands in America.
A big part of this success, they emphasize, is their rigorous seven-stage research and testing process, which was developed by supplement formulation and quality control experts:
Step 1: BioTrust's world-class formulators "rigorously scour the research for the finest and most innovative ingredients" to include in their supplements.
Step 2: The company only adds the clinically substantiated dosages of ingredients to their formulations.
Step 3: All ingredients found in BioTrust supplements represent the purest, highest-quality versions available without antibiotics and artificial sweeteners, colors and preservatives. There are no GMOs, gluten, antibiotics, or synthetic growth hormones as well.
Step 4: These ingredients come with a certificate of analysis for potency and purity, and BioTrust goes one step further by performing microbiological testing during manufacturing.
Step 5: All ingredients are produced in GMP (Good Manufacturing Practices)-certified facilities that adhere to proper food safety and quality performance guidelines.
Step 6: BioTrust works with an independent third-party company to double-check these ingredient levels.
Step 7: These same third parties also test for "impurities, microbe contamination, heavy metals, and allergens" in BioTrust's finalized formulations.
With these high-level details in mind, let's zoom in and explore some of the ingredients you'll encounter in BioTrust's most popular formulations.
Which Ingredients Will You Find in BioTrust's Dietary Supplements?
As of this writing, BioTrust offers a lineup of 17 different supplement formulations. In the interest of maximizing your time, we'll quickly go over the ingredients found in two of the top-rated options on their website—each of which the HighYa team has also written about in the past—to help provide further insight.
BioTrust Brain Bright
According to the supplement facts label listed on the BioTrust website, Brain Bright contains:
Vitamin B12 1,000 mcg
Calcium 130 mg
GinkgoClean Ginko Biloba Extract 240 mg
RhodiolaMax Rhodiola Rosea Extract 200 mg
N-Acetyl-L-Tyrosine 500 mg
Acetyl-L-Carnitine 500 mg
L-Theanine 100 mg
Bioperine Extract 5 mg
According to sites like the Natural Medicines Database, WebMD, and Examine.com, taking between 60 mg and 480 mg of ginkgo per day is possibly effective for addressing aspects of anxiety and dementia. Furthermore, 100–300 mg of tyrosine could improve memory and mental performance under stressful situations, and 12–100 mg of theanine may help reduce errors on tests.
On the other hand, they indicate there's insufficient clinical support for the other claims and ingredients found in Brain Bright.
BioTrust IC-5
Comparatively, BioTrust's IC-5 supplement contains the following:
Chromium 200 mcg
Berberine 500 mg
25:1 Cinnamon Bark Extract 100 mg
Benfotiamine 80 mg
Naringin 50 mg
Using these same sites as our guide, they cumulatively report there's insufficient clinical evidence to support BioTrust's carb-related claims for IC-5.
A BioTrust representative sent us three documents outlining several studies showing that some of the ingredients in these supplements could deliver on their claims.
However, it's important to point out sites like WebMD and the Natural Medicines Database only report the cumulative level of clinical support related to an ingredient's specific benefits and not specific studies like the ones BioTrust provided.
Could BioTrust's Ingredients Cause Side Effects?
Sites like Examine.com and WebMD report that for most individuals, the ingredients in Brain Bright and IC-5 likely won't cause side effects worse than mild, temporary digestive upset—if anything at all.
With this in mind, they indicate other potential side effects (no circumstances or other specifics provided) include:
Headache – Ginkgo, theanine
Dry Mouth – Rhodiola
Dizziness – Ginkgo, Rhodiola
Ginkgo can also cause constipation and allergic reactions, Rhodiola can lead to excessive saliva production, and carnitine can cause heartburn or diarrhea. These same sites indicate the long-term safety of Rhodiola and theanine is unknown.
To help reduce the potential side effects or medication interactions related to any supplements you're taking, be sure to talk with your healthcare professional in advance.
How Much Do BioTrust's Products Cost?
In general, you'll find BioTrust's products priced in the following ranges:
Proteins: $29–$59
Healthy Living: $34–$69
Digestive Health: $49
Anti-Aging: $34–$69
Gear: $14.99–$24.95
Ageless Glow: $29.00 to $79.00
BioTrust emphasizes that every order placed helps feed a child through their partnership with the No Kid Hungry® campaign and that they've helped provide more than three million meals to date.
You can also subscribe to recurring shipments and save 20% on any products, which you can edit or cancel at any time.
U.S.-bound, one-time orders come with a $6.95 shipping charge, with international costs calculated at checkout. On the other hand, all recurring orders come with free shipping.
BioTrust offers a 60-day money-back guarantee on all of their supplements, including a pre-printed return shipping label, as well as a 1-year exchange program and in-house credit procedure. It's important to keep in mind that you will still be responsible for shipping charges when sending your product back. To initiate the return process, you can reach support at 800-766-5086 or via their site's contact form.
Our View: Should You Order BioTrust Supplements?
Keeping in mind everything we've learned, it's positive that BioTrust only uses high-quality ingredients in their supplement formulations, which also come with competitive prices.
However, while their 7-stage research and testing process is unique, overall, we also learned that several other companies implement many of its same components (e.g., third-party testing, sourcing from GMP-certified factories, obtaining certificates of analysis, etc.).
Furthermore, sites like WebMD and the Natural Medicines Database report that most of the ingredients found in their popular Brain Bright and IC-5 supplements have insufficient clinical evidence supporting most of the manufacturer's advertising claims.
With all of this said, BioTrust and its supplements seem to come with mostly positive online customer feedback, here on HighYa as well as elsewhere online. They also stand behind their products with a 60-day refund policy, which represents more than enough time to decide whether or not they meet your needs and preferences.
---
Refund Needed

By Arlene Johnson

,

Marshall Town, Iowa

,

Nov 14, 2013

Overall Experience:

I sent the items back. How do I get a complete refund? I expect an answer now.

Bottom Line: No, I would not recommend this to a friend

---

This place is a scam

By Sonya

,

Illinois

,

Feb 10, 2014

Overall Experience:

Don't order anything online as they don't cancel when you request. The bars are the worst tasting things I have ever tried - I threw one box away. When I tried to cancel, I got a quick response about my options for return but the order wasn't canceled. So, I now have another box I have to pay shipping for to return. I would never do business with this company again.

Bottom Line: No, I would not recommend this to a friend

---

Advertisement

---

You pay for their marketing

By Katrina

,

Chicago

,

Apr 29, 2014

Overall Experience:

I purchased one of their diet plans thinking I was getting a detailed meal plan to stimulate weight loss as described in their video. What I got was basically a 52 page advertisement in trying to sell me their protein powder and nutritional supplements. I felt like I was scammed and duped. I should have known better. I did call the toll free number and asked for a refund which I was told was provided but would take 3 days to show up on my credit card. Hopefully they will come through on their 100% money back guarantee promise.

Bottom Line: No, I would not recommend this to a friend

---

Questionable Product

By Ron

,

California

,

Jan 8, 2015

Overall Experience:

Belly Trim XP is really questionable as to whether it will work or not. I am about finished with my third and last bottle. My weight at the start was 176 pounds and still is 176 pounds, my waste measurement was approximately 42 plus inches, and it has not changed. Depending on one's body chemistry, this product might work for some and not for others.

Bottom Line: No, I would not recommend this to a friend

---

Advertisement

---

Rip off

By Tracy Brendzan

,

Edmonton, AB

,

Apr 11, 2015

Overall Experience:

I purchased a case of their Omega 3 dessert product only to receive a case of product that expired in two months. I returned the product and never received my $400.00 back despite numerous emails to the company.

Bottom Line: No, I would not recommend this to a friend

Apr 13, 2015

Hi Tracy,

I hope this finds you doing well! My name is Tim Skwiat, and I am the Director of Nutrition and Exercise with BioTrust Nutrition. I keep a close eye on independent review sites like HighYa.com because our number one goal is to ensure that our outstanding customers like yourself are completely satisfied. In fact, BioTrust has an A+ rating with the Better Business Bureau, a reflection to our commitment of excellent customer service.

With that said, I am very sorry to hear about your experience, and I want to let you know that we'll be doing everything we possibly can to make this right for you. We welcome all customer feedback and testimonials, and while the majority of that is positive, we accept negative criticism with open arms as well. We are committed to excellence, and who better to tell us how to improve than our loyal customers.

With that being said, I do want to first confirm that we have issued a full refund (for $441) to your account on 4/9/2015. Although the refund is processed immediately on our end, it may take 3 – 5 business days for it to be reflected on your statement.

I'm also very concerned to hear that the e-mails that you sent to us were not returned. This is unacceptable, as we work very hard to respond as promptly as possible to all of our customers' e-mails and concerns. In reviewing your case history, I have not been able to locate any e-mails prior to the date of this review (4/8/2015).

In an effort to investigate this further and to prevent anything like this from happening again, would you be so kind as to send me an e-mail with all of the e-mails that you sent to our Customer Service department? I will make sure that someone looks into this further. Please contact me directly at tskwiat@biotrust.com.

While I completely understand why you would want to return your bottles of Omega Dessert for a refund, I do want to let you know that the one-year "Best Before" date on the bottle of Omega Dessert applies specifically to the sensory characteristics (e.g., taste, consistency, mouthfeel, etc.) of the product—not the product potency or overall quality. Thus, the product does not expire at that time, as there are multiple layers of protection to prevent these beneficial fatty acids from going bad.

We only use the freshest oils on the planet, which have been 5-star rated by IFOS, with one of those stars relating to a lack of rancidity. The entire manufacturing process takes place in a nitrogen-blanketed environment (i.e., free from oxygen) and the bottle is flushed with nitrogen when the product is bottled, which ensures all oxygen is removed from the container. Furthermore, the emulsification technology, which ensures 9 times greater absorption than typical fish oil capsules, provides further stability as it protects the delicate fish oils.

With that being said, research indicates that freezing polyunsaturated oils like those found in Omega Dessert can extend the product's shelf-life upwards of one year (or longer). If you do choose to freeze Omega Dessert, it's important that you allow the product to thaw completely and then shake the bottle vigorously for 15 – 30 seconds prior to opening.

In addition to making sure that you were refunded in full, I have requested that Customer Service send you a complimentary bottle of OmegaKrill 5X, our capsule-based fish and krill oil combo. You should receive a confirmation e-mail within the next couple of days notifying you of the shipment. If you do not, please do not hesitate to contact me directly.

At your convenience, I request that you please respond with any additional information (about your e-mail communications), questions, or concerns that you may have. I want you to know that I'm here for you, and we are here to help and happy to do so.

Sincerely,

Tim Skwiat

Director of Nutrition and Exercise

---

Customer Complaint

By Colleen Kelly

,

Christchurch New Zealand

,

May 6, 2015
Verified Reviewer

Overall Experience:

I would like to share my experience on BioTrust with other customers/prospective customers.

To be honest my complaint is an administration one and not with the products themselves. I am not at all happy with the way charges have been administered for products purchased from BioTrust. I originally ordered products via the website which should have totalled $174USD. I contacted BioTrust immediately by e-mail because order was incorrect as all of the boxes had been ticked on the website. I was offered 2 options for product and chose Option A which I confirmed and $84 was to be credited back to my credit card. To date this has not happened. My credit card was charged as $622.92NZD. Furthermore NZ Customs charged me fees on top of this of $197.94NZD which was equated on $735USD because BioTrust had charged this as the value of the goods.

I have been trying to sort this out with BioTrust and will also need to pay NZ Customs so I can get my goods released and then try to negotiate with them over the $735USD charged (by my calculations the total should have been $510USD.

So I guess it is fair to say I am not a happy customer.

NZ Customers need to be aware of the extra charges by NZ Customs on any goods over $400NZD. It does make purchase of USA products from BioTrust very expensive. Also it is recommended that you are vigilant over the charges that are charged to your credit card from BioTrust. It seems to be a very difficult and not user friendly process to get any over charges corrected.

Bottom Line: No, I would not recommend this to a friend

May 7, 2015

Hi Colleen,

I hope this finds you doing well! My name is Tim Skwiat, and I am the Director of Nutrition and Exercise with BioTRUST Nutrition. I wanted to follow up with you right away to provide you with my personal assistance:

I keep a close eye on independent review sites like these because our number one goal is to ensure that our outstanding customers like yourself are completely satisfied. In fact, BioTRUST has an A+ rating with the Better Business Bureau, a reflection to our commitment of excellent customer service. With that said, I am very sorry to hear about your experience, and I want to let you know that we'll be doing everything we possibly can to make this right for you.

We welcome all customer feedback and testimonials, and while the majority of that is positive, we accept negative criticism with open arms as well. We are committed to excellence, and who better to tell us how to improve than our loyal customers.

One thing that I noticed in your review is that you mentioned that you accepted an $84 refund, but that had not happened. Although refunds happen immediately on our end, it can take up to 3 – 5 business days for them to be reflected on your statement. A credit to your account for $84 was issued in our system on April 9, 2015. I've sent you an e-mail with an image of the transaction history, including a reference number for the credit to your account.

Have you happened to reach out to your credit card company about this? This concerns me, and I want to make sure that this is fully taken care of.

With regard to your concerns about customs fees (i.e., duties and taxes), I am so sorry to say that this is completely out of our control, Colleen. All International orders are subject to applicable sales tax, duties, and customs charges that are determined by your local government and vary by country.

Duties, taxes, and/or customs fees represent an additional amount collected upon delivery of orders. Order confirmation details only the amount collected by BioTRUST. By law, duties and taxes shall are based on the full retail price of the products regardless of bundled pricing or other discounts on the order.

With that being said, in reviewing your customer notes, in addition to the refund, it's my understanding that, as a courtesy to you our valued customer, our Customer Service team has offered you an in-house credit in the amount of the customs fees that you will pay for your shipment.

As far as the ordering process, I do want to confirm that we never add any additional products or charges to an order that are not approved by a customer. In other words, only products that are selected by the customer are added to the shopping cart, and the customer must approve the order by submitting credit card information and billing and shipping details. That said, your feedback is incredibly important to us, and I invite you to share any specific feedback that you may have on how we might be able to improve this for you and other customers in the future.

Most importantly, we know that you came to us to help you achieve your health and fitness goals, and I want you to know that we will be here for you every step of the way to guide you, support you, and encourage you. In fact, you may contact me directly or visit our free Online Coaching Community (www.BioTRUSTBoard.com) to get free help from our certified nutrition and exercise experts. We're here to help and happy to do so.

Please feel free to contact me at your earliest convenience (tskwiat@BioTRUST.com) to let me know how I can help you. Thank you, Colleen.

Sincerely,

Tim

---

Hidden Charges

By Greg Lyall

,

Australia

,

May 27, 2015
Verified Reviewer

Overall Experience:

I am wading through the paperwork to get a delivery of my order. Australian Post has sent me correspondence that I must fill out import declarations, and pay charges because the item has been held until I do so, as well as duty and taxes. I did not realize any of this and nowhere on my order was it pointed out that this would be the case. It is very deceptive regarding what it all actually costs you. I have no idea yet how much more I have to pay out, so I am very unimpressed with the lack of upfront info. I'm sure I'm not the only one who has been caught like this. It is the first time I have ordered anything from BioTrust, and will probably be the last.

Bottom Line: No, I would not recommend this to a friend

Jun 1, 2015

Hi Greg,

I hope this finds you doing well! My name is Tim Skwiat, and I am the Director of Nutrition and Exercise with BioTRUST Nutrition. I wanted to reach out to you as soon as possible with my personal assistance.

I keep a close eye on independent review sites like Highya.com because our number one goal is to ensure that our outstanding customers like yourself are completely satisfied. In fact, BioTRUST has an A+ rating with the Better Business Bureau, a reflection to our commitment of excellent customer service.

With that said, I am very sorry to learn about your displeasure, and I want to let you know that we'll be doing everything we possibly can to make this right for you. I do want to mention that there is a notice for International Customers that is posted on our website, and it can be located by visiting the "International Customers" page on our website:

www.BioTRUST.com/International-Customers

With regard to your concerns about customs fees (i.e., duties and taxes), I am so sorry to say that this is completely out of our control, Greg. All International orders are subject to applicable sales tax, duties, and customs charges that are determined by your local government and vary by country.

Duties, taxes, and/or customs fees represent an additional amount collected upon delivery of orders. Order confirmation details only the amount collected by BioTRUST. By law, duties and taxes are based on the full retail price of the products regardless of bundled pricing or other discounts on the order.

With that being said, as a courtesy to you our valued customer, we would like to offer you an in-house credit in the amount of the customs fees that you will pay for your shipment. If you would be so kind as to send a photo of your customs fees receipt(s), our Customer Service team will gladly issue you an in-house credit, which can be used toward a future order.

Most importantly, we know that you came to us to help you achieve your health and fitness goals, and I want you to know that we will be here for you every step of the way to guide you, support you, and encourage you. In fact, you may contact me directly or visit our free Online Coaching Community (BioTRUSTBoard[dot]com) to get free help from our certified nutrition and exercise experts. We're here to help and happy to do so.

Please feel free to contact me at your earliest convenience to let me know how I can help you. Thank you, Mr. Lyall.

Sincerely,

Tim Skwiat

Director of Nutrition and Exercise

---

metabo379

By Fatima

,

California

,

Jun 16, 2015

Overall Experience:

I used Metabo379 as directed and finished the whole bottle. It didn't work for me. I often see lot of advertisements about BioTrust but scared to order more since the product didn't work on me and I didn't try to return it then because I have to pay extra for shipping.

Bottom Line: No, I would not recommend this to a friend

Jun 19, 2015

Hi Fatima,

My name is Tim Skwiat, and I am the Director of Nutrition and Exercise with BioTRUST Nutrition. I'd like to make myself available to assist you to make sure that you're completely taken care of and that you achieve your health and fitness goals. After all, our goal is to ensure that you achieve yours.

I do want to remind you that our customers are completely protected by our one-year money-back guarantee, and you are more than welcome to contact our Customer Service Team for a return/exchange:

(800) 766 - 5086
Support@BioTRUST.com

With that being said, the research on Metabo379's ingredients is quite compelling. In fact, in two randomized, double-blind, placebo-controlled studies (i.e., the "gold standard" of scientific research), folks who supplemented with SIGMALean (the primary ingredient in Metabo379) for 8 weeks combined with a modest reduced-calorie diet and moderate physical activity lost, on average, nearly 4 times more weight than the placebo group (i.e., diet and exercise alone).

If that's not impressive enough, the folks taking SIGMALean lost over twice as many inches from their waist and hips, significantly improved quality of life, boosted confidence, and optimized health (i.e., decreased cholesterol, triglycerides, blood sugar).

With that in mind, we generally encourage folks to give a supplement like Metabo379 an honest chance to work by taking it as recommended (along with good nutrition habits and regular physical activity) for at least 8 weeks (just like the participants did in the research studies mentioned above). Along those lines, I'd be interested to hear more about your lifestyle behaviors and how you measured your progress so that I can most accurately and effectively assist you.

Moreover, I want you to know that I'll be here for you every step of the way to guide you, support you, and encourage you on your journey to improved health and fitness. At your convenience, please e-mail me at tskwiat@BioTRUST.com, and I'll be happy to help make sure that you're completely taken care of—and on your way to your body transformation goals.

Sincerely,

Tim Skwiat
Director of Nutrition and Exercise

---

Awful

By Elizabeth Frogel

,

New York

,

Aug 14, 2015

Overall Experience:

I immediately (within a day of starting the pills) got the shakes/jitters, shaky hands, etc., and a hard time sleeping at night. I wasn't sure at first what was happening to me, but then I realized, it was the pills. That was the only thing that was added or changed in my daily life routine. There is a definite correlation between starting the pills and the reaction. I am going to ask for my money back. I'll let you know how it goes. But please note if you do get the jitters, I truly feel this is a side effect of this product and therefore, can't be that safe. Shaking is NOT a good thing.

As well, the amount of aggressive and annoying up-sell marketing techniques, and consequent numerous emails is terrible.

Bottom Line: No, I would not recommend this to a friend

Aug 15, 2015

Hi Ms. Frogel,

I hope this finds you doing well. My name is Tim Skwiat, and I am the Director of Nutrition and Exercise with BioTRUST Nutrition. Your review was just published, and I wanted to reach out to you immediately to offer my personal assistance.

I keep a close eye on independent review sites like this because our number one goal is to ensure that our outstanding customers like yourself are completely satisfied. In fact, BioTrust has an A+ rating with the Better Business Bureau, a reflection to our commitment of excellent customer service. With that said, I am very sorry to hear about your experience, and I want to let you know that we'll be doing everything we possibly can to make this right for you.

We welcome all customer feedback and testimonials, and while the majority of that is positive, we accept criticism with open arms as well. We are committed to excellence, and who better to tell us how to improve than our loyal customers.

Most importantly, I'm very sorry to hear about your experience with our products. Individual responses to dietary supplements (e.g., herbs, vitamins, nutrients), medications, and even foods can be as unique as one's fingerprints. For instance, some folks are incredibly sensitive to caffeine whereas others have a much higher tolerance.

With that being said, I want you to know that we take adverse event reporting VERY seriously. At BioTRUST, we develop research-backed products with both effectiveness AND safety in mind. In fact, we work directly with a third-party medical doctor team, which reviews customer service logs and adverse events, to ensure best in class compliance and consumer safety.

Based on the content of your review, I have requested that a Customer Care Specialist reach out to you as soon as possible to file an adverse event form and collect additional information about your experience. If you would be so kind as to provide any additional information to this agent, it would be greatly appreciated.

In addition, you mentioned that you'll be requesting a refund, and I want to assure you that you are protected by our 1-year money back guarantee. I do not see any records in our system of you contacting us for a refund. With that being said, when the agent reaches out to you to collect additional information about the adverse event, I have requested that s/he also discusses your refund/exchange options at that time as well. We want to ensure that you are completely taken care of.

If you would prefer to contact our Customer Service Department yourself, please feel free to do so:

(800) 766 – 5086
Support@BioTRUST.com

As I mentioned, we'll be doing everything we can to take care of you. Along these lines, I also want to make myself available to you for additional coaching assistance. I know that you chose BioTRUST for a reason—to improve your health, body composition, and vitality—and I want you to know that I'll be here for you every step of the way to guide you and support you on your journey. I'd love to get to know you better, learn about your goals, and better understand how I can help you. Please feel free to contact me directly at any time at tskwiat@BioTRUST.com

I'm here to help and happy to do so.

Sincerely,

Coach Tim
Director of Nutrition and Exercise

---

Bad company to do business with

Overall Experience:

I ordered Leptiburn and was swamped with product. I had two unopened bottles and two in the packages that were sent by the company. I sent two bottles back and no refund. I called and asked why after I was sent a third bottle. I was informed they do not stop sending product unless you call and request a stop order. I asked about my refund and they said you have to request a refund and I said I am requesting one. After much back and forth they said I would get a refund minus shipping, and after three requests to stop sending me anything I was informed I must call back after each shipment arrives to get an RA number. I will not do business with this company again. They have no customer service and that makes you believe the whole company is crooked.

Bottom Line: No, I would not recommend this to a friend

Aug 20, 2015

Hi Mr. Martin,

I hope this finds you in the best of health. My name is Tim Skwiat, and I am the Director of Nutrition and Exercise with BioTRUST Nutrition. I just came across your review, and I wanted to reach out to you immediately to provide you with my personal assistance.

I keep a close eye on independent review sites like this because our number one goal is to ensure that our outstanding customers like yourself are completely satisfied. In fact, BioTRUST has an A+ rating with the Better Business Bureau, a reflection to our commitment of excellent customer service.

We welcome all customer feedback and testimonials, and while the majority of that is positive, we accept negative criticism with open arms as well. We are committed to excellence, and who better to tell us how to improve than our loyal customers.

With that said, I am very sorry to hear about your experience, and it really troubles me to know that you have been left with such a bad taste in your mouth. Along those lines, I want to let you know that we'll be doing everything we possibly can to make this right for you.

I have forwarded your comments to our Customer Service department for review, and I have requested that your subscription be cancelled and that you be refunded for any products that you have returned. In reviewing your order history, it appears that when you placed our order for LeptiBURN back in March, you elected our Ship-N-Save option, which is an optional monthly subscription program provides customers with 15 percent off and free shipping. As mentioned, I have requested that this subscription be cancelled immediately.

With regard to the refunds, the details of the process can be found on the BioTRUST website. It is important that customers who are requesting a refund contact our Customer Service department to obtain a Return Merchandise Authorization (RMA) number. This is because returned product gets sent back to our distribution center, and the RMA number is the means by which the folks there can request that we process the refund for the appropriate customer. In other words, the RMA is a very important identification code to ensure that your refund is processed accurately and efficiently. I am working with Customer Service now to make sure that your refund s processed as per your request.

With all of that being said, I know that you came to us for a reason, Mr. Martin, and that's to improve your health, body composition, and performance. Along those lines, I want you to know that I'm here for you, and I will be every step of the way to guide and encourage you on your journey. With that in mind, please feel free to contact me directly at your convenience at tskwiat@BioTRUST.com. I'll be happy to do everything I can to help you achieve your body transformation goals. We're here to help and happy to do so.

My best,

Coach Tim

Director of Nutrition and Exercise

---

Don't Waste your money.

By Annie de la Garza

,

Albuquerque NM

,

Sep 1, 2015

Overall Experience:

I am very disappointed with this product. I read the testimonials and listened to the oh so boring 25 minute video with great hopes that this might really be valid and work. Well, like all other scams and false promises it isn't worth the money or time because it does not produce results. My husband and I both have not lost even 1/4 inch of body fat. What a bummer, we both really wanted something that would truly be valid and work.

Save your money.

Bottom Line: No, I would not recommend this to a friend

Sep 1, 2015

Hello Ms. de la Garza,

I hope that this finds you doing well and in the best of health. My name is Tim Skwiat, and I am the Director of Nutrition and Exercise with BioTRUST Nutrition. I just came across your recent review, and I wanted to follow up with you immediately to offer my personal assistance. After all, I know you chose BioTRUST for a reason, and our ultimate goal is to help you achieve yours.

With that being said, I'm very sorry to hear that you are not completely satisfied up to this point. Customer satisfaction is our top priority, and I'm going to do everything I can to help you and take complete care of you.

First, I do want to remind you that our customers are completely protected by our one-year money back guarantee. While our products are created to work and are based on extensive amounts of peer-reviewed research, if for any reason at all you are not completely happy with your purchase, just let us know and we will issue a prompt and courteous refund even on empty bottles. Please feel free to contact our Customer Service department at your convenience to discuss your options:

(800) 766 - 5086
Support@BioTRUST.com

With that being said, as a Nutrition and Exercise Coach, I want you to know that I'll be here for you every step of the way of your journey to guide, support, and encourage you and your husband on your respective body transformation journeys. I encourage you to reach out to me directly (tskwiat@BioTRUST.com) at your earliest convenience so that I can help you get moving in the desired direction.

If possible, I'd like to learn a little bit more about the supplement(s) that you've been using and how long you've been using it/them. Along those lines, for folks interested in weight loss, we generally recommend using the products for 60 - 90 days to fully assess their effectiveness. This is a time frame that aligns with the scientific research demonstrating the effectiveness (i.e., statistically significantly results) of the products' ingredients. That's not to say that measurable results can't and aren't noticed sooner; however, we're a science-driven company and tend to side with the research.

That said, when used consistently and as directed, we guarantee your results. That's why we stand behind our products with our guarantee.

We do emphasize a lifestyle-based approach to improving health, body composition, and performance, and along these lines, I'd also like to learn more about your nutrition behaviors and physical activity patterns, as well as stress management, sleep hygiene, and hydration. Simply put, Ms. de la Garza, I look forward to learning more about you and helping you achieve your goals, and I'm excited to hear from you soon!

My best,

Tim Skwiat
Nutrition and Exercise Coach

---