Boxycharm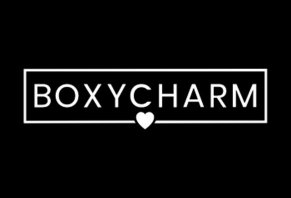 Summary
Boxycharm is a beauty subscription box that provides you with five full-sized beauty products each month, with options to upgrade your subscription for bonus products.
Boxycharm Review: Right Beauty Box Subscription for You?
Boxycharm is a subscription beauty box service that provides you with 4 or 5 full-sized beauty items each month for about $25 per month. Skincare products, makeup, and other beauty tools are all fair game, and the company states that each box has a minimum retail value of at least $100.
Beyond each box, Boxycharm subscribers gain access to exclusive, members-only offers for top beauty brands. They can also earn reward points for redeeming additional products, and have the opportunity to win free products from brand giveaways.
How else does Boxycharm stand out from other beauty box subscription services? Let's look closer at this company to find out.
What Does It Cost?
Monthly: $25
3 Months: $23.33
6 Months: $23
12 Months: $22.92
Any purchase options automatically renew at the end of the billing cycle. You must cancel the subscription before the billing cycle renews. All orders are non-refundable.
Boxycharm does not ship internationally. Orders placed within the 48 contiguous states (excluding Hawaii and Alaska) get free shipping.
What Are Boxycharm Charms?
The Boxycharm brand offers incentives for subscribers to review their products and recommend them to friends through their 'Charms Program.' Each product review and subscription referral earns subscribers a set amounts of 'charms' that can be used as currency to purchase products in the Charms Shop.
At the time of writing, 1,000 charms equaled $10, and subscribers earned 500 charms for friend referrals and 50 charms for product reviews. Most of the items within the charms store are priced between $10 - $30.
BoxyCharm's BoxyLuxe Program
For Boxycharm subscribers that want to boost their benefits, the company offers an upgrade to their standard boxes that is known as BoxyLuxe. This subscription upgrade is only available every three months (March, June, September, December) and you need to be an existing subscriber to purchase it.
BoxyLuxe promises to deliver you at twice the amount of curated, full-size brands per box, bringing the total value to over $250.
This specialty subscription box costs $28.99 in addition to your existing subscription cost, and you can cancel the service at any time, no questions asked.
This premium box is only available in limited quantities each month, so we noted numerous complaints from subscribers who wanted it but had to get on the waitlist for the next order.
Boxycharm Customer Reviews
The best way to compare different beauty boxes is to see what previous customers thought of them.
Boxycharms's Facebook page offers glowing reports of subscribers' opinions of each box. We noticed how much reviewers appreciated receiving full sized products instead of sample sizes in their orders and that they consistently found several products they loved in each order. Repeatedly, Facebook reviewers mentioned how great of a value they thought their boxes were.
Though many reviewers noted that certain products weren't their color preference, they still said that they were impressed overall with their quality and brand names. Many also mentioned that the variety between months was good, meaning that they never knew what to expect inside when they opened each box.
Notably, a handful of subscribers said that the boxes weren't inclusive for women of color and that they offered too many products that only worked for white skin.
We also noticed some complaints about customer service and their slow response time to questions. This matched our experience, as our numerous requests for comments only received automatic responses.
Influenster reviews of Boxycharm reach similar conclusions. Reviewers repeatedly noted that their boxes were full of high-quality products that were a higher value than what they paid, but that the colors of foundations, brow liners, and lipsticks were far from their preferred shades.
Others mentioned that they still felt excited about each new box after subscribing for six months or longer and that they canceled other beauty box subscription services (Ipsy was referenced repeatedly) to use Boxycharm instead.
Regarding the BoxyLuxe option, most of the reviews we saw on both Facebook and Influenster showed that subscribers were happy with the products they received. However, many were upset that they weren't able to order BoxyLuxe because the company often ran out of product and couldn't provide the upgrade for everyone who requested it.
Comparing Boxycharm to Other Beauty Boxes
Considering the fierce competition for beauty box subscriptions today, does Boxycharm differentiate itself well? This chart compares it to a few other services to help you see how it stands out.
| | Boxycharm | Ipsy | Glossybox | Birchbox | Allure Beauty Box |
| --- | --- | --- | --- | --- | --- |
| Cost Per Box (month to month) | $25 | $10 | $21 | $10 | $15 |
| Number of Items | 4 - 5 | 5 | 5 - 7 | 5 | 5 - 7 |
| Size of Items | Full size | Deluxe (at least three uses) and full | Deluxe (at least three uses) and full | Sample size | Full or deluxe |
| Preferences Allowed? | No | Yes (online quiz) | Yes (beauty profile) | Yes (online quiz) | Yes (beauty profile) |
| Option to Upgrade? | Yes (BoxyLuxe) | Yes (Plus version costs $35/ month, features five full-sized items) | No | Can buy full-sized products of samples from the website | No |
| Est. Value Per Box | Over $100 | $40 - $80 | Over $80 | $25 - $40 | $50 - 90 |
According to the comments from subscribers who have used both brands, Boxycharm boxes tend to primarily contain makeup products, while Glossybox branches further into skin and hair products. Likewise, Glossybox offers more options to state your product preferences, though there's no guarantee that they will be followed with every order.
Bottom line
Boxycharm has positioned itself as a solid option in the beauty box market.
While you'll pay slightly more per box than many brands, the company sets itself apart by offering full-sized products in every order instead of "deluxe" sample sizes that are common with the competition.
While there were some negative reviews about the boxes not being inclusive enough for women of color, many subscribers seemed willing to give this lack of personalization a pass because each product they loved compensated for the misses.
There are some listed concerns with slow customer service, so that might be something to keep in mind if you're concerned about canceling your order or if you live in a region where you frequently have mail delivery problems.
If you're interested in seeing whether a beauty box subscription makes sense for you, we think that it makes sense to give Boxycharm a try.
While you might get stuck with several full-sized products that you're not interested in, previous customer experience shows that the odds are good you'll still find a few products you love in each box.
Customer Reviews
Posted on Oct 13, 2019
Overall underwhelmed
I joined BC over the summer, then canceled after one month. The box I received was meh and when I reached out about a defunct product (pot of gel liner that was as dry as the Sahara) I was given absurd advice on how to "fix" it (add oil - which did NOTHING), then I was ignored after that - not good enough for me to keep paying $21 a month.
Then come September I decided to give it another try, still not impressed. The shadows were pretty, but poor quality and not very pigmented. Honestly, Wet-n-Wild offers better quality shadow. After my October box shipped (which has not arrived and has experienced "delays") I canceled.
Comments on their IG posts are almost all negative. The company seems to have grown too fast for its own good and isn't taking care of its customers. So BEWARE.
Bottom Line: No, I would not recommend this to a friend
Posted on Oct 1, 2019
Best beauty box out there
I've received Boxycharm for a year now. I'm 50 years old. I love this box. I have been able to find out about new brands, update all my old makeup. I always get 2 things in the box I love, 1 I can't live without. There are times I receive things I can't use or won't use because it's not my color or I'm just too old to be wearing, but luckily I have a daughter who wants it. High school age sisters who live next door. I just send it over to them. Sure, not everything you will like but for the price, you can't beat it. Becca Hydra-MIst Powder, Tarte eyeshadow palettes. Up-coming brands who's makeup is worth trying. This isn't drugstore brands, thESE are the same brands you find at Sephora or Ulta. Take a chance. If you absolutely dislike it, cancel. Regift the box to a friend and call it a day.
Bottom Line: Yes, I would recommend this to a friend
Posted on May 1, 2019
Scam company bills 2nd box TWO DAYS after the first box
This scam service billed me for my first box and then sent me my 2nd box TWO DAYS LATER! I canceled the day I received my first box because it was ALL makeup and no skin-care products. I thought there would be a mix. But that is OK - they can pretend to take your preferences into account and then send all eye makeup (which is what they did, two months of firggin eye makeup, who needs that much eye make up?), but to bill me for my 2nd box two days later is outrageous. Just ridiculous. You need to have a chance to decide if it is for you. I think they are scam artists and I would stay far far away.
Bottom Line: No, I would not recommend this to a friend
Our Promise to You
In order to safeguard you and ensure helpfulness and relevance, our compliance team manually assess every customer review before it goes live.
We have a zero-tolerance policy for fake reviews, and companies cannot control or alter any reviews at any time.