Glossybox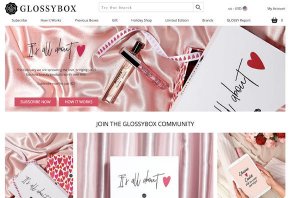 Glossybox offers beauty enthusiasts the opportunity to sample a collection of deluxe and full-sized beauty products each month for $21 per box.
Glossybox Review: Is This Beauty Box Subscription Worth It?
Glossybox is a beauty subscription program that provides you with five hand-picked beauty products each month. These cosmetics range from full-sized to deluxe (approximately three uses each), and they include everything from makeup to skincare and general wellness products.
The company began in Berlin in 2011 and has expanded worldwide into ten countries throughout North America. Their website states that they are committed to introducing global beauty enthusiasts to luxury brands through high-end beauty product samples.
Glossybox is operating within a competitive marketplace, so does their service stand out? Let's look at the details behind Glossybox to learn more.
How Does Glossybox Work?
According to their website, the Glossybox team includes over 150 beauty experts who work to track down unique and exciting beauty products from around the world.
This helps the company develop strong relationships with both premium and niche brands to ensure that they can offer a curated selection to their subscribers. This page provides the more than 100 names and product information about every supplier that Glossybox is affiliated with.
When you sign up for Glossybox, you can choose between monthly subscription plans that last for three, six or twelve months. You'll receive your first box the month after you place your order, and it will include five beauty products.
Along with each subscription, Glossybox also provides users with exclusive rewards and deals for buying additional products, as well as insider tips and tricks from industry professionals.
Glossybox's packing process typically takes five days after ordering, though delays might occur because of product backorders or shipping delays. The company produces several box variations every month, and the version you receive depends both on your location and stated preferences, which you highlight in your beauty profile.
What Is the Glossybox Beauty Profile?
Once you create an account on Glossybox, you have the option to create a beauty profile. This consists of a brief questionnaire about your beauty preferences, as well as skin and hair type. Those that maintain multiple subscriptions can create beauty profiles for each one.
Questions in the beauty profile at the time of writing include "What is your everyday look?", "What is your makeup style?", "What is your hair color?", "Is your hair dyed?", "What is your hair type?", "What is your skin type?", "What is your skin color?", "What are your main skin concerns?" and more.
The company states that it uses these responses to select the products that address your beauty needs most effectively. Even so, we read numerous reviews from previous customers on Influenster that showed that they frequently received items far outside their stated preferences.
What Does Glossybox Cost?
At the time of writing, there are four different Glossybox subscription options available:
Monthly – $21 per month
A three-month package – $19.50 per month)
Six-month package – $18.50 per month
Twelve-month – $17.50 per month
Shipping is free for orders within the United States, though Canadian residents will pay a $5 shipping charge per box.
The payment for Glossybox subscriptions is taken on the first of each month, and it is an upfront payment for each subscription package (three, six and twelve months). Like with any subscription beauty box services, your subscription will automatically renew for another fixed term unless you cancel your order before the 14th of the month before the new subscription date.
About the Glossybox Return and Cancelation Policy
From our research, Glossybox won't accept returns or exchanges unless you can prove that the items you received were lost or damaged during shipping.
You can cancel your monthly subscription at any time, though it will only take effect for the upcoming month if you make your request before the 14th.
Three, six, or twelve-month plans can't be canceled while the term is still in progress, though you can cancel your upcoming autorenewal by the 14th of the last month. Canceling early only prevents the subscription from renewing, rather than refunding the money spent on future orders.
You can contact the company directly at (844) 433-5145 or by sending the company an email from your account.
Is Glossybox the Best Beauty Box?
Does Glossybox offer you anything you can't find in other subscription box services? Let's compare the service's main selling points to other subscription services to see how it stacks up.
| | Glossybox | Boxycharm | Ipsy | Birchbox | Allure Beauty Box |
| --- | --- | --- | --- | --- | --- |
| Cost Per Box (month to month) | $21 | $21 | $10 | $10 | $15 |
| Number of Items | 5 - 7 | 4 - 5 | 5 | 5 | 5 - 7 |
| Size of Items | Deluxe and full | Full size | Deluxe and full | Sample size | Full or deluxe |
| Preferences Allowed? | Yes (beauty profile) | No | Yes (online quiz) | Yes (online quiz) | Yes (beauty profile) |
| Option to Upgrade? | No | Yes (BoxyLuxe) | Yes (Plus version costs $35/ month, features five full-sized items) | Can buy full-sized products of samples from the website | no |
| Est. Value Per Box | Over $80 | Over $100 | $40 - $80 | $25 - $40 | $50 - 90 |
As this chart makes clear, Glossybox is on the more expensive side for a monthly subscription beauty box, and a comparable brand is Boxycharm.
You'll pay the same amount per box, but the estimated value of the items is higher with Boxycharm. That's partially because the brand exclusively provides full-sized products, while Glossybox will give you a selection of both full-sized and deluxe samples.
Unlike Boxycharm, Glossybox offers more options for customizing your order by providing insight about your preferences in their site's beauty profile. This might be a deciding factor for many people, as full-sized products offer you little benefit if you don't like what you receive.
The Allure Beauty Box offers a similar value per box to Glossybox, but you'll pay $6 less per month. It's also worth noting that we noticed in reviews that Glossybox often contains higher-end luxury brands than Allure and that Glossybox lets you complete a more thorough beauty profile to highlight your product preferences.
Likewise, Glossybox offers substantial value with their subscription boxes, as you'll receive an estimated $4 in product for every $1 you spend. Ipsy and Boxycharm both potentially beat that per box, so they are also companies potentially worth considering, especially if want to pay less each month.
The real value of each beauty box subscription comes down to what customers think of the products inside, so let's look at previous customer reviews to find out how Glossybox ranks overall.
Glossybox Customer Reviews
Customer reviews of beauty boxes are one of the best ways to determine whether they are a good buy. We looked through several review sites to find out what previous customers think of Glossybox.
The Better Business Bureau had three reviews of Glossybox at the time of writing, all of which awarded the company one star out of five. The primary complaint was with customer service, as one reviewer ranted that their card was charged by mistake and was never refunded, despite repeated promises from the company through both phone and email.
Another reviewer stated that she ordered a holiday box in October and the company took two months to inform her of an error in her payment, meaning that she missed receiving it.
Reviews of Glossybox on Influenster were more positive. Many users mentioned that they appreciated the variety of products they received in each box, but a good amount also indicated that only one or two products of the five were useful for them personally.
We read some complaints about receiving strange colors (like platinum blond eyeshadow) or items that reviewers considered unusable for them (like curly hair lotion for straight haired-women).
While many reviewers acknowledged that they understood each product wouldn't necessarily be a good fit for them, they were surprised that their samples didn't better match with their specifications in the beauty profile.
The consensus seemed to be that some months offered better-valued, more inclusive beauty products than others. December (Christmas) and May (Mother's Day) seemed to be favorites. We also noticed several comments that Glossybox's contents tended to focus more on skin and hair products than makeup.
Our View: Should You Try Glossybox?
Our review of the brand's details shows that it is a solid option for beauty fans who want to try new products without committing to paying full price for them.
Compared to the competition, Glossybox is on the slightly expensive side, but the company promises at least $80 in value per box. That makes it a good deal for people who are interested in building up their beauty and makeup collection quickly.
It might be a positive or negative to you that the company offers both full and deluxe sized- products, depending on how confident you are that the company will match your tastes. If you'd rather not receive any sample sizes, a company like Boxycharm might be a better option.
As with most subscription service companies, you need to pay careful attention to the cancelation policy. The majority of negative reviews online seem to be from people who attempted to cancel Glossybox after the 14th of their last subscribed month, so make sure you keep this date in line if you sign up for this service.
Overall, Glossybox might be best for people whose interests lean towards skin, nail, and hair care slightly more than makeup.
» See Also: The Best Beauty Box Subscription Services for 2019
Just awful

By Cori L.

,

Georgia

,

Sep 19, 2019
Verified Reviewer

Canceled after a couple of months because it was all deluxe and sample-sized skincare, hardly any makeup, not worth the price at all. Card got charged another 2 times after canceling, I had the cancel email, still couldn't get a refund. Terrible customer service, fraudulent charges, bad products. Check them out on BBB, or Consumer Affairs - lots of similar issues. No one even reviews these boxes anymore because they're so bad.

Bottom Line: No, I would not recommend this to a friend

---

Advertisement

---