Clarifion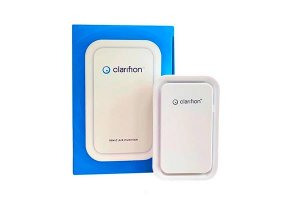 Summary
The Clarifion air purifying system claims to create negative ions that take pollutants out of the air so that you can breathe better in your home.
Pros
Many users experienced positive results
Proven to pull pollutants out of the air
Cons
Leaves dust and contaminants on surfaces of your home
Might produce potentially dangerous levels of ozone
Not practical for large spaces
May make your home dirtier (unless you vacuum daily)
Clarifion Review: What You Should Know
Exposure to unclean air is a pervasive health problem that causes more than 200,000 deaths in the United States each year. There's not often much you can do about outdoor air pollutants, but many people are turning to filters to improve the air quality in their homes.
One brand that offers to clear up your air is Clarifion, which promises to remove pollutants and the "stuffiness" from your rooms so you can breathe better.
This California-based company claims its discrete air purifier uses negative ions to eliminate all contaminants, bacteria, allergens, dust, and yes, even viruses, within 150 feet of it.
Can these claims be believed? Is Clarifion what you need to keep your household safe from sickness? Learn the answer in our analysis here.
How Does Clarifion Work?
According to the company website, Clarifion air filters contain a high capacity ion generator that works as soon as you plug it into any standard outlet.
A bright LED light will turn on to show you that it's working. There's no on button or air filters to replace, and it shouldn't require any maintenance throughout its three year lifespan.
Clarifion claims that each filter can cover up to 150 square feet, though the company recommends having one per room, especially in bedrooms, bathrooms, and the dining room, living room, and kitchen.
It's best to place the filters near doors or windows so that they can trap contaminants as soon as they enter the space. You can also use the filters in moving vehicles or RVs, so long as they have standard 110v outlets.
These filters should work to reduce pet and cigarette scents, though they aren't designed to remove the actual smoke from the room.
How Do Air Ionizers Work?
The Clarifion is an air ion diffuser, which shouldn't be confused with an air purifier. It works to diffuse negatively charged ions into the surrounding air. These negative ions bond to airborne particles and weighs them down so that they fall onto surfaces where they should be swept or vacuumed up.
Air purifiers, in contrast, typically have a fan that pulls in air and then runs it through a filter that traps particles. While this effectively removes them from your home without coating surfaces, it means that you will need to replace the filters often, which can get expensive.
Key Takeaway: Ionizers like Clarifion make sense for those who want to plug in their purifier and forget about it—no maintenance required. Air filters make more sense for those who want to remove air contaminants entirely and don't want to follow up with the vacuum after use.
What Is the Scientific Evidence for Clarifion?
How effective is an air ionizer like Clarifion, and are there any risks to be aware of? We couldn't find any clinical research that looked explicitly at Clarifion, but there are studies on the broader impacts of air ionizers.
First, some background. Ions are particles in the air that have either positive or negative charges, based on how many electrons they have.
High levels of positive ions are loosely correlated with negative health consequences like headaches and depression, while negative ions are considered to have soothing, rejuvenating effects.
That's one of the reasons why people feel refreshed after a thunderstorm—the lightning fills the air with negative ions.
There's also evidence that negative ions offer protection from illness. One 1994 study from the U.S. Department of Agriculture found that using a negative ion air cleaning system in a chicken hatchery reduced airborne particles by more than 99% within a minute and reduced rates of salmonella transmission between chicks by 98%.
Research from 2001 also found that negative ions in the air can kill salmonella bacteria, though the ions in the study were released through a targeted aerosol spray.
Furthermore, a 2019 study proved that ions can produce antimicrobial effects, but their effectiveness depends on both the concentration and the bacteria strains being exposed. However, this study was looking at ionizers meant for hospital settings, which are significantly more powerful than what the Clarifion delivers.
Likewise, Clarifion's claims of cleaning up to 150 feet of airspace likely won't be a reality outside a lab environment. That's because the purifier's location, how long it operates, and your room's airflow rate will all make a significant difference in the overall effectiveness.
Potential Side Effects
According to a 2005 report from the Consumer's Union, the risks of using an ion air cleaner might outweigh any benefits.
First, they tend to leave rooms dirtier than before because they deposit a "soot" of trapped pollutants on surfaces, which can further trigger allergies unless you vacuum regularly.
If you get some airflow in the room, those particles might billow up in the air again. You might also see a black buildup on the wall where you have it plugged in as evidence of this soot.
Possibly more alarming, ion air purifiers are known to produce ozone, which is a lung irritant that often triggers asthma. Though most devices designed for home use produce only trace amounts, there's minimal regulation on these levels, and some brands likely exceed government recommendations.
Since 2009, the California Air Resources Board has banned all devices that create ozone concentrations above 50 parts per billion. Though most ionic purifiers should easily comply with this guideline, this ozone can build up in rooms that are small or poorly ventilated.
This paradoxically can trigger worse breathing problems for asthma or allergy sufferers.
Pricing and Refund Policy
Clarifion sells its air purifiers in package deals where you save money the more you purchase at once. Here are the current pricing options:
One device: $39.97
Three devices: $95.91
Six devices: $149.82
Ten devices: $199.70
Shipping is free for all purchases. Once you order, expect the package to arrive within two weeks.
All purchases qualify for a 30-day satisfaction guarantee that starts from the day you receive it. If you aren't happy with the purifier, you can ship it back for a refund minus a 15% restocking fee, or 90% store credit. You will also be responsible for all return shipping charges.
For help with further questions, contact Clarifion at 844-326-7726 or support@getairsoap.com.
Analysis of Customer Reviews
There are currently 42 reviews for Clarifion on Amazon, averaging four stars. Here's what customers were saying most often about this product.
Compliments:
Helped remove stuffiness in rooms
Great for allergy sufferers
Takes pet odor out of the air
Complaints:
Light is too bright for night use in bedrooms
Didn't make a difference for some users
Too expensive for minimal benefits
Alternatives
If you're looking to keep the air in your home clean, a better choice is a HEPA (high-efficiency particulate air) purifier, which relies on filters to trap air and can even trap gasses.
In most cases, you'll pay more upfront for a HEPA system ($100–$200 per unit), and it will require regular filter replacements. For this extra cost, you're getting an air purifier that works over a large space, and you will be freed from dusting and vacuuming every day it runs.
For those with severe allergies or who are looking for something slightly higher-powered, the Molekule might be a better fit. This device promises to both capture and eliminates air pollutants by turning them into harmless molecules so that there's zero risk of them bothering you. It claims to purify up to 600 square feet of living space and works in all directions at once, so it doesn't matter where you place it.
As the Molekule costs $800 for the base device and about $30 per filter, it's a lot more expensive than the Clarifion or even most HEPA filters. However, it's a far better option for anyone interested in extreme air purity.
The Bottom Line
The Clarifion air purifier seems to accomplish what it promises—it works to pull dust, bacteria, and even viruses out of the air. However, that's likely not enough of a selling point for most people for three reasons:
The device leaves all the contaminants in your home on your floor, walls, and other surfaces until you clean them up. Any breeze can add them back to the air. Unless you are on top of your dusting and vacuuming, this can lead to more significant problems for allergy sufferers.

Clarifion's claims of cleansing the air within 150 feet are likely overly optimistic. You would need a medical-grade device to purify air at that level.

There's a small but significant risk that it could build up ozone levels, which might have adverse health effects.
There are better ways to purify your air, and we recommend considering one of them instead.
Customer Reviews
Posted on Dec 24, 2020
This is a scam!
Do not buy from this company whatsoever! They do not have an active customer support system, they do not have legitimate phone numbers to call them. They will gladly take your money!
Bottom Line: No, I would not recommend this to a friend
Posted on Nov 3, 2020
Not again
My experience with this company was really disappointing, they got me for $128 and I still haven't received them. I wish I would have read the reviews before falling for this scam. My order was supposed to be at my front door in 3-5 days, it's been two weeks. They don't answer customer service and probably won't refund my money.
Bottom Line: No, I would not recommend this to a friend
Pros and Cons
I liked the way they represented the product, obviously, or I wouldn't have ordered it
I like the way they gladly took my money but certainly didn't deliver.
That I was misled and assured I would be receiving the product
That once again I am a victim of fraud
Posted on Oct 24, 2020
Trouble with Clarifion plugins
I ordered 6 of these items for which I was promptly charged and did not receive. I notified my credit card and the company about the charge and stopped payment. Three months later I received them and tried to return them to a bogus address which was a gas station. Return was refused. I tried again to return them by finally reaching the company and was offered to keep them at 1/2 price. I accepted and cleared the lower price with the credit card company. Yesterday, I smelled smoke in my house and traced to the GFI switch which did not trip and where black soot covered the wall and the plugins. I checked the other plugins and found them and the surrounding walls covered with soot. All are pulled and about to be trashed as I don't want a fire in my house. Electrical inspection traced to the plugins. If you have them, check them out carefully or don't use them at all.
Length of Use: 3–6 months
Bottom Line: No, I would not recommend this to a friend
Pros and Cons
No "pros" were specified in this review
Poor customer service
Product created an electrical problem
Product soiled all surrounding wall where it was used
Bogus return address
Posted on Oct 7, 2020
Buyer beware of this company!
I bought Clarifion, installed them, and my allergies, which had been under control with the use of Claritin, returned even though I was continuing to take Claritin. I unplugged the Clarifion and my allergies went away. I found articles linking ionizers to allergic reactions. I told the company that I wanted to return my Clarifion. They said I could return them but I had to pay for the return postage and they would charge me a 15% restocking fee!
So buyer beware!
Length of Use: Less than 3 months
Bottom Line: No, I would not recommend this to a friend
Pros and Cons
No "pros" were specified in this review
Return policy stinks
Posted on Sep 25, 2020
Really works
Cleans the air and kills odors. Also is cheaper than most air cleaners. It uses very little electricity and is very practical. It is well worth the cost of the product.
Length of Use: 6–12 months
Bottom Line: Yes, I would recommend this to a friend
Posted on Jul 30, 2020
Amazing results
Only had it a month but the results are amazing. No more allergy symptoms, cat dander is down, we have to dust and vacuum more but it is worth it. We sleep better at night as well!
May consider purchasing another unit or two!
Length of Use: Less than 3 months
Bottom Line: Yes, I would recommend this to a friend
Posted on Jul 24, 2020
Rip off!
I fell for the talk: less dander, less allergies. Ordered on May 17th. They didn't waste a minute charging my credit card, but they never sent the product. I initiated a dispute with the credit card company. I tried to contact Clarifion, but the phone kept hanging up. Lo and behold, 3 weeks later, here is the product on my front porch. I'm trying to return them, but expect about the same response.
Length of Use: 3–6 months
Bottom Line: No, I would not recommend this to a friend
Pros and Cons
No "pros" were specified in this review
Impossible to contact company
Took a credit card dispute to get them to send product
Took over 3 months to receive the product, no longer wanted
Posted on Jul 8, 2020
I was scammed!
They took $209.29 off of my card and said it was declined. I have online banking and anytime alerts. My phone automatically showed me the amount that they took out of my money. I also called my bank. This is DEFINATELY a rip-off. And I am not stopping until I receive my refund!
Bottom Line: No, I would not recommend this to a friend
Pros and Cons
No "pros" were specified in this review
Rip-off
Posted on Jul 3, 2020
Fraud
I ordered this before the 29th of April 2020, on the 4th of May, 2020 it was waiting for USPS awaiting item, then on the 14th of June, 2020 it says my order is in transit! Well, guess what, NO it isn't. I expect a full refund ASAP! Your company is a fraud and I will be letting everyone know that this is unacceptable the way you take people's money! Yes, I've been patient and know I am done! Will be reporting to the Better Business Bureau.
Bottom Line: No, I would not recommend this to a friend
Pros and Cons
No "pros" were specified in this review
Fraud
Posted on Jun 21, 2020
This company is a total scam
This company will only steal your money. I placed an order nearly two months ago and never received it. You can't reach them by phone. No one there to talk to you. They charged my credit card two times at a higher rate than what was advertised. Total waste of time and a scam!
Bottom Line: No, I would not recommend this to a friend
Pros and Cons
No "pros" were specified in this review
Fraudulent charges
No customer service
Posted on Jun 13, 2020
Do not do it!
Placed an order 2 months ago and have not received it. Tried calling them and they're not taking phone calls. I have emailed them approximately six times and I get a generic response. Their customer support is basically nonexistent. I have left messages and emails claiming I want a full refund with no response. Don't waste your time, you'll never receive it.
Length of Use: Less than 3 months
Bottom Line: No, I would not recommend this to a friend
Our Promise to You
In order to safeguard you and ensure helpfulness and relevance, our compliance team manually assess every customer review before it goes live.
We have a zero-tolerance policy for fake reviews, and companies cannot control or alter any reviews at any time.