Clean Zone CPAP Cleaner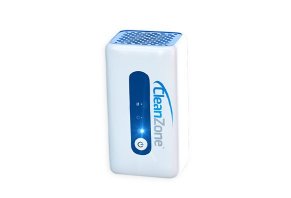 Summary
Clean Zone uses ozone to disinfect your CPAP machine, saving you the time and labor it would take to wash your machine by hand.
Clean Zone CPAP Cleaner Review: Is It Right for You?
The Clean Zone cleans CPAP machines using activated oxygen that's meant to kill up to 99% of germs and bacteria.
A device like this presents an easy way to clean your CPAP machine. The traditional way to clean your CPAP device includes daily and weekly cleanings with soap and water. This can become labor-intensive and time-consuming.
Clean Zone promises to remove the labor-intensive part of owning a CPAP machine. Our review of this device will help you understand if its mix of features and pricing are a good fit for your needs.
How the Clean Zone Works
Cleaning your CPAP machine with this device is simple. The Clean Zone has two adapters that will fit most CPAP machines.
To use Clean Zone, remove your mask from your CPAP tube, attach one of the adapters to the tube, then plug the adapter into the cleaner.
Press the power button. The device will beep once and then begin a 30-minute cleaning cycle. During this cycle, your Clean Zone will circulate activated oxygen through your CPAP tube and into the reservoir. As the air moves through your device, it kills off bacteria and germs.
These bacteria and germs can give you skin rashes and skin infections if left unchecked. Also, germs and mold can build up in your CPAP machine's water reservoir, increasing the likelihood you could get sick.
At the end of the cycle, the machine shuts itself off automatically. At any time during the cleaning cycle, you can press the power button to turn off the Clean Zone.
You also have the option of cleaning your entire machine in a sanitizing bag that comes with the device. Using this cleaning method allows you to clean your mask as well as the outside and inside surfaces of your reservoir.
The Clean Zone uses a rechargeable battery you can charge with a USB cord Clean Zone includes with your device.
The device can clean A-PAP and BI-PAP machines, too.
Activated Oxygen: Scientific Efficacy and Safety
Ozone is what's known as an "unstable" molecule. This means that one of its three oxygen atoms is prone to break off. That molecule can then attach itself to things like bacteria, change their chemical make-up and kill them.
Ozone stabilizes in about two hours, at which point it no longer disinfects.
Jose Acosta, a certified respiratory therapist with The CPAP Shop, told us that ozone's disinfecting powers are used in a variety of ways.
"The method of using activated oxygen for disinfection has been used commonly for water purification, in the handling of fruits and vegetables, and even in hospitals," Acosta said. "It kills 99.9% of all germs and bacteria on the surface without the use of chemicals or water."
There is substantial research to show that ozone treatments can kill many types of bacteria including MRSA, a bacterium commonly found in nursing homes and hospitals. Furthermore, in 2003, the FDA approved the use of ozone machines to sanitize medical devices.
What makes this research so promising is that it means there's a good chance Clean Zone will give you the convenience and the effectiveness you've wanted for your CPAP machine.
Ozone CPAP machine cleaners are widely accepted as a safe way to clean your machines. While ozone in large doses can be dangerous (respiratory irritation), the Clean Zone ozone emissions are below the FDA-required limit of 0.05 parts per million.
Though you shouldn't experience any side effects, take note of any breathing irritation or coughing you experience during a cleaning cycle, especially if you have a pre-existing lung condition.
Pricing and Return Policy
One Clean Zone device costs $99.99 plus $8.95 for shipping. Clean Zone ships via UPS and will take up to 30 days to arrive.
For $10 more, you can add CPAP cleaning wipes to your order. You can use these wipes to clean off debris like oil and dirt that could harbor bacteria.
If you need to make a return, you have 60 days to make a return. Call customer service at (800) 340-3418 to start your return.
How Clean Zone Compares to Handwashing Your Machine
Efficiency
Clean Zone's main benefits over handwashing a CPAP machine is that it requires a few seconds of setup and you can use the device immediately after a 30-minute cleaning cycle.
A hand wash requires you to use soap, water and, when needed, a long brush you can use to scour the inside of your breathing tube. You'll need to let your CPAP machine dry, too. The entire process can take more than an hour.
Clean Zone saves you a considerable amount of cleaning and drying time. This is important if you tend to procrastinate and don't wash your machine until later in the day.
Cleaning Effectiveness
You should consider effectiveness, too, as one of the goals of cleaning a CPAP machine is to prevent bacteria and germ growth.
This is where ozone machines are on equal footing with handwashing, according to an interview Harvard Health did with Dr. Lawrence Epstein, a doctor at a Harvard-affiliated hospital.
Epstein told Harvard Health that ozone cleaners work but that he is "not aware of any comparative trials to say the machines are better than hand washing."
So, while your Clean Zone provides a convenient, non-messy way to clean your CPAP machine, it likely isn't any more or less effective than handwashing the machine.
The Bottom Line
Clean Zone uses proven ozone disinfecting methods to clean your CPAP machine without the hassle of handwashing its parts every day. In our opinion, this device provides a lot of value for CPAP owners.
Who Clean Zone Is Good For
You Are Forgetful: If you have a hard time remembering to clean your CPAP machine, the Clean Zone's 30-minute clean cycles are a lifesaver. You can forget to clean your machine all day, remember around bedtime and turn a cleaning cycle on. You'll have to wait 30 minutes. However, that wait time is shorter and less labor-intensive than handwashing the machine and waiting overnight for it to dry.

You Care About Convenience More Than Price: The Clean Zone's $99.99 price tag is well worth it if you're tired of handwashing your device every day and you want a neat, quick alternative.
Who Clean Zone Isn't Good For
You Have a Sensitive Respiratory System: While the Clean Zone puts out ozone levels below FDA limits, the FDA says you could still be at risk of coughing and respiratory irritation. "Some healthy people are more sensitive to ozone," the organization says. "They may experience health effects at lower ozone levels than the average person."
Customer Reviews
Posted on Apr 17, 2023
Clean Zone charging
Machine works fine when charged, cleans as expected. Good price, BUT the charging port is horrible! Had to buy a new one. Such a waste over a small issue.
Length of Use: 6–12 months
Bottom Line: No, I would not recommend this to a friend
Pros and Cons
Machine works
Need to fix charging issues
Posted on Apr 2, 2023
Poor customer service
I placed an order for a cleaner bag in December. Received an email with a delay notification. Then the order was canceled by CZ. Called and received no explanation for the cancellation. So, I reordered. Never received the order. Then received another cancellation email. After several attempts to reach a customer service telephone number, I spoke with a representative who said they no longer ship this bag to customers. The product works well, but I don't recommend Clean Zone based on the lack of customer support.
Length of Use: 2+ years
Bottom Line: No, I would not recommend this to a friend
Pros and Cons
It works well, except the charging cord.
Customer service.
Posted on Nov 28, 2022
Charging port
I ordered my first Clean Zone in 2021 and by 11/22 the port had broken. I phoned them at 1-800-340-3418 and they said if I buy a warranty for $14.99 they will ship me another one, which they did. Now less than a year later this one has the same issue but when I called they informed me I would pay the same $14.99 and I would also have to pay $49.99. This product obviously has a defect or they do this so it does break and you have to buy another one. Either way, I would not recommend this product.
Length of Use: 2+ years
Bottom Line: No, I would not recommend this to a friend
Pros and Cons
Product works
Charging port defective
Posted on Nov 17, 2022
Machine stopped working
The machine stopped after the 90 days and when I called the customer service number I was told that it was passed their return date and too bad for me. I even tried to mail it back and they returned it to me.
Length of Use: 1–2 years
Bottom Line: No, I would not recommend this to a friend
Pros and Cons
No "pros" were specified in this review
No response to calls
No information given
Have to make multiple attempts to get a person
Posted on May 24, 2022
I love it!
Don't listen to all of these naysayers. This is a great disinfecting system. My water chamber, mask, and hose all fit in the back with room to spare. I do not recommend putting the actual machine in. I have a ResMed AirSense 10 AutoSet and there is a video on YouTube to show you how to clean the unit itself. I bought my Clean Zone system at Walmart and it is one of the best purchases, same outcome as those high-priced systems that make you think that they are better in quality. The only issue that I have with this is that the unit takes FOREVER to charge. Other than that, put your pieces parts in the included plastic bag along with the unit and in 90 minutes you are good to go. I set my calendar to remind me to sanitize every Saturday morning.
Length of Use: 6–12 months
Bottom Line: Yes, I would recommend this to a friend
Posted on Nov 22, 2021
Nausea
I have to clean everything with soap and water after using. There is a nauseating smell, I've never smelled anything like it before, but it can make a person throw up.
Length of Use: 3–6 months
Bottom Line: No, I would not recommend this to a friend
Pros and Cons
No "pros" were specified in this review
Nauseating
Posted on Jun 8, 2021
Don't waste your money
I have had my cleaner for 2 months and my machine will no longer charge. I can find no way to contact the company for help. It was cheaper than the SoClean machine and there is definitely a reason why. I have learned my lesson. I purchased my machine from Walmart.
Length of Use: Less than 3 months
Bottom Line: No, I would not recommend this to a friend
Pros and Cons
No "pros" were specified in this review
Unable to reach customer service for help
Posted on Apr 28, 2021
Zipper bag
Was not happy that the zipper broke when I first used the machine. However, I knew how to get it back on track. So, right off, I had a negative feeling.
Length of Use: Less than 3 months
Bottom Line: Yes, I would recommend this to a friend
Pros and Cons
Fast delivery
Easy directions
Excellent for traveling
No indication how many times you can use the bag
Zipper should not have broken on first attempt
Posted on Apr 24, 2021
Smelled
Hooked everything up and started it up. The machine started to smell and I had to stop the machine, thought it was hooked up wrong, but no, it could only be hooked up one way. This machine is a piece of junk, sent it back the same day I got it. No, I will not recommend it to my enemy!
Length of Use: Less than 3 months
Bottom Line: No, I would not recommend this to a friend
Posted on Feb 26, 2021
Trying to contact Clean Zone
Can't contact them. No phone number listed. The email address listed is non-existent. The form to write them cannot be found. What a terrible website.
Length of Use: 1–2 years
Bottom Line: Yes, I would recommend this to a friend
Pros and Cons
Product is fine
Cannot contact them
Posted on Jan 28, 2021
Not reliable
There is no way of knowing battery state. You just have to guess when to recharge. Mine stopped producing activated oxygen "ozone" after 11 cycles. Would not buy again. Back to hand washing.
Length of Use: 6–12 months
Bottom Line: No, I would not recommend this to a friend
Pros and Cons
Easy to use
Fast set up
Affordable
Machine stopped working after 11 cycles
No charge state indication
60-day warranty
Our Promise to You
In order to safeguard you and ensure helpfulness and relevance, our compliance team manually assess every customer review before it goes live.
We have a zero-tolerance policy for fake reviews, and companies cannot control or alter any reviews at any time.