Oura Ring Reviews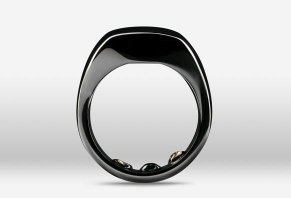 Using a three-dimensional accelerometer, heart rate monitor, and temperature sensor, Oura Ring promises to help you maximize sleep and better balance your day.
What Is Oura Ring?
Oura Ring is a wearable device that claims to combine top-tier science and technology with insightful design that can help you better understand how your activity and lifestyle choices affect your sleep—and from there, how the quality of your sleep impacts your ability to perform during the day.
How does it work?
Called a "ring-sized wellness computer" by the manufacturer, Oura fits on any finger and measures your pulse waveform, the exact time between your heartbeats, and movement.
Then, it uses this information to calculate heart rate, respiration rate, sleep, and other important parameters.
This precise analysis then allows Oura's iOS and Android app to deliver messages that can help you learn what health benefits you'll get from specific activities while providing actionable recommendations on how you can improve your sleep, as well as how you can adjust daily activity to achieve better balance and performance.
It seems like new wearable technology enters the market every day, each one promising to deliver a meaningfully different experience and provide better results than the next.
With such steep competition, is there anything about the Oura Ring that places it above other sleep and fitness trackers? Before handing over your money, are there any important considerations you should keep in mind?
Let's start answering your most important questions by taking a closer look at Oura's details.
How Does the Oura Ring Work?
The exterior of each Oura Ring is manufactured from a scratch-resistant, waterproof ceramic compound called Zirconia (ZrO2), while the inside area that sits against your skin is made from a comfortable, "medical grade, 100% non-allergenic, nickel free, and non-metallic material."
It will run for three days on a single charge and will recharge in less than 60 minutes when the time comes.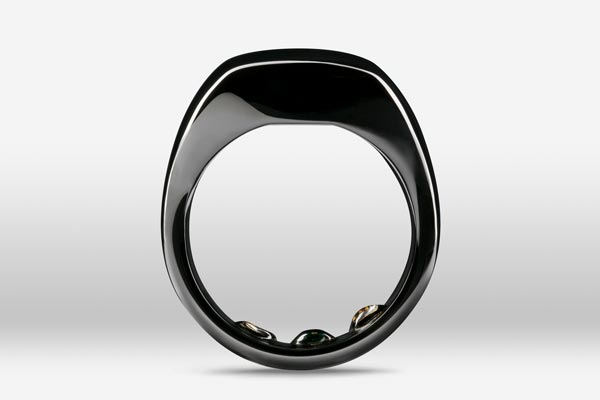 The Oura Ring, shown here in Mirror Black finish, can be worn on any finger. Image credit: Oura.
See those three little bumps inside Oura's band in the above image? These dynamic sensors sit directly on your finger's artery, which allow the ring to recreate your pulse waveform. Compared to wrist-based trackers, we're told this is much more accurate.
In this position, Oura will monitor every single beat your heart makes, along with the distance between each one, which is known as inter-beat-interval (IBI) or heart rate variability (HRV).
It will also measure pulse amplitude, respiration rate, and body temperature, while the built-in accelerometer monitors hand and finger movements.
Tracking Sleep Restorativeness, Activity Level, & Readiness Score
While you're awake, this data allows the Oura Ring to monitor the duration of your activities and your inactive time. While you're asleep, it also allows Oura to determine the state of your brain and your sleep stages (deep sleep, REM).
Note: Oura currently only displays one sleep period per each 24-hour period, although multiple periods (such as naps) should be supported in future releases. Until then, daytime naps are calculated as "resting."
In addition to stages, Oura will track other physiological signals, like total sleep time, efficiency (the percentage of time you spend sleeping), sleep timing, latency (how long it takes you to doze off), lowest resting heart rate, and disturbances during sleep, all to determine its quality and restorativeness.
From there, we're told Oura will calculate a total Sleep Score each night. Combined with your daytime activity data, it will then calculate a Readiness Score that can help "guide you in making better lifestyle choices."
Specifically, Oura claims this can help you better understand which days to push your limits and which ones to allow your body more time to recover. This is all displayed via the app, which is what we'll discuss next.
The Oura Ring App
All of the data tracked by Oura's sensors is uploaded to your iOS or Android smartphone automatically via Bluetooth LE (can only be paired with one device at a time), although it can store data for up to three weeks without syncing.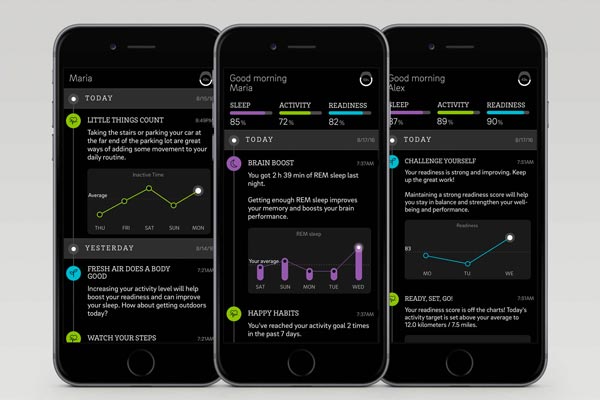 In these screenshots, you can see much of the information provide by Oura's app, including recommendations, notifications, scores (sleep, activity, readiness), and data tracking. Image credit: Oura.
According to the company, Oura's app will provide increasingly personalized messages as more data is collected about your sleep and activity habits. As a result, this can lead to better analysis and more accurate guidance.
Important note: Unlike many other fitness trackers, Oura's app does not count actual steps or monitor real distance traveled. Instead, the company tells us it's a "calorie burn target translated to a walking distance"—essentially, how far you'd have to walk to burn the same amount of net calories.
What are some other similarities and differences?
Oura Ring vs. Fitbit & Other Activity/Sleep Trackers
Ring-Based Fitness & Sleep Wearables
When it comes down to it, there's really only one product currently competing directly with Oura (i.e. that tracks both activity and sleep).
Priced at $199, the Motiv Ring is a soon-to-be-released wearable that also features a three-axis accelerometer and an optical heart rate monitor to measure active minutes, active heart rate, calories burned, actual distance and steps, activity types, sleep duration, and resting heart rate.
However, Motiv is currently only available for iOS devices and doesn't appear to provide actionable recommendations like Oura. In other words, it's just raw data.
Outside of this, you can find smart rings in just about every imaginable design that can help keep you connected to other apps (Ringly), monitor different security features (NFC Ring), and even help keep you safe in emergencies (Nimb).
Third-Party Fitness & Sleep Trackers
Outside of these specific specifications, the sky's the limit. In other words, you can find hundreds of different activity and fitness trackers from third-party manufacturers, including popular options from Fitbit, Garmin, Jawbone, Moov, and TomTom.
Of these, Fitbit is perhaps the most well known name in fitness trackers, who makes a line of seven different wrist-based devices. MRSP ranges from $60 to $250.
Because of this wrist placement, Fitbit's heart rate readings might not be quite as accurate as Oura's, although consumer feedback seems to indicate that they tend to be fairly close.
Some of Fitbit's models also track time asleep and time restless and connect to smartphones, although the data they provide seems to be nowhere near as detailed as Oura's.
You'll also find useful features like phone (including music) control, GPS tracking, color screens, streaming workouts, and even guided breathing sessions with some of Fitbit's models.
How Is the Oura Ring Different?
When it comes down to it, Oura isn't wholly a fitness tracker (it doesn't actually count steps, calories, or elevation) and it's not wholly a sleep tracker, so it appears to occupy a unique niche all its own.
Furthermore, Oura really does appear to be the only current option that provides actionable information based on the data it tracks, which is a common concern we've frequently voiced when writing about these kinds of products.
And it even takes this data one step further by providing a Readiness Score that promises to help you perform at your best.
Compared to the competition, though, how much will you pay for Oura's unique benefits?
How Much Does the Oura Ring Cost?
Available in US sizes 6-13 (you will be sent a sizing kit to help you determine which size and finger you prefer), the Oura Ring is priced as follows:
Mirror Black and Arctic White - $299
Stealth Black (requires an additional level of precision to manufacture) - $499
For these prices, you'll receive a charger, micro-USB cable, and quick start guide. Additional chargers can be purchased for $59 each.
Comparatively, depending on your specific needs, other smart rings, fitness trackers, and sleep devices are priced as low as $20 and well over $500 in some instances.
Again, the Motiv Ring doesn't provide all the same functionality as Oura, but since it's currently the closest competition, it's important to reiterate that it features a meaningfully lower price of $199.
All Oura Ring purchases come with a 30-day refund policy, less S&H. In order to request one, you'll need to email support@ouraring.com.
Will you get a lot of accuracy for your money?
How Accurate Are Oura's Measurements?
Obviously, the suggestions Oura provides are only as accurate as the data they're based on. From this perspective, can the Ring realistically provide useful recommendations based on only heart rate?
First, from an accuracy standpoint, Oura claims they've measured their:
Sleep staging algorithms against polysomnography,
Interbeat interval (IBI) data against "ECG derived R-R intervals,"
Temperature measurement against a professional body temperature logger, and
Activity measurements against an indirect calorimeter.
While they didn't provide any data to support these claims, we're told, "In all of these, we have either reached or exceeded the expected performance levels."
In layman's terms, the company claims Oura's measurements are as accurate as laboratory methods.
Once these measurements are taken, however, they have to be processed by the algorithm. While it's understandable that we're not provided in-depth details about this proprietary algorithm, we're also not given any insight into what information the algorithm bases its recommendations and coaching on.
In other words, how scientifically accurate is your Readiness Score? Further, has this score been clinically shown to improve a person's performance throughout the day?
What about the sleep score and recommendations? What kind of sleep science are they based on? Again, have these recommendations been clinically shown to help individuals sleep better?
We reached out to the company for some insight into these fundamental questions, and we'll be sure to update this review as soon as a response is received.
In the meantime, here's the takeaway: While the Oura Ring appears to provide accurate measurements, there seems to a potential disconnect between these measurements and the real-world benefits they'll deliver based on recommendations.
What about Oura's customers? Are they finding that it provides a lot of value and other benefits?
What Are Oura Ring's Customers Saying in Their Reviews?
The Aura Ring launched via a 2015 Kickstarter campaign, where the wearable earned more than $650K on an original goal of $100K, which appeared to ship mostly on time the following year.
Despite its crowdfunding popularity and the length of time it had been around, though, we didn't find a whole lot of direct customer feedback at the time of our research.
Professional Feedback
However, fitness trainer Alex Fergus provided a highly in-depth review, finding that Oura accurately tracked sleep and that the coaching provided meaningful data, although it had a short battery life.
As a fitness professional, Alex also wished the Oura Ring provided more raw data that could be used for physical improvement. For someone looking for a generalized fitness tracker, he noted this probably wouldn't be an issue.
Despite these compliments, Alex noted that he questioned "how reliable and accurate the Oura Readiness measurement" was.
Important note: Another of Alex's complaints was that you can't do much with the data provided by Oura, although the company's FAQ noted that they've partnered with We Are Curious to allow you to track and merge data, share and discuss it, and transfer it to your doctor.
To this last point (along with a similarly in-depth review), fitness trainer Ben Greenfield provides a look at how the data provided by Oura can be used to improve health and fitness.
While Tech Radar only had a chance to use the Oura Ring briefly, they noted that "it's not the most comfortable fitness device on the market" and that "it isn't the most beautiful pieces of finger wear I've ever seen."
What About Oura Ring App Reviews?
Oura's app had nearly 70 customer reviews and an average rating of 2.9 stars on Google Play at the time of our research, along with nine reviews and a rating of 3.5 stars on iTunes.
Most compliments seemed to reference useful/valuable information and excellent sleep tracking, while common complaints related to the lack of real-time data, limited feedback, and operational bugs (problems opening, crashing, not storing information).
In many of these, the company responded directly in order to help the customer find a resolution.
Who's Behind the Oura Ring?
Oura was founded by CEO Petteri Lahtela, COO Tommi Pyykkonen, and CTO and Head of Design Kari Kivela. Some of their team even has experience writing algorithms for heart-rate monitor manufacturer Polar.
Before co-founding the company Petteri worked as a business coach and as CEO for Rogua Group, Tommi worked in export sales and marketing, and Kari was CTO of eGen Oy.
Our Final Thoughts About Oura Ring
Whether or not any single product is best for you is highly dependent on your personal preferences, expectations, and whether or not your needs align with Oura's features.
For example, if you're primarily interested in tracking, a more fitness-oriented product from Fitbit, Garmin, or one of the dozens of other popular manufacturers might better match your needs—many of which are priced meaningfully lower than Oura.
On the other hand, if you're looking for something that tracks sleep and activity and that provides actionable recommendations based on this data, Oura seems to be your only current choice.
But as we noted above, the company doesn't provide any insight into what professional sources their recommendations are based on, or any clinical evidence to support the claim that their Readiness Score will provide real-world benefits.
Fortunately, if you decide to give Oura Ring a try and it doesn't meet your expectations, the company seems to stand behind it with a 30-day refund policy.
Scam

By Kelly C.

,

Portland, OR

,

Nov 18, 2019
Verified Reviewer

My husband ordered this ring over a month ago and DHL delivery service said it was delivered, but my husband never received his ring! You would think that Oura would deliver another one...but no! 300 dollars down the drain. If you order this ring, you may not get it and the company will do nothing!

Bottom Line: No, I would not recommend this to a friend

---

Trash product

By Peter M.

,

Home

,

Jul 13, 2019
Verified Reviewer

Ring arrived today.

Have downloaded the app to my phone, however, Google will not allow you to use the app without first signing up with them. I have no intention of signing up to anything by this corrupt organization.

Unfortunately, Oura does not provide the app on their website. Without the app, this product is completely useless as there is no way to retrieve the data.

It is not possible to contact Oura as they do not provide telephone support. I have e-mailed them but from what I have read there is little chance that they will reply.

£350 wasted on a useless piece of plastic junk!

Bottom Line: No, I would not recommend this to a friend

---

Advertisement

---

Do not buy

By D W.

,

United Kingdom

,

Jun 26, 2019
Verified Reviewer

Bought the silver ring, but when it arrived, it looked nothing like the picture. It looks like a tin foil plastic toy ring. You also have to have location on your phone all of the time to use it.

I have tried sending it back but they are ignoring my emails.

Bottom Line: No, I would not recommend this to a friend

---

Horrible customer service

By Jim K.

,

New York, NY

,

Apr 30, 2019
Verified Reviewer

My ring stopped syncing with the app. Following the troubleshooting directions, I downloaded the app again. When entering the PW I recalled, I got a "wrong PW" message and taken to a page which says that they will do a PW reset by entering your email. No PW reset email; no response from tech or general support after multiple attempts to reach them.

I am not losing any sleep over this, but if I was, I certainly would not be able to track it with the Oura Ring.

Bottom Line: No, I would not recommend this to a friend

---

Advertisement

---

Not ready for market

By Anthony W.

,

Albuquerque, NM

,

Apr 27, 2019
Verified Reviewer

Have now had two rings and had numerous issues with both. The concept and design of the ring are fantastic, too bad the end result is so frustrating. The first ring seemed to work OK for about 6 months. I did have a few days of problems setting it up to sync at first. The data recovered was somewhat adequate (I am also using a Samsung watch, and a Fitbit for comparison). The OURA Bluetooth failed at about the 6-month mark. OURA service had me go through a month of trying different fixes, including banging it on the counter. OURA didn't seem to get it when I explained that seven different Bluetooth devices didn't detect the ring. OURA finally sent me a replacement ring, but it won't transfer data and is only detectable randomly. I really feel this product isn't ready for market.

Bottom Line: No, I would not recommend this to a friend

---

Updated review

Update

By Dennis L.

,

New Mexico

,

Feb 25, 2019
Verified Reviewer

After nearly three weeks, customer support finally got back to me with useful information and the Ring is working again. I still love all of the analytics the ring gives, but the long wait for a solution to an apparent widespread problem keeps me from recommending.

Bottom Line: No, I would not recommend this to a friend

Previous review
Feb 19, 2019

It's great...while it works.

I received my ring and started using it right away. The information gathered was very useful. I began relying upon it for recovery and training and then one day, two months or so after receiving the ring, it stopped communicating with my phone. It appears the ring's Bluetooth stopped working. Oura has failed to respond to my requests, except to send a message that they are receiving more requests than normal, so it'll be a few days before they respond. Tomorrow will be two weeks with a non-functioning ring with no help from the manufacturer.

(

read more

read less

...)

---

Ring kaput, company MIA

By Lia K.

,

Victor, ID

,

Feb 11, 2019
Verified Reviewer

I ordered the ring in September, arrived in December (I was patient with this).

It would not charge. I reached tech support a few days later. Charged, worked for one week, stopped working. Would not connect to the app.

No response from tech support for 3 WEEKS.

Then, reconnecting and working for four days until failing again. All data lost.

No response from the company, still several more weeks later.

Patience gone; contesting fee through credit card. I really wanted this to work.

Bottom Line: No, I would not recommend this to a friend

---

Paid in full on 8/4/2018, still no ring on 12/20/18.

By Patricia H.

,

North Carolina

,

Jan 9, 2019
Verified Reviewer

When I bought the ring through PayPal on 8/4/18, my anticipated shipping date was 9/30/18. Halfway through September, the date was revised to 10/30/18, and halfway through October, it was revised to 11/30/18. On December 1st, I got an email announcing that my anticipated shipping date was yesterday, and 13% of the units in my group had already been shipped, which made no sense. When I contacted Oura on December 1st, they told me that a "realistic" shipping date was 1/4/19.

At that point, I filed a complaint through PayPal, because my option to receive a refund through PayPal expires at six months. Pekka replied to my email and said that my PayPal complaint had put my order on hold. He asked me to cancel my dispute. On reading PayPal's dispute terms, I discovered that if I canceled my dispute, I could not later file another dispute for not receiving the item. So naturally, I asked him to address my PayPal dispute through PayPal. He did not respond that email, nor did he respond through PayPal to my dispute.

Two weeks later, on 12/20/18, PayPal refunded my $264. At that point, Pekka sent me an email stating, "Unfortunately, PayPal decided in your favor."

So in short, I gave Oura an interest-free loan of $264 for 4 and 1/2 months.

I believe this is the sort of behavior one might expect from a company that is either (a) shady, or (b) foundering.

Bottom Line: No, I would not recommend this to a friend

---

Friendly, quick customer service

By James L.

,

Nov 2, 2018
Verified Reviewer

I had a totally different customer service experience compared with one of the other reviewers here. I sent a note to Oura about an existing order on the weekend and responsiveness was very good (mostly from Mia). I decided to change my ring type (from Heritage Black to Heritage Stealth) but had several back and forth exchanges asking questions first. Below are the date/time stamps from the conversation (US, Central Time).

I am sorry that my fellow Texan in Dallas had a poor experience two quarters ago, but perhaps Oura received the feedback and took action or otherwise is more consistently offering good customer service. I am grateful and very pleased so far and just want to offer this example as another data point for others considering a purchase (I don't usually provide feedback in forums like this, but there was such a contrast in my experience I wanted to help others know that things have turned out well in this case).

Thanks.

- Sunday, October 28, 2018 at 02:42 PM (my initial question).

- Sunday, October 28, 2018 at 02:42 PM (autoresponder indicating someone would get back to me soon and included links to some related frequently asked questions).

- Monday, October 29, 2018 at 06:57 AM (Mia's response to my question).

- Monday, October 29, 2018 at 07:03 AM (further question from me).

- Monday, October 29, 2018 at 07:16 AM (Mia's response to my question).

- Monday, October 29, 2018 at 07:27 AM (further question from me).

- Monday, October 29, 2018 at 07:36 AM (Mia's response to my question).

- Monday, October 29, 2018 at 07:40 AM (further question from me and request to process change/invoice).

- Monday, October 29, 2018 at 7:51 AM (Mia's response indicating my PayPal invoice process started).

- Monday, October 29, 2018 at 4:11 PM (question from me on expected timing to receive the invoice).

- Tuesday, October 30, 2018 at 6:31 AM (Mia's response indicating the PayPal invoice was sent).

- Tuesday, October 30, 2018 at 6:32 AM (PayPal invoice received).

- Tuesday, October 30, 2018 at 6:34 AM (PayPal invoice paid).

Bottom Line: Yes, I would recommend this to a friend

---

Pathetic customer service

By Robert M.

,

Dallas, TX

,

Jun 25, 2018
Verified Reviewer

Buyer beware. Customer service is atrocious and non-responsive. I placed an order for a black ring and later wanted to change it to silver. Not a hard request. I sent notes per the email order confirmation to both their order and service email addresses. Numerous attempts - NOT ONE SINGLE response. Yes, I checked my junk mail. They just go radio silent. IF this is customer service for someone trying to buy the ring, buyer beware of afterward, if you need support.

Bottom Line: No, I would not recommend this to a friend

---

Best tool yet

By Dean Hawker

,

Seattle, WA

,

Jan 24, 2018
Verified Reviewer

I have been using the Oura Ring for about nine months now, and I highly recommend it. It has been amazingly accurate and has provided great insights regarding my sleep quality and readiness for the next day's workout(s).

I found that being able to add activities and intensity has really helped with the accuracy of the day's overall activities.

The HRV data has been one of the best metrics in my mind for readiness, but all the data has been both consistent and useful.

I did have an issue with battery life at one point. I contacted Oura, they looked at my data (that is synced with the Oura Cloud), and they determined that my power consumption was high and promptly sent out a new ring.

I use the ring during cross-training, running, weightlifting (even deadlifting), yoga, rowing, and cycling. I haven't had any issues with cracking, durability or discomfort.

I have already pre-ordered the new style ring and can't wait to get it. It has been by far the best fitness/ self-quantification tool I have tried. And I have tried many of them.

Bottom Line: Yes, I would recommend this to a friend

---