Oura Ring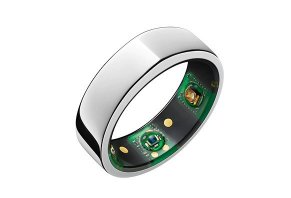 Summary
The Oura ring looks at your sleep levels to give you overall wellness scores to help you monitor your daily health. It has a discrete design and works great in concept, but some customers thought it was too flimsy and featureless for the price.
Pros
Classy, discrete ring designs at a variety of price points
Simple app, but lots of data
Battery should last a week
Value of insight increases the longer you wear it
Cons
The ring might be easily scratched
Not recommended for use at the gym
Some customer complaints that it stopped working after a few months
Your daily report might negatively impact your mood and stop you from performing your best
Oura Ring Review: Is It Worth It?
The Oura ring is a wellness device that claims to track critical signals that your body sends out so that you can make the right decisions for better health.
This sleek ring is embedded with tracking devices that monitor your heart rate overnight and during restful parts of the day to give you insight into your autonomic nervous system activity.
Each morning, the ring summarizes this data into three numbers that are displayed in the accompanying app, which should help you make decisions during the day for better health.
Features
The Oura ring works to measure your resting heart rate while you sleep and during quiet parts of the day. It does so by detecting changes in your Blood Pulse Volume (PPG) through two infrared LEDs that monitor the arteries on the finger.
It also contains NTC temperature sensors, a gyroscope, and an accelerometer that capture continuous measurements like your heart rate, step count, temperature, and more.
The ring works with mobile devices that run iOS 11.0 or later or Android 6.0 or later (see if your device is compatible here). Pairing it with the accompanying app is essential, as there isn't any other way to monitor your health data.
It's best to wear the ring while sleeping, at which point it will register your body temperature reading every minute. It tracks your body temperature changes over time to give you a sense of your personal baseline and when you're deviating from it.
The Oura ring connects to your phone through Bluetooth, though you only need to have it connect when you want a data update. The ring can store data for up to six weeks without syncing with the app.
It is made from lightweight titanium and is water-resistant to 100 meters. You can expect it to last up to a week per charge.
Though the ring's material is designed for durability, some users noted that it developed light, hairline scratches after a few weeks of use. The sensors should stay safe, as your finger protects them while you wear it.
Even so, Oura recommends against wearing the ring while weight lifting or during other activities that put it in contact with metal that could scratch it.
We talked to Monisha Bhanote, a triple board-certified physician, who had been wearing the Oura ring for about six weeks. She shared with us that she loved the ring's design and how unobtrusive it was to wear while working, but what sold her on it was the extensive valuable information she received while wearing it.
Specifically, she appreciated how the app's readiness rating gave her information about how her body was handling stress. It helped her know whether she was putting herself at risk of cardiovascular disease or anxiety and depression and whether she needed to take time to practice mindfulness techniques like meditation.
"I would recommend OURA for personal tracking as it gives you very insightful information," she shared. "It is a little bit more on the pricier end of trackers, but it also has a very easy to use app, requires no plugging in, and is very simple to use, with lots of data points."
Understanding Your Daily Scores
Every day, the Oura ring will give you three scores related to your sleep, readiness, and activity. The readiness score will be displayed when you first open the app, and you can swipe to see the other score right after.
Sleep
The Oura ring gives you insight into your sleep quality by sharing data about your deep, REM, and light sleep percentages, as well as how quickly you fell asleep and what your heart rate did over time. These are factored together to give you a sleep score out of 100.
Along with this number, the app will share your total sleep time, the percentage of time you spent asleep after going to bed, whether you were peaceful or restless while sleeping, and how long it took you to fall asleep initially. It will also suggest optimal times for going to bed to improve your rating going forward.
Readiness
The Oura ring will access your sleep, activity, and recovery information to give you a number calculated out of 100 that indicates how hard you can push yourself that day.
It looks at your resting heart rate throughout the night to see if you're getting in enough recovery, measures your heart rate variability to monitor your stress levels, and assesses how your activity levels over several days have affected your current energy level.
A high number means that it's a great day to put in a killer workout, while a lower number is an indication that you might want to take it easy.
Activity
Your daily activity ranking looks at your short and long term trends to give you insight on your movement levels.
By monitoring your step account, recovery time, and training frequency, it can provide you with feedback on whether you're ready to kick things up a notch or if it's time to take things slower.
Pricing and Return Policy
Oura currently sells two styles of ring, both of which have the same technological capabilities. You can choose between the Balance style, which is a smooth ring with a slight crest at the top, or the Heritage design, which is a smooth ring with a flat top.
Both come in a variety of color options and price points, ranging from $299 for standard models to $999 for a Balance ring inlaid with diamonds.
To ensure you get the right ring fit, Oura suggests that you request a free ring sizing kit. This kit includes eight ring sizers (size 6-13), and you are meant to wear your preferred size for at least 24 hours to ensure it works. It's your choice which finger you want to use.
Once you know your size, you can order the appropriate ring. Expect to pay about $15 for shipping.
Oura allows you to return any fully functional Oura product within 30 days of receiving it for any reason, though shipping fees won't be refunded.
Analysis of Customer Reviews
18 customers have left reviews for the Oura Ring on our site, for the average rating of 2.3 stars. The app fairs better on Google Play, where it averages 4.1 stars after close to 1,500 reviews. Below are the main takeaways.
Common Compliments:
Detailed daily records
An excellent way to track energy levels
Customer service was quick to address issues
Accurate sleep tracking
Sizing kit made it easy to order the right ring size
Accurately predicted when some users were getting sick, told them to make it easy a few days beforehand
Common Complaints:
Some customers never received their orders
Cheap quality, only worked when paired with a phone
Some users got locked out of their accounts with password difficulties
Rings worked okay for six months before breaking
Some users found the readiness scores discouraging (if they felt great but got a low score, then they felt less motivated to exercise as planned)
Oura Ring vs. Fitbit
If you're interested in the Oura ring, odds are you've considered Fitbit, the most popular wellness tracker on the market.
Fitbit is worn as a watch rather than a ring. The brand offers a variety of designs, but all include a screen that will display basic information at a minimum about your health stats.
Many people like this because it means they don't need to check the app for data continuously, but it also means that it's more obvious to everyone else you're wearing a fitness tracker. And while it's normal to wear multiple rings, expect to get some strange looks if you wear two watches.
Second, these devices serve slightly different functions. Fitbit emphasizes activity tracking, as most models include multiple activity modes and include GPSs. Oura, in contrast, is focusing on your sleep quality and the way it relates to your overall wellbeing.
While the Oura ring contains more sensors than Fitbit, it's not as versatile for activity tracking for the simple reason that you shouldn't wear it for most gym activities like lifting or contact sports. However, the ring can track your body temperature, which is a valuable indicator of your overall wellness level.
Fitbit watches range from $70 to $200. That's a savings compared to Oura, which starts at $300.
Overall, your decision between these two may come down to data accessibility vs unobtrusiveness. If you want a device you can wear all day or night without thinking about it, Oura will quietly monitor your stats in the background.
If you prefer a device you can interact with in real-time, then a Fitbit will give you all the data you desire right on your wrist.
The Bottom Line
The Oura ring offers a novel approach to wellness tracking with a discrete design, relatively long battery life, and feature-rich app. It can give you lots of insight into your sleep levels and should help you know when it's time to slow down for your physical and mental health.
However, it's not without limitations. The ring is more expensive than competitor Fitbit, and it's comparatively limited in functionality because you can't use it for all workouts. There are also some user complaints about cheap material and short lifespan.
It's also important not to read too much into the data you get from wellness trackers. They're giving you only their best guess on your health and are clearly missing cues that you or your doctor are likely to notice.
If you feel great and want to go hard at the gym, but the ring tells you to take it easy, we suggest going with your gut over this algorithm,
Overall, the Oura ring makes sense for anyone who wants a relatively fashionable way to collect more data about their habits.
Customer Reviews
Posted on May 30, 2023
Trap!
Disgraceful company! I used to be a happy customer with Oura and regretfully recommended it to many friends that bought it, and gave one ring as a present even. Oh boy, do I regret it! I had my gen 2 and lost it, bought another one to find out this is not a gadget you can wear and have the benefit anymore; it is now a trap for a monthly bill of a subscription.
I have contacted customer service and they were unhelpful with "ready-made" answers. Finally, they say I did not read the small print (yes, my mistake in trusting a company I had experience with before) and that they are investing in additional resources.
I just want to have my sleep cycle and heart rate, which I think I am entirely owed by buying the ring – I don't want any interpretation, which I always found not helpful.
When I argued, I was an old customer, I was told I lost the window to purchase 3rd gen (which I did as I had lost mine) and get a lifetime membership! I really felt left aside.
I will not pay for membership, I will not recommend customers, and I hope in the future they change their approach or ultimately will fail as a company.
Length of Use: 2+ years
Bottom Line: No, I would not recommend this to a friend
Pros and Cons
Used to be good with included sleep data
Now they are charging for the product you paid for, it is a trap and useless without a membership
Posted on Sep 20, 2022
Don't buy this ring to track activity!
This is a ring to track your sleep, not more than that!
Very soon after the purchase of my ring, I started contacting the team because the data on my activity is not accurate. This ring does not detect activity, this means you will have to manually add all of your activity in order for the statistics to be accurate (and know the time you've done that activity, which means you will have to always look at the clock when you're about to do something).
The client service team ignores my questions and answers me with some marketing stuff and reasons the activity is not detected. The ring is simply not made for that.
Length of Use: 3–6 months
Bottom Line: No, I would not recommend this to a friend
Pros and Cons
Looks
Sleep data
Doesn't do what it's supposed to do
Client services contact (ignore issue)
Posted on Jul 3, 2022
Buyer beware!
No phone number for customer service, just endless emails that get you nowhere but frustrated because of inaccurate data recorded. Until you've had enough and request the promised return and refund, then the communication stops and you are out $300 for a worthless ring.
Length of Use: 3–6 months
Bottom Line: No, I would not recommend this to a friend
Posted on Feb 21, 2022
Customer service
Worse customer service ever. I contacted the Better Business Bureau. They said they had no jurisdiction because they were based out of Finland. They suggested I contact the Department of Justice of my state.
Bottom Line: No, I would not recommend this to a friend
Pros and Cons
No "pros" were specified in this review
Did not receive the ring
Posted on Nov 25, 2021
Non-existing customer service
I bought a ring, and given it did not show the workout stats I was hoping for, I wrote them. They gave me a long answer like what they have on the website and never mentioned in 2 months they would release an upgrade with all the features I was asking about. Now they released Gen3 and want an extra 314 Euros for me to get it (on top of the 314 I already paid!), offering free lifetime membership. I emailed customer service twice and TWICE got a standard email reply answering about how to buy the new ring! It is appalling how little they care for new customers and the non-existing customer service. Other start-ups (see the NOWATCH) are doing a much better job, so stay away from Oura.
Length of Use: Less than 3 months
Bottom Line: No, I would not recommend this to a friend
Pros and Cons
Sleep tracking
Fits on my finger (vs. watches are too big for my tiny wrists)
Good insights and suggestions on improving well-being
Customer service
Ring scratches easily
Battery lasts max 5 days vs. advertised one week
Posted on Nov 18, 2019
Scam
My husband ordered this ring over a month ago and DHL delivery service said it was delivered, but my husband never received his ring! You would think that Oura would deliver another one...but no! 300 dollars down the drain. If you order this ring, you may not get it and the company will do nothing!
Bottom Line: No, I would not recommend this to a friend
Posted on Jul 13, 2019
Trash product
Ring arrived today.
Have downloaded the app to my phone, however, Google will not allow you to use the app without first signing up with them. I have no intention of signing up to anything by this corrupt organization.
Unfortunately, Oura does not provide the app on their website. Without the app, this product is completely useless as there is no way to retrieve the data.
It is not possible to contact Oura as they do not provide telephone support. I have e-mailed them but from what I have read there is little chance that they will reply.
£350 wasted on a useless piece of plastic junk!
Bottom Line: No, I would not recommend this to a friend
Posted on Jun 26, 2019
Do not buy
Bought the silver ring, but when it arrived, it looked nothing like the picture. It looks like a tin foil plastic toy ring. You also have to have location on your phone all of the time to use it.
I have tried sending it back but they are ignoring my emails.
Bottom Line: No, I would not recommend this to a friend
Posted on Apr 30, 2019
Horrible customer service
My ring stopped syncing with the app. Following the troubleshooting directions, I downloaded the app again. When entering the PW I recalled, I got a "wrong PW" message and taken to a page which says that they will do a PW reset by entering your email. No PW reset email; no response from tech or general support after multiple attempts to reach them.
I am not losing any sleep over this, but if I was, I certainly would not be able to track it with the Oura Ring.
Bottom Line: No, I would not recommend this to a friend
Posted on Apr 27, 2019
Not ready for market
Have now had two rings and had numerous issues with both. The concept and design of the ring are fantastic, too bad the end result is so frustrating. The first ring seemed to work OK for about 6 months. I did have a few days of problems setting it up to sync at first. The data recovered was somewhat adequate (I am also using a Samsung watch, and a Fitbit for comparison). The OURA Bluetooth failed at about the 6-month mark. OURA service had me go through a month of trying different fixes, including banging it on the counter. OURA didn't seem to get it when I explained that seven different Bluetooth devices didn't detect the ring. OURA finally sent me a replacement ring, but it won't transfer data and is only detectable randomly. I really feel this product isn't ready for market.
Bottom Line: No, I would not recommend this to a friend
Posted on Feb 25, 2019
Update
After nearly three weeks, customer support finally got back to me with useful information and the Ring is working again. I still love all of the analytics the ring gives, but the long wait for a solution to an apparent widespread problem keeps me from recommending.
Bottom Line: No, I would not recommend this to a friend
Our Promise to You
In order to safeguard you and ensure helpfulness and relevance, our compliance team manually assess every customer review before it goes live.
We have a zero-tolerance policy for fake reviews, and companies cannot control or alter any reviews at any time.