Kokoon Headphones Reviews
Claimed This company has claimed this profile, is getting alerted on any new customer reviews entering this page, and may engage in dialogue with its customers to address their matters.

Companies cannot pay money or provide goods in order to remove or alter customer reviews.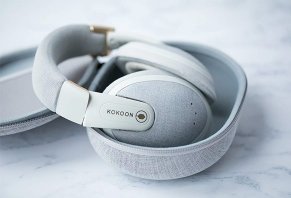 Kokoon Headphones feature three layers of noise protection, proprietary FlexMould Technology, and app connectivity to help you relax and sleep better. Learn what customers are saying about this product.
---
Undisturbed sleep!

By Jaimee T.

,

Perth, Western Australia, Australia

,

Jul 10, 2020
Verified Reviewer

Length of Use: Less than 3 months

Overall Experience:

Definitely recommend these headphones! They are so effective in keeping out disturbances at night, I am able to go to bed super early and not be disturbed by my housemates. I love the music they have on the app, it is so relaxing. There are some great guided programs as well. I go to sleep so fast when I have them on. I also wear them when I get headaches/migraines to soften the noise around me. You definitely need to give it a few weeks of wearing them to bed as they can be a bit uncomfortable at first and your ears can get sore when the headphones move in the night. I find it really helpful to wear the eye mask over the top which holds them in place and also sends me to sleep faster, keeping the light out as well. I will note that the sleep tracking has not been completely accurate for me, but customer service have advised that it becomes more accurate with time. Overall definitely worth the purchase!

Bottom Line: Yes, I would recommend this to a friend

---

Good, but not great.

By Amy C.

,

United Kingdom

,

Jul 2, 2020
Verified Reviewer

Length of Use: 6–12 months

Overall Experience:

I have trouble settling for sleep and getting back to sleep.

Having read the overall positive reviews, I dug deep and purchased a pair. After all, if it works, it's worth it.

Noise cancelling:

I'm starting off with the bad news - Active Noise Cancelling is ineffective. It is truly disappointing when the sleep exercises in the Kokoon app has done its bit, and I'm distracted by a cawing crow or a passing ambulance in the distance. Any other headphone would be able to deal with these noises. By design, over-ear headphones are still better than other headphones at reducing noise, but ANC is simply not working.

Design:

Beautiful in grey, but the materials are flawed. Fabric earpieces are detachable and washable, but the band of the headset is also wrapped in fabric. This should either be made from a wipe-down material, or it should be washable. Despite great care, I have already marked this lightly.

Comfort:

Snug, and I can rest my head lightly on the side of the headphones. Kokoon are more comfortable than other headphones, but hurts my ears after prolonged wear. I end up waking up to take them off in the middle of the night.

App:

Quality and simple exercises. I bought the headphones to listen to Sleepcasts from Headspace (paid subscription), so I end up using both.

In the end, a pair of Apple Airpod Pros resolved all the above issues. However, over-ear headphones are debatably better for ear health than in-ear headphones.

Overall, the Kokoon can help me sleep - on occasion. I enjoy having a dedicated pair of headphones that I associate with sleep. However, taking the price into account, it's hard to justify when I bought it for its noise-canceling abilities.

Pros and Cons:

App is simple and well put together
Good aesthetic
Dedicated sleep aid
Inadequate ANC and noise reduction
Poor choice of exterior materials
Not always comfortable

Bottom Line: No, I would not recommend this to a friend

---

Advertisement

---

Soothing headphones

By Steven B.

,

London, United Kingdom

,

Jul 1, 2020
Verified Reviewer

Length of Use: Less than 3 months

Overall Experience:

Bought these as a gift for someone going through a tough time and struggling with sleep. They have worked well, offering a chance for peaceful sleep. Great design. Very pricey, which is why I'm dropping one star off.

Pros and Cons:

Specialized in headphones
Good service
Quality
Price

Bottom Line: Yes, I would recommend this to a friend

---

Great sleep aid, with decent sound quality.

By Tina N.

,

Whitchurch, United Kingdom

,

Jun 24, 2020
Verified Reviewer

Length of Use: 3–6 months

Overall Experience:

My Kokoon Headphones arrived quickly and efficiently (bought in January 2020).

General appearance is good and they are of quality construction, even if just a touch on the heavy side for my liking. I love the protective case for travel and storage at my bedside.

I bought these headphones essentially as a sleep aid, to blot out external noises and aid relaxation from the in-built meditation and soundscapes on the app. Initially, as I am traditionally a side sleeper, I was unable to sleep comfortably with the headphones on, so I was disappointed that I was unlikely to achieve my goal. However, I changed my pillow to a softer one, and now have trained myself to sleep on my back with head tilted with ear and phones nestled into the pillow on one side. Now positioned comfortably with the headphones on, I drift off to sleep much quicker and stay asleep for longer than I did before I had them. Good result for me.

I worried that wearing and playing Bluetooth headphones all night in bed was bad for my hearing and harmful to general health, but as the sound fades over time as you fall asleep and then the headphones automatically switch off when you are actually asleep, I now believe the sleep benefits out way any risks.

I occasionally use my headphones for playing my streamed music during the day, and although I am not an expert, the sound quality is definitely very good for my needs.

Pros and Cons:

Good app
Efficient prompt delivery
Quality and sound of the headphones
In-built soundscapes and meditation podcasts
Issues with the viewing of my sleep data on the app, not really an issue as I know I have slept or not though
Haven't needed to but it is not obvious from the app how to speak directly with customer service, however, there is a good Q&A that I have used for reference
Initial cost of the product

Bottom Line: Yes, I would recommend this to a friend

---

Great headphones, noise cancellation, background noise for falling asleep

By Peter M.

,

Indianapolis, IN

,

Jun 23, 2020
Verified Reviewer

Length of Use: 3–6 months

Overall Experience:

These headphones are great! I purchased them because the neighbor had a loud, barking dog. The headphone noise cancellation in combination with relaxation sounds helped me immensely with falling asleep. Headphones are designed so that you barely feel them as you're falling asleep. Battery life did not meet the advertised time so I'm not able to use these through the entire night.

Pros and Cons:

Fast shipping
Quality materials used for headphones
Headphone design
Ease of use of item
Battery life not as advertised

Bottom Line: Yes, I would recommend this to a friend

---

One year and still does not work

By Graham B.

,

United Kingdom

,

Jun 22, 2020
Verified Reviewer

Overall Experience:

Don't buy this as a present. I made the mistake of buying for my wife, having created initial registration, the battery lasted for ten minutes and for the last year we cannot re-login and reset the system so they are only as good as earmuffs.

Have asked for support but having bought it I am no longer the registered user so cannot change it.

Very disappointed overhaul.

Pros and Cons:

No "pros" were specified in this review
Lack of support
Don't follow up
Battery life

Bottom Line: No, I would not recommend this to a friend

Jun 23, 2020

Hi Graham,

Thanks for your comment. I'm sorry to hear of your frustration.

I've looked into your case, and there may have been a misunderstanding. The team is unfortunately unable to investigate an issue with your app account or reset the login, as it seems they have been unable to locate an account with the email addresses you have provided. Our app does not store any personal information by which we can locate your account, other than the email address you used to register it. Also, if you are having issues with the battery, we'd be more than happy to replace your headphones under the warranty. Please contact the team at support@kokoon.io and they will be happy to arrange.

Best wishes

Ben

---

Improved sleep

By Wendh T.

,

Bucket, AZ

,

Jun 22, 2020
Verified Reviewer

Length of Use: 6–12 months

Overall Experience:

Overall, it's been a big improvement. It has helped me sleep as long as I have YouTube sleep hypnosis videos playing on loop all night long. There are still times I don't sleep but overall a big improvement.

Pros and Cons:

Sleep improvement
Headphones are soft
Customer service is good
No "cons" were specified in this review

Bottom Line: Yes, I would recommend this to a friend

---

Advertisement

---

Great for learning how to slow down

By David O.

,

Birmingham, United Kingdom

,

Jun 22, 2020
Verified Reviewer

Length of Use: Less than 3 months

Overall Experience:

The guided meditation sessions are excellent in transitioning to sleep. The app needs some work for iOS, it can stop uploading data.

Pros and Cons:

The considered design
The customer service
Great product
Small company, difficult to perfect the product
The price

Bottom Line: Yes, I would recommend this to a friend

---

I can sleep!

By Victoria B.

,

United Kingdom

,

Jun 22, 2020
Verified Reviewer

Length of Use: Less than 3 months

Overall Experience:

These are great - just remember to charge them each day, otherwise they don't last a second night and you will be scrabbling about in the dark trying to find the audio cable. Using that the noise canceling doesn't work.

My only complaint is that the sleep data won't sync.

Pros and Cons:

Great product
Synch capability needs to be improved
The headphones take a bit of getting used to, so take onboard the pillow advice

Bottom Line: Yes, I would recommend this to a friend

---

Great product, app needs improvement

By A C.

,

Matlock, England

,

Jun 22, 2020
Verified Reviewer

Length of Use: Less than 3 months

Overall Experience:

The Kokoon Headphones are very comfortable and do a very good job of blocking out ambient noise. They take a few nights to get used to - but then they are very comfortable and help improve sleep quality when you are used to them. I am impressed with the durability, sound quality, and comfort. The app is somewhat basic but is a nice added extra. If you are buying the headphones as a sleep tracker, wrist-mounted trackers will do a better job - but as a pair of ultra-comfortable headphones that will last a lifetime - these are spot on.

Pros and Cons:

Onboarding process
Delivery details
App design needs improvement
App functionality needs improvement

Bottom Line: Yes, I would recommend this to a friend

---

Amazing...changes my life

By Rachael P.

,

Sydney, Australia

,

Jun 22, 2020
Verified Reviewer

Length of Use: 3–6 months

Overall Experience:

I have always had trouble sleeping but since wearing these headphones I am now sleeping a third of the night heavy, a third REM, and a third light. I wake up feeling refreshed and sleep the whole night which I have never done in my life! I also no longer get woken up constantly by my partner's snoring. These headphones have changed my life and my relationship. They are amazing! I have never slept better.

Pros and Cons:

Comfort
The thought that has gone into the app
Design
No "cons" were specified in this review

Bottom Line: Yes, I would recommend this to a friend

---

Updated review

Not what I was hoping for but customer service recently first rate

By Brenda F.

,

Australia

,

Jun 9, 2020
Verified Reviewer

Overall Experience:

Initially, I found these headphones impossible to sleep in and didn't get good support from the company. However, that has changed. After some months I found that I could sleep for a while in the headphones if I somehow angled my head and shoulders so that I was part on my back and part on my side. This way they didn't cut into my jaw the way they had originally. However, they still aren't comfortable enough for me to sleep through the night as I had hoped.

Recently one of the sides broke and I sought a replacement. Apart from some confusion over how to contact the company they had contracted to transport the returned headset, I couldn't fault the customer service staff who assisted me. They were prompt in their responses and helped me when I wasn't sure where the parcel with my new headphones had got to (with the various delays caused by COVID-19). Top marks to the company for having stepped up in this area.

One issue I still have is with the active noise cancellation. Unless I am playing music I can hear everything around me with the ANC activated. This was the case both with the original headset and with the new one.

However, the sound is good. I am not an audiophile but I do know the difference between decent and poor sound quality.

Pros and Cons:

Customer service is now top notch
Thought from their advertising that the headphones would be comfortable to sleep in through the night, on my side, otherwise I wouldn't have purchased a pair.
Took a lot longer to produce the goods after the crowdfunding was finalized than expected, however, I think the resulting quality was worth it.

Bottom Line: No, I would not recommend this to a friend

Previous review
May 23, 2019

I waited years for headphones that don't do what they were supposed to!

Impossible to sleep in. They cut into my jaw even though I have what they say is needed i.e. a deep soft pillow. Also they say the headphones have active noise cancellation but unless I am playing music I can hear everything around me. When I sought support from Kokoon I was told that "in quieter environments, it [the ANC] can produce a small hiss so we do not suggest using it in really quiet locations." I don't see how this explains why I can hear everything around when not playing music through the headphones. Re the discomfort, all I got from them were links to their website where they talk about what sort of pillow to get (when I had already told them I have a deep soft pillow). So a total waste of money and time from my perspective.

May 29, 2019

Hi Brenda. Thanks for leaving your feedback. We're sorry to hear you're finding the headphones uncomfortable. It can take a little time to adjust to sleeping in the headphones. While a soft deep pillow is recommended, we've heard from a number of customers that they have actually found thinner pillows to be their personal preference when sleeping with the headphones, so if you have any other pillows, it may be worth trying.

We're sorry to hear your ANC doesn't appear to be working for you, and for the misunderstanding from our customer service team. Please contact us at help@kokoon.io, we'd like to get this resolved for you as soon as possible. Thanks!

(

read more

read less

...)

---

Advertisement

---

Does the job!

By Vincent J.

,

Quebec, Canada

,

Feb 25, 2020
Verified Reviewer

Overall Experience:

Really efficient and comfortable headphones during sleep, even for a side sleeper. Makes a huge difference during the night, blocking unwanted noises. Overall very happy with the purchase!

Bottom Line: Yes, I would recommend this to a friend

---

Never worked properly

By Joaquim S.

,

Paris, France

,

Feb 7, 2020
Verified Reviewer

Overall Experience:

Waited so long for a mundane headphone that doesn't do the job. They firstly promised a developer version that will allow using API to get the data from the EEG but during the long time of production, they remove the option without notice to the customers. Without proposing to reimburse the headphones. Only because I claim they pay back the difference between consumer version and developer version.

After I receive it, the EEG was not ready. One more year to wait and finally when the app and the firmware are supposedly ready, the EEG never worked, always indicating "Syncing sleep data" during more than 5 months.

Now, the time to return passed. So, I just learned, never put money in Kickstarter. This kind of company abuses the trust of the customer. So don't be surprised to find anybody on your next fundraising.

In the end, I have to admit the only good thing: the relaxation song in the app, that's all.

Bottom Line: No, I would not recommend this to a friend

---

Highly recommended

By Iana T.

,

Madrid, Spain

,

Dec 11, 2019
Verified Reviewer

Overall Experience:

The Kokoon Headphones could definitely be one of the best investments in your health. To be honest, I didn't know before using them how to fall asleep just in a few seconds. They fantastically isolate outside noise allowing me to disconnect and relax. I also use them while taking a nap. After using them for 2 weeks, I have noticed that the quality of my sleep has improved significantly and, as a consequence, the quality of my life. As a bonus, the headphones have an elegant and appealing design. They are exceptionally comfortable so you don't even notice you have them on!

Bottom Line: Yes, I would recommend this to a friend

---

Sleep better

By Marije P.

,

Amsterdam, Netherlands

,

Dec 4, 2019
Verified Reviewer

Overall Experience:

With my Kokoon Headphones, I sleep so much better and wake up more rested.

It had adjusted to the headphone in a couple of days. But now it's not bothering me anymore to have something on my ears at night.

For me, it's so nice to have an option if I wake up from my partner's snoring of road noise.

I really like the different white noise options and the rain option (maybe because I am from the Netherlands).

Overall I use, and like, my Kokoon Headphones.

Bottom Line: Yes, I would recommend this to a friend

---

Worth the wait and the price

By David N.

,

Temecula, CA

,

Nov 28, 2019
Verified Reviewer

Overall Experience:

I'll be honest, I was frustrated by the delay in receiving my Kokoon Headphones. I didn't think they'd ever arrive. However, patience paid off - these headphones are amazing! I'm falling asleep faster, staying asleep longer and experiencing better sleep overall. The quality of the headphones is excellent. They are extremely comfortable and the supporting app is outstanding. I like all the options for layered sounds and fade out to white noise feature. If you have trouble with sleep - these may be the answer. Worth the wait and worth the price.

Bottom Line: Yes, I would recommend this to a friend

---

Advertisement

---

Finally I can sleep

By Andrew P.

,

Singapore

,

Nov 27, 2019
Verified Reviewer

Overall Experience:

These headphones managed to save my nights. Now I can sleep. Before, even the tiniest sounds would wake me. But I can wear the Kokoons, turn on some white noise or other ambient sounds, and drift off to sleep.

I love them.

Bottom Line: Yes, I would recommend this to a friend

---

Kokoon Headphones work very well

By Alan T.

,

Sarasota, FL

,

Nov 25, 2019
Verified Reviewer

Overall Experience:

All the waiting really paid off. The headphones are extremely comfortable, I often forget I am wearing them. I've found several music/sound combinations that help me fall asleep quickly and deeply. Could not ask for more. Great product. I appreciate the continuing product support.

Bottom Line: Yes, I would recommend this to a friend

---

Had my doubts, but Kokoon erased them

By Henry J.

,

Winnetka, CA

,

Nov 25, 2019
Verified Reviewer

Overall Experience:

I was very excited when I first heard of these headphones for sleep. I had my doubts to start but having sleep difficulties for many years I was willing to try anything. I had difficulties getting my headphones to connect to Bluetooth to start but customer service was very responsive and I discovered that the difficulties were at my end and there was nothing wrong with the headphones whatsoever. I have found that they help me to get to sleep quite easily and they even cancel out my neighbor's annoying barking dog. This is the real deal and I recommend Kokoon without reservations.

Bottom Line: Yes, I would recommend this to a friend

---

Worth every penny

By Elizabeth E.

,

Washington DC

,

Nov 23, 2019
Verified Reviewer

Overall Experience:

My partner is a very LOUD snorer and I live near an active railroad. I did have Bose sleepbuds but they were insufficient, both in battery quality and in options. I have found that Kokoon's solution to be the answer to my prayers. I will admit that I was skeptical about comfort while sleeping. I am a side sleeper. I was blown away. The first night was an adjustment, but after that no issues. I love being able to listen to whatever I want to as I fall asleep and have the headphones sense when I fall asleep and switch me to white noise. As a former engineer, I am impressed by the quality, functionality, and flexibility of there headphones. I would buy again without hesitation.

Bottom Line: Yes, I would recommend this to a friend

---

Perfect relaxation - helps me to sleep and escape

By Vassilis S.

,

Bristol, United Kingdom

,

Nov 12, 2019
Verified Reviewer

Overall Experience:

I have been using the Kokoon Headphones for over a year now nearly daily. Initially, I bought them as a way to help me sleep as I was suffering from insomnia during a rather stressful period of my life. They worked like a charm and from day one (or shall I say night one!) I was able to fall asleep within minutes.

Since then I have been using them a lot as high-end headphones for their excellent noise-cancellation ability. I have tested different types of music and sounds and I discovered what works for me in different circumstances i.e. when I want to fall asleep, just relax, or be energized in the gym.

So today, my Kokoon Headphones together with my Samsung Smartphone are my life's companions!

Bottom Line: Yes, I would recommend this to a friend

---

Advertisement

---

The first great headphone that is good for sleep

By Ip K.

,

Hong Kong, China

,

Nov 6, 2019
Verified Reviewer

Overall Experience:

First of all, I think this is the first headphone that is good for sleep time to wear, because sleep time to wear famous music headphones like SONY MDR-1R/BOSE QC35 is very difficult to sleep since the ear cover size is very big and feel unwell.

For Kokoon, the size of the ear-cup cover can all cover my ear and very soft, wear on it is very comfortable when sleeping time.

Also, the headphone has an auto audio fade-out function, and the EEG sensor will detect user sleep level, you can see the data via Kokoon apps.

The Kokoon app's library has many audio resources, such as white noise, brown noise, beach waves you can listen to.

I would like to choose brown noise to start my sleep journey.

Moreover, this headphone is better for people have hyperacusis (small level), my ears are very sensitive to the audio/music/noise, wearing the headphone on my ears can solve this problem.

For the improvement of this headphone, I think is Kokoon apps can have more compatibility with outsourced audio, I like to make audio recording for my listening, if the apps can work with offline music player like "foobar2000", SONY "WALKMAN" player, apps is better, I like to listen my audio then online music such as YouTube.

Bottom Line: Yes, I would recommend this to a friend

---

I can't do without my Kokoon anymore.

By Cecotti C.

,

Brussels, Belgium

,

Nov 5, 2019
Verified Reviewer

Overall Experience:

I mainly use it for listening podcasts in my bed (or when I am traveling by train), not music or "sounds" with the app, only podcasts. Listening people talking about an interesting subject is my thing. It helps me to relax and to find sleep. So the design is perfect for me because I sleep on my belly. It is more than comfortable to really forget it and fall asleep with it or to put it off just before. The quality of the sound is really good for podcasts and music. The battery time is also quite good. The hardware design and the materials are the strongest quality of Kokoon. It's an impressive industrial design. High quality. Best in class. The app does also the job. I am not a big fan of sleep tracking apps but it helps times to times to see the results of a good or bad night. I will pay more attention to the functionalities and evolutions.

Bottom Line: Yes, I would recommend this to a friend

---

Excellent noise-reduction headphones

By Ian M.

,

Gloucester, United Kingdom

,

Nov 4, 2019
Verified Reviewer

Overall Experience:

As a frequent traveler having over 50 flights a year the Kokoon headphones are a godsend, allowing me to relax and block out the noise in the cabin. They are great to wear and their shape means that when you rest against the seat it doesn't feel uncomfortable like with my Bose QC35's. Yes the wait for them was long but I've been involved with product development for the past 15 years and I know projects get delayed as you want to launch the best product possible and this can lead to unplanned delays. Try the Kokoon Headphones, you will NOT be disappointed.

Bottom Line: Yes, I would recommend this to a friend

---

Long haul bliss

By Bronnie L.

,

Christchurch, New Zealand

,

Nov 1, 2019
Verified Reviewer

Overall Experience:

I waited a while for my Kokoons, but oh how good they are! I travel long haul from New Zealand to North America and the UK, there's nothing like being able to sit back, relax and enjoy a 17-hour flight with noise-canceling super comfortable low-profile headphones that have their own music but also Bluetooth to every other device.

I am in love with them, and I've used them now for enough flights to be ready to fight tooth and nail if anyone else tries to get their grubby mitts on them - they're MINE!

Bottom Line: Yes, I would recommend this to a friend

---

Fantastic product, service, and potential

By Jeremy S.

,

St. Cloud, MN

,

Nov 1, 2019
Verified Reviewer

Overall Experience:

TL; DR:

The headphones are comfortable, innovative, and sound amazing. The support team is responsive, empowered, and helpful.

Their plans for features and firmware updates are exciting and interesting.

First of all, I was attracted to the Kokoon Headphones during their Kickstarter phase for two main reasons: 1) I have difficulty falling asleep 2) I've always heard that Bluetooth headphones are terrible sounding. I saw an opportunity to address the sleep issue and see what a pair of headphones built from the ground-up for Bluetooth could do.

A side reason, and a reason for every project I back on Kickstarter, is to help make a product/company successful. After a product catches my eye and I back it, this reason becomes my focus; delays, refinements, alterations...they all come with the territory for me. Yes, Kokoon took longer than expected to arrive, and I'm glad because the final product is better than I expected.

The sound is amazing, which crushed my #2 reason above. Within the first week I had them I listened to two albums; one I'd listened to many times and one I'd been waiting for until I had high-quality hardware to experience it through. I heard nuances I'd never picked up before from the former, and the latter was amazing.

The most recent version of the app/firmware makes using them while falling asleep easy and effective. Through sleep tracking in the EEG sensors, the app has determined the effectiveness of various audio tracks on helping me, personally, get to sleep. I toss and turn a lot regardless of environment, but the headphones are designed to be able to stay on the head and provide airflow as well as comfort. Checkmark on reason #1.

The other pieces of the overall product I like to consider is customer service and future plans. For Kokoon, the customer service is TOP NOTCH. They're friendly, helpful, and empowered. I, unfortunately, did get one of the units with the sub-standard arm parts, and when I reached out to them with my situation, I had a shipping label within 24 hours. Manufacturer defects happen but Kokoon made sure they had a solution in place to address them.

Some of the future ideas I'm excited about are REM-detected alarms, music suggestions based on EEG response, and new products in general from Kokoon.

I have no reservations about a 5-star review, nor for recommending this product to friends.

Bottom Line: Yes, I would recommend this to a friend

---