Kokoon Headphones Reviews
Claimed This company has claimed this profile, is getting alerted on any new customer reviews entering this page, and may engage in dialogue with its customers to address their matters.

Companies cannot pay money or provide goods in order to remove or alter customer reviews.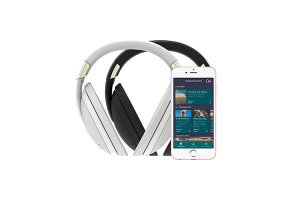 Kokoon Headphones feature three layers of noise protection, proprietary FlexMould Technology, and app connectivity to help you relax and sleep better.
About Kokoon Headphones
In the US alone, about 40 million people suffer from a chronic sleep disorder, and another 20 million experience occasional sleep problems. To address this problem, we often employ a variety of techniques, including medication, adjusting different lifestyle factors, changing our sleep environment, and more. But can headphones help?
Enter Kokoon Headphones. These "re-imagined headphones from the ground up" are specifically designed to help you relax, improve the quality of your sleep, remove disruptions, and protect regenerative deep sleep—anytime and anywhere—by featuring:
Patented FlexMould comfort technology that keeps them cool and comfortable, even in bed
Active and passive noise cancelation
Built-in EEG sensors
Bluetooth 4.0 connectivity with companion app
Audio that automatically adjusts to your sleep level
Maybe you've tried noise-cancelling headphones before and only achieved minimal results. Or, perhaps this is your first-time considering headphones in your battle against sleep disorders. Whatever the case may be, you're here to learn more about Kokoon Headphones, what you can expect, and whether or not they're worth the money.
Let's begin with all the different technologies you'll find in Kokoon Headphones.
Kokoon Headphones: A Lot Of Tech In a Little Package
Kokoon jam-packed their headphones with a lot of new technology, so they seem to defy any hard-and-fast classification. However, they most closely fit with noise-cancelling headphones, since they feature three layers of noise protection (ANC, Isolation and Active White Noise).
Kokoon's EEG Brainwave Sensors & App Connectivity
For the latter, Kokoon developed their own miniaturized dry EEG sensors that sit discreetly within the headphones and actively track how deeply you're sleeping, and then adjust your audio to help block out external noises.
These sensors also send "clinical grade" data to Kokoon's Android and iOS smartphone apps via Bluetooth 4.0, which can give you a great deal of insight into your sleep and relaxation as it learns the best techniques for you.
Through Kokoon's audio relaxation library, you'll even have access to other apps that provide help with polyphasic sleeping, binaural beats, lucid dreaming, meditation, and more.
Kokoon's FlexMould Technology
Because Kokoon Headphones are targeted at helping you relax and sleep, the company wanted to make sure they were as comfortable as possible.
To accomplish this, Kokoon took "inspiration from high-tech pillows and sport shoe technology" and developed their patented FlexMould Comfort System, which spreads pressure away from sensitive areas and increases comfort.
It also allows the headphone's electronics to be placed in the headband, which maintains a low profile and follows "the natural shape and characteristics of the head in bed."
Finally, Kokoon developed their CoolGel cushioning airflow system to prevent your headphones from getting hot and sweaty, while still maintaining an acoustic seal. This CoolGel system allows the headphone's ear cups to form to the shape of your ears, providing a more comfortable fit, the company said.
Combining this system with Kokoon's soft molding body, premium fabric covers, and organic leather outer covering means that they are, "in essence an extra pillow for your ears."
Other Kokoon Headphone Features
Although they might be focused on helping you relax and sleep, Kokoon headphones feature a 3.5mm jack, a built-in microphone with call control and hands-free capability.
When you're traveling, Kokoon Headphones can provide continuous playback for up to 11 hours with both sleep sensing and noise reduction activated. Also, it when you want to store them, they fold down to fit into the carrying case that comes with the headphones.
Kokoon's Pricing
Kokoon Headphones are available in light grey and dark grey. If purchased directly through the Kokoon website, you'll pay:
1 Pair: $299
Couples Package (2 pairs): $539
Regardless of which site you order through, each pair of Kokoon Headphones will come with:
Travel case
USB charging cable
Optional audio lead
Kokoon sleep mask
Good sleep guide
User manual
If you aren't satisfied with your headphones, Kokoon says that you can do a hassle-free, no-cost return if you contact them at support@kokoon.io within 14 days of your purchase and let them know you aren't satisfied.
Once you confirm with them that you'll return the headphones, you have 14 days from the day you sent your first email to mail them the headphones.
What's Everyone Saying About Kokoon Headphones?
At the time of publishing, HighYa readers gave the headphones an average rating of 3.2 stars from 24 reviews.
Many of the recent reviews noted that it took a long time to receive their headphones, but these reviews come in the context of Kokoon's beginnings as a crowdfunded company on Kickstarter. It took some time for them to ship out their first round of headphones.
That being said, the recent reviews that HighYa readers left about Kokoon are positive, with several reviewers saying Kokoons are the most comfortable headphones they've ever worn.
As a result, some users are able to fall asleep better. Here's an example of that:
"These headphones have been designed around user needs, they feel wonderful when wearing and are easy to fall asleep in. They have started to make a real difference in my sleep pattern. Well worth it," reviewer Rob C. said.
Will Kokoon Headphones Envelop You in Relaxation & Sleep?
Sleep is a tricky thing because the cause of poor sleep can be hard to pin down. Kokoon offers a solution for your sleeping problems through their combination of personalized sleep technology along with form-fitting, sleek headphones.
Based on the reviews we've read from HighYa users, the headphones and accompanying technology have been effective in helping people fall asleep. One of the advantages the device offers is that you don't have to make continuous purchases like you would with over-the-counter sleep aids.
The downside to the headphones is the price point; the $299.99 price tag could be cost-prohibitive. However, if you feel like the price tag is within your budget but you're skeptical about their effectiveness, you have the ability to test them out and return them if you're not happy.
Does the job!

By Vincent J.

,

Quebec, Canada

,

Feb 25, 2020
Verified Reviewer

Really efficient and comfortable headphones during sleep, even for a side sleeper. Makes a huge difference during the night, blocking unwanted noises. Overall very happy with the purchase!

Bottom Line: Yes, I would recommend this to a friend

---

Never worked properly

By Joaquim S.

,

Paris, France

,

Feb 7, 2020
Verified Reviewer

Waited so long for a mundane headphone that doesn't do the job. They firstly promised a developer version that will allow using API to get the data from the EEG but during the long time of production, they remove the option without notice to the customers. Without proposing to reimburse the headphones. Only because I claim they pay back the difference between consumer version and developer version.

After I receive it, the EEG was not ready. One more year to wait and finally when the app and the firmware are supposedly ready, the EEG never worked, always indicating "Syncing sleep data" during more than 5 months.

Now, the time to return passed. So, I just learned, never put money in Kickstarter. This kind of company abuses the trust of the customer. So don't be surprised to find anybody on your next fundraising.

In the end, I have to admit the only good thing: the relaxation song in the app, that's all.

Bottom Line: No, I would not recommend this to a friend

---

Advertisement

---

Highly recommended

By Iana T.

,

Madrid, Spain

,

Dec 11, 2019
Verified Reviewer

The Kokoon Headphones could definitely be one of the best investments in your health. To be honest, I didn't know before using them how to fall asleep just in a few seconds. They fantastically isolate outside noise allowing me to disconnect and relax. I also use them while taking a nap. After using them for 2 weeks, I have noticed that the quality of my sleep has improved significantly and, as a consequence, the quality of my life. As a bonus, the headphones have an elegant and appealing design. They are exceptionally comfortable so you don't even notice you have them on!

Bottom Line: Yes, I would recommend this to a friend

---

Sleep better

By Marije P.

,

Amsterdam, Netherlands

,

Dec 4, 2019
Verified Reviewer

With my Kokoon Headphones, I sleep so much better and wake up more rested.

It had adjusted to the headphone in a couple of days. But now it's not bothering me anymore to have something on my ears at night.

For me, it's so nice to have an option if I wake up from my partner's snoring of road noise.

I really like the different white noise options and the rain option (maybe because I am from the Netherlands).

Overall I use, and like, my Kokoon Headphones.

Bottom Line: Yes, I would recommend this to a friend

---

Advertisement

---

Worth the wait and the price

By David N.

,

Temecula, CA

,

Nov 28, 2019
Verified Reviewer

I'll be honest, I was frustrated by the delay in receiving my Kokoon Headphones. I didn't think they'd ever arrive. However, patience paid off - these headphones are amazing! I'm falling asleep faster, staying asleep longer and experiencing better sleep overall. The quality of the headphones is excellent. They are extremely comfortable and the supporting app is outstanding. I like all the options for layered sounds and fade out to white noise feature. If you have trouble with sleep - these may be the answer. Worth the wait and worth the price.

Bottom Line: Yes, I would recommend this to a friend

---

Finally I can sleep

By Andrew P.

,

Singapore

,

Nov 27, 2019
Verified Reviewer

These headphones managed to save my nights. Now I can sleep. Before, even the tiniest sounds would wake me. But I can wear the Kokoons, turn on some white noise or other ambient sounds, and drift off to sleep.

I love them.

Bottom Line: Yes, I would recommend this to a friend

---

Kokoon Headphones work very well

By Alan T.

,

Sarasota, FL

,

Nov 25, 2019
Verified Reviewer

All the waiting really paid off. The headphones are extremely comfortable, I often forget I am wearing them. I've found several music/sound combinations that help me fall asleep quickly and deeply. Could not ask for more. Great product. I appreciate the continuing product support.

Bottom Line: Yes, I would recommend this to a friend

---

Had my doubts, but Kokoon erased them

By Henry J.

,

Winnetka, CA

,

Nov 25, 2019
Verified Reviewer

I was very excited when I first heard of these headphones for sleep. I had my doubts to start but having sleep difficulties for many years I was willing to try anything. I had difficulties getting my headphones to connect to Bluetooth to start but customer service was very responsive and I discovered that the difficulties were at my end and there was nothing wrong with the headphones whatsoever. I have found that they help me to get to sleep quite easily and they even cancel out my neighbor's annoying barking dog. This is the real deal and I recommend Kokoon without reservations.

Bottom Line: Yes, I would recommend this to a friend

---

Worth every penny

By Elizabeth E.

,

Washington DC

,

Nov 23, 2019
Verified Reviewer

My partner is a very LOUD snorer and I live near an active railroad. I did have Bose sleepbuds but they were insufficient, both in battery quality and in options. I have found that Kokoon's solution to be the answer to my prayers. I will admit that I was skeptical about comfort while sleeping. I am a side sleeper. I was blown away. The first night was an adjustment, but after that no issues. I love being able to listen to whatever I want to as I fall asleep and have the headphones sense when I fall asleep and switch me to white noise. As a former engineer, I am impressed by the quality, functionality, and flexibility of there headphones. I would buy again without hesitation.

Bottom Line: Yes, I would recommend this to a friend

---

Perfect relaxation - helps me to sleep and escape

By Vassilis S.

,

Bristol, United Kingdom

,

Nov 12, 2019
Verified Reviewer

I have been using the Kokoon Headphones for over a year now nearly daily. Initially, I bought them as a way to help me sleep as I was suffering from insomnia during a rather stressful period of my life. They worked like a charm and from day one (or shall I say night one!) I was able to fall asleep within minutes.

Since then I have been using them a lot as high-end headphones for their excellent noise-cancellation ability. I have tested different types of music and sounds and I discovered what works for me in different circumstances i.e. when I want to fall asleep, just relax, or be energized in the gym.

So today, my Kokoon Headphones together with my Samsung Smartphone are my life's companions!

Bottom Line: Yes, I would recommend this to a friend

---

The first great headphone that is good for sleep

By Ip K.

,

Hong Kong, China

,

Nov 6, 2019
Verified Reviewer

First of all, I think this is the first headphone that is good for sleep time to wear, because sleep time to wear famous music headphones like SONY MDR-1R/BOSE QC35 is very difficult to sleep since the ear cover size is very big and feel unwell.

For Kokoon, the size of the ear-cup cover can all cover my ear and very soft, wear on it is very comfortable when sleeping time.

Also, the headphone has an auto audio fade-out function, and the EEG sensor will detect user sleep level, you can see the data via Kokoon apps.

The Kokoon app's library has many audio resources, such as white noise, brown noise, beach waves you can listen to.

I would like to choose brown noise to start my sleep journey.

Moreover, this headphone is better for people have hyperacusis (small level), my ears are very sensitive to the audio/music/noise, wearing the headphone on my ears can solve this problem.

For the improvement of this headphone, I think is Kokoon apps can have more compatibility with outsourced audio, I like to make audio recording for my listening, if the apps can work with offline music player like "foobar2000", SONY "WALKMAN" player, apps is better, I like to listen my audio then online music such as YouTube.

Bottom Line: Yes, I would recommend this to a friend

---