Lumen Metabolism Tracker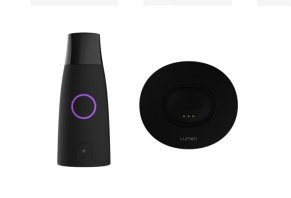 Manufactured by Metaflow LTD, the Lumen Metabolism Tracker measures carbon dioxide output, pairs wirelessly with iOS and Android smartphones, and sends you customized plans.
Lumen Metabolism Tracker Review - How Effective Is It?
With just a single breath, Lumen Metabolism Tracker's patent-pending technology promises to reveal whether your body's burning fat or carbohydrates, and then tell you what to do about it so you can reach your weight loss and fitness goals.
The website explains this works by measuring the level of carbon dioxide (CO2) in your breath, performing calculations, and then sending the data to your smartphone's iOS or Android app. There, you'll receive daily, personalized meal plans, whether you want to want to know what to eat and when, sustainably lose weight or maintain weight loss, optimize your workouts, or improve performance.
Co-founded by CEO Daniel Tal, CPMO Dror Ceder, CTO Avi Smila, Chief Science Office Michal Mor, and Chief of Metabolic Research Merav Mor, the Lumen Metabolism Tracker features a super-compelling concept.
But, will the value it provides outweigh any potential downsides? This is the central question we'll help you answer in this article.
The Basics Behind Macronutrients and Metabolism
Macronutrients (fats, carbohydrates, and proteins) are essential in large amounts for the human body to function properly.
Among many other functions, fats help cells function, allow your body to absorb vitamins and minerals from food, and make overall cell function possible, while carbohydrates—after breaking down into glucose—act as the body's primary source of fuel. Proteins manufacture hormones and help the immune system do its job.
During the process of maintaining many of these essential functions, your body burns energy. When combined with what you exert from daily activities, in addition to exercise, the rate at which your body expends energy is cumulatively referred to as your metabolism.
And because the body has the ability to run on carbohydrates or fats as a fuel source, Doug Dupont, a strength and conditioning coach, tells us that it's known to have 'metabolic flexibility.'
How does all of this relate to the Lumen Tracker? Let's carry this question over to the next section.
Lumen's Specifications
With a design that's 4" (102 mm) long, 1.6" (41.5 mm) wide, 1.3" (33.3 mm) tall, and weighing in at 3.3 oz (95 g), the Lumen Metabolism Tracker might initially strike you as a high-tech kazoo.
On the outside, its body is made from a soft touch plastic, and the mouthpiece and cover are constructed from stainless steel, which features a protective matte coating.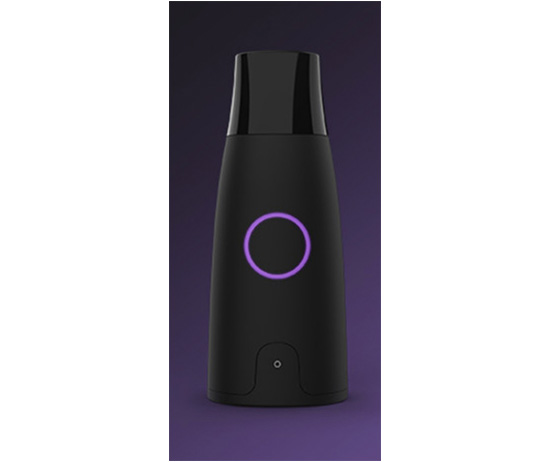 The handheld Lumen Metabolism Tracker. Credit: Metaflow Ltd.
Inside, its Lithium polymer battery is said to last up to two weeks, depending on usage, which connects to its docking station via USB-C.
Lumen's Patented CO2 Sensing Technology
According to the device's website, when your body burns carbohydrates, it releases more carbon dioxide than when it burns fat.
For years, top athletes have been able to measure these levels—called a respiratory quotient, or RQ (also referred to as Respiratory Exchange Ratio), defined as "the ratio of carbon dioxide (CO2) to oxygen (O2) consumed"— using equipment that can fill a room. And even then, it can take up to an hour to analyze its data.
Comparatively, Lumen condenses this technology into a device about the size of the palm of your hand, and that measures and delivers results in the span of a single breath. Their website explains the process this way:
"The Lumen device uses a CO2 sensor and flow meter to determine the carbon dioxide concentration in your breath, which indicates the type of fuel your body is using to produce energy– fat or carbs.
CO2 concentration is measured using a unique breath maneuver (patent pending), which is performed by inhaling a fixed volume of air through the Lumen device (dynamic to each individual), holding it for 10 seconds, and exhaling fully."
They explain that the "CO2 concentration values and range … are unique and personal to each individual according to their Lumen Index scale, which is calibrated during their first week of usage." Furthermore, they emphasize that measurements can fluctuate based on energy and hormonal balance, macronutrient and fluid consumption, sleep, and emotional state (such as stress levels).
The Lumen Metabolism Tracker App
The device connects to an iOS and Android app via Bluetooth LE, where it stores and analyzes the health data accumulated from your breath, and then uses artificial intelligence to "learn from prior user activity and measurements, and offer personalized, detailed recommendations to improve nutrition, fitness, and wellness."
Their website explains their AI system focuses on teaching users' bodies to burn fat storages as a primary source of energy, while only consuming carbohydrates at specific times. These include avoiding over-restriction, supporting high-intensity workouts, feeling energized, and preventing hormonal malfunction.
You'll start each morning by breathing into Lumen, which will measure your glycogen levels and determine how much carbohydrates your body is burning. It will then use this data to create a personalized meal plan based on your dietary preferences, needs, and restrictions (vegan, vegetarian, Paleo, gluten-free, etc.).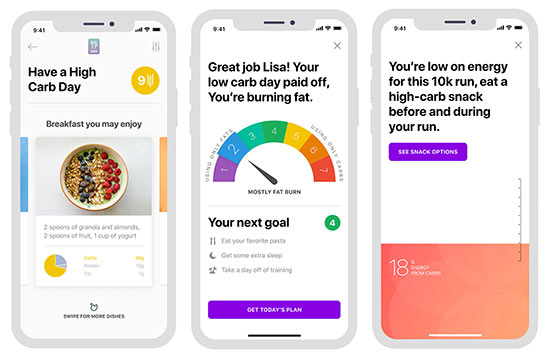 The Lumen app processes the data gathered from the handheld device and translates it into actionable information that promises to help you reach your weight loss and fitness goals. Credit: Metaflow Ltd.
Specifically, these plans are calculated based on your changing caloric intake and macronutrient balance. Keep in mind that Lumen will calibrate to your unique measurements during the first week of use.
Before each meal, you'll use the Lumen device once again to find out "how the last one affected you and get recommendations to keep your body on track," while breathing before and after each workout can help you know if you have enough energy beforehand, as well as the effect on your body when you're done.
And throughout the process, the Lumen tracking system promises to deliver expert feedback that can help you understand what's working and what needs to change, while also explaining the 'why' behind everything you're experiencing. Some examples provided in their promo video included:
Why is your weight fluctuating?
Why do you feel low on energy?
Why your body is storing carbs?
Is the Lumen Metabolism Tracker Clinically Proven?
The website explains, "multiple external and internal validation studies were conducted on the Lumen device" between 2015 and 2017, which involved the participation of "top hospitals, universities, and clinics worldwide."
Based on what we found on the site's FAQ, two of these (undated) pre-market, controlled studies were conducted at the Tel-Aviv Sourasky Medical Center and the department of Kinesiology at San Francisco State University.
They cumulatively involved 31 participants, where measurements were taken after 12 hours of fasting, and 30 and 180 minutes following high-carbohydrate juice consumption.
Ultimately, the summary concluded that Lumen has the ability to "assess changes in the body's metabolic fuel usage, as compared to the gold standard, indirect measurement using a calorimetric cart." In other words, it's highly accurate.
Additionally, from a results perspective, we're told that among beta testing involving over 300 users, participants lost an average of 6.8 lbs within the first 30 days (these results weren't publically available for review as of this writing).
How Much Does Lumen Metabolism Tracker Cost?
The device is currently available on the company's website for $299. there may be a several month gap between when you place the order and when it will actually ship. Be sure to look for that information should you decide to order.
Each device includes a charging dock, USB-C cable, travel case, and a free iOS and Android app. There aren't any regular replacement or refill parts (e.g., filters, sensors, etc.) required.
Shipping within the U.S. is $5, while international shipping is a flat $19 and doesn't include taxes or duties.
All Lumen devices come with a 30-day refund policy, less S&H charges, although this only applies if it hasn't been used. It also comes with a one-year warranty that "protects against battery failure, product malfunction, sensor issues, etc." according to the representative we spoke with, which you can request by emailing support at hello@lumen.me.
What Can We Learn From Lumen Metabolism Tracker Reviews?
As a product that's currently undergoing crowdfunding, it might make sense that there was little first-person online feedback at the time of our research.
However, back in July 2018, AppleInsider had an opportunity to try a Lumen demonstration unit, and found the "data is at least accurate enough to be useful," "the steps were clear and simple," and that you can set goals "from options including losing weight or build muscle."
Brenda Stolyar, writing for Digital Trends, also reported:
"To help keep you on track, the Lumen app comes with a "food search" feature that allows you to look up certain foods to find out how many carbs each contains. For additional help, the app allows you to submit photos of your meals to nutritionists for feedback in order to get an expert opinion."
Are there any other devices competing in the same space, with any similar features or functionality?
Lumen Metabolism Tracker vs. Breezing
While we didn't encounter anything designed exactly like Lumen during our research, we did come across the Breezing Metabolism Tracker, another handheld device that also claimed to measure your metabolism in a single breath, and then sync via Bluetooth to send measurements wirelessly.
From there, it creates customized goals based on your unique metabolic information, and also measures energy source (the "gold standard" respiratory quotient).
From a clinical perspective, after a series of 300 tests, Breezing's accuracy was verified in a 2014 validation study published in the Global Journal of Obesity, Diabetes and Metabolic Syndrome.
Differences, compared to Lumen? Breezing also "measures oxygen consumption rate (VO2)," in addition to carbon dioxide production rate (VCO2).
Furthermore, it displays resting metabolism and metabolic history. Goals can be set by target date, target weight, exercise target (number of calories burned per week), and dieting target (gentle change, moderate change, etc.) via a sliding scale, which updates the user's goals in real-time.
Unlike Lumen, Breezing starts at $470, including an Android tablet, and requires users to purchase replacement sensor cartridges ($24.99 for a four-pack). Which way should you go?
Bottom Line
Perhaps the biggest problem related to Breezing? It wasn't available for iOS devices at the time of our research, and it was more than twice the price of Lumen's metabolism tracker.
This means that if you're looking for something available for both iOS and Android smartphones, that comes with a competitive price, and is backed by a 30-day refund policy, Lumen seems to be the only game currently in town.