Lumen Metabolism Tracker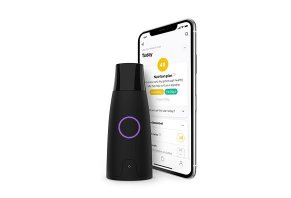 Summary
Lumen is a portable device designed to track your metabolism through your breath. The company claims it can help you decide what to eat each day for optimal health results, but you may get similar results without investing in this pricey device.
Pros
Simple to use at any time of day
Quick testing process, immediate results
Companion app includes lots of resources for better health decisions based on your results
Cons
More expensive than alternative products
Scientific evidence isn't robust
Some users questioned the accuracy of their results
Lumen Review: A Detailed Look
Lumen brands itself as the world's first portable device that works to measure your metabolism. Its goal is to bring a health-tracking technology to your home that was previously only available in medical settings.
The company began when stellar athlete twin sisters Merav and Michal Mor wanted a better way to measure metabolism than the costly techniques otherwise available. After years of research, they developed a handheld device capable of measuring your metabolism in a single breath, rather than requiring you to take an hour-long test in a lab.
Lumen first launched on IndieGogo, where it raised $2.3 million from almost 10,000 backers. Today, you can purchase this metabolism measurer off the company website and pair it with its Android or iOS app for quick reports on how your daily food and fitness choices affect your metabolism.
Does the Lumen deliver on these promises? Is this high tech tool merely an expensive gimmick? Gain insight from our analysis here.
How Does Lumen Work?
Lumen essentially acts as a CO2 sensor and flow meter to measure its concentration within your breath. The device uses this measurement to determine whether your body is fueling itself on carbs or fats, and then give you personalized nutrition and lifestyle recommendations based on the reading.
The company claims that Lumen has been scientifically proven to meet the gold standard for metabolism tracking. It's designed to help you identify what and when its best to eat for better workouts, metabolic flexibility, and maximum fat burning.
The app will also share personalized meals with you that indicate what to eat and when, as well as advice on whether you have enough energy to complete a workout or if you should eat fuel up first.
You will also receive a Lumen Flex Score that reflects your overall metabolism, sleep, nutrition, and fitness data over time.
"The technology offered by Lumen is not new," shares Anthony Dugarte, M.D., C.S.C.S, HighYa's medical researcher. "As fat metabolism produces less CO2 when compared to burning sugar for energy, those following a ketogenic diet would have lower CO2 readings during a breath test."
In essence, a high CO2 level indicates you're burning carbohydrates, while a low reading meaning you're using fat for fuel. With this number, you'll also receive a recommended meal plan that spells out the amount of carb, fat, and protein servings you should eat that day to work towards your fitness goals.
The company claims through an internal study that Lumen's technology is scientifically proven to measure your metabolic fuel usage as accurately as the gold standard approach, RER (respiratory exchange ratio).
The scientific research available for this approach shows that it seems to be reasonably accurate for monitoring CO2 and O2 levels, though most available devices need to be adjusted frequently for accuracy, and they take an hour or longer to show results.
Further research shows that portable telemetric devices for measuring energy expenditure through metabolism seem promising, though the sample size in this study is too small to draw any conclusions.
While this research indicates that metabolism monitoring through breath looks promising, it's important to note that this is a relatively new field. Little of the available positive research looks specifically at what the Lumen is capable of delivering.
How to Use Lumen
To get the best results with the Lumen, you need to take your measurements while your body is in a relaxed state, preferably while sitting. Wait at least 30 minutes to test after any activity that could have raised your heart rate.
To use the device, you'll inhale a fixed volume of air through the device, hold it for ten seconds, and then fully exhale. Each time you do so, you'll receive a score from 1 to 5 that tells you how your body is running on energy. Fat burning states earn a 1 or 2, a combo gets a 3, and carbohydrate fuel earnings a 4 or 5.
It's possible to use the Lumen at different points throughout the day, though morning measurements tend to be the most insightful because they capture your metabolism while in a resting state. Make sure you take this measurement when you have eaten or drunk anything with calories for at least 6-8 hours beforehand.
The device lets you log workouts through the app. You can take a breath measurement beforehand to see if you need to eat something, and then measure again 30 minutes after you finish to see the impact of the exercise on your body.
In the same way, you can measure your breath one or two hours after eating to assess the effects of certain foods.
After use, it's best to close the cap included with Lumen to keep the breathing tube clean. You can also clean the mouthpiece with a moist cloth once a week. The device should last about two weeks per charge, assuming you're using it once per day.
The first day of use is considered a calibration day. You'll be required to take a morning breath test after a ten-hour fast, and the app with then specific what you should eat and when to take breath measurements for the remainder. This helps the device build your personalized CO2 scale and give you more accurate recommendations based on them.
Lumen is not an FDA-approved device. Though Lumen is designed for anyone over 16, it's not recommended for anyone with chronic health conditions like diabetes, COPD, severe asthma, or who is obese. The app's health recommendations aren't designed to take these concerns into account.
If you have further questions about whether this personal health device is appropriate for you, contact the company through its support page.
Pricing and Return Policy
The Lumen device currently sells for $299 on the company website.
You'll also receive 10% off your order if you purchase two or more at a time. Shipping is free for all orders.
Besides your Lumen device, you'll also receive a charging dock and USB-C cable, a travel case, and access to Lumen membership.
All purchases qualify for the company's refund policy. You'll need to message the company at support@lumen.me and send the device back to the company within 14 days of receiving it (return shipping is on you). This return must include proof of purchase, original packaging, and all accessories.
The device also comes with a one-year warranty on hardware and material defects. This doesn't include any damage caused by mishandling the device.
Analysis of Customer Reviews
Lumen has close to 70 reviews on Trustpilot, averaging 4.5 stars. Below, we've summarized some of the main comments from its users:
Common Compliments:
Helps users be more conscious about their daily calorie intake
Many used it to get over their "weight loss humps" to meet their goals
Works well for weight loss, assuming users follow the app's advice
Common Complaints:
Doesn't integrate well with other fitness services like MyFitnessPal
Some customers never received their order
Some had inconsistent readings, found it temperamental
A few users questioned accuracy, as the carb readings didn't match what they ate
The app doesn't allow for tracking extended fasts
Some users had the device shut off between breaths, even when fully charged
Can be challenging to track nutrients precisely
Workouts need to be entered a week in advance (though you can update them in the moment too)
Alternatives to Lumen
Most people who consider Lumen will likely be interested in it from a weight loss perspective, as the device promises to give you personalized guidance for every meal. However, there are other ways to get similar guidance without breathing into a tube.
One popular weight loss tool is Noom. This wellness app relies on the principles of behavioral modification to help you understand your impulses to overeat and then craft new, better habits in regards to food so that you can lose weight and keep it off longterm.
Noom lets you track your daily meals and exercise while connecting you with Health Coaches, Goal Specialists, and an online support group of other Noom users to keep you accountable. For this privilege, you'll pay between $32.25–$59 per month.
Like Lumen, Noom offers you personalized food advice based on your specified goals. However, the app relies on self-reporting rather than metabolic markers like your breath.
For something more similar to Lumen, Keyto is a handheld device that you breathe into for instant feedback on whether your body is in ketosis. Like Lumen, the tool pairs with an app so that you can monitor your body over time.
After every breath, you'll get a rating from Keyto between one and ten that indicates the amount of acetone it contains. The higher the number, the deeper your body is in ketosis. You'll pay $99 for the device, which includes free access to the companion app.
There, like with Lumen, you can track what you eat over the day and receive feedback on whether you should adjust your diet to better stay in ketosis. For extra resources like restaurant guides and ketogenic recipes, upgrade to Keyto Premium for $8 a month.
One primary difference between Keyto and Lumen is that Keyto monitors your acetone levels rather than your CO2 levels. Both are biomarkers for identifying critical factors about your metabolic processes.
Says Dugarte, "Acetone breath sensors like Keyto can similarly be used in the management of diabetes, though they can also indicate your metabolic status. Acetone is also a byproduct of fat metabolism like CO2, though it's generated in larger quantities. Thus, levels in your breath increase when you are in ketosis."
Another difference is that Lumen doesn't advocate for one specific dietary approach, such as the ketogenic diet. Instead of asking you to cut out all carbs from your diet, Lumen merely gives you an idea of your current levels so that you can adjust as necessary.
Choosing between the two, we recommend Keyto for those who are willing to commit to the ketogenic diet. This device is more precise for monitoring your descent into ketosis, and the included app is a wealth of resources for staying there. Those looking for a little more flexibility with their health and fitness goals may appreciate Lumen instead, even though the device costs three times as much.
The Bottom Line: Is Lumen Worth It?
Lumen promises to give you an inside look at your metabolism to guide you towards making the best food and fitness choices for your health goals. Its unique design lets you gauge whether you are burning fat or carbs at any point during your day.
One thing to keep in mind is that Lumen works with relatively new technology for breath analysis that hasn't been fully scientifically vetted for accuracy. While the device should give you a good idea of your levels, you'll always be better off getting a clinical analysis.
Customer reviews indicate that some users question the accuracy of the Lumen. A few felt that the device didn't adjust its ratings enough when their diet changed dramatically, which made them suspicious.
Likewise, Dugarte questions the value of monitoring your metabolism to this level.
"I personally think that this level of detail is completely unnecessary for most fitness goals," he told us. "For example, if you're interested in weight loss, the following methods of monitoring progress are more cost-effective and provide a great deal of insight into how you may need to adjust your diet."
Instead of using Lumen, Dugarte suggests that you track your progress through other methods like taking before and after pictures, tracking your body measurements like BMI or changes in how your clothing fits, monitoring exercise performance, and even regular weigh-ins on the scale.
"Unless you're an elite-level athlete with specific objectives for competition," Dugarte continues, "tracking more than the metrics above is of little benefit."
Saying that, lots of people claim that Lumen helped them change their relationship to food and lose weight. This might be due partly to the power of suggestion; taking a breath measurement every morning may act as a reminder to make better dietary decisions. Even if that's the case, users were still achieving their goals of weight loss, which we think makes this device worthwhile.
If you decide to try Lumen, keep in mind the technology's limitations and use it more as a suggestion than factual advice. Most people can benefit from taking a closer look at their diets, though, so there's a good chance that using Lumen will lead to positive results for your health.
Customer Reviews
Posted on Jun 29, 2020
Lots of ways they can improve it in later versions
I've had the Lumen device for a week and have been using it faithfully. It's kind of fun to check in on whether I'm burning fat or carbs or a mix of the two but I have serious doubts about its accuracy. More on that later.
There is no way to enter what you've eaten so that they know your macros in whatever way they choose to measure them (I measure based on the percentage of calories eaten, they want to measure in the number of grams per macro, which I find very inconvenient). Being able to interact with MyFitnessPal or another tracking app would be easier on the users and would give the device much more precise information than what I can currently enter. Every morning it asks if I followed the previous day's plan and there's only a "yes" or "no" choice. There's no way to let it know exactly how much of what macro was consumed. I feel like that one tweak would be a HUGE improvement and make it easier to use accurately.
The app lacks a lot in interactivity (see above). When taking a midday breath reading it gives you a few choices for why/when you're taking a breath (after a low or high carb meal, after a fast, etc.) but there's usually no way to customize it and note exactly what is going on when I decide to test my breath. I have been taking a breath reading when I first wake up and then again when I break my fast (usually 4+ hours later) and there's no way to indicate that my fast lasted longer than was recorded at my first breath.
The app is very sparse as far as information goes. There are a few short entries on what is considered a carb, for example, and a few other short informational blurbs but there's not much in-depth info. I would love to see a lot more info on everything from recipe suggestions for high or low carb days to a members-only area where users can "meet" and ask/answer questions. Something like a closed Facebook group that is moderated by Lumen staff would be fantastic. I have so many questions and no real way to get them answered besides the chat feature on the website.
I like what Lumen is trying to do and I have high hopes for it going forward as they learn ways to make it better but right now it feels like it's still in its infancy in terms of development. I wouldn't recommend this to others until the company (and what they offer) has matured to meet the larger needs of those who have spent almost $300 to use it. I hope that they will treat us early adopters well as updates happen and reward us for sticking with them through their growing pains.
Length of Use: Less than 3 months
Bottom Line: No, I would not recommend this to a friend
Pros and Cons
It's small enough to fit in my pocket and can be carried anywhere, and it holds a charge well
The design is attractive
It's easy to set up and use once you've done a few practice breaths
There is no way to enter what you've eaten so that they know your macros in whatever way they choose to measure them
The app lacks a lot in interactivity
The app is very sparse as far as information goes
Our Promise to You
In order to safeguard you and ensure helpfulness and relevance, our compliance team manually assess every customer review before it goes live.
We have a zero-tolerance policy for fake reviews, and companies cannot control or alter any reviews at any time.