SmartPlate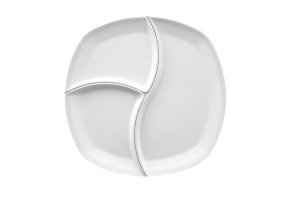 Summary
SmartPlate features 3 load sensors and digital cameras that automatically weigh and analyze your food, while the app crunches calorie and micronutrient data. though effective, there may be other methods of portion control.
SmartPlate Review - How Well Does It Work?
Medically Reviewed by Anthony Dugarte, M.D., C.S.C.S
Whether you're looking to lose a few pounds or you're training for your 10th Ironman triathlon, calories are a big part of your life. And not just the number of calories you're consuming, either, but also the type of calories, in the form of macronutrients.
Until recently, all of these factors had to be manually tracked and recorded.
SmartPlate originally got its start through a Kickstarter campaign, where the fledgling company brought in more than $110,000 to begin development and production. SmartPlate received even more public face time after being featured on season 7, episode 17 of Shark Tank.
To use SmartPlate, you must add your food to SmartPlate like normal, and it will analyze and track everything you eat.
Built into SmartPlate are 3 load sensors that capture the exact weight of your food, which helps calculate the amount you're eating, as well as how fast you're eating it.
SmartPlate also features 3 digital mini-cameras (similar to what you'd find in a smartphone) that use advanced image recognition to identify everything sitting on its surface.
The device takes your behavior and makes subtle recommendations that can help you lose weight, improve physical performance, manage conditions related to poor nutrition or eating habits.
SmartPlate's Design & Functionality
From an aesthetics perspective, SmartPlate looks like something from a 1960s science fiction film.
The pan is made from a non-stick, BPA free, and heat resistant plastic that's microwave, refrigerator, and dishwasher safe. If you decide not to place a $150 plate in the dishwasher, SmartPlate can also be rinsed and air-dried directly on its included water-resistant charger.
SmartPlate is 10" in diameter and each of its three sections were specifically designed to prevent "portion distortion," which can have a huge impact on your waistline. Underneath each section is a load sensor, which can measure up to 1,500 grams, or 3 pounds.
In order to use SmartPlate, the process works over 4 steps:
Open the SmartPlate iOS or Android app. The device automatically connects to your smartphone or tablet using WiFi and Bluetooth, so you just need to select the "Snap It" option in order to take a picture of your food.
If you're happy with the picture, click the checkmark in the lower right-hand corner to submit it.
After a few seconds, the SmartPlate app will analyze your food and break down the information (calories, macronutrient content, etc.) in an easy-to-read format, all in as little as 1 second.
Once SmartPlate's analysis is complete, you can choose to add the information to your journal. The data will also integrate with your wearable device, including MyFitnessPal & FitBit.
SmartPlate's Technical Details
At the core of this process are SmartPlate's proprietary algorithms (which the company affectionately calls a "she") that learn the more they're used and are utilized in the plate as well as the iOS and Android apps.
The device then takes all the data gathered by these sensors and cameras and sends it to the USDA's database of 8,000+ common foods—combined with the company's database of 300,000+ SKUs and 100,000+ restaurant meals—in a few seconds.
What's returned isn't just the identity of your food, but also its calorie count and nutrient composition.
This way, you'll still be able to identify foods and track nutrient information, even without your SmartPlate nearby.
Although your SmartPlate might already be able to identify whole foods (like apples) with up to 99.9% accuracy, it might take some learning before it can accurately identify, say, the difference between a salad with ranch dressing and one with vinaigrette.
If the algorithms aren't able to identify a food, they'll take an educated guess and give you several different options to choose from. This is another big way that SmartPlate will "learn" different foods and improve overall accuracy.
After a food is identified, all the key macronutrients (e.g. protein, carbs, sugar, etc.) display on your screen. The app will even let you know if you've exceeded your macronutrient intake for the day, so you can better achieve your goals.
How Can SmartPlate's Data be Used?
According to the company, SmartPlate's data can be customized and personalized around you.
Whether you're an athlete, a health generalist, someone who needs to manage their health condition, or someone who needs to lose or maintain weight, SmartPlate claims to offer a helpful solution.
You'll be able to carefully track every meal, so you'll know exactly how many (and what types of) calories you're consuming.
SmartPlate's Portion Patrol will instantly warn you if you've been over-served, and the access to 200+ recipes and personalized meal plans can make sure you're eating a healthy, balanced diet.
Scientific Backing for SmartPlate's Effectiveness
While this product may offer some newer technology, portion control is a concept that has been around for quite some time. Portion control is a well-studied method of weight-loss that has been put up against other traditional forms of management.
A 2014 study identified 32 different methods of portion control; an education program teaching these methods effectively reduced BMI over 3-months.
More recently, a randomized trial concluded that a portion control program reduced BMI in overweight and obese subjects over 1-year, though the effects were not sustained after the practices were discontinued.
As there is plenty of evidence that portion control is an effective method for weight loss in adults, it's important to keep in mind that obesity is often related to the mechanism that starts in childhood.
A recent review believes targeting portion control methods at younger individuals can positively impact the rates of obesity.
SmartPlate has also been studied as a stand-alone product.
In 130 obese individuals with type 2 diabetes, those that used SmartPlate for 6-months lost more weight and reduced the need for medication more so than the control group.
While portion control has already been identified as a viable method for weight loss, there is also support that specifically backs SmartPlate use in overweight and obese individuals.
How Much Does SmartPlate Cost?
SmartPlate is currently available for pre-order, but with no current projected shipment date, for $129, according to their Kickstarter and Indiegogo Page.
The projected retail price is $199, however.
For this price, you'll be able to choose between purple, black, or white colors. Your order will also come with a microwavable lid.
SmartPlate also comes with a 1-year limited warranty against defects in materials and workmanship under normal use.
Bottom Line
The value provided by any purchase is directly related to your needs.
SmartPlate primarily offers weight loss through a clinically proven method and product. Their tech is impressive, though you can employ portion control methods with little more than the cost of groceries.
Also, if you're simply looking to tabulate calories, you can do so through dozens of different apps that cost less. However, you'll often be responsible for manually looking up the calorie content for each food you eat.
However, if you're looking to closely monitor your calorie consumption (as part of a fitness regimen) or your macronutrient intake (for diabetics or those with hypertension, for example), then the ease of use and tracking provided by SmartPlate might be worth it.
Customer Reviews
Posted on Mar 3, 2022
Scammers
Don't buy this. No good plate. They overcharge you for nothing, just to weigh your food and get nowhere. I purchased one and never used it because my doctor told me a food scale can do the same if you just want to weigh your food because neither one is going to do good. I returned my item had paid for in November and because I returned late only got a $30.00 refund. What a bunch of scammers.
Length of Use: Less than 3 months
Bottom Line: No, I would not recommend this to a friend
Pros and Cons
No "pros" were specified in this review
Not worth price
Useless
Money gone to waste
Posted on Jan 7, 2022
The best
I've been hunting for a food tracker that focused on nutrition above calorie counting for ages. Programs I've used in the past that focused on calorie tracking left me feeling guilty about food choices and lead me to choose low-calorie items regardless of nutritional benefit. I stayed hungry on those programs. SmartPlate tells me not just calories, it tracks protein, carbs, fats. It actually tells me (!) if I don't eat enough or too much. Genius!
Length of Use: Less than 3 months
Bottom Line: Yes, I would recommend this to a friend
Pros and Cons
Health
No "cons" were specified in this review
Posted on Oct 26, 2021
It still needs a lot of improvement
So far, the smart plate does not detect the correct food or weight. I tested it with one raw white potato (11oz). I weighed it on a food scale. The smart plate kept showing different weight every time I repeated the process in scanning.
Length of Use: Less than 3 months
Bottom Line: No, I would not recommend this to a friend
Pros and Cons
I like the idea
It needs a lot of improvement in terms of how you log your food into the journal
It doesn't work
Posted on May 10, 2021
Scam
This company is a scam. They have no online support and steal your money while giving you no product. I am shocked that they have this seemingly "real" website and yet they are an absolute farce.
Bottom Line: No, I would not recommend this to a friend
Pros and Cons
No "pros" were specified in this review
That it is a lie
Scam
Terrible
Posted on Nov 30, 2020
I received my SmartPlate and I love it!
I honestly thought this product was never going to make it to market and about a month ago, it arrived at my house!
The packaging is beautiful. The app and plate were super easy to set up but you have to actually follow the setup instructions or you'll miss a few steps, haha.
What can I say, it's mind-blowing how smart this thing is and how it recognizes and weighs all my meals. Whenever it doesn't recognize something on the first picture, all I have to do is slide right and it's usually the next guess! Wild!
This thing is going to be a staple in every home and if you don't have one, I highly recommend it because it's so much better than the gimmicky and expensive weight loss programs like Noom that can't even have track what you eat correctly.
Length of Use: Less than 3 months
Bottom Line: Yes, I would recommend this to a friend
Pros and Cons
Love how accurate it really is, you can't get that from other apps because you have to guess how much food you actually have in front of you.
The barcode scanner is very accurate and so is their database
It looks beautiful in my kitchen
I can't bring it everywhere with me but the app gives you the option to take pictures on the go and scan barcodes so that's what I do
Posted on Jan 23, 2020
SmartPlate
I have NEVER laid eyes on a SmartPlate that I purchased in December 2015.
I think these people are a fraud, and downright lying to the people like myself that were the initial investors!
I don't believe I will ever see my money or a product.
I don't believe they have a product that works for that matter. They must be ashamed of their so-called SmartPlate...
They should be ashamed of themselves.
Bottom Line: No, I would not recommend this to a friend
Posted on Dec 29, 2019
Absolute scam
Like everyone else, I preordered this in 2015. We're now at the end of 2019 and the latest shipping date is now November 2020. I will now be going down the legal route to get my money back.
Bottom Line: No, I would not recommend this to a friend
Posted on Jul 2, 2019
SCAM
I pre-ordered in December of 2016 and still have not received. This is definitely a scam. I've gotten replies about manufacturing delays and requested refund numerous times to no avail. You would think that any company that has crowdfunded would be loyal to early backers and make good on a refund if they could not deliver as promised.
Bottom Line: No, I would not recommend this to a friend
Posted on Jan 18, 2017
Still waiting for SmartPlate to deliver
I have been waiting for almost 1 and a half years for my SmartPlate. What concerns me most is that I keep getting the runaround from Fitly (the manufacturer), saying that they will be shipping by such and such a time. I have been told three different times that they would deliver and still nothing. They're also advertising a new product and just made over $20,000 on their latest IndigeGoGo! How is this possible?! Has anyone actually received their SmartPlate?
I'm to the point where I am asking for my money back, and if I hear nothing, then I will look into legal action. Do yourself a favor! Do NOT order the Smart Plate.
Bottom Line: No, I would not recommend this to a friend
Our Promise to You
In order to safeguard you and ensure helpfulness and relevance, our compliance team manually assess every customer review before it goes live.
We have a zero-tolerance policy for fake reviews, and companies cannot control or alter any reviews at any time.