Keyto Breath Sensor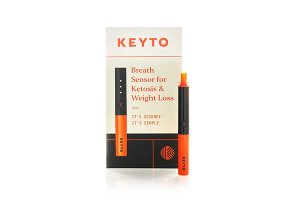 Summary
Keyto Breath Sensor is an app-integrated device designed to detect the amount of acetone in your breath to give you instant, accurate feedback about whether you are in ketosis.
Keyto Breath Sensor Review: Features, Cost, Usage
For those considering the ketogenic diet, Keyto Breath Sensor is a device designed to give you instant feedback on the amount of acetone in your breath so you can monitor whether your body is in ketosis.
This handheld device pairs with an app to help you make dietary decisions that keep you in ketosis and potentially losing weight.
The key to following the ketogenic diet is keeping your body in ketosis for as long as possible to maximize fat burning.
Traditional ways to check whether you are in ketosis include blood tests and pee strips. Keyto promises a more convenient solution with their ketone breath analyzer.
How Do You Use Keyto?
When you commit to Keyto, you will receive a lightweight device (the company claims it weighs less than an ounce) that looks and acts similarly to a breathalyzer.
The Keyto runs on one AAA battery that the brand states will last for more than 600 breath tests. Each purchase also comes with four interchangeable mouthpieces and a carrying case.
Keyto works by measuring the levels of acetone in your breath to give you a sense of how much fat you are burning. Acetone levels increase when a ketogenic diet is done right, which we'll cover in the next section.
Says company founders Weiss and Wu, "Every Keyto has a proprietary nanosensor that detects acetone, a biomarker for fat metabolism, on the breath of users. The more acetone on one's breath, the more fat they are using for fuel."
The reported numbers range from one to ten, and the higher the number you score, the further into ketosis your system is.
Below is the Keyto range for ketosis as the company defines it:
Level 1 – Not in ketosis
Level 2 – Starting Ketosis
Level 3-5 – Increased fat burning potential
Level 6 – High fat burning potential
Levels 7-9 – Extreme fat burning potential
Level 10 – Deepest level of ketosis
In this way, you can track whether you are in ketosis in real time and finetune your diet as necessary to maintain progress.
To use the device, you need to breathe into it as long and powerfully as you can, similar to how you would use a breathalyzer.
It will then sync with the Keyto app to display a score from one to ten, with higher scores meaning you are deeper in ketosis. Your overall goal is to keep your Keyto number as high as possible for as long as possible. This ensures that you stay in a prime fat-burning state.
The company suggests taking the test 1-3 times per day when you first start using it, preferably first thing in the morning so that you form a habit and can monitor your baseline over time. For the most accurate results, it's important to breathe out for a similar length and intensity at every testing time.
The Keyto app is available for both Android and iOS devices, and it integrates with the Keyto device to give you real-time feedback on your ketone levels. The app also provides meal plan suggestions and a food guide to help you make keto-approved choices at the grocery store and while eating out.
We found that these guides provided a comprehensive overview of the ketogenic diet, and like that it offers a search feature for more easily finding specific foods.
We also appreciated that the app provides ordering guides for a variety of chain restaurants, including Starbucks, Taco Bell, Panera Bread, and others. In some cases (as with Pizza Hut) the app suggests avoiding the restaurant altogether.
The Keyto app is set up to allow you to track your acetone levels over time so that you can monitor how long your body has been in ketosis and see how that correlates with your weight loss journey.
It's also possible to join groups through the app to gain support and share your progress with other Keyto users.
Keyto vs. Blood Tests and Ketosis Strips
Keyto isn't the only device that lets you monitor your ketone levels, but the company claims it is the most convenient. Today, most people rely on blood tests through finger pricks and urine strips to see whether they are in ketosis. Should you consider these methods instead?
While your preferred testing method is a personal choice, one thing to keep in mind is that these methods tend to be single-use, meaning that you will need to buy urine strips regularly to keep testing your levels.
Likewise, some people might appreciate how much less invasive it feels to blow into a tube than it is to measure their bodily fluids.
Another factor is that urine testing is considered to be less accurate than blood or breath and that the accuracy goes down the longer you are on the diet because your body adapts to the change and excretes fewer ketones.
While HVMN shared that blood tests are the preferred way to measure ketones today, breath testing is relatively new to the market, and they state that more research is needed to determine how it compares in accuracy.
The Cost
The Keyto device is sold exclusively through the company website. You can purchase the device for $99, which gives you lifetime access to reading and feedback on your ketone levels without additional app support.
It's also possible to upgrade your membership to Keyto Premium for $8 per month. This gives you access to exclusive ketogenic recipes, restaurant guides, the "Keyto Code" (an indicator of which foods are keto-friendly) priority support from the company, and other perks.
Those who become Keyto Premium subscribers at launch time will receive a free shipment of the brand's KeytoBox, a curated collection of keto-friendly food and snacks that retail for over $80 in total.
If you wish to contact the company directly for more information about their pricing and return policy, you can do so at hello@getkeyto.com.
The Bottom Line
The product founders shared with us that they want Keyto to be an all-encompassing system, meaning that someone who doesn't know anything about the ketogenic diet could buy the device, download the app, and get started right away.
Keyto delivers on this goal, as the product's app offers a comprehensive overview of how to follow the eating strategy and it includes shopping lists, meal planning suggestions, and even fast food eating guides.
The negative reviews were based primarily on the app being buggy while in the early stages of development, so it's reasonable to expect that these issues will improve over time.
If you're looking for a convenient way to track your time in ketosis, it's hard to argue against breathing into a tube when the other alternatives are testing urine or blood. Likewise, you might save money over time by not buying single-use testers.
Customer Reviews
Posted on Jun 10, 2022
Keyto is a huge ripoff
The one advantage to using Keyto for weight loss is their breath sensor, which probably is more accurate and certainly more convenient than urine strips and doesn't require you to poke holes in your skin as with blood testing.
This is the only advantage, however. I can't speak to Keyto's Android app, but the iOS app is shoddily written — it amounts to a food diary, and not a very good one at that. Why, for example, can you not directly transfer the macros from Keyto's extensive recipe database directly into your food intake for the day? Instead, the numbers have to be transcribed by hand from one section of the app to another. That's shoddy.
Support is non-existent — I received no reply to any of the questions I sent to the support staff. The "coaches" are obviously not-so-smart bots.
It's expensive, too, at $29 a month. I wouldn't recommend it.
Length of Use: 3–6 months
Bottom Line: No, I would not recommend this to a friend
Posted on Jan 18, 2021
There is a learning curve
The second time I used the device it failed to sync with my mobile and complained bitterly about the lack of Bluetooth connectivity. Uninstalled app, then reinstalled, and in doing so realized that Location had to also be activated.
Subsequently learned to breathe steadily into the sensor while fully emptying my lungs and the results are amazingly consistent. Any significant changes to diet are reflected in the readings, thereby providing diagnostic data for detecting good and bad dietary choices.
An excellent tool which I am glad I purchased.
Length of Use: Less than 3 months
Bottom Line: Yes, I would recommend this to a friend
Pros and Cons
Seemingly accurate and predictable results
Useful software that chronicles progress
Similar size, but greater discrimination than Ketonix
Packaging excellent but instructions too cryptic
Poor customer support - emails are not acknowledged
No access to discussion groups without Premium membership
Posted on Dec 10, 2019
Avoid
The device takes an extraordinarily long time to warm up. The data was never accurate when compared to a blood or urine test. The device stopped stabilizing after about 20 uses and now just gives an oops error when attempting use. In my opinion, this is a cheaply made "gimmick", not worth 5 cents, let alone 100 dollars. Avoid!
Bottom Line: No, I would not recommend this to a friend
Posted on Sep 23, 2019
Works (for me)
The only reason I haven't given it 5 stars is because I cannot independently verify to date that the thing is accurate. But it IS consistent, and the inference based on historic experience with the keto diet and testing is the data is accurate "enough." I am a believer that in theory, the breathalyzer is more accurate than test strips or even blood sampling. Maybe once out of every ten pairings the thing doesn't exactly pair correctly with the app and I'll need to restart the app. Never even thought about it. Any ketone breathalyzer will take time before you can use, needs to calibrate the baseline air, among other things (Keyto refers to heating element rising to 400 degrees).
Bottom Line: Yes, I would recommend this to a friend
Posted on Sep 5, 2019
Terrible device capitalizing on the Keto craze
It measures my Keyto level at their "8" regardless of if I'm between 5mmol/L or 2mmol/L, when I use an actual tester with my blood. Maybe this device will motivate some people, but it's not a serious product. Avoid.
Bottom Line: No, I would not recommend this to a friend
Posted on Aug 24, 2019
Helps me keep diet top of mind
I've been using Keyto for the last 2 months consistently. The feedback it provides is extremely helpful and reassuring and seems to be pretty accurate when cross-checking with strips.
Super helpful to see how different foods affect my Keyto score, and it has helped me learn a ton about my body and the effects that certain foods have on me. It does take a bit long to warm up (around 45 seconds) - would prefer if this was more instantaneous. Would also love if the device was a little bit smaller, but it's not a deal-breaker.
Recommended Keyto to 2 of my friends and now we compete daily for the lowest keto score. I have lost about 8lbs on the keto diet. My goal has been to lose 1lb a week and so far I'm right on target. Overall, great fun product that can help you track and quantify your level of ketosis.
Bottom Line: Yes, I would recommend this to a friend
Posted on Aug 16, 2019
2nd device stopped working as quickly as the first one
I purchased the Keyto device and app and was pretty pleased with it. It does take forever to warm up each time but it was cool to have feedback and confirmation so I was willing to work with that. But after only 3 days I kept getting an error that there was a contaminant in the air and the device couldn't work. I emailed support and heard back immediately! I was impressed. They also quickly sent me a new one. That one lasted only a week and as of yesterday gave me the same error. I emailed support again and have not heard anything back. Each time I got this error I tried different locations and was even in two different states. So it is nothing in my environment. I'm betting a lot of people have this problem.
Bottom Line: No, I would not recommend this to a friend
Posted on Jul 22, 2019
Cheap piece of garbage
It is hard to pair, takes forever to "warm-up" for each reading, and when you do finally blow, the results change almost as frequently as you blow. In other words, it is not accurate.
They have basically repackaged one of those cheap Chinese breathalyzers for Keto. It is equally crappy, but much more expensive.
Having used urinalysis strips, blood test strips, cheap breathalyzers, and the Keyto, I can tell you that this thing is just an expensive way to sell you more (crappy) stuff.
This thing is a rip-off. Don't buy it.
Bottom Line: No, I would not recommend this to a friend
Posted on Jul 17, 2019
Doesn't work
Device stopped working after a month. Their support told me they don't know what is wrong with it. It crashes every time it warms up. They emailed me about a month ago to post a review and I did and they never posted it online. They are filtering out negative feedback and suckering people into buying this garbage.
Bottom Line: No, I would not recommend this to a friend
Posted on Jun 12, 2019
Just get the blood test
Awful. The product is a cheap, $1 piece of plastic with a battery that is sold for 100 times more. Very inaccurate compared to a blood test or even pee strips. Besides inaccuracy, the company has released the product with billion bugs and limitations. If you ever log out of your profile - you gotta get a new Keyto. If you create a new profile - you gotta get a new Keyto. Absolute waste of time, health, and money.
Bottom Line: No, I would not recommend this to a friend
Our Promise to You
In order to safeguard you and ensure helpfulness and relevance, our compliance team manually assess every customer review before it goes live.
We have a zero-tolerance policy for fake reviews, and companies cannot control or alter any reviews at any time.