MyFitnessPal Reviews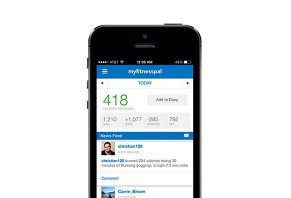 MyFitnessPal is one of the top calorie counter and diet tracker apps available, with a database of 6+ million foods and many useful features that promise to help you lose weight.
What Is MyFitnessPal?
Advertised as the fastest, easiest to use calorie counter website and app, MyFitnessPal claims to have helped millions of people track food and lose weight the healthy way.
After signing up for a free account—with no strings attached, you'll also gain access to the world's largest nutrition and calorie database of over five million foods, giving you're the ability to add and log recipes from the web quickly. All of this data automatically syncs with their apps as well, so you can rest assured your diary will always remain up to date.
In this article, we'll explore the MyFitnessPal website and app, their pricing, as well as their competition, so you can make sure it's the best calorie counter for your needs.
How Does MyFitnessPal.com Work?
After signing up with your Facebook credentials or email address, you'll enter core details like your current and goal weights on the MyFitnessPal.com website, height, gender, date of birth, and location. Then, you'll provide answers to questions like:
How would you describe your normal daily activities? Sedentary, lightly active, active, very active.
How many times per week do you plan on exercising?
What's your goal?
Finally, you'll click the Get Started Now button to finish the setup process. Doing so will take you to your home screen, where you can Check In (enter today's weight, as well as neck, waist, hip, and other measurements), access messages in your mailbox, and add foods by searching their database of over 300 million items.
You can also add your own foods and recipes to a personal database with just a few clicks, access support and motivation through their forum, and—perhaps MyFitnessPal.com's core feature—receive a personalized diet profile that's customized to your unique weight loss goals.
Here, you can view your daily nutritional goals, including macronutrients (carbohydrates, fat, protein) and micronutrients (fats (Polyunsaturated, Monounsaturated, Trans), cholesterol, sodium, potassium, fiber, etc.), calories by meal (although this requires an upgrade), and fitness (calories burned per week, workouts per week, minutes per week, and exercise calories, which also requires an upgrade).
Taking a Closer Look at MyFitnessPal's Apps
The MyFitnessPal iOS and Android app provide mobile access to your account, including their entire food and exercise database. Any changes made on the website will synchronize with the app and vice versa.
In addition to goal setting, counting calories, tracking meals and nutrients (including importing recipes), logging fitness activities (strength exercises, running, walking, biking, swimming, yoga, Pilates, etc.), connecting with other members, and charting your progress, the app adds some additional functions.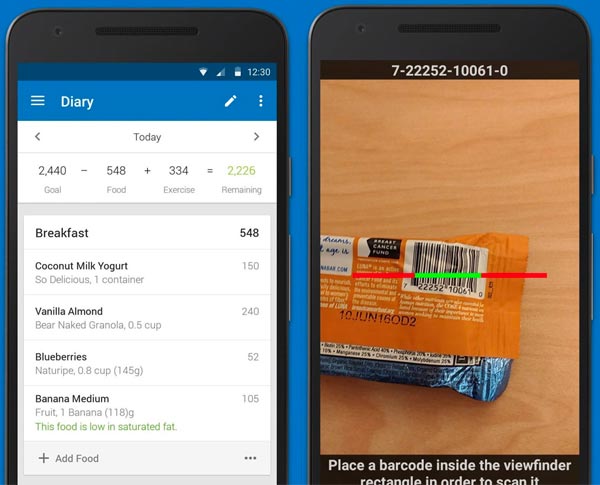 Compared to their website, the MyFitnessPal app adds features like a barcode scanner and a restaurant logger, as well as the ability to sync with many third-party apps and devices. Credit: Google
These include a built-in scanner that recognizes more than four million barcodes, a restaurant logger that allows you to enter restaurant items quickly, information about how to make healthier food choices, and water logging (in cups, ounces, or milliliters). Together, they advertise, "it's almost like having a nutrition coach right inside your pocket."
Additional features include the ability to automatically sync your workouts with more than 50 other apps and devices, including "Fitbit, Jawbone UP, Garmin, MapMyFitness, Runkeeper, Strava, Runtastic, Misfit, Withings, HealthKit, and UA Record."
How Much Does MyFitnessPal Cost?
MyFitnessPal's basic version is free, while their premium version is priced at $9.99 per month or $49.99 per year. Let's see what you'll get for the money.
What's the Difference Between MyFitnessPal Free & Premium Versions?
MyFitnessPal's free version allows you to set a daily calorie goal, including custom carbs, fat, and protein and provides the ability to log calories quickly.
Comparatively, the premium version contains all of these features, in addition to:
Nutrient dashboard with customizable view
Food analysis that ranks your chosen nutrients
Downloadable progress, meal, and exercise data using CSV files
Calorie settings by meal and exercise, with the ability to set different goals each day
Micronutrient data down to the gram or percentage
Unlimited access to weekly digests
Priority customer support
Exclusive articles and tips
An ad-free experience
MyFitnessPal Premium subscriptions are nonrefundable, and canceling your subscription mid-term will provide you access to the platform until your next renewal.
What Are Customers Saying About MyFitnessPal in Their Reviews?
The MyFitnessPal website and app had been around for quite some time, so we encountered a fair amount of online feedback during our research.
For example, we found more than 10,600 customer reviews on Amazon, where the app had an average rating of about 4.3 stars. Common compliments referenced ease of use, handy features, and effective weight loss results, while complaints frequently revolved around functionality concerns (primarily for Kindle Fire users).
With more than 2.2 million combined reviews between Google Play and iTunes, the MyFitnessPal app had an average rating of about 4.6 stars, with many of the same compliments and complaints found elsewhere online.
As a company MyFitnessPal, Inc. was founded in 2005 and is based out of San Francisco, CA (they were purchased in 2015 by Under Armour, Inc.). In addition to their calorie counter, they've released an extensive lineup of other apps, including MapMyRun (and MapMyRide), Garmin Connect, Training Peaks, UA Record, and Endomondo Sports, to name just a few.
Are There Other Calorie Counter Apps Like MyFitnessPal?
While typing the phrases 'calorie counter' or 'diet tracker' into any search engine brings up MyFitnessPal as the top result, you'll quickly notice that there are dozens—likely hundreds—of different options. Some of the top choices at the time of our research included:
| Company | Cost | tandout Features |
| --- | --- | --- |
| MyFitnessPal | Free - $9.99/mo or $49.99/yr | 6+ million foods in database, barcode scanner |
| Lose It! | Free - $39.99/yr | Features embodyDNA, which provides "personalized, DNA-based insights"; 10 million foods in database, can track foods by taking a picture, can create and share challenges |
| LifeSum | Free - $3.75/mo | 12 personalized diet plans available, habit trackers, body composition |
| SparkPeople | Free - $4.99/mo or $49.99 one-time payment | 3+ million foods in database, 600+ exercise demonstrations, integrates w/SparkPeople.com account, earn SparkPoints inside the app |
| FitDay | Free - $49/yr | Database of 20,000 foods, activity stopwatch, food reminder, |
| MyNetDiary | Free - $5/mo | Detailed PDF reports, symptom tracker, weekly summary progress reports, customization allows you to track just about anything |
| FatSecret | Free | Exercise diary, includes Blackberry app compatibility |
| MyPlate by Livestrong.com | Free - $44.99/yr | Database of $2+ million foods, barcode scanner, 8-week meal plan, follow along workouts |
| Weight Watchers Freestyle | $3.15 - $8.45/wk | Track SmartPoints instead of calories, not all foods are tracked (e.g., chicken, fish, eggs, etc.), meal plans include pre-packaged foods, personalization available |
Despite all these varying options and their vastly different price points, you'll find that most offer the same core features like the ability to automatically calculate your daily calorie budget, track your intake and expenditure, connect with other apps and trackers, track micros and macros, and even explore forums (or other methods of connecting with and receiving support from other members).
Given this, how can you choose which of these options will help you achieve the most success?
The bottom line is that picking a calorie tracker isn't rocket science. However, as you progress, you'll find that apps and sites that provide the easiest food entries are often the ones you'll stick with.
Pro tip: As we can see from above, it appears that the Lose It! app provides access to a database of more than 10 million foods, compared to MyFitnessPal's five million. As such, they might not boast the world's largest nutrition and calorie database, as advertised on the MFP website.
Otherwise, you might be surprised by how quickly entering every food for each meal of the day can become cumbersome. And, if you're not motivated to track your calories, this could negatively impact your weight loss results.
But, based on what we briefly learned from online customer feedback for each of the calorie counters and diet trackers listed above, you probably can't go wrong. And since each offers a free version, you can test out their basic features and ensure they meet your needs before making a financial commitment.
How does all of this stack up for MyFitnessPal?
Our Final Thoughts About MyFitnessPal
According to Healthline, "Even if you only track your food intake irregularly, studies show that people who do so tend to lose more weight. They also maintain their weight loss better." As a result, even if a calorie counter or diet tracker app doesn't fully meet your needs right out of the gate, it's still likely to improve your weight loss results.
With this in mind, interviewed for a 2017 Women's Health article, Christy Brissette, R.D., and president of 80 Twenty Nutrition, call MyFitnessPal "a genius weight loss tool—especially if you have a tendency to munch mindlessly or have no idea how many calories you're eating in the first place."
However, she emphasizes that the system—or any calorie counter, for that matter—is only as accurate as your input. This means that you might need to start out measuring all of your food for the first few days until you have a better feel for portion sizes, regardless of the app you ultimately choose.
Along these same lines, instead of choosing general food options (e.g., 'turkey sandwich') inside the app, you might want to start off selecting each ingredient (e.g., avocado, mayonnaise, turkey, cheese, etc.).
As an example of this, they explain that "Many foods in the MyFitnessPal database are user-generated—so some aren't accurate." As a result, "one medium apple can set you back 30 calories or 120, according to the options provided by the app."
Finally, make sure you log your meals immediately since it's all too easy to forget and make yourself guess hours after you've eaten.
» For Further Reading: